Sometimes, you don't want to get up from the couch. You feel uninspired, but what can you do? Well, there's a new way to get yourself up from the couch and that's with the help of a fitness tracker.
Some of us just need a little motivation to get us up and running and what's a better way than being able to see your progress not just in the mirror but on your smartphone. But, before we show you the best activity tracker, we want to show you all the in's and out's of fitness trackers and what you need to know before buying one.
Why Buy A Fitness Tracker
The best way to find motivation is to witness your progress right before your eyes. It can take weeks before you see any results in the mirror, however, with a tracker, you'll be able to monitor your fitness from the first day you start working out.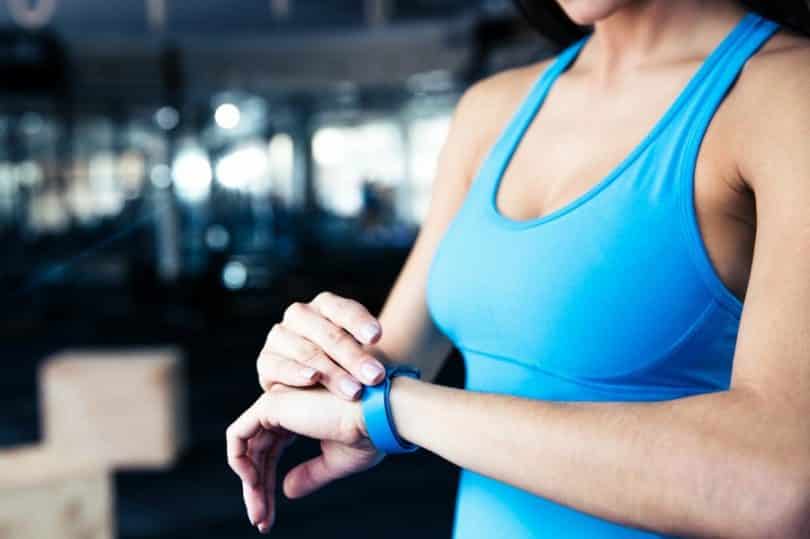 There are many reasons why an activity tracker is a great accessory to your workouts.
Monitors your physical activity. This is the main function and purpose of activity trackers. They're intended to monitor your daily activity such as walking or running. Most activity trackers are not compatible for swimming or yoga.
Monitors your calorie consumption. This is a great addition to an activity tracker as food consumption is equally important to the amount of fitness done within a day. By monitoring your calorie consumption, it'll show you how many calories you're burning in comparison to your intake. This is a great feature for those who are using the activity tracker for weight loss purposes.
Reports your quality of sleep.The average person is supposed to get 8 hours of sleep a night in order for your body to properly regenerate and function, however, many people only get 5-6 hours of sleep a night. The activity tracker not only measures the duration of your sleep, but also the quality of your sleep. You'll be able to see when you wake up during the night and how long you go into REM sleep for, which is the most important time while you're sleeping. By seeing the quality of your sleep, you'll be able to make the appropriate adjustments to help you get a better sleep.
Measures your heartbeat. How hard is your heart pumping? Measuring your heart rate during physical activity is a great way to view your fitness level. That way, you'll be able to see if you need further cardiovascular conditioning.
Connects to your smartphone.You don't need to hook it up to your computer or wait to get your report e-mailed to you. It's connected to your smartphone via wifi, so, you simply need an internet connection to be able to view your progress.
Connected to an app. Apps are the most popular way to connect to a variety of subjects including your health. You simply download the app which will connect to your activity tracker. So, if you end up switching phones, it doesn't matter as your information will be saved onto the app as opposed to your smartphone.
Features of Activity Trackers
Now that you know why you should consider purchasing a fitness tracker, you should understand some of the features that may be included in your activity tracker. Here are some of the features that you should considering when looking at a fitness tracker.
Designs
Fitness trackers come in a couple design options which can adapt to your style and needs.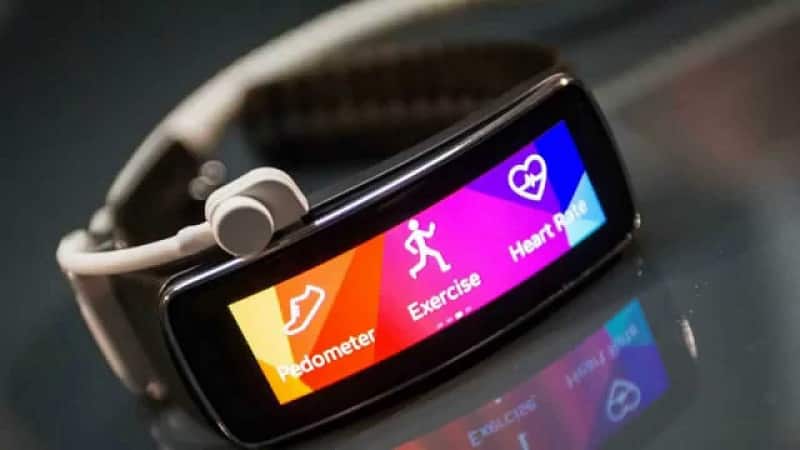 Here are some of the options you have to choose from.
Wrist bands: Designed exactly the same as a watch, you'll be able to wear them on your wrists.
Clips/hooks: Clips/hooks are easily clippable to your clothing and can be secured anywhere on your body.
Shoe straps: You'll be able to loop it through your shoelaces with your shoelaces securely fastened.
Battery Life
You're given a couple battery options to choose from when deciding on an activity tracker. The battery options are based on personal preference, neither is worse or better than the other. Let's take a look at what they have to offer.
Rechargeable: Rechargeable batteries require you to charge your activity tracker every 4-5 days, depending on your usage. These batteries are charged via a USB cable. The only con for these batteries is that you have to remember to constantly charge your battery.
Watch Battery: Other activity trackers use watch batteries to run the tracker, these batteries will last at least 6 months at a time, however, will need to be changed then.
Waterproof
You can choose to purchase a waterproof activity tracker that'll be able to withstand harsh weather conditions.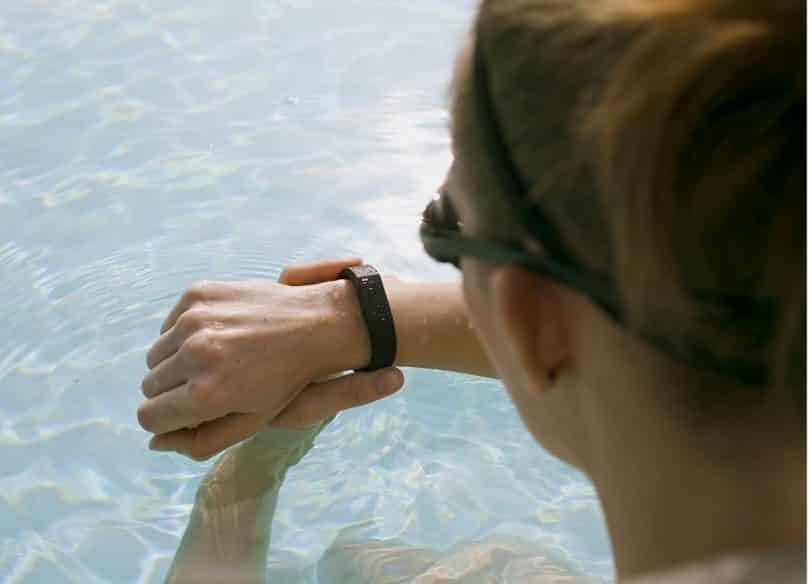 They're usually slightly more pricier than regular activity trackers, however, it depends entirely on your purpose for using an activity tracker. If you'll be working out year-round or swimming, then you best invest in the waterproof option.
Screen or No Screen
You have the option of having a built-in display on your fitness tracker. It will display the time and your fitness goals without you having to open the app.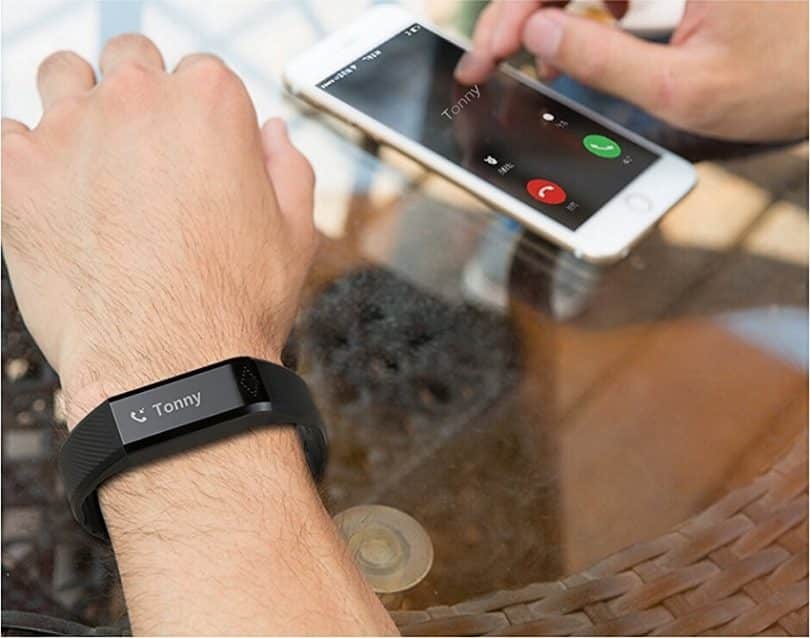 It usually will cost a little extra than a no-screen activity tracker, however, it's just depends on your needs and your preferences.
Misconceptions
They act as health sensors
Many people think that activity trackers are able to double as health sensors and are able to measure your blood pressure or blood sugar without have to prick your finger or use a pressure cuff. Unfortunately, activity trackers are not health sensors, they are completely two different things.
However, activity trackers are able to measure your heart rate. We'll let you know when an activity/healthy tracker comes on the market.
Activity trackers built into your clothes are much better
The fashion industry is a field where creative minds are able to create amazing pieces for us to wear. And, more recently, the fashion industry is taking a shot at combining fashion with high-tech, not a bad thing. However, if you're considering of buying clothing that has a built-in activity tracker, we recommend you stay away.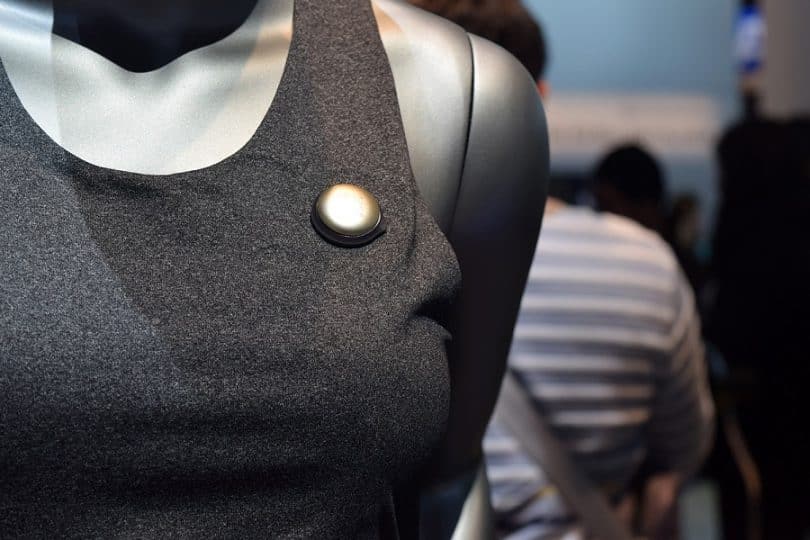 That's not a better idea than buying a separate one. There are many logistical problems with this concept that can actually shorten the life of your activity tracker. For example, the material can be rough on the electrodes that are embedded into the fabric. Just wait, this idea still has a couple things to iron out.
Alternative Power
Many people assume that there are alternative options to charging your activity tracker whether that be via chewing, solar power or thermoelectric generators. None of these options are available. Have they been discussed? Yes. Have they been produced? No, at least not yet.
What is The Best Fitness Brand
So, now that you have an idea of the features and understand the misconceptions of activity trackers, you may be wondering, well, then what activity tracker should I buy? So, we took a look and found what we think are the best activity trackers. So, here are the 9 best activity trackers on that market.
Fitbit Flex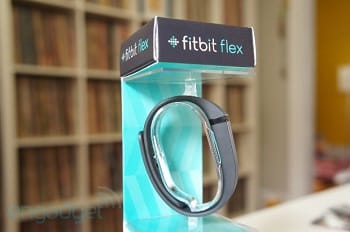 Weight: 4 ounces
Dimensions: 6 x 0.4 x 8.2 inches
Best Use: both land and water activities
Description: Water-resistant and made of rubber, the Fitbit Flex is ideal for land and water activities. It tracks steps, distance, calories burned and total activity minutes. In addition, it also seconds as a sleep wristband which measures the duration and quality of your sleep. If you were looking for an activity tracker with a screen, this one is screenless.
However, the activity tracker does come with LED lights to show if you're reaching your fitness goals. Fitbit flex is slim and sleek in design and extremely comfortable to wear as it comes in two sizes, large and small, with an interchangeable clasp. It's easy to sync wirelessly and is compatible with over 150 smartphones. Both an activity and sleep wristband, you'll be able to wear this from day to night.
Related: Fitbit Flex charger replacement cord, Henoda 10 colors replacement wristband
Fitbit Charge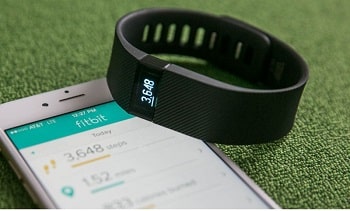 Weight: 0.8 ounces
Dimensions: 2 x 0.8 x 0.4 inches
Best Use: land activities
Description: The Fitbit Charge is a two-in-one activity and sleep tracker which can track your workouts, heart rate, distance, calories burned, floors climbed, active minutes, steps and quality of sleep. The screen  allows you to see call notifications, daily stats and the time – all necessary features for when you're working out and don't want to look at your phone.
If you're worried about sizes, this activity tracker comes in 5 different sizes from x-small to x-large. It syncs wirelessly to your smartphone and is compatible with over 150 smartphones. It also comes with a silent alarm which will wake you up without disturbing others. Many activity trackers only come in one color, however, Fitbit created five different vibrant colors for you to choose from.
Related: Moretek Silicone Anti-dust plugs, Ace Armor shatter resistant screen protector
UP 24 BY Jawbone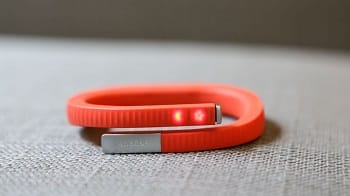 Weight: 0.6 ounces
Dimensions: 5 x 2.6 x 2 inches
Best Use: land and water activities
Description: The water-resistant Jawbone activity tracker helps motivate you by showing you your fitness levels and sleep quality. It tracks steps, calories burned, quality and hours slept, and exercise.
With the UP App Food Score, you can also track your food, drinks and nutrients to make sure you're also eating properly to receive the best results. The Smart Coach also acts as an alarm by sending you vibrations to wake you up without an annoying sound waking everyone else around you up.
You can also connect with friends and family and reach goals together via team leaderboards. The activity tracker comes in three sizes: small, medium, and large. Because it's water-resistant, you'll be able to wear it while engaging in water activities, without fearing that you'll ruin the tracker. So, whether you're on land or sea, you'll be able to wear this tracker day and night.
Related: Jawbone charging cables, Jawbone end cap covers
Moov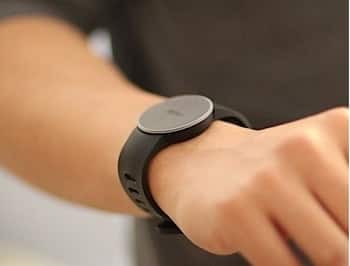 Weight: 0.3 ounces
Dimensions: 5 x 1.5 x 0.3 inches
Best Use: land and water activities, ideal for triathletes
Description: Moov activity tracker is ideal for those are heavily training as it's ideal for those training for triathlons. This activity tracker monitors your fitness levels and advises you on how to achieve the most out of your workout – a feature not seen on many of these fitness trackers. It's powered by 9-axis motion sensors, a military-grade technology that is highly precise at measuring your movements.
The real-time audio coaching is available for running, cycling, body weight, and cardio boxing workouts. Moov's design can be worn on your wrist or ankle, depending on which you prefer.
The app is also included with the purchase of the activity tracker and is a great option for those that need motivation and are looking to get the most from their workouts. It's available in three colours: blue, pink and black. It runs on
Related: Pansonic Lithium battery, SoundPEATS bluetooth headphones
Polar Electro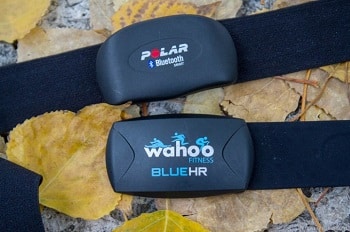 Weight: n/a
Dimensions: n/a
Best Use: land and water activities
Description: The Polar Electro heart rate sensor provides you with a real-time and accurate heart rate and is synced via Bluetooth to your iPhone, iPod Touch, and android.The strap is very comfortable and will analyze and review your heart rate while you're training.
It's compatible with various Polar products as well as other gym equipment. What's great about this tracker is that it's waterproof and can monitor your heart rate while swimming.
It measures distance, calories burned, speed, heart rate and duration of activity. A perfect workout accessory if you're looking for something simple yet effective. This isn't a device that will make you read the instruction manual, it's very basic in function, but does the job. In addition, it also comes with a 2-year limited warranty which is another feature that many people appreciate.
Related: Polar Soft Strap Set
LifeTrak Move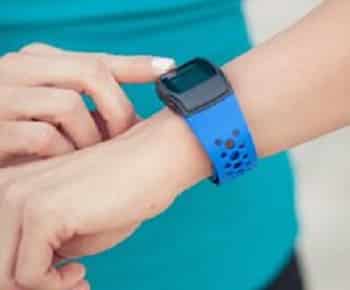 Weight: 1.3 ounces
Dimensions: 3 x 2.1 x 2.1 inches
Best Use: land and water activities
Description: If you're looking for an activity tracker with a large screen, the LifeTrak Move is a great option. Some people prefer having a large screen that shows their progress and that is this tracker.
You can wear this tracker on land or in water, day or night, whatever the conditions, it'll be able to withstand them. This tracker is great if you're the type of person that cannot remember to charge their phone.
The LifeTrak Move doesn't need to be recharged, it comes with a one-year battery life with a standard coin cell. It's also great for water activities as it is waterproof up to 30 meters / 90 feet deep.
It has an ECG heart rate monitor which can measure your heart rate without having to wear a chest strap. You'll be able to view the ECG wave and heart rate right on the screen. The app is another great feature with LifeTrak as it reviews your data on charts via your smartphone.
Related: LifeTrak ComfortFit Band
Nike+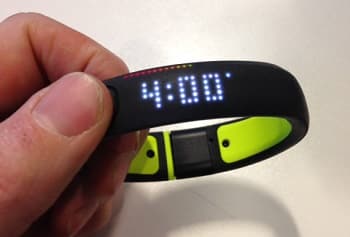 Weight: n/a
Dimensions: small, medium, large, extra large
Best Use: land activities, not waterproof
Description: Sports giant Nike couldn't be left out of this concept. So, they decided to create the Nike+ activity tracker. Instead of making it a flashy wristband, Nike kept it sleek and minimal in design, however, with a sporty twist.
It's extremely comfortable and sturdy and displays time, steps, calories burned and fuel on the tracker's screen. Your activity is synced wirelessly to the app and your information is kept on your profile.
However, in comparison to other tracks, this one is slightly higher in price and is relatively basic in comparison to our other choices. It doesn't measure distance, stairs climbed, heart rate, skin temperature or sleep quality. However, if you're not needing that information, then this is a good choice. It works via a rechargeable battery that simply needs to be plugged into a USB cable.
You can set a daily fuel goal indicating how active you want to be that day and Nike will send you reminders, motivating you to maintain your goal. With the app,  you can also create teams and receive your feedback regarding your workouts.
Related: Nike+ Stand Alone Sensor Kit, Star USB Charger
Fitbit Zip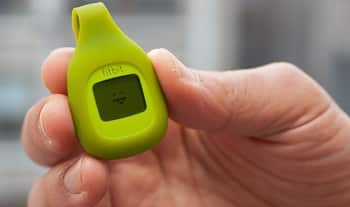 Weight: 3.8 ounces
Dimensions: 9 x 3.6 x 1 inches
Best Use: land activities; not waterproof
Description: The Fitbit Zip is an easy-to-use and fun way to track your daily activities. It's really the ideal device if you're looking for a tracker that isn't filled with hundreds of options. If you want a simple device, well, then here it is.
This track does come with a screen that'll display your all-day activities such as steps taken, distance traveled and calories burned. What's great about this device is that its design isn't like a traditional watch.
Instead, it can fit in your pocket, clip onto your belt or bra. Some people don't feel comfortable with wearing a watch and this is a great option if you're one of those people.
It is water-resistant and also comes with a long-lasting battery that lives up to six months before replacement, you'll be able to wear it all day, every day without having to charge it. It also syncs daily to your computer and is compatible with over 150 smartphones. The app is very easy to read and provides you with charts and graphs so you can easily track your progress.
Related: Baaletc Replacement Wrist Bands, Sony Lithium Battery
Striiv Play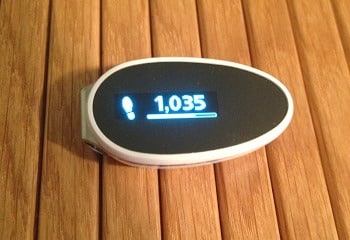 Weight: 3.2 ounces
Dimensions: 2 x 3.5 x 1.6 inches
Best Use: Land activities
Description: If you're looking for a tracker that you can easily clip onto your belt or keep in your pocket, then Striiv Play is another great option. Striiv is a hands-free wireless tracker which will tracker your fitness by monitoring your steps, stairs climbed, calories burned, distance, and minutes of activity. It can connect via Bluetooth to your iPhone and Android device, as well as PC and Mac computers.
Through this, you'll be able to view your fitness and progress online as well as connect with friends to track each other's progress. It has the best real-world accuracy that comes with a 3-D accelerometer, high precision altimeter and is designed to avoid "fake" steps.
The bright OLED screen also displays your activity and can be seen even in the daylight. It's also a great option if you don't want to break the bank on purchasing a tracker as this one is very modest in price.
Related: Striiv Smart Pedometer Basic Bundle
Conclusion
Now that you know everything there is about activity trackers, you'll have no problem seeing what is the best fitness band for you and your needs. Make sure you keep in mind what features you'd like and from there you'll have no problem selecting which tracker would suit you the best.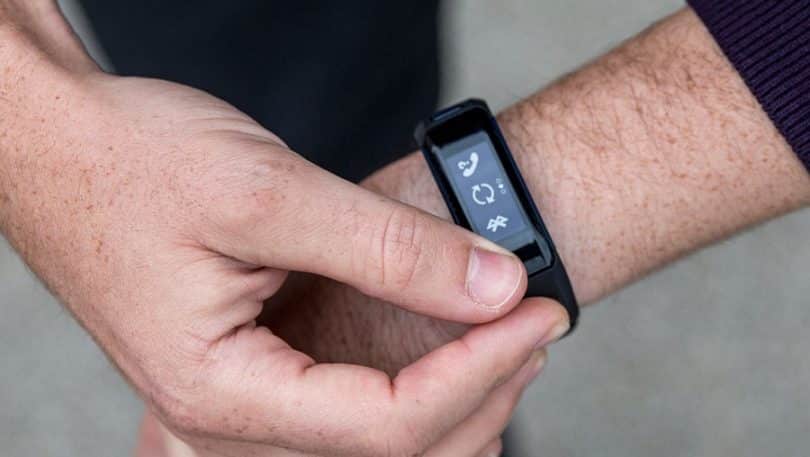 The activity trackers discussed above are really the best on the market, so we know that whatever you choose from this list, you'll make the right choice.