Modern backpacking hygiene equipment lets us meet our everyday needs for cleanliness in a breeze and leave little or no trace behind. All we need is to know how to properly prepare and place the equipment and give back the environment its original shape.
Although making and setting up sanitation might look like a complicated task, which requires heavy equipment, lots of backpack space and plenty of legwork to assemble and disassemble the restroom, most designs are actually lightweight, convenient and inexpensive.
Required Equipment for a Proper Outdoor Hygiene
Spending days in the backcountry, is really great, but what makes it even greater, is all the gear which makes us feel like home despite nothing has been set up prior to our arrival.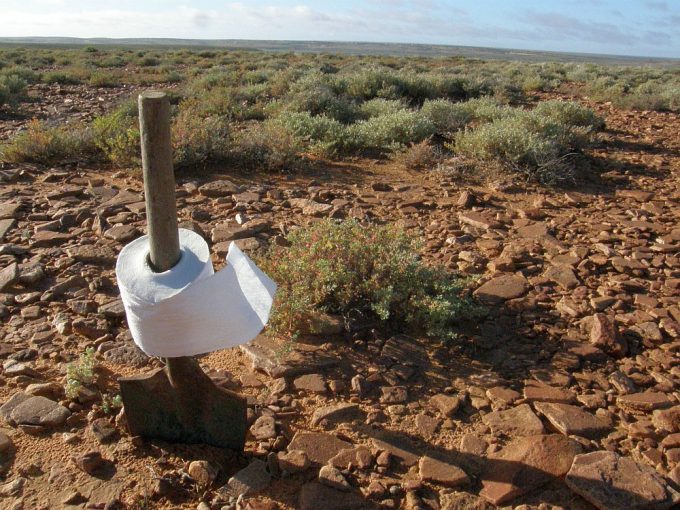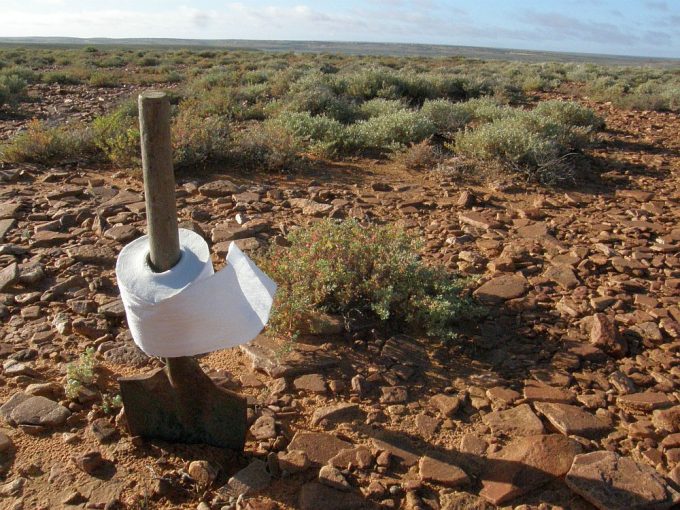 Toilet equipment consists of the toilet seat, optional cabin or tent called "privacy shelter", and consumables: toilet paper, solid waste bags, disinfection and deodorant solutions.
Portable Toilet
The portable toilet seat can take various shapes: it can be an environmental toilet, which only has a seat part and the legs, to which waste bags are attached. Others may be more advanced, resembling a bucket or a barrel, on which you can sit and enjoy a more fresh and comfortable experience. All these are meant for multiple uses, with regular replacement of any consumables after each or several uses.
Hammock-Style Toilets
The portable toilet seat can take various shapes: it can be an environmental toilet, which only has a seat part and the legs, to which waste bags are attached. Others may be more advanced, resembling a bucket or a barrel, on which you can sit and enjoy a more fresh and comfortable experience. All these are meant for multiple uses, with regular replacement of any consumables after each or several uses.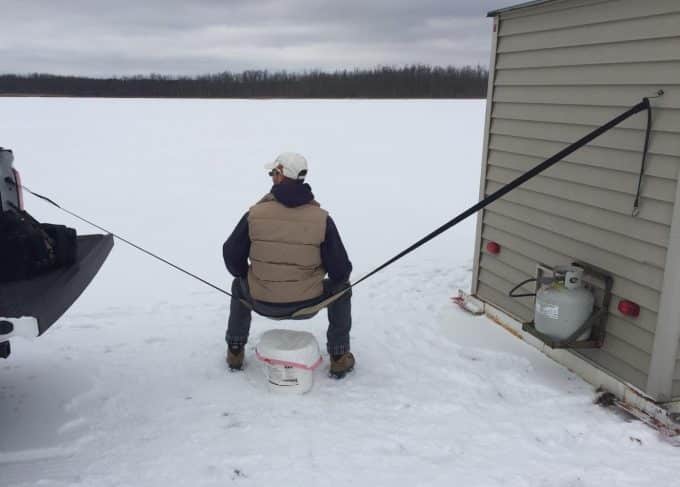 These toilets are actually made of cloth, which you hang on the either side of a tree or a pole, hence its pretty explanatory name. There is a hole in the middle of the cloth where you sit, and it is just a hole to which is not meant to dock waste bags, so you need to put a bucket with a waste bag spread on its sides, or simply a bag holder.
This kind of sanitation is very lightweight and takes a little valuable backpack room, but you might feel uncomfortable and inconvenient. You need to be careful with this kind of equipment: before going to the loo, as you have to test whether it is well hung, and only when you are sure it hangs well, you can go ahead and use it.
Hammock toilets have to be used carefully to avoid staining, which would make it dirty and useless, all until you reach out to a washing machine. Hammocks are favored by experienced campers and fishermen who spend many days in the wild and having more backpack space for some other necessities is their highest priority.
Foldable thick toilet seat
This is the lightest, solid toilet solution, usually made of plastics, which can hold a waste bag. Legs can sometimes be made of aluminum or other light alloy, and the seat can sometimes be padded. These, are one of the most valuable and convenient outdoor toilets. When folded, it takes relatively little space in the backpack, though, not so little as the hammock seat which has no thick parts.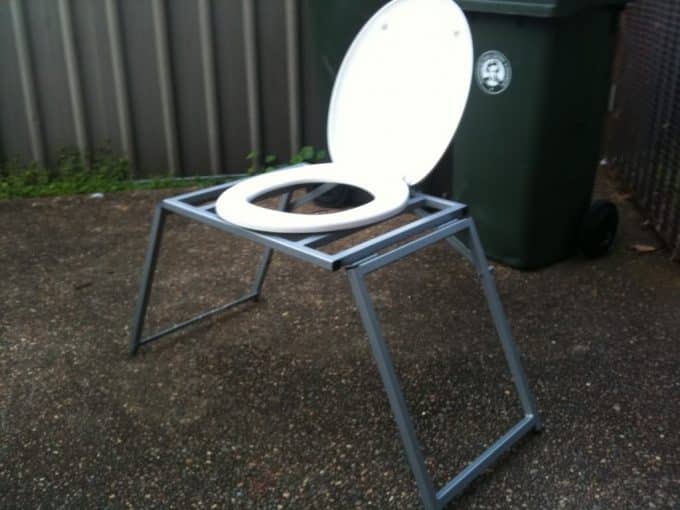 However, most toilets of this type will not require finding a suitable place to mount and will be quite easy to unfold and prepare for use. The ability to put a bag with it is great: you will be able to dispose of your waste in just a few moves and fold the toilet to its original state, or just leave it as it is, with replacing the bag.
Bucket toilets
These have been historically used in many situations, such as mines, war zones, and boats, and are very useful for any outdoor situations including recreation. While old latrines were improvised devices, made of whatever bucket available and common plastic bags, modern purpose-built bucket toilets are comfortable and made for use with special waste disposal bags.
Furthermore, they are often with accessories such as toilet paper holders or paddings, for more comfortable seating. Camping bucket latrines usually consist of an outer and an inner bucket.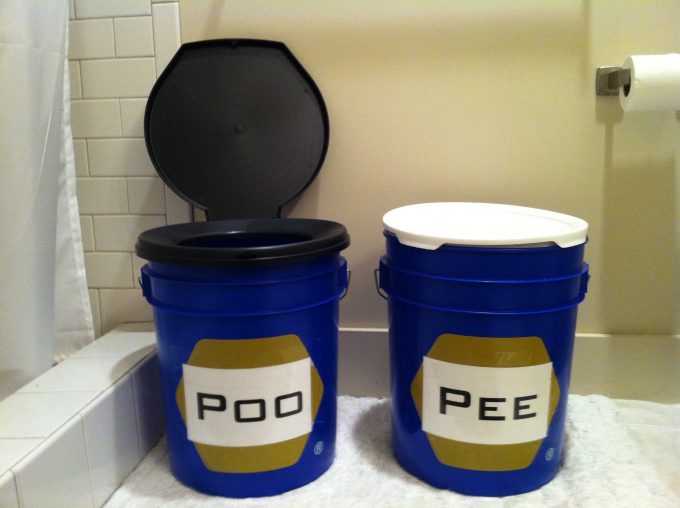 A variant of the above is the universal bucket toilet seat, which needs to be attached to common buckets. They can be very comfortable too, but this setting is makeshift and often requires more work on replacing waste bags.
Waste and toilet paper disposal bags
Simply called waste bags, these are made to seamlessly and securely keep the solid waste inside, protect from odor, and provide a higher level of cleanliness and sanitation. Quality waste disposal bags are made to keep the environment and retain your comfort and pleasure.
Double layered bags, full sealing closures, and gel powders which make any liquid human waste thick as a gel, all will let you feel like you've just stood up from your home flush toilet bowl. Active matters are sometimes used to mask or repel the unpleasant odor, and some bags are perfumed.
Some bags are treated with antiseptic compounds, and most bags are biodegradable, thus complying with the "leave no trace" rules of staying in the wilderness.
Toilet paper bags
Some recreational areas will have specific regulations regarding toilet paper: they will require you to sustain from using it. The only way will be to bring it with yourself until reaching an appropriate disposal storage. That might be gross, but with a good plastic bag made for the purpose, you will be good.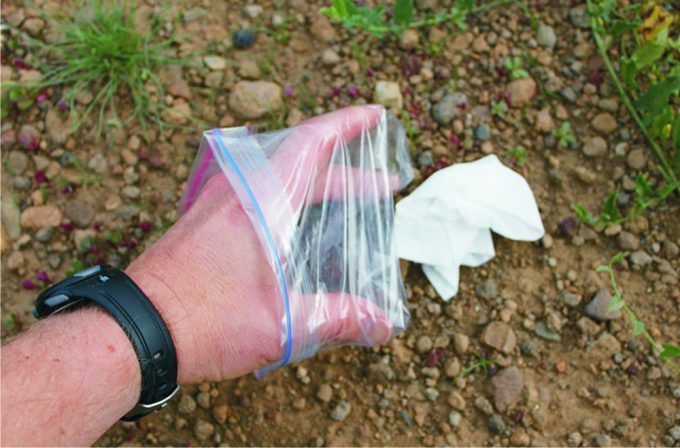 These plastic bags are sealable and leave no odors out. They are sanitary enough to keep you safe from germs and filth, and more appropriate for this role than a waste bag.
Digging tool
A trowel or shovel, will be required for you, if you adhere to the "Leave No Trace" rules. Getting rid of human waste requires burying it in a shallow hole, and anyone can dig in the soft soil. If the area consists of just rocks, you can remove a rock which has a pit below it, put the bag in the pit and put the rock back to where it was.
Even in such conditions, you will find a use of that kind of tool to push the rock from its place easier. When you dispose of full waste bags in the soil, you will need just a hole deep enough to accommodate it, and put any surplus land from digging back to the place.
Privacy Shelter
Another essential component of a functional camping toilet or bathroom, is the privacy shelter. It's basically a tent with a narrow base, but tall enough so most people can stand inside. These share other similarities with tents: a frame of metal or plastic and a synthetic canopy.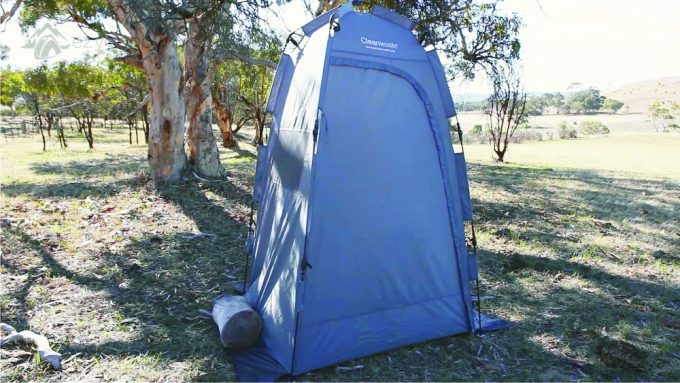 Unlike sleeping tents, toilet ones usually don't have a fly or vestibules and are made just to keep the occupant for short times. However, quality privacy shelters have a window or two allowing for better ventilation and unpleasant odors can go away quickly.
However, privacy is not the only thing a privacy shelter needs to provide you with. Choose shelters which can protect you from adverse weather. Look for a waterproof canopy and wind resistance rather than color, design, and features.
Privacy shelters need to be easy for deployment and takedown. This way you can try multiple places around your base camp to find an optimal one, which should be flat and protected from really strong winds. When a suitable place is found, you can set the privacy shelter up, put the toilet seat inside and keep it in the shape until the end of the trip.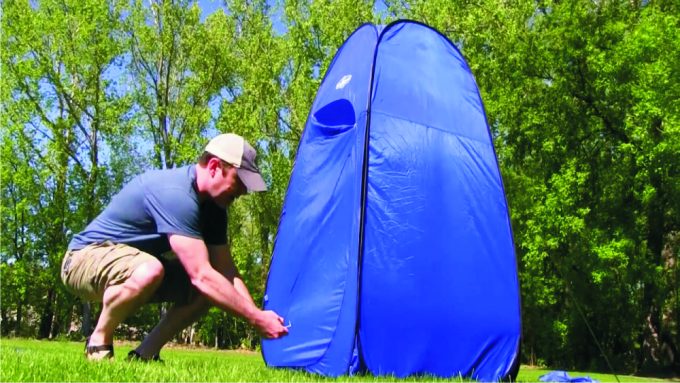 Some privacy shelters feature a floor, while some don't. Which is better depends on your preferences, some people consider floorless ones more suitable for sanitary use, whilst other prefer the improved comfort of the floor.
Features every privacy shelter needs to offer is a lantern hanger, solar shower hanger (for longer stays) and a couple of pockets for bathroom consumables: toilet paper, wipes, soap, disinfectant solution, spare waste bags etc.
Shower Bag
One of the most commonly noted disadvantages of long trips is the lack of opportunities to take a shower. Luckily, in warm and hot days it should never be a problem if you bring a solar shower bag.
Shower bags look very similar to hydration bladders and are basically a subtype, but solar ones are made of a material able to collect heat while exposed to sunlight and make the contained water hot.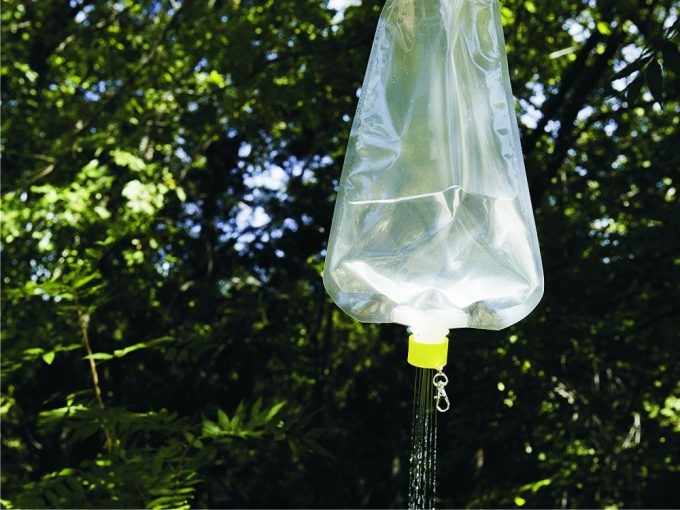 Solar shower bags are significantly larger than hydration bladders and their volume is expressed in gallons, rather than liters or quarts. Common volumes are 5 gal and 10 gal. A gallon is roughly 4 liters or quarts. The shower system consists of a bladder bag and portable shower hose with the head similar to that used in home bathrooms. See our article on the best backpacking shower to gain more information.
Biodegradable Soap/Shampoo
If you really want to Leave No Trace, you should sustain from using your standard soaps and shampoos while in the wilderness. Camping soaps, shampoos, and detergents are made from natural ingredients and break down quickly in the soil after use without contamination.
These products are equally effective as standard products you use at home, though not that cheap. There are solid and liquid forms, though you should first choose liquid forms which have a wider field of application and can be used to wash dishes, textiles and anything else you need to make clean during a backcountry trip.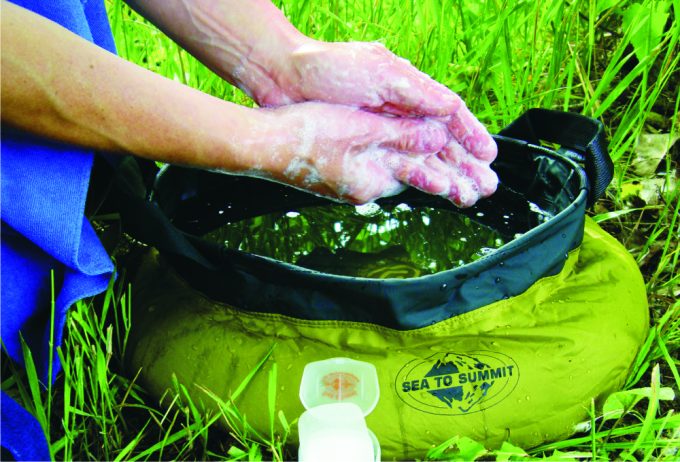 For personal hygiene, you apply less soap than you do with standard cleaning products at home. This way a 16 Oz of a biodegradable soap can see more uses than the same amount of standard synthetic soap, thus justifying a part of its high price. This fact also allows you to bring really small amounts to your trip, saving the room in the backpack. Biodegradable soaps are eco-friendly, so it's good to have that in your hygiene kit.
Disinfection solutions
All kinds of body excrements, including sweat, are sources of a large number of pathogens such as germs, bacteria, and viruses. That goes to everyone, no matter the health condition of every individual going to a trip. Additionally, bleeding wounds always require high levels of hygiene to heal effectively. In the wilderness, our capacities to maintain high levels of sanitation are limited, even though we have a complete outdoor bathroom.
Order all your wilderness bathroom elements and necessities some time before going on to the hike, this way you will be able to try it in your backyard before putting into operation. Testing your new camping bathroom in the backyard can be very useful: you will get used to it and learn to get the best from it before you even bring it to a trip.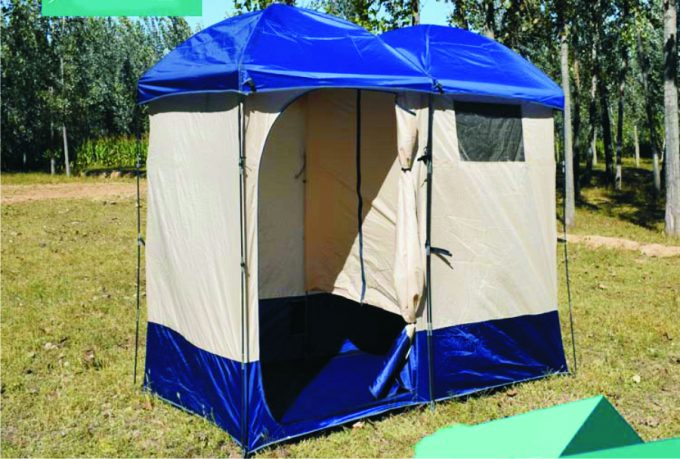 This informal training will help you acquire a daily operating routine with some dainty things, like disposing of waste bags or reusing a bucket toilet. You will also learn what is the optimal time for water in the shower bag to heat up on an average summer day. After several uses, you will be already used to the limited comfort camping bathroom equipment can offer. Remember that we should leave mother nature with as little trash as  possible. See our piece on LNT principles for more information..
Setting Up the Toilet
When you put up a camp in the wilderness, you need to find an appropriate place for setting up the toilet. The optimal place is flat soil, which is at least 200 feet away from the camp and has at least the same distance from any water surface (creek, pond, river, lake, sea…).
Ideally, that place should be next to bushes, trees or a forest with little wind exposure. The absence of wind is very important for the quality of your comfort even if you have a sturdy privacy shelter with the high wing rating. The place, however, would best be sunny, for that reason you don't go inside the forest.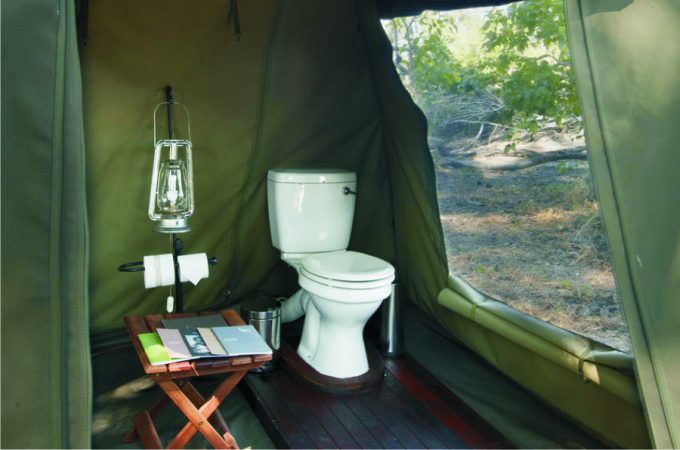 The soil would be rich and support the growth of many plants. These conditions help fast decomposition of your waste.
Waste Disposal
Getting rid of your waste requires finding an ideal place to dig a hole, and, of course – digging it. For that reason, it is best to have large waste bags you can reuse several times until full. Solid bucket toilets go hand in hand with that kind of bags because this kind of toilet can fully enclose a waste bag with waste already present inside.
Whenever a waste bag becomes full, you first dig a hole a bit larger than the full bag. Carefully put the bag handling it for the top and bury it with the excavated dirt.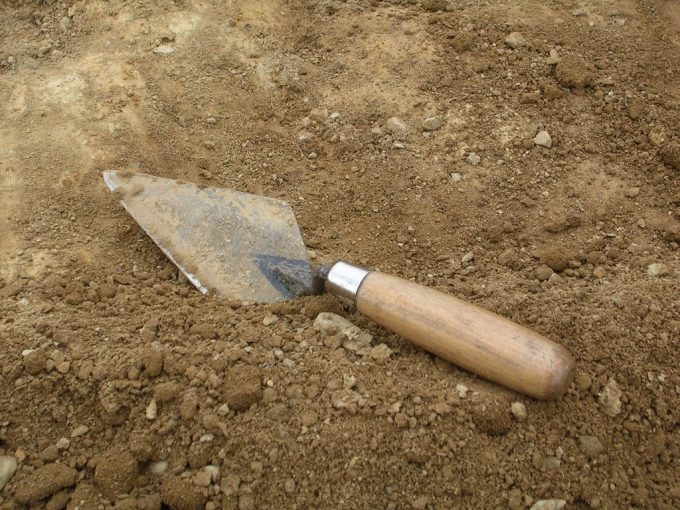 When you are done, disinfect your hands and tools you used, and then wash the hands using biodegradable soap. Also, do not forget to disinfect the toilet seat and install a new bag, so your toilet is ready for new use.
Taking a Shower
For taking a shower, you can use the same privacy shelter you use as a toilet. Just remove the toilet seat and voila!. To get the water, you can use clean fresh water from any surrounding source of water, ideally a spring or creek. Once you fill a solar shower bag full, leave it exposed to direct sunlight for several hours.
Better models of privacy shelters have hangers for an easy taking shower. Environmental water used for taking shower does not have to be rendered drinkable, but it needs to be clear and should not smell.
Bottom Line
The end goal of your backcountry trip is enjoyment through comfort. We go to the wilderness, to feel like a part of it, but we don't forget that the civilization is our natural habitat and a few of us are able to simply disregard every aspect of it when going away from it.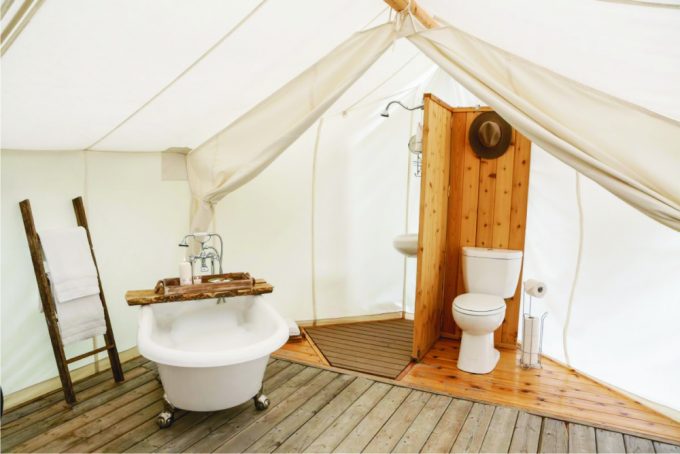 Some people will just pick a couple of oak leaves and squat for the number two, but for most of us, an actual camping bathroom can't be spared even if it means the additional burden to your budget and your back while carrying it.
Having a proper sanitary set up will make you ready to spend days or even weeks in the backcountry and feel a little disturbance.  As long as you have enough supplies for serving your nature calls. Here's some more backpacking shower gear for camping.
We hope that you found our article to be interesting and above all, useful. If you think that we left something important out, feel free to let us know by leaving a comment in the comments section below.