Snowshoeing is a form of hiking by walking over snow using snowshoes. The snowshoes help in floatation by evenly distributing your weight on a large surface, hence preventing you from sinking. In this article, you are going to learn how to snowshoe, and everything else there is to know about hiking in the snow. The exact dates when snowshoeing started aren't clearly defined, though some historians believed it dated back 4000-6000 years ago. The idea of walking on snow without sinking came from some animals that had extra-large feet which enabled them to advance in deep snow without sinking.
Snowshoes invention was a way of confronting the snow. They were more of a necessity than a recreational measure. Different regions had different shapes and sizes of these shoes depending on snow depth. To come up with an object like this, you might think the man had to watch how different animals walked on snow without a struggle. It is from this that he developed the snowshoe. As years go by, the shape, size, and use of it have evolved. Nowadays snowshoeing is more of a recreational activity.
The Advantages of Snowshoeing
If you are looking to have a healthy and fit life, then snowshoeing is one of the best leisure activities that you can involve.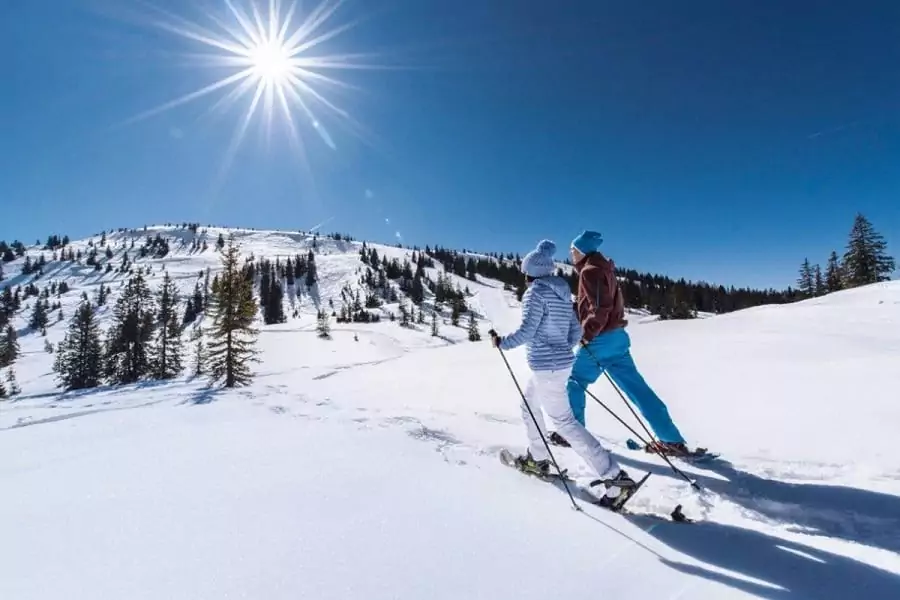 It is known to help in burning more calories than skiing, walking or running can ever achieve. It is also a good measure of building strength, agility, and balance. Overall benefits you get by snowshoeing include;
Muscle building: if you are looking to build muscles, then you should consider adding snowshoeing on your to-do list. To work out your back, arms and shoulders, consider adding a set of poles.
The snow acts as a cushion to absorb any bumps and shocks making this activity the perfect workout method for anyone with a knee It's ideal for both kids and the senior citizens.
Burning calories: snowshoeing is similar to running, walking and skiing when it comes to burning calories. The only difference is that with snowshoeing, you burn more calories per hour having covered the same distance.While snowshoeing, you tend to lift your legs a bit higher than when running. Due to the cold weather, your body, on the other hand, tends to work hard to keep warm.
The result is burning a higher number of calories than when walking or running. The number of calories consumed during this activity is dependent on the snow depth, your speed, and the terrain difficulty.
The following table highlights some calories you burn during various snowshoeing activities in comparison with walking, skiing and running.

| | | |
| --- | --- | --- |
| Activity/Speed | Snow Depth | Calories burnt/hour |
| Snowshoeing 2.4mph | Compacted on a flat trail | 420 |
| Snowshoeing 3.0mph | Compacted flat trail | 510 |
| Snowshoeing 3.5mph | Compacted flat trail | 740 |
| Snowshoeing 3.3mph | Powdered snow flat trail | 744 women/ 984men |
| Snowshoeing 2.9mph | Powdered snow hilly | 774women/ 1046men |
| Walking 3.0mph | Flat trail | 335 |
| Running 5.2mph | Flat trail | 570 |
| Running 7.5mph | Flat trail | 890 |
| Mountain biking | Rolling | 550 |
| Skiing 3.5mph | Flat | 600 |

It is evident from the above table that snowshoeing gives you a higher boost in calorie burning than most other aerobic workout exercises. It is one of the best methods that marathoners, cyclists, and hikers can use to keep fit during the winter months.

Fresh air: hard as it may sound, working out outdoors during winter has a lot of benefits compared to going to the gym. The fresh air increases your body's ability to relax and decreases stress levels.
Exposing yourself to the natural environment during exercising makes your body connect with the outdoors. Snowshoeing also gives you an opportunity to get a break from breathing the polluted indoor air and germs. Don't lock yourself all winter, get on your snowshoes and join other snowshoers for a happier healthier snowshoeing expedition.
Things You Need to Have in Mind Before Embarking on Snowshoeing
Just like many other activities, there are a few things that you need to keep in mind before you start snowshoeing.
Choose the right snowshoeing gear: always ensure you have the proper footwear, clothing, and accessories. (At all cost avoid cotton. It absorbs your sweat which makes it soggy in turn minimizing body insulation. In turn, this makes you feel the cold and disoriented.)
Footwear: these should be waterproof and heavily insulated. They can either have leather or rubber upper. If you fear of getting cold while exercising, you can wear wool or synthetic socks; these will keep your feet warm and dry. If you consider snowshoeing deep in powder snow, knee high boots with the qualities mentioned above will work well. Read our article on the best snowshoes to help you get the best experience during snowshoeing.
Clothing: your clothing should be layered to enhance adjustment depending on your activity level. For the base layer, you should consider wearing synthetic or woolen material as it can help you keep warm.
Choose long pants that dry fast, keeps you well insulated and quickly wicks away moisture. Polyester fleece acts well as an insulating mid layer as it keeps you warm even when wet and easily aerates even when you are busy exercising. For the outer layer, select a waterproof jacket and long pants to keep you moisture free.
Heat accessories: your overall body temperature is paramount. You should, therefore, ensure you maintain it at all cost when snowshoeing. To achieve this, you will need to keep your head and hands covered. You may want to read a previous piece on the best winter hats to keep your head protected from extreme cold.
To cover your head, use a wool or synthetic hat. Keep your hands warm and dry by wearing waterproof woolen gloves. If you go snowshoeing on sunny days, ensure you wear sunglasses to protect your eyes from the ultraviolet light. Check out our article listing the best gloves for your winter activities to keep your hands warm and toasty.
Be sure of the weather by watching weather forecast: when it is fun to snowshoe, it can also be very dangerous, and especially you meet with a snow storm. To avoid such a scenario, you need to make sure you have watched the weather forecast.
Go out for snowshoeing after a snow storm has cleared and there are some sunshine and warmth.
Locate a trail: do not go snowshoeing blindly.
You need to select a trail which to follow when exercising. There are plenty of options including your regular hiking trail, your local parking area or ask around in your snowshoeing store.
Go out fully prepared: at one point during snowshoeing; you will break a sweat and need to rest. It happens regardless of whether it's your first time or 100th.
For this reason, you should consider bringing a backpack with you containing water, a snack and some screen lotion. The meal will keep you stay energized while sunscreen is good for any exposed skin. You can also take a look at our article on the types of backpacks that are right for you.
Get friends' company: They say that if you want to go fast, go alone, but if you want to far, go in a group. Snowshoeing will be more fun if you go with a friend or in a group.
During winter, the weather is also bound to change without warning. When you are in a group, you can help each other in case anything happens.
During snowshoeing, you can bring a camera along and capture all the fun moments you have in the snow. With so many social media platforms for sharing photos, create great memories with friends through sharing photos.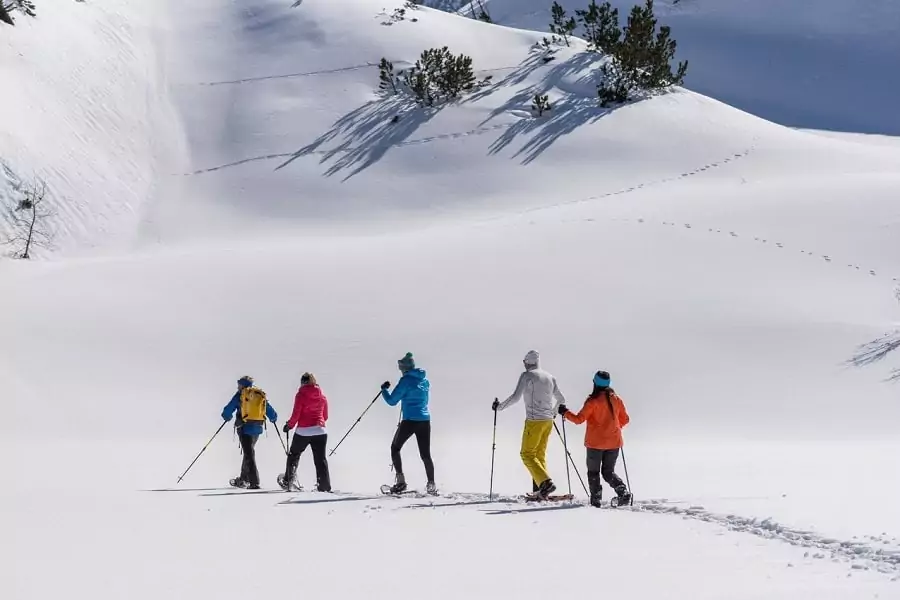 Fearing is the worst thing you can do during your first snowshoeing expedition is to fear. Get out of your fear cocoon and put your feet on the snow. The first step is usually the hardest and the moment you take it, and the rest will flow smoothly.
Snowshoe Basics
Getting the basics is the first most important lesson in learning snowshoeing. With an excellent guide and ambition, you can quickly grasp the basics. The training doesn't necessarily have to be long.
They can even take an hour or so, and you are ready to get in the snow and enjoy the pleasant, fresh winter weather. Below as some of the most important first steps that you need to learn as a snowshoer.
Rising: as a newbie snowshoer, you are obviously going to experience a few falls. It is normal, don't worry about that. The most crucial thing, however, is how you get up after falling. Roll over on our front, raise one knee while kneeling with the other and support yourself with one arm and the rise. If you were using hiking sticks, you could help yourself with it to get up.
Going in rounds/turning around: this is another basic when learning how to snowshoe. You can either use "kick turn" or "step turn." The kick turn requires you do 180-degrees turn by placing one snowshoe in the opposite direction and then making a full fast turnaround.
This type of turnaround requires that you have a very flexible lower body. The step-turn on the hand needs you lift one snowshoe about 90-degrees above the other so that you are making a "t." Then shift your body and bring the lifted leg on the ground.
Progressing: this is moving forward, and it's not hard to learn. Move as if you are not wearing snowshoes; just make sure you are distributing your weight on the snowshoe's width. By doing this, you minimize any chances of getting back pains after training.
Once you are conversant with these basics, you can now progress into learning different techniques of snowshoeing. These are;
Traversing: this is a snowshoeing technique that you use to avoid steep trails and challenging terrains.
To ensure you are on the right track, if you are snowshoeing as a group, it is advisable to follow the tracks of a more experienced snowshoer. Also, make use of your of hiking poles; at all cost maintain balance.
Going uphill: snowshoeing trails are not flat always, there will, however, be hills to go up and down, and these are the challenges that will make the sport more enjoyable.
To go uphill, you need to maintain your grip by placing your feet firmly on the snow. If the hill has hard packed snow, you will need to use your hiking poles and snowshoe "claws" to maintain your traction. For powdered snow, you use the kick snow technique whereby you kick the snow with your toes. If the step is not too difficult, engage the heel lift at the bottom of your snowshoe.
Going downhill: this is easy. You need to ensure your body is relaxed, put your poles in front and slightly bend your body backward.
Use of poles: once in a while you will require to use poles and especially if you are snowshoeing in a little bumpy terrain or are snowshoeing for exercise purposes; poles give your upper body proper training.
You will need to adjustable poles which you can adjust depending on the terrain. When going uphill, you will need to shorten and increased while coming downhill. Poles are meant to help you maintain balance while snowshoeing.
What Have We Learned?
It is wonderful to get outdoors during winter. Snowshoeing is one of the many activities that you can enjoy doing during this season. However, it can be dangerous considering there are snowstorms or dangerous objects buried under the snow.
To make sure you are safe, always go snowshoe as a group. In addition to watching the weather forecast, make sure you perfectly understand the terrain you are going to snowshoe. You can carry a map with you or follow the tracks of other hikers. At all cost, your safety is paramount.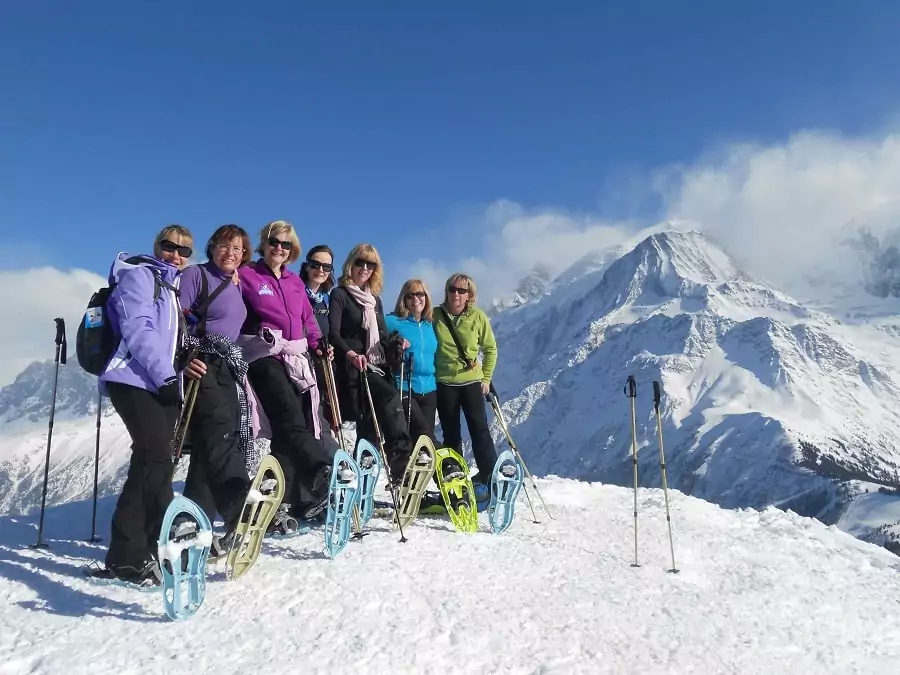 Also, as discussed above, make sure you dress properly for the occasion. Be aware that your body should not be exposed to excessive cold as this can lead to hypothermia. Hiking in windy areas is dangerous as it not only speeds up cold, but also causes freezing of body tissues, a problem known as frostbite. Frostbite mostly affects the face, fingers, and toes. It gets worse if you don't realize it sooner. It causes long-term effects on the body.
You can overcome this by wearing wind protective gear. Get the right gear, follow the above steps on how to snowshoe and enjoy working out in the snow this winter.
If you have any questions you would like to get an answer to, or you want to share your winter adventure experience with us, feel free to leave a question or a comment in our comment section below.