Camp stoves are the best reliable fire sources for outdoor hobbyists. Most of them use propane or gas, even though the propane stoves can be relatively expensive, but are reliable. But, getting the best stove is half-way to making your outdoor stay pleasant.
The big things to get are the camp stove recipes that will leave you impressed or impress your companions. We will provide you with the best recipes for your camping needs in this article. Even more, we will provide the camp stove cooking techniques.
To make camp stove cooking a cinch, you need to have the right cooking supplies. Some of these supplies include the following:
Have a reliable camping stove powered by gas or propane
Lighter fluid or a box of matches
Lightweight saucepan or pot
Other kitchen gadgets like bowls and aluminum foil
Cooking in the wilderness can be demanding, from preparing your meals, to cooking them and to cleaning the mess that's left after cooking. You need some sort of ingenuity to achieve cooking foods out of your kitchen in the outdoors. To make cooking a breeze, see our article on the best backpacking cooking gear for your outdoor needs.
We've noticed that much of the work can be halved by following the simple techniques of preparations. We provide you such preparation techniques below.
Camp Stove Preparation Techniques
Prepare the recipes beforehand. This reduces your preparation time at the camping site because measuring ingredients and mixing according to the instructions can be lots of work. Some require numerous bowls and oven preparation. You will have to mix your ingredients accordingly and store in zip lock bags. And also remember to freeze other meat recipes to lengthen and retain their freshness.
Stews and soups should be prepared ahead of time too and be frozen. It will be easy to reheat them with your camp stove when you reach your destination.
Of course do not forget your kitchen tools when heading to your camping, because you will need them to cook or reheat. Spoons, bowls and aluminum foils are indispensable for your cooking needs. Take extra aluminum foils because, depending how long you are camping, you will need more.
When packing your goodies, separate them in their respective containers label them accordingly. And if there are some cooking instructions you think you might forget, write them clearly for later referral.
Freeze meat and beverages before packing them in the cooler. This will help keep other foods cool as well.
When packing your gas canisters, please put them upright always and store in a ventilated side.
And when cooking, make sure your pots or pans are always covered to shorten the cooking time and to also save fuel for your long days of camping.
Your cooking hardware should be fireproof. And make sure that the handles are kept away from the hot plate because they might burn you when you remove the pot or saucepan.
These are essential guidelines you should keep in mind before cooking your camp recipes. We've done our half job in advising you with preparations. Much of the work should be done by following the instructions on each packet of the food purchased. In our recipes below, we will provide you with the ingredients for each food to prepare, and also provide you with the methods/instructions.
Our recipes are randomly provided without any sort of categorization into breakfast, lunch or dinner. However, we strongly believe that the recipes are versatile enough to be considered for the entire day of hiking. Please note that our suggestions are purely estimated amounts. So you can amend them based on a number of companions you camp with.
Recipes for the camp stove
Cowboy chicken & bean stew
The cowboy chicken and bean stew can best be prepared for your lunch or dinner after a long day of trekking in the wilderness. This recipe is sure to provide you with ample energy and nutrients to replenish the ones lost during your outdoor activities.
It takes about 10 minutes to prepare and an hour to fully cook it, well depending on how hot your camp stove is. And a maximum of 4 people can be served. To prepare this recipe, you need the following ingredients:
Chopped Onion, oil, 8 chicken portions, smoked paprika teaspoon, 400g can of chopped tomatoes with garlic x2, 200g BBQ sauce, chopped smoked streaky bacon x6, mixed dried herbs or dried oregano teaspoon, tortilla chips, grated cheddar and 400g can of pinto beans x2.
Once you have these ingredients ready, you can continue with the method of cooking as follows:
Prepare a pot with a lid and then preheat the oil to medium heat.
Prepare onion and bacon in the pot and cook for 15 minutes until the onion turns brownish and the bacon appears crispy
Then add chicken and increase the heat of your camp stove/oven to high until the chicken turns brown as well
Add the tomatoes, paprika, BBQ sauce, mixed herbs, black pepper, ¼ teaspoon of salt and about half a cup of water.
Then close the pot with the lid and stir the meat periodically until well cooked for about 45 minutes
If the chicken is not yet tender, you can increase the cooking time, perhaps by 15 minutes
Remove the lid and add the beans and leave the pot for about 15 minutes until the sauce thickens.
You can then serve the meal and add optional toppings such as the tortilla chips or grated cheddar.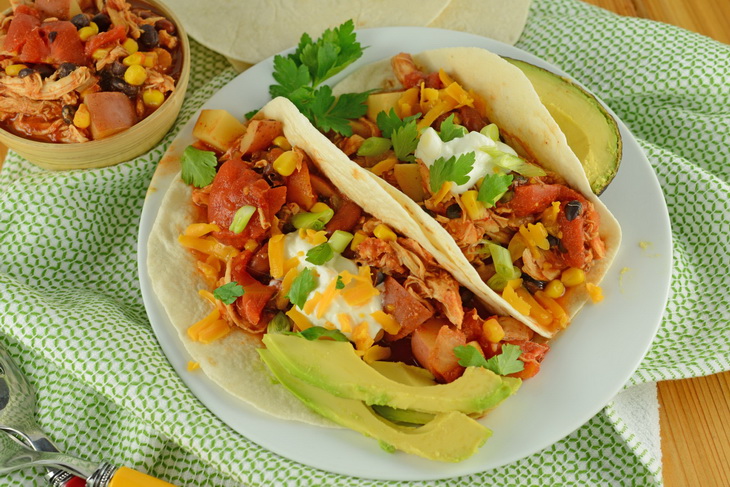 Chicken and Vegetable stew
You never go wrong with the chicken and veg stew. It is such a delicious camping meal that can be consumed regardless of the seasonal change. Whether you camp during winter or summer, it is still ideal for you. And to make this meal, you need the following ingredients:
Chopped onion, 2 crushed garlic cloves, 2 spoons of veg or olive oil, 2 sliced carrots, sliced fennel bulb, boneless chicken thigh or breast fillets, cut into larger pieces, waxy potatoes, diced pumpkin, and optional 200ml white wine glass.
To prepare your appetizing chicken and veg stew, follow our method below:
Preheat olive or veg oil in a pot and put on the camp stove
Then cook garlic and onion for about 10 minutes while stirring until they turn golden brown. Keep the heat to medium to avoid burning your contents.
Then add carrot, fennel and pumpkin and continue cooking for about 5 minutes while stirring occasionally
Add the chicken pieces into the pot and continue stirring until the chicken turns golden brown as well. Meanwhile, add the 200ml of wine and cover the pot to boil for about 2 minutes.
Subsequently pour about 1 and a half cup of water into the pot to prepare for the stew. Add the potato, a pinch of salt, and a black pepper.
Then cover the pot and cook for about 30 minutes until the potatoes are tender
Take the spoon to taste the content. If satisfied, you can then pour into bowls and let it cool before ingestion.
290g pack pizza dough mix
Frying pan pizza pie
Who said only professional restaurants are well-rounded in making pizzas? Even a well-trained teenage girl or boy can do that successfully. To make this pizza pie, make sure you have the following ingredients ready:
Flour, 1 teaspoon of tapenade or pesto, chopped and sun-dried tomatoes x5, 125g of sliced ball mozzarella.
And to successfully make this pizza pie, our method below could be helpful to you:
Prepare a bowl and then prepare a pizza dough mix in it. Then cover with a clean towel and let it be exposed to the sun for about an hour or until it rises.
Then cut the dough into pieces and press hard each piece on a surface sprinkled with flour.
Then spread a round of the dough with tapenade or pesto in a pan and top it with tomatoes or mozzarella. Then cover that round of pizza with another dough and press them hard to seal them.
Put your frying pan on the camp stove and cook for about 15 minutes until a golden brown color is yielded
You can then cut your pizza into slices to serve after cooling it.
See our list of the top backpacking frying pan to help you cook perfectly.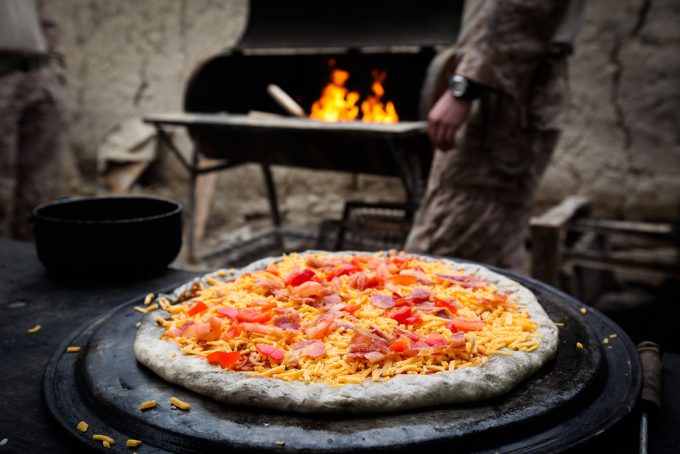 Sweet potato pasta
You can probably consider this for your breakfast dining or during supper after a long day of backpacking or hiking. It is relatively easy to make this pasta as long as you have the following ingredients:
Chopped garlic cloves x2, 2 teaspoons of olive oil, finely chopped stick celery, chopped carrot, chopped brown onion, 400g diced tomatoes, 1.5 cups of small pasta, peeled and diced sweet potato or pumpkin, parsley and Parmesan, and 5 liters of hot water.
To successfully create this meal, follow our instructions below:
Preheat the oil on a camp stove
Then mix the onion, garlic, celery and carrot in the oil and stir until the onion is tender
Add sweet potatoes and tomatoes to the pot and pour water
Cover the pot and cook for about 30 minutes
Later add the pasta and leave the pot for additional 10 minutes on the stove
Remove the pot from the camp stove, and top the contents with parsley and Parmesan
Then serve your delicious meal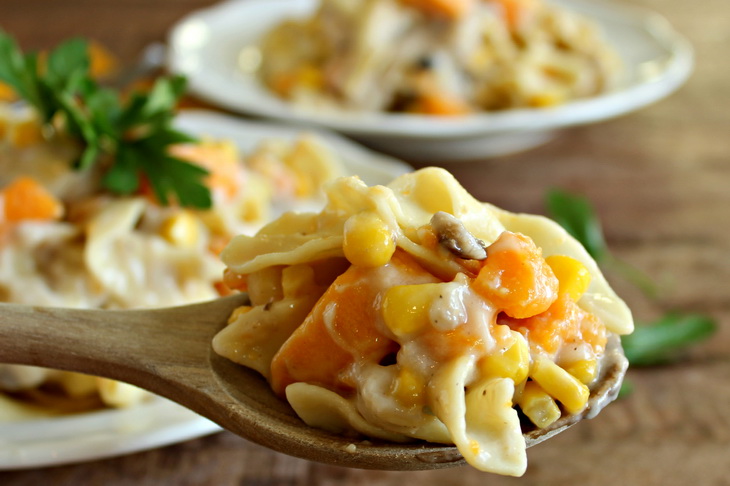 Cheesy scrambled egg croissants
This recipe is suitable to benefit your body with proteins in the morning before you head out to your hiking or backpacking activities. Even if you give the instructions to the 11 year old child, they can make a mouth watering dish for you.
As long as you have the following ingredients, you are sorted:
4 large croissants, 8 large eggs, milk, 100g grated cheddar and snipped a small bunch of chives
The instructions to make this meal are as follows:
Prepare a large bowl in which you will whisk the eggs, milk and the grated cheddar. Add some seasoning to taste (salt or black pepper).
Prepare a saucepan on your camp stove to pour the mixture
Stir the contents in chives
Then split the croissants and pour the scrambled eggs.
Your meal should be ready to serve.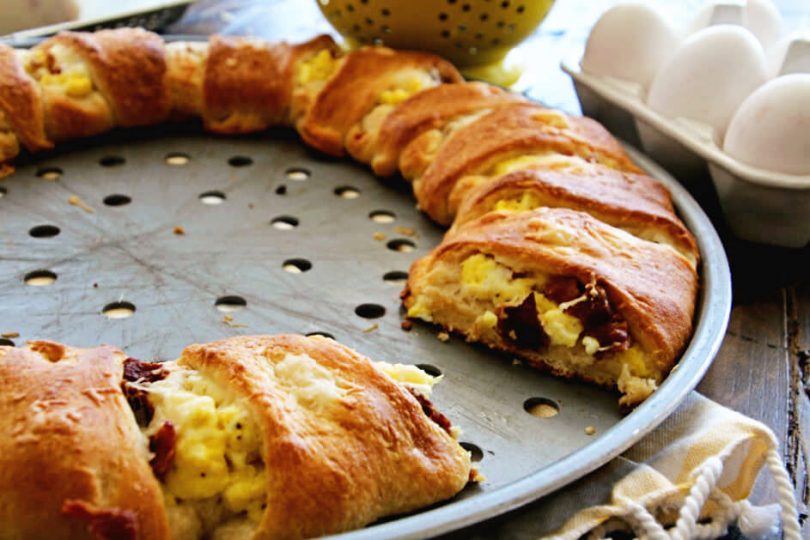 English Breakfast
As the name says, this is the English breakfast to add fun and pleasure to your day in the dawn of your morning. Don't be discouraged by the name, it's actually effortless to make it. The following ingredients are your gateway:
4 pork chipolata
4 smoked back bacon
Snipped chives
Grated cheddar
6 eggs
Halved tomatoes
And 140g of button mushroom
The method below will help you achieve your English Breakfast mission. It should take about 5 minutes to prepare and 15 minutes to complete the cooking process:
Preheat the camp stove to a high heat and put the frying pan on it
Fry the pork chipolatas in the pan for about 5 minutes
Then add bacon and fry each side until it is crisp
Add the mushrooms and cook for about 3 minutes
Remove excess fat from the pan before adding other ingredients
Add the seasoned eggs to the pan by spreading them over the contents
Add tomatoes, chives and the grated cheddar and continue cooking for 2 minutes
Once done, cut the meal into wedges to serve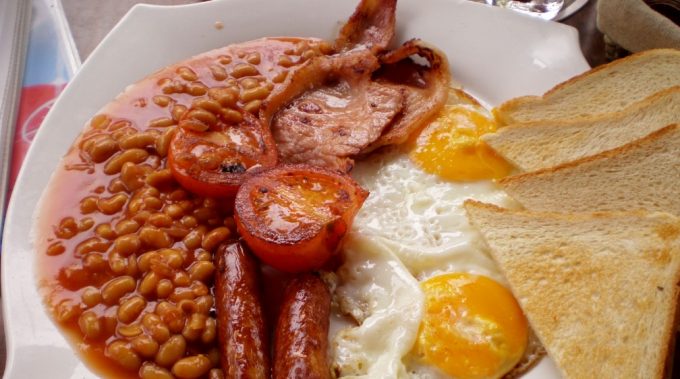 Chicken Noodle Soup
Perhaps you brought the bread or rice, having the chicken noodle soup could be the best companion for them. Imagine the pleasure of having this meal in the early morning amid the freezing temperatures. Have the following ingredients to prepare it:
Shredded BBQ chicken
45g sachet of chicken noodle soup x2
½ cup of chopped parsley
85g packet of 2 minute noodles
1kg mixed vegetables
2 cloves of crushed garlic
2 chopped onions
The method to make this delicious menu is as follows:
Prepare a large pot and your camp stove
Pour 4L of water into the pot
Then add all the ingredients excluding the optional parsley
Then let them boil for about 4 minutes
Then later add parsley
Stir occasionally until your meal is ready to serve
For tips and tricks on how to keep food warm during backpacking, see our previous article on this topic.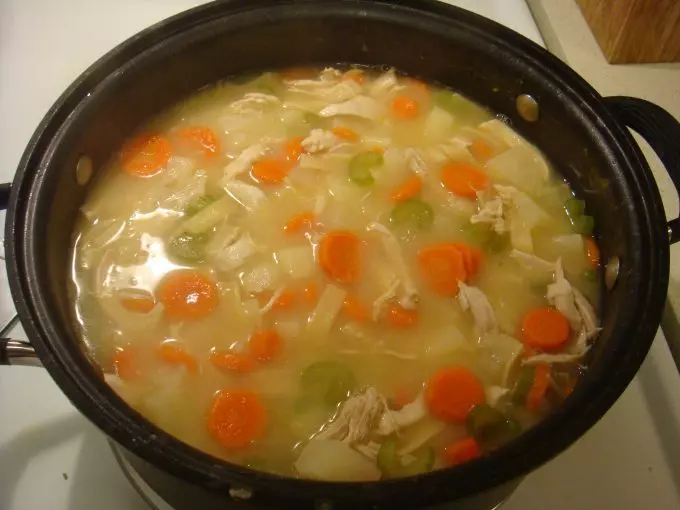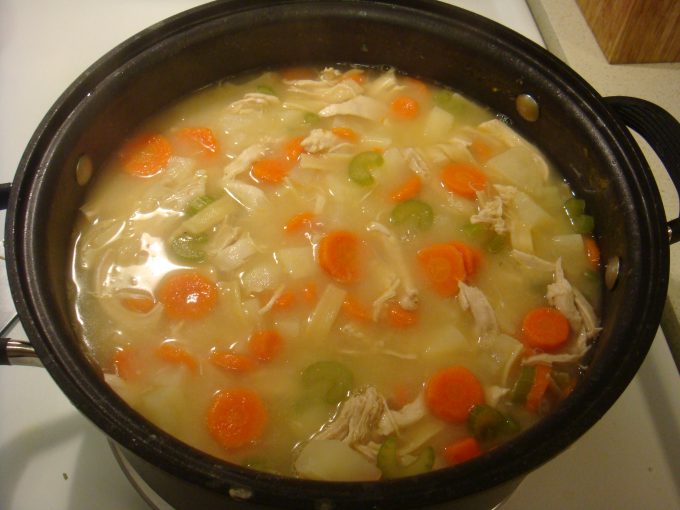 Mushroom & Potato Curry
Only 30 minutes of your time is needed to make this meal suitable for your lunch. Breakfast often needs quick things, so this better be suitable for lunch or dinner. Ten minutes needed to prepare and 20 min needed to cook. It can serve 4 people. The following ingredients are needed:
Large potato, 1 onion, teaspoon of olive or veg oil, trimmed aubergine, 250g button mushrooms, 3 teaspoons of curry paste, 400ml of coconut milk, chopped coriander and 150ml vegetable stock.
Then follow the instructions below to make your meal:
Prepare your camp stove and put a saucepan on it to pour olive or veg oil in it
Add the potato and the chopped onion
Cook for about 5 minutes while the saucepan is covered until the potato is soft
Add the Aubergine and the mushrooms and extend the cook time by 5 minutes
Add the curry paste and pour the coconut milk and the vegetable stock
Simmer the contents for about 10 minutes
Stir with the coriander
Then serve with bread or rice
Chicken Pilaf
We reckon you prepare this appetizing meal at home ahead of time. All you need are the following ingredients:
2 cloves of garlic, 2 teaspoons of olive oil, chopped onion x1, 2 teaspoons of curry powder, skinless and boneless chicken breasts, cut into chunks, 1.5 cups of cooked basmati rice, ¾ cup of chicken stock, chopped mixed vegetables, and salt & pepper.
The simple method is described to make this meal:
Prepare a frying pan and put it in the oven at home.
Then add onion, garlic and chicken and fry them
Stir in the cooked basmati rice and the curry
Then remove the mixture from the stove and store in a zip lock bag
When it's time to prepare for lunch in the wilderness, add the mixture to the pot and cook on your camp stove
Bring to boil and cover the saucepan for 5 minutes
Then serve your meal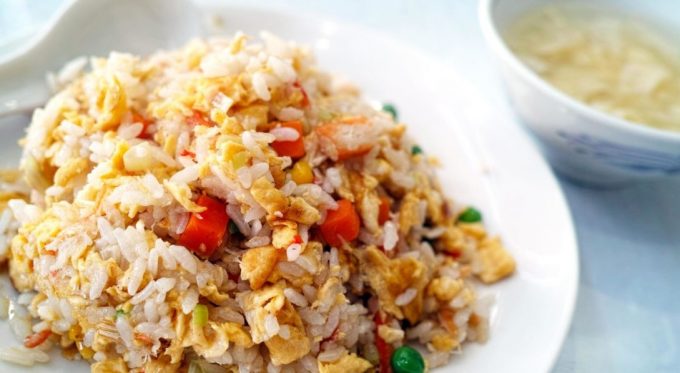 Spoon Bread
The spoon bread could be ideal for your breakfast enjoyment. Buy the following ingredients to prepare for it:
1 cup of flour
1 cup of cornmeal
2 eggs
¼ cup of sugar
4 teaspoons of baking powder
¼ cup of margarine or butter
1 cup of milk
The instructions are highlighted below to make the spoon bread:
Mix the 4 ingredients and melt butter/margarine
Scramble eggs and add them with milk to the mixture
Pour the entire mixture into the pan and bake for about 20 minutes
Then serve
Wrapping It Up
This marks the end of our enticing, appetizing and delicious recipes suitable for your camp stove. Please note that these recipes can be similarly cooked on a campfire in case you run out of gas or propane in your camp stove. But you must be vigilant about the high heat provided by the camp fire. You can monitor that by reducing the woods. Camp fire can be damaging to your pots or saucepan.
That being said, we reckon that you apply the liquid soap on the outer surface before putting them on the campfire. This will make it easy to clean them thereafter.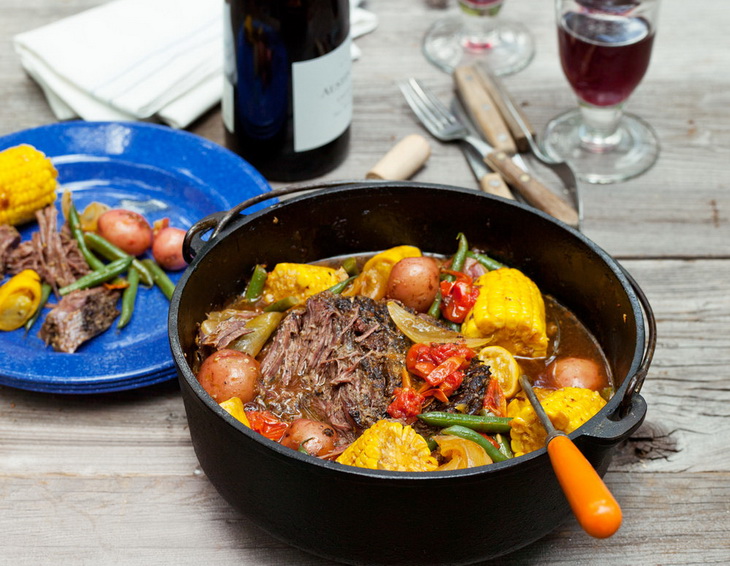 Given these recipes, you must be well-equipped to make any meal of your choice. We've provided the ingredients and the methods to cook each meal. Also notable is the cooking techniques we've provided at the beginning. The important one is to prepare ahead of time.
No time to cook? Our article on camping meals that require no cooking is a must-read, so check it out.
Have you other delicious recipes to share with our readers? You're welcome to share below. If you have any questions we will be happy to respond to you.