No cook camping meals can be a fun way to eat without having to create a fire or bring along a camping stove. Eating no cook camping food means you can eat faster because there is less preparation and wait time than when you decide to cook a hot meal. While some may enjoy a hot meal, there are many camping food ideas, no cooking required!
This means you can still eat healthy, with less wait time than cooking, and still come up with some great no cook backpacking meals! As you will see, there are several delicious recipes out there that can be made without heat while you are enjoying the outdoors. You may find something that you did not think you would enjoy, but now love!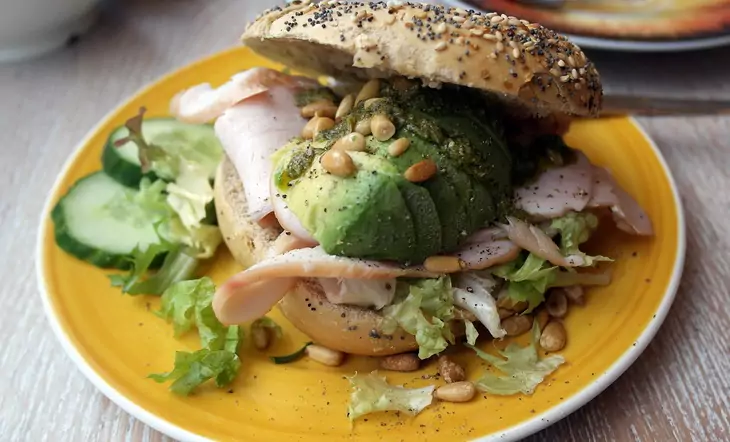 In this review, we are going to show you the features you need to think about before you prepare meals, as well as several recipes to give you an idea of what you can make. They can always be tailored to your liking, and prepared before you leave for your camping trip. Hopefully, you will find a new favorite camping food after you see what we have in store!
Things To Consider
When it comes down to finding recipes for your next upcoming camping trip, you will need to think of foods you enjoy and then what you can make from that to enjoy while out on the trail. Check out some of the features below to see what you can gather for your next adventure.
Choices
You have a variety of choices of meals and snacks you can make just before or while you are out camping. Things like sandwiches, salads, trail mix and more can keep you full of energy, without having to start a fire and get dishes dirty! Campers swear by these top nutritious trail mix we've listed down in our previous article, come check it out by clicking the link.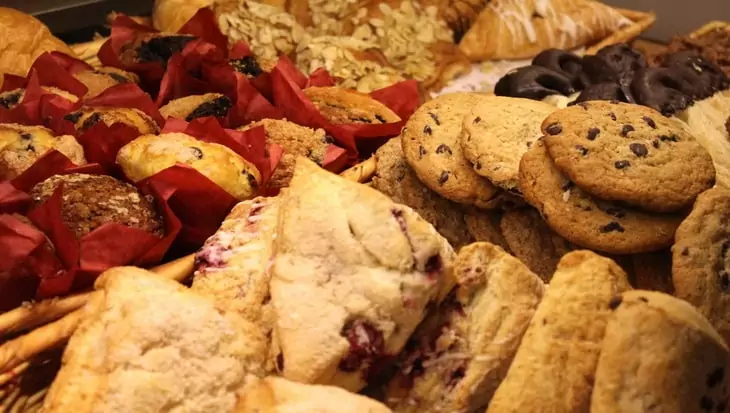 Once you have a few recipes, you can gather the foods and prepare your meals, which will be easy to make, easy to eat and a big help once you are outdoors. Bringing along a cooler will help keep many foods edible, so you have a wider range of foods to enjoy.
Health Factor
You get to choose what goes into your meals, which means you can choose healthier options. Things like vegetables, fruits and more can be eaten cold, without much preparation.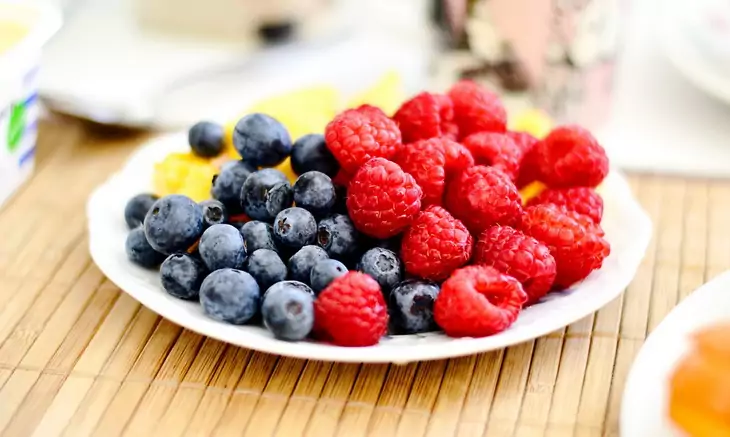 You can prepare wraps with beans and other items that are healthy and give you fiber, protein, and the things you need while you are exploring the outdoors.
Amount Needed
Gear space is going to be limited, so you only want to take what you know you will need. Bringing too much can mean less space and possibly wasted food. Therefore, think of how much you will need to eat in a day, plan it in meals and snacks, and then take that amount with you.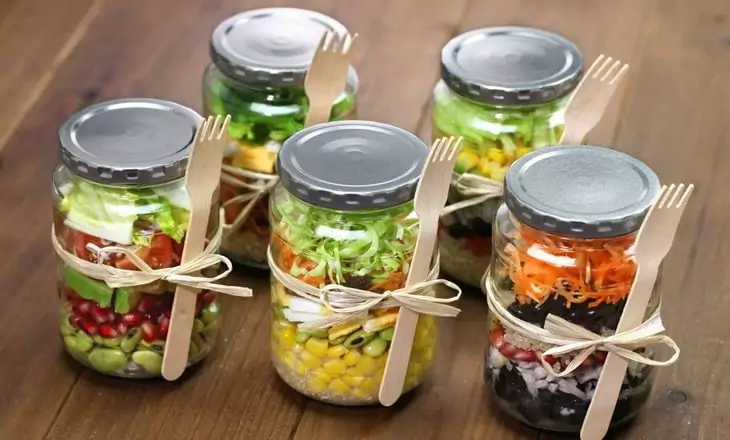 Each meal can be stored in a container and labeled for easier eating and access.
Storage
Your foods will most likely need to be stored in containers so they do not spoil. This is why bringing a cooler is helpful. Certain things like fruits, veggies and meats will spoil if it is not stored correctly.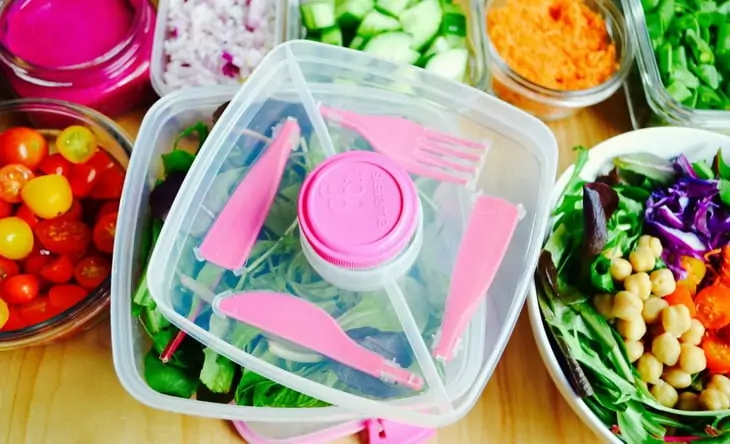 If you bring along, bread or crackers, make sure they do not get exposed to air and go bad. Keep what you need to in the cooler and you should be good to go as far as food storage and food safety. Our article showing a list of the best side coolers to keep food fresh is an important read – check it out.
Preparation
There will be a lot of preparation before you leave for your trip as far as getting the meals together. While many things can be prepared while you are on the trail, some items, like salads and pastas should be prepped before you leave and stored in a container for later.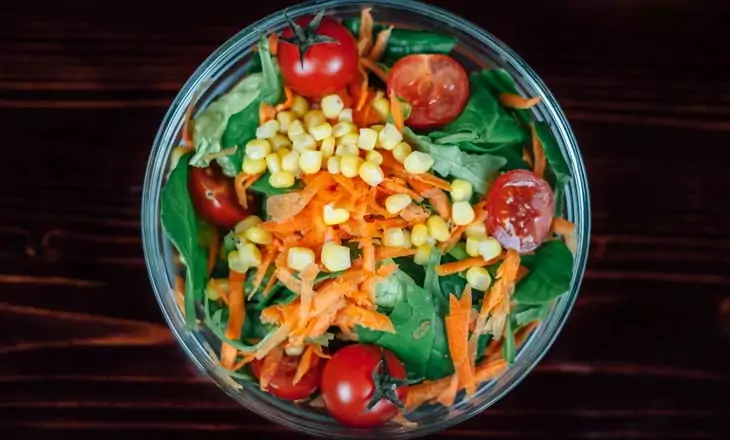 Things like sandwiches can be made while you are on the trail.
10 Simple No Cook Meals for Camping
Below we have compiled 10 simple recipes that require no heat that you can pack up and take with you on your camping trip! Keep in mind that some items need to be put in a cooler to prevent anything from spoiling.
Be sure to properly wrap or use containers for foods so you do not go through any bad experiences such as eating spoiled food that could make you ill.
Burritos and Wraps
There are many types of wraps and burritos you can make, including banana and peanut butter, chicken, and more.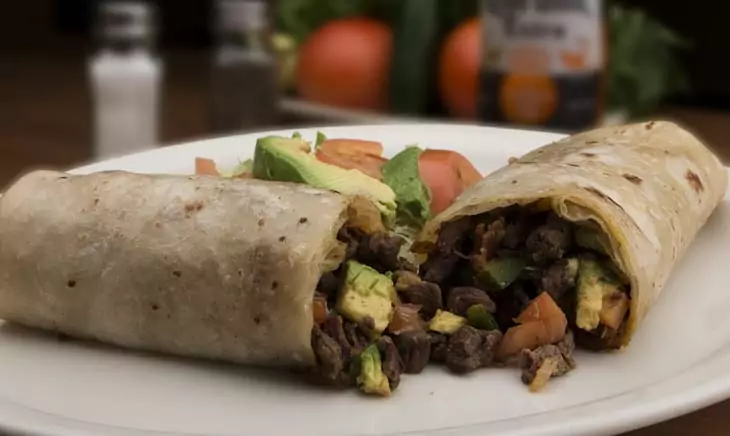 See below for a no cook burrito recipe that feeds 4.
Take the 100 grams of Bulger wheat and add 100 ml of hot water in a bowl. Cover it and leave it for 40 minutes.
Next put the 120 grams of cherry tomatoes in a bag and squish them to separate the juice. Pour the juice into the bowl once it is ready, and keep the tomato bits in the bag for use later on.
Stir the Bulger wheat with salt and pepper. Use another bowl to mix the 3 tbsp of Tahini with 3 tbsp of water.
Put out the wraps and add the mixture in the middle, with kidney beans on one side and the corn on the other. Add some smoked tofu over it and then add in the pieces of tomatoes from earlier. Add some lime for zest if you wish.
Fold them and enjoy!
Granola
Granola bars are easy to make and best of all, you can tailor it how you like!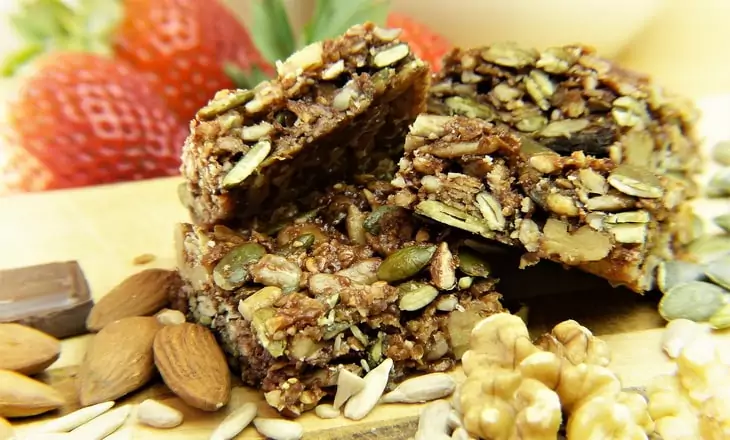 Below is a simple, no cook granola bar recipe that makes 24 bars and takes only minutes to make!
Take 2.5 cups of rice cereal, 2 cups of rolled oats, and 1/2 cup of raisins (or your choice) and mix them in a bowl.
Mix together 1/2 cup of brown sugar and 1/2 cup of corn syrup. Then stir in the 1/2 cup of peanut butter and 1 tsp of vanilla.
Add the mixture to the dry bowl of cereal and mix it all together well. Pour it into a 13 x 9 inch pan and let sit. Cut into pieces and enjoy!
Energy Bars
This recipe makes 20 to 24 bars depending on how big you cut the portions.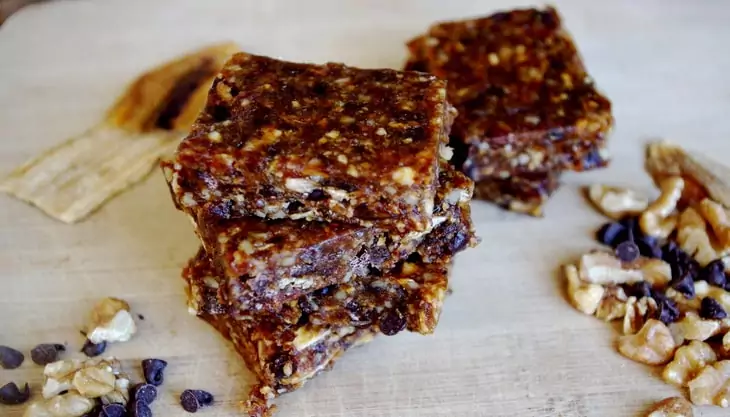 Take 2 cups of dry oatmeal and 1 1/3 cups of coconut flakes and mix them together with 1 cup of flax seed.
Add in 3/4 cups of chocolate chips with 1 cup of peanut butter (You can substitute for almond butter). Stir in 2/3 cups of honey and 1/2 tsp of vanilla.
Once you have mixed it together well, add the mixture to a 9 x 13 inch pan and spread it around.
Put it in the freezer for one hour and slice them up. You can store these for about a week!
For more recipes and tips on how to make energy bars, check out the link to our must-read article.
Chilled Avocado Soup
This delicious Mexican soup can serve between 6 and 8 people if you follow this recipe.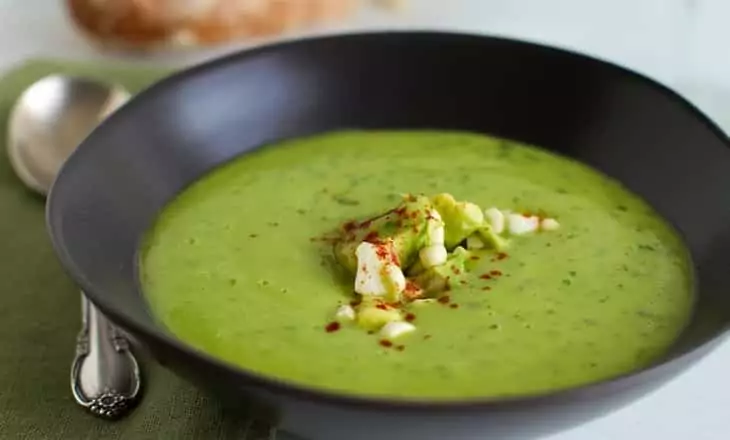 It will have to be prepared before you head out, however.
Take 2 chopped serrano chilies, 2 avocados chopped up and peeled, and half of a chopped onion into a food processor and make it into a paste.
Add 6 cups of chicken stock, 1 cup of heavy cream, and 1/3 cup of lime juice and turn it into a puree. Pour it through a strainer into a bowl and season it with some pepper and salt to taste.
Cover this and put it in the refrigerator for a minimum of 2 hours.
When serving, you make a bowl and add the rest of the chilies, onions and tomatoes on top of the soup.
Crab Rolls
This recipe serves 4 people and takes about 15 minutes to make!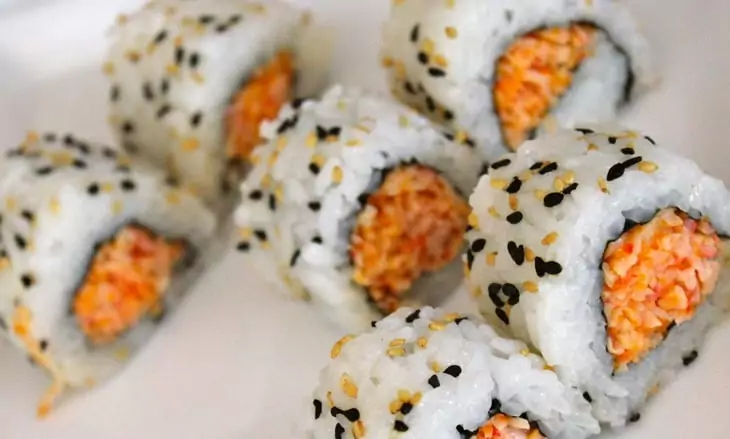 Keep stored in a cooler on your trip.
Take all of the ingredients and mix them into a bowl together. This includes 1/2 pound of crab meat, 1/4 cup of mayo, 4 chopped radishes, 1/2 apple, 2 tbsp of lemon juice, 1/2 tsp of salt and 1/4 tsp of pepper.
Take the mixture and add it to hot dog buns and enjoy! Serve it along with some chips or trail mix for a full meal.
Trail Mix
This delicious snack offers everything you need to keep up on the trail. Full of energy, you only need a few minutes to put this recipe together, and you can add in other items to make it how you like it!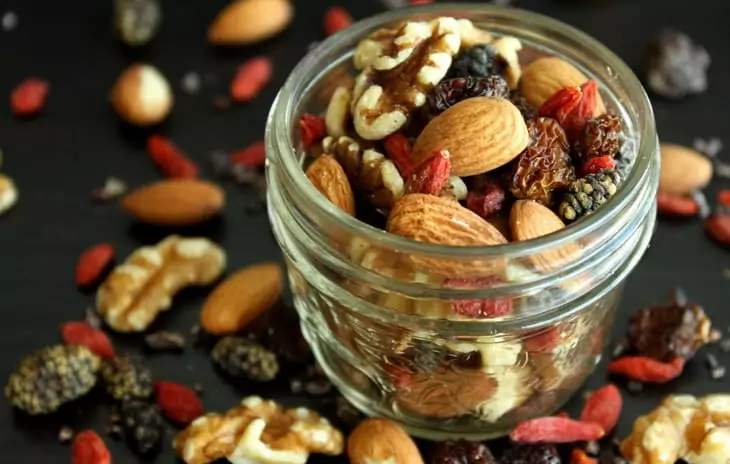 Plus it will store for a couple of months!
Choose 2 types of nuts (pecans, cashews) and add 3/4 cup of each in a bowl.
Choose two or three types of seeds (sunflower, chia, flax seed) and add 1/2 cup of each to the mix.
Take 2 types of dried fruits to add to the mix such as cherries or bananas. Add 1/2 cup each to the bowl
If you want to add chocolate, you can then put in 1/2 cup of chopped bits or chocolate chips.
Add in 14 tsp or sea salt, 1/2 tsp of cinnamon and a touch of nutmeg and mix it all together.
Cold Cut Sandwiches
Cold cuts offer the protein you need when you are exercising and enjoying outdoor activities.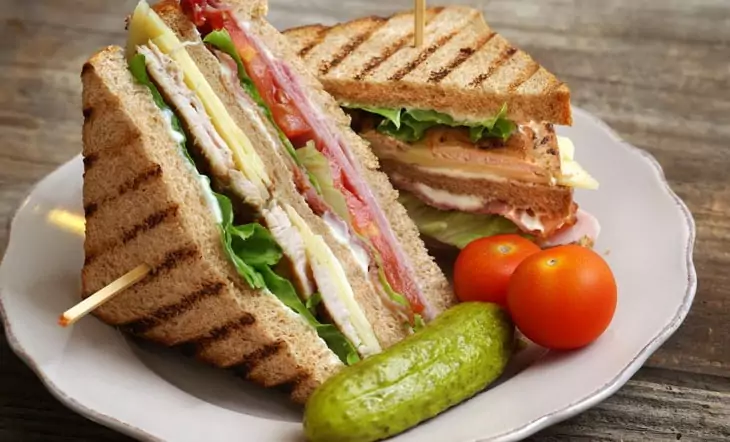 You can make any type of sandwiches, but the idea is to get proteins and sugars your body needs while you are out.
Take a sub bun or two slices of bread and lay your meats on there, such as ham, turkey or chicken.
Add on cheese and condiments to your liking, and enjoy with some chips or granola!
Tuna Salad
This easy, no cook recipe takes about 15 minutes to prepare and will serve 4 people.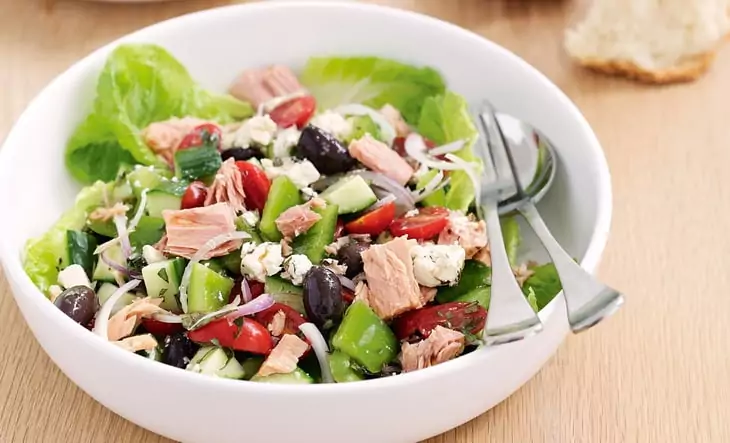 Keep stored in a sealed container in your cooler.
Take 12 oz of tuna and add in 2 tbsp of chopped celery, 2 tbsp of chopped red onion and 1 tsp of chopped parsley.
Add in 1/3 cup of mayo, 1 tbsp of mustard, with pepper and lemon juice to taste.
Mix everything well and keep cold until ready to eat.
Stuffed Tomatoes
Stuffed tomatoes look fancy, but really only take about 15 minutes to prepare, and really fill you up.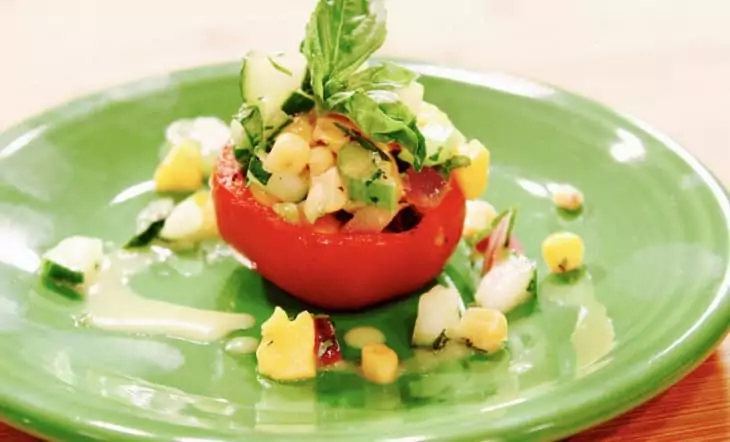 This recipe serves 4, so double it if you have more people.
Slice off the top of the tomatoes and cut a cone shape into the each tomato. Take out the core and throw it away.
Dice up the other piece of tomato and put it in a bowl. Hollow out all of the tomatoes and put the seeds and other "flesh" into a sieve to drain.
Add in mango, salad onion, and cheese in a coriander, pour the dressing (tbsp of tomato juice in the bowl with oil, lime zest and juice) over the combination.
Add everything into each hollowed tomato top it with the lids you sliced off!
Avocado Chicken Salad
Okay, so you are going to need chicken that is cooked, but you can purchase a rotisserie chicken and use that, which is ready to go.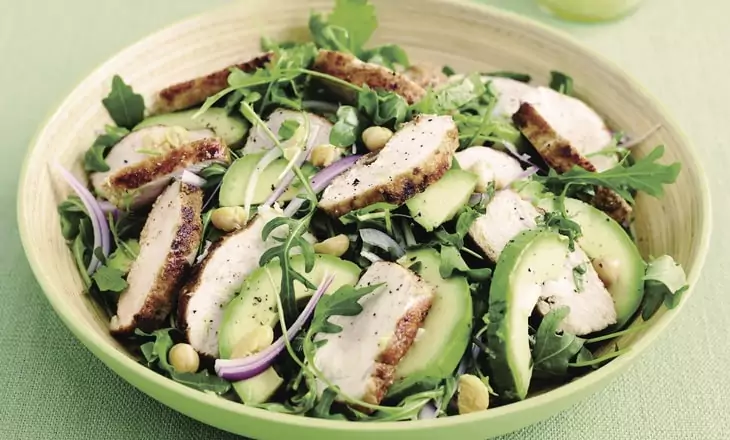 Mix together the shredded rotisserie chicken with 1 sliced cucumber, 4 chopped tomatoes, 1/4 red onion, 2 diced avocados, and 1/2 cup of chopped parsley.
From there, add in 2 tbsp of lemon juice, 3 tbsp of olive oil, along with salt and pepper as you like.
What Do Other Campers Think Of No Cook Meals?
Campers find that there are many recipes that they can make before they leave or while they are camping to satisfy their hunger. The choices of making wraps, sandwiches, snacks and breakfast foods are vast and can satisfy nearly everyone.
While some people would rather have a hot meal, especially for dinner, you do not necessarily have to eat cold food for each meal. However, if you are doing so because you are packing light, then some people will have to deal with it for a few days until they can get to a stove or fire. Overall, many do enjoy the great amount of meals you can create without using heat.
Pros And Cons
While many people prefer a hot meal at the end of the day, some do not have the space for a camping stove, or the money to purchase extra conveniences while camping. Some camping areas do not let you make your own fires.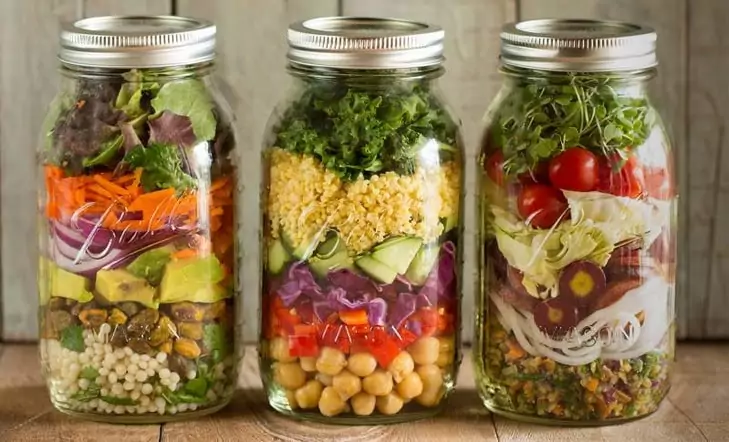 Overall, many people can enjoy foods that do not have to be cooked over a fire to enjoy. See below for the pros and cons of taking no cook meals with you on an outdoor adventure.
Pros
Convenient
No wait for cook times
Less clean up
Minimal dirty dishes
Less load to carry without a stove
Fun, creative recipes to be enjoyed
Cons
Some prefer a hot meal after a long day
Much preparation before leaving for the trip
Must carry all food with your gear
Concluding Thoughts
Enjoying no cook foods leaves you with more freedom and range of movement because you are not carrying pots and pans or a stove with you to cook your food with. You can still make enjoyable, healthy, fulfilling meals that will keep you energized while you are backpacking or camping. Preparing some recipes before you leave will make things easier once you are out on the trail.
These meals are simple to enjoy, take along with you on your trip, and are far from boring foods. You might find something new that you enjoy simply because you did not bring along a stove! We hope that these recipes have helped you develop some ideas of what you would like to take along with you on your trip!
Before leaving on your next backpacking trip, check out our piece about cooking and preparing food using freezer bags for more options.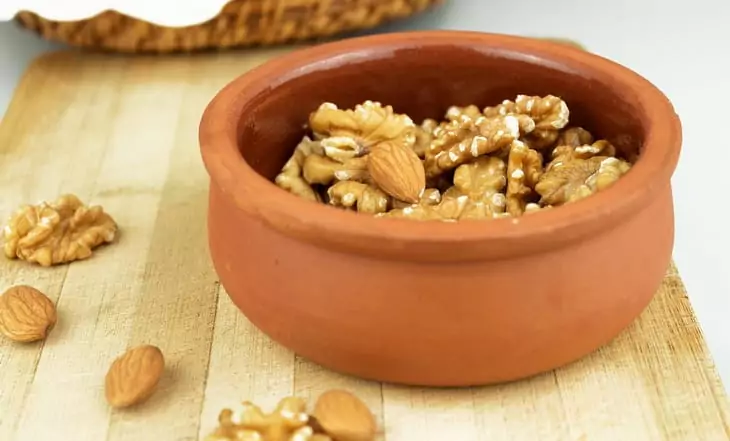 What no cook foods to you take out on the trail? Why do you choose not to use a stove or fire? Tell us your thoughts and ideas in the comments below! We love hearing new and fun ideas to make the outdoors more fun and unique!