Hammock camping is an excellent way to explore the great outdoors. These products make the camping process more exciting; it's quite affordable, refreshing, and you can use it to camp anywhere (over boulders, rock fields, even above water). When it comes to hammock camping, people are usually concerned about their personal safety as regards to attacks by wild animals: "What if a bear attacks me?"
We want to get things straight. Camping with the hammocks is not in any way different from camping in tents. The hammocks are probably safer compared to tents because these products enable more visibility of your surroundings. The tent won't slow the bear if it wants to attack, but the hammock will let you see the bear approach so you can formulate an escape plan ahead of time.
The rule of thumb when it comes to animal attacks is to prepare meals away from the campsite to prevent the animals from checking the camp area. Nevertheless, if you want to be safer, place all your food and snacks away from the campground.
This is the main reason why it's advisable to camp in hammocks. These products ensure you remain elevated and far away from the ground as possible. If you want, you can even set up your hammock close to the tree tops and enjoy the company of squirrels. It's so much fun, but hammock camping isn't for the faint hearted or people who walk in their sleep.
Product Specifications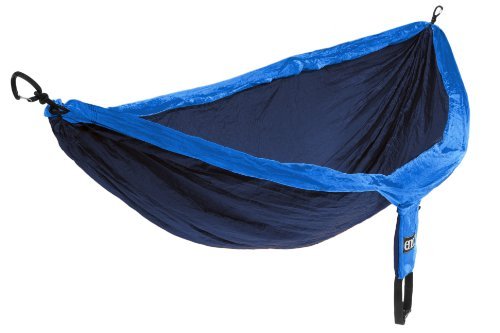 Hight-strength– features 70D high tenacity breathable nylon taffeta and triple interlocking stitching.
Lightweight and easily portable- manages to stuff easily into its stuff sack.
Quick and easy setup– includes Aluminum Wiregate Carabiners and nautical grade line.
If you have utilized these items in the past, then you are probably aware that hammocks are rated based on their level of comfort, ease of setup, and the type of portability these items present. More particularly, the ENO Eagles Nest Outfitters hammock provides all these three essential features at a remarkably low price, giving excellent value for your money when you purchase one. If you are an outdoor enthusiast who loves to explore and enjoy Mother Nature, then this hammock is something worth having.
Review
Hammocks are not new in the world of the outdoors, and the market is already filled with different products of this type, available in varying designs, sizes, and prices. Among these products, one of the most common names that are consistently mentioned when talking about the Eagles Nest Outfitters is the Eagles Nest Outfitters DoubleNest Hammock. This product has received outstanding reviews from various verified buyers owing to its excellent combination of price and quality.
Packaging
What we love most about the packaging is that you receive your hammock in a standard 4.5 x 6.3 x 9.2 inch package. The shipping weight is about 1.45 pounds, which is ideal when it comes to transportation However, the suspension straps are sold separately and will cost you approx. $30. They are easy to set up and work well with the hammock.
Design & Durability
This product is suitable for the enthusiast hiker or camper, or a large-sized individual looking for some extra space that can accommodate them comfortably. The ENO double nest hammock is tiny and light enough to be put into the rucksack, yet provides incredible durability in all kinds of weather conditions. Nonetheless, it is advisable not to utilize this product in snowy conditions as this can make cleaning its fabrics quite overwhelming.
Otherwise, the double hammock is easy to clean when you use warm water and soap, without having to use any strong chemical detergents. Once it has been cleaned and properly dried, the used product will appear as good as new. The ENO double nest hammock can be found in different colors in online retail shops including Amazon.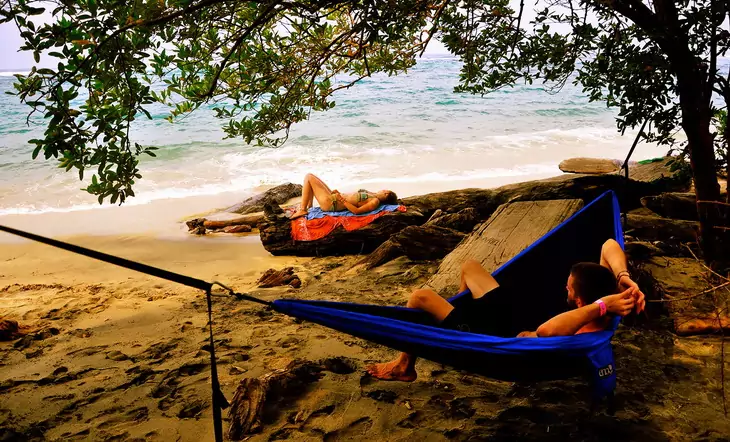 Therefore, acquiring one for use in your outdoor expedition should not be a problem. When it comes to outdoor relaxation, you will be astonished at how much durability, comfort, and convenience this hammock can provide.
The hammock is designed to support up to 400 pounds and can easily fit two people. Made with a lightweight synthetic material, the eagles nest hammock is water resistant, and can be compressed easily. It's designed to hold even during those windy days and has an attached stuff pack that you can store beer or other items that you need within an arm's reach as you lie down.
Weight
This Eagles Nest Outfitters Hammock  is so compact and lightweight that it can even put a soft toy to shame. Its material is rolled up into a smaller factor, making it possible for you to slide it into your backpack.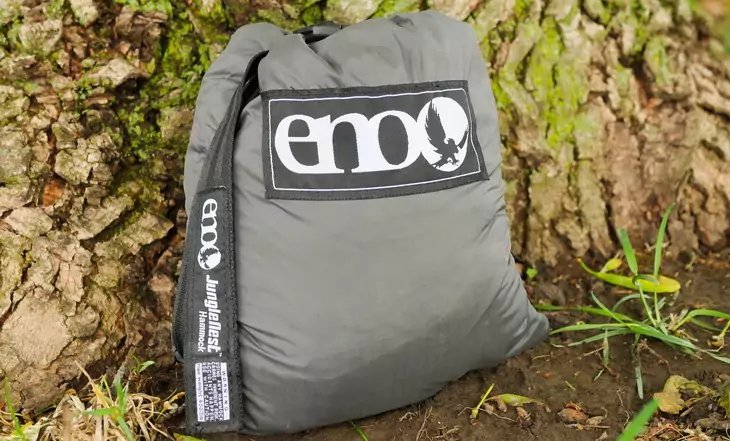 The best part of it is that the bag is sewn into an actual hammock, getting rid of the need to maintain an additional item. While this piece is only 2 pounds heavy, other components such as the marine grade cords, and the carabiners add some weight.
Comfort
The DoubleNest Hammock  is one of the most comfortable products to have on your outdoor tour. This item has been crafted using the 70D breathable nylon which is further supported using a triple interlocking stitch that gives the product the ability to withstand and support a body weight of up to 400 pounds.
The nylon taffeta material is smooth to the touch and offers the best comfort without compromising bare essentials of user's requirements. The DoubleNest Hammock has a generous size since it's designed to accommodate two individuals, and there is sufficient fabric to engulf a single user completely.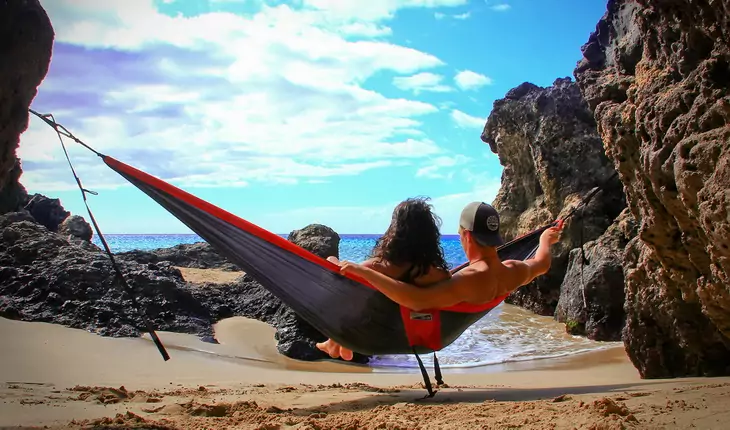 In addition to that, the double nest product offers breathability which prevents the users from soaking in their sweat. Nonetheless, you may need to be cautious when resting outside during cooler nights since the cold will cool you down, even when you are using a sleeping bag.
Therefore, it's understandable that these items are much suited for use in the summers and in areas where there's a lot of sunlight such as the beach. Apart from using the hammock in the wilderness, you can still use it in your backyard.
Versatility
The Eagles Nest Outfitters offers one of the best hammocks when it comes to versatility. This product provides portability as a result of its lightweight aspect. Also, the double nest hammock is large enough to accommodate two individuals and still manages to pack easily into your stuff sack.
The final compact form is of a size that is no larger than a grapefruit, making it easier for you to store it in your backpack. The extra components such as the aluminum market carabiners and the nautical grade line with snaps make it possible for you safely attach the product to boat masts, trees, and poles.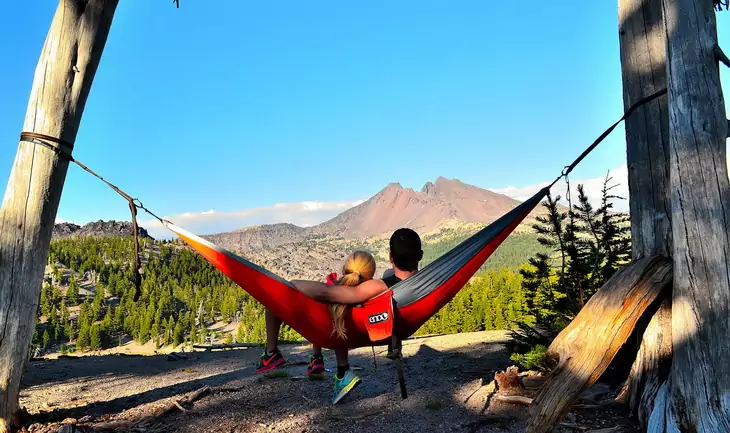 Irrespective of the versatile nature of the double nest hammock, it is best if don't use the product as a sleeping pad overnight. However, casual activities such as reading a book or sitting by two are perfect. This 400lbs capacity hammock is a safe place for kids to bounce and jump in their playtime, but this has to be done with adult supervision.
Highly durable, compact, and versatile, this Eagles Nest Outfitter is excellent for hiking, traveling, back-yarding, camping, or simply relaxing during the weekends. Although the price of the double nest is a bit on the higher side, it's still worth the value due to the features it presents.
Ease of Set-Up
The Eagle Nest Outfitters includes suspension or straps with any of their products. If you are looking to integrate your setup, you might not notice the difference. There are numerous methods and options to try; however, it can't be installed "out of the box."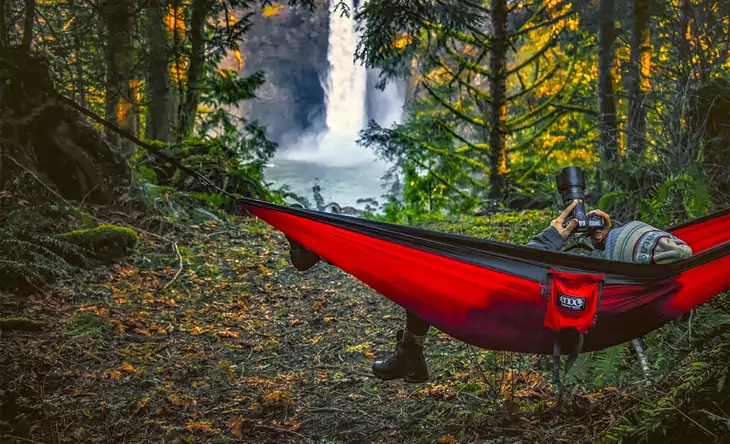 This is one of the shortest products, so finding poles or trees far enough apart should not be an issue. You will find that setting up this hammock is an easier process since it consumes less energy and time.
Unique Features
It has a high-strength, safely supports which are designed to support a maximum of 400 pounds. Additionally, the hammock is made of 70D high tenacity breathable nylon taffeta, and triple interlocking stitching that also goes a long way in enabling the support function.
The product is lightweight and easily portable which makes it big enough for two and spacious for one. With the DoubleNest, you can still manage to stuff easily into its attached compression stuff sack, compacting the hammock down to the backpack friendly size of a grapefruit.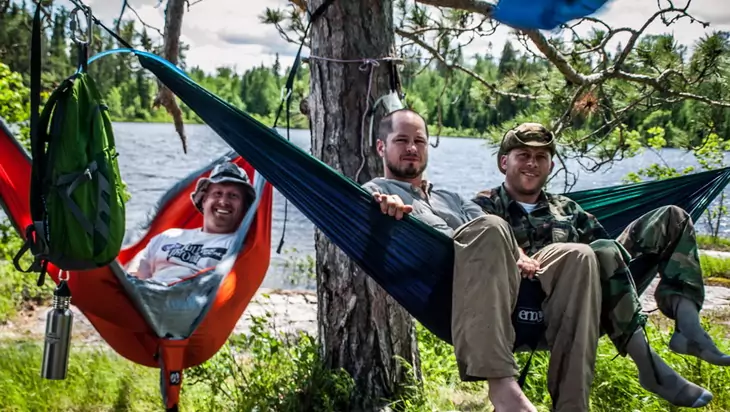 Its quick and easy setup. This includes Aluminum Wiregate Carabiners and nautical grade line that allows you to quickly and safely secure the SingleNest to trees, poles, boat masts, or even the wall. The best part? The hammock is ideal for multiple uses, it is versatile, durable, compact, making it ideal for hiking, camping, boating, traveling, backyarding, or just relaxing.
Value for Money & Guarantee
Wondering if the hammock price is a good bargain? Well, the purchase will only set you back approx. $70 which is a good price given its cool design and versatility. There is no guarantee or warranty given with the product and therefore you can contact the manufacturers if you are considering to buy one.
Similar models or competitors
Unlimited Camp Double 
Unlimited Camp designed the Unlimited Camp Double with the highest quality nylon, which makes it not only durable, but also comfortable and breathable. The material can support weight of up to 200kg, which can easily carry two people.
It's a lightweight hammock which can be compressed and carried without seeming so bulky. Have we mentioned that it's also super roomy? You will get a lot of extra space to stretch and relax.
You will get four colors to choose from during your purchase: green, red, blue and orange. Moreover, you will get two burgundy and blue air pillows alongside your hammock that will fully revolutionize your outdoor experience.
There are two main reasons why you can pass up the eagle's nest hammock for this one. First, it's quite cheap. Costing you approx. $60, it's more affordable than the reviewed product. The double camping hammock also comes with special straps and ropes and you are given a 100% refund in case you are not happy with your purchase.
So if you were looking for a perfect and affordable hammock for hiking, camping or just a day out on the beach or your yard, this should be your go to product.
ProVenture Travel 
If you were looking for a hammock that comes with just about everything you would wish for when planning an outdoor activity, then the ProVenture Travel is just what you need.
Fitted with steel carabiners, nautical grade rope and free tree straps, the hammock helps you set up easily and get comfortable within minutes. It's also designed with nylon, which makes it super strong, compact and lightweight – perfect for campers or hikers. All the accessories that come with the hammock fit into the drawstring stuff stack that you get with your purchase.
Just like our reviewed product, the proVenture hammock has a carrying capacity of 400lbs which means two people can fit in comfortably.
You must be wondering why you should go for this hammock and not the Eagle nest one. Well, besides the extra accessories you will get with your purchase, you are guaranteed a one year warranty and a 60 day money back guarantee. The only downside is the price. This hammock is quite pricy, going for approx. $80.
If you are not one to fret at high prices, this is the product for you. However, if you cannot afford to spend so much on a hammock, you can consider getting our other reviewed products.
ENO 
Ember 2 

The ENO Ember 2 is made by the same designers who came up with our reviewed product. It comes in 3 colors:  red, navy and lime and weighs about 25 oz. The nylon material used to make this under-quilt, enables it to compress making it easy to pack and store.it works perfectly with hammocks that are smaller.
What we love most about this product is that you can use it for camping and other outdoor activities for all the four seasons. Moreover, you will have an easy time setting up and using since it comes with adjustable shock cord at each end that speeds up the entire setting up process.
The design includes a hammock-specific cut that ensures you can get in and out of the hammock easily. For a great camping experience during winter or late fall, this is the product for you. It will give you the maximum insulation you need to keep you warm in the chilly weather.
If you are on a budget and need an affordable, under-quilt, at approx. $100, this is the way to go. However, if you like sleeping diagonally in your quilt or you like having the extra space in your hammock, chances are you might not fit in this one. You may find yourself hanging on the sides.
Overview
Longer and wider hammocks are usually more comfortable, and the Eagle Nest Outfitters DoubleNest is no exception. This stretchy parachute nylon material feels perfect, even against your bare skin, and the additional width, compared to the SingleNest hammock, makes cocooning easier.
While camping as a couple is not recommended in any hammock, you will find that lounging or resting as a pair is enjoyable and easy with the double nest. When camping in the hammock with your significant other, you will enjoy waking up and sipping coffee in the double together and curling up in the sleeping bags before crashing in your individual hammocks. The beauty of the double nest is the ability of a single person or two individuals to recline in it, and one individual to sleep.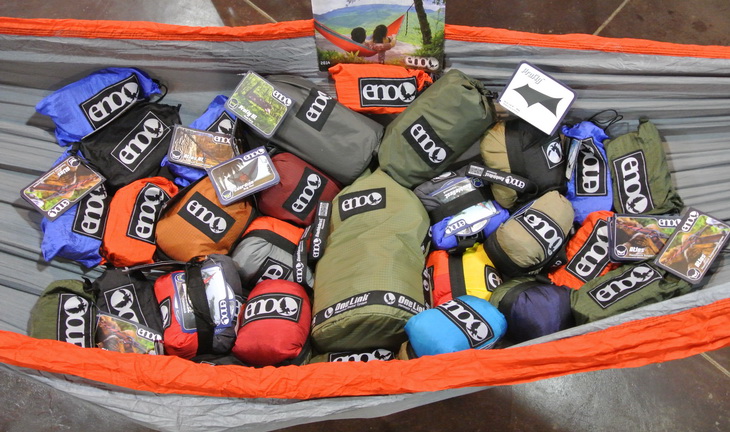 The double nest hammock is suited for the serious camper looking for comfort and durability. Since this product can accommodate a load of up to 400 pounds, you do not have to worry about the hammock tearing. You will be able to appreciate this product due to its tiny size and light weight.
Despite its price tag, the included carabiners, and other additional features make the double nest a great value. With this product, you will always get value for your money whenever you are using it. It's a popular hammock which is comfortable for use by a single person or even a couple in the campground. Its low weight and compact size are suitable for people looking to hike in mild climates.
Pros:
Lightweight, high quality nylon material which is easily compressed therefore portable and durable.
Can carry up to 400lbs without giving way.
Designed to carry up to two people; it's big enough for one person, but can fit two if the occasion calls for it.
Solid and very sturdy for all your outdoor use.
Can be used in all the 4 seasons.
Versatile for multiple uses and very comfortable.
Easy to set up and use.
Cons:
Expensive when compared with other hammocks.
Doesn't come with straps; you have to buy them separately, which costs you more than when buying a hammock fitted with straps.
Getting off and on is hectic the first few times.
The threads can come off, if not set up right.
The DoubleNest hammock is a top-quality and unique product that serves as an excellent camping buddy. Therefore, when making plans to embark on an extended tour into the wilderness, or simply need to rest after consuming a few bottles of beer, this is what you'll need to get that outdoor experience you desire. If you love to chill and relax, you need to invest on the DoubleNest hammock, and the returns will always be fulfilling.
Eagles Nest Outfitters DoubleNest
Packaging

Design & Durability

Weight

Comfort

Versatility

Ease of Set-Up

Unique Features

Value for Money & Guarantee
Summary
Our reviews are never complete without our summary that outlines the basic features of the product to make it easier for you as you consider buying a hammock. You will come across many hammocks, some more expensive or cheaper than the Double Nest Hammock.
But you will not come across one which such superior qualities, lightweight and spacious at such a great price.
With the ease in setting up and use, not forgetting the nylon material that is both durable and comfortable, this is the hammock to fit all your outdoor needs; from camping and hiking trips to spending a day out at the beach or just in your backyard.

So, have you used the double nest before? What were your experiences with hammocks and what aspects did you love the most? Please let us know about your views by posting your comments below. We will appreciate your contribution.