When you're out camping or hiking, there are many chances that the water you have access to won't be as pure as you want it to be. That can also be the case when you're traveling or even in emergency situations. Untreated water can be contaminated with organisms (bacteria and protozoa) or chemicals, which is why we need water filters and why we created this Sawyer water filter review. There are other purification options available like boiling or chemical treatment tablets, but using a water filter is the fastest option.
A water purifier is often the most overlooked tools in a survival kit because many people don't realize how quickly dehydration can occur. Carrying a personal water filter on outdoor adventure trips or during travel is the best way to ensure you always have access to clean drinking water.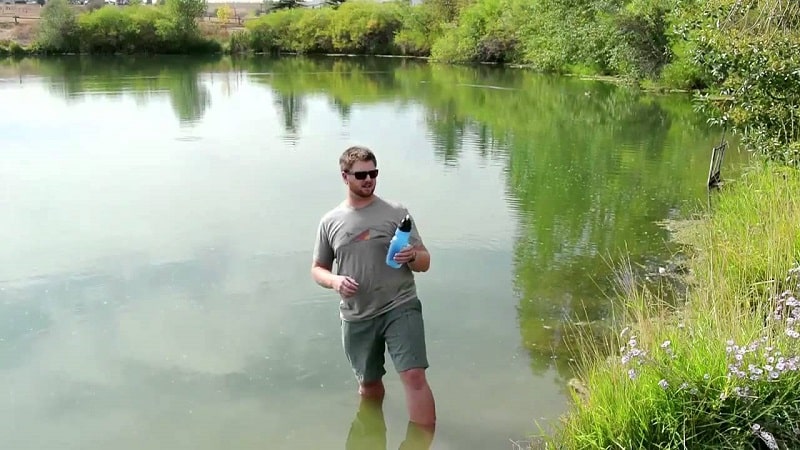 The Sawyer Personal Water Bottle with Filter is the perfect water filtration system for all of your outdoor needs including hiking, backpacking, camping, and emergency preparedness.
Weighing in at just 5.5 ounces, you can grant yourself access to clean drinking water at all times without the burden of unnecessary added weight. This water bottle is easy to maintain in the field, removing 99.99999% of all bacteria, including salmonella, cholera, and E.coli, and removing 99.99999% of all protozoa like giardia and cryptosporidium.
Decide for yourself whether the Sawyer personal water bottle filter is better than the alternatives with this Sawyer water filter review.
Attractive Features:
Meets Environment Protection Agency's (EPA) recommended removal rates
BPA free water bottle
Field maintainable with backwash syringe to ensure flowing water
Cap designed to fit most standard wide-mouth water bottles
Comes with 2 replacement drinking straws
Durable and easy to use
Features to Consider When Looking for A Portable Water Filter
Ease of Use: It's important to use a water filter that doesn't require any special knowledge if you don't have much experience with using filters or spending more than a couple of hours outside.
Flow Rate: You want your portable water filter to have a high flow rate so that you can access drinking water quickly. An added benefit of a personal water filter in the form of a water bottle is that you can simply fill the bottle, then sip on the straw immediately and the water will be filtered on its way to your mouth.
Can you drink straight from the source?: It's important to know how quickly your water will be safe to drink when using a purification method. You want a water filter that allows you to drink straight from the contaminated water source by filling a bottle and drinking from a filtered straw right away.
Durability: Your portable water filter should be durable in all weather conditions and be long lasting. Consider how many gallons of drinking water a filter is good for and what maintenance is required to upkeep a good flow rate.
Sawyer Water Filter Review
The Sawyer Personal Water Bottle with Filter is a 34 ounce, BPA free water bottle. Priced around $50 USD, this lightweight water bottle gives you access to fresh, clean water no matter where you are.
Durable in any conditions, the Sawyer personal water bottle provides you with a flip-top cap designed to fit most standard wide-mouth water bottles, an attached water filter, 2 replacement drinking straws, a cleaning syringe, cleaning and maintenance instructions, and a lifetime warranty.
Capacity: 34 ounces
Color: Blue
Bottle Dimensions: 12.75 x 4 x 4 inches
Bottle Weight: 5.5 ounces
Uses: Camping, Hiking, Emergency Preparedness
Cost: $50 USD
Whether you are hiking or camping without access to running water or backpacking through a foreign country where it is unsafe to drink water from the tap, you can use the Sawyer personal water bottle to filter out bacteria and protozoa found in unfiltered water sources.
Appropriate for a wide range of uses and activities, the Sawyer personal water bottle ensures that you have access to clean drinking water anywhere in the world. This product is aimed at campers and hikers who need fresh drinking water on the go.
Perfect for areas where water is plentiful, you won't need to carry a lot of water between sources if you are hiking with a Sawyer water filter. It's a necessary item for anyone who spends time outdoors, especially if you'll be spending a few days or more outside.
Product specifications: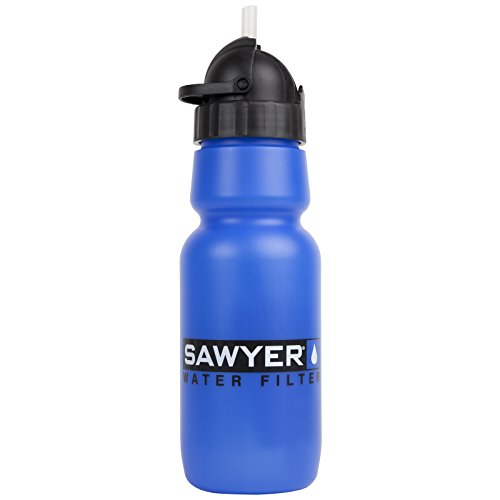 34-ounce BPA free water bottle with 0.1 Micron absolute hollow fiber membrane inline filter

Removes 99.99999% of all bacteria, such as salmonella, cholera and E.coli; removes 99.9999% of all protozoa, such as giardia and cryptosporidium

Designed to have a high flow rate for easy access to fresh, clean water; easily field maintainable

Includes 63mm cap, backwash syringe, and 2 replacement straws
Buy Sawyer Personal Water Bottle with Filter on Amazon
The cap is leak proof to ensure water won't be spilled in your backpack when you're hiking, preventing a mess or leaving you without water when you need it. You can feel safe outdoors with a Sawyer water bottle in your backpack to protect you from dehydration and unsafe drinking water.
The Sawyer personal water filter is remarkably easy to use compared to other methods of filtering water for safe drinking. Water is cleaned immediately by drinking or squeezing it through the filter. Other methods of cleansing water usually include boiling or using iodine tablets which must sit for some time before the water is safe for drinking, but you can drink straight from the Sawyer personal water bottle as soon as you've filled it.
By cleaning the water without chemicals, the Sawyer filter leaves you with fresh tasting water, unlike the residual chemical tastes that can be left behind from other purification methods like iodine tablets.
To use the Sawyer personal water filter, simply remove the cap, fill your water bottle, then place the cap back on and drink through the straw for clean filtered drinking water. This water filter can treat up to a million gallons of water without needing replacement, a lifetime of water treatment.
It must still be back-flushed with the cleaning syringe from time to time, but overall this water filtration system requires very little maintenance over its lifetime.
What are buyers saying?
Most users agree that the Sawyer personal water bottle is easy to use and provides fresh-tasting water. For outdoor types who enjoy hiking, camping, and backpacking, this water bottle allows them to drink directly from natural water sources immediately without having to worry about illness caused by bacteria.
Buyers are impressed by how lightweight the Sawyer water bottle is and how durable and long lasting their water bottles are after years of use.
Users who have bought Sawyer's personal filter water bottle for use outside the country have also been satisfied with their purchase. One buyer purchased it for a trip to Peru and filled the water bottle at any water source without worrying about illness, saving a lot of money on having to buy bottled water.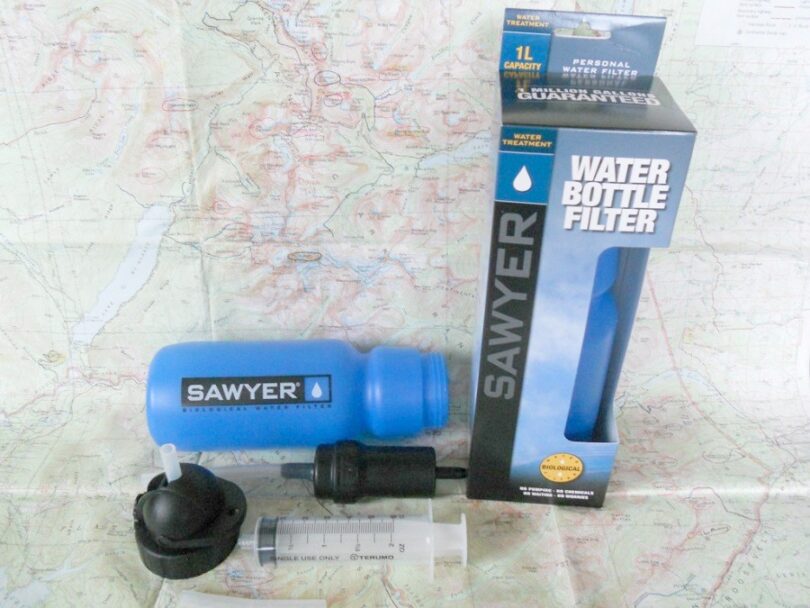 One complaint was that the water bottle is too large for some backpack pockets, but since the cap fits most standard water bottles, it can easily be moved to a more appropriate sized water bottle.
Other reviewers noted that the Sawyer water filter needs to be backflushed regularly, especially if you're using it daily or when it becomes difficult to suck water through the straw. Make sure to carry the backwash syringe with you if you are hiking and camping for a few days at a time. Reviewers also noted that the Sawyer water bottle can be unreliable if frozen or dropped, so be careful in extreme weather conditions and take care of your product.
Another user who is a frequent hiker commented on how lightweight the water bottle is. For most experienced hikers, water accounts for most of the weight in their packs, but the Sawyer water bottle eliminates the extra weight that often comes with other water bottle brands who sell heavier bottles for the same volume.
The same buyer noted how the Sawyer water bottle allowed them to drink from any natural water source while hiking without having to worry about ingesting harmful bacteria, making it a great product for solo hikers or travelers.
Pros:
Lightweight
High flow rate
Lifetime warranty
Filters out 99.99999% of bacteria and protozoa
Removal rate of 0.1 Micron absolute
Durable
Cons:
Does not treat for viruses
Difficult to collect water in the bottle without a free-flowing source
Can't treat large volumes of water
There are several similar products on the market, including LifeStraw, RISEPRO's Portable Emergency Water Filter, and Survivor Filter. All three products work similarly and offer cheaper products, but don't have a lifetime warranty and their filters must be replaced every so often.
Users who compared Sawyer's personal water filter to alternative products reported that they preferred Sawyer's product because it is longer lasting, lightweight, and the filter can be used on other standard sized water bottles.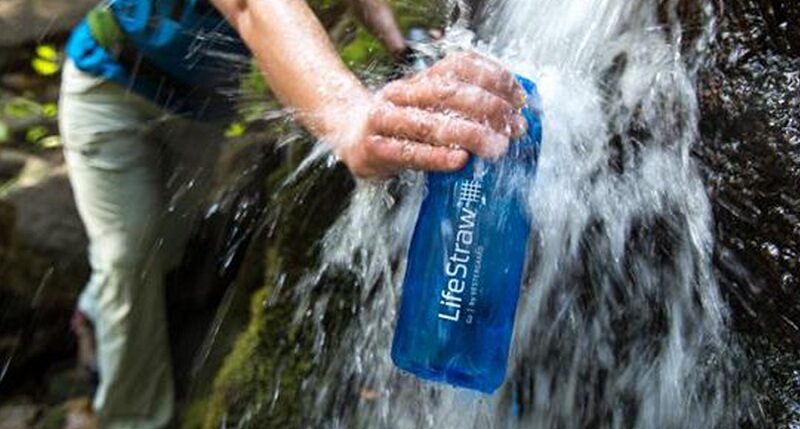 For budget shoppers or those who are looking for a water filter for one-time use on a special vacation might prefer an alternate product to save money. For example, the Lifestraw is cheaper than Sawyer products and is one of the most popular personal water bottle filters available because it's inexpensive.
However, the Lifestraw is only good for filtering 264 gallons of water before it needs to be replaced, compared to the Sawyer Personal Water Bottle Filter which is good for 100,000 gallons. The Sawyer water bottle has a better quality to price ratio for anyone who goes hiking, camping, or traveling on a regular basis.
Final Thoughts on The Sawyer Personal Water Bottle Filter
Lightweight, easy to maintain, and filtering out 99.99999% of all bacteria and protozoa, this product meets the needs of anyone traveling outdoors or out of the country. Remember to give your Sawyer filter the maintenance it needs by using the backwash syringe regularly, but otherwise enjoy access to clean and fresh tasting drinking water immediately from any water source at a high flow rate.
A personal water filter is the best way to ensure you have access to safe drinking water at all times, especially for solo hikers, and the Sawyer water bottle guarantees protection from any drinking source.
Sawyer Personal Water Bottle with Filter
Summary
Overall, this is a great product for frequent hikers and campers who need access to clean drinking water on the go. The Sawyer Personal Water Bottle Filter is good for 100,000 gallons of filtered drinking water, a lifetime of use.

If you found our review useful and informative, and you wish to share your thoughts with us, feel free to leave a comment in the comment section below.