Imagine taking those long walks in your favorite countryside with heavy bottles of fresh water that could hurt your back. What if those heavy bottles get depleted and a refill is needed? Having insufficient water means you will suffer from dehydration, or you will be tempted to drink unhealthy water.
That would be certainly inconvenient and could also result in a bad hiking, camping or mountain biking experience. The LifeStraw Personal Water Filter has come to the rescue of millions of outdoor enthusiasts over the world, for which it was particularly designed.
From 2005 this water filter has played a huge role in replacing not only the heavy bottles of water, but chemicals such as iodine and chlorine which were used primarily for water purification prior to consumption. Now an affordable EPA approved filter has hit the market.
All outdoor enthusiasts can now access fresh water in close proximity to their favorite destinations. It's time to cease worrying about dehydration or the health risks of drinking from flowing water supplies.
Product specifications: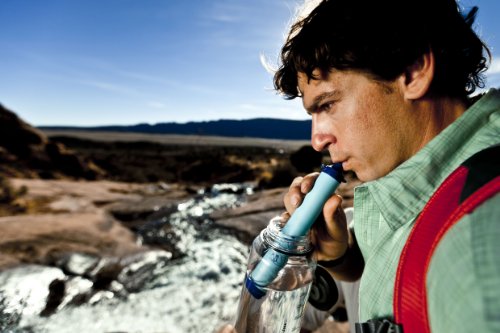 Award-winning LifeStraw has been used by millions since 2005

Removes minimum 99.9999% of waterborne bacteria (>LOG 6 reduction)

Removes minimum 99.9% of waterborne protozoan parasites (>LOG 3 reduction)

Filters up to 1000 liters of contaminated water WITHOUT iodine, chlorine, or other chemicals

Comes in a sealed bag
Buy LifeStraw Personal Water Filter on Amazon
This personal water filter can easily let users drink water in the event of contamination during floods or any water stream frequented by wildlife. Humanitarian aid organizations have used the product for such unfortunate events wherein the floods have contaminated water in countries such as Pakistan and Haiti.
The organizations have benefited from this product in rescuing the destitute from heavily polluted water. The features of this water filter coupled with its functionality have led to it being the preferred filter over others.
What Makes this Personal Water Filter Special?
It comes equipped with a range of features that are geared to filer virtually 99.9999% of pollutants from water. All the known water pollutants, such as bacteria, are trapped by the hollow fiber membrane featured in this product.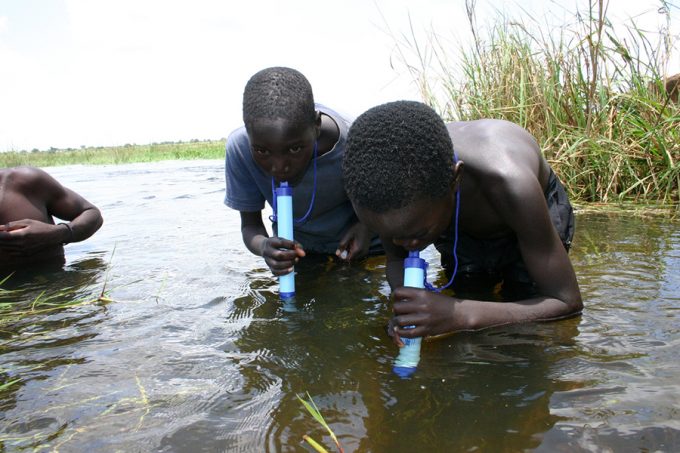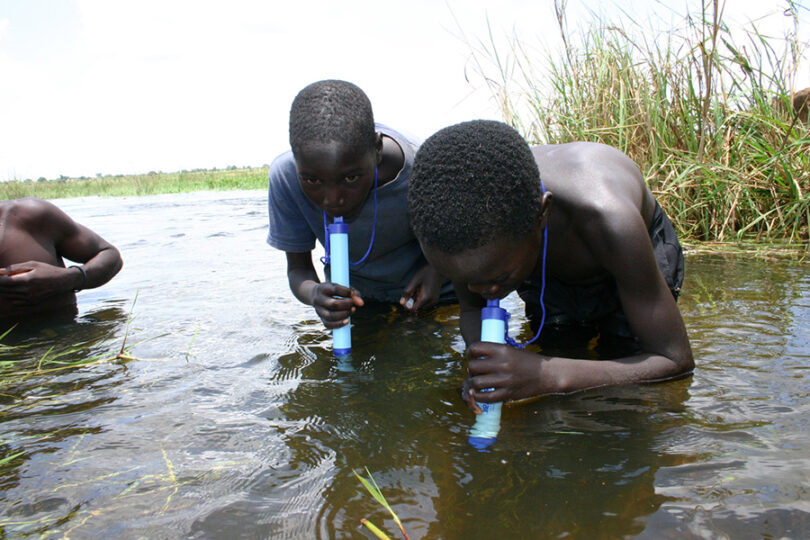 It is solely a mechanical functionality with no chemicals used to remove impurities. Thus the user is guaranteed fresh water irrespective of how contaminated it can be. Check out the important features bulleted below:
It can remove a minimum of 99.9999% of waterborne bacteria
It can remove 99.9% of protozoan parasites
The product filters 0.2 microns
It can filter a maximum of 1000 liters of water
It is independent of water-purifying chemicals such as chlorine and iodine, to mention a few.
It has a hollow fiber membrane that traps contaminants
It exceeds EPA standards as proven in independent water filter testing
It weighs 55 grams, which makes it lighter
It has no batteries to change so users need not worry about the depletion of power
The product is manufactured to last longer: it has no moveable parts that can wear out
How would one describe this personal water filter?
For outdoor enthusiasts such as campers, bikers and hikers, the size and the weight of the water filter matters. The convenience of purifying water with 100% removal of micro-organisms is also worth-considering. LifeStraw Personal Water Filter weighs only 2oz which makes it lighter to carry for long distances. It has a high flow rate with maximum 1000 liters of water to be filtered prior to its lifespan end.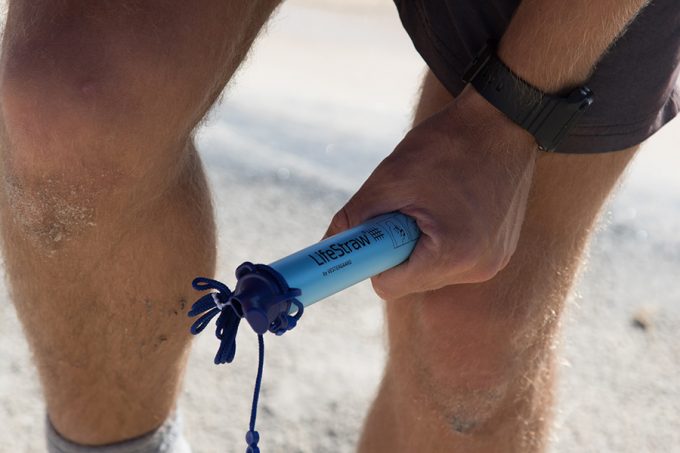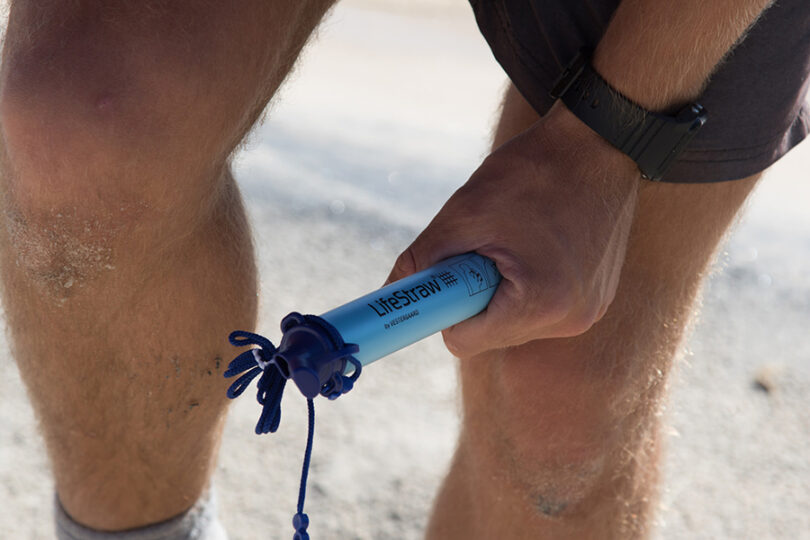 Considering the physical appearance, this personal water filter has two ends. There is the mouthpiece and the other end, which is inserted into the water for the sucking purposes. The mouthpiece has a cap, which can be closed when not in use.
The inside of the filter features a hollow fiber membrane that predominantly filters bacteria and other types of waterborne parasites with an accuracy of over 99.9999%. The membrane's functions help eliminate the need of chemicals in purifying water. It effectively removes pollutants mechanically not chemically.
How does this filter work?
When inserted into water, the water enters through the hole underneath the filter. When the user sucks the straw, the waterborne pathogens are being trapped automatically by the membrane, thus allowing only fresh water free of any contaminant. The user will then sip healthy water through the mouthpiece at the top. Dirty water can be expelled by blowing through the straw to help prevent it from clogging.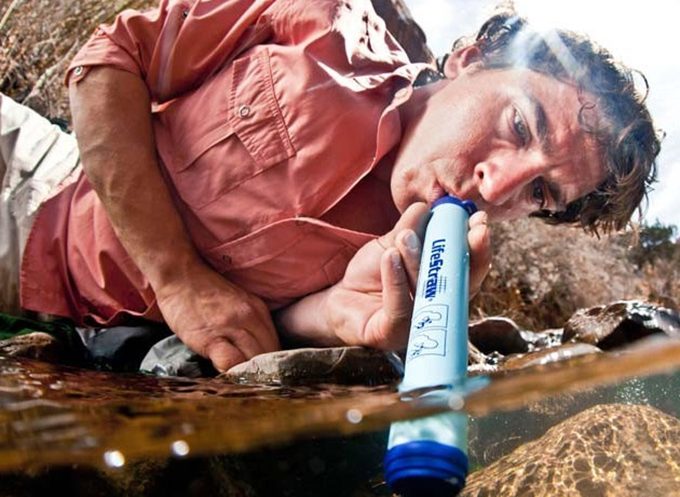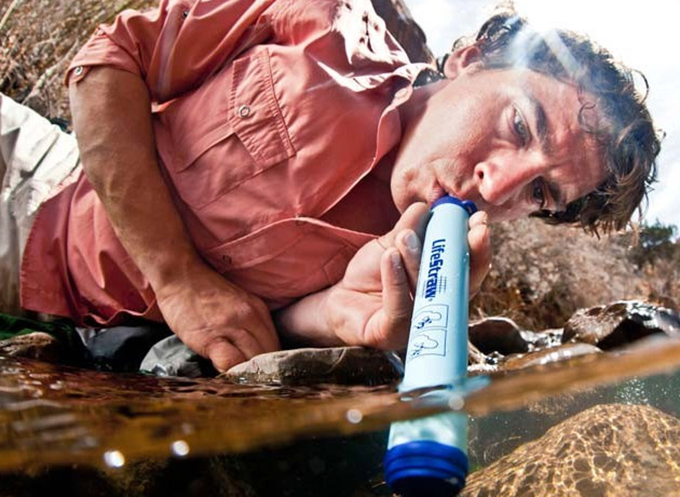 The absence of chemicals for purification enables the filter to retain the taste of water. All pollutants and their smell will be filtered completely by the hollow fiber membrane. Gone is the era of chemicals and their prominence in water purification.
How to use the filter?
No scientific experience required to be able to utilize the filter. The user can simply insert in any water supply alongside the road. The mouthpiece is then used to draw water from the supplier without fear of jeopardizing one's health with bacteria.
After use, make sure you blow the membrane to expel dirty water. By doing this you will also be extending the lifespan of the filter. This filter is more like a normal straw used to suck drinks with. The design was inspired by the need to end dehydration suffered in outdoor activities.
Who can use the filter?
Everyone is suited to use this filter. Over a few years that it came into the market, many non-governmental organizations engaging in humanitarian aids in flooded areas have been issuing this product to the destitute.
They found it more convenient compared to conventional chemicals often used in purification processes. All members of the population were provided with personal filters to eliminate life-threatening contaminants from their water streams. This has helped prevent many waterborne diseases that have prevailed in the past, in the events of natural floods contaminating main water sources of people.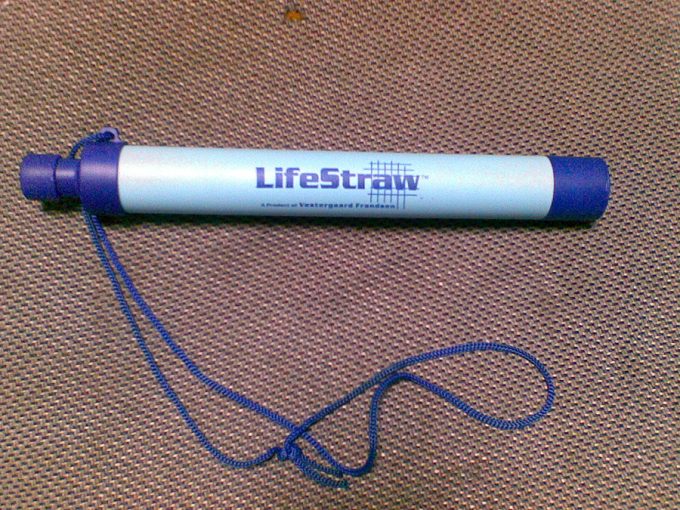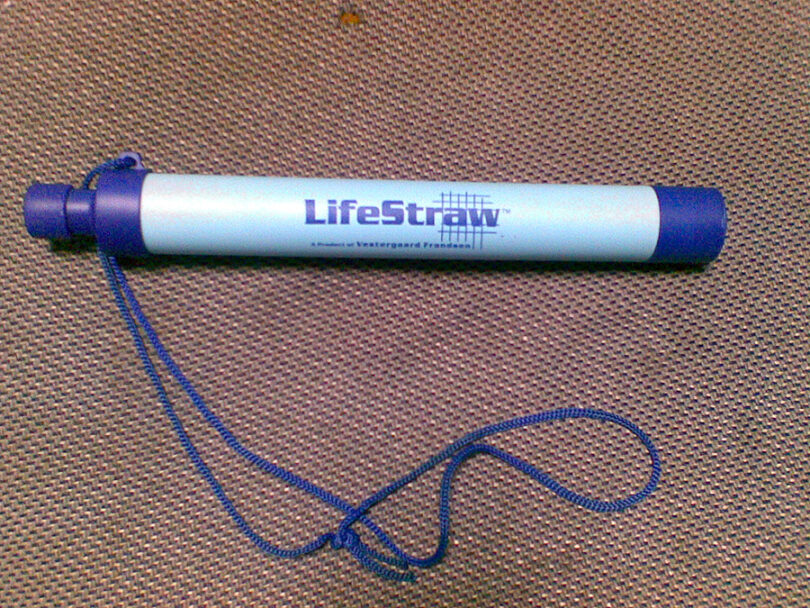 Having pre-filtered water in bottles is insufficient still. The LifeStraw Personal Water Filter that is mobile brings more convenience to drinking fresh water limitlessly. As emphasized in the features, the product filters over 99.9999% of pathogens from water, thus leaving the traveler with pure water. Of particular importance is the same taste kept by the filter because of the absence of chemicals.
In households this personal water filter can also be used, particularly sucking water from containers. It appears to be practically impossible to refill containers with this straw. However, household members can completely eliminate the use of chemicals or hot water in purification. The advantage of this personal filter is more likely the price tag. It is usually priced below $20
Are there any worthy alternatives to the product?
Many people are relying on conventional purification methods such as chemicals in purifying water. Hikers, bikers and campers in particular, use to carry big bottles of water for survival. Considering the chemicals, they can be inconvenient with their taste after treatment.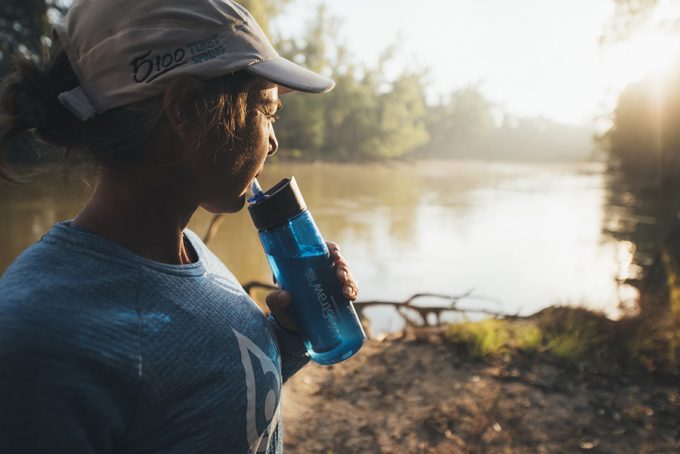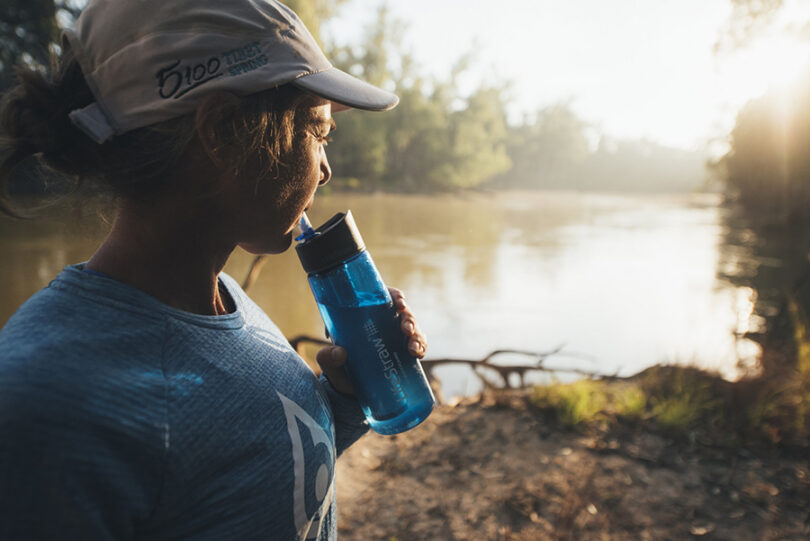 These enthusiasts often come across flowing rivers and lakes which are practically impossible to purify. On the other hand, having bottles filled with water is also a burden for long distance walks. The travelers will have to refill with contaminated water in the absence of a personal water filter or alternatively have to travel with many bottles.
In contrast, a personal water filter comes with light weight for ease of travel. It eliminates the hassles of using chemicals or carrying adequately filled bottles. It is designed to filter virtually 100% of health-threatening pollutants found in any water stream. Whether we are talking about dams, rivers or lakes, the filter is suited for all water supplies. As thus it outsmarts the conventional filtration methods with its convenience.
What is the importance of having this personal water filter?
The importance of owning a personal water filter cannot be overemphasized for people that are more concerned with their health when traversing the countryside. It is inescapable that at some stage, amid countryside walks, you will get dehydrated and therefore seek water in your vicinity. But then your health cannot be compromised by unhealthy water seen in flowing rivers.
This therefore necessitates the need to own a personal water filter to help filter impurities for fresh water consumption.
Imagine getting ill after hiking or camping adventures because of unhealthy water. This water filter plays a dispensable role in preventing waterborne diseases. These diseases can include diarrhea which can be critical mostly to children if you had gone out with them.
The filter is affordable so it can be bought for each member of the family upon embarking on journeys. It is such an inexplicable pleasure as a parent knowing that your family's health is secured from waterborne diseases because of precautionary water filtering solutions.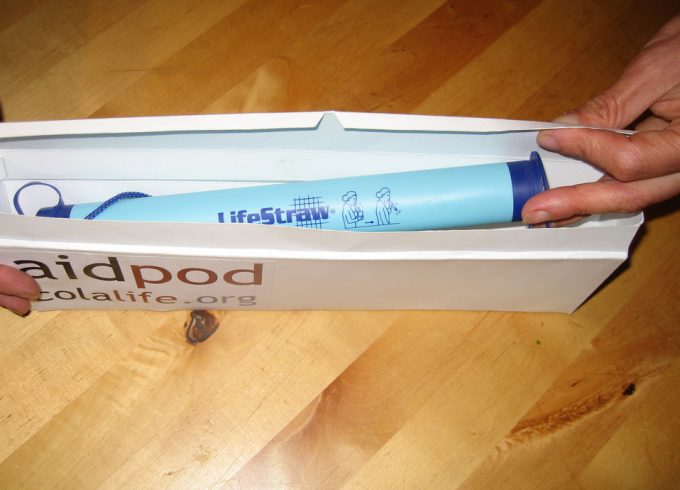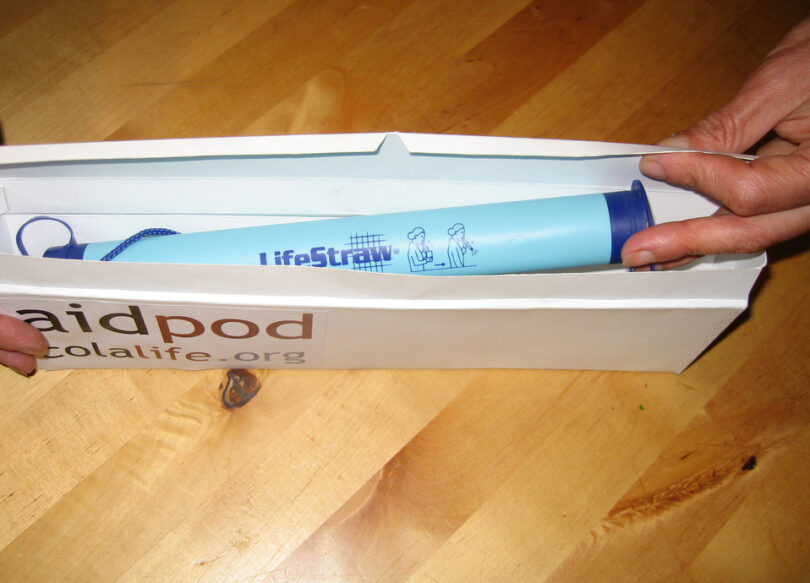 Many countries have been hit by major earthquakes. These include Haiti and Pakistan. Had it not been the prevalence of this product, organizations involved in humanitarian could have spent lots of money in bringing pre-purified water to thousands of stranded people.
The personal water filters made it possible for people to drink water in their close proximity for survival. We know that floods can critically contaminate any water supply which then puts residents in dire need.
In households, these filters also play a major role. Not only can users suck water from rivers or dams. Household members can suck water from containers using these straws to help curb pollutants. This in turn helps families to save a lot. The straw can be used by many people, although it is recommended for each member to own one.
What are other users saying with this filter?
As seen predominantly on reputable sites' reviews, more users are pleased with the emergence of this personal water filter. They consider it a complete substitution to iodine, chlorine and other chemicals frequently used in purification. Travelers are more pleased with the convenience of the product in that it eliminates the use of bottles when travelling.
With a guaranteed removal of over 99.9% of waterborne parasites such as e-coli, salmonella, giardia and Cryptosporidium, more users prefer the mobile personal filter over traditional methods of having to boil water before drinking or pouring chemicals in containers. Also noteworthy is the affordability of the product compared to purchasing chemicals for purification.
Is this filter EPA approved?
EPA stands for the Environmental Protection Agency of the US whose mission is to safeguard the health of citizens. It therefore approves water filters to ensure that they meet or surpass its standards. The Lifestraw filter has been approved by the agency. It is said to have exceeded the standards required for a water filter.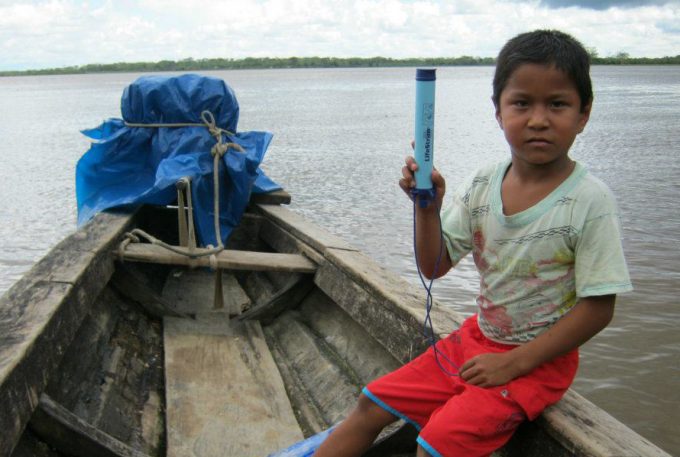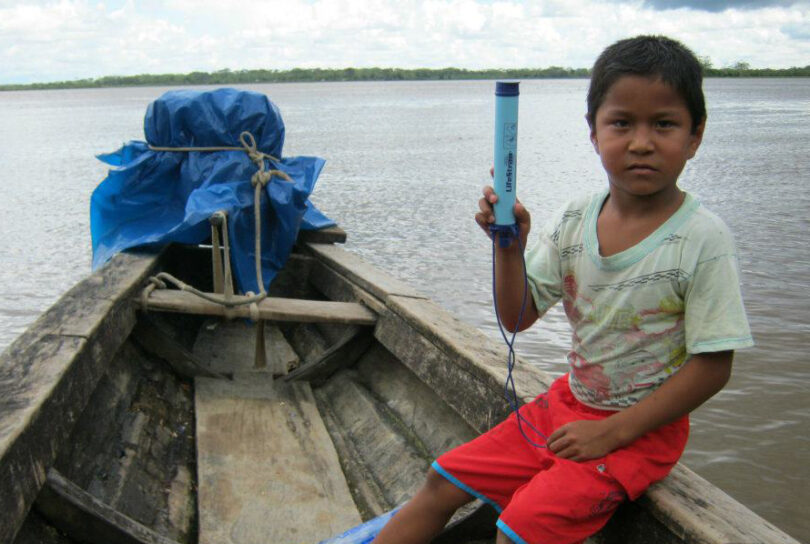 How does this approval matter to you? Well, it confirms the effectiveness of the filter in removing 100% of waterborne parasites and bacteria. As a user you can rest assured that your health is not on the knife's edge because the EPA safeguards it.
Pros
As aforementioned in the review, it is evident that this personal water filter commands more advantages than the disadvantages. Mentioned below are its popular pros:
It is lightweight: travelers can find it convenient to walk with it to any destination instead of carrying many bottles filled with pre-filtered water.
It removes life-threatening bacteria: these include e-coli, giardia, salmonella and Cryptosporidium.
It can filter up to 1000 liters: this practically means the filter can last about a year before it can be replaced. No replaceable parts so a new one has to be purchased.
It has an accuracy of over 99.9 % in removing parasites: its hollow fiber membrane plays this integral part in ensuring that no parasites pass through to the mouthpiece.
It is EPA approved: independent tests were conducted and it was found it surpasses the standards expected from water filters.
It retains the taste of water: the same cannot be said with chemicals used in purifying water.
It uses no iodine, chlorine or any other water purifying chemicals: the filtration is alternatively done mechanically.
It is mobile and multifunctional: can be used to suck water from any water storage or supplier.
It is affordable: conventional water filters are relatively expensive, which then prompt other users to expose themselves to unclean water due to unaffordable prices.
Cons
Any product can be widely praised for its excellence in designated functions, but there will still be some dissatisfaction from some customers.
A great product is the one with minimal cons compared to the pros. With this personal water filter, the cons were found to be minimal and cannot divert hikers' or campers' decisions in purchasing the product. Some are mentioned below:
It takes time to suck water: the user has to put efforts, although, for a few seconds or minutes to sip
It is impractical to refill containers with clean water using the straw: it is a straw and thus users will find it difficult to suck water in a bid to refill a 10 liter container.
The lower end that gets water in, may not fit any bottle: thin bottle openings may be impossible to use with this water filter.
Some users complain that it doesn't filter salt: salt is however not life-threatening compared to bacteria as they are predominantly filtered.
Important Tips on Using this Personal Water Filter
For any product, users need to exercise good user practice to help preserve it and to help optimize the functionality. Below are some tips that are given to users regarding the use of this personal water filter:
Blow through the straw to expel dirty water after use
The membrane may be clogged by pollutants after use – therefore rinse the filter to help preserve it.
Although you can directly insert the filter into the river or lake or dam, it is reckoned to use a container and then suck from it. This minimizes the danger of being exposed to dangerous wildlife.
It is recommended to perform rigorous tests on the filter after 6 months of use to verify continued efficacy of water purification. In line with the maximum 1000 liters that the product can filter, the user can keep a record of this by using containers. After the 1000 liters have been reached, it is expected to replace it.
In conclusion, LifeStraw Personal Water Filter outsmarts conventional filtration methods that employ the use of chemicals. It is relatively affordable to use this filter than opting for chemicals. Hikers, campers, travelers, or any other enthusiast can save a lot by using this mobile personal filter.
Since its inception, the product has been a regular recipient of awards that include Time Magazine Invention of the Year Award. In addition to that it has the EPA approval. To the customers, this proves the level of excellence in water filtration, and travelers are not compelled to travel with heavy bottles of water anymore.
LifeStraw Personal Water Filter
Summary
Hikers and campers alike also are particularly suited to use LifeStraw Personal Water Filter in their adventures. They need it for survival purposes to quench their thirst. Travelling can be exhausting and daunting, with travelers meeting contaminated water in terrain areas or forests.

If you found this review informative, or you have some questions regarding the LifeStraw filter, feel free to leave a comment in the comment section below, and we will be more than happy to provide you with an answers as soon as possible.