If you want to add some style to your camping excursion, choosing products by Nemo is the way to go! Nemo is an outdoor camping gear company that brings big, creative design to an industry that can seem bland with color. Starting in 2002, Nemo has become known for its designs, colors, and quality that's put into each product.
You will fall in love with their variety of tents and other gear, especially the sleeping bags. The Nemo Mezzo Loft Duo Synthetic Sleeping Bag 30F is one such product that many have fallen in love with, and you will see why!
The Nemo Mezzo Loft Duo sleeping bag can withstand weather down to 30 degrees Fahrenheit, or -1 degree Celsius. It is made with a couple in mind, fitting two campers with ease, and including two zippers, one for each side. You will definitely sleep comfortably in this sleeping bag with your partner, making camping a little more cozy. There are padded sleeves inside of the sleeping bag if you purchase the separate pads, which can keep the sleeping bag in place throughout the night, and add extra comfort.
Product Specifications: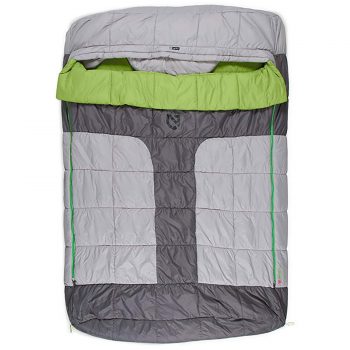 The ultimate couple's sleeping bag!
Stratofiber microfiber insulation is designed to mimic the loft, softness, and compressibility of down, while providing superior insulation in wet conditions
Sit like you do in your own bed-dual side zips allow you to sit up easily.
Waterproof, breathable fabric at the foot box protects your bag from condensation on tent walls; ripstop nylon through the rest of the bag has a Durable Water Repellent (DWR) coating
Made from Stratofiber insulation, which is a type of microfiber, you will enjoy a soft, lofty sleeping space, made of down, which is one of the best fabrics that can be used in a sleeping bag. The Stratofiber insulation is breathable, so you will not have to worry about feeling damp in your sleeping bag.
Your new sleeping bag is waterproof, making it effortless to travel with, and the parts of it that are not completely waterproof are given a treatment called Durable Water Repellent. Another great thing about this sleeping bag is that it is made for three season camping, so you can use it many times through the year! Consider the many features this sleeping bag has to offer by looking at the various key factors that this sleeping bag includes.
Review
Packaging
The Nemo sleeping bag comes in a beautiful aluminum color which you can only get in a double size. The shipping weight is approximate 6.3 pounds, with the actual bag weighing about 6 pounds. This tells you that the manufacturers have utilized light packaging to ease the burden of shipping and cut down on costs.
Most users opt to buy the air sleeping pad by the same manufacturers alongside the sleeping bag. If you are interested, you will just have to purchase the pad as a separate item. This will set you back approx. $220.
Design & Durability
The Nemo Mezzo Loft Duo is designed for two campers who seek respite from a long day of hiking and other outdoor activities. It is made with dual zippers, one for each side of the sleeping bag, and is made to allow sleeping pads, which are sold separately, for extra comfort.
You can use two 25 inch sleeping pads, or one 50 inch sleeping pads to fit the Mezzo. The sleeping pads are an extra comfort, used for those who like to have the comforts of home, or have back issues. The pads also help to keep the sleeping bag in one spot, in case you shift around in your sleep.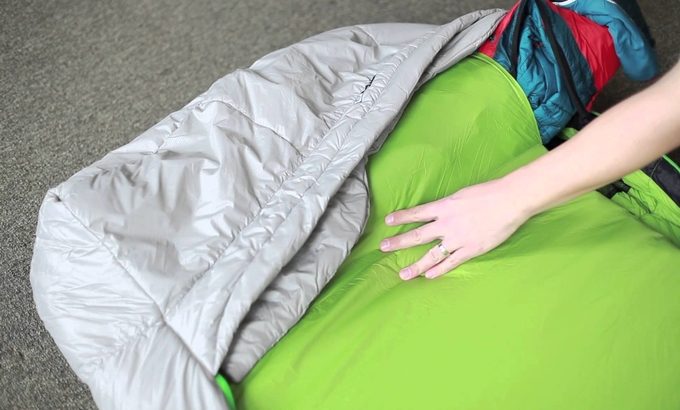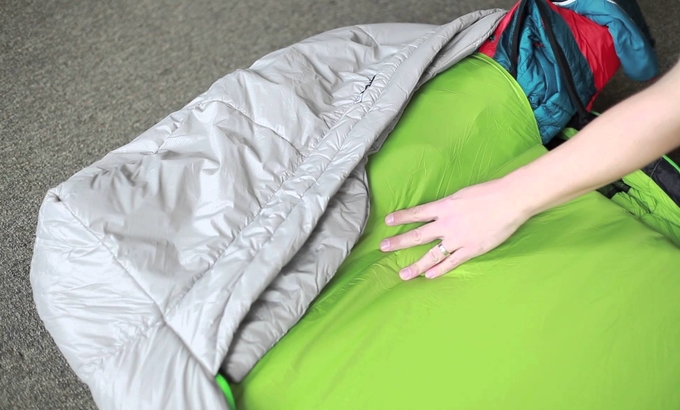 The Mezzo is waterproof for the most part, and the sections that are not, such as the cotton bag that holds the sleeping bag, and the feet of the bag, are given a treatment of Durable Water Repellent, which shuns water but does not prevent it from dampening your sleeping bag.
It is made with Stratofiber microfiber insulation that assures you a soft and lofty sleeping spot that is also made with down comforting. Down gives you the best type of insulation, as it keeps warm air inside, prevents cold air from getting in, and keeps you dry all night long.
The Mezzo Duo sleeping bag comes in the color of Aluminum, which has minor gray and green colors to accent it. Nemo is known for its crazy and bright colors that will surely make you notice their products! Many think it is a breath of fresh air to see new, bold designs and colors that you would not normally see with camping gear. You will not see an average camouflage design from this company!
Size and Weight
Keep in mind that this sleeping bag sleeps two campers, so it is going to be heavier and bigger than your standard sleeping bag. For example, this particular sleeping bag weighs in at 8.05 pounds, which is pretty standard for a dual sleeping bag. If you plan on camping in one area and staying there for the duration of your camping trip, then weight should not be too much of an issue for you.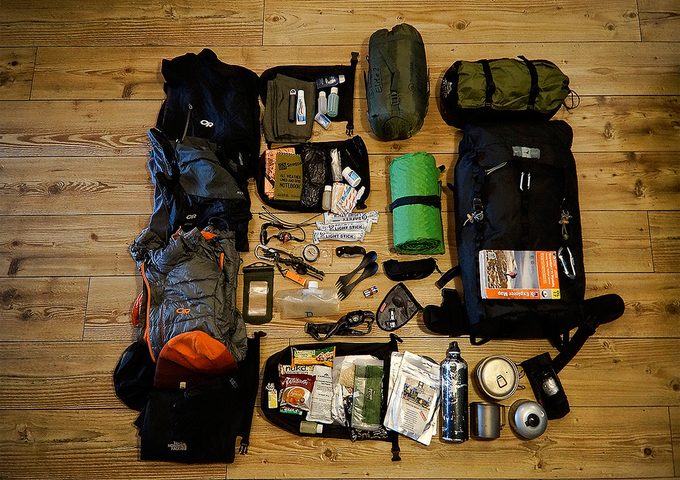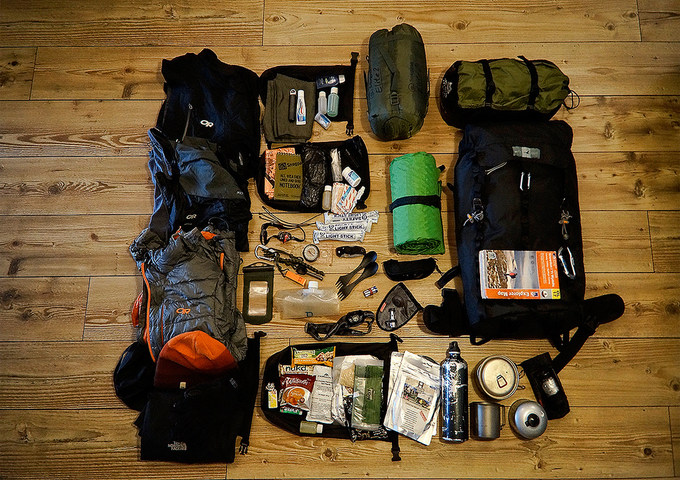 However, if you are camping, maybe in the mountains, in different spots each night while on a hiking trip, you may want to consider weight distribution between the two campers. This will lighten the load for one person and prevent early fatigue from setting in from excess gear weight. Other than that, you should be comfortable and warm with over 2 pounds of filling made to keep you cozy. Nemo definitely has you in mind when it comes to using materials that provide comfort as well as a quality product.
Comfort
The Nemo Mezzo Loft Duo sleeping bag makes you feel warm and cozy alongside your camping partner without making you feel claustrophobic. Since it is made for two people, rather than having a hood that cinches around your face, you have a draft collar that keeps your head warm through the night. It also includes sleeves for your pillow! For extra comfort, look into the Nemo Fillo Luxury Pillows. They are said to be top notch!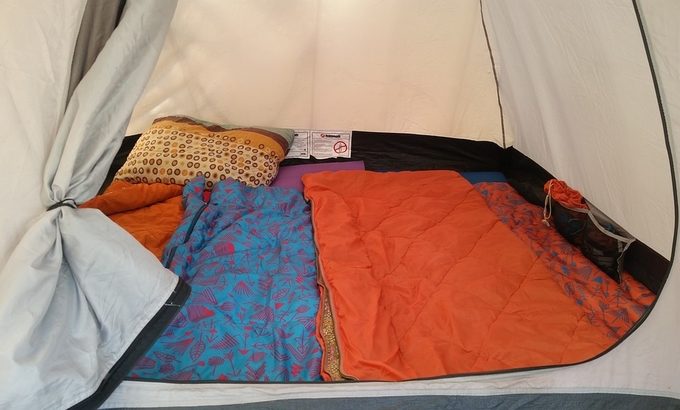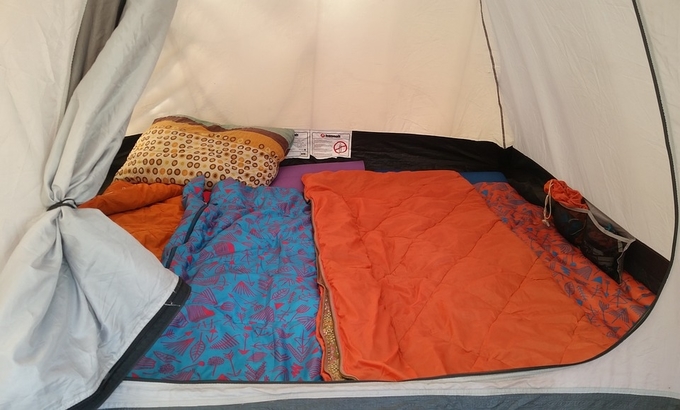 While you are overall protected from water because of the waterproof material of your sleeping bag, you should still be aware because the feet of the sleeping bag are not waterproof, and the carrying bag that it comes in is made of cotton, which is not waterproof at all. The bottom is not waterproof because there is a sleeve there for the sleeping pads, if you choose to add them to your camping gear. For the most part, you will be able to enjoy this sleeping bag out in the elements without worry.
Temperature rating
This sleeping bag is one made for three seasons, meaning spring, summer and fall. The temperature rating for this product is 30 degrees Fahrenheit, so it will work to that temperature, but falling below that, you will not be protected from the weather. It is not for use in extreme winter camping, or any time after the fall, where temperatures get in the low digits at night.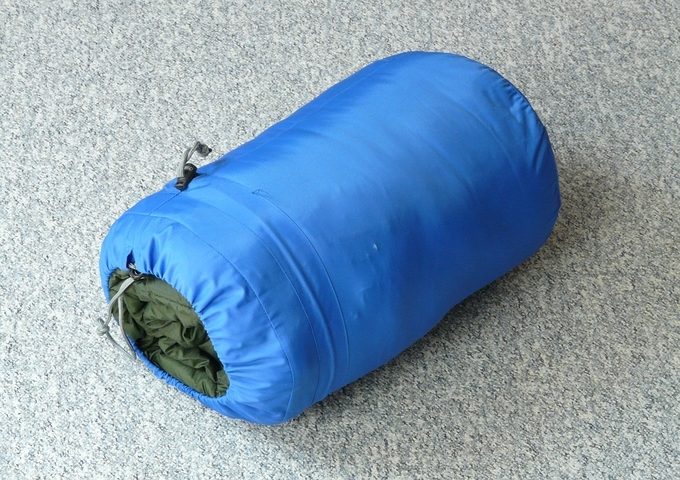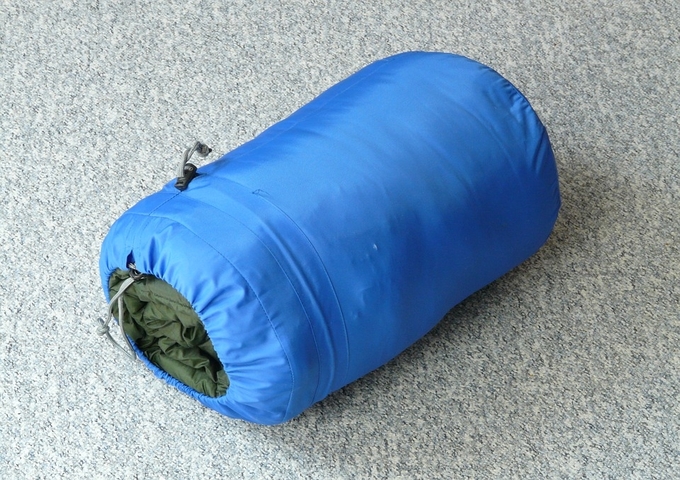 However, you should keep in mind that the temperature rating is just a base estimate and that you cannot fully rely on the information when you are out camping. Always carry extra clothing in case it gets cold at night and the sleeping bag cannot shield you from it. Users have raised a concern that even at around 37 degrees Fahrenheit, the Nemo mezzo loft duo can leave you freezing, despite its 30 degrees rating.
Unique Features
The Stratofiber microfiber insulation in this sleeping bag is made from a polyester staple fiber that is used by Nemo in their sleeping bags to keep you warm and comfortable. The construction of the insulation is made to fit one layer onto the other, without allowing gaps up air that let in the cold weather. The design is made so that the gaps are closed and you keep in the warmth.
Using down is a great way to not only keep in the warmth and block the cold air, but it lasts a long time. You simply cannot go wrong with down filling. It is known to give more warmth and comfort than any other type of insulation material. Nemo definitely got it right with their materials, as well as cool designs.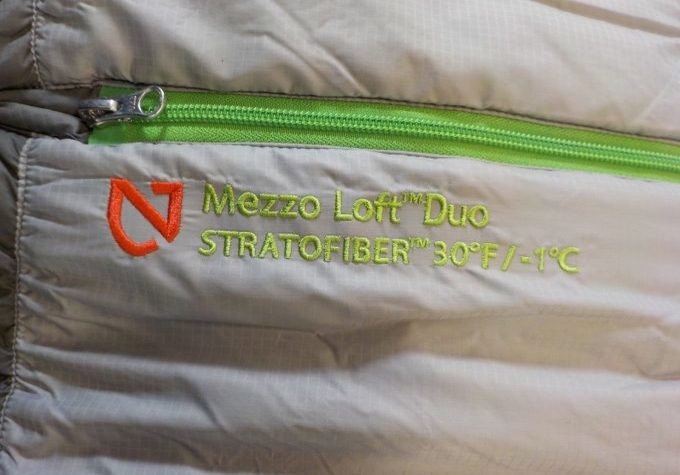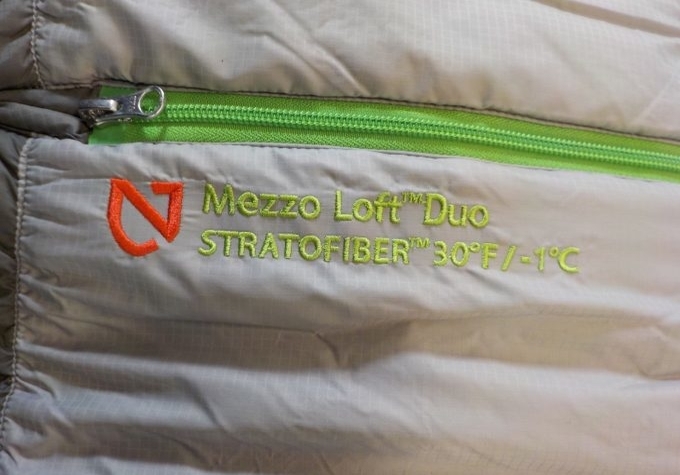 The sleeping bag is overall water resistant, so you do not have to worry about it getting wet, or waiting for it to dry out. Most items from Nemo also go through a Durable Water Repellent treatment before hitting the shelves.
Also, the dual zippers are a great idea when it comes to this type of sleeping bag. It allows both campers to rest without disturbing the others, and there is no feeling of claustrophobia while inside of it. There is an integrated blanket fold that acts like a comforter that folds back so you can control the temperature inside of your sleeping bag. There are box baffles that keep cold air out, and it includes a high loft, and a cool, fresh design that makes camping seem fun again!
Value for Money & Guarantee
Wondering just how much you will need to spend on this fantastic sleeping bag? The purchase will cost you around $300, which is a good value for your money considering you will be getting a bag with superior features that will go a long way in ensuring you have an awesome outdoor experience.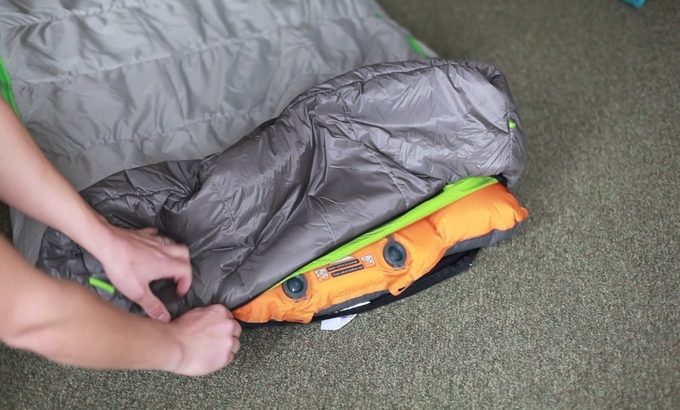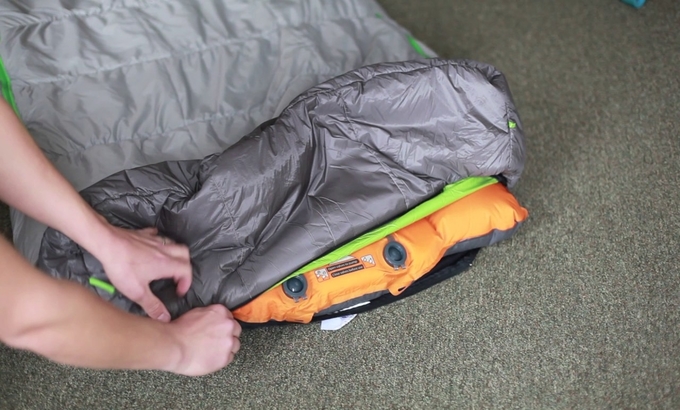 No information about the warranty on purchase or guarantee has been issued expressly on the site. You should contact the Nemo manufacturers for more information about the product's warranty, especially when you are considering to purchase.
Similar Models / Competitors
Nemo Tango Duo Slim 30 Sleeping Bag 
Nemo has once again outdone themselves in the production of another sleeping bag, the Nemo Tango Duo Slim 30 Sleeping Bag which is a more expensive version of the mezzo loft.
This bag comes in either granite or marigold colors and only has one regular size, with a temperature rating of 30 degrees Fahrenheit, and a shipping weight of about 3.2 pounds.
The best part about buying the sleeping bag is that you will get additional accessories with the purchase. These include a compression stuff sack and a cotton storage bag, which you don't get with the mezzo's purchase.
You will be impressed by the fact that it has two pads, a Tango Duo and Fillo pillows which come in pairs and will ultimately make your sleeping bag as comfortable as your own bed at home. However, the sleeping pad and pillows are sold separately and will cost you approx. $ 100 and $ 40 respectively.
Moreover, the Duo Slim has waterproof and breathable fabric that will keep you dry all night long even if you sleep outside on the grass or it touches the sides of your tent. The foot box will wrap underneath your sleeping pad and keep it in place all night.to top it off, the bag has a blanket fold and stretch box baffles that ensure that you get all the comfort you need as you sleep. The box baffles help retain heat and give you a full 3-dimensions to each baffle which has no thin spots.
Its unique backless design can easily fit two 20 inch pads, which can accommodate up to two people, just like our reviewed product. The best part? If you are concerned with the weight, you can always snap off the hood to lighten the load.
Why would you go for this sleeping bag and not the Mezzo Loft despite its costly price of around $330? With this one, you get better features with additional accessories that come with your purchase. Additionally, it's much lighter than the Mezzo, which makes hiking more enjoyable since you will have a lighter load to carry. You can consider other options if you will be hiking in cooler climates, and if you have an issue with the fact that it lacks a bottom, which will need you to use two sleeping pads.
The North Face Campforter Double Wide Sleeping Bag 
If you are looking for a more compact sleeping bag, the The North Face Campforter Sleeping Bag might just be the perfect choice for you. Why? This bag is proDown to begin with.
The outer shell is covered with water resistant insulation that ensures that you remain dry even when sleeping in wet conditions. Its 650 fill which means it's light and easy to carry around, weighing at around 5.25 pounds, but if you are looking for a lighter option, consider the Nemo Tango.
It's made of goose down, which has been certified by the Control Unit. The pro-synthetic insulation is an anti-compression layer used on the backside of the bag to give you maximum comfort all night long. The bag was designed to fit in 2 people comfortably by making it quite roomy with its relaxed cut that you can sleep and not keep bumping on the person you are sleeping next to.
You will also love its wrap around zipper that will allow you to zip open the bag both sides at the same time to let in more air. Rated at 20 degrees Fahrenheit, the North face is ideal for cooler temperatures. You should carry additional clothing in case the temperatures drop below that.
Going for approx. $429, this sleeping bag is designed for hikers and campers who are not afraid to spend however much it takes for a quality product. If you cannot afford this much just for a sleeping bag, go for the Nemo Mezzo, which is cheaper and gives you the same top-notch features.
Big Agnes Cabin Creek 15 Degree Sleeping Bag 
The Big Agnes Cabin Creek Sleeping Bag is a sleeping bag designed for backpackers going out during the cold weather. It's rated at 15 degrees Fahrenheit, which tells you that it's made to keep you warm even at such low temperatures.
You will be impressed with the six webbing loops and shock cord that lets you lace the sides of the bag together during the cold nights for extra warmth. The shipping weight is around 5.65 pounds, but the actual bag packs down really small.
It has an optimized insulation system, the Insotect Flow that distributes heat evenly throughout your body from the core to the feet and keeps you warm all through.it has a free range hood that increases your ability to lift and move your head even when you are zipped in. Additionally, it has a vaulted foot box that is designed to create more room for your feet, giving you more comfort.
The double zippers lets you enter the sleeping bag from either side of the bag and if you get to unzip it, you can now use the top as a comforter. And that's not all. Purchasing this bag will also get you additional accessories; a mesh storage sack to enhance its durability and easy mobility, a nylon stuff sack and exterior loops that you can use to hang the bag after washing or for storage.
At approx. $270, buying this bag will get you a good value for your money. You will not get a sleeping bag with such superior features that is this cheap, not even the Nemo Mezzo. If you are all about a good price for a fantastic product, then this should be what you go for the next time you are shopping around for a sleeping bag.
Overview
Overall, those who have used this sleeping bag and Nemo products in general are greatly satisfied. That is because Nemo makes their products with their users in mind. Other campers rave about the style, quality and price of the sleeping bags by this company. For this sleeping bag in particular, users are raving about it for the most part.
Users love that there is plenty of space and comfort that this sleeping bag provides. Some users even bought it for themselves to use as a huge single sleeping bag, saying it was one of the best nights of sleep they have had. Campers love the insulation, the ability to use it and store it with ease, and they stay warm and dry throughout the entire night.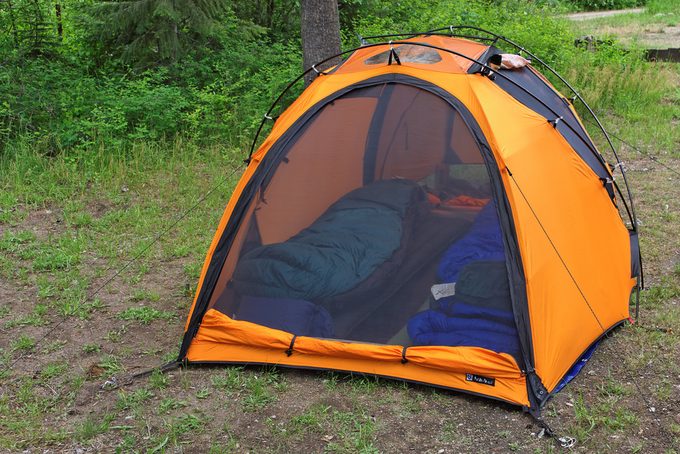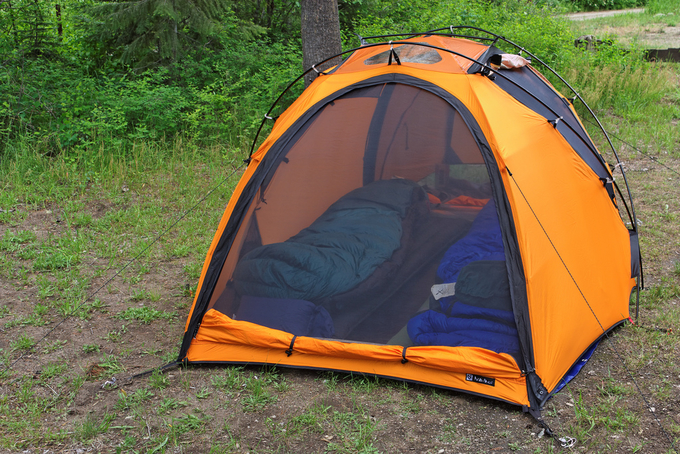 While some users noted that it is not great for winter camping, and it is bulky while carrying with their gear, many have loved this sleeping bag and all the comfort it provides while out camping with their partner. The positive parts of the Nemo Mezzo Duo sleeping bag definitely out weight the negative portions. See the pros and cons section below for specific likes and dislikes that other users have noted about the Nemo Mezzo Duo sleeping bag.
PROS:
Can include separate sleeping pads for comfort
Made for two people to enjoy
Made with quality material that will make it last
The comforter fold, lets the user control their temperature
For use in 3 seasons
Dual zippers
Great design and colors
Great for tall people
Integrated pillow sleeves
CONS:
Bulky to some users
Some users did not stay warm enough
Not the best weight for hikers who have to carry it on their backs
Many users who slept in this sleeping bag would agree that is made camping so much more relaxing because they could sleep comfortably next to their partner, control their temperature, and know they are getting a great, quality product for their value. Many stores have sold out of Nemo sleeping bags due to their popularity. If you think this sleeping bag is for you, snatch up one the next time they are available! You will definitely enjoy a relaxing night camping with your partner with the Nemo Mezzo Duo Loft sleeping bag!
Nemo Mezzo Loft Duo
Packaging

Design & Durability

Size and Weight

Comfort

Temperature Rating

Unique Features

Value for Money & Guarantee
Summary
There are a couple of features that you need to keep in mind as you are thinking about buying a sleeping bag. After an in-depth review of some of the best ones we have in the market, its time to lay out the features in a simpler manner to help you make an informed decision.
If you are tired of changing sleeping bags every time because they don't live up to the hype, consider purchasing the Nemo Mezzo bag that is not only comfortable, breathable and water resistant, but it's also durable and comes with a great price attached to it. You can use it for the 3 seasons, and you can be guaranteed to always keep warm during those cold nights.
Backpacking is fun. Make your experience worthwhile with a sleeping bag that won't let you down when you need the comfort and warmth the most. Go for the Nemo Mezzo and see how fast your hiking is transformed

What do you think about this sleeping bag? Did we miss anything about it, or do you have any concerns? Give us a shout out in the comments and let us know what you are thinking about with this sleeping bag and your next camping trip! Thanks for reading!