Regardless of the activity you are planning, camping, backpacking or whether you are preparing yourself for some other trip, a sleeping bag is a necessary piece of equipment. The main goal is to provide a good thermal isolation. Some sleeping bags are intended to be used as an addition to the main sleeping bag.
This part of the gear is very important because if there is snow on the ground, you have to put a good insulator between you and the cold ground. For this reason, equip yourself with great backpacking gear, like the Nemo Verve Sleeping Bag, and enjoy your trip in the nature!
This sleeping bag is updated from its previous version. It has a new color design and it looks great. Other unique features are that it has blanket folds, which protect the person from getting cold and also it has a pillow pocket. It is made of synthetic material that provides maximum warmth.
The Nemo Verve Sleeping Bag won in our competition. Because of its generous characteristics, we decided that this is the best product on the market. This affordable product could impress anyone who is interested in purchasing a sleeping bag.
Product Specifications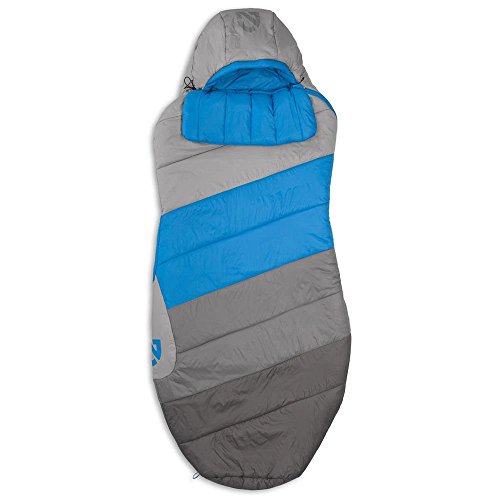 40D Nylon Ripstop with DWR (Shell)
Spoon shape is wider at the knees and elbows for side sleeping.
New updated colors for 2016.
Stratofiber synthetic insulation offers the best blend of warmth, moisture resistance and packed volume.
Unique features like our Blanket Fold and Pillow Pocket set the Verve apart.
Included Accessories: Drawstring Stuff Sack and Cotton Storage Bag. Stuff Sack Size: 10×18″
Below, you are going to read more about this sleeping bag, the good and the bad, and we will give you a few reviews of comparative sleeping bags to show you how others on the market match up to the Nemo Verve. Hopefully, this sleeping bag will be your next choice, because it has many great features you are going to find out about right now!
Review
Packaging
The sleeping bag has dimensions of 20 x 13 x 10 and comes in a box just a little bigger than that. The product weighs 3.9 pounds so it is light in weight. Once you open the box, you will find the sleeping bag itself, along with the stuff sack. Simply unfold your sleeping bag, and wash if you wish, before using.
Design and Durability
You can find this sleeping bag in two sizes, large and regular. According to its dimensions, you can find out which one matches yours. It weighs only 4.5 pounds and has specific dimensions: 20 X 13 X 10 inches. It is constructed in a spoon shape that allows side sleeping.
This means that it is wider at the area of the knees and also the elbows which provide greater comfort. This model comes in two colors, the first one is Jennes blue or Key lime and the second one is newly designed and updated as a 2016 edition. It is a solid combination of blue and many shades of gray, which gives uniqueness and perfect design.
The bag is created from forty D nylon rip stop that protects it from unwanted condition. It also contains DWR. The inner layer is made of a strato fiber, synthetic material that provides a good thermal isolation and also provides warmth. This material allows resistance from moisture and also provides low packed volume.
The sleeping bag comes with blanket fold, which is perfect for extreme situations. The pillow pocket is an additional and very good accessory. Another tool included in the kit is the drawstring sack which could be used for many things. You can find an additional cotton bag for storing necessary things for your trip or outdoor activity. The size of the stuff sack is 10 X 18 inches.
Comfort
The Nemo verve sleeping bag has also additional characteristics. One of them is the contoured hood which is very adjustable and good for protecting your head. You can keep your head warm and protected from the outer impacts. This is very important because it provides comfort for your head too.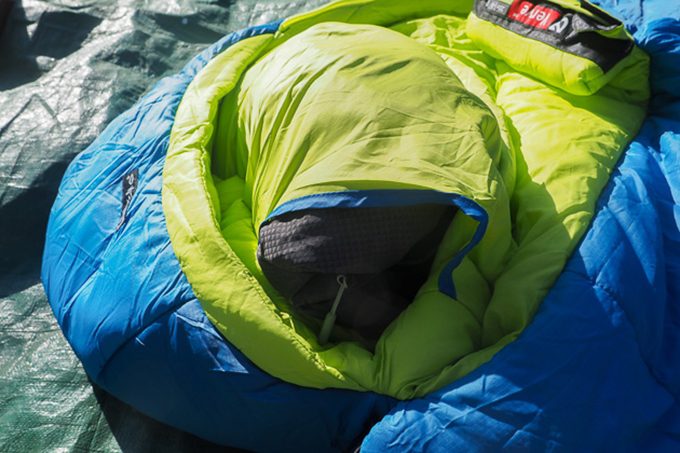 Not only are you going to stay warm, you are going to be comfortable. This spoon shaped sleeping bag is perfect for those who like to sleep on their side or curled up a little bit. You get more range of motion with this sleeping bag, which can be a huge plus for many people.
Insulation
The synthetic strato fiber material provides warmth and also gives you regulation of the temperature. It allows you to have a maximum comfort and feel like you are at your own home. The blanket, which goes together with the product, is an excellent idea because you can tuck it around your shoulder and neck area and feel the warm situation.
Ease of Assembly and Use
Using the Nemo Verve is very simple, as you just unzip and get in! The spoon shape allows you to sleep in more comfortable positions, such as on your side, and it will make for a more comfortable night of rest.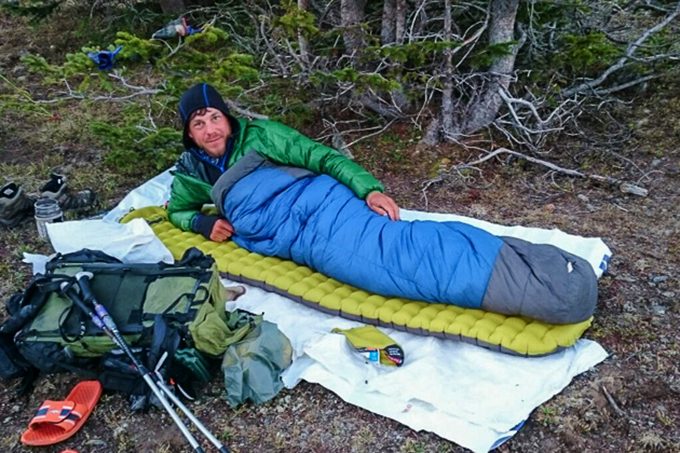 When you are done using it, you simply roll it up, put it in the stuff sack, and head out on the next leg of your journey!
Girth and Volume
Since this is a men's sleeping bag, the volume and girth are going to be bigger than one that is mean for females. Below you will find the information on the girth and volume of the Nemo Verve.
Fits Up To: 72 inches for Regular, 78 inches for Long
Shoulder Girth: 64 inches for Regular, 66 inches for Long
Hip Girth: 60 inches for Regular, 62 inches for Long
Compressed Volume: 10 liters for Regular, 12 liters for Long
Stuff Sack Volume: 23 liters
Value for the Money
While there are always going to be cheaper items on the market, such as sleeping bags, you really have to look at the quality and the value you are getting from the product. While this sleeping bag is a little expensive, it offers so many features, a lot of comfort, and just the perfect amount of warmth!
Users have said they are satisfied with the Nemo Verve, and it was definitely worth the money they spent!
Similar Products
Below are three reviews of comparative sleeping bags for you to consider. Think of the features and other aspects to compare them to the Nemo Verve so you can make an educated decision on which sleeping bag is correct for you.
Mountain Hardware Ration 15 Sleeping Bag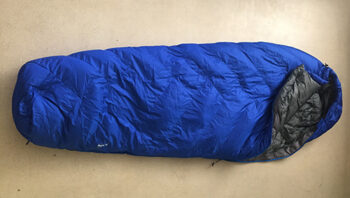 The Mountain Hardwear Ratio 15 Sleeping Bag stays warm and dry through the entire night. With the Thermo Trap Baffle construction, your sleeping bag will retain heat and not move around too much. The mummy design keeps the weight down and you can use the draw cords to cinch up.
This sleeping bag also has a Durable Water Repellent that keeps the bag water resistant, yet still able to breathe. The shell is made of all Nylon and it is insulated with Q Shield Down filling, and the lining is made of Nylon and Taffeta. You get to choose from the Regular size or the Long size, and it has a temperature rating of 15 degrees Fahrenheit.
The sleeping bag also comes with a stuff sack and a mesh sack. Plus, you can choose which side the zippers are on, with the choice of Right Hand or Left Hand dominance, for a more comfortable experience in using your sleeping bag.
Users loved it during their mountaineering and hiking journeys, as it lived up to what it says it does, as well as compresses down nicely. The people who ordered the Long version were satisfied that it fit them perfectly, without any discomfort, as there is plenty of room inside.
The only down side is that those who sleep on their sides might find that their shoulders could get chilly. If you cinch up the bag, you should stay warm. Overall, users had a great experience in using this sleeping bag, and would choose it again, even if the price is a little on the high side.
Nemo Fusion Hybrid Sleeping Bag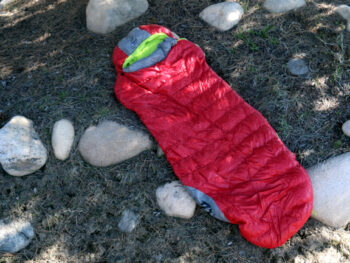 The Nemo Fusion Hybrid Sleeping Bag is made with 550 fill down strato fiber polyester and is a spoon shape, which is gaining popularity due to their comfort, ability to sleep on your side, and curl up if you like. With a 30 degree Fahrenheit temperature rating, you can use this through the whole year, as long as it does not get too hot outside.
The shell is made of Ripstop Nylon, and has Nylon and Taffeta lining. This sleeping bag is made for both sexes, and comes in two colors; Ember and Key Lime. It fits up to 72 inches tall, with a shoulder girth of 64 inches and a hip girth of 60 inches. It compresses down to 5.5 liters and comes with an 8.5 x 16 inch stuff sack to store it and go.
This bag also has stretch stitching in the waist area for heat conservation and range of motion. It has 550 Down Tek filling that is water repellent and takes in less moisture and dries way faster than regular down filling. Users love this sleeping bag because it allows you to sleep on your side comfortably, which many sleeping bags do not.
Those who sleep on their sides will fall in love with this sleeping bag. Users also say that it is warm and keeps in the heat so you get a good night's rest. They also adored little features like the pocket that holds your phone, and a stuff pocket for your jacket that can be used as a pillow.
One downside is that some users were cold at night, but then again, everyone's body is different. Overall, users did enjoy using this sleeping bag and did not mind the price for what they were getting in the end.
Sierra Designs Zissou 23 Degree Sleeping Bag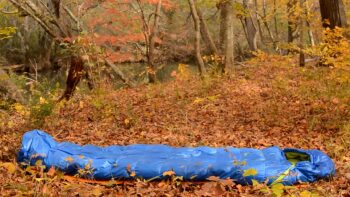 The Sierra Designs Zissou 23 Degree Sleeping Bag comes in a blue color and has goose down filling inside, which is guaranteed to keep you warm. It will work in temperatures down to 23 degrees Fahrenheit and is very light in weight. It also compresses down easily and can be stored in the compression sack that comes along with it.
Best for camping and hiking, this sleeping bag is known for keeping the heat in and feeling very soft once you are inside. You can count on it to stand up to the weather due to the water resistant Dri Down 700 fill power insulation. This makes a water resistant finish on the sleeping bag and it will stay warm even if it gets wet from rain.
It also lets the insulation return back to normal for the most part, and does not wear down the insulation as fast as other down fillings. Plus, it dries faster that regular fillings. The 30 D polyester micro ripstop fabric is used on the shell, which keeps the sleeping bag protected from damage.
The mummy shape is more form fitting, traps more heat and will feel comfortable all night, unless you prefer to sleep on your side. The included hood contains insulation so that you can keep the heat in and keep your head comfortable and cozy all night long.
The draft tube keeps cold air from even touching your body, and if you happen to get too warm, you can use the 2 way zipper to vent out the sleeping bag so you stay comfortable. This Sierra Designs sleeping bag comes in two sizes, Regular, which fits up to 6 feet tall, and Long, which fits people up to 6 feet, 6 inches tall.
Overall users found it warm, comfortable and best used in colder weather, so you will not want to take it on a summer trip with you. Some users felt that it did not keep them warm under 40 degrees, so you have to decide how temperature sensitive you are.
Overview
Customers who bought this product are very satisfied. They claimed that it is an amazing product and they highly recommend it. They affirm that the sleeping bag shape is great because it allows to sleep on one side. Most of the persons sleep with folded knees and with this bag they could afford to have the best sleeping position while camping.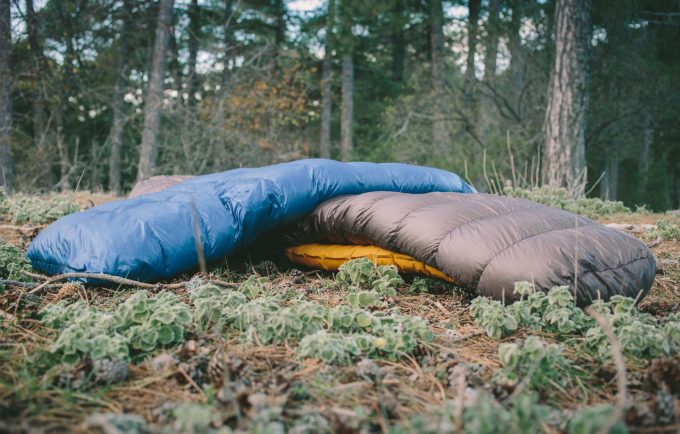 Other buyers say that they like the included blanket flap that protects them from the cold air.  This is an advantage that gives a five-star rating for this very good product. They also liked the zip pocket that is good for keeping necessary things. They say that this sleeping bag is very comfortable and toasty warm.
The ones who tried a mummy style sleeping bag affirm that this one is much better than the previous one. It is also superior to the Marmot Maverick type of sleeping bags. The people who bought it, retell that it provides good warm condition without any constriction. They also liked the packing of the sleeping bag and the additional storage bag.
PROS:
40 D Nylon Ripstop with Durable Water Repellent on the shell of the bag
Newly updated design and colors, with the same warmth and comfort
Features like the contoured hood, pillow pocket, blanket and other things make this sleeping bag stand out from the rest.
Light in weight, highly portable
Temperature regulation
Spoon shaped; wider at the knee area, offers more range of motion
Moisture resistant
CONS:
Not meant for higher temperatures above 50 to 55 degrees Fahrenheit
Some did not like the stuff sack and purchased a separate one that fit better
The Nemo Verve sleeping bag is an excellent product according to the people who purchase it and also use it. The product is rated with all the positive critics as one of the best in its class. It is a new and redesigned edition for 2016, with better and greater qualities.
The most important thing is that this product is compared to many others and it shows up that it is the best of all. Keep this fact in your mind when you want the most convenient product for you. Don't forget to look at some other products before making the last decision.
Nemo Verve Sleeping Bag
Weight & Size

Packaging

Design & Durability

Comfort

Insulation

Value for Money
Summary
The newly updated Nemo Verve sleeping bag, offers updated features that have users very excited and happy with their purchase. With the attached hood, spoon shape, and other features, users are flocking to this sleeping bag, and leaving amazing reviews for it!
Overall, this sleeping bag has everything you need for a 3 season bag that keeps you warm, comfortable, and a little spoiled after using other sleeping bags. Users are highly satisfied with their new Nemo Verve purchase.

We hope that this buying guide would help you in your choice. If you decide for this one, please tell us your opinion and your experience with this sleeping bag. You could also explain if you used a similar product and have a positive answer.
Remember that it could be useful and helpful for other buyers too. The comment section below is waiting for your reply. Make a good decision and enjoy your outdoor excursions.