Nothing can ruin your nature vacation, backpacking, hiking adventures, or a camping trip, like spending cold nights shivering because you have an inefficient and cheap sleeping bag.  Choosing the right sleeping bag is one of the most important hiking decisions you will have to make when choosing your backpacking gear.
Good and high-quality bags offer warmth, comfort and safety while remaining lightweight. Today we are going to introduce you some tips on what to consider when buying a sleeping bag and a review of one of a top rated sleeping bags out there on the market, the Western Mountaineering Versalite Sleeping Bag.
If you're using a good quality tent and you want your sleeping bag to keep you from freezing at temperatures below zero, this Western Mountaineering Mummy sleeping bag is the winner.
Product Specifications
This sleeping bag has

10 degree F rating

The Versalite Mummy has 20 oz. of 850+ down fill
The sleeping bag is very compressible and it packs easy
The total weight of the Western Mountaineering Versalite Sleeping Bag is only 2 lbs
The Versalite is the warmest in the ExtremeLite series!
A solid 3-seasons of bike touring or kayaking is at your fingertips with the Western Mountaineering Versalite Sleeping Bag.
A Super Full Collar will seal in the warmth and protect you from the cold.
62″ of shoulder girth is roomy enough.
This sleeping bag was designed and engineered with the outdoor enthusiasts in mind and those who feel comfortable sleeping at 10 to zero degrees (we suggest you use same layers additionally, just in case). Measuring 6 feet in length, it has plenty of space for taller users.
Hopefully, our article and review will give you some suggestions on how to find the perfect sleeping bag for your hike in order to keep your feet comfortable and warm despite the cold. Let's start!
Review
Packaging
Your new sleeping bag will come packaged in a box that includes the sleeping bag and a stuff sack. Once you open the package, you find that it is stuffed down to 8 x 15 inches. From there, you will want to unroll the sleeping bag to air it out before using it.
Design and Durability
Many people love the mummy shape of a sleeping bag because it is more comfortable than a traditional style sleeping bag, and it keeps more heat inside and blocks the cold air from coming inside of the bag. This highly durable sleeping bag can really stand up to the harsh outdoors and is roomy enough to move around and not feel too confined.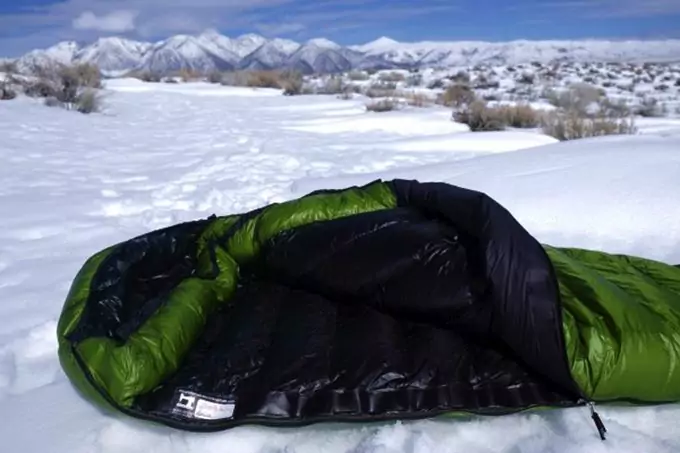 The 6 inch loft is highly comfortable, as well as the baffles inside of the bag. The shoulder and foot areas have extra space so you do not feel stuck to the sleeping bag, too.
You can also choose your sleeping bag by which side you want the zipper on, the left or the right. This particular bag comes in a green colored shell with a blue colored inner lining. Users say that it is attractive and functional.
Insulation
This versatile sleeping bag is the warmest bag in the Extreme Lite series designed by Western Mountaineering. Its full collar will "seal" the warmth inside the bag and protect you from any cold and its shoulder girth is 62'', which is roomy enough and the users are sung, but straight jacketed.
If you bring this bag into the back country you will love it for its weight. The total weight of the bag is mere 2 pounds and it can be compressed in a backpack without putting much strain.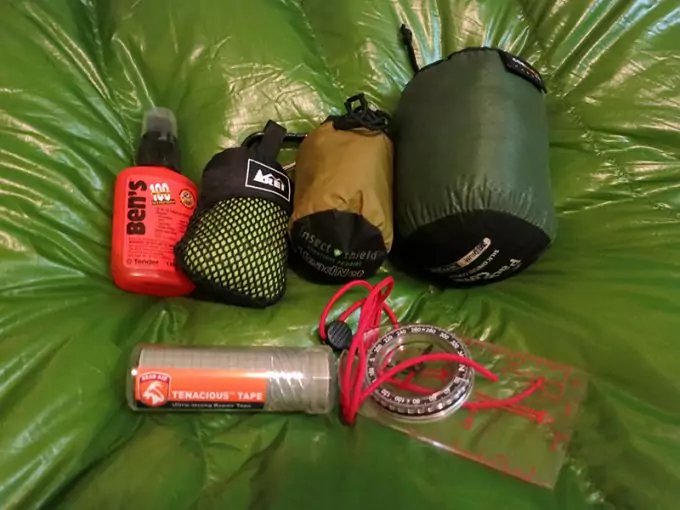 Sporting a full draft collar plus a highly breathable shell fabric and a premium 850+ goose down, this light sleeping bag is ideal for bike-touring, hiking, camping, trekking and kayaking.
The designers also combined the durability and warmth of traditional down fills, with the synthetic fill that is resistant to moisture. You will be surprised how good it can retain the warmth and is true 4 season sleeping bag if you use it with a proper tent and liner.
Sleeping Bag Specifications
Below is a table of the specifications of this sleeping bag. It will give you all of the specific details so you can see if this is the correct fit for you, no matter your height.
Recommended Use
Backpacking
Claimed Weight
Short Size –  1 lb 14 oz

Regular Size –  2 lb

Long Size –  2 lb 2 oz

User Height
Short Size – 5 ft 6 in

Regular Size –  6 ft

Long Size – 6 ft 6 in

Shoulder Circumference
Short Size – 62 inches

Regular Size – 62 inches

Long Size – 63 inches

Hip Circumference
Short Size – 53 inches

Regular Size – 53 inches

Long Size – 54 inches

Foot Circumference
Short Size – 39 inches

Regular Size – 39 inches

Long Size – 39 inches

Shape
Mummy
Insulation
850+ fill down
Materials Used
Shell – Extreme Lite

Lining – Nylon Taffeta

Degree
10 F
Storage Sack
Yes
Stuff Sack
Yes
Manufacturer Warranty
Lifetime
Versa Lite sleeping bag is a sizable yet value-filled investment in warmth, comfort and safety when spending time in the outdoors.
Manufacturer's Recommendations
Cleaning the bag is fairly easy, but requires particular attention to the type of washer used. We suggest hand-washing with warm water, but you could also use front-loading washer too. Just stay away from all washers that can cause damage to the fabric of the sleeping bag.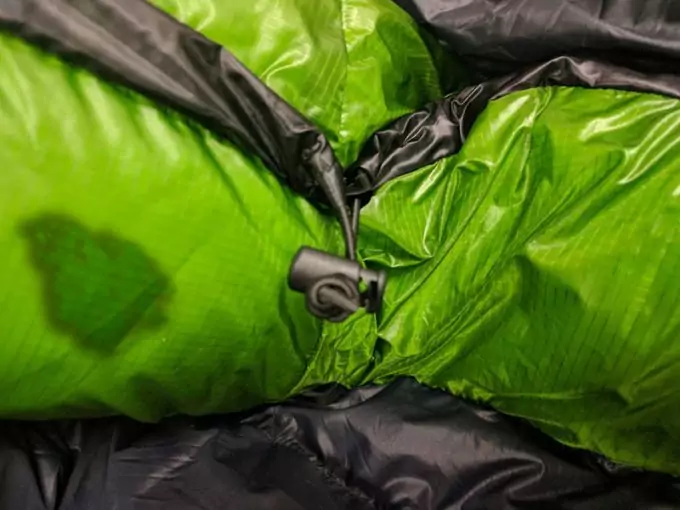 The down feathers in the fill make this bag durable and warmth enough through many washings. In order to prevent any unnecessary decrease of its loft or wear, it would be best that you store it properly. Suspending it upside down in a dry and cool place is the best way to go.
We suggest avoiding using a hanger or folding whenever possible as if you fold it you might create pinch points and cause separation of the fill which will leave "cold" spots.
Value for the Money and Guarantee
This packable, breathable, ultra-light and high-thread-count ExtremeLite fabric encases the insulation without adding any unnecessary weight.
With the Ultra-premium 850+ fill down insulation that holds your body warm and provides a high warmth-to-weight ratio comparing to any other synthetic-fill insulation, the price range of $550-$600 seems like a really good deal for such a sleeping bag.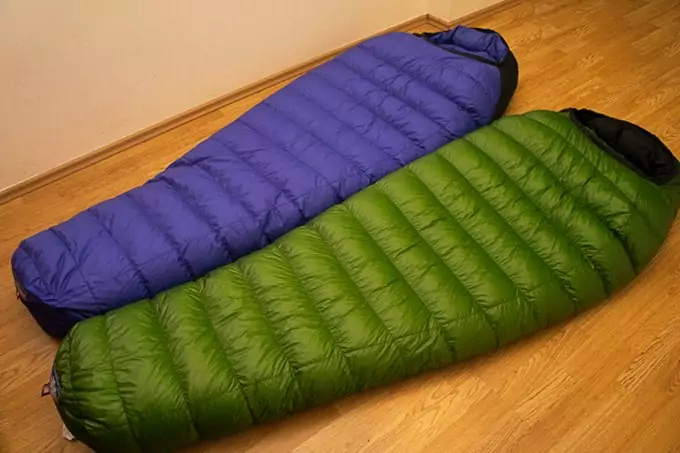 Furthermore, the sleeping bag is backed by the brand's warranty which covers all manufacturer's defects for lifetime. If the sleeping bag suffers from some sort of failure due to the quality, Western Mountaineering will discreetly replace or repair the damaged sleeping bag.Your only obligation will be to thoroughly clean the bag before sending it to be repaired which seems fair enough.
Similar Products/Competitors
Below are three product reviews for your consideration. Compare these three sleeping bags with the one we are reviewing and see how it stands up. Look at the features like insulation and temperature rating to see if it stacks up to the Western Mountaineering Versa Lite Mummy bag.
Nemo Sonic Down Sleeping Bag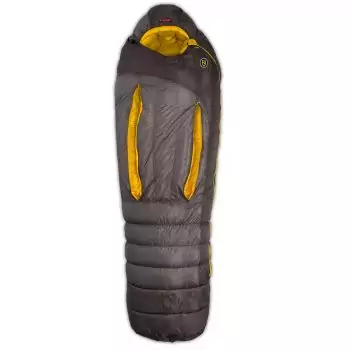 The Nemo Sonic Down Sleeping Bag has a temperature rating of 15 degrees F, and is insulated with 850 fill down. The shell is made of 20 D Ripstop Nylon, as well as the lining. This mummy shaped sleeping bag has a shoulder girth of 61 inches (69 for the Long version), and a hip girth 58 inches (63 inches for the Long version).
There is an included stuff sack that fits down to 11 x 18 inches for Regular and 11 x 19 inches for the Long. Users like this sleeping bag because of its ability to keep heat in and the cold air blocked from entering inside. It stood up to all types of weather included, sleet, rain and snow.
They stated the foot box is warm and spacious, as well as waterproof. The down filling is not heavy or thin, and you do not need a sleeping pad unless you want to use one. The only issue was that users needed to remember to pull the cord on the collar and baffle so that you prevent heat from being lost.
Otherwise, users who bought this product had almost nothing bad to say and would highly recommend it to others. The light weight, issue free zippers, and durability are what sets this sleeping bag apart from others. Even over time, this bag was still in wonderful shape and ready to be used again and again.
NOZIPP Ultra Light Sleeping Bag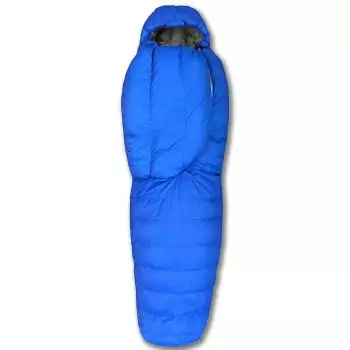 The NOZIPP Ultra Light Sleeping Bag is interesting because it has no zippers! Instead, it uses a magnetic closure system that easily closes once you are inside. The shape expands, has a great ventilation system, and is entirely spacious.
Plus, it can work in temperatures around 15 degrees F and is insulated with 850 fill down. Included with this sleeping bag is a compression sack and a storage sack. The idea behind this sleeping bag was to get a great night's sleep in a sleeping bag that is hassle free and extremely comfortable.
Not only is it warm and comfortable, but you can maneuver around in it, sleeping on your side, or sitting up if you wish. The shape expands, so you can gain more room if you need it. The draft barriers are big, especially in the torso area, so that you retain the warmth without getting any cold drafts, which can happen withe some sleeping bags with zippers.
If you find yourself getting chilly, you can cinch the neck collar with the hood to retain all of the heat. This bag is also made of high quality materials, with a shell that breathes, will not retain moisture, and has water resistant down filling. The magnets let you get in and out of the sleeping bag easier, and it packs down easily to store and head out on the next leg or your adventure.
Sierra Designs Mobile Mummy Sleeping Bag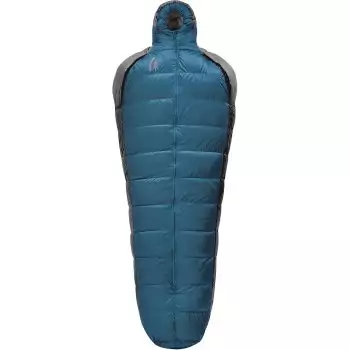 The Sierra Designs Mobile Mummy Sleeping Bag includes draft prevention and is very light in weight. The jacket hood is also lightweight and has no cords or toggles. The stowable foot box has space and is comfortable, too. The sleeping bag has no zippers in the arm ports, but will work with ease.
It comes in two colors which are Blue Ashes and Smoked Pearl. The zippers located in the center work flawlessly and will not catch. The design in the shoulder area is garment style and it includes a draft collar, tube, and the curtains.
While it is a little pricey, it is worth the cost and it's not that expensive when compared to other sleeping bags that offer less features and warmth. Users say that this sleeping bag stayed dry due to the insulation, no matter the weather, even if it's pouring rain.
The soft down filling is comfortable and does not bunch up or move about in the sleeping bag. Other users said that it does not leak out heat, or let in cold air for that matter. The entire bag is enclosed so you have the cold air sealed out, and will retain the warm air inside for a comfortable night's sleep.
Not only that, they loved the space, ability to move around and not feel confined, and the nice garment style space in the shoulders. Some users did not like the hood or central zipper, but overall this is a well loved sleeping bag.
Overview
One of the professional hikers who tested the backpack said that this sleeping bag has more loft than his 24 pound sleeping bag. Most reviewers agreed that it is the warmest sleeping bag on the market that they have used considering its weight.
Its collar, hood and draft tube are fuller than some sub-zero sleeping bags that weigh twice as much as this Western Mountaineering sleeping bag. This mummy bag isn't claustrophobic at all so all hikers who enjoy space will love it and you can simply wear just pants and a light down jacket while inside.
It comes with a full length zipper and you will have the ability to shift down from bottom to top which provides a wide comfort range. It's the number one choice for backpackers who love tent camping at cold weathers. The majority of people that tried the bag in the wilds agree that they should have purchased it years ago.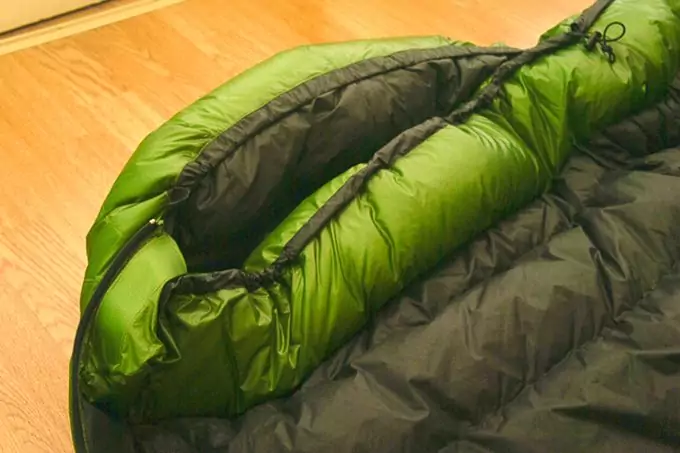 Engineered (some would say over-engineered) to exceed the expectations of hikers, mountaineers, campers and those seeking a night out in the back country, Versa Lite is a must have sleeping bag that is ideal for almost any endeavor.
There were no negative reviews on this bag, but that does not mean it is perfect. The only real issue is that the nylon shell is not water proof, but instead it is water resistant. If your bag does get wet, you can hang it out to dry once the bad weather has passed.
Also, while this bag is not that expensive compared to other high quality sleeping bags, it is a little pricey, so you will want to take your finances into account, and know how much you plan to spend on a superb sleeping bag that will last for years to come.
We reviewed pros and cons of the Western Mountaineering sleeping bag that you can read below:
PROS:
Over the top warmth for its weight
Versatile comfort range
Could be comfortable with limited layering
Full-down collar with a seal
CONS:
Ultra light weight nylon isn't waterproof so this mummy sleeping bag should be used only in a tent.
Only comes in one color
A bit on the pricey side
High-alpine climbers looking to cast a couple of pounds will love this bag's unmatched weight-to-warmth ratio and all mountaineers looking to push their limits with their seasonal gear can get a little bit more insulation from layers thanks to its wider shoulder circumference.
Western Mountaineering Versalite Sleeping Bag
Weight & Size

Packaging

Durability & Design

Insulation

Versatility

Value for the Money

Warmth
Summary
The Western Mountaineering Versa Lite Mummy sleeping bag is a 5 star sleeping bag, all of the way. Not only does it work down to 10 degrees F, you will stay warm inside of this light weight bag without feeling any bit of coldness peeking through. The quality materials, durability, mummy shape and more make it one of the best sleeping bags on the market!

This is a sleeping bag you buy once for good as the quality of the bag cannot be overstated. The materials used are superb, extremely lightweight and keep warmth during cold weather. If you liked our review and find it useful, feel free to share it with your family and friends.
Also, if you think we missed something important that you think could be useful to our readers to know or you tried the bag and you're happy with it. We want to know what your thoughts are, so let us know in the comments section below what you think of this sleeping bag.