The final layer of defense in a shelter is bedding and there is no better bedding system than the Nemo Nocturne Sleeping Bag. You cannot argue about having a warm, comfortable sleeping bag when out in the cold. Therefore, finding the right type of bag is well worth your time. You can get past the muddle of so many hi-tech variables with the help of a decision-making documentation to follow so as to narrow down your choices.
This is exactly what this guide is designed for. This publication aims at helping you understand the worth of Nemo Nocturne sleeping gear. It helps you understand the specifications that make the reviewed product so special. At first glance, you will agree beyond any doubt that the bag is the better choice when compared to most traditional sleeping bags you have used. It is designed with the best weatherproof rating possible.
Product Specifications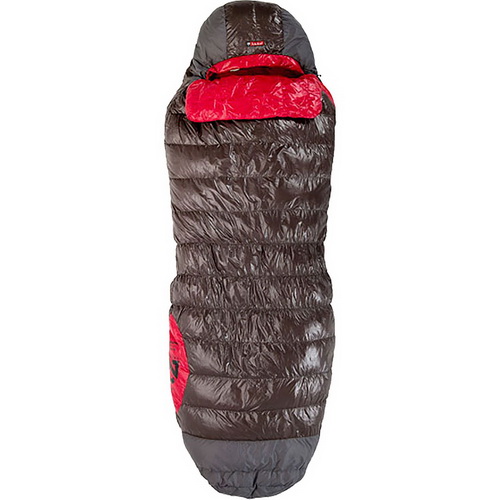 Spoon shape with stretch stitching allows room for knees to naturally bend and shift throughout the night
750-fill, water-repellent DownTek down delivers outstanding loft, warmth and compressibility
Treated DownTek down absorbs 30% less moisture and dries 60% faster than untreated down
Pillow pocket lets you stuff extra clothing into the sleeve opening for a handy pillow on the go
The bag's larger dimensions, insulation and comfort make it unique when compared to traditional models. If you lose sleep in this bag, it will not be because you are cold. In conditions where traditional bags may leave you miserable, this particular model will be as warm as your down comforter at home. It is like sleeping in a superheated cloud that never runs cold. Choosing a sleeping bag is a numbers game, but this guide introduces you to the best model in the market.
Review
The beauty of this durable sleeping bag depends on the following attributes: box quilted, box baffle, insotect flow gates, stretch stitching, and dual fill power. You need a sleeping bag that does not only warm you, but also retain the heat that your body generates. You should not bash the Nemo Nocturne bag for not performing in a given way when in fact you do not know its specifications.  To be able to use and maximize on the potential of the bag, you need to know each and everything about the design.
This guide is specific in listing attributes under which you can evaluate the sleeping bag. Apart from the design, material and temperature rating, you need to consider any and every aspect that you want your sleeping gear to have. As a fanatic outdoorsman, we are sure about your ideal model and confirm that the Nemo Nocturne bag is exactly what you need. The following are the specifications that do not only prove how resourceful, reliable and durable our best pick is, but also a renowned model worth the money.
Packaging
At 2.6 pounds the Nemo Nocturne bag is by no means agonizing. Certainly, there are various lighter bags available. However, if you are after a sleeping gear with useful features, the weight should not be an issue. The sleeping gear might not be a top notch for ultralight fanatics pinching jots. However, the bag has proven to pack well for different outdoor expedition, including multi-day and long-distance backpacking.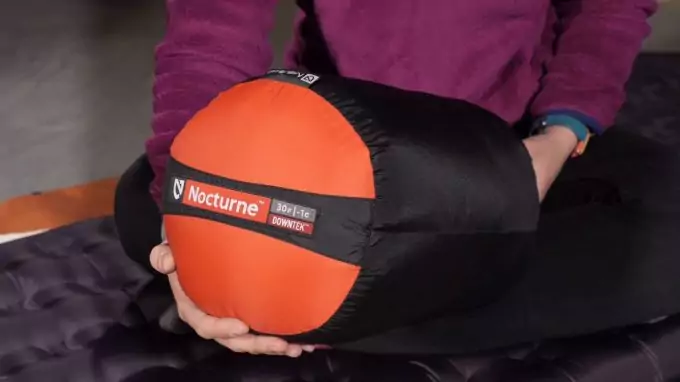 Measuring 20 by 11 by 9 inches, the bag is sizeable and compact for almost any user. It may not be as light or compact as other sleeping bags, but it is available with dual fill power. The spoon shape offers you adjustable comfort. The sleeping bag is equipped with a stuff sack for packing it once collapsed. The stuff sack reduces the bag into a sizeable and manageable pack for easy backpacking.
Design and Durability
The very first thing that will grab your attention when you set your eyes on the bag is the shape. It is tapering wide around the toe box and knees, slim at the hips and widespread at the shoulders. The shape of the design is neither a traditional mummy nor a rectangle, but Nemo spoon shape. You get to maneuver easily without interfering with its remarkable thermal capabilities.
Unlike traditional bags that waste a lot of your body heat, the Nemo Nocturne provides the additional needed space while keeping you warm and comfortable. The bag features the cutting-edge DownTek 750 fill, which is lighter and more compressible. The fill offers suitable insulation, which is very comfy for teenagers. The power down is associated with the state-of-the-art Insotect FlowGates tech to effectively prevent the down from ever-changing.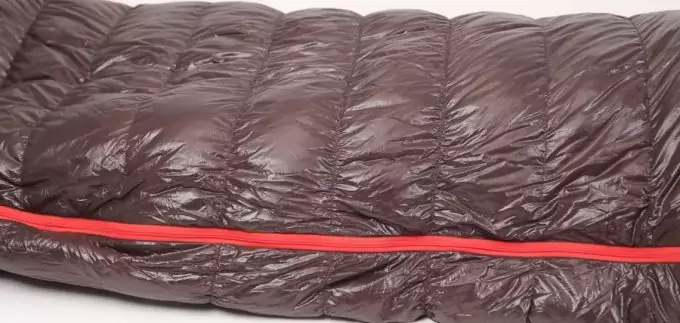 It also allows intentional redistribution of the down. This ensures that you stay warm and safe from the cold on chilly nights. Unlike most down fills, this particular one is highly weatherproof. This makes sure the bag is always warm even in wet conditions. The shell fabric is 15D nylon ripstop coated with DWR, and the footbox is made of 15D OSMO coated with DWR. Ripstop is a renowned nylon fabric because of the many benefits it offers.
Apart from being hard to tear, the fabric is exceptionally lightweight. The water resistant coating is quite resourceful since it repels water molecules if rain manages to penetrate your tent. The DWR coating does actually improve the bag's durability. The linings are softer and thicker 30D nylon Taffeta with Durable Water Resistant coating.
The design material (both shell and footbox) feels silky when in contact with your skin. You will not develop a damp feel when the air becomes humid around your beddings. Maneuverability is very important when sleeping in a bag and the Nemo Nocturne offers you exactly what you need. The widen shoulders and hips allow you to change positions by moving around and curling up or down. Generally, the 750 fill, ripstop nylon and DWR coating make the bag highly durable.
Temperature Rating
This is in fact one of the most important considerations when shopping for a sleeping bag. The temperature rating or degree rating of a sleeping bag signifies the lowest comfortable temperature that can accommodate you. There are two types of Nemo Nocturne bags when you consider the temperature rating: Nemo Nocturne 15 and Nemo Nocturne 30 sleeping bags.
The 15-degree rated is comfortable for most people down to about 15 degrees Fahrenheit; while the 30-degree rated is suitable to around 30 degrees Fahrenheit. The degree rating you choose has to make sense of your surroundings. Normally, a practical all-season rating ranges between 30 and 40 degrees Fahrenheit. This might not be essential in warm climates, but offers you comfort in cold climates.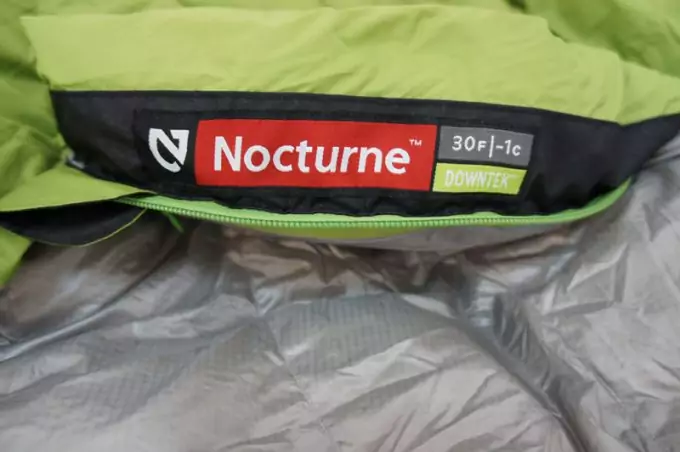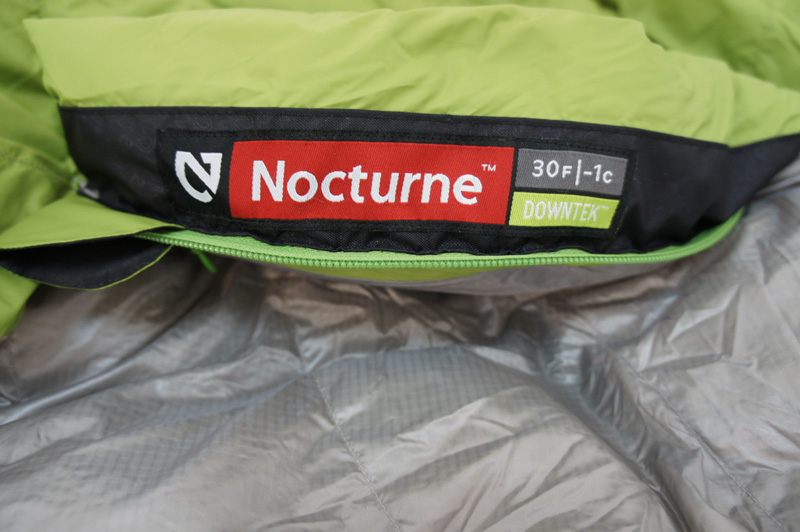 What makes this bag keep its promise as far as temperature rating is concerned is the insulation. There are vertical baffles along the bag's length, which ensure that your body is under the insulation. Basically, the down insulation does not move from the top towards the sides. You are also presented with a cute collar near the chin that you can fold on the shoulder area to vent additional heat.
If you do not know the rating to choose, you need to determine whether you are a warm or cold sleeper. Usually, a cold sleeper gets cold easily, while a warm sleeper can put up with temperatures down to 20 degrees above zero in a 30-degree rated bag. If you are a cold sleeper, you have to ensure the rated value is 10 degrees lower than the lowest temperature, and vice versa for a warm sleeper.
Waterproof Footbox
Unlike traditional sleeping bags, Nemo Nocturne features a unique waterproof footbox in addition to the water-resistant down fill. The footbox is what differentiates this bag from other brands. Apart from being water resistant, the footbox is highly breathable, allowing it to fend off tent condensation. This is a very important and crucial feature when there is a heavy down pour outside and your tent gets humid.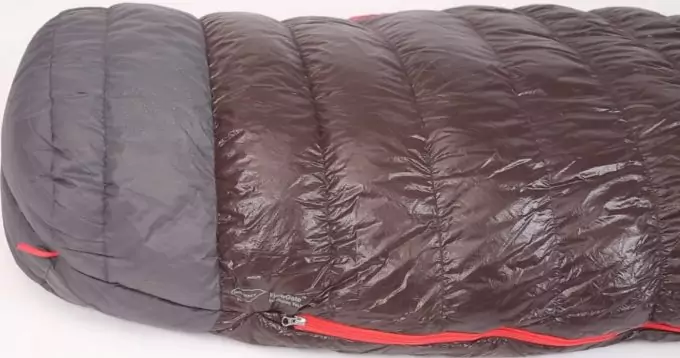 You will appreciate how resourceful the footbox is when you wake up and find out how clammy the exterior of the sleeping bag was all through the night. The interior fabric is nylon, which is waterproofed breathable. This ensures that the down and the breathable fabric that is in contact with your body stay dry. The outer layer of the footbox is nylon with DWR treatment that reinforces water resistance.
Value for Money & Guarantee
The bag features high quality materials along with highly skilled workmanship. You can buy this bag at approx. $300 to $400 on Amazon. The available sizes in the estimated price range are 15 Long and 30R. The bag is worth paying for considering the sleeping bag technology used by Nemo. The company has established its unique equation of performance that is distinguishable from other brands.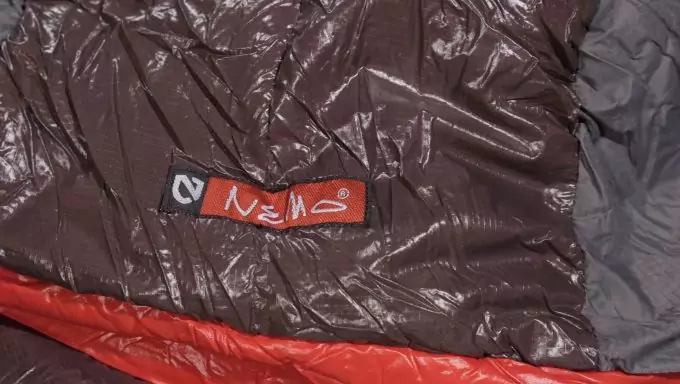 The exceptional design features of the bag ensure that there is no body heat loss. In actual fact, you can move around the bag without interfering with its insulating properties. There is no warranty information available on Amazon, but you can contact the manufacturer for details. Nemo is a prominent company. Therefore, they definitely have some form of guarantee against normal wear and tear.
Unique Features
Nemo Nocturne is one of the expensive sleeping bags. Nonetheless, its pricey nature is justified by the special features it offers.
Nemo Spoon Shape: The spoon shape allows you to sleep by the side comfortably and soundly. The unique shape contours munificently around the body. It bursts out at noticeable articulations, including elbow joints and knees to allow unhampered movement while sleeping.
Insotect Flow Technology: The tech characterizes a major development in the construction of the Nemo Nocturne bag. It combines Insotect FlowGates and vertical thermal channels into a single insulation system for remarkable performance. The integrated vertical baffles dispense heat sufficiently from one end to another, providing your body with warmth throughout.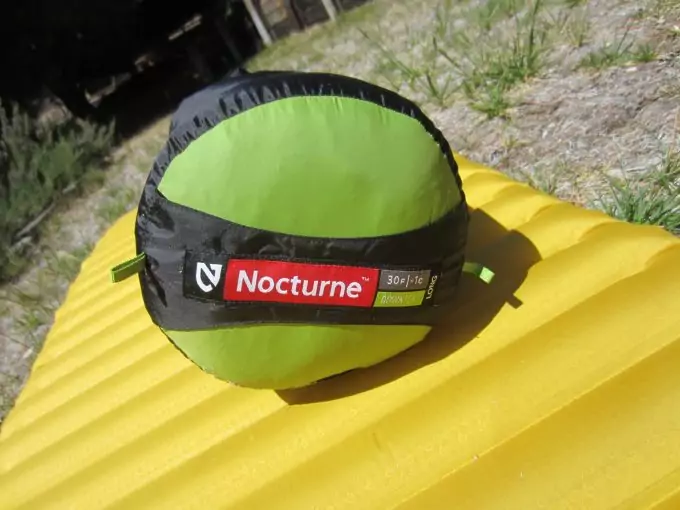 High-tech Insulation Technology:  Nemo Nocturne bag is incorporated with DownTek 700 fill that is DWR treated to repel water molecules, while maintaining its insulation as well as the loft. This is a handy feature when camping in humid conditions. Unlike other fill technologies used by traditional bags, DownTek does dry rapidly. This treated down is highly antimicrobial, an attribute that extends the bag's life.
Distinctive down Construction: The bag features a rectangular form of stitching all the way through the fabric's thickness. This type of stitching sets up down in lesser spaces for uniform insulation coverage. Box baffle offers low down migration and highest loft for maximum thermal efficiency. The box baffle design and stretch stitching technique maintain bag loft and shape.       
Similar Models or Competitors
Nemo Tango Solo Down Comforter 
The Nemo Tango Solo Down Comforter is a similar sleeping bag from the same manufacturer with down comforter. It is the ideal bag for camping in the cold.
It is a good choice for backpacking because it is lightweight and compact. Irrespective of the additional wide cut, the Nemo Tango Solo does compress to 15 by 10 inches. This is a good fit for tall users.
The bag performs exceptionally down to fifty degrees. You may get cold if you attempt to use it down to thirty five degrees. However, it can still perform fairly down to thirty eight degrees.
There are a few spots that do not have down, which is quite disappointing considering the price. On the positive side, the Tango Solo is lightweight and highly compressible. Unfortunately, the Tango Solo does not have a spoon shape design, thus its performance is bested by the Nome Nocturne bag.
Big Agnes Summit Park 15 Sleeping Bag 
The Big Agnes Summit Park 15 Sleeping Bag is just the bag you need if you desire quality sleep. The Big Agnes recreates the comforts of your bed to the back country.
It is the right choice for regular backpacking, but not ultralight backpacking. It weighs in at 4.9 pounds, which is quite heavy for light packing.
However, you can overlook the weight factor to enjoy the innovative outdoor solutions. This is a good selection for hikers and backpackers who do not mind the extra weight.
The Big Agnes is exactly what the name suggests. It is just the gear to buy if you need more space at the shoulders. It is a master of comforting features that do not compromise on performance, including premium fill, full pad sleeve construction, double zippers and top corner hand pockets.
The quilt-like design transforms the sleeping bag into back country bed. Both Big Agnes and Nome Nocturne offer warmth and comfort, but the latter is lightweight and convenient for ultralight backpacking.
Mountain Hardwear Ratio 15 Sleeping Bag  
The Mountain Hardwear Ratio 15 Sleeping Bag is the ultimate choice for campers as well as backpackers ready to step up to down. It is a reliable and durable 3-season warm sleeping bag.
It is a hard-wearing sleeping gear for a bike camping trip. The manufacturer has balanced weight, warmth and pack size to offer frequent campers a good investment that does not compromise quality and performance.
You will love this bag if you are a trail hiker. Weighs less and compresses commendably for a hike. The comfort mummy cut does not only minimize weight, but also maximizes warmth.
Unique design features (DOWN 650 fill, lightweight nylon shell with DWR layer, single-handed draw cords, comfort mummy cut, and thermo trap baffle) make it worth spending for. When compared to Nome Nocturne, the Mountain Hardwear lacks high-performance features, such as Insotect FlowGates technology and spoon shape.
Overview
There is a general rule about sleeping bags that can have an impact on backpacking. The warmer the bag, the bigger is the design. However, Nome has taken such factors into consideration to design an entirely unique and very resourceful lightweight sleeping bag. While there are many concerns to address, the Nome Nocturne bag will meet your individual needs. Everything about this bag is special, starting with the shell, fill, material, and temperature rating.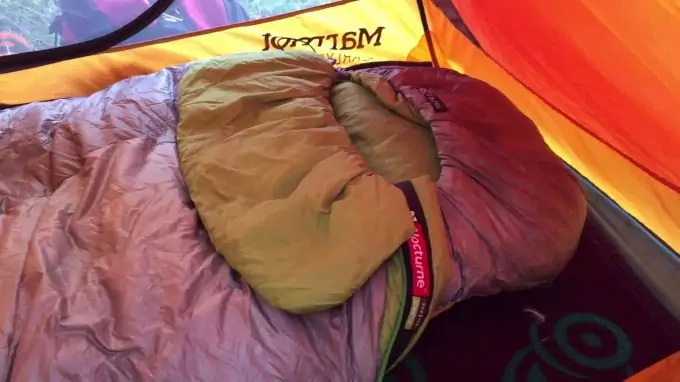 The spoon shape design with stretch stitching offers you enough room for bending and shifting your knees and elbows through the night. It is spacious enough to allow you to sit restfully in a cross-legged position when reading a novel. Warmth and compressibility are as you would expect with this bag, thanks to the 750-fill and water-resistant DownTek insulation technology used by the manufacturer.
Pros:
Spoon shape for improved maneuverability while sleeping (allows side sleeping).
DownTek 700-fill down with Durable Water Resistant treatment for better insulation and water repellency.
DWR treated down proof nylon ripstop shell.
Blanket fold allows easy tuck in comfort.
Insotect Flow vertical baffles distribute heat evenly, keeping you warm throughout.
Adjustable contoured hood, which is oversized and resourceful.
Pillow pocket situated inside the hood ensures that you do not roll off your regular pillow.
Water-resistant/breathable footbox keeps off tent wall condensation.
Cons:
It is costly compared to traditional bags.
Fickle hood adjustment.
The design has left hand zipper.
If you look at the overall quality of the bag, you will notice that the thickness of fabric, box baffle, stretch stitches, and dual fill power is fine. When you unzip the bag and examine its interior, you will be amazed by the footbox design. You can actually feel the insulation by running your hands on the bag, one hand inside the bag and the other outside. You will not find any dead spots.
We have helped simplify your research by providing you with the most resourceful sleeping bag on the market. Nemo Nocturne is definitely the best pick for any side sleeper. It is the ideal bag if you have a tendency of bending or stretching your knees while sleeping. It will do the trick with the moving knees and shoulders. We have enlivened your search by providing you with similar products that you can compare with our best pick.
Nemo Nocturne
Packaging

Design and Durability

Temperature Rating

Waterproof Footbox

Value for Money & Guarantee

Unique Features
Summary
Nemo Nocturne is the best spoon shaped sleeping bag that gives you additional space where it matters the most.
You just need to roll over your body once to recognize with gratitude its roomy fit.
The groundbreaking shape and features provide true sleeping comfort while preserving low weight and thermal efficiency.

Did you buy and use this spoon shaped bag? If so, we would appreciate if you shared its performance with us in the comments.