Nothing beats the pleasure of ultralight hiking or backpacking. Knowing that your gear is ultralight is such an amazing feeling because then you can trek for thousands of miles without any weight hindrance. This also means you can climb higher-elevated mountains with a completely lightweight gear without any essential tool left behind.
The key to that portable and ultralight gear is an ultralight sleeping bag, such as the Sea to Summit Spark SP III Sleeping Bag, in addition to an ultralight tent and other accessories.
To some people, an overweight sleeping bag is associated with a better insulation, and this has remained a myth for many years. Now with the prevalence of the Down insulation materials, the myth has been disproved because ultralight sleeping bags can provide a greater warmth than synthetic sleeping bags can. It all depends on the Fill Power of the Down provided by the manufacturer.
Product Specifications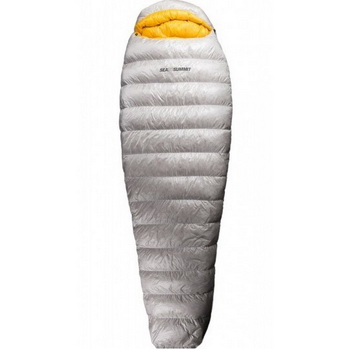 The secret of the Spark lll's amazing warmth to weight ratio are in the premium quality down, micro-weight shell and liner fabrics
Ultra-dry down 850+ loft 90% down cluster premium Goose down
Box-wall baffle construction throughout
Shell: 10D ulu nylon treated with DWR
Liner: 15D nylon soft touch, high density weave
The Spark III is one of the best warmth-for-weight bags available in the Spark series
For many years until now, the Sea to Summit has established itself as the provider of the sought-after ultralight sleeping bags with the unparalleled features. As a follow on to the Spark SP I and II, the Sea to Summit Spark SP III had many outdoor enthusiasts talking. It has proven to be an incredible sleeping bag worth having.
Review
Packaging
When you receive the Spark SP III after purchase you will note that in addition to the sleeping bag, with its various features, you will also find the compression sack from Sea to Summit.  This is an indispensable addition to your bag when you are out on the trail as it can take a sleeping bag designed for a 6-foot man and condense it down to slightly larger than a football.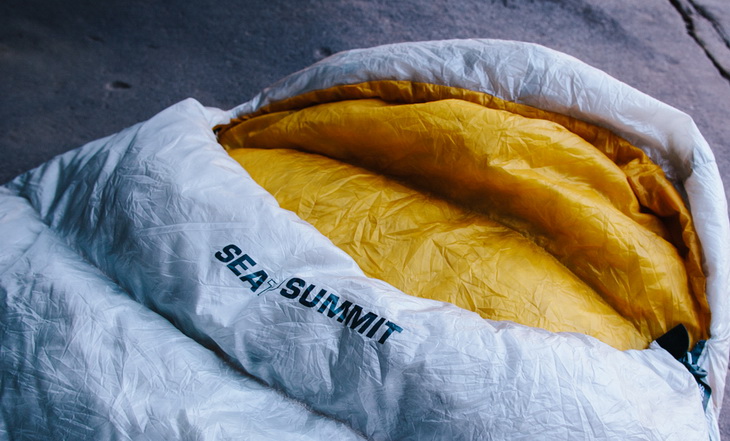 This sleeping bag will only allow you to have a zipper on the left-hand side of the bag, some other bags would give you the option to have the zipper on either side so that you would have the choice. You will also find included a laundry style bag.  This is for storage of your sleeping bag in between trips, you don't want to store your sleeping bag crunched up in a compression sack for long periods of time.  It is much better to store it expanded out.  As an added benefit this helps to air out your bag some as well.
Design & Durability
The durability of this sleeping bag rests on its 10D nylon fabric used for its shell and the 15D on its linings. These fabric materials play an important role in extending the durability of this bag. Moreover, the Ultra-Dry Down is treated with a permanent nano-level water repellent polymer material to ensure that it stays as durable as possible without being damaged by water. So, that said, this sleeping bag is capable of repelling water from the outside and the condensation from the inside.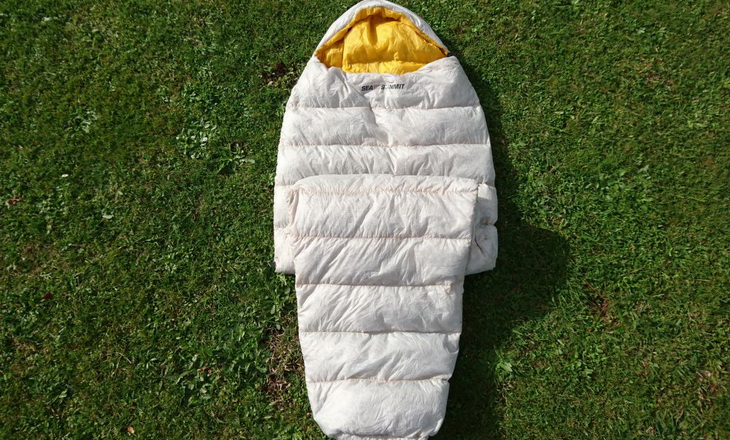 Even more, it has microbial and antibacterial properties to ensure that the moisture doesn't affect its quality and smell. Due to the lack of breathability as well as the addition of the 1/3 length YKK zip, accumulation of moisture inside may be a problem. But the bag's design ensures that this is prevented with its properties. This, in turn, extends the durability.  The box-wall construction also ensures that the bag remains durable and warm.
Weight
To ultralight hiking devotees, this attribute is paramount due to the primary goal of walking with a tiny "all-in-one" hiking gear. The Spark SP III is sought to be the best product with an overall weight of less than 2 pounds. To be exact, the regular size comes with 1.6 pounds, whereas the long size comes with 1.8 pounds of weight. That is lightweight enough to feature in many people's hiking gear.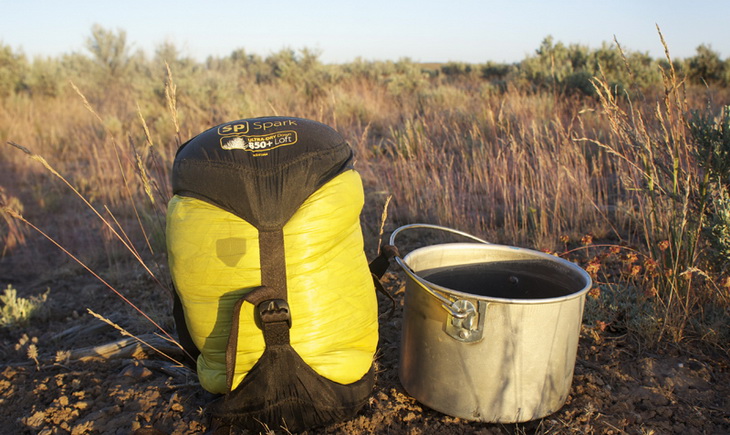 This sleeping bag is made light weight, thanks to its Ultra-Dry Down, its mummy-shape, the shell fabric and the 1/3 YKK zip. Some features have been reduced in a quest to trim off excess pounds, yet making sure that the sleeping bag remains as functional as possible. The reduced size of the zip is one of the indications that the company has done its best in reducing the excess weight. So if you're prioritizing an ultralight sleeping bag, the Spark SP 3 is worth looking at.
Warmth
The other attribute of the Sea to Summit Spark SP 3 is the warmth. Regardless of its weight, this sleeping bag is still significantly warm because it has a huge warmth-to-weight ratio. The Down Fill Power of 850+ is a legit proof to the competitive warmth that this sleeping bag offers particularly in summer, spring and early winter. Its linings have a box wall baffle construction that also ensures that it retains its warmth.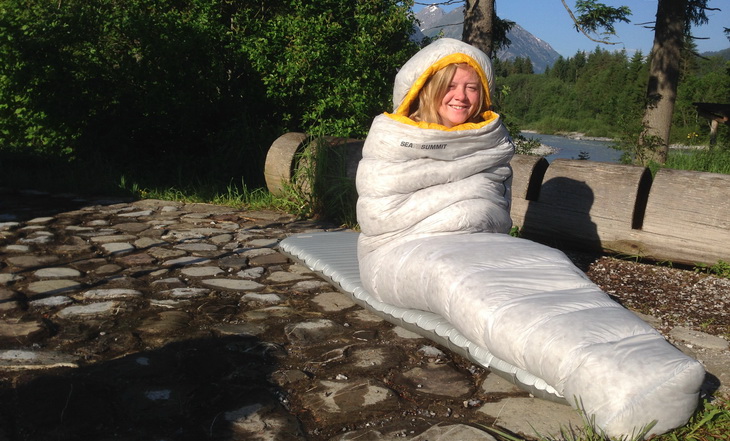 But we have to clear out the insufficiency of the bag in harsh winter conditions. It has a comfortable temperature of 25 F/ -4 degrees Celsius. So it cannot survive the freezing temperatures of the winter with this temperature rating. That said, you will have to partner it with another sleeping bag or sleeping mat in order to enhance its warmth during winter use. The lightweight feature of this sleeping bag enables it to be fitted in another sleeping bag with ease provided that bag is larger in size.
Comfort
The Spark SP III commands a greater comfort compared to its competitors in its range. To start with, it has an 850+ loft Ultra-Dry Down 90/10 RDS goose down, which guarantees the comfort of sleeping in this bag. The Down is known for its soft feel and a great insulation power, so it improves comfort.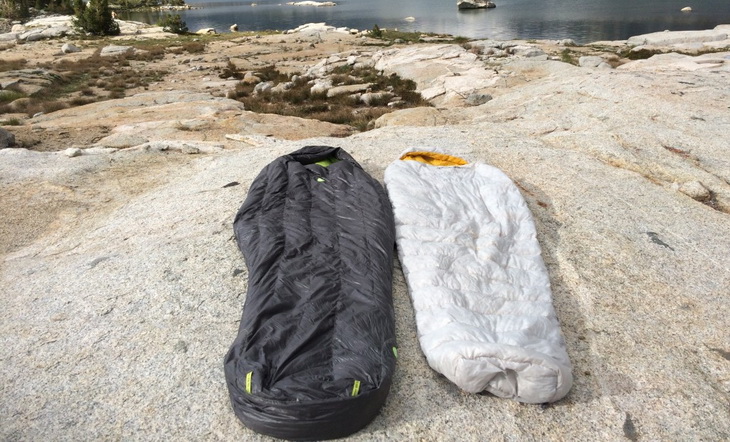 Also, the tapered foot box enhances comfort because your feet will be kept warm in the cold nights. There is thus no need to sleep with insulated hiking boots since this bag has an insulated foot box. The hood as well, with its drawcord, offers a great comfort.
Compact Size
In addition to the lightweight feature, the compact size is also an attribute of Sea to Summit bag. It packs small for ease of fit in your hiking gear or in the provided compression bag.
When compressed sufficiently in its compression bag, its size is remarkably smaller than that of a football. It, therefore, makes it easy to carry it or squeeze it in your backpack or hiking gear. That's the benefit of buying this sleeping bag.
Versatility
In terms of versatility, we certainly can't claim that it is significantly versatile due to its ultra-light weight. Such ultra-light weight feature limits the bag's usage in mild temperatures and terrains. If you want to use it in harsh temperatures, you'll have to pair it with other insulating materials. The bag's temperature rating and light weight prove that it can also be used as a booster bag where one can fit in another sleeping bag. Or alternatively, you can purchase insulated clothes to sleep with while wrapped in this bag.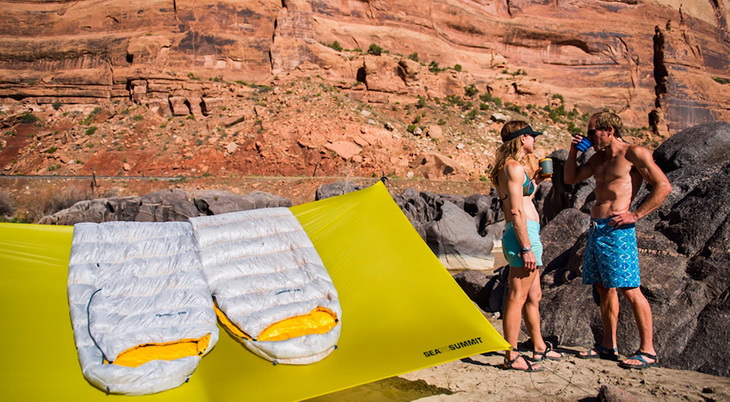 With regard to the surface, the bag's thin surface disqualifies its use on a rough surface. It was designed primarily for use in tents with a good surface. If you decide to lay the bag on rough surfaces with pebbles, you might subject your body to blisters. A sleeping mat is needed in that case.
That's enough for now with the features that are important when you buy the Sea to Summit Spark 3 sleeping bag. Let's now get into its review as we help you get to understand the product. We will also discuss several related products to be paired with this bag.
Value for Money & Guarantee
Investing in this sleeping bag is deemed a good investment when taking into account its ultra-light weight, ultra-dry Down and other ancillary features. It costs over $400 to have this sleeping bag. It's unsurprising when looking at the pricing trends of its predecessors.
In order to maintain this Sea to Summit latest flagship, you will have to follow the instructions given by the manufacturer. We must admit that it will be challenging to maintain this sleeping bag due to its white color. It can get dirty at any time if laid directly on the ground.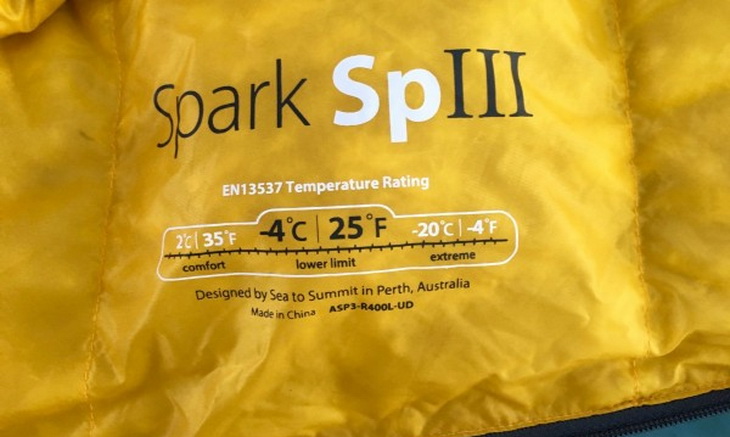 Sea to Summit offers a warranty against manufacturer defects for the intended life of the product under normal use.  This means that if something went wrong and it was the company's fault, they will offer a repair, replacement or credit.  They have pointed out that this warranty does not include normal wear and tear or material breakdown over time.
Similar Products / Competitors
Valandre Shocking 
The Valandre Shocking sleeping bag is one lightweight sleeping bag.  Tipping the scales at just under 4 pounds, it is not only heavier than the Spark SP III but about twice as heavy.
However, this bag is also rated all the way down to -13 degrees Fahrenheit, so it is more in the category of a winter or mountaineering bag instead of a three season bag.
You'll find that depending on the size one and a half to nearly two pounds of that weight is downloaded inside. It sports a zippered Marie Antoinette style collar.  This lets you sit up and stay warm and comfortable, giving this sleeping bag some added usage on those cold days in camp.
Like most mummy bags, this one is designed to roughly match the outline of a human, but instead of the standard rectangular food box, this one features a trapezoidal one, that gives your feet a more natural area.  This ups the comfort level while sleeping.  The bag, sports baffles running horizontally across the sleeping bag to keep the down from moving out of position.
As far as color choices, you'll quickly learn why this particular bag got its name.  It is offered in three different sizes, the standard short (for a 5'6" person), regular (for someone 6'0") and large (stretching out to 6'6").
Sea to Summit Spark II 
The Sea to Summit Spark II sleeping bag from Sea to Summit is the direct predecessor of the SP III.  As such many of the specifics of the bag are similar, if not downright the same.
Both bags feature the same shell and lining material and the same 850 power fill down.
While this sleeping bag is a little warmer than its predecessor, the SP I, it is only rated down to 35 degrees Fahrenheit, whereas the newer model comes in at a toasty 25-degree rating.
This does mean that you will have a more temperature range with the newer model, this model is generally available for about $100 less than the SP III, which is a perk of buying the slightly outdated model.
Much like the current model, this one comes with not only a compression sack to smash this sleeping bag down as far as possible when you are on the trail but also a laundry style bag for storing it between trips.
The SP II much like the SP III has the 1/3 length zipper to save weight, but it means that it might be a little more difficult to get in and out of in a hurry.  This sleeping bag also does not include a neck baffle, which is useful to keep air warmed by your body in the sleeping bag throughout the night.
Western Mountaineering Megalite 
The Western Mountaineering Megalite bag from Western Mountaineering has been designed to pack down small and not weight much.  It is an ultra-light hiker's dream.  At under 2 pounds, it is in the same weight category as the Spark.
This bag is filled with 12 ounces of goose down to give it a temperature rating that should take you down to 30 degrees Fahrenheit.
As such, it is a great option for a three season bag, again putting it on similar footing, but the SP III is rated down to 25 degrees.  While 5 degrees might seem like a big difference while reading reviews at home, overnight in the woods it can be a major difference.
However, a reviewer has pointed out that the 30 degrees are rather generous as they reported with this sleeping bag and a sleeping bag they were warm and comfortable through a night that dipped all the way down to 9 degrees.  Unlike our main offering from Sea to Summit, the Western Mountaineering bag gives you the choice of 3 different sizes, ranging from 5'6" to 6' to 6'6". This better lets you select a bag for your size, which will only add more comfort.
This sleeping bag features tube baffles across to ensure that the insulation does not shift overnight and result in cold spots.  One of the features that you might appreciate in comparison to the Spark SP III is that this bag, sports a full-length zipper instead of a 1/3 length one.
Overview
We've done our best in bringing you one of the best outdoor products on the market manufactured by the Sea to Summit. Spark SP III follows in the footsteps of the Spark SP 1 and the Spark SP II as the best sleeping bag. Among others, we have emphasized on the warmth, weight, comfort and durability as the best attributes for this sleeping bag.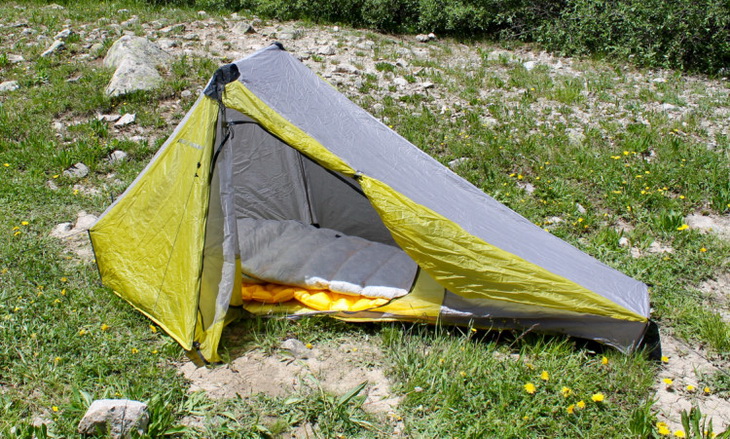 Moreover, we've discussed the related products that we feel can compensate for the missing insulation strength for extreme temperatures in winter. Having done that, we assure you a great combo for hiking adventures. The only downside that we anticipate that some customers will complain about is the 1/3 zip length and the color white.
But the ultralight hiking devotees will understand that the company has pledged to trim off excess weight to provide an ultra-light hiking gear. The white color will likely get dirty quickly.
Pros:
Ultra-light and compact size
DWR coated shell to repel water
Box-wall baffle construction for warmth
850+ Ultra-Dry Down for insulation purposes
Tapered Footbox to keep your feet warm
Pack small for ease of travel
Insulated hood
Temperature rating of 25 F/ -4 C
Great 30% moisture absorption
Antibacterial and microbial properties
Cons:
White color gets dirty quickly
No neck baffle or shoulder collar
Expensive
A short 1/3 YKK zip
Not versatile in extreme temperatures
The main downside of this product to budget restricted customers may be the price tag of approximately $470, although justified by its features.
Sea to Summit Spark III
Packaging

Design & Durability

Weight

Warmth

Comfort

Compact Size

Versatility

Value for Money & Guarantee
Summary
The Spark SP 3 sleeping bag is, on average, the best outdoor tool for ultra-light hikers and backpackers. It comes with all the features needed to have a less bulky gear.
Some of the features such as the length of zipping have been compromised to keep the bag as light as possible. On top of that, the Down fill has been improved to 850+ as well as the loft to provide more comfort and insulation.
The bag will not disappoint in the mild temperatures of the spring and summer, in particular. For winter's inclement temperatures, more efforts of supplementing the warmth are needed.

Have you bought and used this sleeping bag already? Please share with us your experience in the comments section below. If you have any questions we will be glad to respond satisfactorily.