When packing for your backpacking trip, one of the most important items you will pack will be your sleeping bag. Unlike car-camping where you do not have to worry about the weight of your sleeping bag or how much space it takes up, the reverse is true for backpackers.
For any backpacker, weight and volume are among the first and biggest concerns when selecting camping gear. Fortunately, manufacturers have found a solution to this dilemma by making lightweight and very compressible gear that fits in backpacks just fine and adds minimal weight.
An example of such compressible and lightweight gear is the Western Mountaineering Mitylite Sleeping Bag. The key among the things that make your backpacking experience an amazing one is how you spend your nights. That is why backpackers always pay special attention to the type of sleeping bag they use.
However, before you worry about how comfortable your nights should be, you have to focus on how you get your gear there. Backpackers are always looking to minimize the weight of their gear and companies like Western Mountaineering are rising to the challenge.
Product Specifications: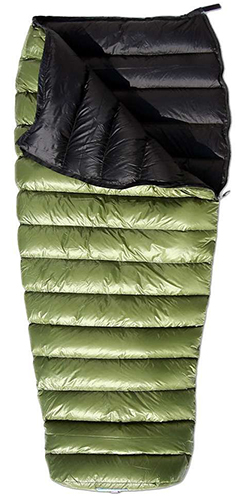 The Western Mountaineering MityLite is a sewnthru semi-rectangular bag that can be zipped to the Summer Coupler so two person can fit inside.
This bag can also be opened up to act as a lightweight comforter.
At 1 lb 10 oz and with the 0.9 ounce ripstop shell the Western Mountaineering MityLite sleeping bag folds away into "nothing" for an easy carry.

Stuff it into your carry-on luggage, or fold it into your wallet, you can carry it wherever you go.

Western Mountaineering uses high fill power goose down for this bag, which provides excellent warmth to weight ratio.
MityLite Sleeping Bag is a member of the ExtremeLite sleeping bag series from Western Mountaineering, which are designed to make your backpacking trail less cumbersome and your night more enjoyable.
Just like the rest of the sleeping bags in the ExtremeLite series, the MityLite sleeping bag lives up to its name by staying very light and compact when not in use and then turning into a comfortable cradle once you reach the campsite.
The sleeping bag comes with various features that make it just right for lightweight summer backpacking. Its features of premium quality are underpinned by the highly-rated Down insulation.
We know that Down is superior to the low-quality synthetic and the traditional sleeping bags. Having the MityLite sleeping bag will not be a regret to the avid camper. Read through the important aspects that it has to offer below.
Review
Packaging
The MityLite Sleeping bag comes in a package with the stuff sack included which compresses to 6 x 12 inches. The product is Moss Green in color and has a size of 6ft 3in. It has an insulation of a 12 oz Down Fill. It further comes with what you need to have and that includes the extra features such as the storage pockets.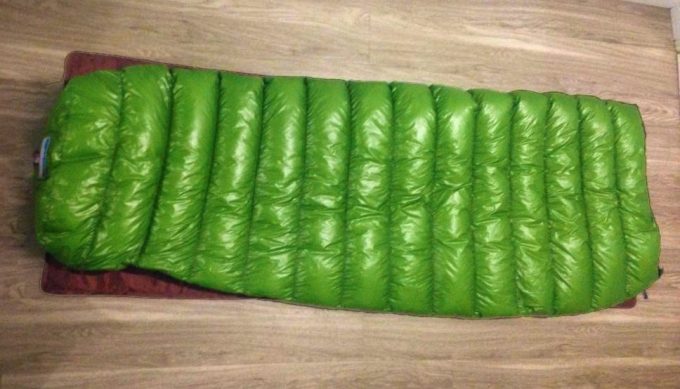 If you need other accessories such as the sleeping pad, you will have to purchase them and tuck them into the sleeping bag effortlessly. Be reminded that this sleeping bag has no hood. This is, nonetheless, not a big deal or a deal-breaker to the quality of this bag. One can have the pillowcase.
To create more space for two people, it can be zipped to the Western Mountaineering Summer Coupler. So you must get this too. You might also have to purchase the sleeping pad to compensate for the rough terrains.
Design & Durability
The fabric finishing is designed to retain its water repelling properties for as long as possible. It is finished with an excellent water repellant designed to stay 80% intact after 20 washings. This may, however, depend on the method of washing and general handling.
Should you feel that your bag is becoming less repellant to water, you can re-treat it and take it back to its initial effectiveness. This sleeping bag is quite versatile in usage. Its semi-rectangular shape and full-length zipper allow you to choose how to use it depending on your camping situation.
It makes an amazing sleeping bag for one, but it can also be changed into a cozy sleeping nest for two by opening it up and zipping it onto Western Mountaineering's Summer Coupler. Additionally, if you wish, you can turn it into a comforter by opening the zipper all the way and spreading it out quilt-style.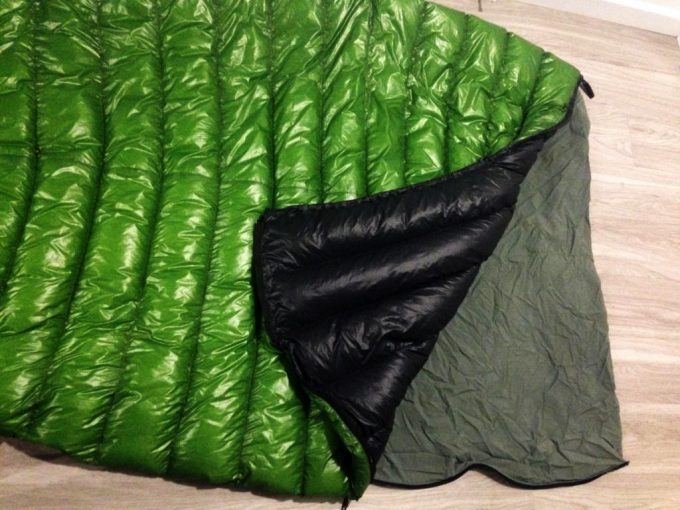 Even though it is lightweight, it is designed in such a way that it prevents leakage and maintains excellent performance. The sleeping bag has waterproof fabric with a tight weaving and the highest threat count.
To minimize weight and volume, however, Western Mountaineering had to compromise a bit on fabric strength so the bag should be handled with care to avoid damage. Because the sleeping bag is hoodless, it can easily be adjusted to fit your preferred sleeping side in relation to zipper side.
Whether you sleep on the right side or the left and whichever side you want your zipper to be, it can all be achieved by simply flipping the bag onto the other size because there is no hood to get in the way. The sleeping bag comes with a full-length YKK #5 double pull zipper and to keep the zipper opening and closing without any flaws, stiffening tape is lined along the zipper line.
A firm locking head further enhances the performance of the coil zipper. The internal baffles are made with pre-cut no-see-um netting material which prevents them from getting distorted while at the same time remaining flexible so they can compress when it is time to pack up. This material further ensures that the bag is both lightweight and durable.
Insulation
The use of insulating material is not to create warmth for you, but rather to minimize loss of the warmth created by your body. The more body warmth your bag can trap inside, the warmer you will stay. For insulation material, Western Mountaineering uses high fill power goose down, which provides excellent warmth to weight ratio.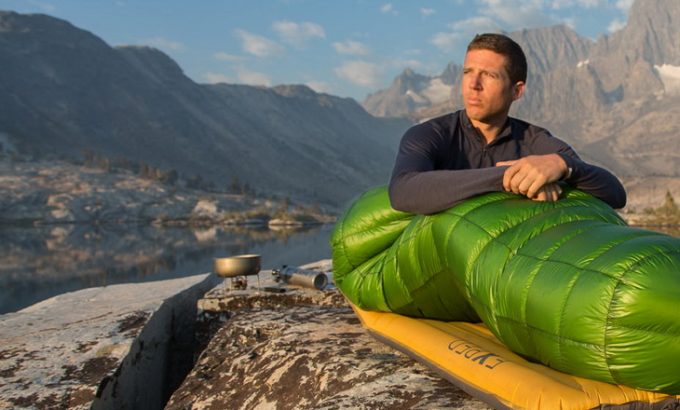 The use of down makes the sleeping back amazing in proving warmth while keeping it much lighter than it would have been, had it contained synthetic insulation material. Down has, for so many years, been a reliable insulation material for many outdoor sleeping bags.
Temperature Rating
The MityLite Sleeping Bag is your ideal choice for summer backpacking. At 40° F of temperature rating, the sleeping bag is designed for summer camping with options to adjust the warmth to give you your ideal night in the summer outdoors.
In case it gets too hot and you feel like reducing the warmth a bit, the continuous baffle construction allows you to push the down under you and if you need more warmth, just shift more down onto the upper side.
Weight
The biggest limiting factor when backpacking is weight. Almost every gear-related decision a backpacker makes is guided by how much weight that particular item is adding to their gear. This holds true especially for main items like sleeping bags which can be quite bulky.
Fortunately, manufacturers have devised means of making lightweight sleeping bags. However, to achieve the ideal backpacking weight, they had to compromise on other features like material and durability.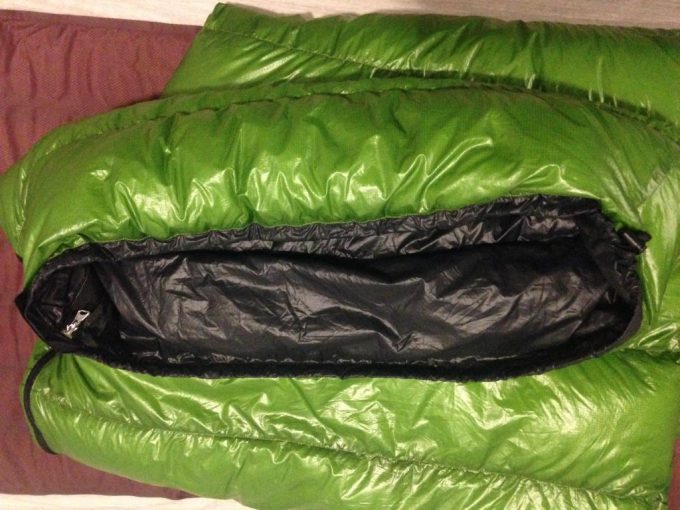 To achieve the lowest possible weight, the makers of sleeping bags had to play around with materials and shape to ensure that some of the features given up in an attempt to lower weight are somehow redeemed.
At just 1 lb 10 oz of total weight, the MityLite sleeping bag lives up to its name by adding very little weight to your camping gear load. It comes with a compression sack that squeezes it down so you can fit it in your backpack. Its lightweight and compressible properties make it ideal gear for lightweight backpacking.
A key consideration when designing a sleeping bag will be the season. This cuts across all other design features and is the main determinant in how the final product looks like. Winter backpacking bags, although still lightweight, are more likely to be heavier than those used in warm weather are.
Waterproofness
Having been filled with 850+ FP Down, it is proof that this sleeping bag is waterproof. The exterior shell is made of water repellent properties that repel water in the wilderness. The ripstop shell fabric has properties of water resistance on the outer lining.
Down itself has the waterproof membrane. So, even if water penetrates the fading water resistant coating, down insulation will have the power to shield the interior with its waterproof qualities. Although Down is waterproof, if, mistakenly, it gets wet, it can take time to dry. Waterproof qualities will not have much of the effect in this regard.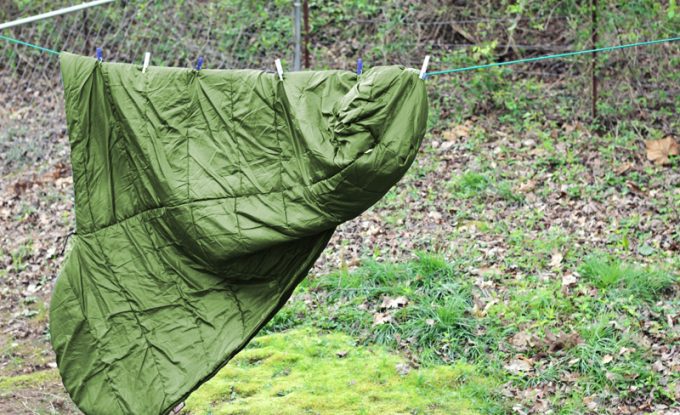 Whenever using the sleeping bag directly onto the ground, please use a waterproof cloth to make a protective layer between your sleeping bag and the ground. This ensures that it is protected from dirt and any other debris that might be on the ground.
Secondly, it is better to put a layer between your body and the sleeping bag to protect the inside of the bag. This can be achieved by using a sleeping bag liner or wearing some covering clothes before entering the bag.
Shape
The shape of your sleeping bag is not a mere decorative feature.  Mummy shaped sleeping bags, for example, are ideal if you are looking for a bag with more warmth and less weight. However, because of their narrowing shape, they restrict body movement and might not be very comfortable.
Wider sleeping bags are more comfortable but they are also bulkier and retain less warmth. Car-camping sleeping bags may be rectangular-shaped, have more room and are bulkier while semi- rectangular ones are made for the backpackers.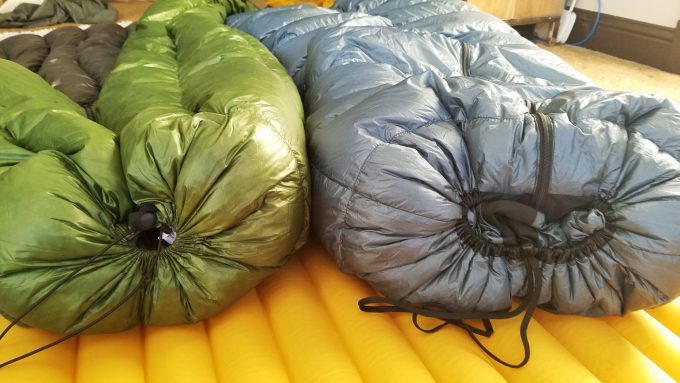 Two compatible bags of this shape can be zipped together into a cozy sleeping space for two. This sleeping bag is semi-rectangular and is large enough to accommodate two people sleeping in it. The sleeping bag comes in only one size of 6'3″ so it will not accommodate anyone taller than that.
There are no Summer sleeping bags longer than 6'6″ from this brand that have the same properties as MityLite so anyone taller than this would have to look to another brand for a sleeping bag of similar features. If you are shorter than 6'6″ however, you have your pick of summer sleeping bags from Western Mountaineering.
Unique Features
Every product is sought-after with its unique features, and it is the same with this sleeping bag. The first unique feature we spot is the sewn-thru construction that adds an indispensable value in its insulation capabilities when coupled with the Down Fill Power of 850+.
On top of that, the bag comes with a semi-rectangular shape that can be turned into a lightweight comforter. The full-length #5 YKK zipper will help you improve insulation whenever sleeping in the bag. And for couples, the bag can be zipped to the Summer Coupler for them to sleep comfortably.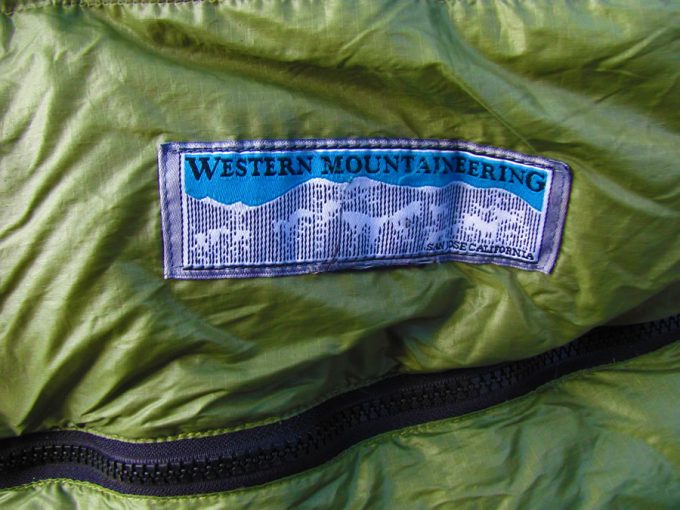 It saves them cost of purchasing yet another sleeping bag. Perhaps the other unique feature is the hoodless design that still functions well, regardless. The downside is that your head is not having a preferential warmth supply. Hoods can also be used as pillowcases.
This sleeping is, nevertheless, still functioning conveniently in the absence of the hood. This absence can be offset by wearing a warm cap or by purchasing a warm pillowcase.
Value for money & guarantee
Spending on a sleeping bag as an enthusiastic outdoor activist has never been a waste of time, especially when you spend on a product of high quality. All you have to take into account is the premium quality of the sleeping bag and the guarantee that it will certainly last you long.
The Western Mountaineering comes with a lifetime limited warranty should you notice any defects prematurely. The company reassures you that you bought a quality product. In terms of value, you will be spending around $400 to own this sleeping. Add to this, of course the shipping costs if any, to your respective region.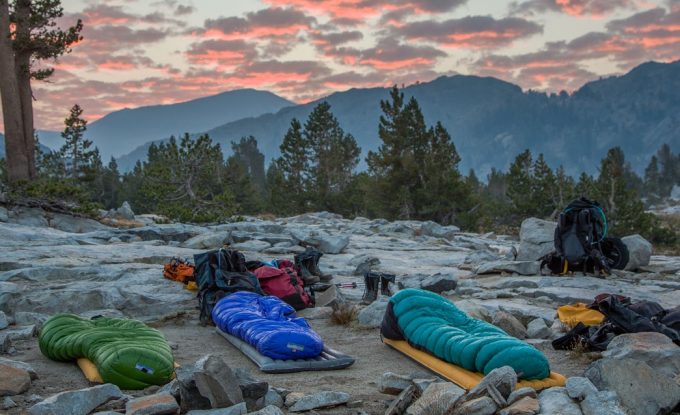 The other costs, although optional, are the sleeping pads or the pillows. But the bag is thick enough to be used on its own. Unless you plan to use it on a rough terrain, then you should probably consider purchasing a sleeping pad.
Additional Tips from the Manufacturer
The MityLite sleeping bag is easy to care for and does require specialized maintenance. However, it is made from delicate materials and should be handled with care if you want it to last.
Washing
To clean the bag, simply wash it in a bathtub. If you prefer to use a washing machine, then you must use a front loading machine. The baffle construction of the sleeping bag can easily get damaged if you use an agitator machine or a top loading one.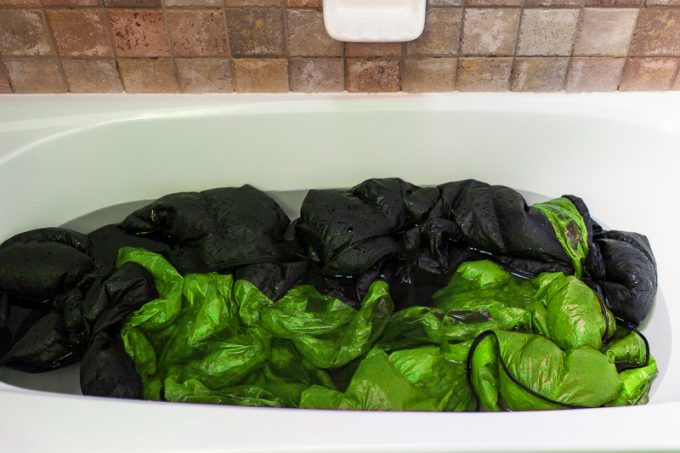 Do not attempt to dry clean the bag as the solvents used do not go well with the oils in the down. When hand washing, leave the bag in its stuff sack and submerge it in water that has down soap in it.  Leaving the sleeping bag in its sack keeps the air out of the baffles, making the washing process easier.
Restoring water repellency
If your sleeping bag starts to lose water repellency, you can re-treat the fabric of the outer shell to restore the repellency. For this, Western Mountaineering recommends using ReviveX Spray On Water Repellent.
Down Leakage maintenance
To keep the outer shell of the sleeping bag, breathable, it is made with a porous fabric. This means that down and feathers might escape through the pores in the fabric. This is not a defect and should not alarm you. To fix this, simply reach in and pull that cluster of down back into its chamber.
Similar models or competitors
Western Mountaineering Everlite Sleeping Bag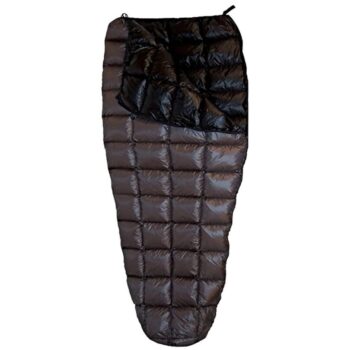 The Western Mountaineering brand provides us yet another model of an award-winning sleeping bag. There are lots of similarities between Everlite Sleeping Bag and the MityLite as first seen with the sewn-thru construction that ensures that the sleeping bags remain durable.
The neck draw closure and the foot draw closure are adjustable a variety of body sizes. Meanwhile the insulated draft is also included for you to stay warm always. It is hard to distinguish that which one is the between these two sleeping bags.
The temperature rating for this one is 45 degrees F, whereas the MityLite has 40 degrees F temperature rating. The bag features YKK size #3 coil zippers, whereas the MityLite delivers size #5. It transpires that this bag is inferior to our main product above.
However, it still commands impressive features to entice the backpackers and the hikers. Sadly, there is no footbox for your feet. You might have to reinforce warmth by wearing warm socks. For camping in the car, you can open up this sleeping bag to be ideal for your car to use like a tapered blanket.
The zippers allow you to control warmth when sleeping in the bag. And for colder climatic conditions, you can mate this bag with another mummy bag to survive the colder temperatures in, say, winter. It is a bag suitable for minimalist campers as well because of its compact design and lightweight of 2.4 pounds.
Nemo Siren Sleeping Bag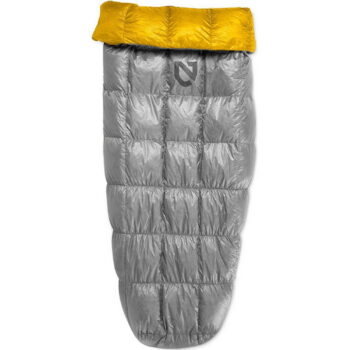 The Nemo Siren Sleeping Bag emerges as the competitor of the Western Mountaineering MityLite Sleeping Bag. They, however, have the same fill power of 850+ for the Down insulation material. With this insulation power, you can survive a range of climatic conditions in the wilderness without worrying about getting colder.
Down performs well in insulating your body to retain as much as possible without letting the bag to feel too bulky or heavy. The footbox is the added feature that ensures that your feet are covered. It also helps accommodate a range of sleeping pad in case you want to pair with it for a great combo of winter camping on rougher surfaces.
More warmth is provided by the collar snap and the drawstring opening that helps you control warmth. Looking at the features that these competitors have, it can be quite harrowing for a novice to pick one. If you do not mind having a sleeping bag without a hood and a designated footbox, then opt for a Western Mountaineering model.
The insulation power is the same measured at 850+ Down. Had one been a synthetic insulation material of low quality it was going to be easy to recommend the best product.
Sierra Designs Backcountry Sleeping Bag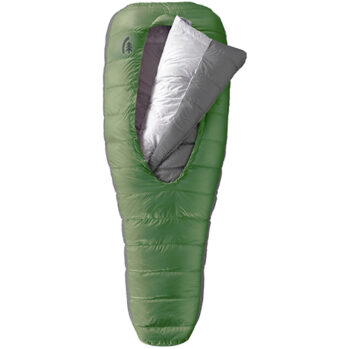 The Sierra Designs Backcountry Sleeping Bag features 800 fill power of Down, which is inferior to the 850+ FP Down of our main product. However, this sleeping bag is still a great product to consider for your backpacking needs. It comes with the insulated hand/arm pockets, which then gives you sufficient space to store your belongings.
The sleeping pad sleeves are built-in to help secure the sleeping pad nicely and easily in this lightweight sleeping bag. The Siera sleeping bag is thermally efficient and it is free of other accessories that may not be appealing to other campers. These include the Velcro and the zippers.
But then to some, zippers help regulate the amount of ventilation. You might opt for the Western Mountaineering in this regard. Nonetheless, Siera attracts us with the DriDown technology that is competitive with loft and comfort to give you warmer nights.
Overview
Western Mountaineering MityLite 40 F Sleeping Bag has it all that you are looking for in a sleeping bag. It is a perfect companion for summer hikes or backpacks with this temperature rating. The bag is compact and lightweight and has, among others, a sewn-thru construction and a semi-rectangular shape.
These are unique features that give it identity. For minimalist backpacking, it can be zipped to the Summer Coupler to create an ample space for couples to sleep together, without the need to have an additional sleeping bag. The insulation of this bag is on par with the 850+ Fill Power Down.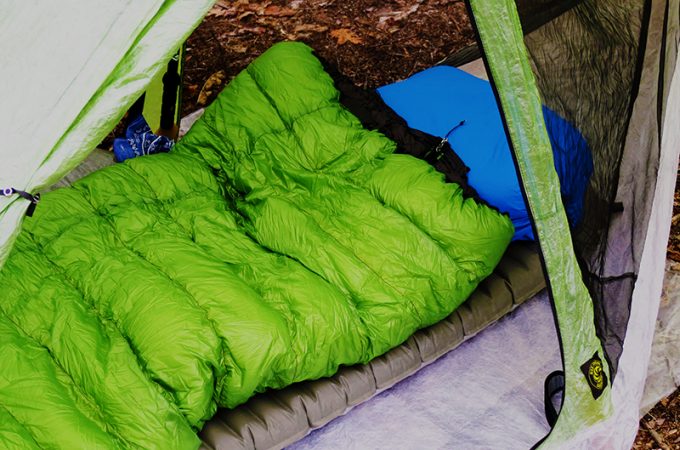 Down has got plenty of benefits. Among others, it is highly compressible and offers an unrivaled comfort and loft. Moreover, it has a great warmth-to-weight ratio, which means that you will get warm with a lightweight sleeping bag.
It retains most of your body heat. Furthermore, this sleeping bag is waterproof because of the Down's waterproof membrane. It is also durable and retains its original loft for many years to come.
PROS:
Versatile functionality
Excellent warmth-to-weight ratio
Easy to clean
Very light
Very compressible
CONS:
Only one size
It has no hood to specifically cover your head
It takes longer to dry should the Down get wet
Not for all-season-round camping
Ultimately, there are three main considerations to focus on when buying a backpacking sleeping bag and these are weight, insulation and temperature rating. Everything else, in one way or the other, feeds into these three so these should be given special focus as the ultimate drivers for your decision.
In order to give you more options, we have provided the similar and the competitor models for you, and have elaborated on their advantages and disadvantages compared to the MityLite sleeping bag. It turns out that MityLite remains competitive with its features and does not differ widely with the high-end sleeping bags.
Western Mountaineering MityLite Sleeping Bag
Weight & Size

Packaging

Design & Durability

Insulation

Comfort

Value for the Money
Summary
If you need an ultra-lightweight and comfortable sleeping bag for the summer, then MityLite from Western Mountaineering is a good option for you. It strikes a good compromise between the weight and compression requirements of backpacking with comfort and durability.

We believe that after reading through this review, you will be well-equipped to make the right decision by purchasing this sleeping bag. Consider the downside and the upside of owning a Down-filled sleeping bag. But it transpires that the upside outweighs the downside.
If you have used the MityLite sleeping bag or any of the other sleeping bags from the Western Mountaineering ExtremeLite series, please do not hesitate to share your experience or ask us any question in the comments section below.