Western Mountaineering is a company that makes, not only high-standard sleeping bags, but garments as well, like jackets, boots and pants, plus sleeping accessories. When camping in the mountains, the weather will undoubtedly be cold.
Western Mountaineering assures you will stay warm in their products, especially the Western Mountaineering Bison GWS -40 Degree Sleeping Bag. The company uses smart designs and some of the best raw materials around to make quality products you can enjoy outdoors.
The Western Mountaineering Bison GWS -40 Degree Sleeping Bag is designed with you in mind, and frigid temperatures. This sleeping bag is made with full down and has an insulated external hood. There are double draft tubes that hold in heat to keep you warm through the night.
Product Specifications: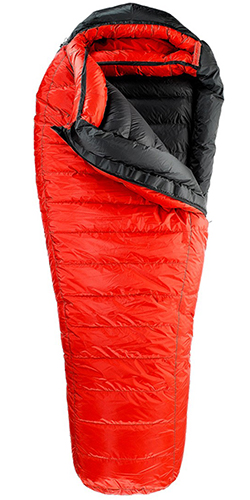 Gore Windstopper fabric makes this bag impervious to the elements while remaining lightweight and very compressible.
Crammed with 42 ounces of 850+ fill power down this bag has 10 abundant inches of heat trapping loft.
Huge V-Block Side Baffles and horizontal baffles across your chest keep the down fill in place.
Double Interlocking Draft Tubes and a down filled Gore Windstopper collar seal in heat and security while howling winds surround your tent.
The massive hood is not only well filled but is completely made with Gore Windstopper fabric and has a large integral hood ruff to seal your face from the elements.
Made from raw materials, this sleeping bag is made to last. With the mummy style sleeping bag, you will notice more space for your shoulders and legs, so you do not find yourself so confined. The hood will cover your head to block wind and keep your face warm.
When camping in extreme weather, you simply cannot use an average sleeping bag. It will not be warm enough or give you enough comfort to sleep through the night in those conditions. Using this particular sleeping bag, you will find yourself having a better camping experience because you got a proper sleep and stayed cozy warm while inside of the sleeping bag.
Before heading to the nearest store that sells outdoor items, take a look at the features this sleeping bag has to offer. You will not be disappointed.
Review
Packaging
This sleeping bag has dimensions of 16.6 x 11.2 x 15.3 and comes in a box just a little bigger than that. The shipping weight is said to be 14 pounds, while this item only weighs 4 pounds, 10 ounces.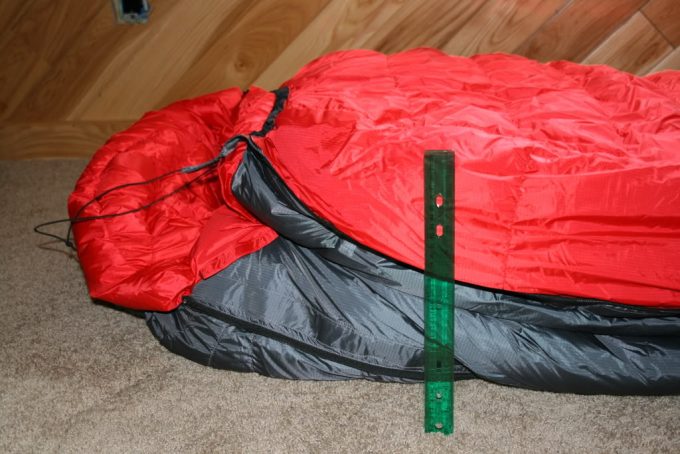 Inside of the packaging, you will find your sleeping bag, along with a storage sack so you can compress your sleeping bag down so it is small enough to tote along with your other gear.
Product Specifications
Your new Western Mountaineering sleeping bag comes in two sizes, regular and long, for those people over 6 feet tall. The only difference between the two is size. See the below table for the specifications for the two Bison GWS sleeping bag sizes.
| | | |
| --- | --- | --- |
| Bison GWS Size Specs | Regular Sleeping Bag | Long Sleeping Bag |
| Weight | 4 pounds, 10 oz or 2,095 grams | 4 pounds, 13 oz or 2,180 grams |
| Fill Weight | 2 pounds, 10 oz or 1,200 grams | 2 pounds, 13 oz or 1,275 grams |
| Loft | 10 in or 25.5 cm | 10 in or 25.5 cm |
| Temp Rating | -40 degrees Fahrenheit | -40 degrees Fahrenheit |
| Fill | 850 Fill Power Down | 850 Fill Power Down |
| Shape | Mummy | Mummy |
| Maximum User Height in Feet | 6 feet or 180 cm | 6 feet, 6 in or 200 cm |
| Shoulder Width (Girth in inches) | 64 inches or 163 cm | 64 inches or 163 cm |
| Hip Width (Girth in inches) | 55 in or 140 cm | 55 in or 140 cm |
| Foot Width (Girth in inches) | 39 in or 99 cm | 39 in or 99 cm |
When compressed your new Western Mountaineering sleeping bag will be 16.6 in x 11.2 in x 15.3 inches, which should fit inside of your backpack or attach to it so you can carry it while you are exploring the beautiful mountainous scenery.
When you are using your sleeping bag, the height of it will be 6 feet long for the regular version and 6 feet, 4 inches for the long version.
Design and Durability
The mummy shaped design of this sleeping bag allows you to have extra shoulder and foot room while you sleep. Included is full down insulation to keep you warm, with the hood also insulated to keep your head and face warm. There are double draft tubes that are insulated to guarantee an extra warmth on those cold nights in the mountains.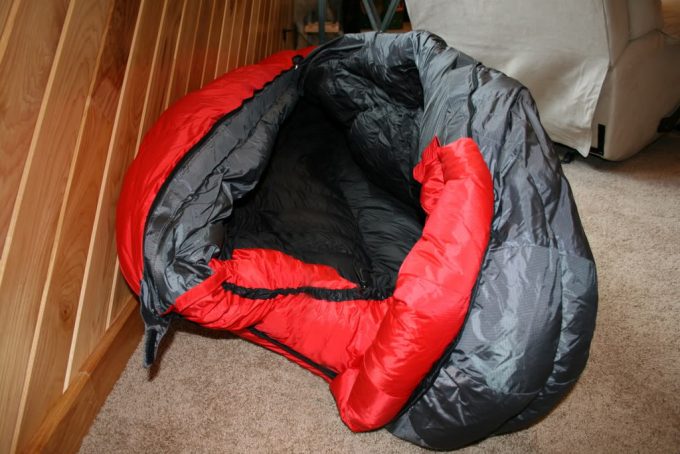 It is designed to be light in weight, but is still filled with 42 ounces of down, which include baffles to keep the down in its position. The sleeping bag is made with Gore Windstopper fabric on its shell to resist the cold, windy weather and temperatures.
The red color makes your sleeping bag easy to spot. You get so much comfort packed into such a small package! Also, you will feel good about yourself because you are purchasing a product made right in the United States!
Insulation
This sleeping bag may seem bulky to some and that is because of the filaments being divided so that there is no space that cold air can come into. For a down filled sleeping bag, this product does not seem as bulky for the most part. This is due to the fact that the down filling is lighter than synthetic materials.
Down filling is also known to last a long time, which is something to think about when purchasing a high quality sleeping bag. This thing will endure the elements with its tough materials, and hold in warmth when it is time for bed. This type of insulation lasts up to 5 times as long as other types of insulation. Not only is it comfortable, but it is economical!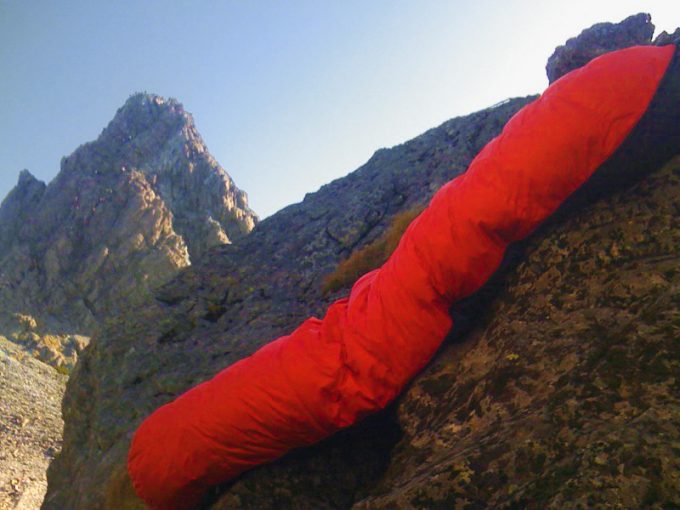 Western Mountaineering does a fill power testing that uses a piece of down to test to be sure it is good enough to use in their manufacturing. A sample of down is tested with a hair dryer by being mixed and blown. The sample will become stabilized and a piston is used to test the down filling, which weighs nearly 70 grams.
The laboratory gives a rating and determines the quality. Also, with more loft, the sleeping bag will be warmer. The goose down has a fill power claim of 850, which means it was tested highly, and is of the finest material to be used in your new sleeping bag.
Materials and Treatments
The Microlite XP is a microfiber that lessens the weight of the bags up to 20 percent. The high thread count uses over 400 threads for each square inch and it resists water, is light in weight and can breathe easily. The shell fabric is of the highest quality, as you can see. The micro fiber has nylon and polyester yarns used for density.
This makes it weather proof and extremely tough, and is preferred in colder and wetter types of weather. Gore Windstopper 830 fabrics, is breathable and resists bad weather, not allowing moisture or condensation to build up. At 1.1 ounces per square yard, it is highly compressible and the lightest fabric that is also soft.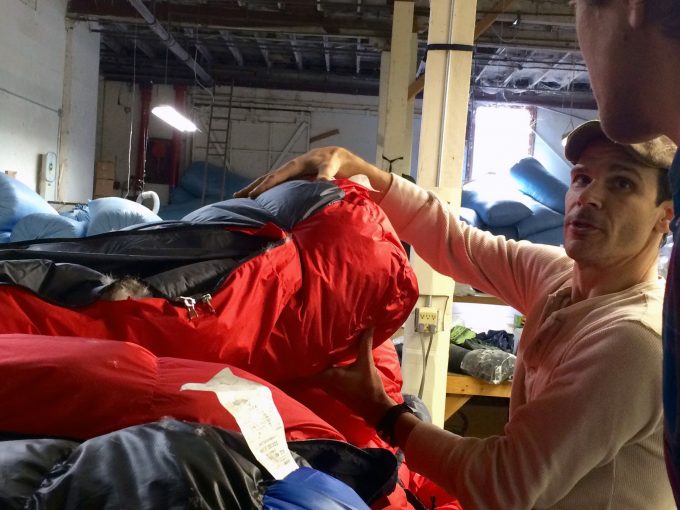 This fabric works best in extreme weather and wet conditions. You can expect a highly sustainable and tough as nails sleeping bag with Gore Windstopper fabric. All of the Western Mountaineers sleeping bags use YKK zippers with dual zippers to pull in either direction.
They use the #5 zipper, which is lighter and smaller than the previous #7 YKK zipper. It is constructed with a coil that reduces an abrasive feeling and allows it to operate easily. Another thing, all of the sleeping bags from this great company, go through a water repellent treatment, which means they are given a finish with Durable Water Repellent, which has a rating of 80/20.
This means that after your sleeping bag has been washed 20 times, you can expect 80% of the Durable Water Repellent to be left in the sleeping bag.
Value for the Money
This product does have a lot to offer and it is a 5 star rated sleeping bag. But it is very costly, coming in over $1,000. While this is a dream sleeping bag, many simply cannot afford that steep cost.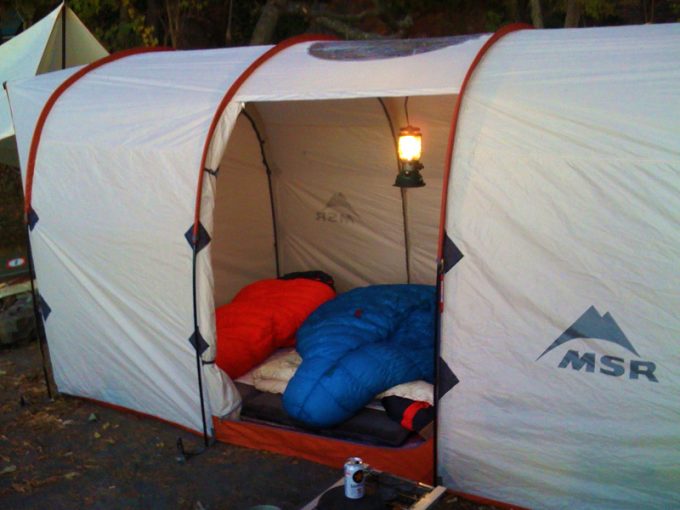 While the users who do own this say that it is a great bag to own and they adore it, sadly this is more than twice the cost of other bags, even if it does have more features and works well in harsh weather.
Similar Products/Competitors
Below are three product reviews of sleeping bags that compare to the Bison GWS. These will show you what is on the market as far as features and other options that may be important to you.
Valandre Thor Sleeping Bag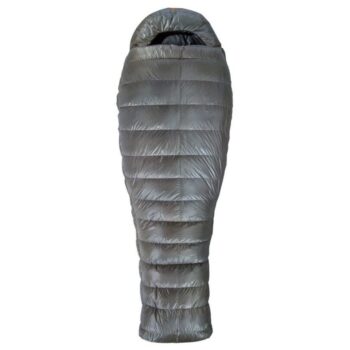 The Valandre Thor Sleeping Bag has a shell made of polyamide ripstop and comes in a gray color. Great for high altitude journeys and polar expeditions, this sleeping bag will keep you warm for sure! There are 29 singular baffles inside with a tubular cut and a 3 dimensional collar that will bring you retained heat and comfort.
Internally reinforced, this sleeping bag has down filling and a storm flap, and a long zipper on the right side. This 5 star rated sleeping bag can withstand temperatures down to -31 degrees F, or -35 degrees C. Users love it because they stay warm enough to sleep in lighter clothing at night.
They love the room at the bottom to store some clothing, or storing your phone or tablet in the storage pocket. The softness and ability to compress well, down to 10 x 20 inches, did not go unnoticed.
Western Mountaineering Lynx Gore Windstopper Sleeping Bag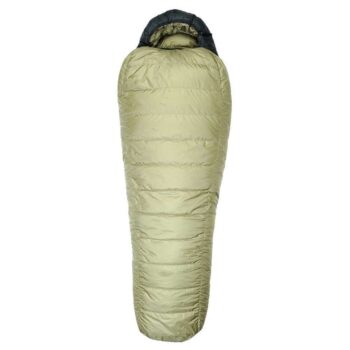 The Western Mountaineering Lynx Gore Windstopper Sleeping Bag is a Sage colored sleeping bag that comes in 2 sizes and the option of Left Zip or Right Zip. It includes an 8 inch loft, for ultra comfort, and has 33 ounces of down filling.
It can withstand temperatures down to -10 degrees F, and has Lynx Gore Windstopper and has 6 inches spacing with the V block. The side baffles are 62 inches and the foot girth is 39 inches, which is spacious and enough to store some clothing if you like, or just enjoy the extra foot space.
Uses like the efficient cut of the bag and the warmth and comfort it provides. The ability to pack down to 9 x 18 inches is great as well, even with a full collar. Users say that this bag can take a beating and will last a long time.
The only downside is if you have really broad shoulders, you might find that you would like more space. But overall, this sleeping bag does a great job in harsh conditions and will keep you cozy and warm all night long.
MontBell UL Spiral Hugger Sleeping Bag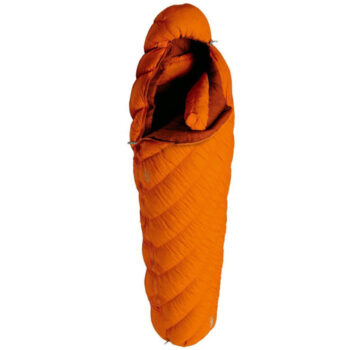 The MontBell U.L. Spiral Hugger Sleeping Bag comes in the color of Persimmon and is 190 cm long, and will withstand temperatures down to -40 degrees C. The material is made of cotton and it includes 800 fill power EX Goose Down filling that is water repellent and has Polka Tex inside of it.
The light weight is loved by users, and it packs down simply to 22 x 44 cm. The zipper is located on the right side, and the spiral appearance looks fantastic, plus it traps in heat. This sleeping bag also features multi tube construction, draft tubes that are singularly insulated, and it has a draw cord around the head so you can keep extra warm.
This bag also includes an auto locking zipper, so it will not unzip itself at night time if you happen to move around. It was given the Durable Water Repellent treatment also, and its fabric is made of 20 denier Ballistic Ripstop Nylon. The maximum user height is 6 feet for the regular size.
The shoulder girth is 53 to 75 inches and the knee girth is 44 to 62 inches. Users like the amount of warmth they get from this sleeping bag, as well as the durability and ability to repel water nicely. Great for extreme weather conditions, it definitely will not fail you.
Overview
There have nearly all positive reviews on this sleeping bag, which is fantastic for Western Mountaineering! Amazon reviews give it a 5 star rating overall. People have found the Bison GWS to be a comfortable and a warm sleeping bag that is roomy. They love the lofty hood and how small it can compress for the most part.
Those who purchased this sleeping bag say that the dual zipper is handy and a nice accessory. The draft tubes do not allow the down filling to move and become distorted, which is another reason why people love this fantastic sleeping bag! The hood allowed their head and face to stay warm and it blocked the cold elements from their body.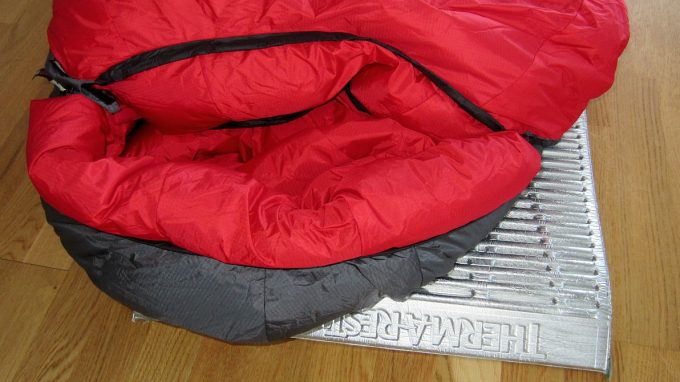 They loved that it is waterproof and made of strong materials that will last for years to come! Overall, users of this sleeping bag say that their outdoor camping trip, whether in the mountains or not, was made better because of the comfort of the Bison GWS.
Some users say that if there is a downside to this product, it is that it was somewhat bulky compared to other sleeping bags. Someone else claimed that they got too hot too fast in the sleeping bag. Not every customer is going to be 100 percent happy, but with such a high rating and lots of positive features about it, this sleeping bag is worth every penny.
Here are some of the pros and cons of the Bison GWS, which will allow you to weigh the important factors for you and your camping situation.
PROS:
Light weight and made with strong materials
Made in the USA
It is water resistant and resists undesirable weather up to -40 degrees Fahrenheit
Come in a pretty red color
Made with full goose down and has draft tubes
Includes a collar for extra warmth on the face and ears
CONS:
Some say it is bulky
Can get warm fast
Costly
As you can see with all of the positive reviews, the Bison GWS is a highly loved sleeping bag that is made of quality materials that are tested and made with care.
Western Mountaineering is focused on the quality of their products and their reputation, which ensures customers get only the best for their outdoor camping adventures, whether it is winter and freezing, which is what this sleeping bag is made for; or in the summer, when you are camping with family and friends.
Western Mountaineering Bison Sleeping Bag
Weight & Size

Packaging

Design & Durability

Insulation

Comfort

Value for the Money
Summary
The Bison GWS is a great sleeping bag that has a lot to offer in terms of warmth, comfort and portability. However, it does cost over a thousand dollars, so the price is quite steep, despite the wonderful features and other important points about it that make it worth the cost.
For those who are lucky enough to afford this sleeping bag, they are sleeping in the lap of luxury as far as these sleeping bags go, and will no doubt be well rested for a full day's adventure when they wake up.

Thank you for checking out this article! What are your thoughts? Leave us a comment down below and tell us if this sleeping bag is the perfect one for your next camping excursion!