When you are headed out on a camping trip you need to make sure that you have a good sleeping bag. When you are headed off on a backpacking trip in the cold weather you have to balance the need to have a warm sleeping back with the need to carry a light, sleeping bag in your pack.
That can sometimes mean carrying a sleeping bag that is heavier than you'd like or have a few cold nights. However, with the Western Mountaineering Lynx Gore Windstopper Sleeping Bag, you might not have to make that choice. Let's dive into some of the details of this sleeping bag.
Product Specifications: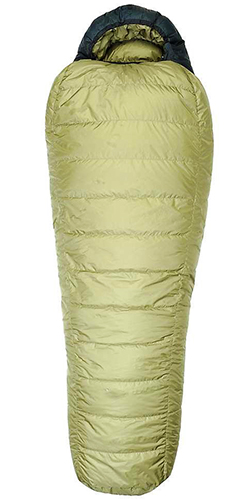 The draft tube is Gore Windstopper fabric and has a stiffening tape.
The V-Block Side Baffle insures perfect down control so that down stays where it's needed most. 
The Western Mountaineering Lynx GWS Sleeping Bag has 62″ shoulder and 39″ foot girth, so you'd feel comfortable inside.
This powerhouse of a bag is packed with 33 oz. of 850+ down.
The total weight of the sleeping bag is 3 lbs. 8 oz.

The Western Mountaineering Lynx GWS Sleeping Bag has

 efficient cut, and it is a -10° bag that has a full 3-Dimensional down filled collar completely made with Gore Windstopper fabric.
In this article, we are going to give you all of the details about the WM Mountaineering Lynx GWS sleeping bag, the pros and cons, and show you a few reviews of other products for your comparison. We hope you find this sleeping bag to be one of the best on the market as far as warmth, comfort, and wind blockage. Read on for more information.
Review
Packaging
The product dimensions are 16.6 x 11.2 x 15.3 inches so it will come in a package just a little bigger than that size, and with a weight of over 4 pounds to ship. Inside of the package, you will not only find the Lynx GWS sleeping bag, but you will find a stuff sack to store your sleeping bag.
Product Specifications
We understand that sometimes you just want the facts and figures quickly and clearly presented. To give that to you here is a table that gathers up all of the relevant data on the Lynx sleeping bag.
| | |
| --- | --- |
| Sleeping Bag Style | Mummy Bag |
| Length | 5'6" (Short); 6'0"(Regular); 6'6" (Long) |
| Shoulder Girth | 61" (Short); 62" (Regular); 63" (Long) |
| Hip Girth | 54" (Short); 54" (Regular); 55" (Long) |
| Foot-box Girth | 39" (All) |
| Fill Material | 850+ Down |
| Fill Material Weight | 30 oz. (Short); 32 oz. (Regular); 34 oz. (Long) |
| Sleeping Bag Weight | 3 lb. 5 oz. (Short); 3 lb. 8 oz. (Regular); 3 lb. 11 oz. (Long) |
| Compressed Size | 9" x 18 " (Short); 9" x 18" (Regular); 10"x 20" (Long) |
| Sleeping Bag Shell Material | Gore Windstopper |
| Temperature Rating | -10 °F (-23 °C) |
| Zipper Side | Right or Left |
| Color Options | Sage |
Durability and Design
The design of this sleeping bag is mummy shaped, and Sage in color. Made with 33 oz of down filling, this bag has an 8 inch loft, 6 inch space with V Block side baffles, plus is very roomy, namely in the feet and shoulder areas. Made with a full down collar, you are assured warmth all night.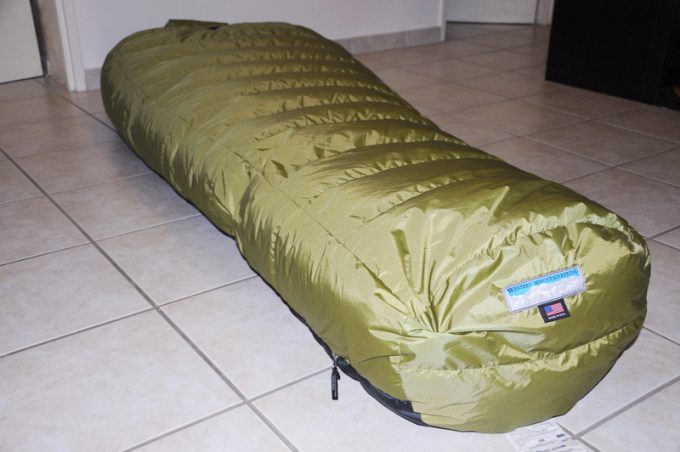 The durability of this sleeping bag is unmatched. It can be used in harsh terrain and come out unscathed. It will surely last for years to come as long as you treat it right and keep it clean.
Insulation
This particular bag is made from a Gore Windstopper material that is designed to not only keep the sleeping bag dry in wet conditions, but to also block out any breezes from giving you a draft while sleeping. The seams of the material are not seam taped (known as "welded" in some other sleeping bag lines) but reviewers have remarked that the bag is all but waterproof.
While the top and bottom of the bag have horizontal baffles to keep insulation from migrating south while you sleep there are V-block baffles that run the whole length of the sleeping bag to keep the insulation in those areas where it will do the most work to keep you warm.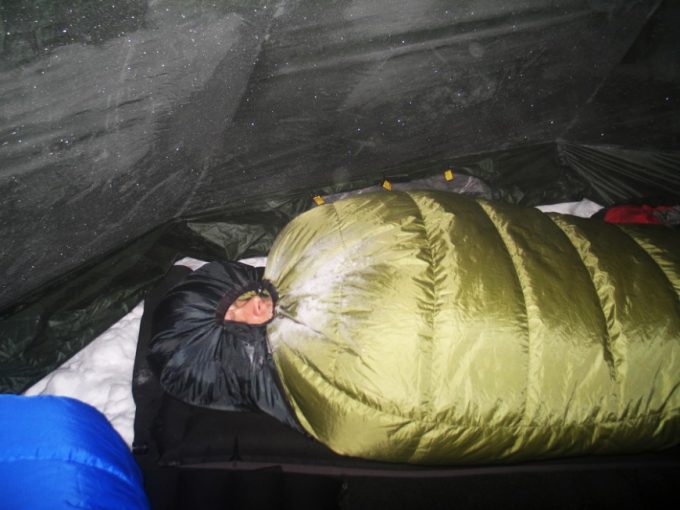 The sleeping bag also sports a draft tube around the top opening to keep the warm air in and the cold air out while you sleep. It is constructed of the same Gore Windstopper material and stiffener tape to keep it in place. Lastly, there is a semi-circular hood that provides your head with some insulation while snoozing through the night.
Weight and Size
Sleeping bag weight can be a double edge sword, as for colder nights you will want a warmer bag to sleep in. But that extra warmth means more insulation, which means more weight.  For this bag the weight isn't much of a factor though.
As there are three different sizes, there are three corresponding weights, with the shortest weighting in at 3 pounds and 5 ounces, the midsize coming in at 3 pounds and 8 ounces and finally the extra-long option weighs 3 pounds 11 ounces. Having a sleeping bag rated to less than zero that comes in at under four pounds is still a pretty good set up.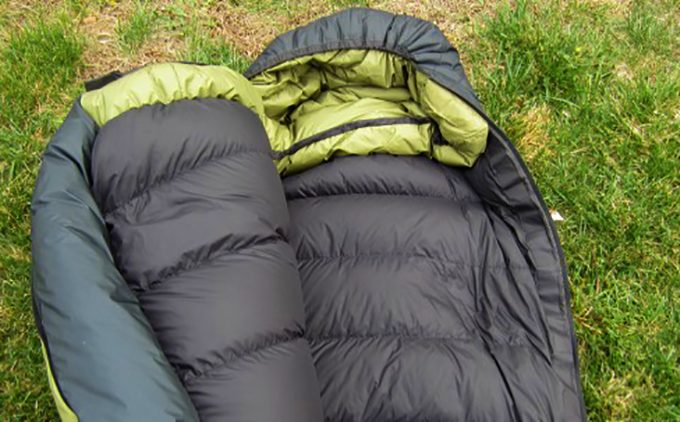 Another point for backpackers that is never far from being mentioned once weight of an item is brought up is the size. Since you need to stick everything that you need to live into a pack that is supposed to be on your back, weight is important, but so is the size.
You need to find things that be crushed down to the smallest size possible, which is normally accomplished via compression sacks. Materials such as down to allow a lot of air to be pressed out meaning you can get a six-foot long sleeping back into a much smaller sack and leave room in your pack for a few extra goodies, or maybe a pillow.
Both the short and the middle-sized bag pack down to a stuff sack that is 9 in by 18 in, the size of the Western Mountaineering large sack.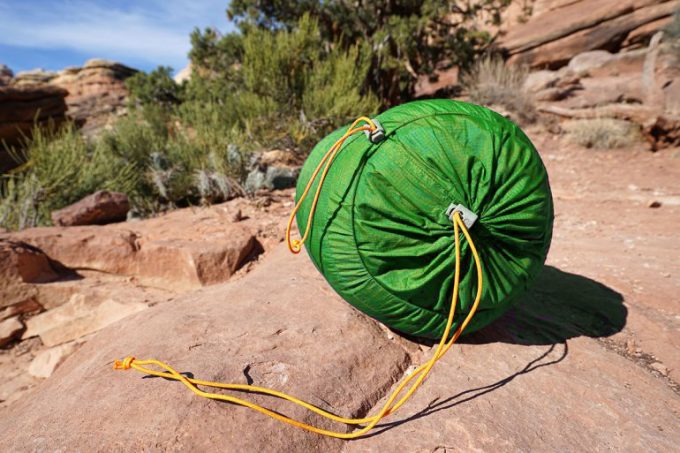 The longer bag takes an extra-large stuff sack and that measure 10 in by 20 in when full of sleeping bag. It may be possible to fit these into other stuff sacks, and compress them further, but these are the listed values for the sizes.
Value for the Money
The Lynx GWS sleeping bag is a little on the pricey end but with all of the features, warmth, and comfort you get, many have said it is worth the price for this 5 star rated sleeping bag. There are sleeping bags made by this company that are cheaper and still work plenty well, but those who have used the Lynx say it simply cannot be beat!
Similar Products/Competitors
Here, we are going to show you three reviews of similar sleeping bags to show you how the Lynx GWS stands up to the rest of the competition.
Fjallraven Polar Sleeping Bag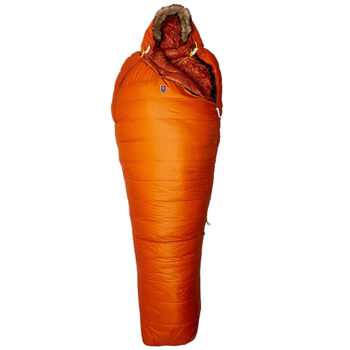 The Fjallraven Polar Sleeping Bag comes in a Burnt Orange color and is made of polyester throughout. Some of the features include being well insulated and good for extreme temperatures, has a hood with fur that keeps you warmer, and it has 2 zippers.
While comparative in price to the Lynx GWS, this sleeping bag can stand on its own as well, and it reduces cold spots because of the box channels in which the down filling is placed, plus it has a protective flap that has down filling in it and it keeps out drafts.
It comes with a waterproof compression bag as well as a storage bag, which can be hung when stored. The two zippers include one long zipper and one short zipper. The shorter zipper can be used to sit up in your bag. Or you can use the two way larger zipper for ventilation of the bag.
Users like this bag because it is comfortable, keeps cold air out and is stylish. Also, extreme weather backpackers love this bag because it can be used in frigid temperatures. It compresses down well and is extremely light in weight. Users say it is a little pricey, but overall its a great bag that gets the job done well.
Western Mountaineering Bristlecone MF Sleeping Bag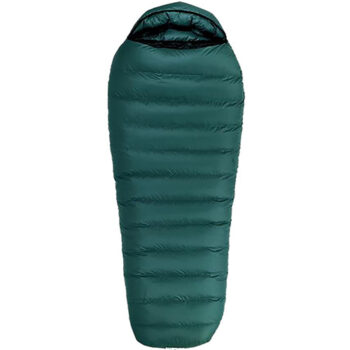 The Western Mountaineering Bristlecone MF Sleeping Bag is a stylish bag that has 6 inch space and side block baffles, including a full down collar, and an 8.5 inch loft for extra comfort. Built to keep warmth inside, not only is it very warm, it is incredibly spacious, having 69 inches of girth in the shoulders.
This bag has 42 ounces of 850+ down filling, but it still packs down fairly well. It includes 2 zippers and is very light in weight for all of the down that is inside of it!
This is a semi rectangular shaped sleeping bag that can seem similar to the mummy style. It is made with 20 denier Micro Lite XP material, and is wind and water resistant. The micro fiber breathes well and will not hold in moisture. The regular size can fit a person up to 6 feet tall, while the long version fits a person 6 ft, 6 in tall.
Users like this sleeping bag due to the low temperature rating, low weight, and extra space. The down material is a huge plus, and the collar is incredibly warm. The only down side is that it is a little pricey, but users overwhelmingly agree that it is worth the cost. With the ability to resist wind and water, you will sleep like a baby in this sleeping bag!
Rab Infinity 500 Sleeping Bag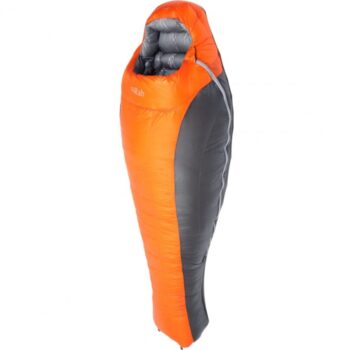 The Rab Infinity 500 Sleeping Bag comes in the color of Satsuma, which is an orange color, and is made of Pertex Quantum GL and 850 goose down filling. It is waterproof, has a half length YKK #5 coil zipper, which is anti snag, and is reasonable in price.
It is highly stylish, like a next generation mummy bag and includes a stuff sack and a storage sack. Not only is it light in weight, but it prevents heat loss and is so comfortable to sleep inside of. It keeps you warm down to 16 degrees F and you will not feel any moisture due to the ability to repel any water that comes in contact with it.
This bag also breathes well, so you will not feel like you are roasting in the sleeping bag. There is an internal collar with a hood that has a draw cord. The only down side is that you might feel a little snug inside of it, or feel like you cannot move around much. While this is a great sleeping bag, you will want to test it out before you go out on the trail.
Also, some people prefer a longer zipper, or more than one zipper, and it is not weatherproof. Overall, users did enjoy a good night's sleep in this bag, and while over $500, this bag does a great job at keeping heat out, the warmth in, and giving you a comfortable sleep.
Overview
This is a sleeping bag that is designed for cold weather outings. It would not be out of place to take on a mountaineering or alpine climbing trip and would work extremely well for cold weather backpacking.
While there is nothing saying that this sleeping bag would not perform well on a standard car camping trip, most people who are only doing this type of camping don't go out that much during the winter. Due to the rating of this sleeping bag, the only condition to not take it out in would be in warmer weather.
Some people might find that it is a bit too much warmth ranging from late spring to early fall. So, it may not be an all-year-round bag, it is a great choice if you are headed out to some colder weather and looking to stay warm. If this sleeping bag sounds just right for you, feel free to check it out.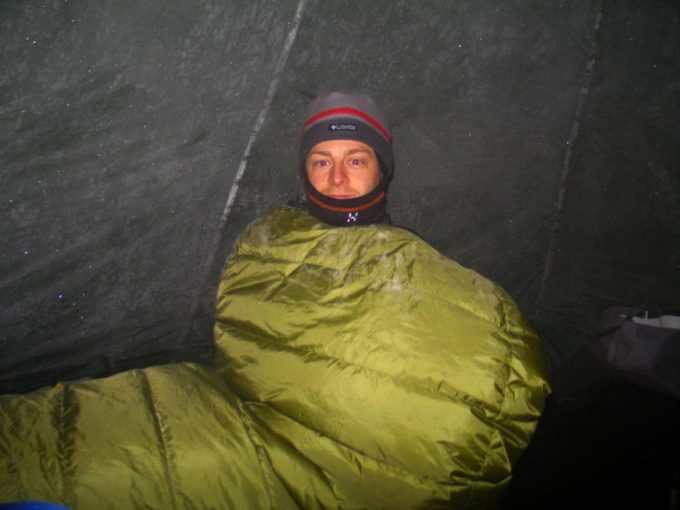 As an added option, you can choose to have the zipper either on the right or the left side.  While this might not seem all that important in a mummy bag with an attached hood you can't exactly flip the bag over to get the same effect.
If you are thinking that you don't know which side to go with, it is easiest to stick to the side of your dominant hand. Like many sleeping bags this one doesn't feature a choice of color, if you are looking at this sleeping bag you either get it in sage or you don't get it.
When it comes time to determine if this will be a good sleeping bag for you, a lot of the final answer will rest on your own shoulders. First off you need to consider is this the first sleeping bag I'm getting or am I in the market for a cold weather bag.
PROS:
8 inch loft
Full down collar
Warm and Comfortable
Withstands temperatures down to -10 degrees F
Light in weight
CONS:
Pricey
May become too warm if temperatures are over 50 degrees F
While this one can function year-round, you might find it a little too warm to take out for the summer months, depending on where you go. Which brings up the next point, what is your camping style?  Are you just looking for a family car camp out or are you heading out with your pack on your back in search of adventure?
This sleeping bag can be used for either option but was more designed for the latter choice. With this particular sleeping bag, once you'd decided that you like the bag overall you have more choices to make. The first would be which of the three sizes offered, is the best bet for you.
The easy way is to just match yourself to the length and be done with it. I would caution you to take the extra time to consider space at the shoulder and hips as well.
Western Mountaineering Lynx GWS Sleeping Bag
Weight & Size

Design & Durability

Packaging

Comfort

Value for the Money

Insulation
Summary
The Western Mountaineering Lynx GWS sleeping bag is one of the best on the market due to its many great features, including strong materials that are long lasting and keep you comfortable.
With the amount of warmth you get, this sleeping bag cannot be beat. The durable zippers, full down collar, and 8 inch loft are just a few things that make this sleeping bag stand out.

The differences might not seem like all that much, but sometimes that one extra inch of space is all you need to separate a night of peaceful sleep from a night where you sit up thinking about how you had to squeeze into this bag and wonder if you can get out come the sunrise.
Finally, it is your turn. We'd love to hear why you selected this bag or why you didn't?  What other bags did you consider and what would you like to see a write up on? Tell us in the comments below. And be sure to share this out on social media. You never know when one of your friends might be in the market to upgrade their sleeping bag.