Sleeping bags are one of the most important parts of your backpacking gear. If you want to sleep comfortably and peacefully, then you must buy a sleeping bag carefully. A good sleeping bag will help you sleep comfortably, and you'll have the energy to perform well during the camping days.
Also, nights are mostly chilly, so sleeping bags are the best way to keep you warm during a chilly night. They work better than any type of clothing, plus you will have to carry less weight in the case of a sleeping bag than warm clothes. Try out the Western Mountaineering Sequoia RZ Microfiber Sleeping Bag as you prepare for your adventurous outdoor.
There are plenty of sleeping bags on the market with lots of varying features. For a newbie in outdoor camping activities, it can be challenging to hand pick the best among them. We have found the Western Mountaineering Sequoia sleeping bag as one of the best goose-down-filled sleeping bags. Taken into account when choosing this sleeping were the unique features that are paramount for all your camping needs. All these shall be discussed below.
Product Specifications: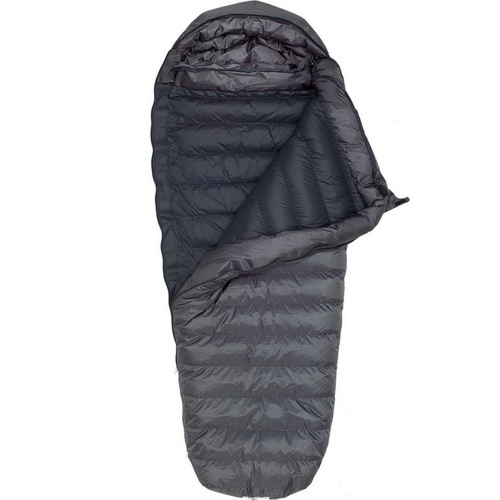 Western Mountaineering Sequoia is available in a tightly woven 1.2 oz.
The MicroLite XP fabric offers maximum breathability while allowing a high degree of water resistance
These Sequoias have a full down collar solidly stuffed with down
The continuous baffles allow you to adjust the down fill to suit the changes in weather.
Its two zippers not only allow you to zip to mummy bags but also to unzip the foot
To further widen your choices, we have provided 3 more sleeping bag products, as similar and competitor models. They are also down-filled bags and come with their unique features as well. Read through to compare the features. Let's now delve into the main product review from Western Mountaineering.
Review
Packaging
Your purchase of the Western Mountaineering Sequoia sleeping bag will include the sleeping bag with the stuff sack which you can use to store the bag when moving from one place to another. It is not advisable to store the bag while compressed as that might affect the quality of insulation. The sleeping bag weighs 5.9 pounds and has dimensions of 8 x 18 x 36 inches. The package is complete, so no additional components are needed except the options, such as the sleeping pad/mattress.
Design & Durability
The design of the sleeping is of paramount importance, because it does not only give the bag its identity, but also helps maximize the benefits of choosing the bag. It further helps with the durability of the sleeping bag. The Sequoia Microfiber sleeping bag has been designed with the water resistance and breathable MicroLite XP shell fabric.
This fabric plays a huge role in preventing water penetration, particularly when sleeping in areas frequented by the snow or the downpour. Moreover, the shell fabric is rugged and sturdy to withstand the abuse of the outdoor temperatures. It will last you long.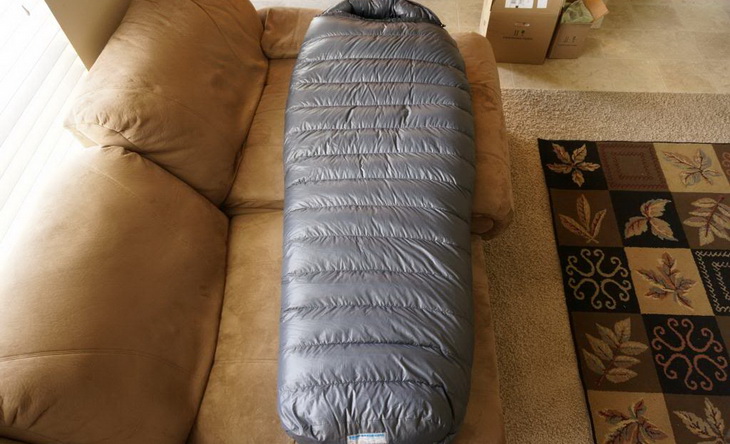 The full down collar seals in your body and the draft tube shields your body against the cold drafts. These are the benefits of the design of this bag. The 5 ¼" spacing of the continuous baffles stretch from one zipper to another. The two zippers on this bag help you to unzip it for more ventilation, especially in hot dry days. And the footbox can be unzipped too, to let your foot lie flat against the ground.
The 6/48" shoulder/foot girth provides ample room for you to turn during the night. They also aid in the extra warmth provision to survive the harsh temperatures. The bag's total weight is 3 lbs, 4 Oz, which is light enough to suit the minimalist backpackers, campers or hikers.
Insulation
Most backpacking sleeping bags have down or synthetic insulation. To choose the right kind of insulation you need to consider the environment, the weather conditions, your budget and your experience of camping. Synthetic bags insulate much faster when the weather is more dry, than down insulated bags. Down insulated bags are more compressible and work for longer duration, thou they cost equal as synthetic bags.
Western Mountaineering Sequoia comes with a duck down as the natural insulator. The strength of this down is measured by the 850+ Fill Power that assures you that the sleeping bag has the best warmth-to-weight ratio. It also has the best 7" loft and comfort. It is this 33 oz down that makes the bag to have a temperature rating of 5 degrees F, which is suitable for the coldest nights in the forest.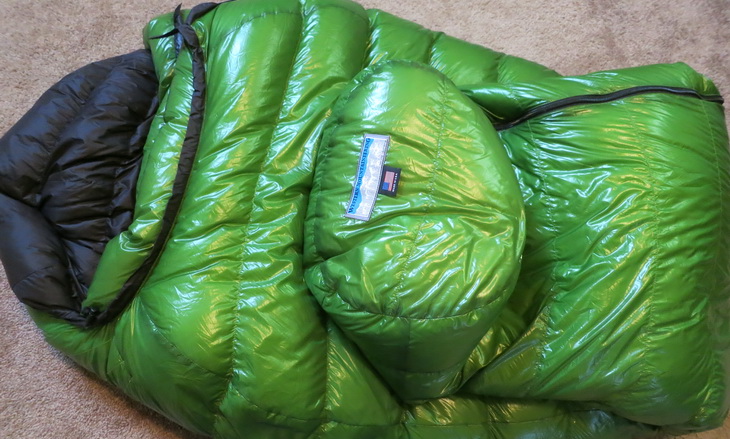 So, with this sleeping bag, rest assured that you have one of the best insulated bags on the market because Down never lets you down. It is superior over synthetic bags, but only when it is dry because, should it get rained on, it will be a disappointment because it takes time to dry, whereas synthetic bags take less time and never lose their loft or comfort.
The bag's continuous baffles enable you to control the down fill according to the weather changes. This comes really handy  if the weather changes quickly and you don't know what to do. This sleeping bag has two zippers to help you zip it up to mummy shape if that's what you want also you can unzip the foot too if you want the bag to lay out flat.
This bag is a great choice if you are looking for something to sleep comfortable in during your outdoor adventures. Also, you can use it in all weathers almost so that makes it even more better.
Water Resistance
Durable water repellent is a treatment that causes water to dot up on the external shell of a resting sack as opposed to absorbing. DWR will wear off after some time and should be re applied, however, it's a pleasant element to have. It won't make a pack anyplace close waterproof, yet it adds somewhat additional water assurance.
Water repellent treatment is very important when you are planning to go to a snowy place or a rainy place because the nights will be chilly and the moisture can make your bag wet so water repellent treatment will come real handy in these situations.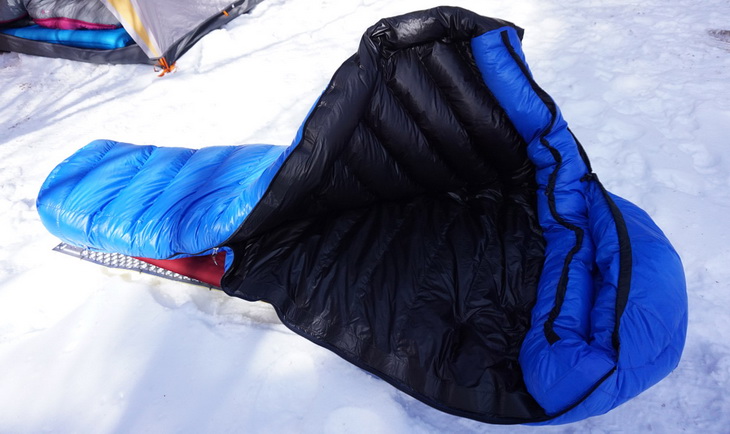 The Sequoia Microfiber Sleeping Bag is suitable for 3 seasons and is made of woven fabric to provide you enough protection against the weather and to make it breathable. This also makes this sleeping bag highly water repellent. Being highly water repellent means that you can take it with you if you are forest camping.
The bag will keep you dry and warm during nights so that you can get a proper sleep, which is the whole reason of buying this bag. The bag has some unique features including protection against the bellows effect that makes it easy to move around once you are inside the bag.
Temperature Rating
Another thing that you need to check when buying a sleeping bag is its temperature rating. You can check the temperature rating of a sleeping bag to make sure that it's suitable for the weather where you are going or not. Most sleeping bags that have a temperature rating between 15 and 35 are compatible for three season camping and they are quite in demand these days.
There is no science of choosing the right temperature rating. You just need to know what you require. Are you a cold sleeper or a hot sleeper? In case that you are hot sleeper, you need to buy a sleeping bag with a high temperature rating and if you are a cold sleeper, then you should get one with a low temperature rating.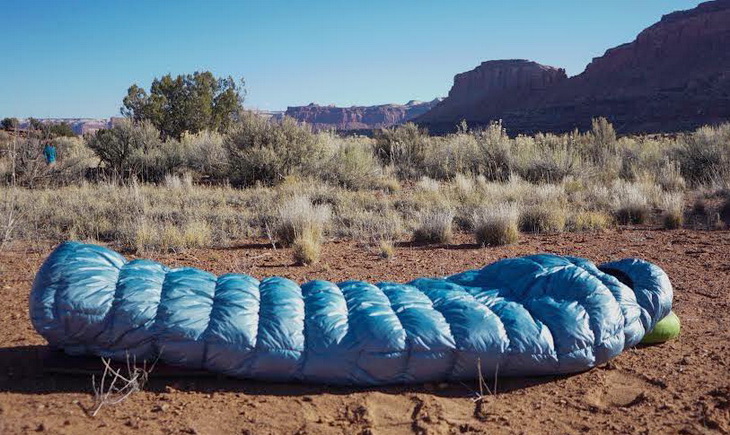 The Seqouia Microfiber sleeping bag has a temperature rating of 5 degrees F. This makes it suitable for a cold night's sleep, meaning you are still safe to use it in the winter seasons. But this also means that this sleeping bag is a bad choice for extremely hot days, unless you are prepared to sleep with it with zippers open at all the times for extra ventilation.
Performance
One other feature akin to performance is the versatility of the sleeping bag. Versatile sleeping bags can work in three seasons. They will work on warm summer nights as well as cold winter nights. This is an important thing that you need to consider because it will prove to be beneficial in the long run.
Venting should be a must for summer sleeping bags so you must look for it when you're buying a sleeping bag. This sleeping bag is versatile to be used even in the winter nights where others fail to perform. For the hot summer nights, some outdoor hobbyists might find out that this is not a viable solution.
Value of money and guarantee
Sleeping bags, particularly the Down-filled ones, are relatively expensive. Some people end up compromising a good quality with the cheapest prices. Or, instead, buy expensive sleeping bags and find out they are of inferior quality. It is important, therefore, to assess the value to see if it is a good quality that you deserve.
With a price range of $750 to $800, you can get this quality sleeping bag from a range of outdoor stores. This is a good value of investment. There are no additional costs for some mandatory components because the sleeping bag comes complete. However, you may consider other costs of optionally purchasing the sleeping mat or pad in case you are accustomed of camping in rougher terrains.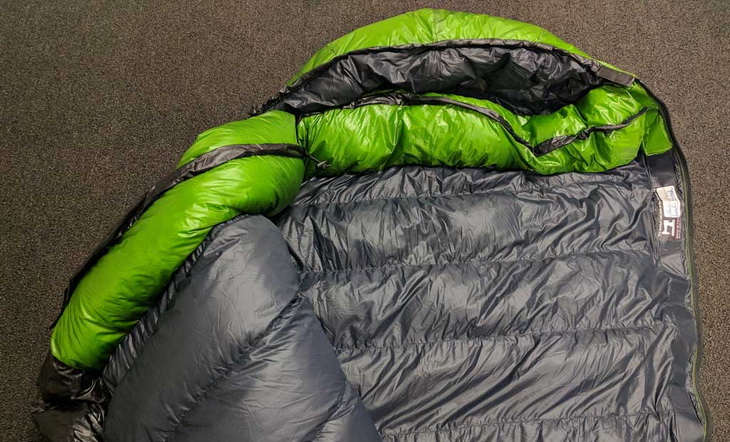 Western Mountaineering offers a limited lifetime warranty for its products. So you are covered if your product shows any signs of defects. Moreover, there is a money back guarantee if you are not satisfied with the purchase. If purchasing it on Amazon, Amazon offers a 30-day money back guarantee as well.
Similar Models/Competitors
Vaude Serniga 
This is a competitive model that comes with a  fill weight of 800g. Vaude Serniga is ideal for minimalist backpackers, particularly those who prefer goose down over duck down.
Goose down is superior in performance over the duck down. This sleeping bag has a fill of a 100% 90/10 White Goose Down.
Design wise, the outer shell is made of a 100% nylon 15D 400T RS. The lining fabric is also made of a 100% nylon 15D 400T. The temperature rating is 21 degrees F compared to the 5 degree F of the Sequoia. This puts the Sequioa an ideal model for winter backpacking than this competitor.
But this competitor is suitable 3 season, including the hot summer nights. The other characteristic of this bag is the trapezoid chamber construction and the tree-dimensional collar which play a role in the optimum warmth. The footbox and the interior mesh pocket are included for an additional storage.
Western Mountianeering Puma 
Western Mountianeering Puma sleeping bag is almost the same with the Sequoia with their features. The similarity is first seen in the 850+ Fill Power of the Down and the MicroLite XP™ shell fabric which is both breathable and water repellent.
These are the features that make this sleeping bag ideal for all the outdoor enthusiasts because they can survive the harsh temperatures.
Puma RZ has a 9" loft, whereas Sequoia has a 7" loft. It also features a full Down collar and interlocking draft tubes. The V Block Side Baffle helps you control the down.
The overall weight is 3 lbs.7 oz. It is not that far away from the Sequoia with this weight, so they are both suitable for minimalist hiking or camping. The temperature rating is 25 degrees F, which makes it ideal for 3 season camping.
Yeti Passion 
This competitor is seemingly substandard to the Sequoia sleeping bag with an 800+ Fill Power of down. Nonetheless, it is still impressive with these features, for all your outdoor sleeping needs.
It has a mummy shape and a full-length of the zipper. The fabric material is made of 100% nylon. So you can still find this Yeti Passion sleeping bag worthwhile if you prefer a different product with lesser value. It is relatively cheaper than the Western Mountaineering Sequoia.
Other features are still of premium quality. The down provides a great loft and insulation to withstand the inclement temperatures. The nylon shell is effective in shielding you against the moisture and the snowy conditions. And the hood provides more warmth for your head. The full-length of the zipper can help you let in more ventilation when you feel too hot.
Overview
Western Mountaineering Sequoia sleeping bag appears to be an unrivaled outdoor sleeping tool. With its microfiber and a high loft provided by the Down fill power of 850+, it's sure to keep you warm no matter what. You will sleep comfortably after a long day of intensive hiking or backpacking.
It is also light weight with a weight of under 4 pounds. You can leave out the stuff sack and instead stuff this bag into your backpack. But do not store it for a long time while compressed, because that might affect the insulation strength.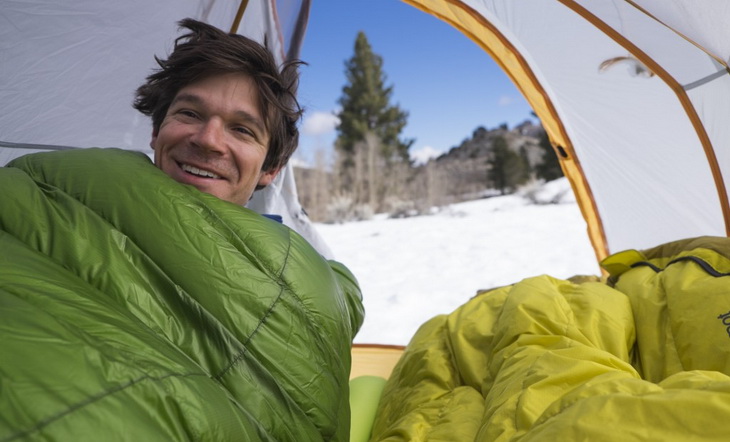 To protect you against the inevitable outdoor elements, the sleeping bag comes with highly water resistant and breathable MircoLite XP™ shell fabric. So snowy conditions will not be a match to this bag. The temperature rating of 5 degrees F makes it even more ideal for your freezing temperatures. For hotter nights you will have to open the two zippers to allow more ventilation.
To provide even more warmth, the full down collar comes into place, while the draft tube prevents you from the cold drafts. So if you have been looking for the best deal in sleeping bags, this could probably be your solution. But note the both the positives and the negatives associated with it. Below are the pros and the cons.
Pros:
7″ Loft
Suitable for 3 seasons
Tightly woven 1.2 Oz micro light Oz shell
Water repellent to protect you from moisture and cold
The product's fabric makes it breathable and comfortable
The shell makes it comfortable to sleep on the side because of its wider on the knee side and elbows.
Continuous baffles provide the ability of adjustment of the down fill so that you can adapt to weather changes.
Two zippers that not only allow you to zip to mummy bags but also to unzip the foot so that it can lay out flat.
Cons:
A little expensive
Not suitable for extremely warm environment
Maybe a little heavier for backpackers
With all the important aspects given above, we are hopeful that you might find this sleeping bag from Western Mountaineering. Although it has some cons of losing loft and comfort when wet, Down insulation is of premium quality when compared to synthetic sleeping bags. This bag has a full set of paramount of features such as water resistance provided by the MicroLite XP shell fabric and the comfort provided by its microber. It can be the bag you're looking for.
Western Mountaineering Sequoia
Packaging

Design & Durability

Insulation

Water Resistance

Temperature Rating

Performance

Value of Money and Guarantee
Summary
Western Mountaineering Sequoia delivers the best sought-after qualities of warmth, water resistance, comfort, insulation and minimal weight. It features the Duck down insulation material of 850+ fill power, which is responsible in enhancing its loft and comfort. Our final verdict is that it is the best value of investment.

The additional products were also reviewed to give you more options of choosing and comparing the products. These products offer a fierce competition to the Sequoia. Nonetheless, it remains a tougher competitor to beat. The only threat posed is that one from a Goose-down-filled sleeping bag because Goose is superior to Duck down. But the overall features of this sleeping bag are the selling points.
Don't forget to share with us what you think about this post and to share it with your friends. We hope that you enjoy your camping!