Choice of sleeping bag can define the success or failure of any camping trip. Whether it is hiking trip with friends, or a family camping trip, there are many choices out there. They arrange from down, to synthetic, and from two seasons to three seasons. With these many options, it is possible to be overwhelmed when buying, but luckily for you, this guide outlines all the factors you need to consider.
With this guide, you will make an informed decision about sleeping bags with ease. Similarly, you will have a chance to get more familiar with our favorite choice, the Puma Gore WS sleeping bag.
Product Specifications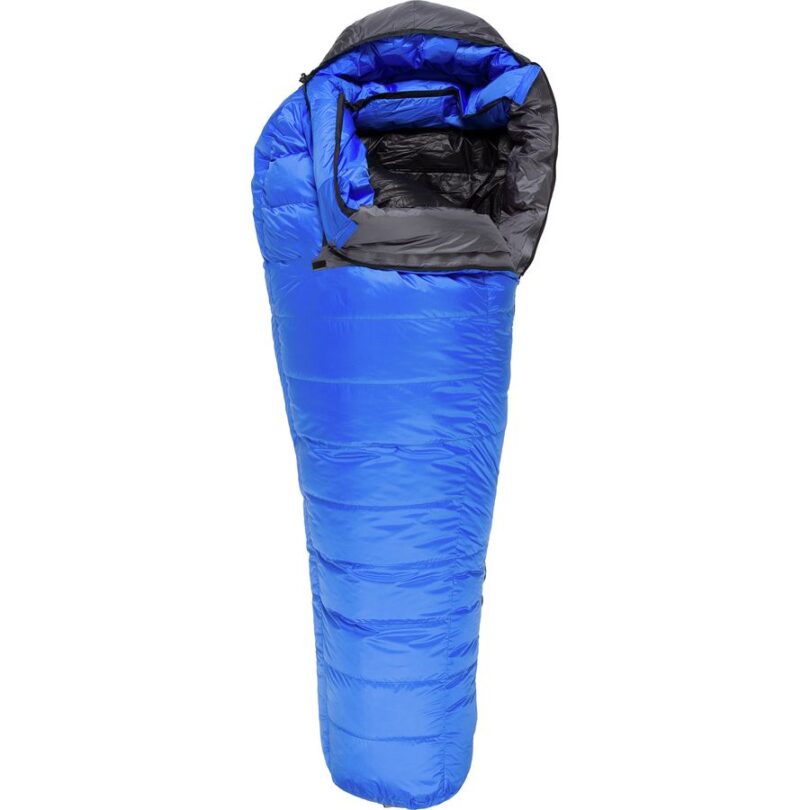 Made with breathable, weather resistant Gore Windstopper fabric shell
Roomy reverse differential hood keeps your head warm without having to cinch the hood tight
6″ spacing of V-Block side baffles that prevent down from migrating and cold spots from forming
64/39″ of shoulder/foot girth gives you extra room to add layers when the temperature drops
Full down collar for with an elastic drawcord to help seal your body heat in
It is important to know that sleeping bags can be differentiated regarding size, shape, comfort rating, season rating and type of insulation. Regarding shape, we have three types of sleeping bags:
Rectangular
Mummy
Semi-rectangular
Rectangular sleeping bags
They are more popular and especially because they are roomier compared to mummy. This feature makes them most suitable for people who like moving in their sleep. They are also very adaptable as you can open it completely to make a comforter or join two from the same manufacturer to make a twin bed.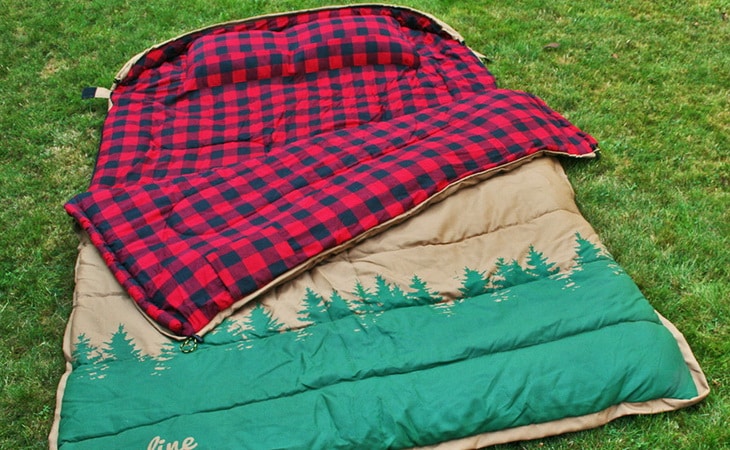 They are the best bags if you are looking for space plus they are quite affordable, unlike the mummy sleeping bags. However, they are bulkier and hence not the best for backpackers. They are also not as warm as the mummy.
Mummy Sleeping Bags
These bags have the best insulation and hence the warmest on the market. Mummy bags are extensive at the shoulders and narrow at the feet and hence the best for contoured bodies. They also possess a hound, which you can use to cover your head while sleeping.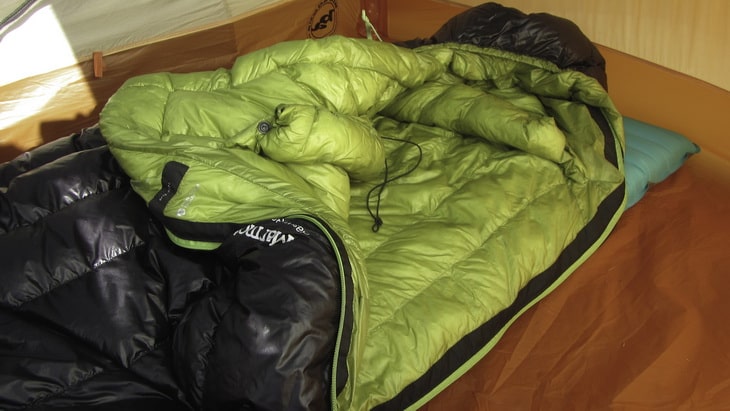 They are mostly preferred because, in addition to being warm, they are also lightweight. The mummy bags are also easy to compress and hence the most suitable sleeping bag for backpackers. Unfortunately, they are not are not a 100% perfect; they are restrictive, and you might not enjoy sleeping in them if you move a lot in your sleep. They are also expensive compared to rectangular sleeping bags.
Semi-Rectangular Sleeping Bags
Semi-rectangular bags are a simple rectangular bag which tapers at the feet. It is warmer than a regular rectangular sleeping bag, but it has a disadvantage that it is restrictive at the feet.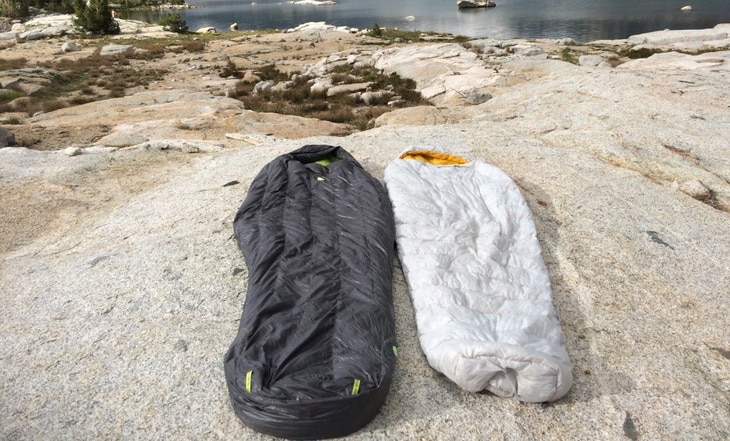 Both mummy and rectangular sleeping bags have their pros and cons. However, the person using the bag will find that at the end of the day where you are going camping, the kind of climatic condition you are camping in and how much room you need while sleeping among other requirements is what will guide you in making an informed decision.
Avoid buying rectangular sleeping bags while going hiking backcountry. Despite being roomier and inexpensive, they are bulky and cumbersome, and they end up adding weight to your luggage. Mummy bags, on the other hand, are made to retain heat as well as minimize the weight. When you are not considering the price, these are obviously the best.
REVIEW
Packaging
The Puma Gore WS come with a storage sack which you can use to store your bag. The sack can be rolled into the shape of a volleyball making it easier to carry. You should also expect a mummy and large shape which will be big enough to house even the obese individuals. Its vast dimensions will help generate enough air circulation in warm weather situations.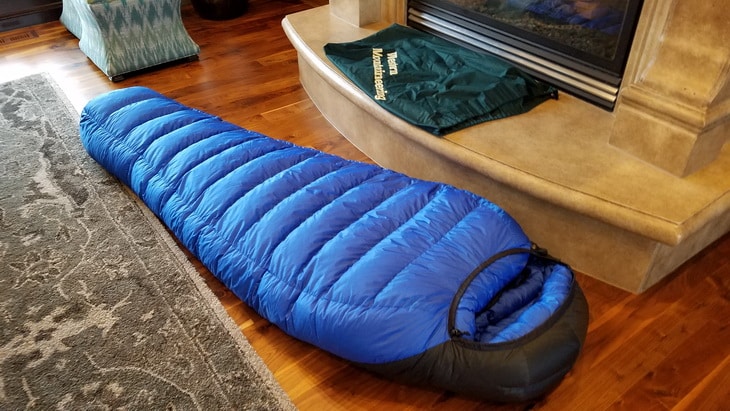 The shell that comes with the Puma Gore WS makes the sleeping bag ideal for virtually all kinds of weather conditions. During the severe winter weather, the shell of the Puma Gore WS keeps you from getting cold and also regulates itself to warm weather. The shell of the Puma Gore WS is windproof; it is practically waterproof and also breathable.
Design and Durability
The Puma Gore WS is excellent in its craftsmanship as a result of the delicate stitching and consistently circulated 850 fill down power. The manufacturers of the bag take pride in making all their products perform well and last for a very long time. The Puma Gore WS compresses into a moderately sized compression sack, and they are very true to their temperature ratings.
Design-wise, the Puma Gore WS Sleeping Bag is a mummy in shape. As we all know, mummy shape offers enough room for numerous kinds of the body so as to feel comfortable when you sleep in it. The Puma Gore WS also come in different sizes to be able to accommodate most body types. Furthermore, if you are a person who is fond of rolling around or sleep in any preferred position, don't worry, the Puma Gore WS spacious design will surely accommodate you.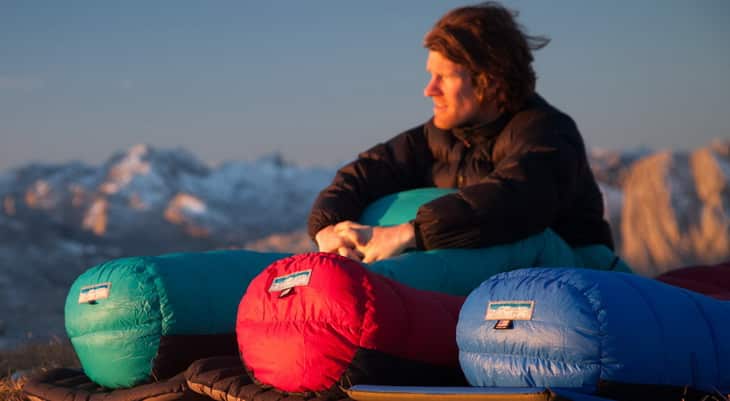 The hood of the Puma Gore WS can be detached during summer when the heat is much to allow more air in the sleeping bag. It can fit comfortably in the winter. For more aeration, you can lift your limb to allow adequate ventilation if you feel there is more heat in the sleeping bag. That is the advantage of a large mummy design.
Insulation
Type of insulation determines how warm a sleeping bag will be. It also helps in choosing the right sleeping bag for a particular kind of weather or location you will be camping. In this category, we have down and synthetic sleeping bags. The down bag has a small fine layer made of bird feathers in the interior. Down insulated bags are preferred because they are lightweight and easy to pack. They are also excellent for heat retention.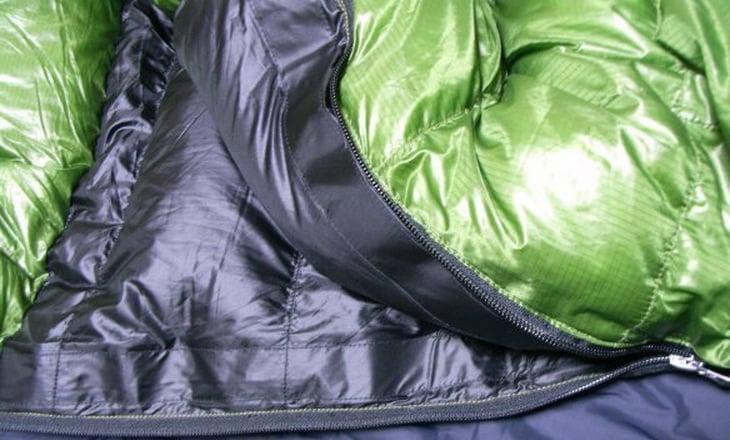 However, they take a lot of time to dry and once wet they lose all their heat retention features. They are also very expensive compared to synthetic insulated sleeping bags, while the synthetic bags are made of plastic fibers. They are cheaper than down, and they have the capabilities of retaining heat even when wet.
They are also easy to preserve and care for in addition to drying fast. Their only problem is that they are bulkier than down and not as warm as down. The Puma Gore WS are made with a down insulation type.
Warmth
The Puma Gore WS Sleeping Bag is extraordinarily warm if we liken it with other sleeping bags on the market today. This is made possible simply because of its fill down, which has a power of 850. It makes sleeping to be relatively warm to tolerate freezing conditions.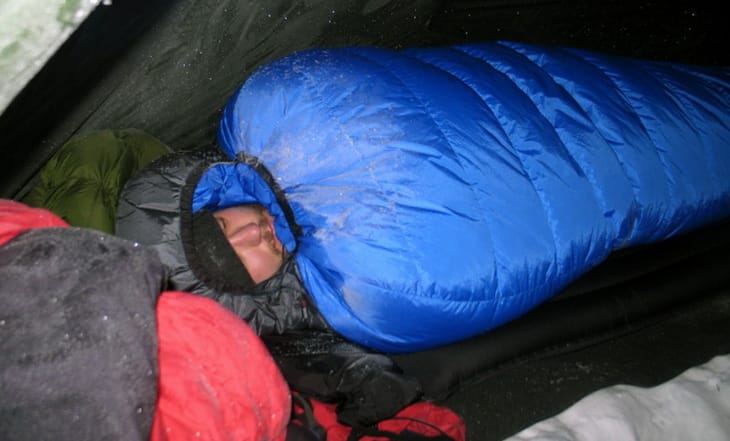 The hood of the bag is in charge of abundant warmth during winter. You also do not need to put on thick socks because the foot box of the Puma Gore WS offers enough heat.
Temperature Rating
Since we are all different, temperature rating should be used merely as a guideline on the most suitable sleeping bag. Most manufacturers take the trouble to put a sticker showing how cold it can get and the amount of warmth that bag will offer you.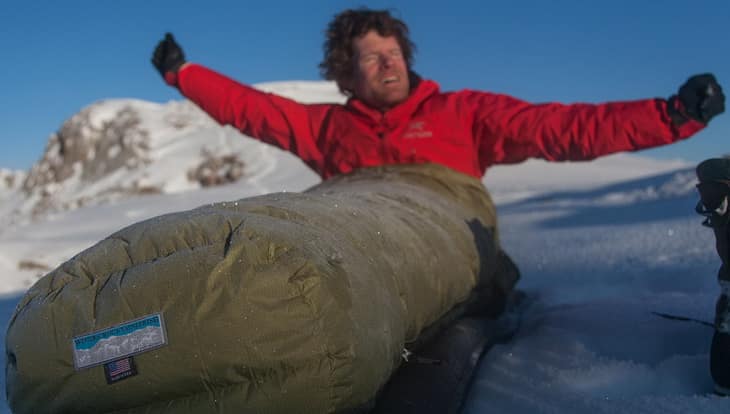 The month you are hiking, and the elevation should work as a guideline while choosing temperature rating. The Puma Gore WS have a temperature rating of -25 degrees Fahrenheit, which is fantastic for the freezing winter weather.
Weight
The Puma Gore WS is a bit heavy compared to its competitors in the market today. The sleeping bag weighs a massive 6.1 pounds. We believe the manufacturers didn't do enough regarding the weight of the Puma Gore WS.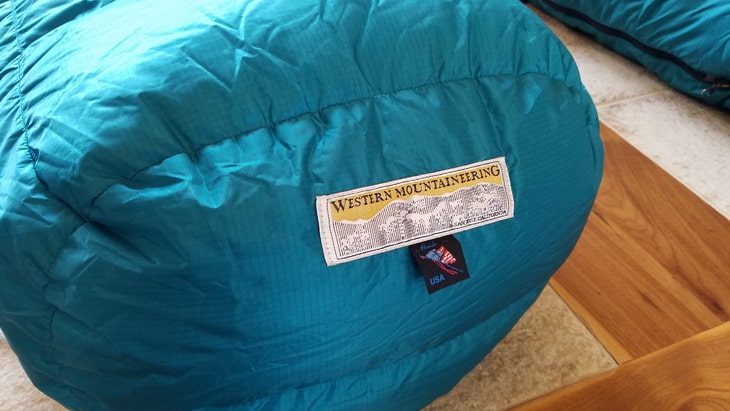 The sleeping bag would have been perfect if the weight was a little less than 6.1 pounds.
Size
The size of a sleeping bag is a major factor that a buyer needs to consider when purchasing a sleeping bag. Most sleeping bags, including the Puma Gore WS, are designed to be used by a single person. If you buy the Puma Gore WS, it cannot be used for two individuals, but if you are plump or fat in size, the Puma Gore WS Sleeping bag comes in various sizes.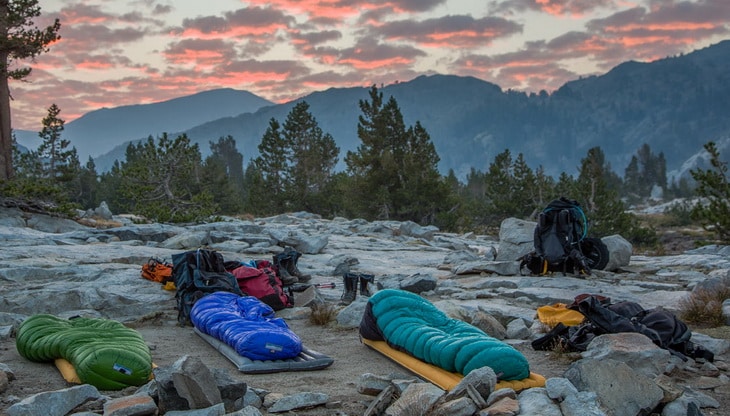 The sleeping bag comes in different sizes ranging from Extra-long, long and regular. All are meant for just one individual, but varying size. The prices might differ though, for example, the amount of the Extra-long might be different from the long.
Whether you are a wide-carried fellow, a tall woman that likes moving around during night times, or somebody that simply does not like being wrapped too tight in a mummy sleeping bag, this is the one you prefer most. This bag offers heaps of space to make sleeping a lot more comfortable.
Versatility
The Puma Gore WS are versatile in the sense that it can be used for various outdoor activities including hiking and camping. There are situations where you go to mountains and rocky grounds; the Puma Gore WS are the perfect bags for these situations.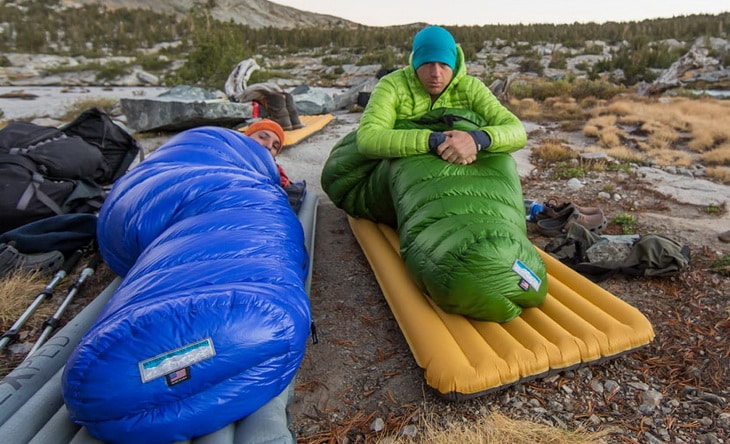 The sleeping bag also protects you from different weather conditions.
Value for Money and Guarantee
The Puma Gore WS is one of the best sleeping bags you will find on the market today, consequently, giving you complete value for the money you paid for it. The Western Mountaineering's main aim is to produce a high-quality sleeping bag which they have achieved by creating the Puma Gore WS. So, if you are worried because of the price, then you should think again because the Puma Gore WS are worth every penny.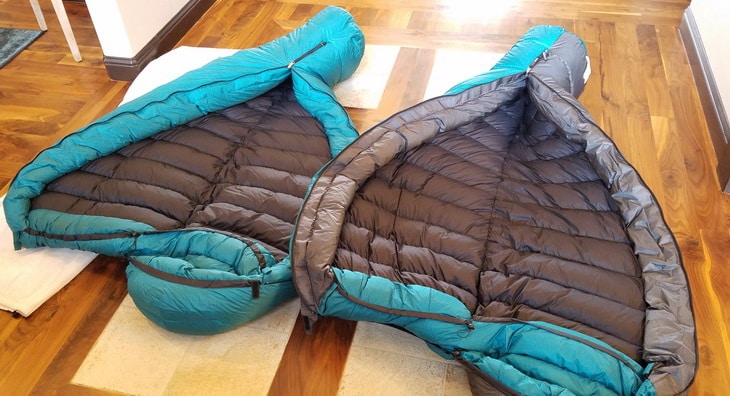 The Puma Gore WS come with a limited lifetime warranty. The sleeping bag can be used for a much extended period of time. Enjoy!
Similar Models / Competitors
It is imperative to check for similar products to the one you want to buy. There are many products with similar features on the market today. So, it is advisable to know more about these similar products to give you the insight of what exactly you want on the product you want to buy. We have selected three products akin to the Puma Gore WS, and they are listed below:
Mountain Hardwear Ghost 
The Mountain Hardware Ghost sleeping bag has a lot of similarities with the Puma Gore WS. The Hardware Ghost sleeping bag has a fill down the power of 800 and also come with an advanced treatment which is applied that repels heat-robbing moisture and retains maximum loft in damp conditions. The Elite shell just like the Puma Gore WS is waterproof, durable, windproof, breathable and lightweight.
The two-piece collar swathes naturally over neck and the shoulders, thereby creating a comfortable and soft seal. The Hardware Ghost is lightweight than the Puma Gore WS though, weighing just 1 pound. So, if you prefer a lighter sleeping bag, then the Hardware Ghost is an excellent choice.
Mountain Hardwear Bristlecone 
The Western Mountaineering Bristlecone has a lot of similarities with the Puma Gore WS too with the same fill down the power of 850+ down yield a simmering loft that keeps you heated throughout your adventures. It has a large draft tube, and the collar which is down filled make certain that winter remains outside.
Despite its enormous proportions, the Bristlecone weighs 6.4 pounds a little more than the Puma Gore WS. The price o the Bristlecone MF is almost the same with the Puma Gore WS, so it all hangs on what you are looking for in a sleeping bag. The Bristlecone MF is an ideal choice for your outdoor adventures.
Fjallraven Polar 
The Fjallraven Polar is a down sleeping bag which has been insulated well, with great functions for adventures during the winter weather. The sleeping bag possesses a hood with synthetic fur which keeps warm air in the bag. The hood has been designed in a way that it permits to follow the actions of the head, which decreases the threat of moist air being exhaled out into the bag.
The hood is also designed to give less air volume, which needs to be warmed up, it leads to better insulation. The Fjallraven Polar weighs just 4.8 pounds, considerably less than the Puma Gore WS. If a lighter sleeping bag with almost the same features with the Puma Gore WS is what you are looking for, then the Fjallraven is a perfect choice.
OVERVIEW
The Puma Gore WS sleeping bag is your best friend when you are camping in high altitude areas. With the full down collar, the bag has the capabilities of sealing your body heat, hence, keeping you warm all night. Also, it has a temperature rating of -50 to -1 degrees Fahrenheit, hence making it the bets bag while camping in freezing areas.
Its 9" loft makes it the best choice bag for high altitude areas camping. Other features included in the bag to enhance the heat include a breathable hood that keeps your head warm all night. The wind stopper fabric is made of ultrathin and ultralight fabric which helps keep off the wind and prevent the inner warmth from escaping hence keeping you warm all night. It is also perfect for allowing moisture to escape when you perspire, and hence the bag remains dry throughout the evening.
To enhance the durability of this bag, the manufacturer gave more caution to the stitching by adding additional bar tracking to the end seams. The Velcro material is also backed up with fabric that helps reduce the chances of weakness. The bag also features an excellent loft and reinforced foot box.
Furthermore, while buying outdoor gear or any other product for that matter, you will, in one or another, highly depend on other customer reviews. Well, this bag has had several reviews from those who have experience with it.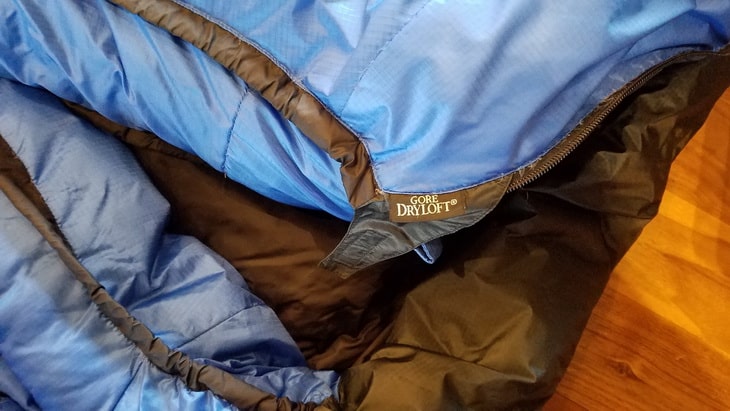 Faithful to its specs, the bag has a terrific temperature rating, which makes it a life saver when camping in the most unforgiving weather conditions. Its design and material help keep the moisture out while at the same time trapping in all your body warmth.  It also has excellent breathability features which help keep moisture out preventing the chances of dumpiness.
The bag size is perfect, and a 5'11 person will fit comfortably well. The bag still leaves you with some space to put some other clothing. The comfortable hound will keep your head warm throughout the night, and it also features a loft that pops up just right after unpacking your bag. With this bag, you do not have to skip your winter camping trip.
Another feature that makes the bag even more appealing is the right sided full-length zipper. It is easy to use and strong enough which increases its durability. The GWS shell is perfect for keeping out the moisture and especially if you are experiencing a lot of this inside the camp.
Pros
Packable
Durable
Warm
Breathable
Roomy
Easy to use
Lightweight
Cons
Expensive
Takes time to get stuffed down
The bag is well constructed and compresses easily in a compression pack. It is also easy to unpack and turn inside out.  As long as you wash this bag once in a while or as necessary, it will with no doubt give few years services camping in the Alaska and other cold areas.
Western Mountaineering Puma Gore WS
Packaging

Design and Durability

Insulation

Warmth

Temperature Rating

Weight

Size

Versatility

Value for Money and Guarantee
Summary
No one who loves camping should crave for the trips in fear of winter. With Western Mountaineering Puma Gore WS Sleeping bag in place, camping, even in the coldest corners of the planet should be enjoyable.
However, you need to make sure you observe the maintenance and care tips to the letter. This bag is a long term investment, and with the right care, it can last you for years.

If you have used this product before, you can leave a comment about your experience in the comment section below as we will love to hear from you.