The Nemo Tango Solo Down Comforter Sleep System is the best toolkit for your outdoor sleep needs. It is beyond the description of a traditional sleeping bag as justified by its superior features. Its features are designed to withstand the inclement outdoor temperatures and make your adventures worth-remembering.
Compared with other sleeping bags, particularly the traditional ones, this sleeping bag rises above them with, among others, its larger dimensions, comfort and insulation. Its selling point is the DownTex fill power that enhances its loft, warmth and insulation.
For outdoor hobbyists with budget constraints, this sleeping bag is still the best choice for you, considering its features. It's precisely the best investment in outdoor essentials. And given its width and height, it accommodates both tall and short people.
There's also a room to wiggle around without constricting yourself unlike with other traditional sleeping bags. Furthermore, its compatibility with the sleeping pad ranging from 20 to 25 inches makes it an ideal sleep system for a variety of surfaces.
Product Specifications: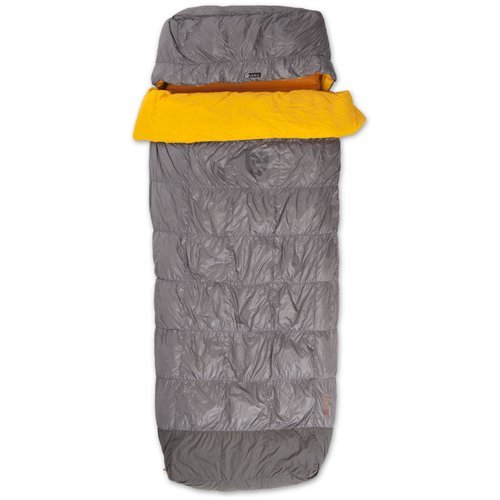 Material: shell 20D nylon fabric with a DWR finish, footbox 15D OSMO DT W/B (DWR), lining 30D nylon ripstop
Insulation: 700-fill hydrophobic down gives the bag a 30-degree temperature rating
Waterproofing: DownTek,  it will maintain insulating properties if the the bag happens to get wet
Shape: rectangular
Zipper: none
The bag is fitted with a waterproof, breathable footbox
We'll uncover comprehensive details about this product below. As an outdoor enthusiast, we're certain about what you're looking for and can confirm that this sleeping bag features the properties you're probably looking for. We've further discussed the similar models and competitors to help widen your choices.
Review
Packaging
Upon purchasing this sleeping bag, you will receive the 1.5 ounces stuff sack in which you can store the bag. It will come with all components such as the elastic foot-box and the detachable hood. And you should expect a rectangular and roomy shape that is big enough to accommodate even the obese people. Its roomy dimensions help create enough ventilation in warm weather conditions.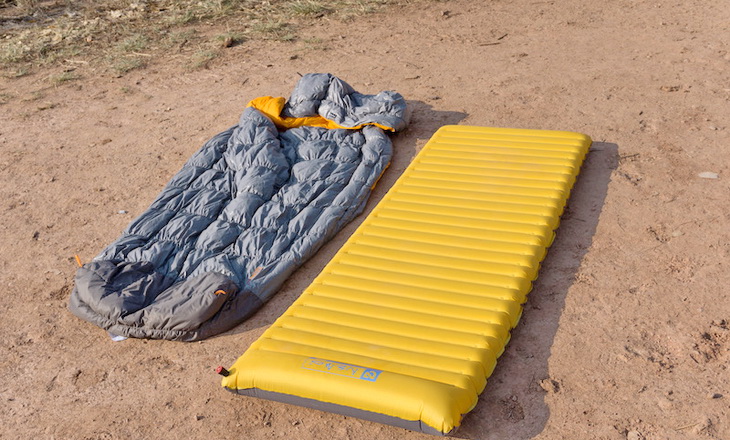 The manufacturer recommends mating this product with the sleeping pad since it is a "backless" design so that you can survive the freezing snowy surfaces. NEMO provides a variety of two sleeping pads, the Cosmo Insulated Lite or the Astro Insulated Lite. But other sleeping pads of the same size and dimensions can still be compatible with this sleeping bag.
Design & Durability
From the outer shell, the fabric material is made with the 20D nylon ripstop that is coated with the DWR (Durable Water Resistant). This water resistant coating helps repel water in case precipitation penetrates your camping tent to your sleeping bag. Because most materials are being damaged by water, this DWR extends the durability of this NEMO sleeping bag.
Furthermore, the footbox is made of the 15D nylon ripstop and the lining material with the 30D nylon ripstop as well. These employ the waterproof membrane that protects the build-up of moisture that could jeopardize your warmth or damage the material. The membrane is also breathable to help deter accumulation of body sweats.
It also has the microbial properties to prevent the formation of odor. Our bodies are often subjected to too much of perspiration when we feel the heat. As a result, the sleeping bag may contract that sweat which will eventually result with odor-causing microorganisms.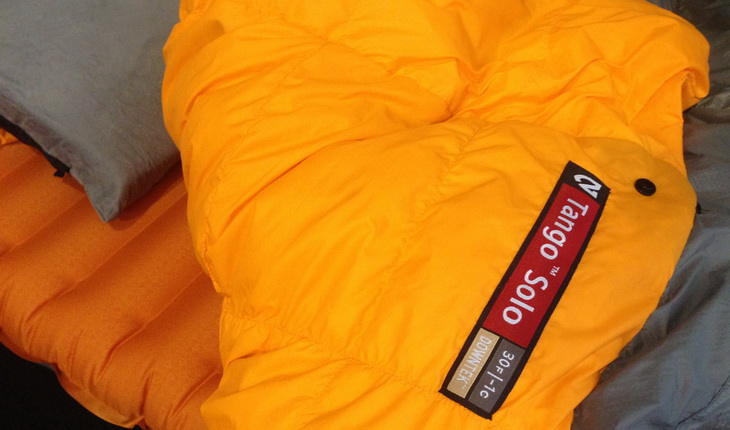 Design-wise, this sleeping bag is rectangular in shape. This shape provides enough room for various body-types to feel comfort when sleeping in it. It also has a size of 6'4" to accommodate even the tall ones. Furthermore, if you like to wiggle around and sleep in any desired position, this roomy design will surely accommodate. No more experiencing the annoying constriction as it is with other sleeping bags.
If you're camping in summer amid hot temperatures, the hood can be detached to let more air inside the sleeping bag. It can be snugged well in winter. The box baffle construction also helps regulate the inside temperature. For more ventilation, you can lift your limb to let enough ventilation if you feel more heat. That's the benefit of a roomy rectangular design.
To survive the extremely cold surfaces, NEMO recommends mating this sleeping bag with the sleeping pad of dimensions 20 x 72 and 25 x 76 inches. To conveniently attach any of these sleeping pads, the sleeping bag has provisions in terms of the D-rings sewn at the hip level and at the side of the bag so that the pad can be tightened with ease.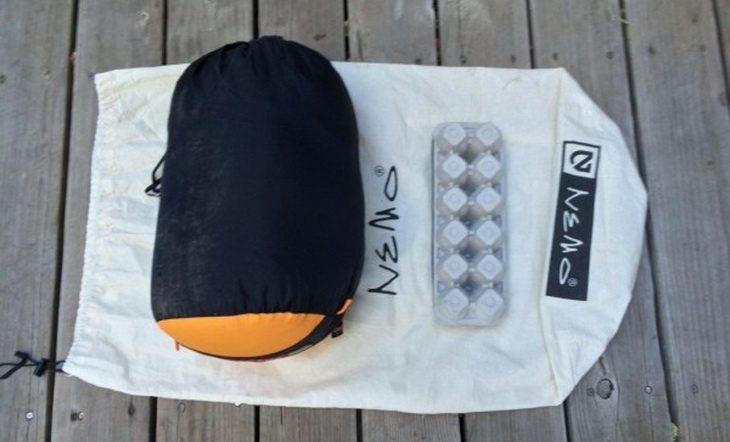 The foot-box also the provision with the bright orange hang loops to attach the sleeping pad with ease using its retainer cords. Even the hood has the two hang loops to add to this convenience of attaching any sleeping pad. So, feel free to effortlessly attach the sleeping pad of your choice.
Keep in mind that this sleeping bag has a backless design. That being said, the sleeping pad turns out to be a requirement not an option if you are to survive the temperatures near freezing point. And the roomy design enables you to even sleep with other insulated outdoor clothes if the temperatures are really bad.
Insulation
The notable feature that turns out to be the selling point for this sleeping bag is the insulation type. You probably know that we have varying types of insulation materials with the Down topping the list among synthetic materials. Down can be that of the duck or goose. Either way, it has excellent insulation properties that are unmatched with synthetic insulation fabrics.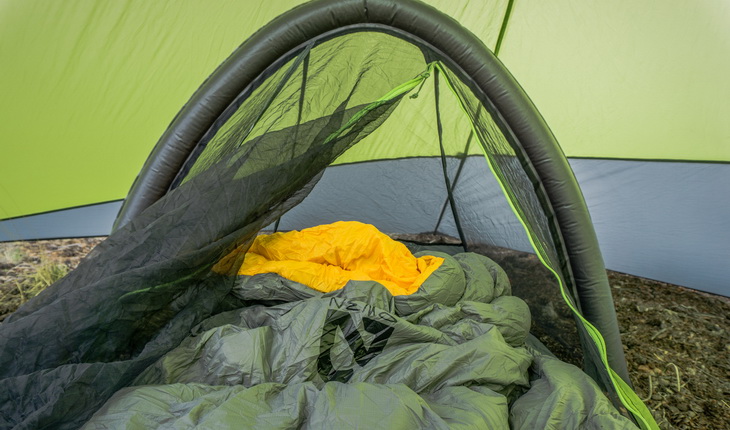 The NEMO sleeping bag features the DownTex technology with the Down Fill Power of 700. This is high enough to survive the harsh temperatures. Camping with this sleeping bag is a great choice because of its 30 degree temperature rating combined with an excellent Down Fill Power. We know that Down has great properties until it gets wet; that is when it loses its loft and comfort because it can take time to dry.
However, to offset this inconvenience, NEMO has employed the nanotechnology DownTex to retain the properties in the wettest weather conditions. It makes this sleeping bag a good choice and preference in a broad variety of conditions.
Warmth
NEMO Tango Solo sleeping bag is notably and competitively warm compared to other ranges of traditional sleeping bags. This is, of course, enabled by its Down Fill Power of 700. It makes the sleeping to be relatively warm to survive cold weather conditions. The hood provides ample warmth in winter.
Whenever you feel too much of the heat, you can detach it. It is also unnecessary to wear thick socks because the insulated foot-box can keep you warm. More warmth is further provided by the sleeping pad, although, sold separately.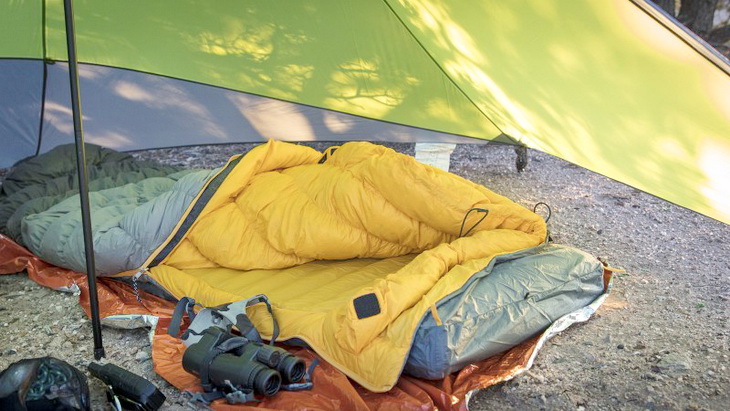 This NEMO sleeping bag has a temperature rating of 30 degrees. It is sufficient to keep you warm in in frozen weather conditions. However, there is a drawback to the large dimension of this sleeping bag. Because it has a large rectangular size, there could be some cold spots and the bag might not retain enough body heat for insulation.
It is however comfortable because you can turn your body to any direction. But this larger size is a privilege to wear other clothes whenever sleeping in this sleeping bag to boost the warmth.
Comfort
The large blanket-like baffle that can tuck in at your neck to enhance warmth, is a plus of comfort to this sleeping bag. Furthermore, the Down insulation is known for its high loft and cushioning. That is an added advantage to the comfort as well. When sleeping, you won't see the difference between sleeping with the comforter at home and sleeping in the wilderness with this sleeping bag. The company has strived to eliminate the difference.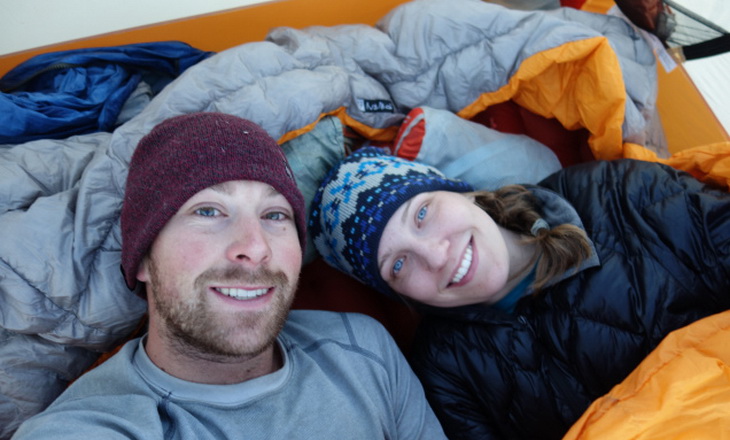 The other notable comfort with which this sleeping bag wins is the larger size, which enables wearers to wiggle without restrictions. Many sleeping bags are constrictive. So they make difficult to even turn your body around at night. Even if you feel the heat, it becomes hard to lift your limb. The NEMO's larger size is a great feature to provide you comfort regardless of how big your body is.
Water Resistance
Almost every outdoor essential tool has water resistance property due to the inescapable precipitations. But this water resistance comes with strengths. The water resistance of this NEMO Tango Solo Down sleeping bag is seen in its DWR coated outer shell. The 20D nylon ripstop is coated with water resistance so that water can be repelled from penetrating to the inside. However, keep in mind that water resistant coating can fade over time. As thus, you are advised to keep observing it so that you can revive it.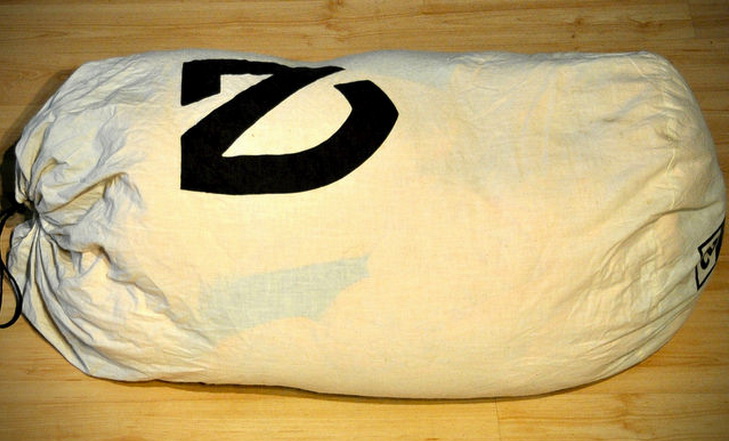 But it can be difficult to even spot the fading water resistance coating because of the waterproof membrane of the DownTek, unless you observe the water absorption. More water resistance is being provided by the waterproof foot-box and the lining membranes. These membranes are also porous to let moisture escape but thick to restrict water molecules from penetrating them. So, if you're camping in a backcountry notorious of precipitations, you shouldn't worry with this sleeping bag.
Value for Money & Guarantee
Purchasing this sleeping bag is indeed a great value for money. To purchase it, you might spend approximately $300 with free shipping. But it can cost more to include the Nemo Cosmo sleeping pad for approximately $200. It is highly recommended to pair it with the sleeping pad to improve its warmth when sleeping on colder surfaces. A wide range of sleeping pads with the recommended dimensions can be bought. But we recommend using the pad with the appropriate R-value to match with the sleeping bag.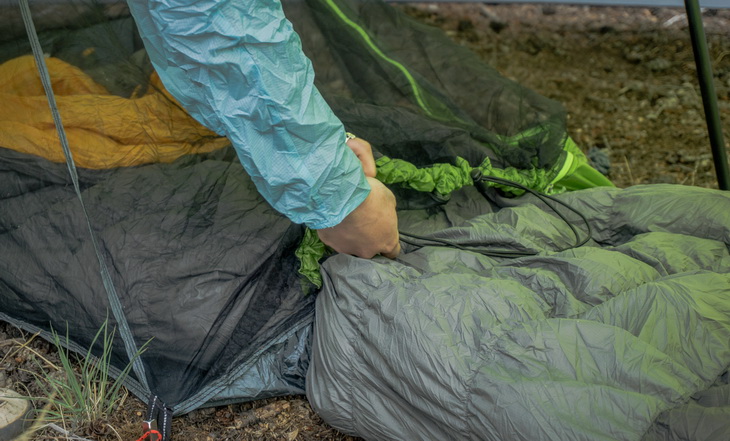 In terms of guarantee, there is no mention about guarantee being offered. But we are confident that the sellers somehow have a warranty for defect products. NEMO is a big company, so it's highly unlikely that there's no warranty. In case the sleeping bag gets defects, you can return it and contact their customer service. Even on Amazon, there is guarantee for such faulty products.
Unique Features
There could be hundreds of sleeping bags on the market. However, their identities differ. This sleeping bag is made unique by its unrivaled features. The following are the remarkable, unique features:
Packability: Its packed size is 15 x 10 inches in diameter and the compressed volume is 6L. These make it easy to pack and travel with the bag.
DownTex insulation: Down Fill Power alone is insufficient to survive all conditions. If, for example, it gets wet mistakenly, it will take longer to dry and loft and comfort will be lost. The DownTex is a nanotechnology used to help retain the high loft and comfort of Down even in the wettest conditions.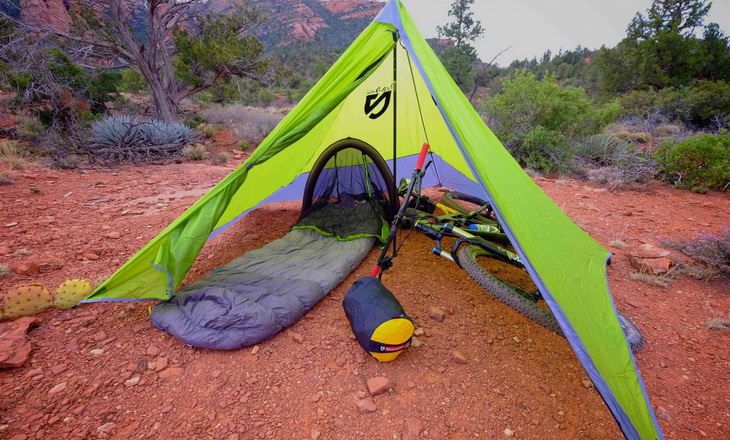 Rectangular Body: The rectangular shape makes provisions for larger dimensions to accommodate a wide range of body sizes. Its 6'4" size accommodates tall and short people efficiently. The shape further allows one to wiggle freely and comfortably at night without any constriction.
Detachable Hood: The hood helps one regulate the inside temperature. If it's summer and hot, you can detach the hood to let more air. You can easily attach it whenever it's cold. This is a rare feature seen in other sleeping bags.
Similar models or competitors
NEMO Moonwalk 
The NEMO Moonwalk sleeping bag is the similar model or competitor from the same company. It comes with the drawstring collar that helps seal the heat to keep you warm.
The sleeping bag doesn't have the hood so this reduces the weight, thus making the product to be ideal for ultra-light hikers. However, this could be a drawback if you want to let your head to wiggle.
Unique to this sleeping bag is the waterproof tub design which enables it to be used directly on the ground. This is a better feature compared to the Tango Solo Sleep System which has a backless design, making it impractical to use directly on the ground.
The pad sleeve can be loaded from above to maintain the waterproofness. So, if you're looking for a hoodless and light sleeping bag, this design could be suitable for you.
NEMO Verve 20 
This is yet another product by the same company. The NEMO Verve 20 features a spoon shape at the knees and elbows to help you with side sleeping, and also helps you move your legs well.
And if you need to store some valuables, it comes with the cotton storage bag to provide an ample storage. You can pack this sleeping bag on the go in the included drawstring stuff sack.
Even though from the same company, it comes with the Strato-fiber synthetic insulation, that provides the best warmth and moisture resistance. A synthetic insulation competitively offers great features too, and dries quickly if it gets wet.
However, the Tango Solo sleeping bag emerges as the best with its DownTex Fill Power of 700. Higher Down Fill Power is much better than synthetic insulators. It has a high loft and an unmatched comfort. It is also more durable. So, if you're looking for a natural insulator, the Tango Solo Duck Down sleeping bag is ideal for you.
NEMO Concerto 
Unlike the NEMO Tango Solo sleeping bag, the NEMO Concerto comes with the integrated sheet, and has a temperature range between 20 to 80 degrees Fahrenheit. It also has a built-in pad sleeve to easily fit in the sleeping pad.
The Tango Solo sleeping bag has the D-strings wherein you can attach the pad retainers. Because of the integrated sleeping pad sleeve, you can even pack this sleeping bag with the sleeve inserted.
With regard to insulation, they both have the same 700 FP DownTek Down. With this fill power, it is hard to differentiate that which one is the best among the two. But with the temperature rating, the Concerto sleeping bag emerges as the winner.
They both fit up to 6'4", thus accommodating short and tall people. The compression volume of this sleeping bag is 13L compared to the 6L of the Tango Solo. The Tango Solo sleeping bag is the lighter one between the two.
Overview
NEMO Tango Solo is a great tool for every enthusiast of outdoor activities. Wherever you want to camp, having this sleeping will make your sleep even more comfortable. It features the 700FP DownTek Duck Down that provides the best insulation to survive the harshest temperatures. Down is known for its downside of losing loft and comfort when wet, but with the DownTek nanotechnology, it retains comfort and insulation.
For those who enjoy sleeping in various positions during the night, this sleeping is an ideal solution for them because of its spacious rectangular shape. It fits up to 6'4" so that tall people can easily be accommodated. And to let in enough air, the hood can be detached. The larger size also helps lift your limb so you can let in ventilation. It further offers the best comfort so that you do not sleep constricted.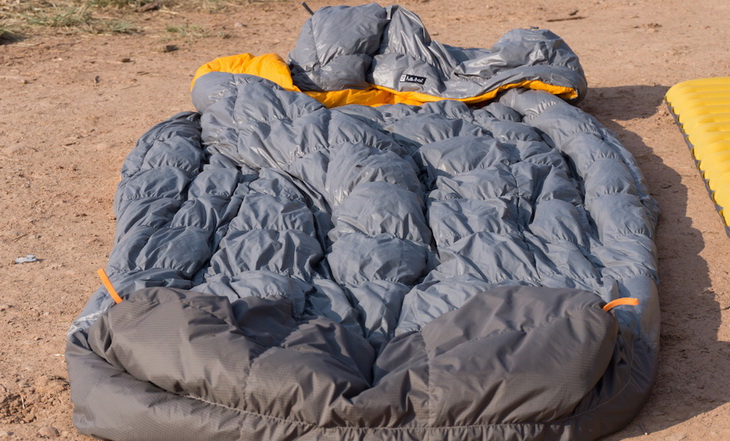 The sleeping bag is also water resistant. The outer shell, made of the nylon ripstop, is coated with the DWR to repel water. The foot-box and the lining material employ the waterproof and breathable membranes. DownTek also features the microbial property to deter odor-causing microorganisms.
Pros:
Spacious rectangular shape
High DownTek Duck Down of 700 Fill Power
Detachable hood to control ventilation
Water resistant shell fabric
Waterproof and breathable foot-box and the lining fabric
Fits up to 6'4" to fit tall people too
Has D-strings to attach the 25-inch sleeping pads
Cons:
It is expensive
It is relatively heavy in weight compared to ultra-light sleeping bags, but lighter than traditional sleeping bags
Backless design makes it hard to use this sleeping bag directly on the ground without the use of the sleeping pad
Larger size not providing enough warmth
We've provided you one of the best NEMO's sleeping bags that are indispensable for your outdoor adventures. To make your search even more enjoyable, we've provided you the similar models by the same Company, although, with different features because NEMO is the largest manufacturer of outdoor essentials.
Nemo Tango
Packaging

Design & Durability

Insulation

Warmth

Comfort

Water Resistance

Value for Money & Guarantee
Summary
NEMO Tango sleeping bag is a great deal for the outdoor hobbyists looking for a larger size to wiggle around during the night.
It's also a great investment for those looking for a Down-filled sleeping bag that is well-insulated and comfortable. Its relatively expensive price of approx. $300 is infinitesimal considering the superior features that it has.

Did you use this sleeping bag before? If yes, we would like you to share your experiences with our readers below.