Never undermine the importance of a good sleeping bag. It determines how much you are going to enjoy your nights during the period you are camping. A good sleeping bag is not determined by price or brand, but rather by the features it offers.
Slumberjack Country Squire O Sleeping Bag is one of those highly affordable sleeping bags, yet has all features you need for a good night's sleep. While purchasing a sleeping bag, you do not need to spend a lot of money to get the best. There are many different brands some that are cheap but offer all the desirable features.
Product Specifications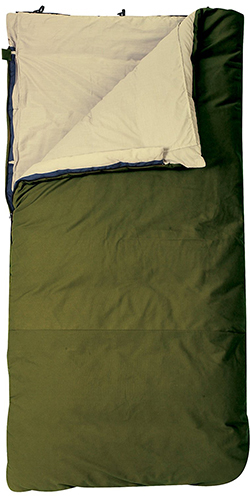 12 oz. Cotton Duck

13.5″ high and 

13.38″ wide

Big Timber is a perfect reminder of how comfy you can be camping, this sleeping bag provides the ultimate camping experience with warmth & comfort
Slumberloft Synthetic Insulation will keep you warm and dry on even the coldest of nights in this rectangle sleeping bag
Comfort Top folds forward and provides bed like comfort, features a buffalo plaid flannel liner, feels like home
Double Bag Compatibility zip two bags together to create a double sleeping bag
In this review, we are going to look at the reasons why it is important to focus on the elements other than brand name and price tag and we are going to go over the Slumberjack Country Squire O Sleeping Bag and show you why it might be a great fit for your next outdoor adventure.
We will also show you some similar products so you can compare them to this particular sleeping bag. Lastly, we will give you a complete overview of the sleeping bag to ensure you get all of the necessary information.
Review
Packaging
Even with all these desirable features, you should be aware of the Slumberjack Country Squire 0 bulkiness. It is heavy and hence adding quite some weight to your entire luggage. It is also quite expensive compared to other rectangle and sleeping bags with similar features.
This bag concentrates on campers who are looking for a comfortable and warm bag for colder areas and seasons and hence the expensive price tag.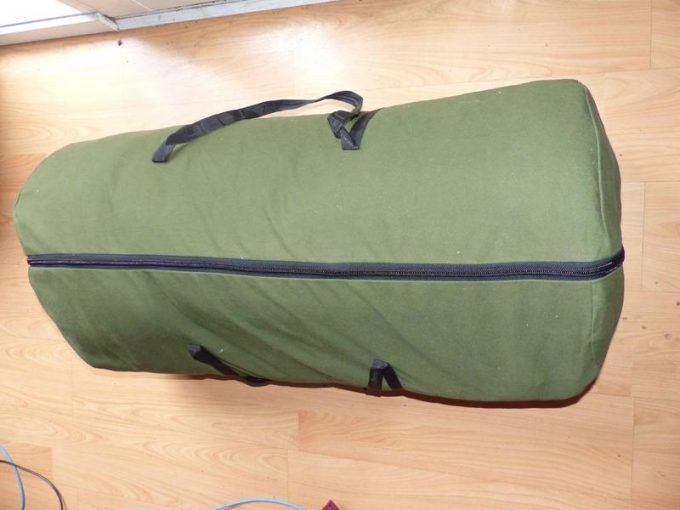 The packaging will weigh over 6 pounds upon purchase and will have dimensions of 2 x 84 x 42 inches. Inside, you will find your sleeping bag wrapped to protect the Polyester and Canvas shell and heavy duty zippers. You will be able to store it in the stuff sack, which is 17 x 40 inches.
Design and Durability
The bag is durable and has strong zippers; however, many people find it a bit irritating because it is not easily packable. Others still complain of the bag of not being 100% waterproof. However, you can rectify that by using a waterproof carrying sack. Also, it only comes in one color: Green.
With the loose sheet, it's the best feature that makes this sleeping bag easy to maintain cleanliness. All you need is clean the sheet once you get from your trip. The bag also features toggles and elastic loops which are designed to roll up and secure the removable duffel. The Velcro zipper folds itself easily, leaving no prickly sides exposed.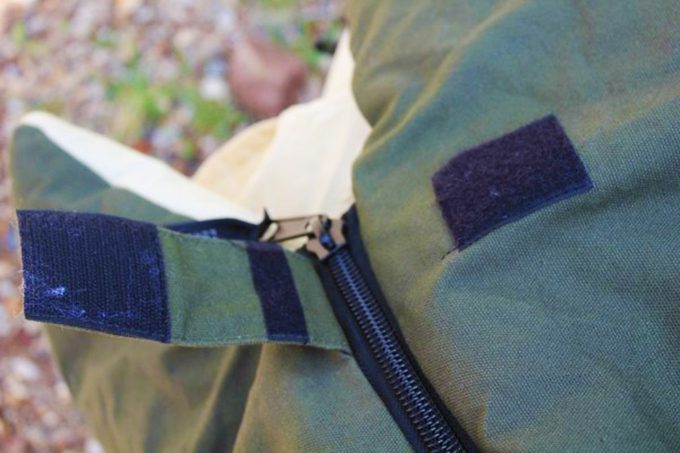 Considering the construction and the features of this bag, it is most suitable for use in freezing areas or while camping during winter. The durability of this bag makes it worth its price. Its temperature rating doesn't allow you to wear excessively warm clothing. It has synthetic insulation and enough zippers to keep off the cold.
According to owners to this bag, it is the best choice if you are looking for comfort without necessarily having a sleeping pad. Also, if you are looking forward to sleep in the same bag with your spouse, then this is the go-to bag. However, if you want much room to yourself, you can still do so.
Comfort
Slumberjack Country Squire O Sleeping Bag offers rustic comfort and feels like almost sleeping in a cozy bed with warm and thick blankets. It is vast and broad hence can comfortably fit people of different sizes and shapes. It can even fit two people, so if you are a couple, this should be the best sleeping bag to purchase.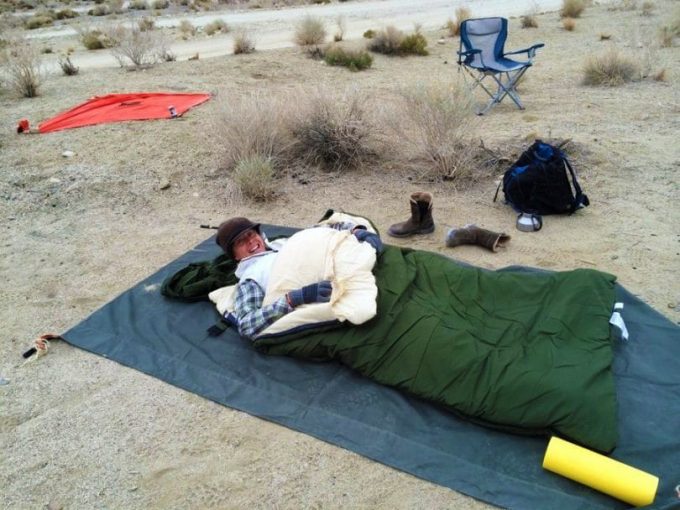 It has a loose sheet, which is a unique feature specifically for this sleeping bag. Its level of comfort allows you to use it without necessarily having to use a sleeping pad. The comfort and the warmth are enhanced by the insulation used in this bag.
Insulation
The top of insulation of this sleeping bag simply cannot be overlooked. This big, comfortable sleeping bag has Slumberloft Synthetic Insulation that keeps you cozy warm all through the cold night. Users could not rave enough about how cozy warm this sleeping bag is during a freezing night of subzero temperatures.
The shell fabric is made of Cotton Duck, as well as the liner fabric made of a blend of polyester and cotton. There is no doubt that you are going to sleep warm through the night!
Ease of Assembly and Use
There really is no assembly required when it comes to the Slumberjack Country Squire, as it comes ready to go. Of course, you can always wash it first, namely the inner lining sheet that detaches before you use it. Using this sleeping bag is as simple as pie. All you need to do is climb in, zip up, and get cozy warm!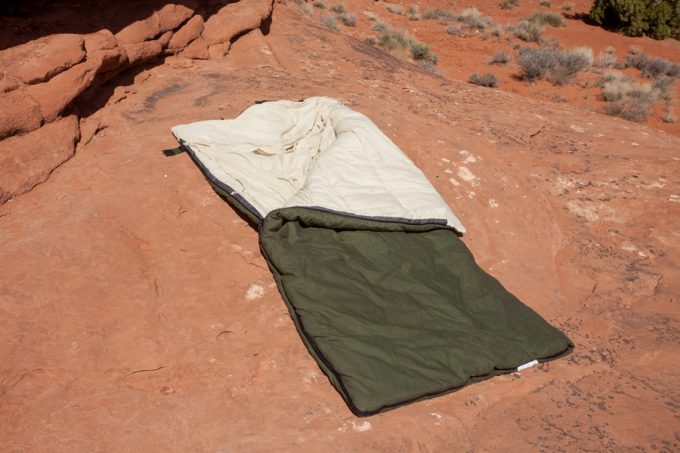 You can use the duffel bag portion to prop your head up, or you can detach it and use your own pillow if you wish. When you are doing using it and are ready to wash it, simply detach the inner lining sheet and launder it! Using this sleeping bag is a breeze!
Temperature Rating
The temperature rating for a sleeping bag is a temperature in which your sleeping bag can keep you warm. For example, this sleeping bag has a zero degree Fahrenheit temperature rating. That means it will work down to the temperature of zero degrees.
It will work best at temperatures between that and about 50 degrees Fahrenheit. Always check the temperature rating and consider the temperatures of where you plan to hike, camp or backpack.
Manufacturer Recommendations
While this may be a 4 season sleeping bag, you may find yourself too warm during hotter months. You can always remove the inner sheet, but with the type of insulation, you can find yourself warm, and may want to use a less insulated sleeping bag for those hotter nights.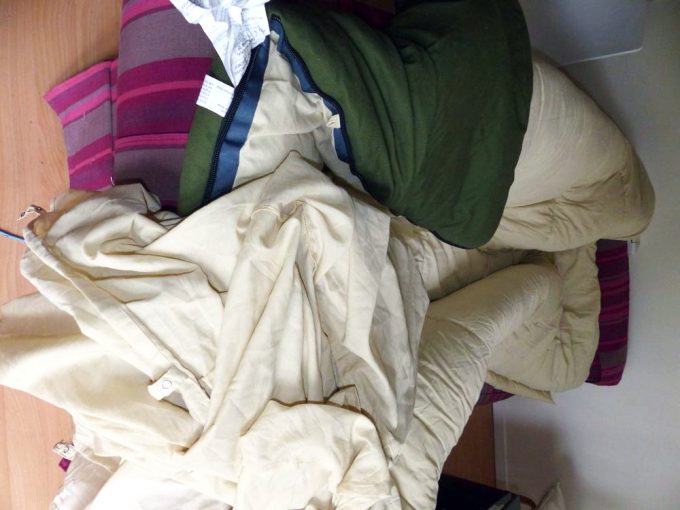 Or, you can simply peel back the top layer and use the sheet as your blanket. This particular sleeping bag does come with a Limited Lifetime Warranty, so you can rest easy if it happens to become defective for whatever reason. The manufacturer states that this sleeping bag will comfortably fit a person up to 6 feet, 6 inches tall. Those big and tall can appreciate this sleeping bag.
Value for the Money
As always, there are going to be sleeping bags that work in freezing temperatures that are cheaper. But you have to compare the features and ultimate comfort and warmth that you get from a sleeping bag. You do not want to be caught in freezing temperatures with an improper sleeping bag.
Not only will you be cold, but you can suffer from frost bite as well. Overall, with the great features this sleeping bag has, as well as the materials from which it is made, it is definitely a good value for the money. Also, it was named Outdoor Gear Lab's Editors Choice in sleeping bags.
Similar Products
Below are three reviews of similar sleeping bags that could compare to the Slumberjack. Check out the features that these sleeping bags have and compare them with those of the one we are reviewing. This will give you an idea of what you can find in stores as well as online, plus some features that the Slumberjack may or may not have.
Grizzly by Black Pine Sleeping Bag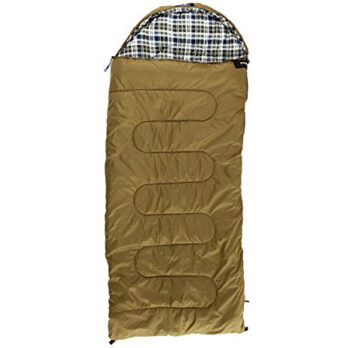 The Grizzly by Black Pine Sleeping Bag is very warm, comfortable and strong enough to withstand a beating. Extremely spacious, this sleeping bag has a big hood that is attached for extra comfort and warmth at night. You can even stuff it with pillows for an extra bit of head comfort.
With a temperature rating of -25 degrees Fahrenheit, you can literally take this sleeping bag to some of the coldest places and remain warm as if you at home in bed. The insulation is made of micro fiber, along with a lining made of flannel, so you stay cozy for the entire time you are zipped in.
The big draft tubes will keep in the heat and block the cold air from coming inside. A couple down sides were that users who were taller, thought the sleeping bag was a few inches shorter than stated. Not only that, users say it is too bulky for their washing machine, so they got it professionally cleaned.
Plus, if the temperature is over 50 degrees, you may feel too warm inside. Users like this sleeping bag because of the flannel lining and micro fiber insulation, which kept them cozy all night. The zippers do not snag and they work flawlessly.
The inside is spacious, so you do not feel too confined within, and the thickness offers a padding if you happen to not have a sleeping pad with you. Finally, the price was the clincher, being affordable and worth the money for the value.
Teton Sports Celsius XXL Sleeping Bag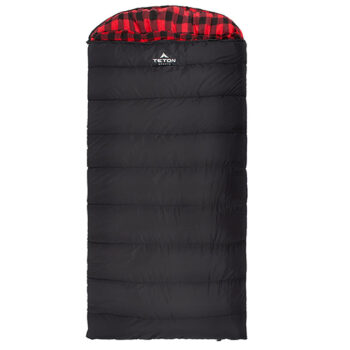 The TETON Sports Celsius XXL Sleeping Bag has a few neat features that you do not see everyday. First of all, you can choose this sleeping bag depending on what your dominant hand is, with the Left Zip or Right Zip option.
Next, you can choose from 3 colors, which are Black with a red pattern inside, Gray with a red and white pattern inside, or Olive Green with a tan brown color inside. Not only that, but it comes in various sizes, from Regular up to Mammoth size. We will be talking about the regular version.
This sleeping bag also features the option to attach to another sleeping bag, as well as contains internal pockets so you can store small items like your wallet. The shell is made of taffeta, and the inside is all flannel, with strong zippers that are snag free. A small, but nice feature is the curved hood, where you can place a pillow if you wish.
Users loved the comfort, warmth, optimizing features, colors, and size. There is a lot to love about this sleeping bag. The pricing is incredibly decent for how much his sleeping bag offers. However, some users say the sleeping bag will slide a lot if you change positions. To solve this problem, you can bring along a sleeping pad, which will provide more padding and keep your bag in position.
Wenzel Grande Sleeping Bag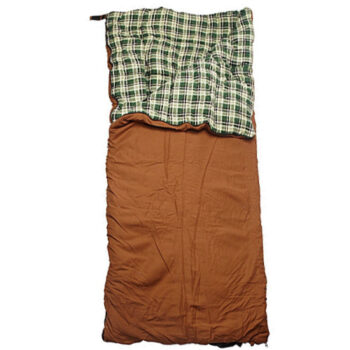 The Wenzel Grande Sleeping Bag is a big sleeping bag that means business. It has a temperature rating of zero degrees, and is insulated with Insul-Therm filling that is non-allergenic. The interior lining is made of plaid, which will add a little more comfort to the sleeping bag.
This bag also has a 2 way coil zipper and can be put inside of the stuff sack and attached to your backpack with ease. Perfect for high altitude camping and hiking, you will stay cozy and warm as you rest from your day's journey. Users love this product because it can be zipped to another sleeping bag to make a double sized sleeping bag.
It also unzips all of the way and the 2 way zippers lets you vent it out when you feel too warm. If you feel cold, let that 6.5 pounds of insulation keep you warm once you zip yourself in. With this perfect pricing, you will not be disappointed.
Some users complained that it was too warm, and should not be used above temperatures around 50 degrees Fahrenheit. A few users thought the sleeping bag was simply too big to use, and too heavy. If car camping, this will take up a little more than one full seat, so you need to make sure you have the space for it. Otherwise, many users had fantastic things to say about this product.
Overview
Users could not rave enough about how comfortable and warm this sleeping bag turned out to be! Even on nights where the temperature was close to zero degrees, uses were toasty warm under the covers of this product.
For those users who used it on warmer nights, they often used the liner sheet with the top portion of the sleeping bag unzipped, which provided them a more comfortable night's rest. Users also raved about the durability of this product, as the materials are sturdy and strong, the zippers are heavy duty, among many other features.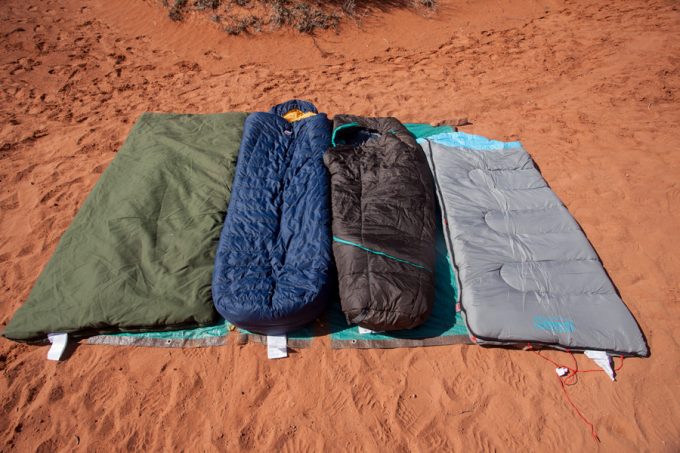 While the sleeping bag is big and bulky, and not exactly fit for backpacking, users still thought it was worth the price for what it offered, and they were not disappointed. It is made for 4 seasons, but more perfectly, fit for 3, plus, users loved how the sheet inside comes right out to be washed upon arriving home.
You can choose this model for many outdoor adventures and be completely satisfied. While this product is outstanding overall, like any product, it does have good and bad things about it. See below for the list of pros and cons of the Slumberjack Country Squire.
PROS:
Durable and Strong
Comfortable and Warm
Great for Big and Tall People
Heavy duty zippers with Anti Snag
Water Resistant
Less heat loss from draft tube
Rated temperature of 0 degrees Fahrenheit
CONS:
Very heavy
Can get hot on warmer nights
Not waterproof
Not for backpacking
Does not fully unzip
Somewhat pricey
We know it is not easy finding the perfect sleeping bag that works in all temperatures and seasons, especially one that has a temperature rating of 0 degrees. However, the Slumberjack Country Squire is beloved by many outdoor enthusiasts who have used this product in extreme weather conditions and stayed toasty warm all night long.
Slumberjack Country Squire 0 Sleeping Bag
Weight & Size

Packaging

Design & Durability

Comfort

Insulation

Value for the Money
Summary
While buying a sleeping bag, you need to give much attention to comfort, warmth, and luxury. The Slumberjack Country Squire offers you exactly that. However, like any other top quality product, or service for that matter, you should be ready to dig deeper into your pockets.
The excellent thing about this bag is that it is durable and you can use it for many years. As long as you maintain the right care for this bag, then you will use it for a long time.

Now that you have learned about this sleeping bag, and have seen some reviews of comparative sleeping bags, you can now make an informed choice on what product you will confidently purchase. With everything you have learned here, you are now informed enough to know what will work for you!
Do you own a zero degree sleeping bag? If so, where have you used it and still stayed warmed? How does it stand up against the Slumberjack Country Squire? Leave us your stories and comments about this product in the comments section below, as we know how important it is to hear from our readers.