The choice of sleeping bag can make a lot of difference, whether you are camping in the UK during hot summer weather or in the colder areas of Alaska. Western Mountaineering Summerlite Sleeping Bag is one of the best sleeping bags on the market.
However, before making your purchase, there are certain features this bag offers, that you need to consider.  Most sleeping bags manufacturers focus on minimizing weight.
Product Specifications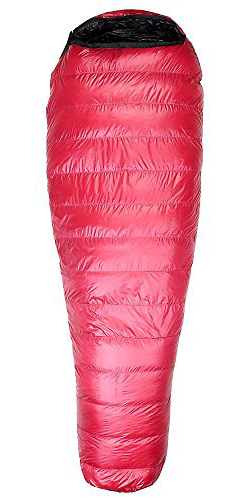 The Western Mountaineering Summerlite Sleeping Bag has insulated draft tube protects you from cold air interrupting your precious slumber.
It has 5 1/4″ Spacing/Continuous Baffles that encircle the bag from zipper to zipper.
This bag has 10 oz of down fill with 850 fill power.
The Western Mountaineering Summerlite has a narrow cut of 59/38″ Shoulder/Foot girth maximizes heat efficiency.
1 lb 3 oz total weight makes this Western Mountaineering's lightest bag with continuous baffles.
This bag has full-length #5 YKK Zippers.
Comfort is crucial no matter the type of bag you are looking for, therefore, we think that this bag might be a great choice if you are looking for superb weight to performance ratio, as well as quality to price ratio.
Review
Packaging
When you receive your new sleeping bag you will find that included are the mummy bag itself and a stuff sack to compress it down while out on the trail.  The stuff sack will get the sleeping bag down to an easily handable 6 x 11 inches.
While this is a great way to store a sleeping bag for use on the trail, it is not the best solution for long term storage between trips. The way you store your sleeping bag determines a lot how its lifespan will be. After a camping trip, make sure you unzip the bag and air it and ensure it dries completely.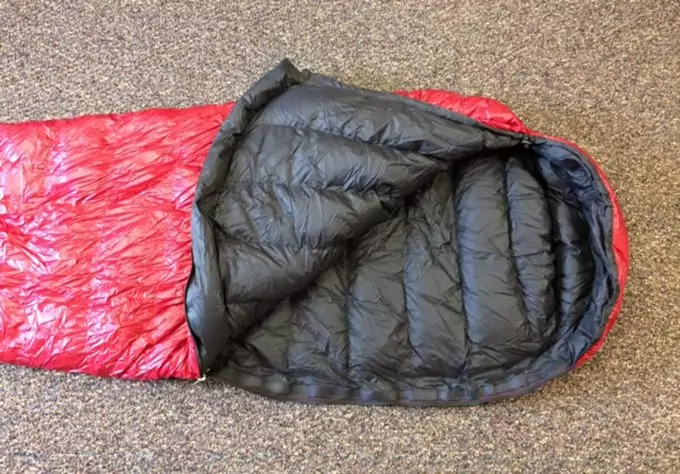 Store the bag loosely in a storage sack. This sleeping back set also comes with a cotton storage sack that will allow for this long term storage that will keep the sleeping bag ready for many adventures to come.
Design and Durability
Whenever you look at acquiring a new sleeping bag you want to be sure to select one that will last.  The Western Mountaineering Summerlite Mummy Sleeping Bag is a feather light and fully baffled traditional sleeping bag. Unlike many other ultra-light sleeping bags, this one has a hood and other features that miss in those other similar bags.
While purchasing sleeping bags, one gives a lot of attention to the features. The WM Summerlite sleeping bag possesses most of the features that a savvy shopper would look for in a quality sleeping bag. The most important aspect worth noting about this bag, however, is the nature of its zipper.
It has a Velcro on top of the zipper that not only enhances the zippers efficiency, but also prevents it from freezing your face. It also opens without a snag, a quality that many sleeping bag users are looking for in products.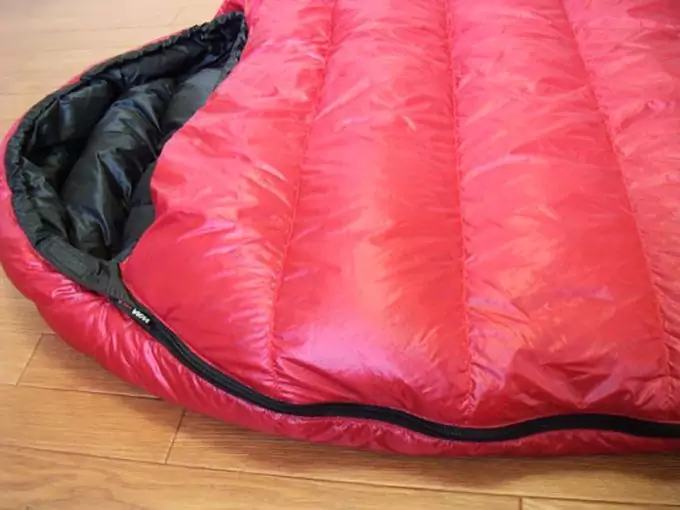 Western Mountaineering always strives to use top notch materials when they are constructing a sleeping bag, and the Summerlite offering is no different.  On a sleeping bag like this you expect to find fabric that is nice and tightly woven and stitches that feel secure and ready to last.  That is just what you get with this product.
As far as the overall design, as you would expect with a lightweight bag aimed at the backpacker, this is a mummy bag.  This means less air space to keep warm, but may also mean that you have less space to move around at night.  It features continuous baffles to try to keep the insulation right where you need it.
Insulation
The insulation in the sleeping bag is not meant for providing the heat, but rather minimizing the amount heat lost by your body while sleeping. A down insulated bag is water resistant, non-allergenic, dries fast and insulates when wet. Down insulated sleeping bag is more expensive compared to synthetic insulation.
However, it's more durable than the latter and maintains its heat-trapping abilities for a long time. The Summerlite is filled with up to 10 oz. of 850 goose down insulation.  This provides an all-natural material that will serve you well for years to come.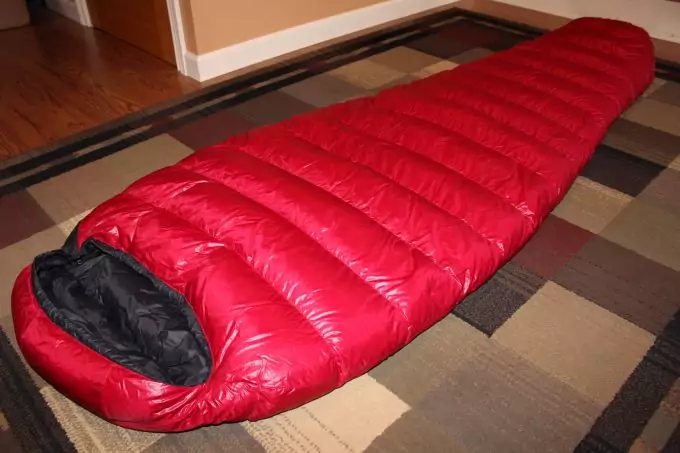 In addition to the baffles mentioned above, this bag features a draft tube that runs along the zipper to ensure that the warm air you have built up inside doesn't escape and leave you cold in the middle of the night.
Warmth
The next natural consideration is how warm a sleeping bag will keep you.  Luckily for you, most bag manufacturers use the European Norm testing protocol. The EN is an internationally accepted, most objective, and dependable standard or all sleeping bags.
These rules allow all manufacturers to produce standardized sleeping bags at a given rate. The ratings are useful in helping you choose the bags which are most comfortable in. Temperatures differ from one person to another and therefore the EN testing protocol should only be used as a guide.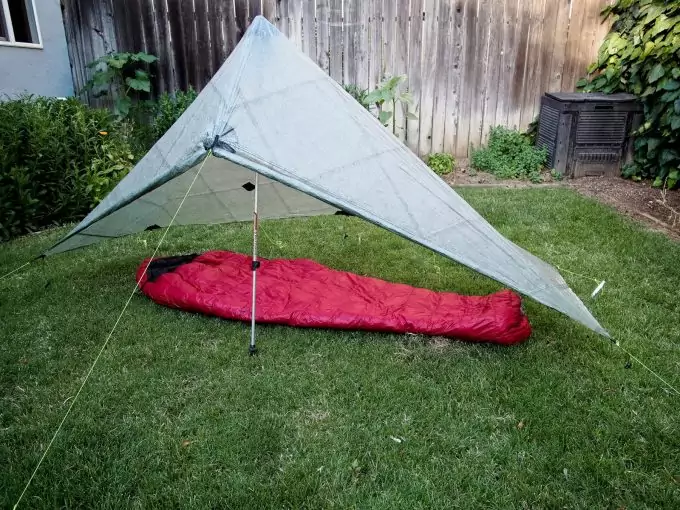 This bag has been rated to be comfortable at 32F, giving you a good range of temperatures to work with, but meaning it may not be the best choice for a winter sleeping bag. For instance, many owners of this bag have confirmed that they had carried the bag, intending to go camping in really hot areas.
However, as usual the unpredictable weather causes a drop in the heat degrees and still they couldn't find the need to sleep in warmer clothes since the WM Summerlite sleeping bag is warm enough. For this reason, you should consider purchasing this bag if you are going camping in an area whose weather you are not sure of.
Comfort
One of the most important things to consider when purchasing a sleeping bag, is comfort.  If you can't get comfy in a sleeping bag, how will you ever get to sleep?  The first step is to make sure that you can fit into a sleeping bag with a bit extra space or if you will feel constricted.
This model has available an option for a 5'6" long, a 6'0" length and a 6'6" long.  These may not always be available from every source though.  All three models feature a footbox of the same size, 38 inches.  The girth at the hips is 51 inches, for both the shorter models, with the 6'6" option giving you an additional inch around.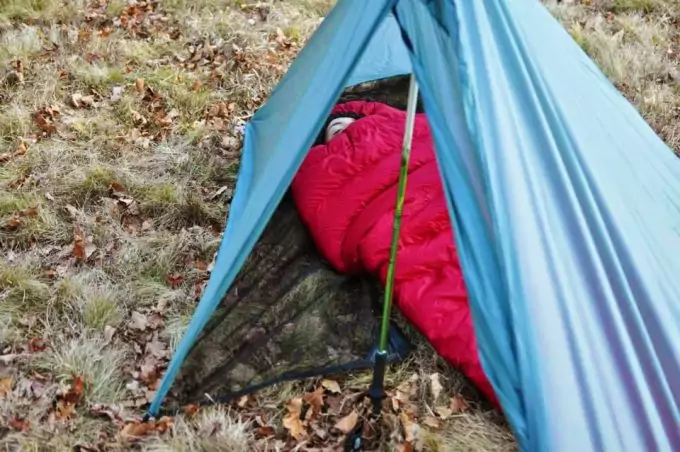 For the shoulders the first two models off a 59 inch girth and the longer adds an extra inch here as well. It has a bit narrow shoulders and might, therefore, is not the best choice sleeping bag for you if you have wide shoulders.
But if you are one of those people who love the bag to roll with them when they roll over in their sleep, then this bag makes a perfect choice.   The bag also offers a hood that can act as a pillow, your own preference on hoods will guide you if this is a bonus you can use like a pillow or just something that will get in the way.
Water Resistance
If you are headed out into the elements you always want to be ready for it to rain.  There is a wisdom in selecting various pieces of equipment that offer a level of water resistance.  Most sleeping bags only offer a low level of water resistance, though, so don't expect to be able to stay in them during a downpour, with no additional shelter.
The shell material for the Summerlite gives it a small level of water resistance more along the lines of dealing with humidity. Remember that with the down insulation you'll start losing insulation as the material gets wet.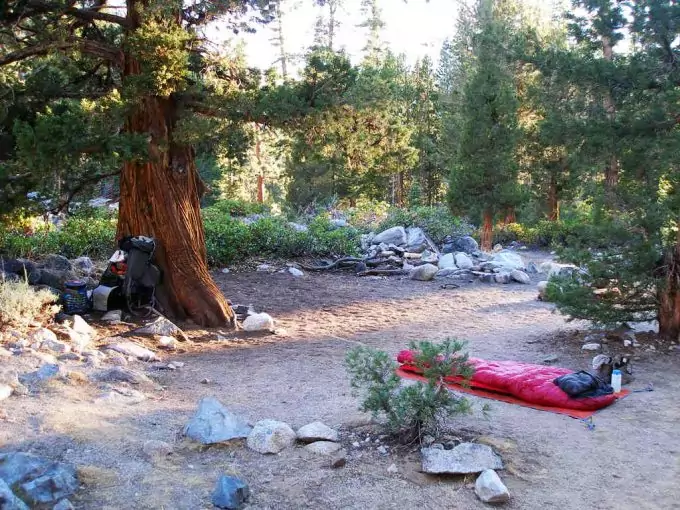 The stuff sack can add an additional of resistance, but it won't really keep you covered during a downpour.  It is best do keep it in your pack or your tent during a rain.
Value for Money & Guarantee
The Summerlite is a great choice for a three-season sleeping bag and when you factor in that it comes in at approximately $420 you will see that it is still a big value.  There is a wide range of sleeping pads that can be paired with this bag to both protect it from the ground and also to add another level of insulation and comfort.
Western Mountaineering offers a fairly substantial guarantee on their products.  Their website states that all of their products are covered against defects for an unlimited time.  While the guarantee does not cover normal wear and tear or improper usage, such things as punctures, rips, burn holes and the like.
They also state that they will only repair, clean items, so you'll want to be sure to properly clean your bag if you send it for repairs. You only give your sleeping bag a full-blown washing if it is losing loft or is being covered with grime.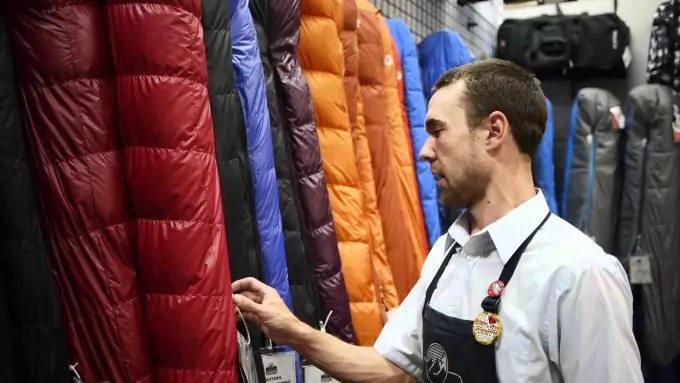 Before cleaning, make sure you go through the manufacturer's washing instructions and follow them to the letter. Use a gentle and non-detergent soap to clean your sleeping bag. It takes approximately three hours for the bag to dry completely.
Unique Features
Every sleeping bag out there will have some various features that they will claim make them the best choice.  You will have to determine what is important to you in a sleeping bag and then look for one that has those given features.  The Summerlite offers these:
Full Hood with Draw Cord – This bag has a full hood that can be pulled down snugly with the draw cord.  This adds some support as a pillow but also functions to keep some warmth in, to keep your head warm through the night.  This hood is not detachable.
Continuous Baffles – Every 5 ¼" you will find a baffle that encircles this sleeping bag from one zipper side to the other.  This is made to keep the insulation from drifting away and keeping it where you need it through the night.  This also keeps you from developing cold spots as you sleep.
Draft Tube – Insulated draft tube runs the full length of the zipper.  This ensures that you won't awake to a draft of your warm air leaving through the zipper.  It also means that shifting a bit won't result in a cold zipper pressing against your leg.
Packability – This sleeping bag is extremely light, packs small and is super soft, making it the most suitable sleeping bag if you want small luggage. The manufacturers had given much thought on comfort and weight when making this sleeping bag without compromising other important features.
Close Competitors
Western Mountaineering HighLite Sleeping Bag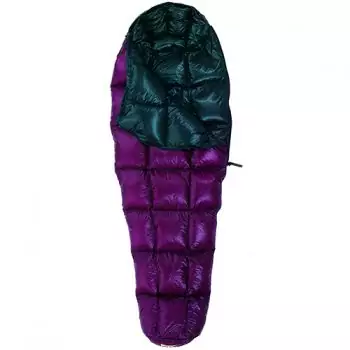 The Western Mountaineering HighLite Sleeping Bag is another mummy bag made to be lightweight and packable.  It offers you a number of choices, such as two color options, three height choices and even the ability to select if you would like to have the zipper on your left or right.  All of these choices help you get the bag that is just for you.
As far as sizes the length options are the same choices as those from the Summerlite.  It also seems to have the same shoulder and foot girth as the main bag.  If you found that bag to be too snug this choice may not be any better. Much like the Summerlite the HighLite is filled with 8 Oz. of 850 down to provide insulation.
Instead of continuous baffles, this bag, sports box baffles, which helps to keep the insulation from moving in two different directions.  The difference in the amount of fill means that this sleeping bag is only rated down to 35 F.  Also, this bag only has a half-length zipper.  Some people like this since it keeps more heat in the footbox.
Western Mountaineering MegaLite Sleeping Bag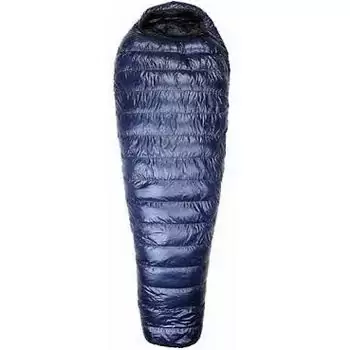 If you are on the shorter end, you can check out the MegaLite Sleeping Bag.  While this one doesn't offer any options for height, this one is only made for those who are 5'6" or a bit shorter.  This is another mummy bag, but this one offers a little bit more space inside.
The shoulder has a girth of 64 inches and that tapers down to a 39 inch girth at the foot. This bag is filled with 12 ounces of good down to provide more insulation than the SummerLite bag.  With those 2 extra ounces, this bag is rated down to 30 Fahrenheit.
This one sports, continuous baffles spaced the same as with the main product.  This one comes in at a mere 1 pound 8 ounces, so it offers you a lightweight option if you are shorter.
Western Mountaineering Versalite Mummy Sleeping Bag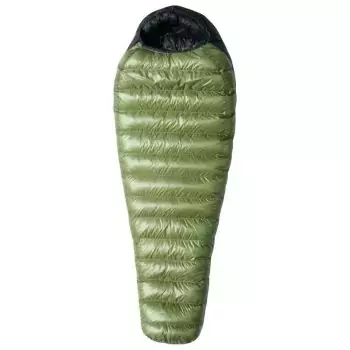 While it may be expensive, the Western Mountaineering Versalite Mummy Sleeping Bag will offer you quite a warm bag to see you through most any night out in the wild that you would care to take.  With 20 ounces of down fill there is plenty of insulation to keep your warmth in.
This bag is rated to keep you warm all the way down to 10 Fahrenheit.  Much like the Summerlite bag, this one sports, continuous baffles, to keep the down in place. With this offering, you have the choice of a 6-foot option or a 6'6" option if you are a bit taller.
The first option gives you a 62-inch girth at the shoulder and the taller, gives you 63 inches.  Both taper down to 39 inches at the footbox.  This will keep you warmer in colder weather plus offers you a bit more space if you are larger than the Summerlite does.
Overview
With all factors considered, this sleeping bag has proved to be effective and especially when you are looking to minimize the weight of your luggage. The manufacturers, Western Mountaineering, have been producing durable and reliable products for over forty years.
You can, therefore, rest assured that this sleeping bag is manufactured to standard and is durable enough to give the value for your money. The bag usually comes with a packing sack and stuff, which is an additional reason why you should consider purchasing it.
PROS:
Down Insulation (10 Oz. of Goose Down)
Full length zipper
Continuous baffles
Lightweight (Only 18.3 Oz.)
CONS:
Expensive
Snug for larger users
Full hood is not the most comfortable
Now that you know all there is to know about this phenomenal sleeping bag, it is up to you to make the decision to buy it or not. We hope that now you know if this model is fit for your outdoor adventures and that you will make the right choice.
Western Mountaineering Summerlite Sleeping Bag
Weight & Size

Design & Durability

Packaging

Insulation

Comfort

Value for the Money
Summary
The Western Mountaineering Summerlite Mummy Sleeping Bag is a solid choice for an average sized outdoor enthusiast, looking for a good 3-season bag. As a down filled bag it is a well insulated piece of equipment that if cared for properly will provide years of usage.
It is one of the warmest sleeping bags and features top notch qualities that that enhance its warmth levels. It is the most suitable type of sleeping bag for hikers who like a bag that incorporates a hood. It is also the type of sleeping bag to consider if you are going camping during the colder months of the year.

Also, if you have some questions related to this sleeping bag, or want to share some of your experiences with it with our readers, feel free to leave a comment or ask a question in the comments section below.