Choosing a sleeping bag for your camping or backpacking trip is not an easy job. In fact, it requires a lot of thinking and predicting the conditions and situations that you are going to have, and encounter while on your trip. Whether you are a novice or an expert in backpacking, a sleeping bag is a number one priority and a must carry whenever you are planning to embark on a backpacking tour.
After a long day's hike, you will need a place to lay your head, and without this Kelty Cosmic, it will be almost impossible to have a good night's sleep. Sleeping bags come in various shapes, models, and sizes, so you need to ensure you select one that fits your needs. You also need to know what features are essential if you are to enjoy your night outdoors. This article offers a guide to assist you select the best sleeping bag, as well as a review of one of the best products available on the market.
However, before everything, you should know your personal preferences in order to make the right choice. So the first thing you need to consider is the season that you require the sleeping bag for. Deciding this will point you in the right direction and it will significantly decrease your options, which in this case, is a positive outcome. After that, there are numbers of decisions that follow, that will ultimately make your choice tighter and smaller until you are left with only one sleeping bag.
Product Specifications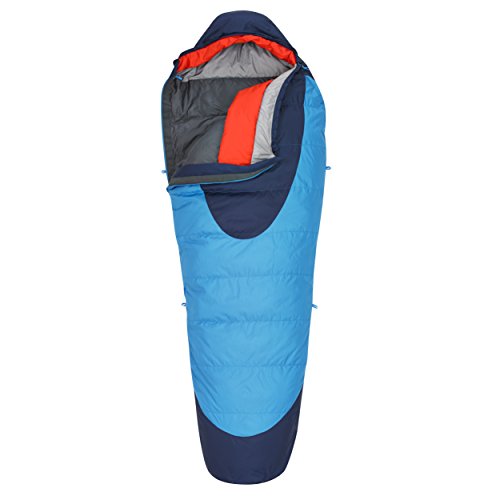 50D Down Proof Polyester/600 Fill Power DriDown

 treated to create a hydrophobic finish on each down plume, allows you to stay dry longer

Cosmic Down 20 Degree  DriDown means more moisture defense & quicker drying in the cold & wet, versatile for 3 seasons use

Imported

Outdoor accessories
Product dimensions: 8 x 13 x 8 inches ; 2.8 pounds
Shipping weight: 3.7 pounds
However, you could also skip most of these steps and go for the finale in which we offer one suggestion of one sleeping bag that will satisfy your summer needs. Below we have explained the most important features of the Kelty Cosmic 20 sleeping bag, and we have compared it with some other alternatives that come with most similar features. Hopefully, you will find this buying guide useful and it will assist you in making the final decision for the sleeping bag for your next camping of a backpacking trip!
Review
Packaging
Since it is a mummy shape, this sleeping bag doesn't take much space in the bag and it is not bulky at all. It comes with a compression bag which is really hard to use. However, stuffing the sleeping bag in the compression bag is hard for every model.  As for the weight of the package, it is around 2 lbs.
This means that it is a bit heavier than competitive models, especially from the synthetic sleeping bags that are meant to be used for the same weather conditions. All in all, this sleeping bag should not be considered as too much of a lightweight alternative which makes it unsuitable for longer backpacking trips.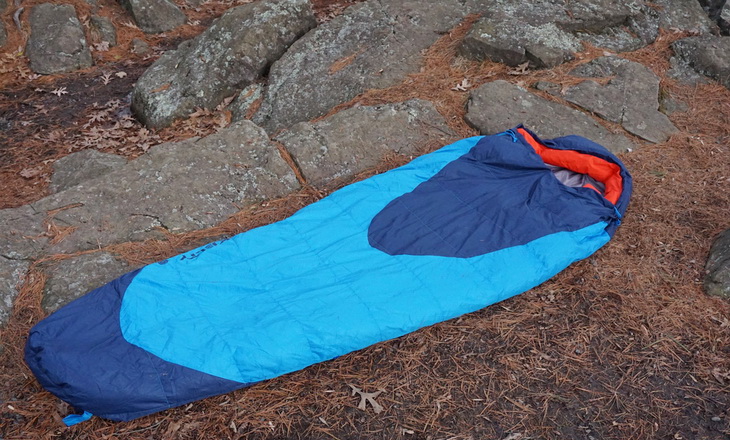 With it being a mummy shape, you should probably expect a bit smaller sleeping bag structure. However, this sleeping bag uses 600 fill down, which makes it a bit bulkier than other down alternatives. On the other hand, these are a lot pricier options. As far as this price range goes, it is lightweight enough and doesn't take too much space.
Due to its numerous features, the Kelty Cosmic Down is best suited for backpacking trips, car camping, trekking, and in other applications where a packed size and weight will not be an issue. It is a perfect introductory down quilt for the novice or backpackers who are on a tight budget. The bag is warm enough for use during summer at low to moderate elevations.
Design and durability
For the entry level gear, you will be very pleased with the down insulated option such as the Cosmic Down 20. The down material allows this product to be lighter, ensures a high level of packability, and provides more comfort compared to most synthetic models. The durability of this sleeping bag is outstanding.
Down is a material which is much more durable than synthetics which makes it better than synthetic sleeping bags. The design of the Cosmic sleeping bag is in a bulkier mummy shape which is perfect for shorter backpacking trips or moderate ones if you will.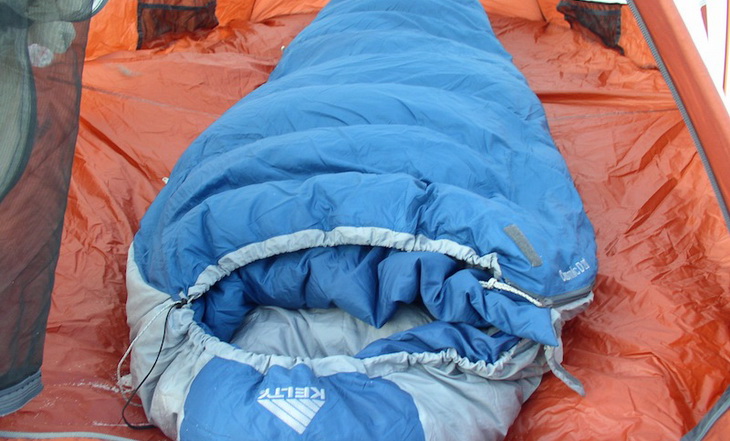 Because of the temperature recommendations, if you wish to use it for colder weather conditions, you could add another layer of clothes. The sleeping bag is large enough inside and you will feel cozy and comfortable even with a second layer added. However, the most impressive design feature is the zipper in the center that allows you to also use the sleeping bag as a warm blanket for when the temperatures go up.
Insulation
The insulation this sleeping bag offers is down filled. This means that it should be able to endure low autumn temperatures at least. This sleeping bag performs poorly in low autumn temperatures. It is because the down fill that is being used in the manufacturing process if of lower quality. However, this lets this product compete with the synthetic alternatives and it is the leader among them.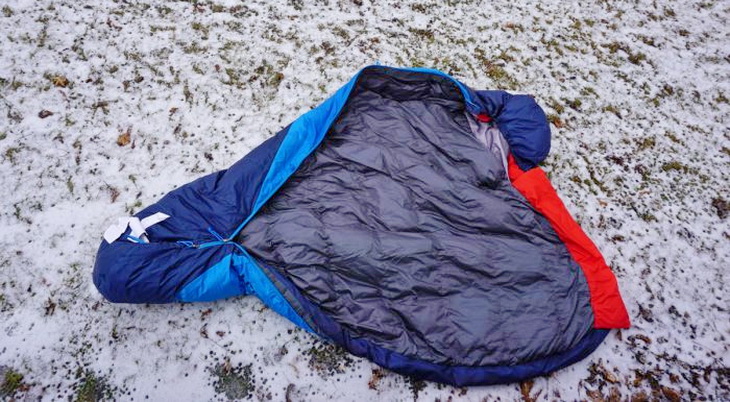 It is surprising that even the price is competitive comparing to its synthetic alternatives with similar properties. The down insulation makes this bag much more durable than the synthetic options and a lot lighter.
What is most important is that down insulation tends to keep the warmth inside the bag for much longer time than synthetic alternatives. The Kelty Cosmic 20 is being compared to synthetic alternatives because of the temperature limit and it beats each and every other synthetic sleeping bag option.
Warmth
Even though the Kelty Cosmic 20 sleeping bag has a down insulation it does not provide warmth enough to endure winter temperatures without feeling chilly. This sleeping bag is promoted as a 3 season bag. However, you would be much more comfortable in warmer weather conditions. Although this is not something that is common for down filled bags, the down used in the manufacturing process of this sleeping bag is with low quality, therefore its warming properties.
Nevertheless, you would be perfectly comfortable using this bag in spring or autumn weather conditions.  Sleeping bags with low warming properties usually have better breathability which is the case with this sleeping bag.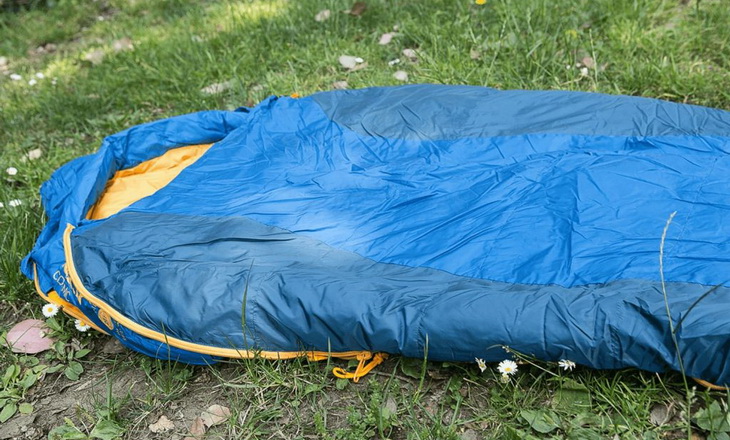 The product features a passive draft collar which certainly provides more warmth; if the bag didn't have this feature, there is a possibility that it would have been less warm. For the most part, the adjustable draft collars are warmer, but these components are not as comfortable as the ones featured on the Kelty Cosmic Down.
There is also a hood that is there to keep your body temperature. However, the hood doesn't do a great job protecting you from the cold temperatures outside comparing with competitive models.  On the other hand, it is the ideal solution for your summer or spring camping trips. As suggested in the name of the product, it works best at a temperature of around 20 F. Anything below that temperature would not feel as comfortable and as warm.
Comfort
The Cosmic Down offers wider than standard dimensions, offering a spacious interior where you can sleep. Side and stomach sleepers will love this gear because they can bring their knee higher compared to most bags, enhancing comfort while still resting in these positions. The spacious model is larger than average among the backpacking mummy bags models. For those who feel like the mummy-style are not suitable, the Cosmic Down might just prove you wrong.
Water resistance
The water resistance is also the biggest advantage of this sleeping bag. This is a surprising fact considering that down sleeping bags usually have no or poor water resistance properties. However, the Cosmic 20 sleeping bag uses Dri down, which is water resistant and is drying quicker than synthetic alternatives. This makes this sleeping bag the leader of the market regarding water resistance properties.
Unique features
Shape and dimensions – The combination of its shape and dimensions, make this sleeping bag ideal for side sleepers who are not keen on using mummy shaped sleeping bags. However, this same advantage for the side sleepers, makes it a disadvantage for back sleepers since they will have the wear the weight of that extra "comfort".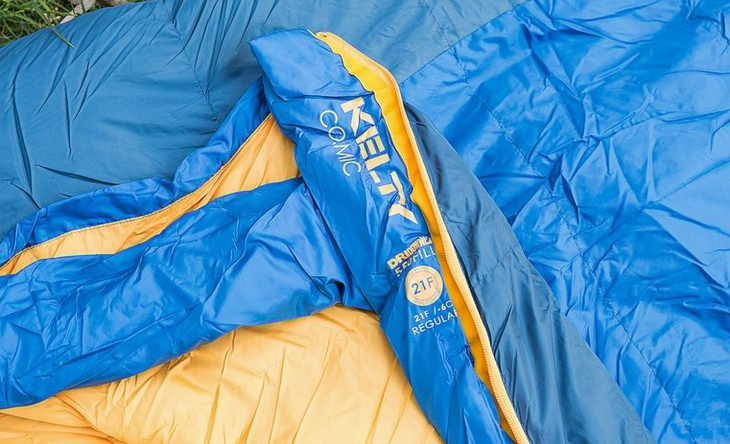 Water resistance – There are not many down sleeping bags with water resistance properties and this is one of them. This unique feature allows the user to wash it more regularly and if it accidentally gets wet, you are not left with useless sleeping bag that won't keep you warm at all, like most down sleeping bags. On the contrary, it is one of the few sleeping bags that even though they get wet, they still maintain their features.
Value for Money & Guarantee
When it comes to the price of this sleeping bag it is indeed the leader on the market with its outstanding value.  There is no other sleeping bag on the market that offers down insulation for such price. However, the overall construction and design of the bag are also exceptional.  All things considered, there is a low possibility that you will be able to find a sleeping bag with such features at this value which means it is a great deal.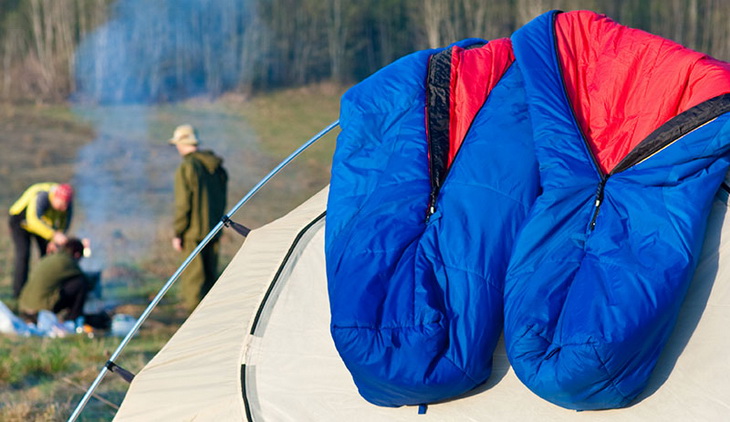 That said, as a backpacking gear, this sleeping bag offers exceptional value. You will love its low price, the fitted down insulation, and its simple design. At a relatively affordable price, you would find it rather difficult to find a better down quilt that compares in weight, warmth, and packability. And when it comes to price, you need to remember that the down maintains its warmth for longer compared to the synthetic models.
Similar models/competitors
Outdoor Vitals Summit 
The Outdoor Vitals Summit sleeping bag has the same shape as the Kelty Cosmic 20. However, its design is a bit smaller and less bulkier than the original product reviewed.
However, because of the materials used in the manufacturing process it is also a bit heavier than the Kelty sleeping bag which makes it less suitable for backpacking trips.
The filling it uses, although made from the same natural down material are of a higher quality than the Kelty sleeping bag. This also means that it is able to withstand lower temperatures and it is recommended for spring temperatures, unlike the Kelty sleeping bag which is only cozy and comfortable in summer.
Another difference with the Kelty sleeping bag is in the compressing properties. Although this might seem irrelevant to certain people, backpackers will know to appreciate this feature. The Outdoor Vitals sleeping bag offers a greater compression as it compresses to only 10 x 8 inches. This makes it extra comfortable for wearing in your backpack.
There are also baffles which are very useful in down sleeping bags. They allow an even distribution of down throughout the entire surface of the sleeping bag. This is very good feature for when the down gets wet. However, the Kelty sleeping bag is water resistant and cold spots are harder to make.
Kelty Tuck 22 
Even though from the same company, the Kelty Tuck 22 sleeping bag offers a bit different  properties than the Kelty Cosmic 20. To start with, they have different insulation properties which means that their temperature levels are different.
Although they are both summer sleeping bags, the Cosmic 20 is slightly warmer than the Kelty 22. The Kelty 22 has a synthetic insulation which also influences its weight.
Comparing to Cosmic 20 it weighs 3 lbs which is 1 lbs heavier. Even though this might seem as very little from "in front of the computer" point of view, every backpacker knows that out in the field, every pound matters. They both have hoods and foot boxes that will keep you warmer when the temperatures drop.
The price of the Kelty Tuck 22 is also affordable and it is great news if you are looking to spend less money on outdoor gear and still get a quality product. It is very comfortable and cozy. Even though it is durable, it is not as durable as the Cosmic 20.
Kelty Cosmic 550 
This Kelty Cosmic 550 sleeping bag from Kelty is very similar to the initially reviewed product and they even have the same name.  However, there are some differences in their features as well as their price.
They both have DriDown filling which makes the drying process faster than any other down type of filling. Since they use the same type of down for insulation, the thermal properties they offer are exactly the same.
However, because of some differences in the design, the weight of the sleeping bags slightly differs and this version is little lighter than the reviewed product.
This is also a water resistant sleeping bag that ows its water resistant properties to the polymer treatments that are made on every down plume. Since these treatments are not made to the surface of the material, but to the core of it, you are not required to repeat it after a certain amount of time as it is the case with many synthetic alternatives.
The compression of this sleeping bag is also better than the Kelty Cosmic 20. However, the smaller dimensions also suggest lower comfort level, especially for side sleepers. All in all, this is a great backpacking sleeping bag that will provide you a good night sleep and a cozy daily nap.
Overview
The Cosmic Down 20 Sleeping Bag is designed for people who are seeking a serviceable gear, which is reasonably light, gets pretty small, and will be suitable for most three-season applications. This bag will work particularly well for people who can benefit from other gear upgrades. Maybe the cash saving on this sleeping bag can be utilized with other equipment, such as a tent or a new backpack.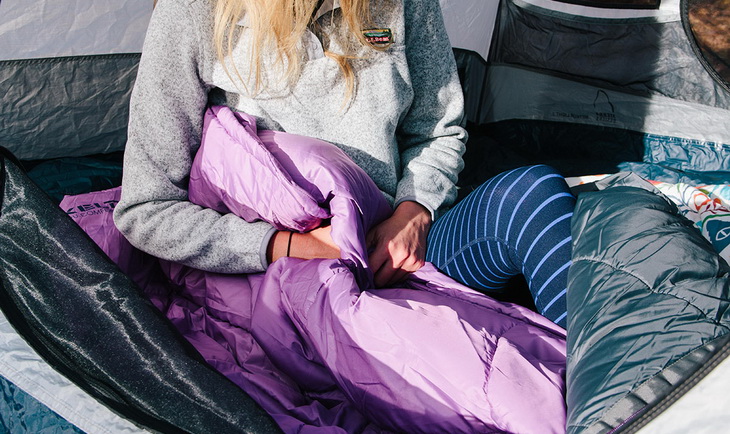 What was considered as a bit of a downside – the bulkiness, adds to the comfort level of the sleeping bag. It is a bit wider than most mummy shaped sleeping bags and allows the user more space for sleeping. Mummy bags are usually comfortable for stomach and back sleepers. However, because of the wider dimensions, this bag is a sleeping heaven for side sleepers as well.
Pros:
50D Polyester Taffeta Liner
50D Down proof Polyester
60 in dual-slider
600F Dridown
Locking zipper
Stuff sack
Thermal-comfort hood
Natural fit foot box
FatMan and Ribbon drawcord
Cons:
It is not well insulated, so it is mostly a summer sleeping bag
Not too lightweight
There are cheaper synthetic options with similar properties
All things considered, this sleeping bag would be a great transition from a regular shape to a mummy shape since it would give you the sleeping comfort that you require. Also sleeping in a down sleeping bag is more comfortable comparing to sleeping in a synthetic alternative, regardless of the quality of the down.
Kelty Cosmic
Packaging

Design and durability

Insulation

Warmth

Comfort

Water resistance

Unique features

Value for Money & Guarantee
Summary
Anyone who is on a limited budget and is looking for an all "round sleeping bag" could benefit from the Cosmic Down 20. If you are new to hiking or backpacking and are trying to assemble your entire gear, this product is an excellent bargain.
You should note that "bargain" doesn't mean "cheap."It implies going for something that offers good value for your money. Scouts and college students might want to invest on the Cosmic Down 20.
When looking for a spare gear, this sleeping bag would be an excellent option for the same value-priced synthetic bag. If you want to join the backpacking bandwagon, but you don't intend to invest largely in an outdoor equipment such as a sleeping bag, the Cosmic Down 20 could just be the right option for you.
There's nothing outwardly attractive about this gear, but it still functions. The bag is a much better equipment than you can ever imagine.

So, did you find this review useful? Please let us know what your thoughts are by posting your comments below. Shares will be highly appreciated.