Backpacking and hiking are healthy activities that are practiced by adventurists. Being a hiker doesn't require much abilities or techniques, it only requires a strong will for spending time in nature and some essential gear that will make you feel more comfortable outside. Among the most important hiking gear is a sleeping bag that will maintain your body temperature and it will protect you from the elements. People tend to avoid backpacking on low temperatures because they are afraid of getting sick.
However, hiking boosts your immune system and it makes your body capable of fighting many bacteria and viruses which might be found in the city. Nevertheless, staying the night on a mountain is never a good idea without the proper equipment. So before diving into this sport it is always a good idea to get to know yourself with the gear recommendations, such as a sleeping bag, which is a necessary piece of equipment.
Product Specifications: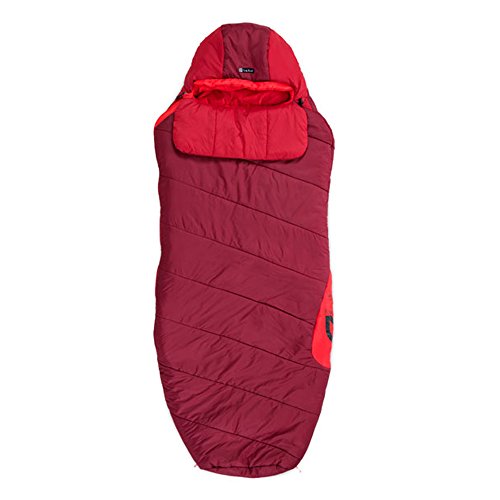 40D Nylon Ripstop w/ DWR (Shell).

Spoon shape is wider at the knees and elbows for side sleeping.
Women's specific design has extra down fill in the footbox.
Stratofiber synthetic insulation offers the best blend of warmth, moisture resistance and packed volume.
The Nemo Celesta 35 is rated for temperatures in the 35F range. 
Included accessories: Drawstring Stuff Sack and Cotton Storage Bag.
That said, a regular one day hike doesn't require much equipment or planning. It simply needs you to take the hike at your own pace and the experiences will come. A several days hiking trip or a backpacking trip, require that you are equipped with more gear, be in good physical shape and health and it would be useful if you have some previous experience.
However, experience is something that can be gained over time. The longer your stay in nature is and the harsher the weather conditions, the more experience and gear you would require. And of course, you will need a sleeping bag with better quality and better features.
For this reason, we have made an extensive research on the current market of sleeping bags and we have reviewed and rated the best ones. However, our best choice was the Nemo Celesta sleeping bag that offers great features and it is a product that has an excellent price range.
Review
The Nemo Celesta sleeping bag is intended for women and you can notice this by its shape. Some people believe that all the sleeping bags are universal. However, this is not true. The bags which are made for women are wider in the hips and tighter in the shoulders.
Packaging
The Nemo Celesta sleeping bag is perfectly following the shape of your body and its design is not bulky at all. The material is also compressible enough and it fits into a small protective bag. Even though the compressing bag itself is not too big, there are smaller compression bags that have far smaller dimensions than the Nemo Celesta.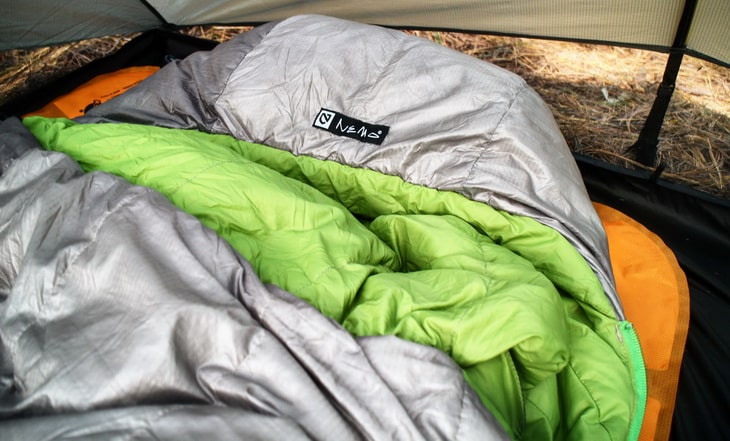 However, in order for the packed sleeping bag to take a smaller dimension a smaller compression bag is needed. In fact, compared to other models, the sleeping bag itself is compressing quite nicely, but it is better that the compression bag is replaced with a new one is size is of great importance.
Design and durability
The Nemo Celesta has the spoon design which increases the warmth inside the bag because there are not empty air spaces around like in the traditional bulkier designs. However, the space inside is not suitable for claustrophobic ones because it is too tight.
Insulation
The Nemo Celesta sleeping bag relies on synthetic stratofiber insulation to keep you warm in cold weather conditions. The material it is made of is always correlating the temperature it can be used for. In this case, the Nemo sleeping bag is made of 40D nylon Rip stop shell. The inside is filled with down.
This is one of the rare ones which are made of a combination of synthetic and natural materials. This allows it to have the most important properties of both materials. As we have mentioned before, down sleeping bags are not good when there is a high air humidity or in rainy areas.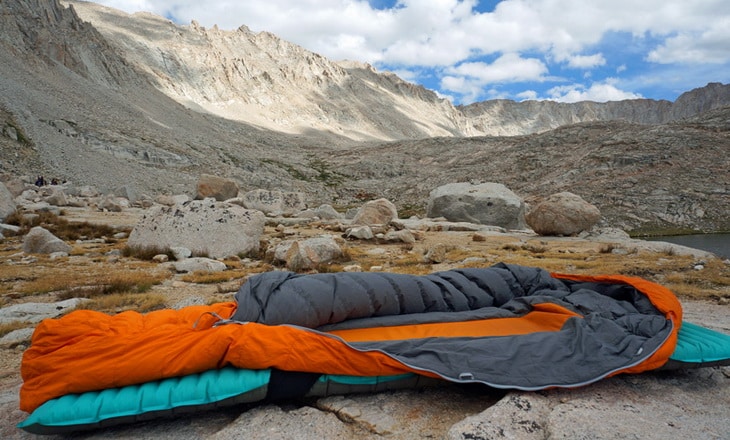 The Nemo manufacturer has solved this problem by producing a bag with nylon cover. The nylon cover is completely waterproof and you could even use the bag in a heavy rain. The inside is filled with down, which provides the warming properties of this sleeping bag. Because of the down, it is also easily compressible and the packed volume is small enough for you to fit it in the backpack if you choose to do so.
Although the synthetic insulation is excellent for fighting the moisture it weighs a bit more than feather filled insulation. The insulating quality, however, suggests that you are able to use this bag for cold weather temperatures and rainy weather conditions.
Warmth
The insulation is not the only feature that guarantees that a sleeping bag is warm. However, it is the most important feature that will put the temperature limit that you will feel comfortable in. Having this in mind, the Nemo Celesta has a temperature limit of 25F which pretty high for a synthetic insulated bag. Another important feature includes the dead air that usually is around your body.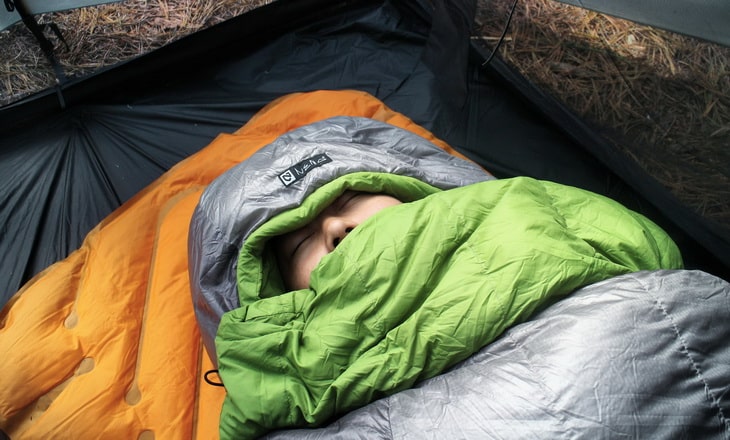 However, this only happens in bulkier sleeping bag designs. The Nemo sleeping bag is minimizing this effect and it is letting your body temperature keep you warm for a longer time. However, most importantly, the space inside the bag is getting warm for a shorter time than a traditional design.
Nevertheless, if you are one of those campers or backpackers that are always feeling cold, you could put an extra layer of clothes over you. Even though most spoon shaped sleeping bags don't have this spacious luxury, the Nemo Celesta definitely does.
This Nemo Celesta sleeping bag is tested and rated to -25 degrees F. That said, this bag should is not reliable for such a low temperature. Since it is intended for side sleepers and it is very spacious, it also has a lot of dead air around the body. Even though this feature ads in the comfort of the bag, it decreases the temperature comfort limit for several degrees. The dead air around the body is allowing the body to breath, but it is also keeping your body temperature lower.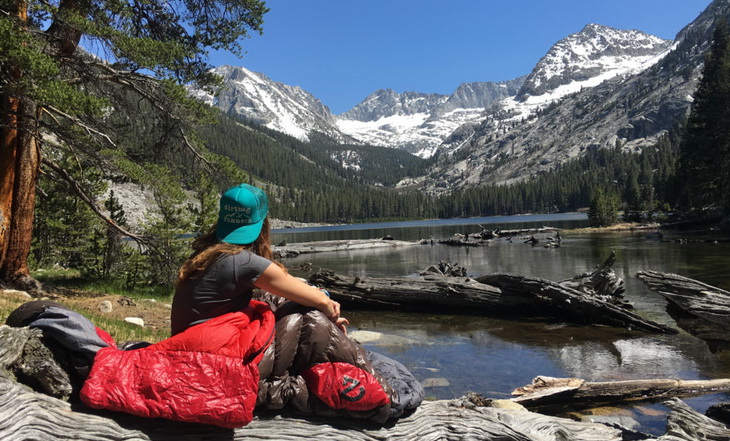 There is also a blanket fold that is responsible for keeping your body, even warmer in cold weather, although its main purpose is being a neck baffle. Even though it has not proved as effective as a neck baffle, it does keep your neck warmer, therefore your whole body is feeling warmer.
That said, although this sleeping bag might be the right choice for most campers, the ones that easily feel the chills might consider using it only for warmer weather temperatures. If this is not possible, a different sleeping bag choice is recommended.
Comfort
When speaking of sleeping bags, the most important feature is the temperature rating. After all, this is the main reason why you buy a bag instead of sleeping in the bushes. Well, that, and the comfort it is supposed to provide.
Regarding the comfort of this sleeping bag there is no one general answer that goes for all campers. Instead, we would say it is comfortable for some and causes a slight discomfort for another. The mummy shaped sleeping bags, including this one are not recommended for side sleepers. However, this model is designed with enough space for your arms, but not enough space if you like to sleep with your knees bent.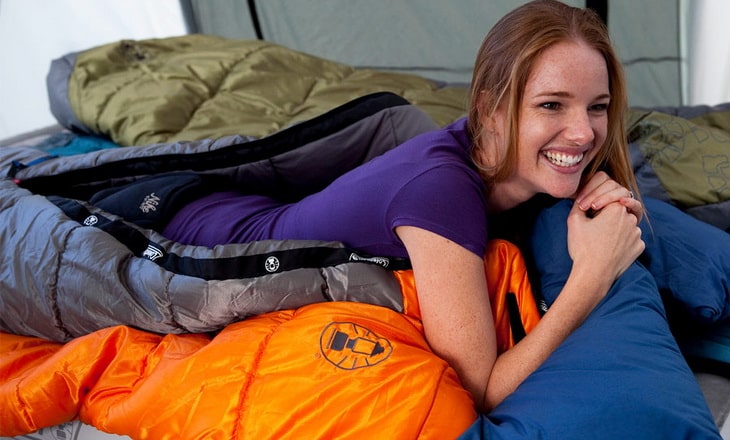 Even though it is spacier than most mummy shaped sleeping bags, it is still a spoon bag. This means that even though it might feel comfortable sleeping on the side, this sleeping bag is not recommended for the ones that are tossing and turning in their sleep. The height of the user also influences his comfort.
If you are tall, it is better to go with some other option. However, the regular sized campers will love sleeping in this super comfy sleeping bag.
Water resistance
The water resistance is one of the main advantages this sleeping bag has. Even though it is not as warm as some other competitive models and it could not endure minus temperatures, the moisture does not represent an issue. When a synthetic bag, such as Nemo Celesta gets wet, it does not lose its properties such as the feather filled bags.
Instead, it remains the same shape and with the same warmth features. The maintaining of the sleeping bag is also much easier than other models with different insulation. Even though it is not recommended to be machine washed, after washing it, you could feel free to hang it wherever you want.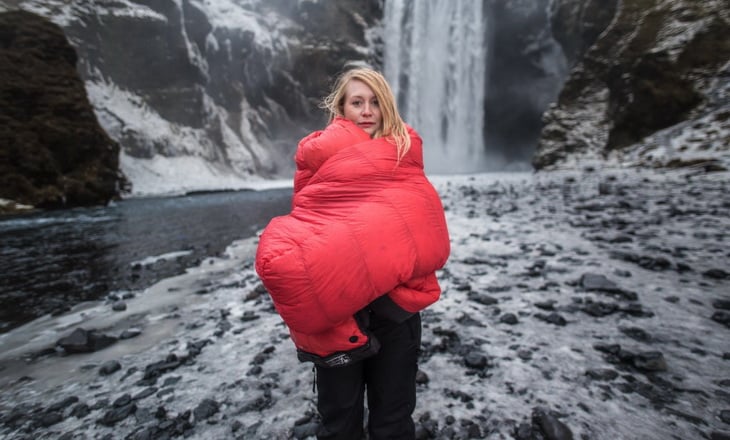 The biggest advantages of this sleeping bag are its moisture resistant properties. This makes the bag suitable for by the river camping, where the possibility of getting it wet is higher. Side sleeper users have also reported that this bag was very comfortable for them and they are able to move in, without any restrictions.
Unique features
Its unique features include a spoon shape that is a bit wider than the traditional spoon shaped sleeping bags and this means that you will have more space in your arms area, therefore switching sides in the middle of the night wouldn't represent a problem. The pillow which is also a pocket is also a unique feature that not many sleeping bags have. It is placed inside of the hood and it can be used as a pocket for your important stuff when you are not sleeping on it.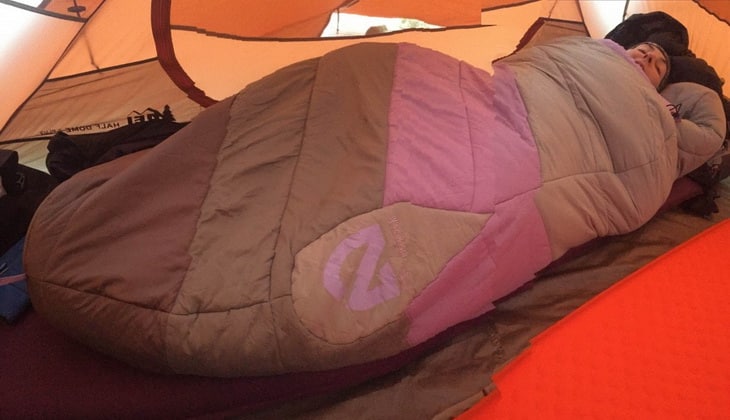 You could also cover your head with it so that you don't feel the sunlight in the morning. Either way, it is a unique feature that you are definitely going to enjoy. If you decide that you don't want to carry the burden of an extra pillow you can put the extra clothes you are wearing with you in the hood pocket and you got yourself a comfortable night pillow.
Value for Money & Guarantee
Even though the Nemo Celesta doesn't have it all, and it has some downsides such as every other product, it is safe to assume that it provides great features considering the price it is being offered. And what's best is that there is a new version of the Nemo sleeping bag with similar features that causes the price of this one to drop drastically.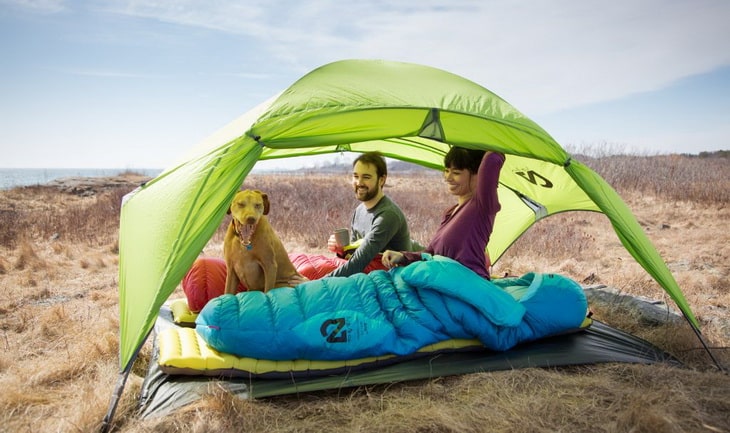 This way, you are getting a great product that has a lower value because of its updated version.
Similar models or competitors
Kelty Tuck EX 
The Kelty Tuck EX sleeping bag is different from the Nemo Celesta in so many ways. It offers a three season warmth and a different shape that pulls with it other features. Unlike the Nemo, the Kelty sleeping bag is mummy shaped and it has a bit more dead air spaces.
This means that in order to get warm in cold weather conditions you would need more time. It will also cool easier because of the dead air spaces.
However, the comfort of the mummy sleeping bag is improved. There is enough place for your knees as well as your arms. Nevertheless, what's common is that the Kelty bag as well, does not allow the user to sleep with his knees bent. Tossing and turning in sleep, though, is something you could enjoy in this sleeping bag.
Nemo Celesta 25  
The Nemo Celesta 25 is in fact able to keep you warm at the promoted temperature. It is the new and improved model of the reviewed one, but it also costs more. However, the warmth comes at no price and if you decide to purchase this Nemo version, here is what you need to know.
The insulation being used in the production process is the same stratofiber such as the previous version. It is made to imitate the down insulation, that provides most warmth.
The compressibility of this version, however, has significantly improved which was the main issue in the reviewed version. The main difference that is responsible for the extra warmth during the cold nights is the extra synthetic fill which has been placed on areas that perspire the most. The extra insulation to the core and footbox allows the body to endure low temperatures at night without even feeling chilly. And that should be the main purpose of every sleeping bag!
Mountain Hardwear Lamina Z 
This Mountain Hardwear Lamina Z sleeping bag is designed with a nylon cover that suggests that its greatest advantage is its waterproofness. In addition to this, this sleeping bag also minimizes the cold spots and it enables the user extra warmth in cold weather conditions.
It has a specific system which is different from the other competitive models and it is divided into zones. The zoned insulation is providing the user warmth where it is highly needed.
The insulation type it uses is ThermalQ which, besides warmth also offers great compressibility. However, it has the famous mummy shape which suggests that it is not suitable for restless sleepers and side sleepers. Other campers, the back sleepers, especially will find this sleeping bag extremely comfortable and very well worth the price!
Overview
The Nemo Celesta sleeping bag is a bag designed for ladies. Its every feature is according to the woman's desires. It keeps you warm, comfortable and it perfectly follows the curves of your body, what more can a girl want?
It is perfect for people who are not keen on the mummy shape, but they don't like the bulky sleeping bag designs either. This one has a nice footbox that your feet could relax in knowing there is enough place to move around and not feel claustrophobic.
Considering that a woman's body needs more warmth than a man since they tend to have a lower circulation, this is absolutely a lady's sleeping bag. Its dawn synthetic mixture will keep you nice and warm on cold weather and you could even use it in the snow. It is the perfect place to cocoon in. A nice and cozy bag that you are not going to want to leave.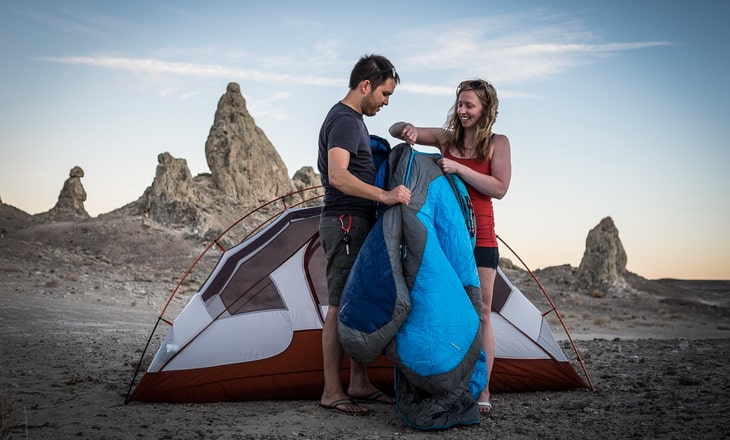 And if it happens to rain, the sleeping bag will present a nice shelter from the rain because of its water resistant properties. Simply cover yourself up with the hoodie and not light and no moisture could be able to get to you.
PROS:
Warmth
Comfort
Durability
Water resistance
Footbox
Good insulation
CONS:
Compression size
Not as warm as other competitive models
That said, we believe this sleeping bag has it all which is why we feel it deserves our top rated status. The only thing left to do is to see if it will be your top rated as well!
NEMO Celesta
Packaging

Design and durability

Insulation

Warmth

Comfort

Water resistance
Summary
Although this sleeping bag is not an expensive one, it is certainly not for a limited budget. However, regardless whether you are a new hiker or an experienced backpacker, this sleeping bag will prove useful to you.
It has great features and the price offered for the Nemo Celesta is definitely a good deal. It is the perfect choice when you are thinking between down and synthetic sleeping bag since this one has it all.
Although it has its flaws, such as the compression size which is a bit bulkier from competitive models, it is a nice investment that will definitely pay off. All things considered it is a great addition to your backpacking gear and after a while you will find that it is necessary for your own comfort and relaxation!

Which features are your absolutely necessary ones? Share your thoughts with us in the comment section below and help the whole outdoor community with their choice!