Nemo is an outdoor equipment company that makes sleeping bags and more products. It is known for its unique style, using the best materials for the sleeping bags and other gear. Since 2002, Nemo has shown us great products with bold colors and designs that make you stand out among the rest of the campers. You'll understand why Nemo is so great after we review the Nemo Sonic Down Sleeping Bag and show you all the quality and style you will get.
The Nemo Sonic sleeping bag can keep you warm on nights that fall down to 15 degrees Fahrenheit, or 11 degrees Celsius. It is made with the serious winter camper in mind, with quality materials that are sure to last you a very long time. The thermo gills will regulate your warmth and the Toester Box will reduce cold spots. The sleeping bag has a center zipper that allows you easy access when getting out of it.
Product Specifications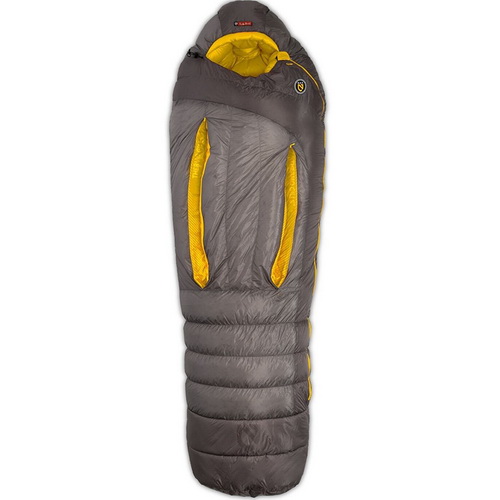 Nylon

Thermo Gills allow you to regulate the warmth of the bag on milder nights.
Toester Box: Hybrid Synthetic/Down construction reduces cold spots by mapping out areas of high compression
Center Zipper: The full length center zip of Canon can be partially opened for access without leaving the warmth of the bag
Osmo DT w/b Shell Fabric

Stretch Stitching
This sleeping bag was Backpacker Magazine's 2015 Editors' Choice and received an award. You will love the 850 fill down that provides comfort and blocks heat loss, as well as the waterproof nylon shell that also includes Durable Water Repellent. Many have enjoyed how thermally efficient this sleeping bag is and the fact that is has an internal draft collar that keeps the cold air out. Continue on below for all the great features this award winning sleeping bag has to offer!
Review
Packaging
Nemo Sonic Down comes complete with all the components you would need for your outdoor adventures. It doesn't require any additional purchases to use it. It's in fact a ready to use a sleeping bag with a feature-rich shell to let you sleep even on rougher surfaces. The stuff sack is included in which you can store the product to reach your destination. If you want to enhance its warmth in snowy areas, you can consider purchasing the sleeping pad or mad separately.
Design & Durability
The Nemo Sonic is designed with the extreme weather loving camper in mind. It is made with a central zipper that appears along the front of the sleeping bag, for easier access getting in and out. It is also waterproof and is coated with a Durable Water Repellent that allows any water to slide right off, keeping the sleeping bag dry, as well as you.
Do you sleep on your side? Many people do, and Nemo thought of that, and what they could do to make side sleepers more comfortable in a sleeping bag. They added a stretchy material in the knee area of the sleeping bag to allow you to sleep as comfortably as you would at home. The over-sized draft collar keeps cold air out, and the thermo gills keep the sleeping bag temperature regulated.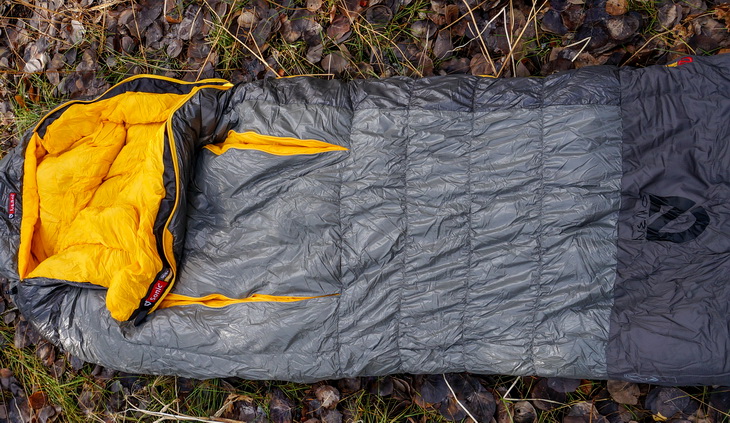 Nemo is known for its unique shapes and colors for their sleeping bags. This bag in particular comes in a Granite and Sunburst Yellow color that is stylish and stands out among other sleeping bags. Many campers love that Nemo and their products stand out above the rest.
Since Nemo is known for being bold with their styles and colors, it is no wonder that they would use quality materials in their products to provide you with the best sleeping experience while outdoors. This sleeping bag includes a nylon shell that will not only repel water, but is waterproof as well.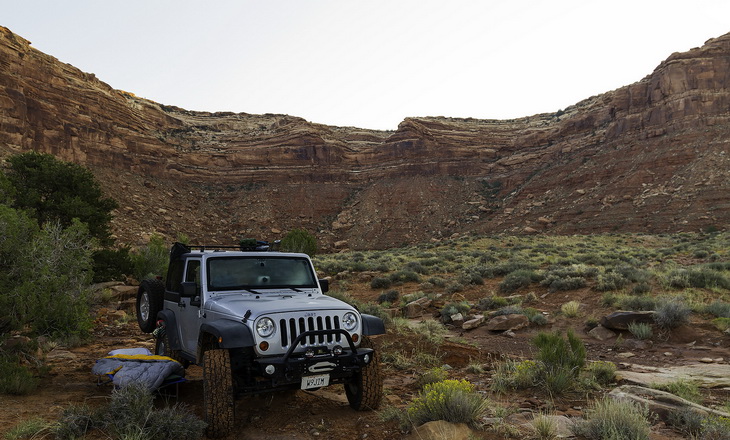 Inside, the insulation is made with 850 power filled down comforting that is not too bulky, but traps in the heat so you stay warm without feeling weighed down. Remember, Nemo has all of your camping needs, including sleeping bags for all weather and levels of comfort.
Weight
This sleeping bag sleeps only one, so it will be light in weight. The regular version of this bag weighs 2 pounds, 6 ounces and the long version weights 2 pounds, 9 ounces. As you can tell, they are not very heavy and should fit well with the rest of your gear, as extra weight tires you out faster when you are out hiking or mountaineering. Some people use it for camping only, so once they set up their tent, they leave their sleeping bags inside and enjoy the outdoors without all the gear attached to them.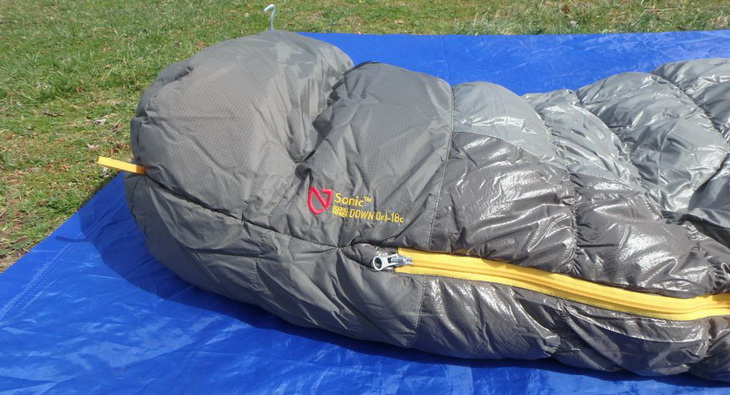 The reason this sleeping is so lightweight is because it is made with great materials that keep the weight down, but still keep you warm and dry. When you are camping during the winter, you will want to stay as warm as you can with your sleeping bag, and this one promises to keep you comfortable down to 15 degrees Fahrenheit.
Insulation
As mentioned, the filling is 850 fill power down, which is the best insulation material you can get when it comes to warmth in a sleeping bag. It also provides more warmth than other materials, and it lasts a long time.
The shell and lining fabric are made with 20 D Nylon Rip Stop with Durable Water Repellent, which means that you are going to stay dry and you will not have to worry about the fabric ripping or tearing. Also, the foot box material is made of 40 D Nylon Rip Stop with OSMO.
Weather Resistance
This sleeping bag is made for colder weather such as winter time, early spring and late fall. The temperature rating for the Nemo Sonic is 15 degrees, or -9 degrees Celsius, so you will stay warm down to that temperature.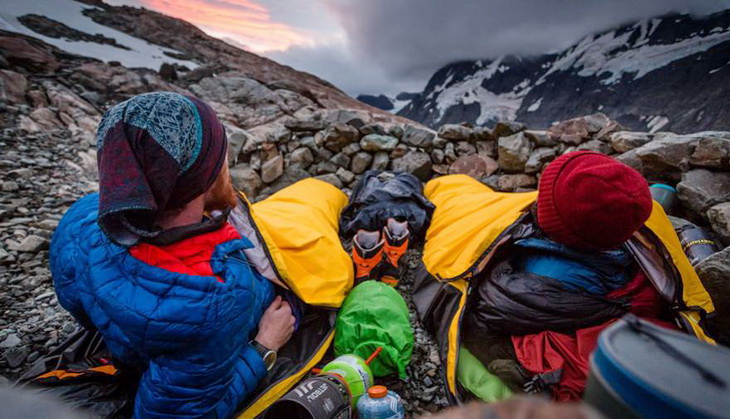 Often, most areas do not experience such cold weather, but it does happen in certain states and certainly if you are camping in the mountains. It will be important to stay warm in order to stay alive. You can freeze and get frost bite if you are not properly prepared for the winter weather.
You are protected from getting wet with not only the waterproof feature, but also the water repellent feature called Durable Water Repellent. You will stay dry all night without an issue, plus the sleeping bag is designed to keep warm air in and cold air out, guaranteeing a comfortable night of sleep. Do not forget, you can purchase a Nemo Fillow Pillow in several colors, to keep your head propped up as you sleep!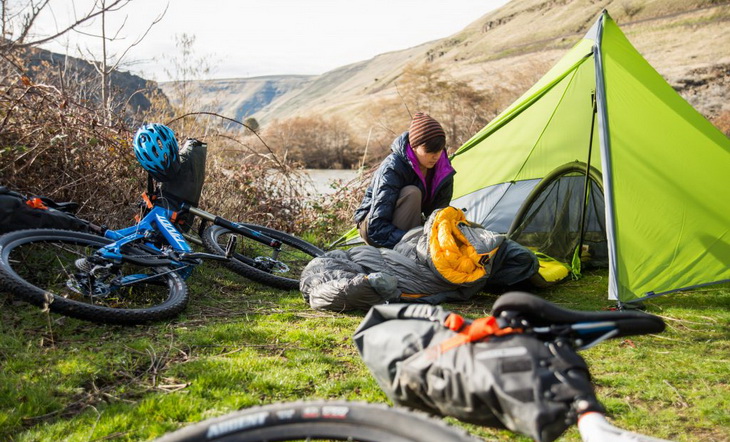 The great thing about this sleeping bag is that it is waterproof and has a coat of Durable Water Repellent so that you have no worries about if your sleeping bag is dry. It is. And so will you be. The mummy shape keeps you warmer in lieu of a regular style sleeping bag. The hood forms to your face, to block out wind and cold air. The draft collar can be used to keep cold air out or you can open it up to allow some air inside. This sleeping bag definitely gives you options.
Size
Below is a chart of the specifications of the Nemo Sonic sleeping bag. It comes in two sizes, Regular and Long, and the specifications for both are listed. Nemo hopes that you will find their sleeping bags of great quality and comfort, and that maybe this is the next sleeping bag for your next camping trip!
| | | |
| --- | --- | --- |
| Sonic Sleeping Bag Specs | Nemo Sonic Regular Bag | Nemo Sonic Long Bag |
| Temperature Rating | 15 degrees F | 15 degrees F |
| Fill Type | 850 Power Filled Down | 850 Power Filled Down |
| Fill Weight | 1 lb, 1.3 oz | 1 lb, 2.8 oz |
| Product Minimum Weight | 2 lb, 6 oz | 2 lb, 6 oz |
| Shape | Mummy | Mummy |
| Capacity | 1 person | 1 person |
| Maximum User Height | 6.5 ft tall | 6 ft tall |
| Shoulder Girth | 61 in | 69 in |
| Hip Girth | 58 in | 63 in |
| Gender | Unisex | Unisex |
| Pack Size | 18 x 9 in | 18 x 9 in |
| Color | Granite/ Starburst Yellow | Granite/ Starburst Yellow |
| Shell Fabric | 20 Denier Rip Stop Nylon | 20 Denier Rip Stop Nylon |
| Compressed Volume | 6.5 L | 7.5 L |
Unique Features
Nemo ensures that your winter camping trip will be more comfortable when you have one of their sleeping bags, and other products like tents. The technology used is no doubt in keeping you warm and keeping the winter air out, so that you can sleep like a baby and wake rested for fun winter adventures the next day.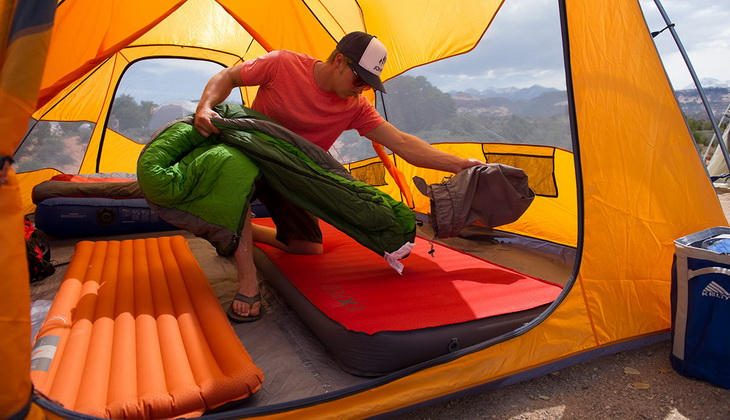 Below are two charts as to how the Nemo Sonic stacks up to other sleeping bags that are made by Nemo. No doubt, this great company will have something that will suit your needs. See how this sleeping bag compares with other with their unique features.
| | | | |
| --- | --- | --- | --- |
| Sleeping Bag Comparison | Nemo Mezzo Duo Loft | Nemo Symphony Luxury Duo | Nemo Sonic Regular Single Bag |
| Temperature Rating in Fahrenheit | 30 degrees | 25 degrees | 15 degrees |
| Fill Type | Stratofiber micro fiber | Stratofiber micro fiber | 850 Power Fill Down |
| Fill Weight | 2 pounds, 12 oz | 7 pounds, 6 oz | 2 pounds, 6 oz |
| Minimum Weight | 5 pounds | 9 pounds, 15 oz | 2 pounds, 9 oz |
| Shape | Rectangular | Rectangular | Mummy |
| Max User Height | 6 ft, 4 in | 6 ft, 8 in | 6 ft, 0 in |
| Shoulder Girth | 146 in | 146 in | 61 in |
| Pack Size | 30 x 17 in | 31 x 18 in | 18 x 9 in |
| Compressed Volume | 18 L | 29 L | 6.5 L |
| Shell Fabric | 40 D Nylon Rip Stop w/ DWR | 40 D Nylon Rip Stop w/ DWR | 20 D Nylon Rip Stop w/ DWR |
| Lining Fabric | 30 D Nylon Taffeta w/ DWR | 30 D Nylon Rip Stop w/ DWR | 20 D Rip Stop Nylon w/ DWR |
| Color | Aluminum | Aluminum / Lightning | Granite/ Starburst Yellow |
| | | | |
| --- | --- | --- | --- |
| Sleeping Bag Comparison | Nemo Tango Duo Slim w/ Slip Cover | Nemo Tango Duo Slim Down Comforter | Nemo Rave 15 Reg Down Single Bag |
| Temperature Rating in Fahrenheit | 30 degrees | 30 degrees | 15 degrees |
| Fill Type | 700 Fill Power Down w/ Downtek | 700 Fill Power Down w/ Downtek | 650 Power Fill Down w/ Nikwax |
| Fill Weight | 1 pound, 4 oz | 1 pound, 4 oz | 1 pound, 14 oz |
| Minimum Weight | 2 pounds, 9 oz | 2 pounds, 9 oz | 3 pounds, 2 oz |
| Shape | Rectangular | Rectangular | Spoon |
| Max User Height | 6 ft, 0 in | 6 ft, 0 in | 5 ft, 6 in |
| Shoulder Girth | 72 in | 72 in | 62 in |
| Pack Size | 18 x10 in | 18 x10 in | 18.9 x 9 in |
| Compressed Volume | 7 L | 7 L | 8.8 L |
| Shell Fabric | 20 D Nylon Rip Stop w/ DWR | 20 D Nylon Rip Stop w/ DWR | 30 D Nylon Rip Stop w/ DWR |
| Lining Fabric | 30 D Nylon Taffeta w/ DWR | 30 D Nylon Taffeta w/ DWR | 30 D Nylon Taffeta w/ DWR |
| Color | Aluminum / Marigold | Granite / Marigold | Jade / Hot Pink |
Value for money & guarantee
This sleeping bag has the best value for money and guarantee. You must be prepared to invest a lot of money ranging from $429.90 – $559.95 to secure its purchase. The exciting part is that no mandatory purchase whatsoever to purchase other accessories. It's only your option to purchase other extras such as the sleeping pad or sleeping mad, because the bag itself is feature-rich and versatile to be used without those.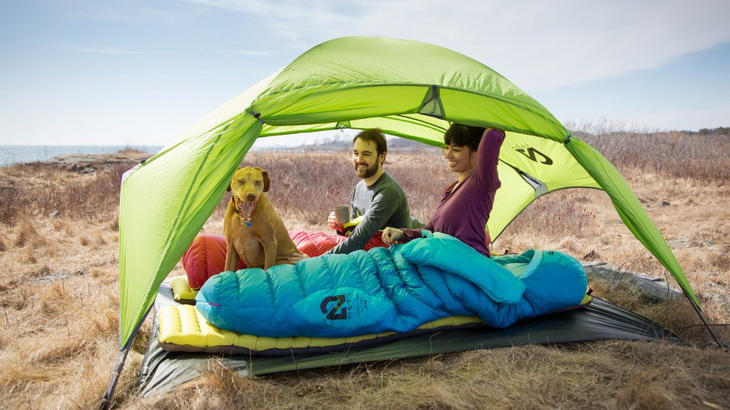 Nemo offers guarantee for all its products. So this bag is not an exception. In case you experience some damages after purchasing it, you can always contact their customer service and they will be glad to assist you.
Similar models or competitors
 Sea to Summit Micro MC 
Sea to Summit Micro MC delivers a fierce competition to the Nemo Sonic with its great set of features. Other features are, however, common.
These include the 850+ Fill Power of the Down, but this competitor is specifically filled with the European Goose Down.  Remember that there is duck and goose down, whereby the goose down provides a powerful insulation than duck down.
So, if you are looking for a down insulation with premium performance in all the outdoor's inclement weather conditions, the Sea to Summit sleeping bag could be ideal for you. It is a suitable product for those looking for a sub-freezing warmth in the wilderness.
The outer shell is rugged enough to let you withstand the forest temperatures no matter how harsh they are. It is specifically made of the 2D NanoShell and a differentiated cut shell. Anti-snag zipper with draft tube is another unique feature.
But looking at the other features such as design and durability, Nemo Sonic is also competitive enough. At times it's a matter of how affordable one product is when given a tough game of common features.
Had one been synthetic, or had one had a different fill power, we would be able to pick the best with ease. Our choice is now based on the type of the down insulation and the design of shells.
Marmot Ion 
Marmot Ion is characterized by the left zipper, cinder/cobalt blue color and the fill weight of 15.2 Oz of 850+ Goose Down.
The bag also proves how effective it is in all outdoor sleeping needs. The fill power of goose down is a must-have for whomever plans on a vacation in the harshest environments.
It will surely keep you warm and more comfortable than a duck down would. There are still some common features between these sleeping bags.
The lining material is made of 12D 100% nylon mini ripstop the same way the outer shell is. These fabric shells are water resistant. Even more beneficial with this sleeping bag, it is a composite of synthetic and down insulation.
There are benefits for both insulations. One can say this sleeping bag is superior, but comes at a cost of a heavy weight because a synthetic insulation is notoriously bulky. But it takes less time to dry if wet and retains its loft and comfort.
The temperature rating is 20 degrees F. Other features include the Thermal R Micro on the bottom, Anti-snag zippers, and fold down zipper for more ventilation. The stuff sack has been provided to store the bag on the go.
Big Agnes Hitchens UL 20 
The Big Agnes Hitchens UL 20 features a DownTek insulation. The Big, is further characterized by an ultralight weight with a traditional mummy shape.
This lightweight, however, has not compromised the thermal value because the bag is still competitive and impressive to keep you warm and let you sleep comfortably in its 850+ Down fill power.
Other eye-catching features include the 3-D anti-snag draft tube that helps keep heat on the zipper lines. The sleeping bag's 20 degree F temperature rating makes it an ideal choice for a variety of environments.
Nemo Sonic somehow surpasses this bag here with the temperature rating. So Nemo may be your ideal choice, particularly if you plan to camp in the freezing winter conditions. But the difference between these sleeping bags is not that huge. They are both filled with the natural insulation of Down.
Overview
Besides being an award winning sleeping bag, the Nemo Sonic sleeping bag has many great features that are sure to fit your needs. Nemo works hard at making sure your sleeping bag will withstand the cold weather, block our cold air, and keep warm air inside to ensure that you have a restful night's sleep and are ready for an adventure the next day! Check out the many details this sleeping bag has to offer!
The sleeping bag is one that you will be glad you have when it comes to extreme winter camping. Nemo assures that you will stay warm and comfortable after a full day of winter activities like hiking and snowboarding. The draft collar allows heat to stay in but can be opened if you do get too warm inside. You can look into some of the accessories like the aforementioned Nemo Fillow Pillow if you like to sleep as if you were at home with all of your pillows and blankets.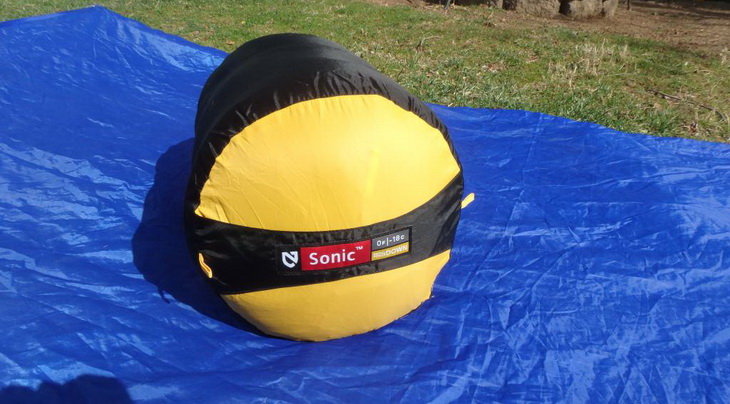 In general, Nemo has established a great brand by giving you style, comfort and options all in one sleeping bag. Their other sleeping bags work just as well and can be purchased for other types of weather or comfort. Campers who have used this sleeping bag absolutely love it! They say that it provides more than enough warmth and comfort for a camping trip and you will not be disappointed!
Campers have raved about this product saying that it provides enough space for them, and they love that the knees have more stretch so they can sleep on their sides comfortably if they want to. They also love the down insulation and say that it stays in place and offers warmth throughout the sleeping bag. The shell made of nylon makes users worry free when it comes to being in harsh terrain.
Pros:
Made for use in the winter, early spring and late fall down to 15 degrees F.
This sleeping bag is waterproof and water resistant because of the Durable Water Repellent.
It is made with nylon and down, which are two great fabrics that last a long time.
With stretch in the knee area, you can sleep on your side with ease.
Made in a regular size and long size for those who need more space.
It is made with thermo gills that will regulate the inside temperature of your sleeping bag by 20 degrees Fahrenheit.
The sleeping bag also offers a durable sack that the sleeping bag can be stored in.
Cons:
Some users were too warm and had to take off layers or remove the draft collar.
Some users state that this sleeping bag was too expensive for their budget.
There were a few people who said the zipper was not strong or somehow gave them an issue.
There were no other color options, or smaller sizes available.
This sleeping bag cannot be used all through the year, as you will be too warm in the summer.
Many campers state that this sleeping bag is easy to use and provides them with comfort to rest up for the next day's activities. They also state that they are getting enough bang for their buck, when it comes to the purchase price. Some Nemo products are so popular that stores have run out of stock.
If you are thinking about purchasing this, or any other Nemo sleeping bag, be sure to grab it as quick as you can before they are out of stock. However, you will enjoy this comfortable sleeping bag when you are out camping, no doubt.
Nemo Sonic
Packaging

Design & Durability

Weight

Insulation

Weather Resistance

Size

Unique Features

Value for money & guarantee
Summary
Nemo has provided us great features in its flagship of Sonic sleeping bag. This bag is all that you need particularly for your winter camping, backpacking or hiking needs.
Not only is it filled with the powerful 850+ Down insulator but has some exciting features such as weather resistance and a light weight. The temperature rating is also impressive. The outer is both water resistant and waterproof.

We have come to the end of our review wherein we have outlined the comprehensive features of this Nemo Sonic sleeping bag. We have further taken steps in introducing the competitor models that offer a fierce competition to this product.
With that mind, you have more products to choose from. Tables were also inserted to compare this sleeping bag to similar models offered by the same manufacturer. This, too, helps you widen your options.
What do you think of this sleeping bag? Did we miss anything? Have you used Nemo products before? Let us know what you think in the comments below what your thoughts are and if you are going to use Nemo sleeping bags for your next winter camping trip!