Modern day sleeping bags are amazing pieces of sleeping equipment that are being developed to become lighter yet warmer. The Hyke & Byke Shavano sleeping bag scores highly on both those points and offers great value for money.
The Shavano 32 is an expertly designed mummy shaped sleeping bag perfect choice for hiking, urban backpacking, and camping during warmer summer temperatures. It has great warmth to weight ratio yet packs to a minuscule size in its supplied compression sack.
However to decide whether the Shavano 32 is the best sleeping bag for you there are a number of aspects to consider when choosing a sleeping bag like warmth, shape, compression size, fabric quality and so on. It literally pays to ask yourself a few questions to save your money before buying something that is unsuitable for your purpose or lacking value.
Product Specifications: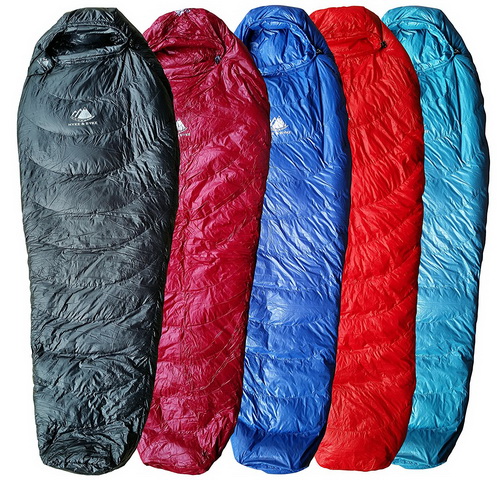 Save space and shave weight with ultralight premium quality duck down filling
Stay warm as a result of down insulation capabilities and waterproof fabrics
Lightest mummy down sleeping bag available for this quality at the price.
Long lasting durability from ultralight water repellent 400T 20 D ripstop nylon fabric liner
In this review, we are going to discuss the Hike & Byke Shavano 32 sleeping bag, its many features, and give you an overview of the sleeping bag that might be your next purchase for your backpacking trip. Plus, we will review a few other sleeping bags so you can compare the Shavano 32 to what else is on the market right now. Let us check out all that the Shavano 32 has to offer!
Review
Packaging
The packaging is light in weight, as the sleeping bag only weighs 1.9 pounds. It will ship in a box that weighs 2.2 pounds and come packed down to save space in the box. Once you open your sleeping bag, it will fit a person who is about 6 feet tall. You get to choose from 5 colors, which are Light Blue, Black, Maroon, Blue, and Red. Plus, you can choose from 2 sizes, Regular or Long.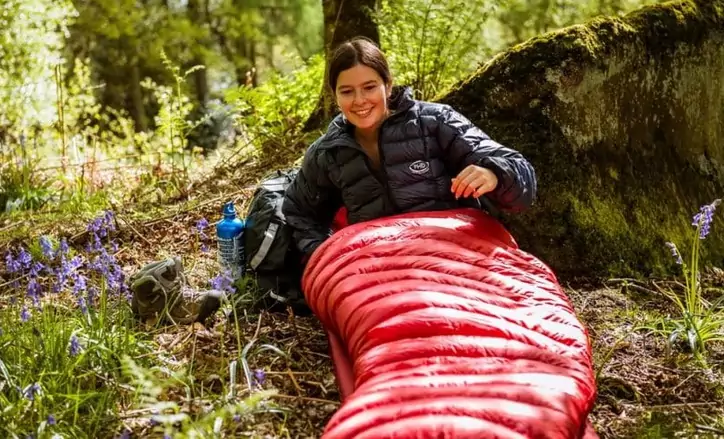 We are reviewing the regular version, so the longer version will weigh slightly more due to added material for length. The dimensions of the two sizes are as follows:
Regular Size: 78 inch length, 28 inch shoulder width, 22 inch hip width, 11 inch toe box
Long Size: 87 inches length, 32 inch shoulder width, 26.2 hip width, 14 in
In the packaging, you will find the sleeping bag, as well as the stuff compression sac.
Compression Sac
It is also supplied with a compression sac also manufactured in 400T 20 Ripstop nylon like the sleeping bag itself.  It is therefore not waterproof, only hydrophobic. Because the down compresses so well, there are also side tabs that can be tightened to make the sleeping bag even smaller for stowing in a back pack.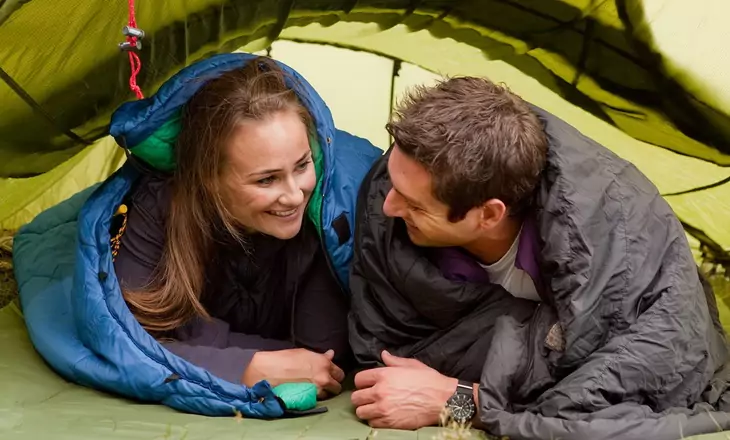 However, you would be best to heed the storage recommendations to store the bag opened out on a larger sac, hanging up or laid out flat. There are tabs on the feet area that are suitable to hook it up.
Durability and Design
This sleeping bag is designed in a mummy shape to conform closer to body contours. This mummy shape keeps the air closer to the body inside therefore easier to insulate from cooler air temperatures. The Shavano 32 has a wide shoulder area to offer spacious room for arms and torso. The feet area is designed with a less usual box shape so that your feet are less constricted.
The elastic draw cord closes around the back of the neck and face with an easily adjustable toggle to keep the Shavano 32 fitting snugly in colder temperatures. The other aspect that affects insulation is the construction method which in the case of the Shavano 32 is slightly rounded horizontal box baffles. These horizontal baffles make sure the down stays in the area of the box, without shifting top to bottom or front to back.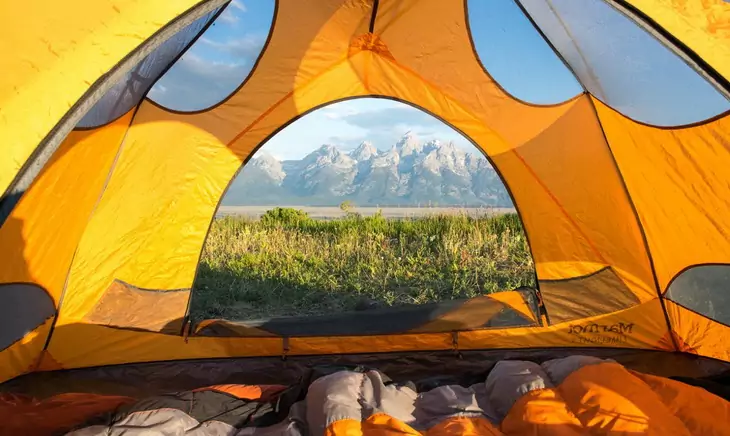 The fabric used inside and out is 400T 20 Ripstop nylon in a variety of colors. This nylon fabric is extremely lightweight but a stronger thread is woven into the fabric at intervals to give extra strength and resist tearing. The density of the weave also means that the fabric is naturally water resistant, although, not completely waterproof and also keeps the feathers and down from poking through.
Insulation
For the insulation, Hyke and Byke has chosen quality 550 duck down. The 90/10 ratio of the Shavano 32 represents the percentage of down/feather in the blend which means better insulation properties for comparable weights.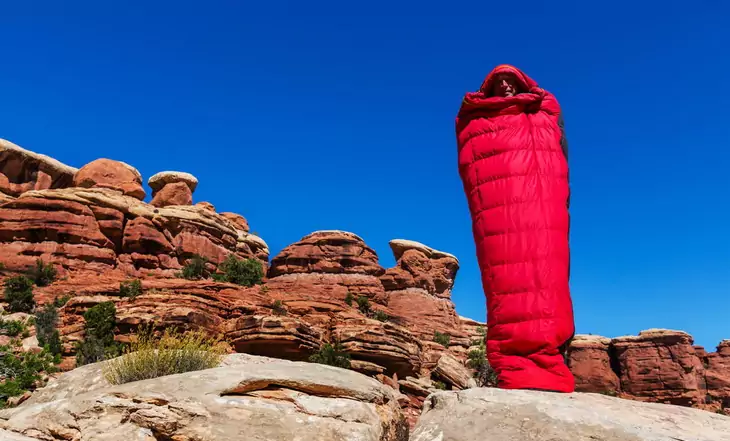 Hyke and Byke undertakes to follow animal welfare guidelines for the supply of duck down and feathers. The duck down they use, is a by-product of the egg and meat industry and not taken from live animals.
Ease of Assembly and Use
It is simple to get this sleeping bag ready for use. There is no assembly required, but you will want to take the sleeping bag out of the stuff sac and air it out before you take it on your backpacking trip. Using it is simple, as you just unzip it, slide in, and zip it up! Using this sleeping bag is so simple, you can do it in the dark!
Manufacturer Recommendations
Once you get your bag home it is best to remove the sleeping bag from any stuff sac to let it aerate to its full capacity. This applies especially for down bags as they rely on those microscopic air spaces to provide the best performance. This applies when you are on a hike too; shake out your bag and give it as much time as possible to achieve maximum loft before sleeping.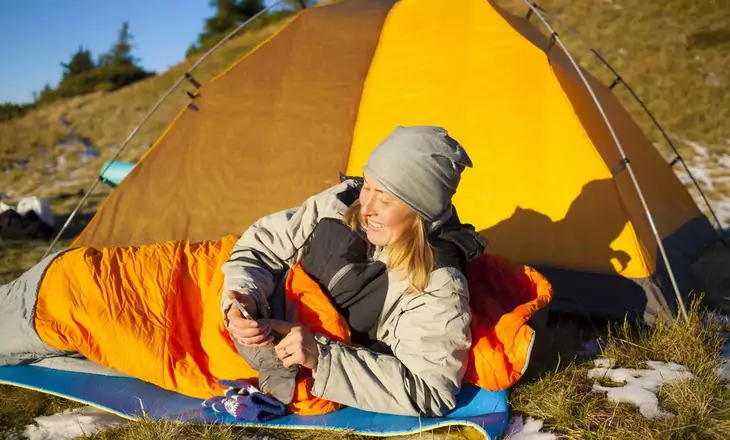 When it comes to cleaning, it is best to spot clean on a regular basis rather than regular washing. Air them out after use before storage. Store bags in large sacs rather than compression sacs; a clean pillow case or net laundry bag are good choices. Or even better hang them in a wardrobe or lay them flat somewhere like under a bed.
If you do need to wash your bag, follow the manufacturer's recommendations. Remember that down requires natural oils for loft and durability so avoid harsh detergents or dry cleaning solvents.
Value for the Money
People have been flocking to this sleeping bag because of the great value for the money. At under $100, you really cannot beat the price for all of the great features you get. Basically, you get twice the filling, more warmth, and less weight, for one low price! Plus, you can choose from one of 5 colors!
Similar Products
Below we are going to show you some similar sleeping bags, compared to the one we are reviewing. This way you can make an educated decision on which new sleeping bag will be perfect for you and the location in which you will be using it.
Rovor Tabei 
The Rovor Tabei has 260 thread count of soft micro fiber fabric and is made for 3 seasons. You are guaranteed to stay warm with the 150 gram polyester filling, as well as that microfiber lining.
This light weight sleeping bag is 22 inches in the foot box.The zippers are high quality and will not snag, the aforementioned micro fiber is lighter in weight than other microfibers and it has 3D loft in it, as well, and it will be warmer than a cotton filled sleeping bag.
The shell liner is tough, due to it being reinforced rip stop polyester. This bag is also tear and rip resistant, as well as washable in your washing machine at home.
The temperature rating is 52 degrees, but it will work down to 23 degrees Fahrenheit, which is below freezing. Fun fact, this sleeping bag was named after Junko Tabei, who was the first woman to get to the summit of Mt. Everest!
Users were impressed with the quality for the price and have even gone back to purchase more for their family members! They love the light weight, the comfortable feeling, and the perfect amount of warmth they get while they sleep outdoors. With mummy sleeping bags becoming more popular, why not try one? They cinch are easy to pack up, and keep the heat inside, where it needs to be.
Trekr Outdoor 
The Trekr Outdoor is extremely comfortable and warm, as it has a temperature rating of 32 degrees Fahrenheit. This spacious sleeping bag can hold a person up to 6 feet, 5 inches tall comfortably, plus it comes with a self inflating pillow!
If you want to buy a second sleeping bag, they will zip together, so you can have more space, and cuddle up to someone!
This sleeping bag is so light weight and will pack down to a small size that will fit with your other gear easily, using the compression sack. The price is right with this bag, as it has such great quality materials and features that make you want to jump on such a deal! For a 3 season sleeping bag that is so light, you are surely going to enjoy many adventures with this product!
The sleeping bag might be water repellent, but it does have a down side. The cinching process of the compression sack once the sleeping bag is in it is not very good, some users state. They can not cinch down very far as the bag is super full from the sleeping bag itself.
However, this was basically the only complaint, as this sleeping bag is well loved, with 96 percent of its reviews being a 5-star, and users had no problem in grabbing this durable sleeping bag up for their next adventure!
Arctic Monsoon UltraLight 
The Arctic Monsoon Ultralight Sleeping Bag is one of those ultra light weight sleeping bags that you barely notice is with with your other gear. This sleeping bag is made of 20 D Nylon on the outside and 20 D Pongee on the inside, meaning it is comfortable and will keep you warm at night.
Super compact, you can compress this sleeping bag down to 14.6 x 8.6 x 8.6 inches in the compression sac that is included. Not only is this sleeping bag strong, but it is wear resistant, meaning it can take a beating and keep on ticking!
Take this sleeping bag literally anywhere that is above freezing level! The temperature rating for this bag is 32 degrees, which is right at freezing. Use this bag for 3 seasons of camping, hiking, backpacking and more!
Made with 600 grams of Down filling for insulation, you are going to be warm for sure. This sleeping bag is best used between 32 and 50 degrees Fahrenheit, as any colder, you will freeze, and any hotter, you will be sweating.
Users loved that this sleeping bag compressed down so well, and is barely noticeable with the rest of their gear, as it does not add much weight. However, they noticed that if the sleeping bag touched any poles on their tent, the it would get colder, which is odd.
Users also stated that the zipper is on the left side only, which is kind of a hassle for some. Otherwise, users loved this warm, comfortable sleeping bag that they took on all of their adventures outdoors!
Overview
The Hyke and Byke Shavano 32 is already a winner with backpackers who declare it extremely light, easy to pack and warm enough for summer hiking and backpacking. Some have tested it to its lower recommended limits and found it acceptable. 78% of reviewers give the Shavano 32 5 Stars on Amazon, 16% 4 Stars, with 3% giving it 2 and 3 Stars.
Those most critical, did not seem to understand how the temperature standards were rated and expected other features that would only be available, if at all, in much more expensive models.
This sleeping bag is designed to be warm enough for above freezing temperatures, comfortable, and allow you to cinch yourself to get the maximum amount of heat inside. This sleeping bag certainly has a lot to offer, and for such a low price it is definitely worth a try, especially if you cannot afford the more pricey sleeping bags that are mummy shaped and filled with down comforting.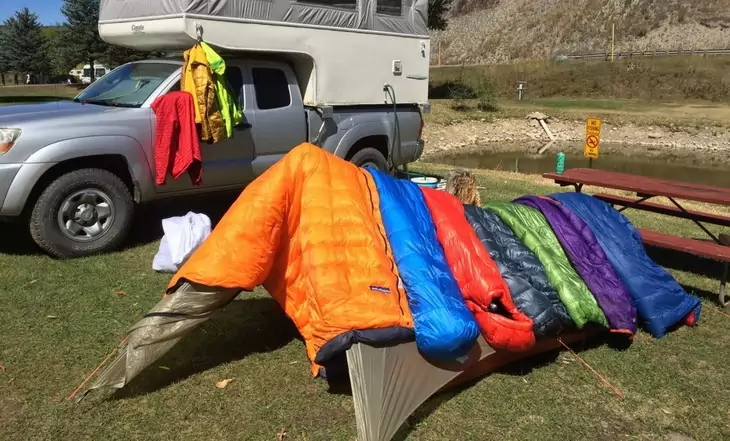 While this sleeping bag is padded, you can always consider a sleeping pad for maximum comfort as you sleep. Sleeping on the hard ground is not the most comfortable option. You can find sleeping pads made for mummy sleeping bags online or in some stores. Now, we move on to the Pros and Cons section of the Overview, so we can cover the good and the not so good aspects of this sleeping bag.
Pros:
Mummy shape
Wide shoulder shape
Generous Foot box design
Duck down fill – 90/10 down/feather
Outer fabric 400T 20 Ripstop nylon
Water repellent fabric
Horizontal baffle construction
2 YKK zippers
Elastic drawstring around face with toggle
"Snag-free" Velcro closure
Cons:
Straps can rip when cinching down
Some zippers can have issues zipping or catching on the fabric
Some found it too small or too short for their body
Turning over or changing sleep positions can be difficult
Some found it not as warm as it states
This is a great summer sleeping bag, especially for those backpacking and hiking. It wins on a number of features that include warmth to weight ratio, compression ability, quality fittings and general overall attractiveness.
With its ultralight weight, you can easily carry an extra layer of warm clothes or a super comfy insulation mat to add to warmth capabilities in unexpected colder weather. This sleeping bag is great value for money and fits the bill perfectly.
Hyke & Byke Shavano
Packaging

Compression Sac

Durability and Design

Insulation

Ease of Assembly and Use

Manufacturer Recommendations

Value for the Money
Summary
Hyke and Byke have made one of the lightest duck down sleeping bags available that offers higher weight to warmth ratio, high compression rate, all at a very competitive current recommended retail price below US$100.
The Shavano 32 sleeping bag is recommended as suitable for a summer hiking and camping sleeping bag. It has been rated under the EN standard as having a Comfort Limit of 40 F and Lower Limit of 32 F so for average sleeper they should be comfortable in summer temperatures.

We hope that you found our review useful and that you will share it with your friends, and also, if you feel like we left out something important, don't hesitate to let us know by leaving a comment in the comments section below, where you can also ask questions if you have any. Also, tell us about your mummy sleeping bag and how it stacks up to the one we have reviewed. We love hearing from you!