Even though it has been said a couple of times, choosing the appropriate gear for outdoor activities is usually about tradeoffs. The perfect sleeping bag is based on four things, i.e. warm, light, compressible and comfortable. Really, it should be five things, the fifth one is being less expensive. But the warmer, lighter, more compressible and cozier the sleeping bag is, the more it will cost.
However, the last action you would want to do after an intense hiking day is sleep feeling claustrophobic and constricted from your mummy sleeping bag. And that is the point where Nemo Women's Aria Hybrid Sleeping Bag turns out to be an important gear.
This sleeping bag uses Stratofiber insulation on the base for enhanced solace when compressed or damp, and also 550 fill DownTek down on the head for warmth, weight and pack size. The spoon shape of this bag enlarges it in the knees and shoulders to give you much space to get cozy, move freely, and rest on your side.
This amazing bag makes you feel as if you are in your personal bed at home. With more insulation on the base and the extra down, this three-season bag features a wide cut in the knees and shoulders, giving you enough space to get comfortable.
Product Specifications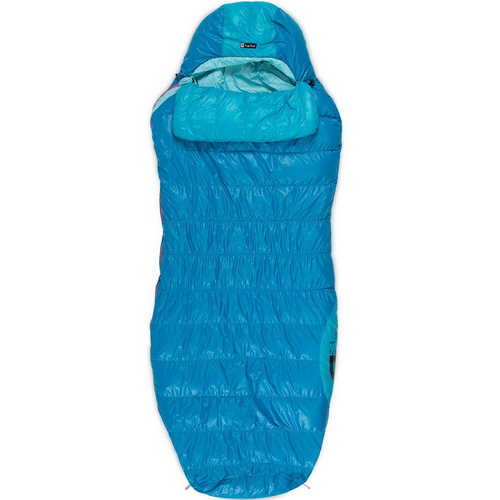 Nylon

Temperature rating 30F/-1C
550 Fill Power DownTek & Stratofiber
30D Nylon Ripstop with DWR
Hybrid design combining down and synthetic insulation. Synthetic Stratofiber is used in the bottom of the bag for better insulation under compression and lofty 550FP DownTek down is used for the top.
Stretch stitching in the waist area helps to reduce unnecessary volume and conserve heat.
Purchasing the appropriate sleeping bag can appear to be a difficult decision to make, however, it does not have to be. Comprehending your needs and use cases for sleeping can simplify your selection of the right sleeping bag for you. For example, are you camping in the snow or during the summer? Do you require lightweight for camping? Are you about running cold or hot?
These are various questions that need to be answered before plunging into the sleeping bags' world. Here are the features of Nemo Women's Aria Hybrid Sleeping Bag and see if they fit your needs.
Review
Packaging
At a dimension of 18.5 x 8.1 x 8.1 inches and the weight of 3.5 pounds, the Nemo Women's Aria sleeping bag has the loosest inbuilt stuff sack. This is an easy-to-pack bag which you don't need to stress yourself over compressing it or trying to minimize the general pack size of the bag.
The Nemo Women's Aria is easy to pack down three times smaller when an aftermarket compression sack is used. This sleeping bag comes with a packing sack that will allow you get it into a sensible size to load into your backpack. NEMO gives an extraordinary diagram contrasting the stuffed size with a 1liter bottle of water.
Design and Durability
What actually makes this sleeping bag special is its spoon-shaped outline and its stretchy sewing. The spoon-shaped design gives the user a stunning measure of room to breathe and flexibility of movement, while the stretchy sewing enables the user to lay down with an upper leg near or straight sideways. The Nemo Women's Aria utilizes treated down.  Nemo claims that the DownTek ingests 30% less dampness and dries 60% quicker than similar untreated down.
During a spray body evaluation, Nemo's treated down appeared to absorb somewhat less water. With this moisture level, the sleeping bag dried around 25% quicker. Nemo's waterproof down is somewhat more water-safe when contrasted with unique down and offers a possibly larger amount of drying time, however it is pretty small.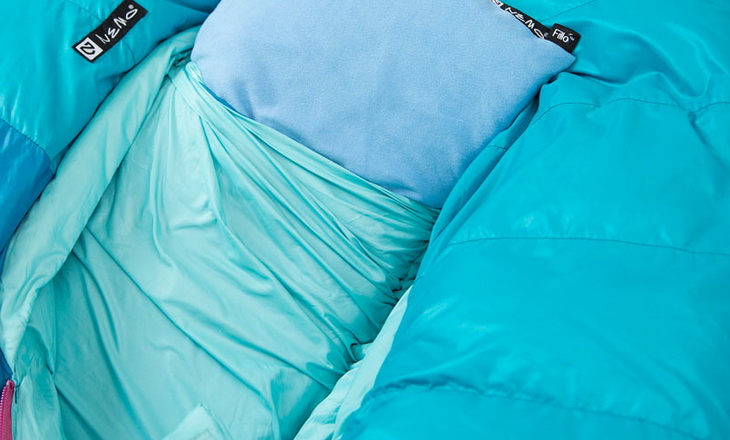 The lightweight nylon shell displayed a couple string pulls and tangles, after being utilized as a part of the rough path of the Escalante bowl, yet the sleeping bag built up no gaps or loss of space. Long haul durability during heavy utilization could be a problem given the way of 15-denier nylon.
Adding to the solace level of the Nemo Women's Aria, it features an inbuilt pillow pocket and a little-zippered pocket. These features, combined with a blanket-fold, draft tube, wrap nicely around the user's neck and shoulder.
Warmth
The Nemo Women's Aria is a 20F degree sleeping bag that features 550 fill-power Downtek and Stratofiber. At the point when contrasted with other comparably evaluated packs, the Nemo Women's Aria wasn't exactly as warm. However, contrasted with numerous other 20F sleeping bags, it was marginally on the warmer side, therefore making it a perfect choice for people who run somewhat chilly, or who were on either getting a 20° or 25° F sleeping bag.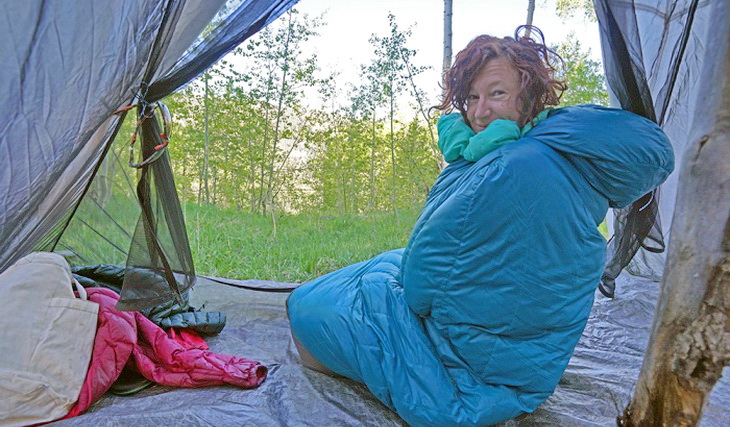 On colder evenings, the oversized draft collar is extremely great. It does not only do a great work at sending out the cold air and retaining the warm air, but it also offers a pleasant "snugly" feeling, as though you are sleeping on your bed at home.
Sleep Performance
The main feature of the Nemo Women's Aria is the spoon-shaped feature. This sleeping bag is wide in the elbows, thinning down at the hips and flapping back out in the knee area. This shape takes into consideration ideal knee space, stomach, and side sleepers.
The extra "dead space" in this sleeping bag makes it hard to hold warmth with your own particular body warmth as it's imperative to observe the comfort rating over the real temperature rating. The Nemo Women's Aria would be more qualified for car camping and tent where you can depend on the mat, or floor underneath you to enhance insulation.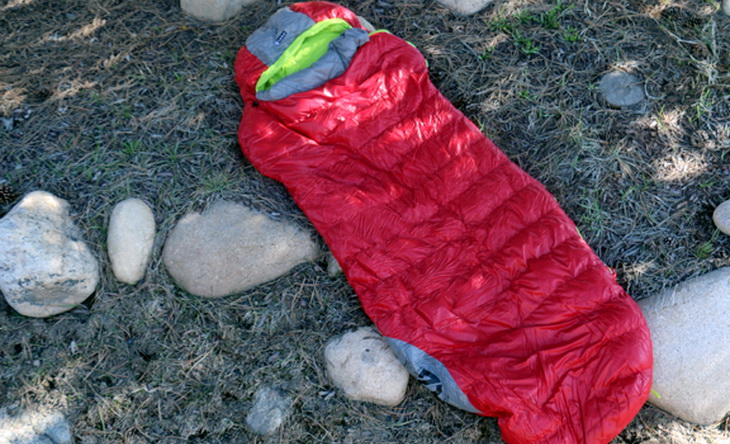 The Nemo Women's Aria sleeping bag arrives in a long and consistent fit and you will be satisfied with a lot of space from your head to toe. The bag's pillow pocket is important also, as it can be loaded with an extra shirt or light coat and wipes out the need to pack a committed pad.
The blanket fold, built in the hood, is intended to enclose around your neck and shield you from outside wind flow and is another great feature of the Nemo sleeping bag. There is likewise a drawcord to tighten down the hood for additional comfort.
Fit, Spaciousness, and Comfort
Comfort is the place the Nemo Women's Aria truly emerges; the sleeping bag has a fairly wide measurement in the shoulders, and that is tantamount to some other widest sleeping bag model. However, the Nemo's lower measurements are by a long shot bigger than some other Nemo models.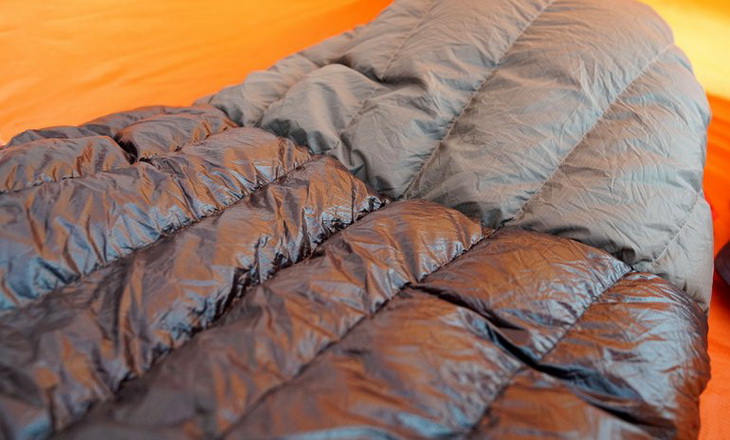 This sleeping bag additionally utilizes a stretchy sewing, that when combined with the wide measurements, makes it hard to beat, particularly for people who need to lay down with their knees twisted, leg marginally sideways, or with their knees nearer to their chest area. This sleeping bag is really great for people who require somewhat more space, lay down with their legs bowed, or basically simply enjoy feeling somewhat more space around their body
Special Features
Spoon Shape: The Nemo Women's Aria Sleeping Bag brags a one of a kind shape that gives you a chance to sleep in any normal position after an intense backpacking day. The Spoon shape gives you a chance to straighten, curl or even sit up serenely. A blend of synthetic and down insulation helps this sleeping bag keep up a protection and weight appropriate for hiking faraway areas.
Pillow Pocket: With the sleeve opening and divided edge binding, trap additional fabric inside the incorporated Pillow Pocket to make a comfortable headrest.
Watch Pockets: The small pockets in the hood enables you to keep your chapstick or alarm close nearby.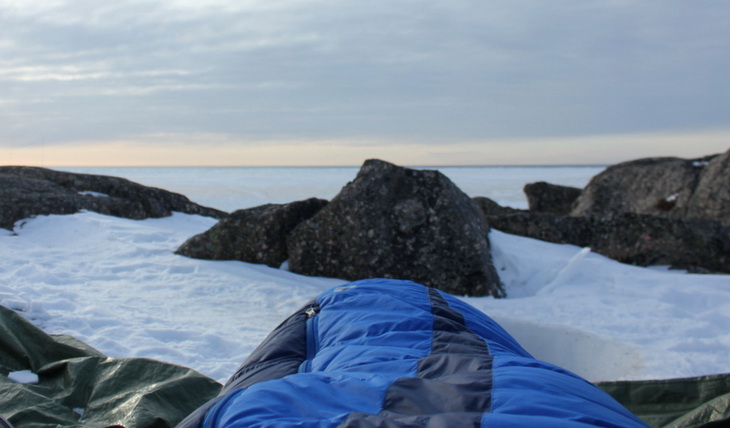 Flip Fastener: Fastening flips consistently mate the Cover and Muse Duvet to forestall moving
Drawstring Hood Opening: Coda series and spoon-shaped sleeping bags highlight a drawstring hood for modifying the shape and size of the opening
Value for Money and Guarantee
The (normal size) Nemo Women's Aria is valued at approximately $250. For a 20-degree sleeping bag, this appears on the higher end of the range. On the off chance that you can live without a portion of the Nemo's feature, there are a lot of 20-degree choices in the $250 price range. Nonetheless, if you are in need of a spacious sleeping bag with a great down fill that isn't extremely heavy, the Nemo Women's Aria sleeping bag is a great choice.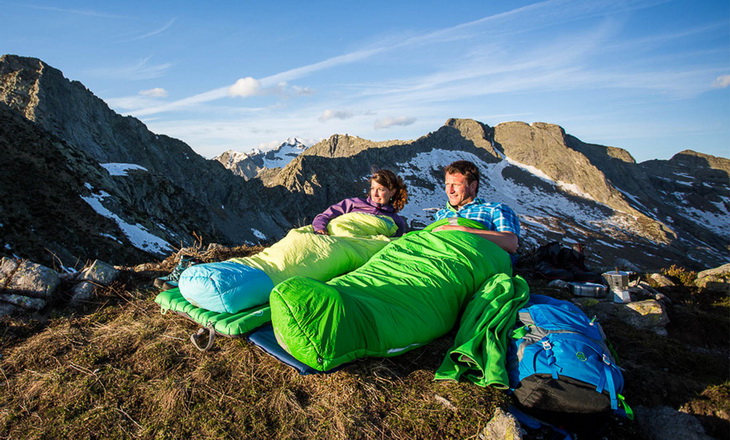 We are certain that the manufacturers of this product had made a provision for any form of defect as approved by their warranty standard. So if you come across any issue with your sleeping bag, you can contact their customer service to know if there is provision for such issue.
Similar Products/Competitors
Big Agnes Ann 15 
The Big Agnes Ann 15 is an exceptionally comfortable and spacious sleeping bag produced with quality materials. On warmer nights, this sleeping bag is superb and it will give you an incredible nights' rest.
This sleeping bag has cozy lofty down and soft materials. However, this bag is somewhat heavyweight for what it is, most likely because of the huge cushion sleeve.
The Big Agnes Roxy Ann utilizes DownTek hydrophobic down that makes it be highly waterproof and will definitely keep the loft of the down quite long, and will likewise keep you in a warm condition.
This is really a versatile sleeping bag, yet it is still extremely heavy for prolonged hiking trips, and not sufficiently warm to extend it to the furthest reaches of the three seasons it is intended for. This sleeping bag is to greatly comfortable. It is a spacious semi-rectangular shape that enables the occupant to easily move about.
The shell material is too soft and it's 650 top fill-power down lofts off pleasantly. This sack is shockingly long — its normal size fits somebody up to 5'10" long, and its small size fits up to somebody 5'6″; this is to some degree sporadic for a women's sleeping bag. Typically, a normal size will fit somebody around 5'6″ to 5'8″, so the estimating is something to consider when getting this sleeping bag.
NEMO Celesta 
The NEMO Celesta sleeping bag also has a spoon-shaped design. If you are a sideways sleeper and with claustrophobic legs, you may want to get this sleeping. It is highly roomy and comfortable.
This sleeping bag has a Stratofiber insulation, which gives the best warmth-blend, packed volume and moisture resistance.
The integrated blanket fold in this sleeping bag, gives you temperature direction and solace just like your bed. Women's particular design has additional insulation in the footbox to promote warmth.
The Nemo Celesta's spoon-shaped design for women holds warm by fitting nearer where you require it and giving you additional space to move where you need it. Reviewers do refer to the warmth and comfort level of this sleeping bag. This sleeping bag is insulated with engineered Stratofiber™ Microfiber which has a similar space, softness, and compressibility of down – but remains warmer in wet situations.
The NEMO Celesta has a three-season ability and is ideal for backpackers with down sensitivities. Have you at any point encountered a clammy, moist sleeping bag from rain or tent moisture? Give yourself some protection and warmth with the NEMO Celesta Women's Sleeping Bag.
The North Face Tephora 
The North Face Tephora is another, 3-season ladies-specific sleeping bag with a great fit that likewise makes it fairly massive, as does the utilization of a synthetic insulation on the base of the bag, thus making it more appropriate for mild winter camping and car camping.
This sleeping bag requires somewhat more than normal effort to pack than others. It's compact size is likewise the biggest compared to others, including the ones that are loftier and warmer.
While most users usually found the Tephora sleeping bag warm in the middle to high 30s, some did not find it to be warm when temperatures tumbled to the low 30s and directly into the high 20s. Tephora is a liberal fitting pack subsequently bringing about more draft and features just a 550 fill power that might be inadequate for a sleeping bag evaluated to 20 degrees.
Furthermore, this sleeping bag has an anti-compression base layer made out of HeatseekerTM eco-engineered insulation that, albeit comfortable, did not appear to include as much warmth as possible. The 2-way zipper of the Tephora sleeping bag features an insulated draft tube and enables users to adjust it for ventilation. Stylishly, the Tephora 20 arrives in an alluring blue color that most sleeping bag users appreciated.
Practically, it likewise arrives in two sizes, both of them offering a left handed and right handed zipper. Women-particular fit and outline puts more insulation around the feet and chest for optimal warmth.
Overview
To lower the cost of a top-notch bag without relinquishing quality, the Nemo Women's Aria Hybrid Sleeping Bag includes synthetic insulation to the blend for a special hybrid fill arrangement. This sleeping bag utilizes a restrictive hybrid blend of 550fp Stratofiber and Downtek synthetic insulation. Stratofiber insulation is the chosen formula of NEMO for polyester staple fiber insulation, modified for a balance loft, value, and warmth.
The Nemo Women's Aria joins the best of both fills by utilizing Stratofiber™ on the base of the sleeping bag in order to have a warm and dry layer under the body compression, and a grandiose cozy layer of down above. Both sleeping bags are still exceptionally lightweight with the 20-degree model just weighing around 2 ¾ lbs.
The signature cover overlay, watch pockets, pillow pocket is altogether included too. The Nemo's revolutionary spoon-shape strikes a harmony when it comes to comfort and performance with a generous loft at the knees and elbow areas, which is a help for side sleepers.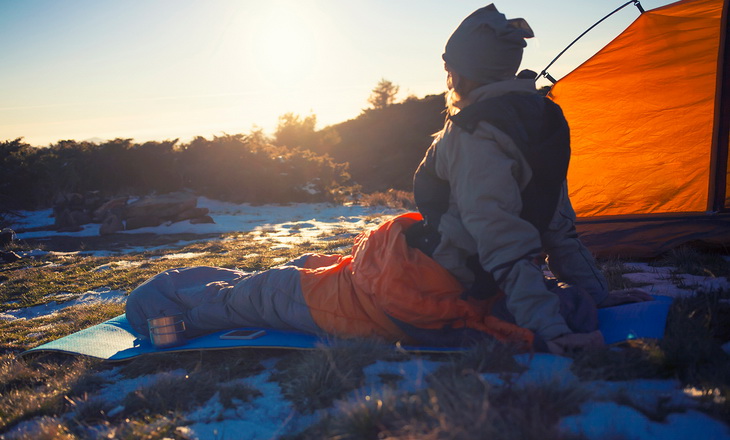 Women particular design puts additional down fill in the footbox and high-level insulation at other key spots to improve warmth. The treated DownTek down insulation soaks in 30 percent less dampness and dries 60 percent quicker compare to untreated down, so it continues insulating, regardless of the possibility that it gets moist.
The synthetic Stratofiber on the base provides enhanced solace when the bag is moist or compacted and the DownTek down insulation on the top renders great warmth, weight savings and pack size.
Nemo treated the down insulation of the bag with DownTek to enable its lofty feathers to hold their warmth in dampness baffled situations. The Aria likewise features a waterproof shell that sheds any liquid drops that hit it. This sleeping bag incorporated a full-length zipper to help with adequate ventilation in hotter evenings, and the customizable hood helps you secure everything when it is colder.
Pros:
Insulative when wet
Less costly
Lightweight
Hypoallergenic
Compactable
Simple to clean
Dries speedier
 Cons:
Brings down weight to warmth proportion
Heavier and bulkier
The Nemo Aria sleeping bag is a capricious bag that is incredible for almost all campers. Regardless of whether you are a long-time hiker or a car camper, a fretful side sleeper, a paunch sleeper or a back sleeper, you will not discover a more comfortable, versatile, all-around well-configured sleeping bag than this.
Nemo Aria Hybrid
Packaging

Design and Durability

Warmth

Sleep Performance

Fit, Spaciousness, and Comfort

Special Features

Value for Money and Guarantee
Summary
NEMO's innovative way to deal with the camping sleep system makes the Nemo Women's Aria sleeping bag worth the penny, particularly in case you're tired of getting tangled up in a conventional sleeping bag or you want to be on your side.
In case you are a cold sleeper or plan for genuine winter climate conditions, nonetheless, remember the ambitious rating on this sleeping bag and find out what temperatures you are heading into first.
This sleeping bag will be great for tent and car, outdoors adventures, and it's lightweight packability features plays a major role in making this sleeping bag a great choice for the backwoods.
The Nemo Women's Aria is made intended for campers who don't remain in one position while sleeping. The additional width is given in all the right spots, while as yet giving the greater part of the warmth and weight benefits.

This sleeping bag is a take, with high caliber down in a more customary mummy shape bag that is still sufficiently roomy. We do love to hear about your experience using this amazing sleeping bag model or any other model. You can leave us a comment below.