Western Mountaineering has been handcrafting sleeping bags for over 40 years. They're a well-known and high-quality brand for durable sleeping bags that keep you warm, comfortable, and don't add unnecessary weight to your hiking pack. The Western Mountaineering TerraLite Sleeping Bag is the latest addition to their ExtremeLite series, which includes ten sleeping bags for all of your camping needs.
Recommended for ultralight backpacking and camping, the TerraLite is a wide mummy sleeping bag, specially designed for side sleeping comfort. Perfect for side sleepers who enjoy camping in a variety of seasons and weather conditions, the TerraLite has received great reviews from customers. This sleeping bag will keep you warm in temperatures as low as 25°F and provides ultimate comfort from its rip-stop outer shell for durability and taffeta lining for softness against your skin. If you want to know more about different sleeping bags, check the source about lightweight sleeping bags on momentumadventure.com.
Its insulated hood with drawstring closure will keep you warm in the coldest conditions, and the dual zipper design allows the bag to open completely for camping in warmer months. The Western Mountaineering TerraLite sleeping bag is a high-performance, comfortable sleeping bag with premium goose down, making it a great value for the price.
Product Specifications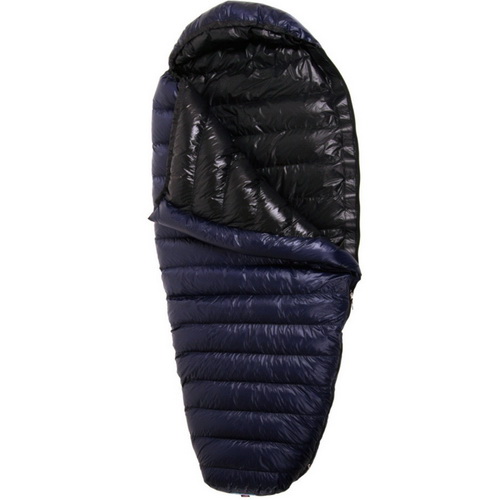 Terralite is a wide sleeping bag made for side sleeping comfort
It features our 12 denier ripstop nylon shell fabric with a 15 denier nylon taffeta lining material
There are two zippers allowing this bag to mate with our mummy bags
With both zippers open this bag can make a fairly wide camper van comforter, but even when zipped up it is extremely comfortable
Despite the comfortable shape, this bag weighs less than two pounds.
In today's review, we take a look at this amazing bag and what it has to offer. We will also look at similar sleeping bags in the market and get to compare their features and prices with the TerraLite. Read on for more detailed information.
Review
Packaging
The TerraLite sleeping bag comes in one size; a 6'6 inches right zip and weighs about 4.6 pounds when shipping. You will only get this in one color, a combination of blue and black, therefore if you like having a variety of sizes and colors, you might have a hard time with this.
Your purchase also comes with a stuff sack that you can use to store your bag and other items as you hike. Other related items like a sleeping mat and pillows are sold separately.
Design & Durability
Designed with a dual zipper that allows the sleeping bag to open completely, this sleeping bag is compatible with other sleeping bag models for couples or campers with young children who want to create a larger sleeping space. The TerraLite takes into account that there is nothing more important to the quality and function of a sleeping bag than its insulation.
It is insulated with 850+ fill power premium goose down, the lightest and most compressible down available, and includes an insulated hood with adjustable draw closure and a three dimensional down filled draft tube for keeping the cold out and body heat in. A continuous baffle construction ensures that the down insulation doesn't isolate to one side over time or after multiple uses.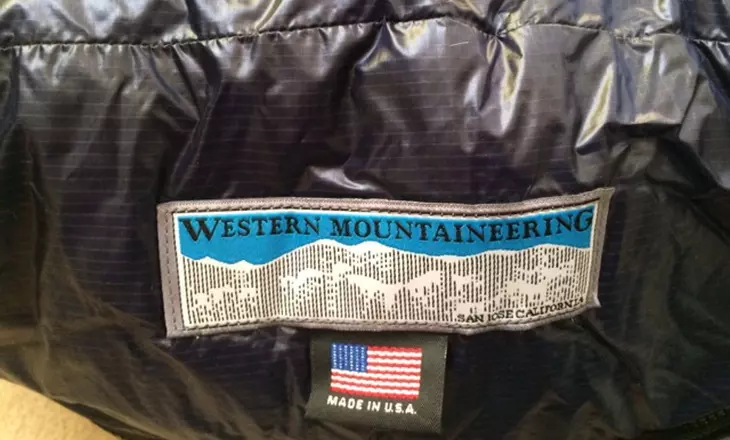 Constructed with a 12 denier rip-stop nylon outer shell for durability and 15 denier nylon taffeta lining providing a plush and soft layer against your skin, the TerraLite is a comfortable mummy bag that keeps you protected from outside elements while you sleep soundly. The shell is treated with a surface durable water repellent finish which sufficiently shrugs off dew and condensation.
With a water repellent finish you can feel ensured that condensation from tent walls or sleeping outside under the stars won't leave your sleeping bag weighed down with dampness. The finish can also be easily reapplied over time if it begins to wear.
Temperature rating
It's important to always keep the weather in mind when you're choosing a sleeping bag. You want to choose a sleeping bag that is rated for the temperature range you plan to go camping in so know which seasons you plan to use this sleeping bag for. The TerraLite sleeping bag has a 25°F temperature rating making it ideal for spring and fall camping.
However, it also has some additional temperature control features for colder or warmer nights. On cold nights the adjustable drawstring hood and insulated draft tube will help keep your body warmth in and the cold out. The wide mummy design of this sleeping bag also allows you to stay comfortable while sleeping with extra layers on if the temperature drops unexpectedly.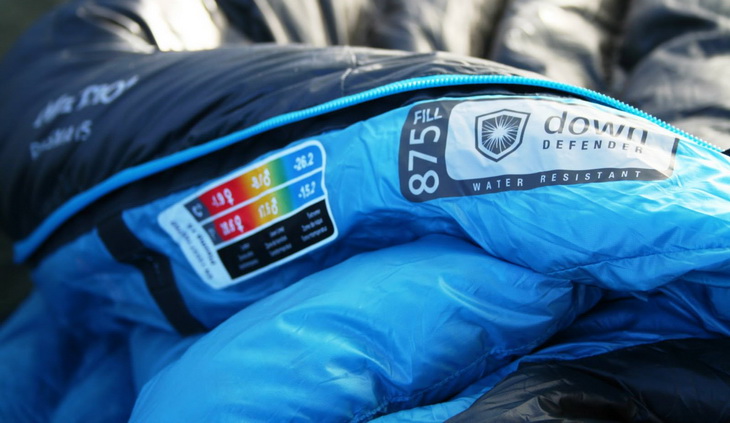 On warmer nights, take advantage of the dual zipper design which allows the sleeping bag to unzip completely. You can unzip it and sleep on top of your sleeping bag or keep your feet unzipped to let some cool air in. With all of the temperature control features that the TerraLite offers, you'll be comfortable camping in almost any weather conditions. Keep in mind that sleeping bag manufacturers display the ideal weather use with a temperature rating, but these ratings are just guidelines so use your best judgment.
Dimensions
The TerraLite weighs less than two pounds, making it one of the lightest sleeping bags on the market despite its mummy shape and size. This mummy bag is designed for ultimate sleeping comfort, especially for those with a wide frame or who are often restless sleepers. Wide throughout the middle for side sleeping comfort, the mummy design offers a comfortable shape without added weight.
You also want to make sure you have the proper length before you purchase a sleeping bag. Most sleeping bags come in regular or long sizes, but the TerraLite offers three lengths: 5'6", 6', and 6'6". Its product dimensions are 9 x 9 x 22 inches, weighing in at exactly 1 pound, 13 ounces.
Comfort
This mummy bag is wide throughout the middle to prevent any discomfort when sleeping on your side or tossing and turning throughout the night. Campers with wide frames and restless sleepers find that this sleeping bag provides ultimate comfort without compromising unnecessary weight or quality. This bag provides plenty of room even with extra layers on and has no limitations for moving and rolling during the night.
Unique Features
The TerraLite has a mummy design which is efficient and contains the heat your body generates as you sleep. Moreover, the design uses less materials and therefore the sleeping bag is ultra light and compresses easily. Has a 12 denier rip-stop nylon fabric which is not only breathable and water resistant, but also durable.
The bag will serve you for a very long time without any wear and tear. The shell will help you keep warm even in cool temperatures, by preventing any heat from escaping from the sleeping bag. Not forgetting the taffeta lining that is of superior quality, breathable and soft on the skin.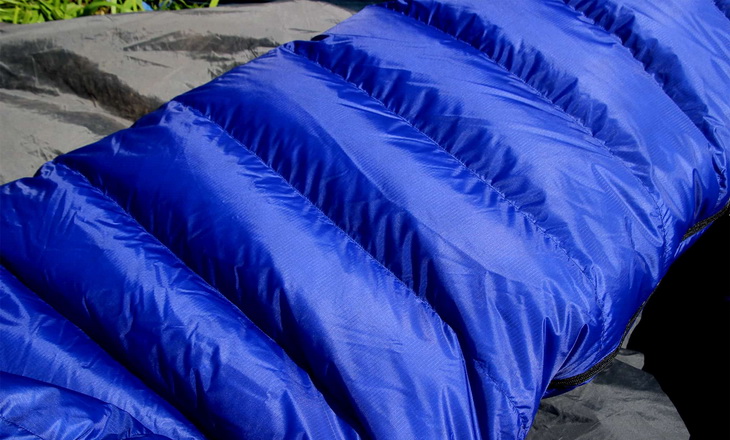 There are two zippers that allow for maximum comfort as you are sleeping by making the sleeping bag even roomier. As a side sleeper, you will love the wide girth that goes through the middle of the bag. You also have the option to unzip the bag at the bottom to let in air during those warm summer nights.
To top it off, the TerraLite weighs less than 2 pounds, which makes it the perfect ultra- light sleeping bag companion for all your outdoor expeditions. You don't have to worry about feeling any extra weight as you trek.
Value for Money & Guarantee
You must be thinking that purchasing this bag will break your bank, right? Wrong! At only approx. $500, this is the most affordable and ultra-light sleeping bag you will find in the market with superior features. If price is the one factor that determines whether you will buy an item or not, then this is just the bag for you.
Purchasing the TerraLite will get you a lifetime manufacturers warranty. There is no other information provided in this regard or even about guarantee in case you end up having a problem with your sleeping bag after buying. Contact Western Mountaineering if you need to make inquiries or get more information about the warranty.
Similar models or competitors
Western Mountaineering AlpinLite 
The Western Mountaineering Alpinlite  is from the same western mountaineering manufactures who came up with the TerraLite, only that the latter comes in a smaller size, but a cheaper price.
It comes in red and as a 6'0 inch sleeping bag. The dark colored lining helps absorb more heat and keep you warm during the cold nights.
Made with a 3-dimensional full down collar, the AlpinLite automatically becomes very warm, comfortable and ideal for backpackers.it has a tested temperature rating of 20 degrees Fahrenheit and therefore can be used in spring, summer and fall.
A full length YKK zipper to enable you zip up during the cold nights or zip down to let air in when it's hot and a 6 inch right zip for the left handed campers. Additionally, there is a 5 inch loft that limits heat loss and maintains thermal performance of the bag.
We cannot forget to mention the continuous baffles that allow you to control the temperature in the sleeping bag by adjusting it to your desired warmth. They lack a side baffle which lets you shift the down during warm weather and three season use. When it's hot, you should move some of the down towards the bottom to reduce insulation at the top of the bag. During cold nights, just move the down back to the top to increase insulation.
Weighing around 3.7 pounds, you might notice that it's a bit bulkier than the TerraLite which weighs just under 2 pounds. The shipping weight is 12 pounds, which will end up costing you more to have the bag delivered to you. Purchasing the AlpinLite will set you back approx. $540 which is on the higher end when compared with the reviewed product.
You should consider this sleeping bag if you are going for a roomier version by western mountaineering. You will not be disappointed. However, if the price is a major concern to you, consider cheaper options.
The North Face Inferno 
The The North Face Inferno comes in an asphalt gray or glow green color and you can choose between the regular and long sizes. Made with a nylon fabric, the sleeping bag becomes breathable, water resistant and durable.
What's more? The bag, mostly excels in cold and dry conditions and is very easy to compress which makes carrying it around, no hassle.
There is a generous cut that allows you to wear more layers, especially during the cold nights or even to 'Maytag' in the bag. The trapezoidal side baffle prevents the bag from shifting around. They also act as a barrier that keeps the down from migrating from the top to the bottom particularly in cold weather. The 800 fill power only goes to make it lighter, despite the weight.
With the price range of around $560 to $570, the North Face Inferno is much more costly than the TerraLite. The upside to getting this bag is that you will have a better selection of the sizes therefore if you're bigger, you won't have to squeeze yourself in a regular sized bag when you can get the longer version.
You also get a stuff sack to hold the bag in when travelling. For a backpacker looking for a roomier sleeping bag with a wider cut and price is not a problem, this is the bag for you during your camping trips.
Sea to Summit Spark III 
Sea to summit manufactured the Sea to Summit Spark III sleeping bag which has a left handed zip ideal for right handed backpackers. You can get it in a grey or yellow color and a choice between the long or regular size.
The most notable feature is the sewn through transverse baffle construction that not only enables the bag to leak moisture, but makes it suitable for warmer conditions or for use as an inner sleeping bag in extremely cold weather.
The outer shell is 10D UL Nylon, treated with durable water repellent (DWR) finish that will make your sleeping bag to bead up rather than soak in any water or moisture. Your bag will stay dry even if it touches the wet sides of your tent or dew when you are sleeping under the stars. The inner lining is made of 15D Nylon, which has a high density weave and is soft on the skin.it generally breathes well letting your body moisture evaporate.
The 850+ loft feature eases up any weight on the bag making it ultra-light. You will find its shipping weight of 1.6 pounds being more than ideal for a hassle free delivery. Moreover, the 1/3 length #3 YKK zipper enables you to close up the bag, leaving some space to let out any moisture which also regulates the temperature in the bag.
Going for approx. $460 to $500 dollars, you will realize that this is among the cheapest sleeping bags we have out there. If you cannot spend more than 500 dollars on a bag, this can be what you have been looking for. It beats the TerraLite in terms of price, choice of colors and variety in size.one major flaw of the Spark SP is its lack of baffles which should only be an issue if you will be camping during winter.
Overview
As covered in our review, Western Mountaineering has a solid history of creating wonderful sleeping bag products and the TerraLite is no different. This well-known and high-quality brand doesn't disappoint with this model from the ExtremeLite series, offering a sleeping bag that will keep you warm, comfortable, and won't add weight to your hiking pack.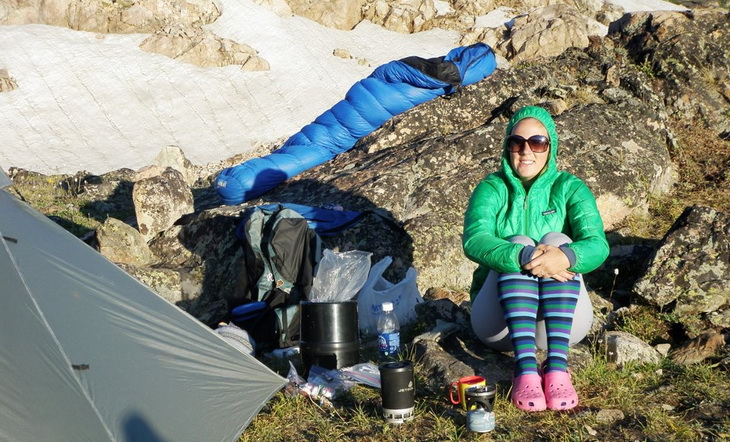 The TerraLite is highly recommended for ultralight backpackers and campers as it weighs in at less than two pounds. Its wide mummy design is a customer favorite as side sleepers find plenty of space for moving around in this roomy sleeping bag. With 850+ fill power premium goose down insulation, this sleeping bag will keep you warm in temperatures as low as 25°F.
Pros:
Right price for value of the product
High-quality insulation, outer shell, and liner materials
Draft tube keeps cold out
Attached adjustable drawstring hood
Dual zipper allows bag to open completely
Ultralight (less than 2 pounds!)
Ultimate comfort and plenty of room to move
Includes stuff sack
Lifetime manufacturer warranty
Cons:
Very slick, slides off sleeping mat
May be too cold in winter if the temperature drops below 25°F
Might be too warm in summer months
Plus, it provides ultimate comfort from its rip-stop outer shell for durability and taffeta lining for softness against your skin. The Western Mountaineering TerraLite sleeping bag is a high-performance, comfortable sleeping bag with premium goose down, making it a great value for the price.
Western Mountaineering TerraLite
Packaging

Design & Durability

Temperature rating

Dimensions

Comfort

Unique Features

Value for Money & Guarantee
Summary
Western Mountaineering factored in all of the important features mentioned above to create a high-quality sleeping bag to keep you warm and dry in almost any temperature conditions. Their TerraLite sleeping bag from the ExtremeLite series is ideal for ultralight backpackers and campers in temperatures as low as 25°F.
Weighing in at less than two pounds, this wide sleeping bag designed especially for side sleeping comfort won't add any unwanted weight to your hiking pack. With the only reported complaint of this sleeping bag being that it's very slick and slides off sleeping mats, customers have been extremely satisfied with this sleeping bag.
The TerraLite sleeping bag might be on the expensive side, but customers view it as worth its price for the value it provides in outdoor sleeping comfort and warmth. Overall, it's hard to beat this sleeping bag when it comes to real down insulation.

Did we miss anything special about the Western Mountaineering TerraLite sleeping bag? Let us know your own experiences with it in the comments!