A sleeping bag, a tent and a backpack are the essential pieces of the backpacking equipment. The sleeping bag will keep you warm and comfortable at night wherever you go. You simply have to make the right choice that corresponds the weather conditions at your final destination.
The main purpose of the sleeping bag is to keep the heat that the body is producing inside the bag, therefore, providing you a good night's sleep. However, the ideal sleeping bag choice should also let part of that heat escape your body in order for you to feel more comfortable in warmer periods.
The Mountain Hardwear Spark 35 is a sleeping bag which has been rated as the best performance sleeping bag on the market. With its light material it is also one of the warmest sleeping bags on the market. This is a combination which is pretty rare to get, at least at this price range, unless it is made from natural material.
However, natural materials have a significantly higher price. With these features taken into consideration the Spark sleeping bag qualifies as a good investment in your backpacking equipment. Comparing to other sleeping bags from this price range, the Spark 35 provides the user a greater comfort level and insulating properties.
Product Specifications: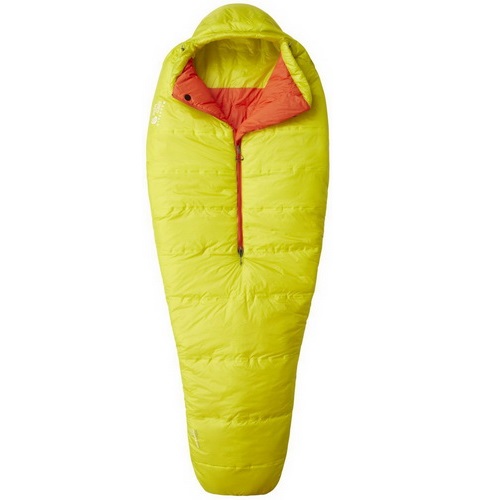 Synthetic

Proprietary welded Lamina construction enhances loft and eliminates cold spots
Thermal Q insulation has outstanding compressibility and maintains excellent loft
Performance mummy cut is snug, reducing girth, weight, and bulk and maximizing thermal efficiency
Materials: Insulation – Thermal.Q / Shell – 22D Dpbby
Weight: 1 lb 12 oz / 788 g
With the Mountain Hardwear Spark 35 being the superior choice on the market, we are revealing its most important features. We are also including the negative characteristics in order to provide you a more realistic view of this product. It is also important to mention that the final purchasing decision should always be according to your own preferences.
It is often encountered that outdoor enthusiasts pay more for features they are not going to need. When it comes to choosing an ideal sleeping bag for your needs, more is not better!
Review
Before we can make any type of informed decision if the sleeping bag we've selected to look at is a good choice or not, we are going to need to take a peek at what makes a quality sleeping bag.  We've rounded up a few main points to think about when evaluating this bag or any other future sleeping bag that you might be interested in.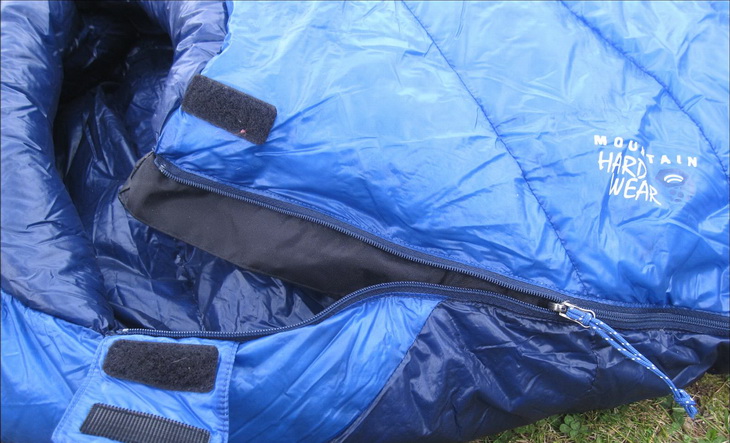 So, let's dive right in and find out what we need to be thinking of. To get that fully rested, waking up energized feeling you need to have the combination of a good sleeping bag and a good pad.  For now, let's focus on a sleeping bag, like the Mountain Hardwear HyperLamina Spark 35 sleeping bag.
Packaging
The Mountain Hardwear Spark 35 comes in a small package of 2, 2 pounds. It compresses to a very small size you can pack it inside the backpack or attach to it. It also comes with a compression bag which is too small to be used for other stuff. If you choose to use the compression bag that comes with the package we recommend that you pack it inside the backpack. The main purpose for this is because it is a bit thin, so if you are walking through a branchy area, it might get damaged easily.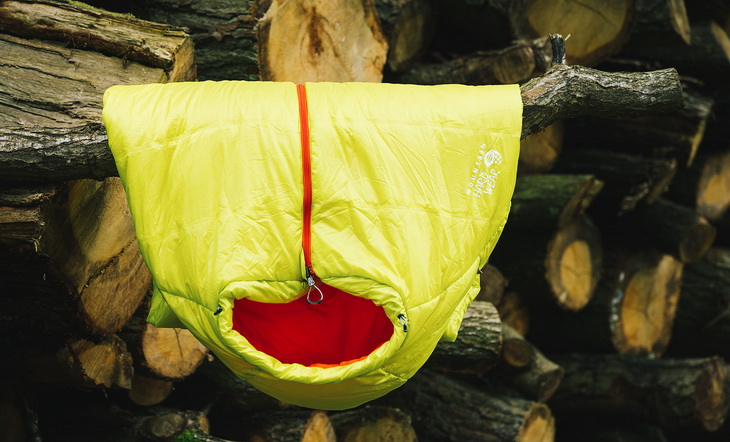 The stuff sack that comes with this particular sleeping bag measures at 6 by 12 inches or about 5.6 liters.  We couldn't track down a good compressed size, but even if you just go with the size of the stuff sack that is not an overly large size to fit a sleeping bag into, especially for one that can hit a full 78-inch-tall person.  The sleeping bag comes with a touch under 2 pounds, which may not be the lightest weight option available, but given the price point of this option it is still nothing to be looked down at.
Design and Durability
The Mountain Hardwear HyperLamina Spark 35 Sleeping Bag is a great choice if you are looking to only have a single sleeping bag that you want to take with you on whatever adventure you come across.  One reviewer proudly stated that he used it happily from Iceland to Hawaii and was pleased with its performance.
The bag is a mummy style bag, available in regular or long, and is presently available in a yellow color, referred to as Ginko.  The bag, sports a half-length zipper, which on the one hand means that you won't have to search around your feet to find the zipper to zip up at night, but on the other hand means that you will need to slide in and out of this bag.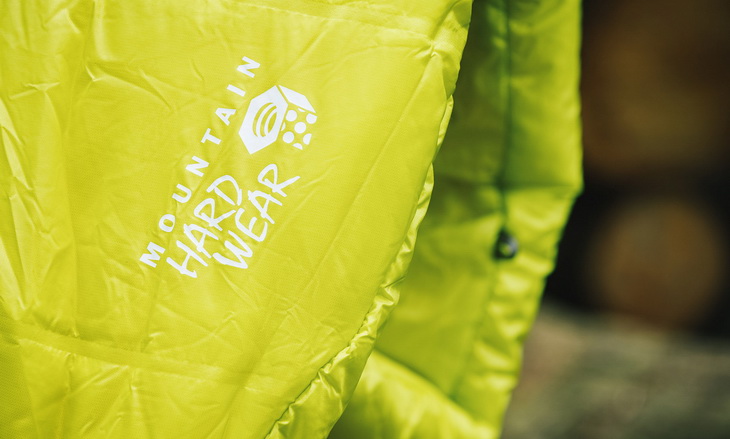 The main advantage of this sleeping bag is its material. It uses 22 D Dobby synthetic material which is very durable in any weather conditions. This means that if you happen to get it wet somehow, it will not lose its warming properties, unlike down sleeping bags.  However, the 22 D Dobby is a synthetic plastic material which is not too pleasant on the skin.
It only serves as an outer shell in this case, though. It is used simply to protect the inside of the bag from the elements. This material also makes the bag water resistant, which might come useful in days when it is raining. The shell is also keeping you safe from winds, which are a frequently occurring, the higher you go on the mountain.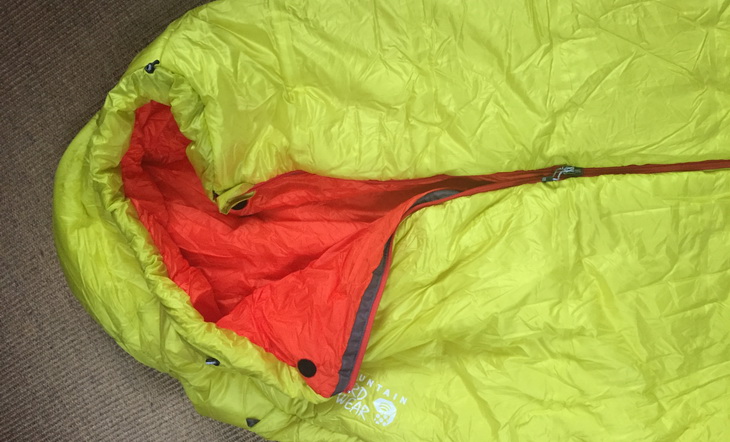 The HyperLaminia Spark 35 is filled with Thermal Q synthetic fibers, with just over a pound of the sleeping bag's weight going on this fill material.  While the synthetic fibers will dry much faster than natural materials they will end up breaking down over time, meaning the more you use any bag that is filled with synthetic fibers it will slowly have less and less insulating power.
This process will take years of use though. The inside of the bag, however, is made from a tenderer and warmer material that is providing all the insulation. The compression bag though, is made from a different material which is even more element resilient. Its sil-nylon material, will keep your bag dry even on a heavy rain.
Insulation
The material that is providing its great insulation properties is the Thermal Q, which is present in quantity of 60g in density. It is a Thermic Micro material and it is the reason why this bag is the synthetic version of the warmest bags on the market. In fact, if you haven't been told that it doesn't contain natural feathers inside, you probably wouldn't be able to tell.
However, good insulation properties also have to keep certain body parts with lower circulation, warm and cozy inside. For this reason, the Thermal Q technology is being used which has zoned insulation. Zoned insulation is maximizing the warmth to your feet and head since these are the parts of our body that are losing the most heat.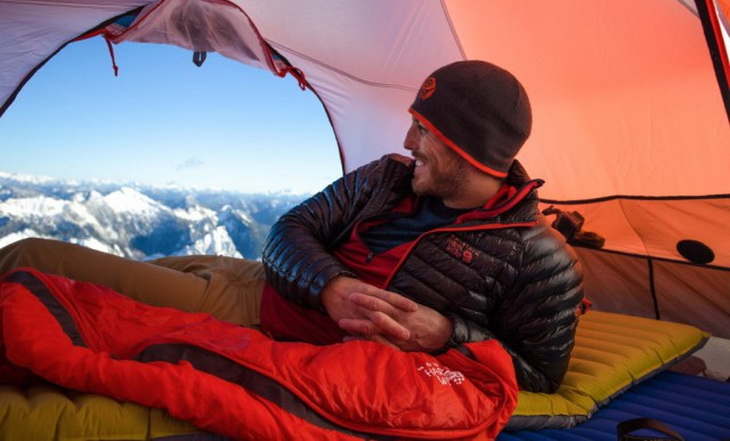 However, a sleeping bag also requires good ventilating properties in order not to experience the oven feeling.  For this reason, there is a zipper at the center that allows you to open it as far as you want in order to cool yourself down, if that is what you need. There are also dual sliders that are adding to its ventilating properties.
Warmth
This bag's name is called Lamina because of its laminated construction, which is eliminating cold spots and it enhances loft. Its thermal properties come from the material which is being used in the manufacturing process. The inner material provides enough insulation so that it can be used in any weather conditions. It will keep your body warm and you will finally be able to have a good night's sleep on the top of the mountain without feeling chilly.
What makes this sleeping bag an award winner is its weight to warmth ratio which is truly remarkable. Having in mind the weight of the bag and the fact that no down has been used in manufacturing it, it is surprising how warm it can keep the user. It does so by using a specific warming technology that is preventing lofting and it distributes the warmth to your extremities where you need it the most. The mummy cut shape of the sleeping bag, is also optimizing its thermal efficiency while lowering its weight.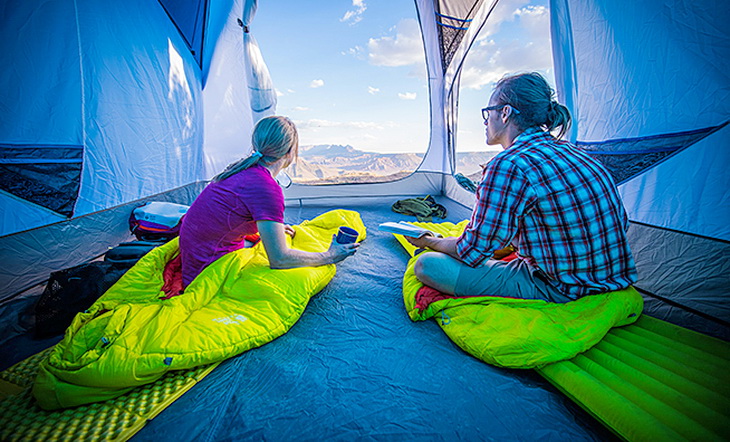 Mountain Hardwear states that they use a propriety welded Lamina construction on their bags.  Most all companies that make sleeping bags aimed for backcountry use now are using some type of welded construction.  The old fashion way of holding a sleeping bag together was stitching it, this caused there to be areas with less insulation and therefore you would have cold spots.
Someone developed the method known as welding and now companies can forgo the stitching and cold spots that come with it. Mountain Hardwear also states that they have mapped out where you need more insulation and so in this bag there is more insulation material around your core and feet, which are the areas where most people tend to get cold in the middle of the night.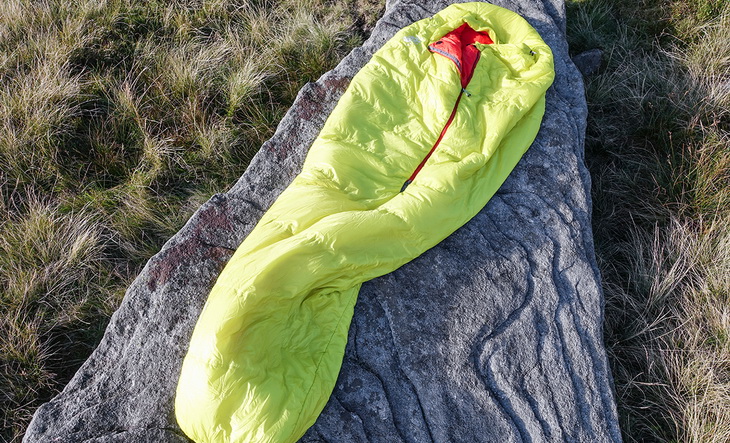 This sleeping bag has been rated down to 32 degrees Fahrenheit (or 0 degrees Celsius).  Some reviews have stated that it works well compared to other sleeping bags rated about 35 degrees Fahrenheit, but not quite as well as some others rated closer to 30 degrees.
This bag should be able to keep you comfortable down at least approaching freezing, but it may end up being more of a 3-season bag than truly the bag you take out for the coldest winter trips.  However, you will also want to take into account how warm you run, as a number of reviews have mentioned that it holds heat very well.
Comfort
While this one has been designed to be snug, to both cut down on weight and size, it is actually a bit more spacious than many other similar mummy style sleeping bags.  When dealing with a mummy style bag you walk a fine line between being too snug that it doesn't allow the sleeper to be comfortable and being so big that cold spots end up forming and again, the sleeper ends up not being comfortable.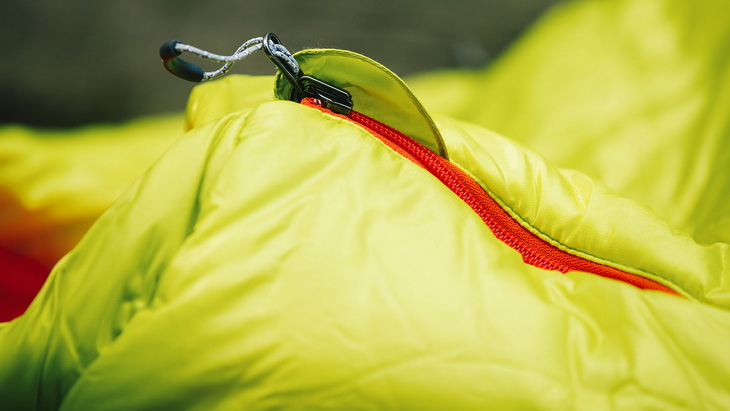 The measurements for height, shoulder girth and hip girth are given by the manufacturer, so you will need to look at your own proportions to find if those will be much bigger than your frame, just about right or a bit too snug.
Unique features
There are numerous sleeping bags on the market that possess different qualities and characteristics. However, you need to find the ones that you need the most. Below we are presenting the features that make this sleeping bag one of a kind and it is up to you to decide if those are your top criteria for purchase.
Packing size: When backpacking, the size of the items matters a lot. And when this sleeping bag was produced, they made sure it packed really small with an impressive size of only 16 x 13 inches. This makes it one of the smallest sleeping bag packages currently available on the market.
Mummy shape: Unlike the rectangular shape which is intended for wiggling inside the bag while you are sleeping, this mummy shaped bag is all about the practicality. This means that the shape of the bag follows the shape of your own body in order to minimize the heat escaping your body. This shape also lets your body get the desired temperature faster and more effectively.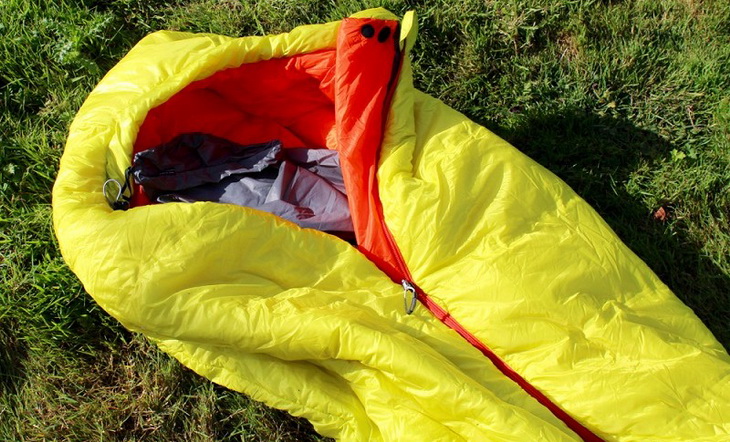 Waterproof properties: One of the most impressive properties this bag has is its ability to endure heavy rain, while keeping its other properties unchanged. It is completely waterproof and you don't even need a tent with this bag, it will protect you from the water, as well as the wind.
Warmth: It is safe to say that this sleeping bag has the highest rating when it comes to warmth. The only products, warmer than this bag, are the ones made from natural materials which are definitely in another price range. Considering this fact, this might be the warmest sleeping bag in the price range.
Value for Money & Guarantee
This Mountain Hardwear Spark 35 indeed offers great features for the price specified. Only for the sleeping bag, you will have to spend around 200$. However, a sleeping pad is also recommended to be used with a sleeping bag in order to create a greater isolation. For this purpose, we are suggesting the Therm a rest sleeping pad, which would cost you some additional 150$. A compression Therm a rest pillow is also a frequent choice of this product's users. It is priced around 20$ and it provides much greater comfort.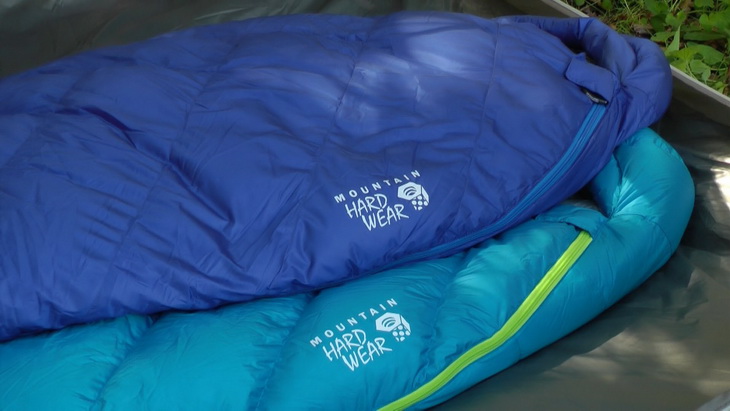 Although this might seem as a large budget needed to be spent on outdoor equipment, it is definitely worth it. The combination of products will provide you a good night sleep and it will protect you from the harsh weather conditions. In a way, it will allow you to almost have the comfort of your home while staying out in the nature.
As for the guarantee, Amazon, as a main distributor of this product, always offers product guarantee. This means that if something is wrong with the product, you will be able to return it after explaining the cause. However, the manufacturer, as well as the distributor, doesn't offer money back guarantee, if you don't like the product or you find it unsuitable for the recommended temperatures. For this reason, they have a thermal labeling system which ensures that every product is tested and according to the European general rules.
Similar models or competitors
Mountain Hardwear Lamina 
The Mountain Hardwear Lamina is a sleeping bag from the same manufacturer which has a slightly cheaper price but it also lacks some of the features that the new model has.
The features it also possesses are the zoned insulation as well as the Thermal Q technology, which means that the ability to hold heat is almost the same as the Spark 35. The Lamina construction is also being used for the production of this sleeping bag as well.
However, the biggest difference is exactly its warmth temperature which is lower by one degree. Even though this might not be an issue when sitting in front of a computer, when you feel the chill in your bones, you will wish you got the warmer alternative.
The other difference is its weight, which is 7 pounds, and this means that in terms of weight, it doesn't even compare to the Spark 35 version.
Mountain Hardwear Flame 
The main difference between the Mountain Hardwear Flame and the Spark 35 is the material it is manufactured with which makes all the difference in the features. It uses nylon material in its production, which is more waterproof, but it is also less breathable and not so easily compressing.
This Mountain Hardwear alternative also comes with a storage sack, besides the compression sack that the Spark 35 is packed with.
Also, even though it has nearly the same price the temperature rating is 22 compared to the 35 of the Mountain Hardwear Spark 35. This means that it is suitable for lower temperatures, but it is also less breathable than the Spark 35.
Mountain Hardwear Torch 0 
The Mountain Hardwear Torch 0 sleeping bag has all the features that Mountain Hardwear sleeping bags are recognizable for, but it is differing from the Spark 35 by its warmth feature.
While the Spark 35 has a 35 temperature rating, which makes it more of a three season sleeping bag, the Torch 0 is specifically made for lower temperatures and harsh weather conditions. Its comfort rating is 16F and its limit temperature is 3F.
This makes this bag extremely warm and a best performer in the warmth class! For a synthetic sleeping bag, this temperature limit is indeed impressive.
Overview
A sleeping bag is a very necessary thing if you are planning to head out for any length of camping.  Of course, you'll want to pair it with a good pad.  The pad will add a little more insulation while also giving you at least some break from those rocks that always seem to grow right under your sleeping bag in the middle of the night.
There are a number of things to consider while looking at a sleeping bag, comfort and fit, warmth, weight, compressed size and the materials used in its construction.  The one thing that you will need to take into account is that with most any of the data given, you'll need to know something about yourself to determine how useful that will be.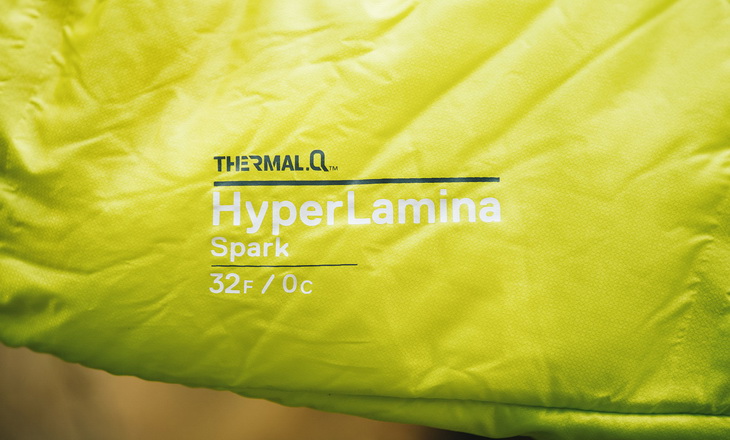 When they tell you the sizes at points on a sleeping bag you'll need to compare that to your measurements.  Likewise, given a warmth rating you'll want to think about where you are going to be taking this bag and how warm you are while you sleep.  Even the compression size is something that you should think about in conjunction with how much pack space you have available.  All in all, you need to know a number of things about yourself and your camping style to be ready to make a great choice for a sleeping bag.
Pros:
Mummy shaped
Lightweight
Water resistant outer shell
Great insulation properties
Zippers and hood in order to control the ventilation
Cons:
Limited color designs
Relatively expensive
But now it is your turn: did you find this article helpful?  If so, would you be so kind as to share it out on social media?
Mountain Hardwear Spark 35
Packaging

Design and Durability

Insulation

Warmth

Comfort

Unique features

Value for Money & Guarantee
Summary
The Mountain Hardwear HyperLamina Spark 35 Sleeping Bag is a great choice if you are looking to only have a single sleeping bag that you want to take with you on whatever adventure you come across. One reviewer proudly stated that he used it happily from Iceland to Hawaii and was pleased with its performance.
The bag is a mummy style bag, available in regular or long, and is presently available in a yellow color, referred to as Ginko. The bag, sports a half-length zipper, which on the one hand means that you won't have to search around your feet to find the zipper to zip up at night, but on the other hand means that you will need to slide in and out of this bag.

If you are looking for a solid three season sleeping bag and think that this is the right choice for you, please feel free to check it out and see if it might be the perfect solution for you. And then let us know what you think of this sleeping bag or sleeping bags in general in the comments below.