When you think about hiking footwear, sandals are most likely not what comes to your mind. But, for those who don't know, there are sandals that are specifically made for hiking and they come with added benefits compared to hiking boots, making them a great addition to your hiking gear collection.
The best hiking sandals come in handy during warm weather, especially on gentle trails, but not on rough terrain. Furthermore, hiking sandals are also a good choice for a short backpacking trip and on those days when you simply want your feet to breathe.
So, pack a pair of sandals when going for a multi-day hiking trip and wear them around the campsite. A pair of sandals will also be very useful when you need to cross a stream because they're ventilated and dry quickly.
Our Top Picks
| Product Name | Material | Best Use | Price |
| --- | --- | --- | --- |
| Chaco Mens Z/2 | Vibram Unaweep sole, BioCentric footbed contour | Canyoneering, trail running, hiking, walking | Check price on Amazon |
| Merrell Kahuna III | Lycra neoprene lining, Vibram Chameleon Sport Sandal Sole/TC5+ Rubber outsole | Walking, hiking | Check price on Amazon |
| Ecco Sports Yucatan | Nubuck leather, Agion treated, covered CMEVA footbed | Hiking, traveling | Check price on Amazon |
| Ahnu Kovar | Rubber sole, textile | All outdoor activities | Check price on Amazon |
| Teva Omnium | Synthetic and mesh, Rubber sole | Canoeing, river rafting, sit on top kayaking, hiking | Check price on Amazon |
| Keen Arroyo II | Leather/Fabric, Rubber sole | Hiking, walking | Check price on Amazon |
| Keen Newport H2 | Synthetic sole, Washable polyester webbing upper | Hiking, walking, all outdoor activities | Check price on Amazon |
Things to Consider Before Buying
Hiking sandals are considerably more comfortable than hiking boots. Comfort is very crucial to a day hiker or backpacker who is planning to scale the mountains and need to camp somewhere while hiking boots are very uncomfortable when worn all the time.
Sandals come in handy when you need to remove the boots and let your feet breath, plus they offer a good grip when you're crossing through shallow rivers and streams, allowing you to tackle the rocks and pebbles under your feet.
Keeping a pair of sandals in your backpack becomes quite handy, but not just any kind of sandals. Here are some essential things you need to consider before buying hiking sandals.
Arch Support
Hiking sandals, unlike flip-flops or dress sandals, have a better arch support, same as the arch support on hiking boots. Arch support is important in giving you comfort and protection as you hike the trails.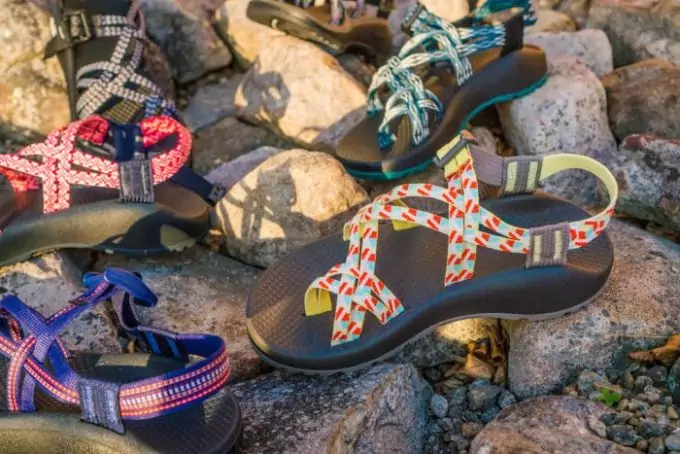 Keep in mind, however, that hiking sandals are not the best for technical mountain climbing, a hiking boot's good ankle support is recommended for this kind of activity.
Toe Support
Toe protection is undeniably important when hiking in sandals. Most trails will have rocks, sticks, roots, and other elements that can injure your foot and toes if they're exposed to them. The best models come with toe protection. You can still settle for open toe designs, if you intend to use them for hiking around the beach or on paved trails in the woods.
Treads
Sandals with a sturdy tread are a must. Sandals with the best tread are made with a Vibram sole, that provides excellent grip even during wet weather.
Fitting
When buying a hiking sandal go for the best fit. A well fitting sandal is comfortable. There will be times when your feet will swell, especially during the hot weather so get sandals with adjustable straps for such times.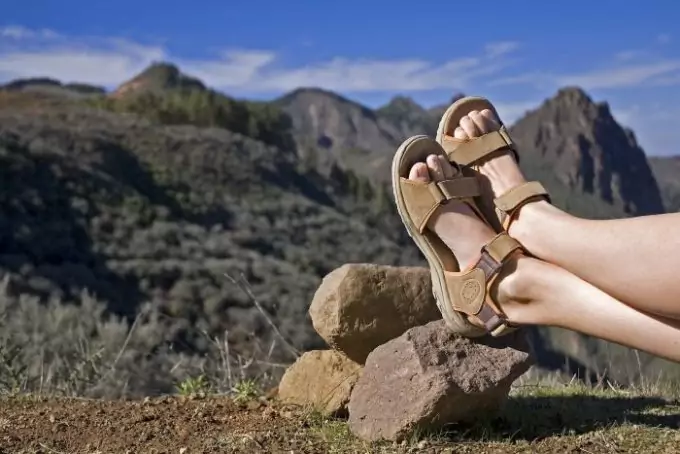 Adjustable straps also give you more room to wear socks during cold seasons.
Waterproof
Waterproof sandals are great because you never know when you may need to cross streams. You also need sandals that will dry quickly if you need to clean them after a day of hiking and wear them around a campground. The best waterproof sandals are those with synthetic uppers and rubber soles.
Comfort
Obviously, no shoe is will be great to wear if it's uncomfortable. Luckily, today's shoes come in various designs with added comfort features. Always test how comfortable a sandal feels on your feet before you buy it.
Price
There are a wide variety of hiking sandals that come in different prices.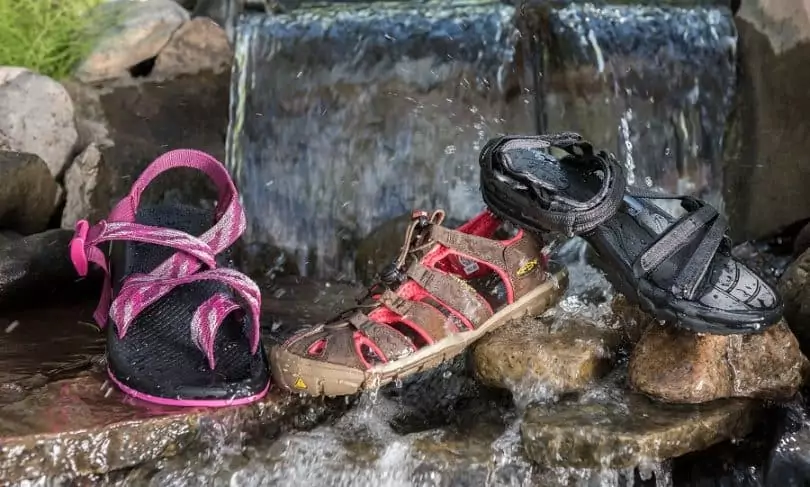 The price ranges from $50 to approx. $150, so you can choose the best hiking sandals based on your style, budget and needs.
Types
Though useful, having the right hiking sandals is vital. Not just any type of sandals will be good for hiking, so forget the flip-flops, they will not hack it. If you don't get the best outdoor sandals, you risk getting a permanent injury, blisters, and pain in your feet.
If you want to wear sandals for outdoor activities such as walking, running or hiking, you need to grab a full-utility sandal that will not wear out due to the terrain or expose your feet to the harshness of the ground. Think about comfort, stability, durability, movement, style and thickness when buying a pair.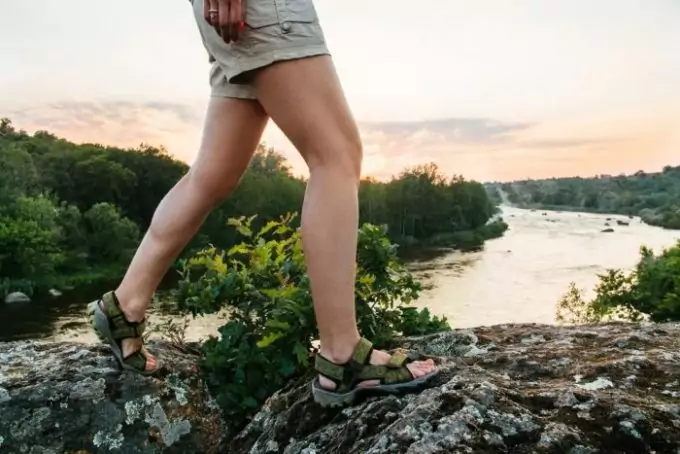 Shock resistance is also another important factor to consider if you want to use trekking sandals for hiking. The best ones contain ethylene vinyl acetate (EVA), or foam midsoles to absorb shock well, giving you an easy hike. Before you even start shopping for hiking sandals you need to decide whether you want an open design or a closed design.
Open Design Sandal
Open design sandals are lighter, simplistic and have lower volume. These sandals are portable and can easily be packed in a backpack, to be used around the camp. They have great ventilation and are also long lasting.
Though less popular compared to closed design sandals, manufacturers have added incredible features to make open design sandals more competitive. These features remove the need for a closed design sandal. For instance, for better stability, some of these sandals come with a toe-loop.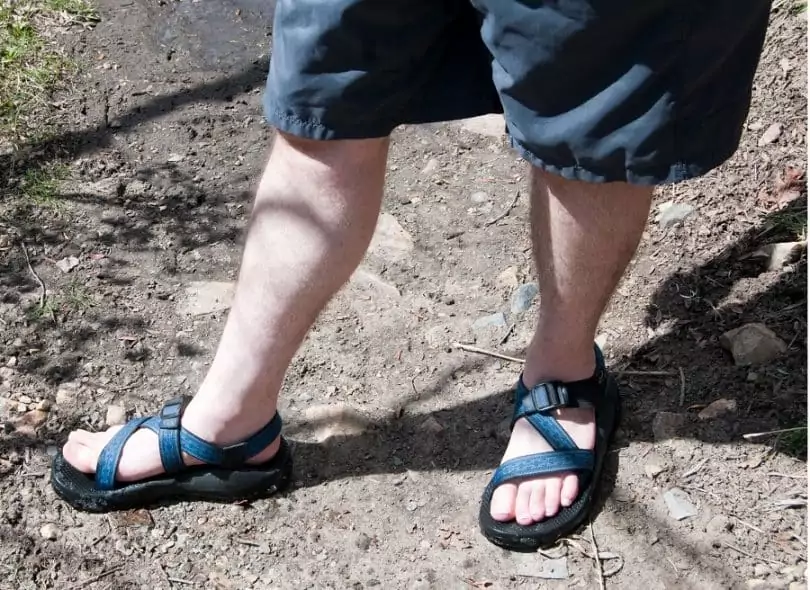 Furthermore, an open design sandal is perfect for non-technical and short-distance hiking. It also makes a great water and casual shoe. If during your hike you'll be doing some swimming and adventure sports such as jumping off cliffs, you will appreciate the versatility and efficiency of an open design sandal.
However, if you plan to hike on a tough terrain where you will be crossing many creeks, closed designs are more suitable.
Closed Design Sandal
The advantage of closed design sandals is that they keep your feet protected from rocks, sticks and other things that could cause injury. Closed design sandals are actually considered as medium-distance hiking shoes, some people even wear socks with these sandals for more comfort.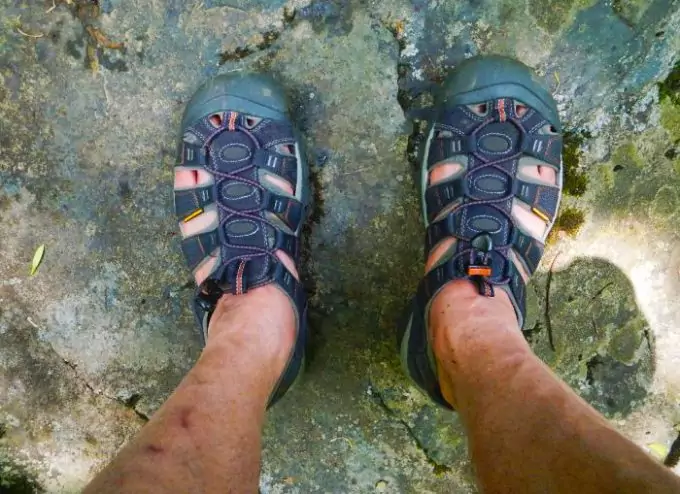 These types of sandals have stronger soles and advanced lacing systems, features that make them heavier. These advanced features also make the shoes less durable compared to the open shoe design sandals and tend to break down faster than more simplistic designs.
Best Products On Today'S Market
So, what are the finest hiking sandals for you? Here are 7 of the best outdoor sandals that you can pick from.
Chaco Mens Z/2
Price: $50 – $110
Specific features: Synthetic sole, contoured footbed, crisscross straps with adjustable buckle, and toe strap for extra stability.
Best use: Canyoneering, trail running, hiking, walking
Description: The Chaco Z/2, are both great for heading to the beach and are also convenient for hill climbing. These sandals come wrapped with a toe loop and a diamond pattern intended to prevent your feet from sliding out even when making steep descents.
The sandals also have a Vibram Unaweep sole which limits impact vibrations. Furthermore,their adjustable straps are light and dry quickly preventing moisture from accumulating on your feet. These sandals are great for simple hiking, but not for harder hikes.
As for the design, the toe loop in the front, strap wraps around the big toe and you can tie it as tightly or loosely as you want to give you added control.
Also worth mentioning is that the Chaco Z/2 men's sandals have a BioCentric footbed contour that makes them quite special. This footbed also has a sculpted heel cup that makes your heel more stable. Furthermore, the fatty pad in the heel gives your foot natural cushioning.
The sandal has been endorsed by the American Podiatric Medical Association, because it comes with an underfoot platform that causes the foot to roll through each stride in a neutral position, reducing unhealthy pronation.
PROS:
Lightweight
Lasting arch support and body alignment
Comfortable
CONS:
Takes a long time to break them in causing blisters
Too narrow
Related:  If you are not much of a fan of toe loops, have in mind that Chaco also offers a similar model like the Z/2, but without a toe loop. This model is known as the Z1 Unaweep Sandal, and it comes in various colors, including a camo design that is ideal for those who like to have a bit of camouflage even on their sandals.
Merrell Kahuna III
Price: $60 – $110
Specific features: Hook and loop closure system, suede upper, rubber sole
Best use: Walking, hiking
Description: Most sandals are light in weight, but, while this is a great thing, they also tend to be less durable. The Merrell Kahuna III, however, is different from the rest as it both light and it does not break the moment you take it out for a hike.
The sandals have heavy, multi-directional treads that allow you to move easily in any direction. Also, they are perfect for any kind of terrain and will keep your feet protected from the elements that can cause injury. They will likewise work fairly well when crossing streams and rivers.
This means that you can wear the Merrell Kahuna III any outdoor experiences, anywhere you want. As for the design and built, these sandals have foot conforming antimicrobial uppers that wrap your feet securely and comfortably making them perfect for tackling steep river banks.
They also have a technical traction that makes handling any kind of hiking terrain easy, no matter what the elements it has. The upper is made of pig suede and has a hook and loop closure system that is easy to adjust.
Furthermore, the sandals are fitted with a Lycra neoprene lining, enabling padded comfort. The lining also prevents odor from building up within the sandals.
Also worth mentioning is that the External TPU heel acts as a stability arm that ensures you have a stable walk even on uneven terrains. The midsole of the kahuna III has a Merrell air cushioning system in the heel, giving it optimal shock absorption and stability and durability.
PROS:
Lightweight
Durable
Comfortable
Related: Merrel also offers a similar model like Kahuna III and that's Merrell All Out Blaze Sieve Water Sandal which are more appropriate if you're planning on hiking near waters. This model is made out of waterproof leather upper and comes with adjustable hook-and-loop straps at ankle, counter and vamp.
Ecco Sports Yucatan
Price: $100 – $150
Specific features: Rubber sole, stretch underlay and three adjustable hook-and-loop straps
Best use: Hiking, traveling
Description: ECCO Sports Yucatan have three hook and loop straps that allow for comfortable fitting. There's one strap at the back of the heel, another at the instep, and a third around the toe area.
The sandals offer really good arch support, making these more comfortable than the models from most of the other brands. Furthermore, they are especially useful for people who have flat feet because they reduce pressure on the heel.
Also worth mentioning is that the ECCO sandals are available in 6 colors, giving you a variety to choose from. They also have a fairly good price point, and are also very durable and will give you great service for a couple of years. The sandals are lightweight, which makes them ideal for traveling as they won't add much weight to your luggage.
The ECCO sandals would be a perfect choice for those who spend almost 100% of your time outdoors, on paved, short trails or in urban environments.
PROS:
Durable
Lightweight
Comfortable
Perfect for those who have flat feet
CONS:
Not enough arch support
Rather scratchy
Toe strap has only a few millimeters of adjustment
Related: Another, a bit cheaper version of this sandal made by the same brand are these ECCO Yucatan II Outdoor Sandals. Another great outdoor sandal that features 2  hook-and-loop straps that are easy to adjust, neoprene lining, rubber traction outsole and Receptor technology, used for the footbed support(Dual-density Aglon- treated CMEVA) for odor resistance.
Ahnu Kovar
Price: $60 – $70
Specific features: Rubber sole, Numentum Traverse opened toe technology
Best use: All outdoor activities
Description: The Ahnu Kovar Sports Sandals are a closed design option that offers you great foot protection while still giving you optimum breathability. The straps on the sandals have a buckle that makes it easy to adjust them and for a more custom fit.
Furthermore, the buckle is also great because you won't have excessive bungee straps hanging off shoes' sides. The ventilation on the Ahnu Kovar sports sandals is great and does not sacrifice their secure fit, cushioning and added protection.
When speaking of cushioning, they come with plenty of it, as well as with great traction and support, which makes them perfect for any outdoor adventure. Their grippy rubber sole makes it easy to walk on uneven roads or even a muddy, slippery terrain.
Also worth mentioning is that, although they're a bit heavier than other models, these sandals have a rubber bumper toe that shields your toe from harmful elements.
PROS:
Price
Comfortable
Excellent traction
CONS:
The clip belt is not adjustable
Related:  Another great sandal offered by the same brand is the Anza collection. Sandals from this collection, such as Ahnu Anza Sport Sandal are a bit pricier, but worth every dollar. Their ventilated upper is quick drying and highly breathable and quick drying. Numentum Traverse Opened Toe Technology keeps the foot in a neutral position through a wide variety of motions, impacts and speed. Comparing to the sandal from the Koval collection, the Anza sandal has a locking buckle and a heel strap that is adjustable.
Teva Omnium
Price: $60 – $110
Specific features: Synthetic and mesh, rubber sole, encapsulated shock-absorbing ShocPad heel, non-marking outsole
Best use: Canoeing, river rafting, sit on top kayaking, hiking
Description: The Teva Omnium combines the support and protection of a shoe, with the added light weight and ventilation of a handy sandal.
These sandals have an elastic lacing system, an adjustable hook-and-loop heel strap, and a quick-release buckle, offering you the perfect fit. Teva Omnium is one of the most durable hiking sandals available on the market, and the secret to the popularity of this model's design is the crossbreeding of a hiking shoe with a sandal creating a sandal that is perfect for hiking.
As for the design, the sandal has a Spider Original outsole that is non-marking giving the sandal a sturdy foundation. Furthermore, on top of the sandal is a mesh upper that has a quick release buckle and bungee tightening that gives you comfort and a tighter fit with minimum friction and discomfort.
This model also comes with a Microban Zinc that fights bacteria and fungus that causes odor. More so, the heel has a shock pad that transfers the impact of each step to the footbed and from the heel. The sandals are made from a quick-drying material to ensure your feet stay comfortable, giving you room to enjoy all of your adventures.
PROS:
Lightweight
Comfortable
Breathable
Quick-drying material
CONS:
You have to wash them often as they are not odor-proof
Can cause blisters
Related: If the Omnium model looks a bit too open for you, or the design is not stylish enough, you can also check out the Teva's other two models, the M Forebay Sandal and the Dozer 4 Hybrid Outdoor Shoe, which are both a bit more closed and have a more stylish design that is actually suitable for ever day city use. But, have in mind that they don't offer such good ventilation as the Omnium model.
Keen Arroyo II
Price: $70 – $110
Specific features: Leather/fabric, rubber sole, removable meta atomical dual-density EVA footbed, Hydrophobic mesh lining
Best use: Hiking, walking
Description: Keen Arroyo II is a hybrid closed toe design hiking sandal that has adopted a hiking boot design. At actually does not look much like a sandal. It, however, has a mesh and open ventilations that offer great breathability.
This model, which was formerly known as the Taos, has a multi-directional outsole that makes the sandal perfect for rough terrain, and if you are planning a summer mountain trip this would be a great choice of footwear. The Keen Men Arroyo II has a secure fit lace capture system that keeps the sandals snug on your feet.
You also have to know that the sandals come with a removable dual-density EVA footbed compression, and also has an S3 heel support structure. The Arroyo II is a great choice as it combines all the best features of a trail boot and a sandal.
From mountains to city streets and beaches, the Keen brand believes in living and hiking a HybridLife. These sandals work so well that you can easily replace your hiking boots. Even though they don't provide as much ankle support as hiking boots, but they are wearable for the most extreme terrains.
PROS:
Comfortable
Waterproof leather
Breathable
CONS:
Doesn't look like a sandal
Not very much durable due to the soles that are a bit soft on the side
Related: The Arroyo 2 also come in women's version and pretty much offer the same protection and comfort as the male model, but only come with a sexier design, which your loved one would probably like.
Keen Newport H2
Price: $60 – $120
Specific features: Synthetic sole, washable polyester webbing upper
Best use: Hiking, walking, all outdoor activities
Description: The KEEN Newport H2 offer a lot of support, comfort, and traction, which makes them perfect for your next outdoor adventure. They have a special hydrophobic mesh lining that is great at repelling water, meaning that they dry extremely quickly. The sandals also have a secure lace system keeping them firmly in place on your feet.
As for the design, the laces come in eight different colors, making them perfect for a bungee style lace system, and this lace system is also convenient and quick to use. Furthermore, the sandals have 3mm lugs and a razor sipped outsole that provides excellent traction. This makes them perfect for hiking in adverse conditions.
In addition, the sandals have a washable polyester webbing upper that contains Aegis Microbe Shield that reduces odor. You can use KEEN toe protection sandals for hiking on any kind of terrain, be it trails or rivers. The webbing on the sandals is very well made and doesn't stretch over time, compromising the fit of your sandal.
The sandals, though perfect in every way, might leave some dye on your socks and feet during the first few wears, and that is their only downside.
PROS:
Comfortable
Adjustable secure fit strap
Waterproof
CONS:
Low quality front strap
Low quality stitching
Can leave some dye on your socks and feet
Related: The Keen Newport H2 sandals also come in a female version, and the only difference is that they come in different (girly) colors, while the most important features remain the same. So, if you want to surprise your hiking partner/girlfriend, you can get her a pair of these.
Wrapping It Up
Sandals are great for short term hiking mostly because they are light, making movement easy and comfortable.  However, as a hiking enthusiast, it's important to note that not places will be suitable for sandals. For instance, sandals are tough to walk in when you are walking along the narrow ridges or climbing over logs.
This kind of terrains is best tackled in hiking boots. The best part about the hiking sandals is that they are a good replacement for your hiking boots, when you simply want to rest your feet, for short excursions or during camping.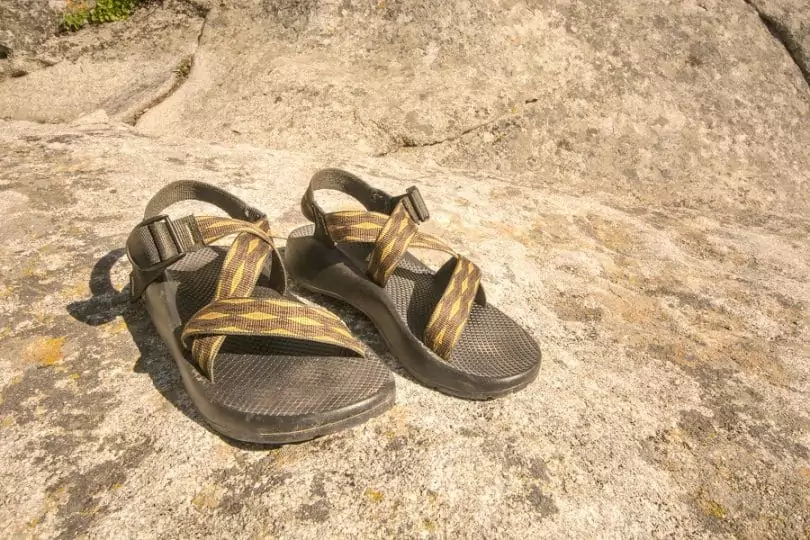 So, it's a good practice to have a pair of these in your backpack and wear your boots for longer excursions then switch to sandals when you get tired and you need your feet to breath.
Furthermore, sandals are also a great replacement when you are hiking in a plain and simple area without elements that can hurt your feet. In this case, you can consider wearing sandals over long distances.
Now that you know all you need to know about hiking sandals, do you think that we left out something important? If so, please let us know by leaving a comment in the comments section below.