Are you a big fan of hiking? Are foot aches, blisters, and discomfort hampering your love for it? If yes, you definitely should consider adding some extra support and comfort to your hiking boots by using the best insoles for hiking. When your feet are uncomfortable, your hiking skills will certainly fall to a bare minimum and instead of enjoying the activity, you'll end up suffering. Making sure that your feet are comfortable is, therefore, important.
Even though premium hiking boots come with a foam insole that offers pretty good foot protection, adding extra insoles will greatly improve your foot comfort and health. Interestingly, most people will only consider buying insoles for ankle support and for either a narrow or wide boot. While this is totally okay, there are many other reasons to get insoles.
The kind of insoles to settle for will depend primarily on the problem your feet are suffering from. This is because some people want better support for their arches and heels, while others simply want some added foot cushioning. Some people even simply want heated insoles that offer added warmth.
That said, don't feel the pressure to buy insoles just because they've been said to be important. Instead of buying insoles to make up for poorly-fitted hiking boots, take your time to find the best boots that fit you correctly. If you are sure that you need insoles due to foot problems, then always carry them with you when you're buying new hiking boots to ensure they fit in well with the new boots.
Our Top Picks
Features to Consider Before Buying
There are several foot problems that most hikers experience. Luckily, most of these can be relieved by using inexpensive insoles. Let's take a look at a few common problems:
Low/Collapsed Arches
There are people who suffer from a collapsed or low arch. This is a condition where the feet have no arch or the arch is very low. It is also commonly referred to as flat/fallen feet. The arch is the middle part of your foot that is normally raised off the ground when standing.
People with this kind of feet will generally have more foot aches due to increased pressure on the lower arch and are in need of highlighted foot support.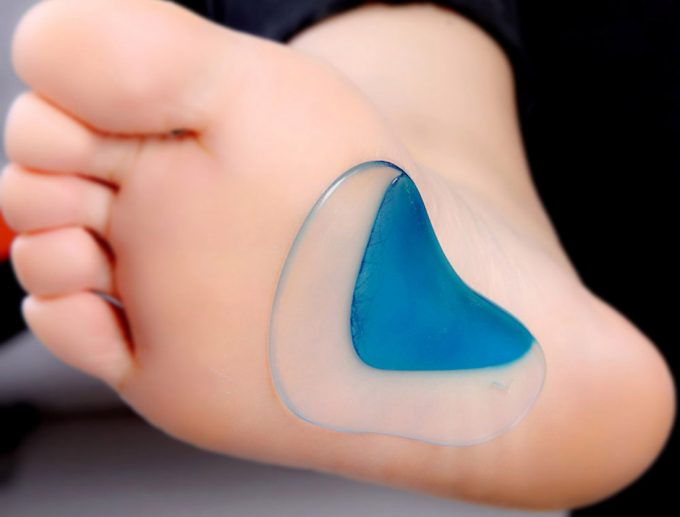 If you have low arches, go for supportive insoles that will stabilize your heel and relieve pressure by distributing it across the base of your foot from your arch area. A supportive insole will also stimulate the muscles in your arch and make them more engaged.
Foot Elongation
There are people who have a significant foot elongation either in one or both feet when they are standing compared to when they are seated. This kind of elongation strains your muscles, ligaments, and foot nerves.
This then leads to heel pain at the center point of the underside of your heel and at the front and sides of the underside of your heel. Wearing a supportive insole will help relieve this kind of pain by reducing foot elongation when you stand and during hiking.
Heel Slippage
It's a common occurrence for new hiking boots to cause heel slippage because their soles are often stiff and will prevent the foot from bending easily. If your foot fits properly, then the spillage can be reduced by an insole. The insole will reduce excess volume in the shoe's rear and stabilize your heel preventing blisters and hot spots.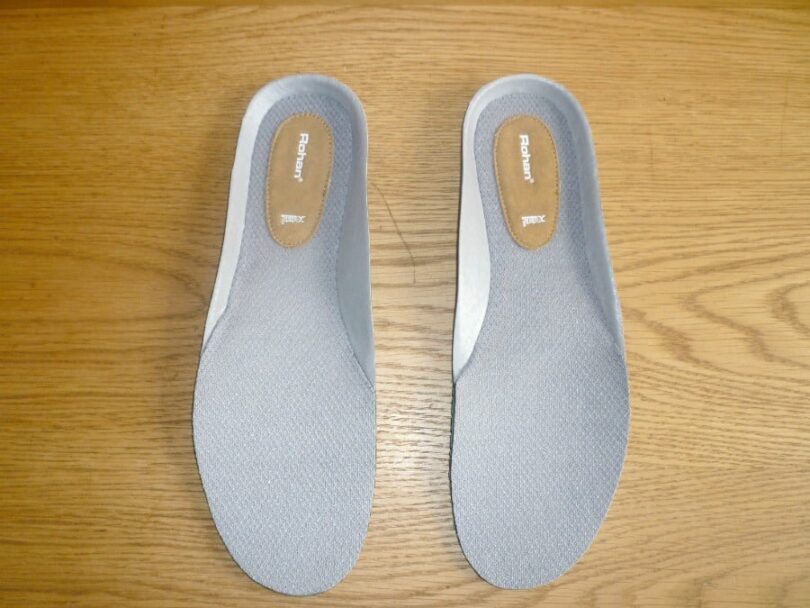 The best hiking insoles will normally vary in arch and heel size. There are two popular types of insoles that will help you manage different foot problems. When shopping for the best hiking insoles, ask for assistance from a footwear specialist to help you decide which ones are most suitable for you.
Comfort Insoles
These insoles are designed to offer comfort. Comfort insoles are best for people who suffer from tired feet and foot pain because of hiking for extended periods on hard surfaces. Foot pain can also be as a result of little foot support when wearing boots. Comfort insoles absorb shock relieving this kind of pain.
Comfort insoles can be either shaped or flat, and also have gel or foam in their construction for added cushioning to give your feet more comfort. You can choose from full-length, ¾ length or heel or arch inserts.
Support/Sports Insoles
Support or sports insoles are made of a material that is much harder than that of the comfort insoles in order to give your foot stability and structural support. Unlike the comfort insoles where comfort comes from the gel or foam cushioning, the support insoles offer comfort through increased stability.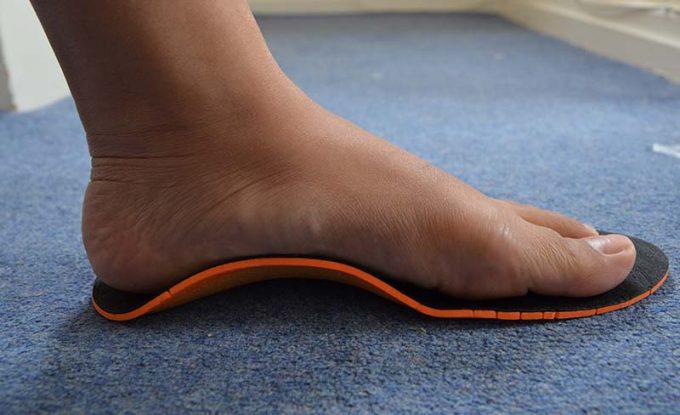 Support insoles are not customized to an individual foot, but fortunately, come in different styles and models suitable for most foot shapes and footwear types. Support insoles are popular with people suffering from popular foot problems. Use support insoles if you have a structural misalignment that manifests as foot pain and discomfort.
If you have a structural misalignment you might experience pain in your back, neck or head. These insoles are also recommended for people suffering from plantar fascitis, a painful condition caused by tears in the plantar fascia. This is a ring of connective tissues connecting the heel to your forefoot.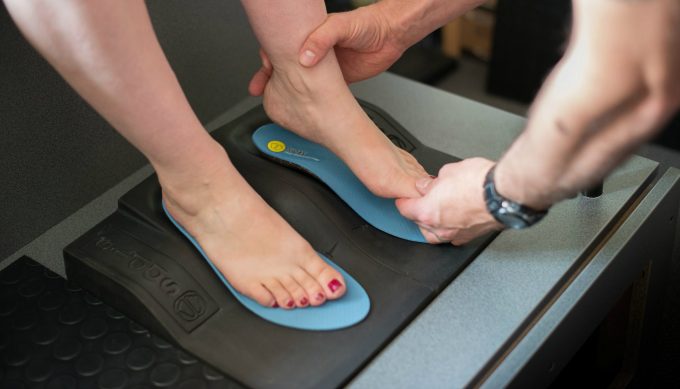 Support insoles are also good for cases where the feet excessively roll in or out when hiking. There are a few important things that you should do when buying insoles to ensure that you settle for the best insoles for hiking:
Compare different insoles:Take a few different hiking insoles that you feel are good for you and stand on them on the floor and compare one against another. Avoid buying the first insole that you try.
Shift your weight back and forth:When standing on each insole on the floor, shift your weight back and forth so that you can feel the support offered by each insole.Try the insoles in your shoes:After you've compared them on the floor, now try each inside your hiking boots. You'll notice that they tend to feel different inside your shoes.
Top Product Reviews
Below are the insoles you can find for hiking that are available on the market currently. Happy shopping!
Superfeet Premium Insoles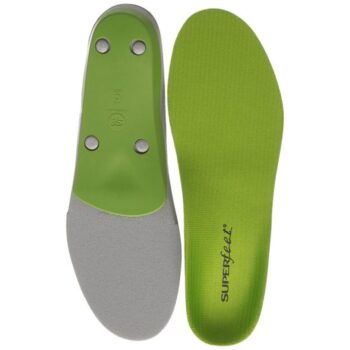 Price: $28 – $60
Weight: 32 oz
Dimensions:12 x 8 x 4 in
Specific features: Deep heel cup, biomechanical shape, high-density foam layer, organic odor control coating.
Best use: Suitable for hikers, walkers, cyclists, skaters and station workers.
Description: The Superfeet Premium Insoles are not only affordable, but also offer high-quality orthotic support, comfort, and performance. These insoles are good for anyone who wants their shoes to fit and feel better. The insoles feature a very wide and deep heel cup for maximum support.
The deep heel cup also offers natural shock absorption. Sorbothane, the company that makes these insoles say that they are able to absorb 94.7% foot impact. This helps in reducing exposure to injuries and ensures that you are comfortable while walking.
The insoles are made from Sorbothane a synthetic material that compresses and reshapes immediately after each impact, thus absorbing the shock caused by the heel hitting hard surfaces when running or walking. They are also lightweight and can be interchanged easily between different pairs of shoes.
The insoles have a biomechanical shape that stabilizes and supports your foot, and removes stress from your feet, ankles, and knees. These insoles are also known as arch support insoles. They are light and have cushioning that adds support around the arches of your feet.
This kind of support corrects pronation of the foot, making it more comfortable to walk and also improves your posture. The closed-cell foam in the insoles offers support and cushions the foot for more comfort and reduces fatigue, aches, and pains.
This makes them perfect for loose-fitting hiking boots and running shoes. Another useful feature is the natural odor control coating that eliminates the bacteria that causes odor.
The Superfeet premium green insoles fit well in any type of high and medium volume footwear with removable insoles. Their distinct shape stabilizes the foot, as the deep heel cup and full-length foam provides comfort and support.
PROS:
4 inches high
High arched
Durable
CONS:
Expensive
Too thick for some shoes
Related: The Superfeet Outside Sandals are comfortable, synthetic sandals that absorb impact.
Sole Signature EV Ultra Footbeds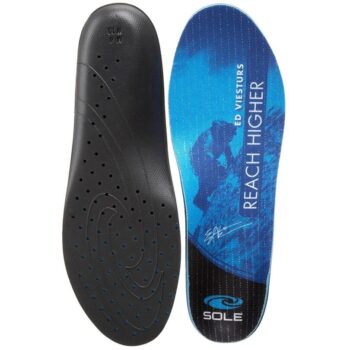 Price: Approx. $30
Weight: 0.2 oz
Dimensions: 15 x 5 x 2 inches
Specific features: A layer of 3M Thinsulate insulation, low cushioning, heat moldable.
Best use: Athletic and outdoor activities such as fitness, running, mountaineering and hiking
Description: The SOLE Signature EV Ultra Footbeds are custom heat-moldable insoles that take on the shape of your foot improving foot comfort. By taking on the shape of your foot, the insoles allow you to customize the fit of all your shoes.
The insoles have a 3.2mm shock absorbing material. This makes them ideal for cases, such as hiking, where shock protection is vital. The insole has three layers, a top cover and two layers of foam. These three distinct layers offer excellent foot support. The bottom layer which is black contains a high-density Ethel Vinyl Acetate (EVA) foam.
The foam is highly outlined in the heel and arch giving the insoles support. The EVA used in these insoles is very firm, supportive and durable. It's also not hard to the feet making the insoles very comfortable.
The top layer is made from wicking and perforated polyester material that assists in managing moisture and balancing friction control. This relieves pain and soreness from your feet, back, knee and plantar fasciitis.
Unlike most insoles, Sole Custom Footbeds have a unique continuous feel. The insoles are easy to mold for heat insulation. Simply warm the insoles in a 200°F oven for two minutes, remove and place inside your desired shoes.
PROS:
Insulated and good for cold weather
Vegan product
CONS:
Not the best for high arches
Take time to form to your feet
Related: The SOLE Sport Flip Flop Sandal are comfortable sandals that have a rubber sole and a 1.25 inch heel.
Prothotic Motion Control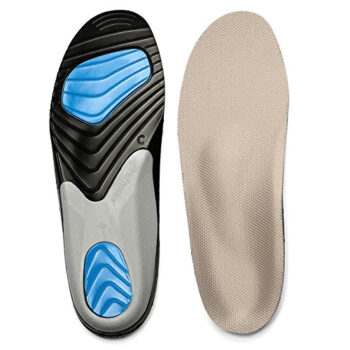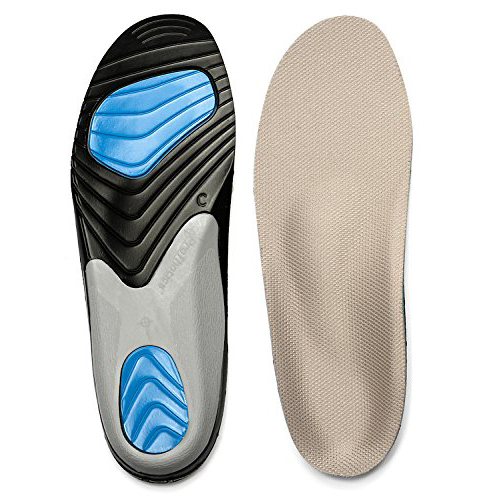 Price: Approx. $26
Weight: 6.4 oz
Dimensions: Unlisted
Specific features: Polyurethane bottom layer, metatarsal rise, moisture wicking top cover, deep heel cup, custom airflow channels, Orange Abzorb cushioning layers.
Best use: Walking, fitness, hiking
Description: The Prothotic Motion Control has a soft and supportive metatarsal rise and a structural stabilizer that offers maximum stability, prevents rolling ankles and pronation, and also corrects the postural alignment.
This insole combines support with cushioning, through the incorporation an arch stabilizer with Vy-Gel at the point where heel strike takes place. The bottom layer has a spongy, zero memory polyurethane material that gives you both support and cushioning.
The insole also has a one of a kind metatarsal rise with a polyurethane supported design. The metatarsal rise relieves forefoot pressure and pain while supporting the entire foot. The top cover has a moisture wicking long lasting material that takes the moisture down to the open cell foam layer, ensuring that your feet stay dry and comfortable the whole day.
The insoles also have Orange Abzorb cushioning layers that are made of Poron. The layers provide extra cushioning to your heel and forefoot while still retaining its shape and flexibility. The inbuilt customized airflow channels are designed to pull cool air into your shoes and move warm air out for heat relief.
The insoles feature a deep heel cup that utilizes the natural padding of the heel to provide extra cushion. The Prothotic Motion Control Sports insole work well for low, neutral, and high arched feet and fits most casual, hiking and athletic shoes and boots that have removable shoe inserts.
PROS:
Expand range of motion
Great for everyday use
CONS:
Bulky for some shoes
Not good for over pronation
Related: If you find that your feet or legs hurt, the Pain Relief Cream for Arthritis is under $20 and will help relieve the pains you have.
CurrexSole RunPro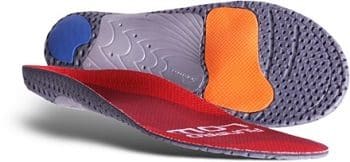 Price: $42 – $50
Weight: Unlisted
Dimensions: Unlisted
Specific features: Top microfiber layer, Freeflex memory foam and bamboo charcoal mid-layer, a bottom layer made from a mix of natural rubber and EVA.
Best use: Jogging, running, hiking and walking.
Description: The CurrexSole RunPro is a well-designed insole assembled using three layers. The top layer, blue in color is the most visible layer. It's made of a soft and quick drying microfiber material. The middle layer is not as visible as the top layer.
It's made of a memory foam material infused with charcoal to prevent odor. The foam is long lasting and even after several hundred miles of use it still shows very little signs of wear and tear. The bottom layer is a uniform gray honeycomb. The layer is a mixture of rubber and EVA and provides space and reduces impact while providing a bounce.
The insoles are available in three different profiles, high, medium, and low. The insole reduces the occurrence of blisters and hotspots and allows you to run or hike longer by molding to your foot preventing any unnecessary movement. They also reduce stress on knees, hips, joints, tendons and ligaments.
PROS:
Reduces stress on body
Keeps foot in place
CONS:
For casual wear, not harsh use
Too thick for some shoes
Related: The Feetures! Elite Max Cushion Quarter Athletic Running Socks are made of mostly polyester and wicks away moisture.
Icebug Insole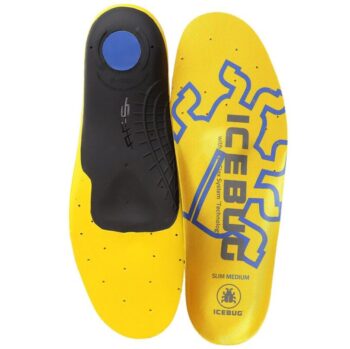 Price: $31 – $47
Weight: 16 oz
Dimensions: Unlisted
Specific features: Low-friction top cover, shock absorbing EVA foam, double arch design, dynamic support.
Best use: Running, playing soccer, hiking, obstacle course racing
Description: The Icebug Insoles is an extra thin, 2 mm high insole. This insole is available in low, medium and high variants making it possible to fit different arch heights. The insole has a double-Arc heel design that cups the foot and prevents the plantar fascia from accumulating pressure.
The top cover is a low friction cover that is easy to clean and durable. The insole also has an Arch Flex System Technology that offers support to your foot's structure and responds to your body type and activity helping you to do your activity longer.
The insole is very light in weight but has the right amount of cushioning to offer you maximum comfort. Its 2mm thickness is suitable for lower volume shoes. The insoles come in 10 unique sizes that can also be easily trimmed to give you a perfect fit. Users enjoy the comfort and cushioning that these insole provide.
PROS:
Double arch heel design
Arch Flex System Technology
Related: The Icebug Zeal2 RB9X Trail Runner are made of polyester textile and are great for running and have a rubber sole.
Timberland Pro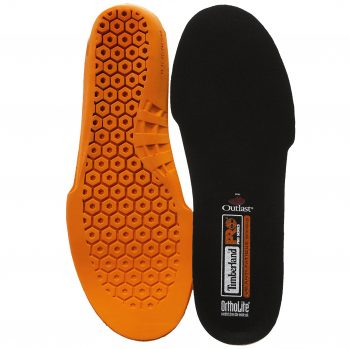 Price: $20 – $43
Weight: 32 oz
Dimensions: 30.7 x 11.7 x 4.1 cm
Specific features: Anti-Fatigue technology, premium comfort, and moisture management
Best use: Jogging, running, hiking and walking.
Description: The Timberland PRO is a lightweight synthetic insole that takes the natural shape of your foot, providing you ample support, shock absorption, and comfort. The Timberland PRO insoles have a versatile arch enabling it to work with any type of foot.
They also have an anti-microbial odor control that helps to reduce moisture while regulating temperature to prevent the unpleasant smell as a result of wearing footwear for extended periods.
The insoles have a dynamic arch design that helps them to adapt to all foot shapes. They can also be cut to fit your footwear perfectly. You can use your old insole to get the size right.
The Timberland insoles have an Anti-Fatigue Technology that has an inverted cone foam. The foam absorbs shock and gives energy to your feet for continued activity. It also has an OrthoLite top layer that provides premium comfort.
The good thing about these insoles is that they are not only designed to replace Timberland work boots insole, but also work well with a variety of other shoes or boots.
PROS:
Made of leather
Removable
Made for all foot shapes
CONS:
Squishy
Top part of the sole is slick, feet can slip
Related: The Timberland Pro Crew Sock are all polyester, and have the reinforced heel and toe for the most durable performance.
Spenco Polysorb Insole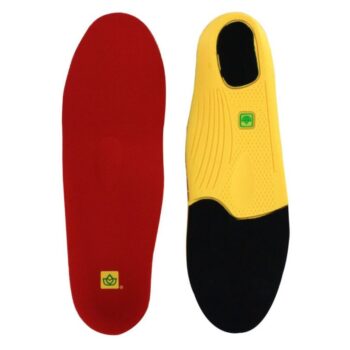 Price: Approx. $20
Weight: 4 oz
Dimensions: 11.1 x 3.6 x 1.2 inches
Specific features: 4-way stretch fabric, Lightweight polysorb polyurethane foam, Spencore heel plug
Best use: Hiking, sports, walking, jogging, running and training.
Description: The Spenco PolySorb Insole are newly designed and feature a deep heel cup, superior forefoot cushioning, a metatarsal pad, and shock absorbing cushioning in the area where the heel strikes.
The insoles cradle your feet with the comfortable cushioning thereby improving your athletic performance. This also prolongs the life of your footwear.
The insoles have a wider construction specifically to fit shoes with a wide width. The insoles are made of a very light material, making them comfortable to wear.
The PolySorb cushioning of the insoles provides both shock absorption and energy-return. This double feature ensures that you have lasting comfort and helps to relieve foot pain and prevent injury. They also reduce friction thus helping to prevent blisters.
Users like these insoles because they can still run normally, and their feet do not hurt when they are done exercising. They also like the heel cupping that the foam gives them, which is made from polyurethane that is also light in weight.
PROS:
4 way stretch fabric
Affordable
Relieve foot pain
CONS:
Memory foam can go flat
May have to trim it down to fit in your shoe
Related: The New Balance 680v3 Running Shoe are affordable and comfortable shoes that you can run in. They are made from synthetic and textile materials.
UGG Australia Sheepskin Insoles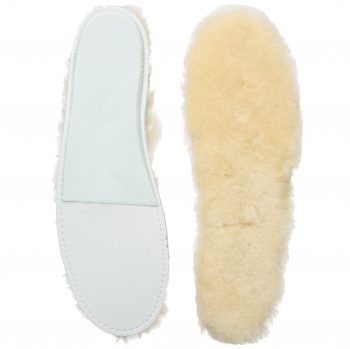 Price: $15 – $20
Weight: 16 oz
Dimensions: 12 x 4.5 x 3 inches
Specific features: Arch support, high-quality sheepskin
Best use: As replacement for UGG/EMU boots
Description:  UGG boots are very popular due to their natural shearling insulation that is both comfortable and very warm compared to synthetic insulation. The boots have sheepskin uppers that breathe well to prevent your feet from getting get sweaty.
The boots come with soft, flexible outsoles that give you added comfort and make your feet more insulated from the cold ground. There are very few types of footwear that will give you this kind of comfort and warmth especially during the cold weather.
Unfortunately, the UGG sheepskin boots do not have arch support making them tough to hike or even walk in for longer periods. For people who suffer from Plantar Fasciitis, lack of arch support could cause you a lot of discomfort.
If you love your UGG boots too much to give them up, worry not, you simply need to replace your insoles with the UGG Australia Sheepskin Insoles that will add the much-needed arch supports. Now you can go on and use your boots for active activities.
These insoles will also provide you with support and alignment. Make sure you replace your insoles as often as necessary for continued comfort, warmth, as well as moisture wicking. Unfortunately, these insoles will only work with UGG boots that have removable insoles.
PROS:
Affordable
Sheepskin
Plush feeling, and moisture wicking
CONS:
Can be too small
Can be too thick and big for some shoes
Related: The UGG's Nita are made of sheepskin and are comfortable shoes for daily wear.
Concluding Thoughts
Finding the best insoles for hiking boots should be a breeze now that you know how they work, why they are important and what to look for. Keep in mind that replacement insoles will generally last about a year if you use them daily or regularly.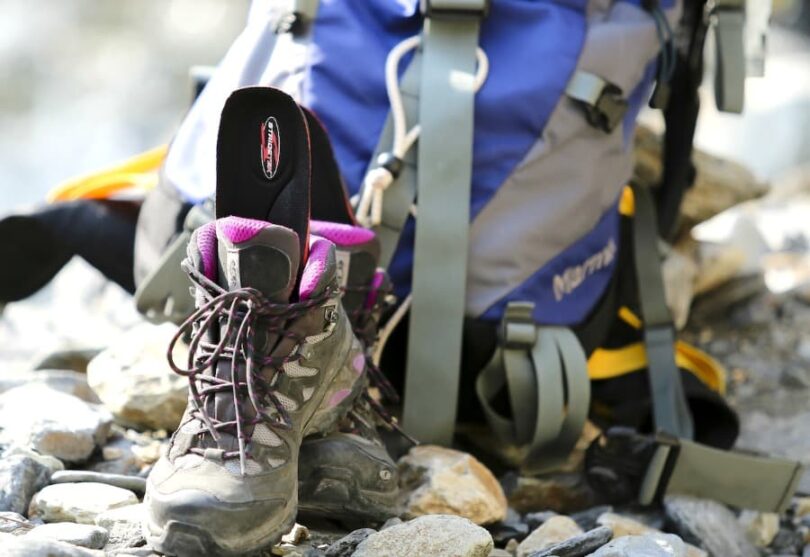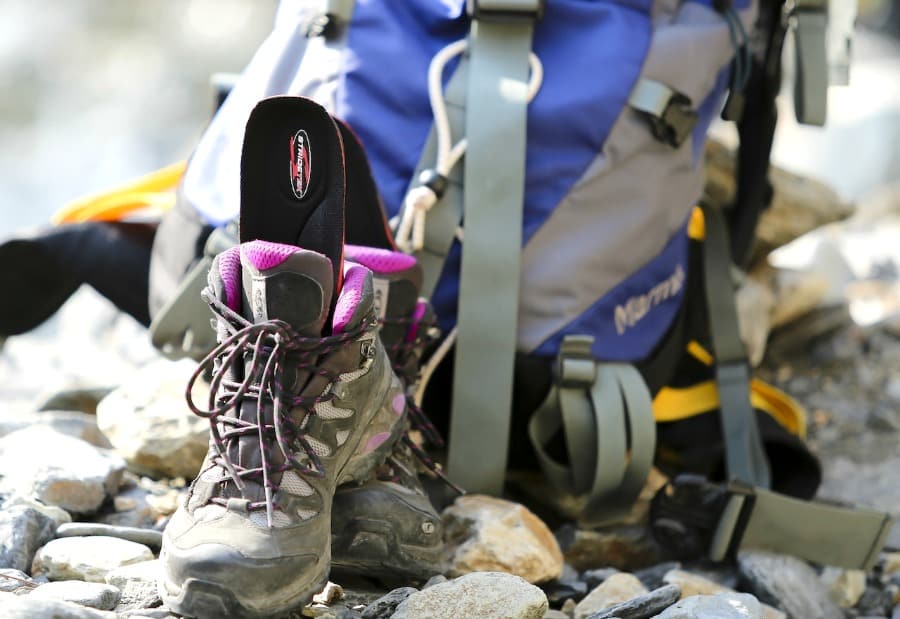 You can extend this life to several years if you ensure that you keep them clean, air them out, and inspect them periodically. This will ensure that you continue to enjoy the comfort and support of your insoles for a longer period.
We hope that our article helped you in making the right choice, and if you think we left something out, feel free to leave a comment in the comments section below.