Do you love hiking? But what about hiking with a dog? Would you like to bring your dog with you as well, but are too afraid that it will get hurt along the way? Are you the type of person that gets all the dog hiking gear in order and prepares its pup for a pleasant time outdoors, but still uncertain what equipment to carry? If yes, we will help you make the right choices!
When making sure that your canine buddy is safe and well along the trail, people tend to go all out on specialist hiking gear or going down the route of less is better. The key is hitting the sweet spot where you can offer your pet the right amount of leash, without keeping them leashed to you at all times.
When planning to hike with your dog, there's so much to put into consideration. Just like humans, dogs also need to be taken care of, if they are to be safe in the great outdoors. This article offers some pointers on what to consider when hiking with your dog, how to keep your pup safe, and a list of the best hiking gear for dogs.
Our Top Picks
| Product Name | Weight | Materials Used | Gear Type | Price |
| --- | --- | --- | --- | --- |
| Onetigris Dog Pack | 1.5 pounds | Premium canvas | Multi-function backpack, vintage design | Check price on Amazon |
| Colorfulhouse Pet Boots | 0.5 pounds | Rubber soles and elastic straps | Pet paw embroidery | Check price on Amazon |
| Musher's Secret Paw Wax | 0.2 pounds | Wax-based cream | Non-allergy paw protection | Check price on Amazon |
| Primal Pet Gear Dog Leash | 0.62 pounds | Nylon | Double handle design, adjustable waist belt | Check price on Amazon |
| Ruffwear Web Master Harness | 0.9 pounds | Foam pads for the chest and belly straps | Secure leash attachment, customizable fit. | Check price on Amazon |
| Canine Friendly Pet First Aid Kit | 0.11 pounds | Latex gloves and antiseptic wipes are part of the contents | Lightweight, pocket sized, first aid kit for pets | Check price on Amazon |
| Comsun Collapsible Dog Bowl | 0.14 pounds | BPA free, eco friendly silicone | Portable dish, non-slip dog bowl | Check price on Amazon |
| Jardin Collapsible Water Bowl | 0.18 pounds | Outer lining is made of nylon | Foldable, lightweight water bowl for pets | Check price on Amazon |
| Outward Hound Dog Daypack | 0.62 pounds | Use of reflective materials | Adjustable straps, breathable mesh harness | Check price on Amazon |
Features to Consider Before Buying
If your plan is to hike, you can't get started without having the right plans in place. You need to know where you are going, the amount of water and food you would require, what to wear, and other pertinent matters. Therefore, make sure the same aspects are considered when taking your dog along.
More importantly, the trail you will be using should allow for dogs. In the US, most trails in the National Park do not allow dogs, and other regulations indicate that the use of leashes is a must. For instance, the Appalachian Trail Conservancy allows hiking with dogs on most parts, but you'll be required to have a leash for the most part.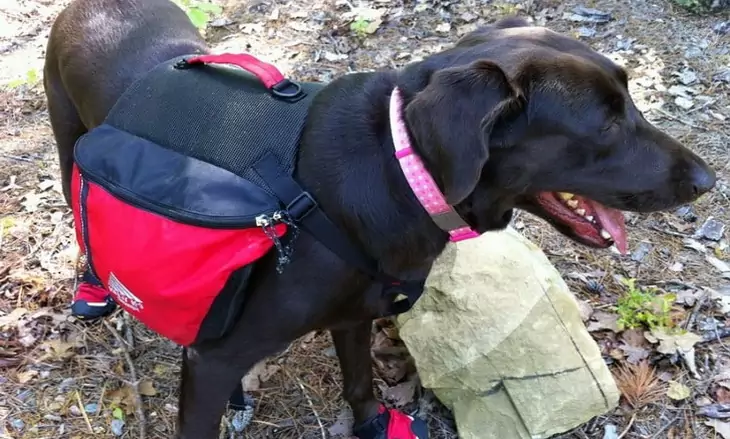 It is recommended to select a trail that is ideal for your dog. If you a person without the stamina and technique for a particular trail, you would not ask them to hike. On the same note, don't allow your dog to participate in a technical hike if you know that it'll be difficult for it.
Carry adequate amount of water and food
When you are hiking with your dog, always remember to bring enough water and food for the pet. Do not forget that the dog will need some extra food due to the exercises they will be getting. Do not allow the pet to drink from any standing water or streams, as it can get sick from the water.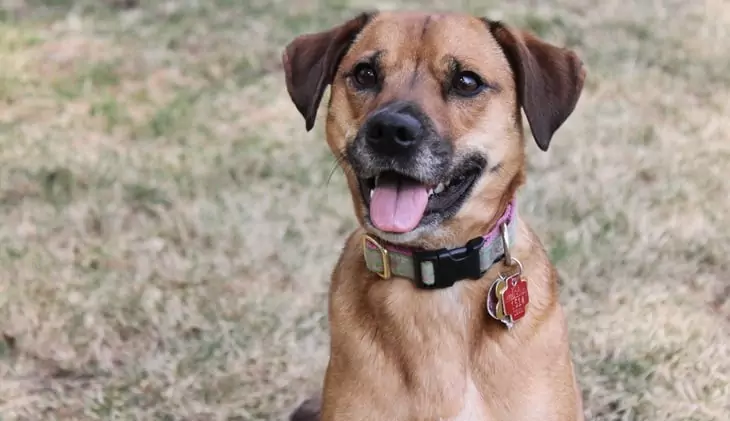 Instead, remember to pack sufficient bottled water to satiate their thirst, and to have a water bowl on you, so that your dog can drink and eat normally and as much as he needs. Best choice, to save up on the space in your backpack, is to bring a collapsible bowl, and we have reviewed a few in our article that are great quality.
Gear essentials
When taking your pup on the trail, you'll not only be responsible for their comfort and safety, but the safety of your colleagues as well. To ensure both groups are protected, make sure you have the right outdoor gear.
It's crucial that the pet has a collar or harness which will indicate that the dog is a pet and not a wild animal. And even when the leashing the dog is not a requirement for the trail, carry one along. A standard etiquette is to ensure your pup is always on a leash even when that's not a requirement.
If the dog is on a leash, ensure that it is durable and with a length of no more than six feet. Do not use the flimsy, telescopic leashes you used in the suburbs and cities. There are special ones designed for the outdoors. It's also advisable to have an ID tag on the collar of the dog.
This tag should include information about vaccine certification, owner's phone number, and the address, just in case the dog takes off into the woods. To spot them with ease during the night, you can attach some LED lights to the dog's collar. Also, if your plan is to canoeing, there are PFDs which can be used to keep the pet safe.
Clothing and Sleeping
The small shoes you see on dogs that race in the Iditarod are not only designed for the Alaska's tundra. While the paws are usually tougher as opposed to human feet, they can also be vulnerable and hurt. As a result, these could slow the hikes and make the process more daunting.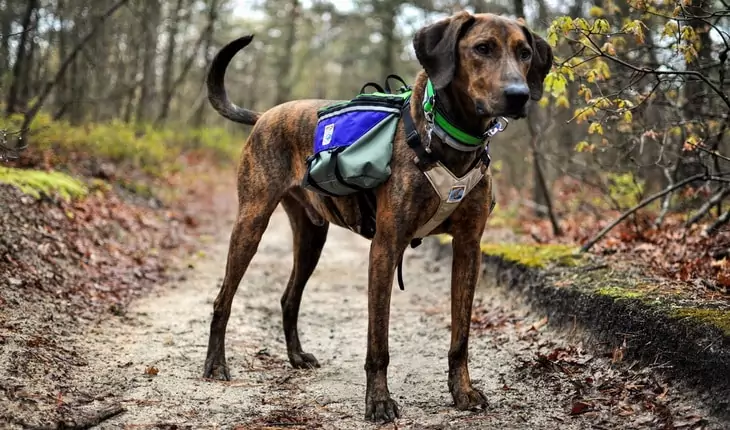 Boots keep your pets protected from ice and snow, rocks, hot surfaces, and jagged terrain. Additionally, they give the paws better traction like the human boots. In the colder temperatures, a wool vest for the dog is necessary, especially if they are a skinnier breed, with less coat.
When backpacking, give the dog a quick brush before it can enter the tent, and lay a cover over the tent's vinyl bottom. If the temperatures are cold, you can use a woolen blanket to cover your dog as it sleeps. Also, it's important to trim the nails of your dog to keep to prevent any tears or scratches on the tent.
First Aid
A dog's first aid is as essential as your own; therefore, carry any products or supplies you will need to offer the best attention to your dog. This may include a pair of scissors, hydrogen peroxide, gauze and bandages, and tweezers.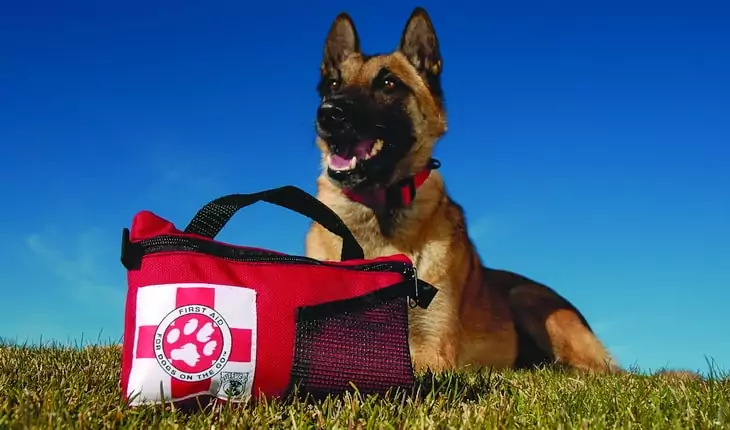 It'll also be helpful to consult with your doctor about the basic first-aid procedures to be prepared to deal with injuries when they occur.
Paw Protection
Imagine how you would feel if you started hiking through the woods with nothing on your feet. Your feet would soon be all blistery and bloody from the rough terrain and all the branches that you stepped on.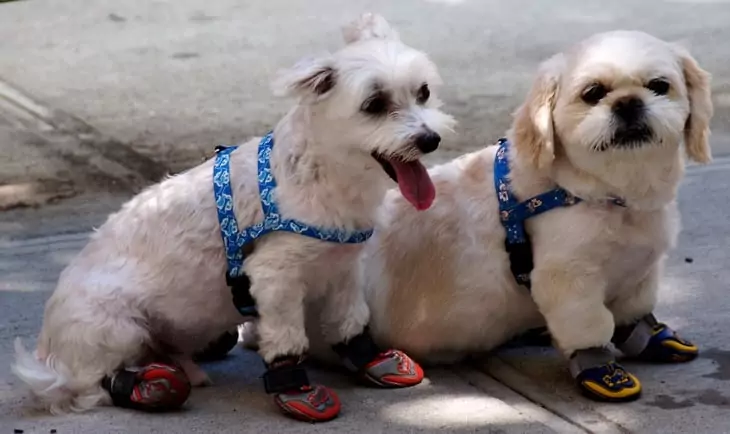 The same goes for your dog. Okay, their paws are more resilient than our feet, but they still need protection for their paws, especially if you plan on taking him for a hike that will last the entire day, or a few days.
As you use high-quality hiking boots, so does your dog need a pair (two actually) of durable and comfortable dog boots to keep his paws safe from the sharp rocks and broken branches and splinters.
Top Products on the Market
In this section, you will have a chance to read the reviews of some of the finest pet hiking gear products, and the ones that are essential for your dog's excursion in the wilderness. Keep reading to find out what is the best for your four legged friend.
OneTigris Dog Pack
Price: Approx. $32
Weight: 1.5 pounds
Dimension: 2.5 x 11.2 x 13 inches
Specific features: Vintage style design, two main zipper side pockets, multi-functional backpack
Best use: Travel, walking, carry food and water, outdoor adventures
Description: The OneTigris Dog Pack is a bag that is designed with the comfort of a dog in mind. That is why manufacturers decided to use premium canvas material. When using this on your travels, you will not need to worry about cumbersome carrying since the dog will willingly and joyfully do that job for you.
The OneTigris bag comes with a vintage design that makes it uniquely fashionable. This gear can match your pet anywhere, anytime, both on the natural manifestation of special temperament and concrete expression of what a simple life is all about.
Consideration has been given to this bag's practical applicability. The gear has been made of a comfortable cotton canvas material that ensures your pet does not get exhausted or hurt from wearing it. Its color is perfect for concealing dirt and enhances the aesthetic nature of the gear.
With the OneTigris Dog Pack, you won't have to worry about carrying food and water, or any other small EDC items as the dog will willingly do that for you.
What's even more amazing about the bag is that it can fit the medium to large-sized dogs such as Samoyed, Alaskan, Tibetan mastiff, Shepherd, etc. Therefore, do not hesitate to get your pet the OneTigris Dog Pack for all your outdoor adventures.
PROS:
Vintage look to the canvas bag
Fits medium to larger sized dogs
CONS:
Does not fit smaller dogs
Related: Just as now your dog's gear is never out of sight or out of mind with the OneTigris, make sure that your dog is never out of sight either using the OutdoorMaster Bungee Leash. This leash has a soft handle, easy to attach the clasp, and offers you a lengthy 36.5 inch length whilst contracted and an amazing 48 inches stretched. A great leash for a hiker's dog.
Colorfulhouse Waterproof Pet Boots
Price: Approx. $13
Weight: 0.5 pounds
Dimension: 6.7 x 6.4 x 2.3 inches
Specific features: Molded rubber bottom, elastic straps, cute pet paw Embroidery
Best use: Night walks, traveling, foot protection, rainy weather
Description: The Colorfulhouse Waterproof Pet Boots are the ideal boots for yours and your dogs walking expeditions. These are waterproof boots, with a molded rubber bottom that make them non-slip despite the weather or the condition of the surface the dog walks on.
This is the reason why a lot of customers of the boots have been impressed with the performance of Colorfulhouse during bad weather conditions.
The reflective tape on these walking boots is fantastically suitable as it helps make night walks a possibility again. No more dog sized fluorescent jackets are needed, as your dog can be found by their paws from now on.
The shoes can also be found in a variety of sizes with colors ranging from black to red. Additionally, Colorfulhouse are very sturdy and can stay on whether on long walks or just going outside to potty. The merits and drawbacks of these boots are as follows:
PROS:
Waterproof and non-slip dog boots
Affordable
They are comfortable for the pets
Related: Though the Colorhouse boots help keep your dog from being lost during a walk at night, it doesn't meant that the little guy is not chilly out there. Purchasing a Zack&Zoey Dog Blanket can help with that. Acting as a dog jacket and keeping your puppet warm for you during the long hikes.
Musher's Secret Paw Protection Wax
Price: Approx. $13
Weight: 0.2 pounds
Dimension: 3 x 3 x 1.3 inches
Specific features: Non-allergic, non-toxic, non-staining
Best use: Sand protection, walking, hunting, mushing
Description: The Musher's Secret Paw Protection Wax  is an easy-to-apply all-natural cream that protects any dog's paws from whatever harsh surfaces that it comes up against. Protect the paws of your dog from the sand, ice, hot pavement, and salt with the all-natural, a hundred percent wax-based cream.
When this product is applied between your pet's toes and on their pads, it takes a few seconds to dry, forming a shield of a semi-permeable membrane. Non-allergic, non-toxic, non-staining formula can be utilized weekly or when required to prevent burning, drying, abrasions, and cracking.
Musher's Protection Wax acts as an invisible boot that prevents any potential harm to the paws of your dogs. It is easy to apply and contain vitamin E that moisturizes and helps in healing wounds and keeping the paws healthy.
So, when going on hiking missions and adventures with your dog, remember not to leave the Musher's Paw Protection Wax behind.
PROS:
Easy to apply
Contains vitamin E
CONS:
Waxy after feel on the skin
Related: If your pet is having trouble enough to need wax on their paws during your make sure to see a vet and ascertain the state of their legs. Any good vet would suggest joint braces for your dog's legs to aid them along. The Dog Hock Joint Brace is just a brace that helps your dog's joints run more smoothly whilst out on the hike or run.
Primal Pet Gear Handsfree Leash
Price: Approx. $15
Weight: 0.62 pounds
Dimension: 10 x 7 x 2 inches
Specific features: Dual Sided 3 seams, designed with 2 handles, adjustable waist belt
Best use: Running, hiking, walking or a leisurely baby stroll
Description: The Primal Pet Gear Handsfree Leash has been designed for an active lifestyle, and with the comfort of your dog in mind. The long leash can be used for hands-free running as well as casual walks while the shorter leash is ideal for sidewalks, and walks in crowded areas which require you to have an instant and up-close control of the dog. Therefore, the Primal Dog Leash can be used to control your dog's aggression.
The Primal Dog Leash has been specifically designed with two handles; one at the leash's end at 48″ and the other 5″ from the clip. This is the case so it's possible to keep your pet safe all the time.
The design of this leash is such that it is noticeable at night. It features dual sided 3 seams with reflective stitching for excellent visibility during the day or night so as to enhance your dog's safety.
It also features a reflective adjustable nylon belt that comfortably suits waists from 28 to 48″, so it's possible to run or walk with your pet while remaining hands-free.
If you are not satisfied with the performance of the Primal Dog Leash, then do not worry! You can return this equipment for a refund whenever you feel its purpose is unsatisfactory. What's more, there's a twelve month Replacement Warranty if the leash frays, rips, or breaks!
PROS:
Two handle design
Built with your dog's comfort in mind
CONS:
12 month warranty could be longer
Related: Whilst you and your dog are out on the trail, keeping one another safe, it is best you both stay well hydrated. Both of you need to keep up a high intake of water, and whilst any bottle will do for you, your pet needs something easily accessible on the go. The Pecute Travel Bottle is best when it comes to your pet's hydration.
Ruffwear Web Master Dog Harness
Price: Approx. $60
Weight: 0.9 pounds
Dimension: 15.7 x 12.2 x 0.5 inches
Specific features: Secure leash attachment point, webmaster sizing, customizable fit, anatomical design
Best use: Walking, running, leisure strolls
Description: The Ruffwear Web Master Dog Harness features an anatomical design that offers comfortable, balanced and controlled lifting with excellent load dispersion.
The Web Master Harness is a multi-use and supportive gear that is built for maneuvering and helping dogs to move past obstacles. It also features a customizable fit with five points of adjustments to make it possible for your dog to have a wide range of motion.
In addition to that, the WebMaster incorporates foam-padded belly and chest straps that ensure the dog has a comfortable fit for both short and extended period wearing the harness. It offers secure leash attachment points for your dog's comfort.
These include the webbing loop at the back of the padded hands or the single-piece, anodized aluminum V-ring. The reflective trim is essential for your pet's well being, as well as it helps you in keeping a close eye on your dog, even in places with low-light visibility.
PROS:
Customizable fit
Foam padded chest and belly straps
CONS:
Built for medium to larger sized dogs. Needs a small size
Related: Along the lines of keeping your pet safe comes this little beauty. The Ruffwear Beacon is a safety conscious, high intensity light for your dog's collar. It offers three light modes (slow flash, fast flash, or always on) and has an easy to replace battery system. Making your dog more visible on the trial to all.
Canine Friendly Pet First Aid
Price: Approx. $12
Weight: 0.11 pounds
Dimension: 5.5 x 0.2 x 4.5 inches
Specific features: Pocket size design, lightweight, four antiseptic wipes, carabiner for easy attachment to leash
Best use: Hiking, walking, emergencies
Description: The Canine Friendly Pet First Aid is suitable for everyday use. Its versatility aspect makes it ideal for hiking and walking, and pet emergencies. This lightweight product weighs only 1.8 ounces, so it's weight it somewhat negligible when included in your gear.
The kit features a carabiner to necessitate an easy attachment to your backpack or leash. It also features a bright orange fabric that makes it visible even in dark environments. This Pocket First Aid Kit includes the following:
– 1 x Latex-Free Exam Gloves
– 1 x Walks 'N' Wags Pet Pamphlet (First Aid)
– 1 x First Aid Tape
– 4 x Antiseptic Wipes
– 3 x Gauze Pad, 1 PBT Bandage Gauze Roll
– 1 x Elastic Bandage
– 2 Patch Adhesive Bandages
Why you'll need this kit?
Pets, especially dogs, are active and can easily face situations that may subject to injuries or any other trauma. Whenever you are at home or on the outdoors walking or hiking, it's imperative to ensure you have your Canine Friendly Pet Kit with you.
This first aid kit is designed to assist your dog when they are injured by providing the essentials needed to take care of their injuries, minimizing their suffering until you are able to consult a veterinarian.
Having a first aid kit for your pet is highly recommended for all dog owners as this ensures the safety of your pet and prevents any injuries or side effects from worsening. When on the outdoors, remember to uphold safety while having fun with your dog.
PROS:
Lightweight, pocket sized design
Full to the brim with medical gear
CONS:
More than four antiseptic wipes would be helpful
Related: Owning a first aid kit for your pet is the same level of responsibility it is to own one for yourself; hopefully you never have to use them, but they are there if you need to. A grand addition to your pet's first aid kit is the Dog First Aid Spray for cuts, scrapes, bug bites, minor pains, and owies. It helps relieve pain from the lot!
Comsun Collapsible Dog Bowl
Price: Approx. $7
Weight: 0.14 pounds
Dimension: 5.1 x 5.1 x 0.5 inches
Specific features: Portable and convenient, eco-friendly and safe materials, non-slip collapsible dog bowl
Best use: Travel, walks, hikes, outdoor relaxation
Description: The Comsun Collapsible Dog Bowl is portable and convenient. The Comsun is 2.1 inches high, 5.1 inches wide and can hold up to twelve ounces of water or one and a half cups of dog food.
The bowl is made with safe and eco-friendly materials, with high quality, flexible Food-Grade silicone, a hundred percent lead-free, BPA-free, and FDA approved. When using this bowl, you are assured that your pet is enjoying its meal from a product that is completely safe and free of toxins.
The Comsun bowl is also durable and reusable. It is made of durable silicone construction, implying that they can be wiped or rinsed clean after use. This also gives the bowl longevity over products that are similar.
This bowl can also be stored and transported with ease. The non-slip collapsible bowl is ideal for travel, hikes, walks, and other outdoor expeditions. The Bowls feature color-matching carabiners. It can be fitted into the backpack, dog travel crate, or purse.
PROS:
Made via eco-friendly materials
Durable and reusable
CONS:
Would be nice if it came a little larger
Related: If you find yourself at the point where you are planning a multi day hike or a camping trip with your furry little friend, bringing extra food and water is a must. The Kurbo Kibble Carrier is a tried and tested dog food dispensary unit that can carry 5LBS of dry food. Keep your dog smiling and their belly full.
Jardin Collapsible Water Bowl
Price: Approx. $4
Weight: 0.18 pounds
Dimensions: 7.7 x 3.5 x 6.3 inches
Specific features: Durable fabric, lightweight, foldable bowl
Best use: Traveling, outings, hiking, walking
Description: The Jardin Collapsible Water Bowl is made from a durable material which can be folded and opened with ease. It features a waterproof interior for holding liquid and an outer lining made of nylon, that makes it super durable and mailable to any shape you will be needing it to be.
The Jardin is a collapsible bowl that is ideal for outings and travels for you and your pet. It features a clip/keyring that makes it possible to hook the bowl to your backpack so you can always carry it with ease wherever you go, as an easy substitute for packing it away.
As the inner layer is waterproof, it can be used for both your pet's meals and for their drinks along the trail. It is lightweight and small enough to fit anywhere and accompany you any place. The perfect travel bowl for your pet.
PROS:
Lightweight, collapsible bowl
Pet-friendly materials
CONS:
It would be an advantage for it to be a little bigger
Related: Having a strong and stable dog collar is good for your dog during long hikes. Something that is durable and will allow a leash to be added and taken from it multiple times a trip. The Yisibo Harness Collar is a military canine unit training necessity. It's strong, durable, and made for dogs of all sizes.
Outward Hound Dog Daypack
Price: Approx. $18
Weight: 0.62 pounds
Dimension: 20.5 x 12.4 x 2.2 inches
Specific features: Expandable pockets, breathable mesh harness, adjustable straps, reflective accents for visibility
Best use: Getaways, hiking, walking, outdoor expeditions
Description: The Outward Hound Dog Daypack allows your dog to carry its own gear and essentials comfortably. The equipment is a light-capacity pack that features a saddle-bag design that is suitable for quick getaways and the everyday errands.
Enjoy the storage space and convenience offered by the four expandable pockets. The bag features a D-ring which allows you to attach your dog's leash when you are ready to hit the trail.
The bags also feature reflective accents and vibrant colors that enhance visibility during the night strolls. Additionally, the breathable mesh harness and adjustable straps create a comfortable fit for your dog.
All pets can join you in the outdoor exploration and have a fun time at it whilst using this gear. As for the color choices, this dog daypack is available in either green or blue, and in small, medium, and large sizes so that you can find the right one based on your dog's size.
PROS:
The straps are adjustable up to a comfortable fit for your dog
Reflective accents in the materials weaving
CONS:
Only available in green or blue
Related: As we have all found ourselves in tricky situations with our pets whilst hiking, it's always best to get out of the mm fast and assert dominance once more. The HTKJ No Tangle Dog Leash coupler helps prevent your leash from tangling and keeps you with the reigns.
Wrapping It Up
With the Outward Hound Dog Daypack, we have reached the end of the article. By now, you should be more familiar with what your dog needs to stay safe while hiking and to have fun as well. And, you also know which products are the best choice to improve your four legged friend's gear list.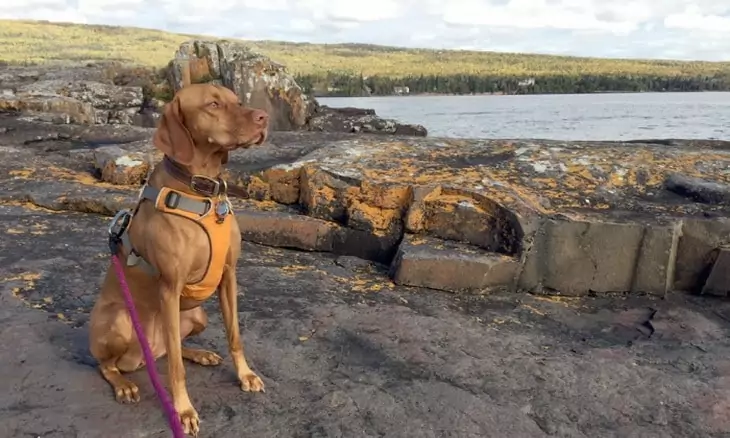 Make sure you choose what you think is suitable for your pet, but that it also fits your personal needs. Go through the reviews once more and choose what you need. Regardless of your gear choice, you can rest assured that all the products on our list are high quality and that they will come quite useful to both you and your pet.
So, have you ever gone hiking with your dog? Did you enjoy the experience? What gear and equipment did you have to ensure the safety of your pup? Please let us know by posting your comments below.