As an experienced hiker or mountaineer, you are probably aware that when you are hiking or mountaineering, navigation can prove to be an issue because of the poor visibility and the unfamiliar landscape. Nowadays, GPS watches and Smartphones can come handy in these situations, but just in case of problems (like no signal) it's always a good idea to carry a hiking compass.
With a compass you don't have to worry about losing a signal or misreading what your GPS is telling you. You also don't have to worry about a lot of excess weight from that GPS unit.
In this article, you will find out what you need to keep an eye on when in search for a new compass. And, with any of the compasses we reviewed in our article, you're going to be more than prepared for your next hiking trip. Just take a look at what we've already found for you and you'll definitely be glad you did.
Our Top Picks
| Product Name | Weight | Dimensions | Polarity | Attachment | Price |
| --- | --- | --- | --- | --- | --- |
| Core Paracord Survival Bracelet | 0.8 oz | 10.4 inches in length | Northern hemisphere | Bracelet | Check price on Amazon |
| SE Military Lensatic | 4 oz | 3 x 2 x 5 inches | Northern hemisphere | Pouch | Check price on Amazon |
| Gerber Bear Grylls Compact | 0.32 oz | 0.8 x 4.5 x 5.5 inches | Northern hemisphere | Zipper pull | Check price on Amazon |
| Suunto M-3 G | 3.2 oz | 0.7 x 3.6 x 7 inches | Global | Handheld | Check price on Amazon |
| UCT Ultimate 7-in-1 Survival Whistle | 0.8 oz | 1 x 3.5 x 4 inches | Northern hemisphere | Lanyard | Check price on Amazon |
| Ezyoutdoor Emergency Whistle | 1.5 oz | 1.13 x 1.25 x 4.5 inches | Northern hemisphere | Lanyard | Check price on Amazon |
| Brunton Truarc 3 Base Plate | 1.6 oz | 1.1 x 4.2 x 8.1 inches | Northern hemisphere | Handheld | Check price on Amazon |
Things to Consider Before Buying
There are a number of different aspects you need to consider when it comes to choosing a compass. The right one is something that provides you with the right amount of features and not just the basics (at least in most cases). So make sure you know what you're looking at.
Quickness and Stability
Quickness and stability are really important because you need your compass to show you direction right away. Most old compasses are slow, which means they'll take time to show you the direction.
The speed of the compass is important because if you are caught up in a bad weather then you'll want to move quickly and that can be only possible if you compass works quickly.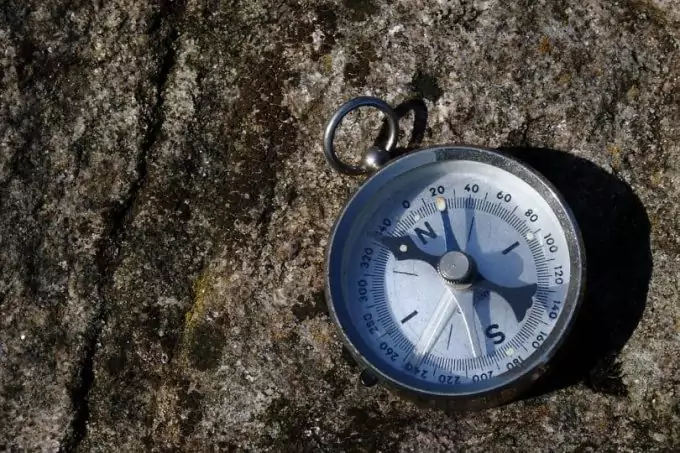 You need it to be stable as well, because you want your compass to sit level with whatever you're doing. If you're walking around you want it to keep you going in the same direction and to update quickly, if you turn to go a different way.
Reliability
Reliability is that you can count on your compass throughout the trip and it won't stop working if it falls out on the ground a few times. When you are hiking or backpacking there are a lot of chances of your compass to fall or be dropped. Also, if you are using a map and compass both then the chances of it falling can't be ignored.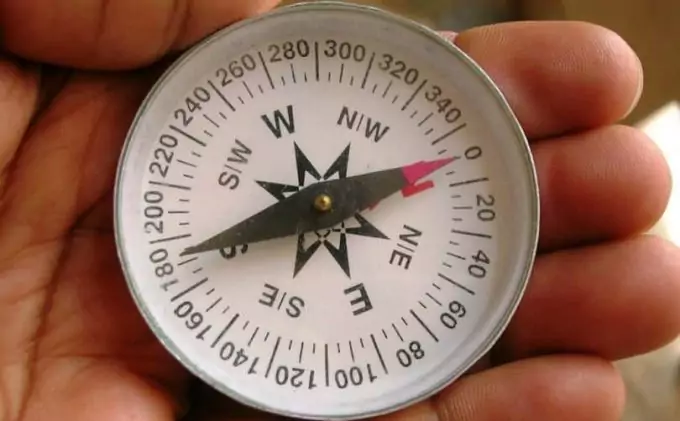 You need to make sure the compass you are buying is durable and can take a few falls. Not only that, but you need it to be strong enough that it can find the polar North or South whenever you want and from anywhere at all so you can count on it to take you in the proper direction.
Additional Features
Some compasses aren't just a round compass, but actually feature other aspects that are important as well. With some compasses you're going to have a ruler that helps you measure on your map and some will have other tools that help you stay on target.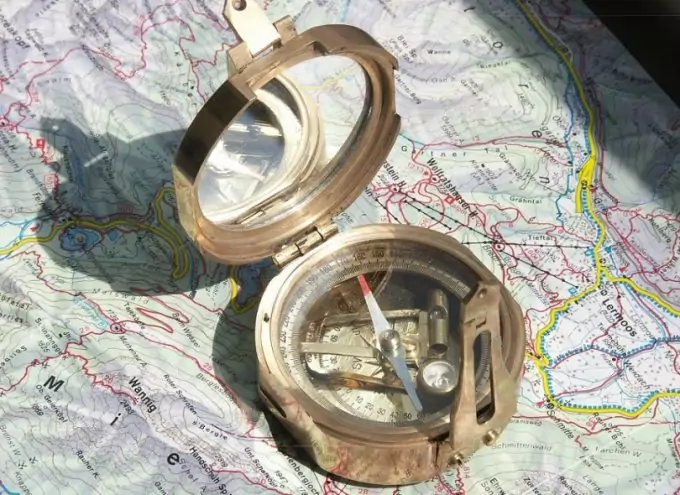 If you get a compass with extra features you want to make sure those don't take up too much space or make the compass too heavy (unless they're going to take the place of other tools). You also want to make sure they don't take away from the quality of the compass.
Hemisphere or Global?
Most compasses are hemispheric, which basically means that for the northern hemisphere, there is a different compass, and for the southern hemisphere there is another one. But there are some compasses that have a global needle and can work anywhere no matter which hemisphere you are in.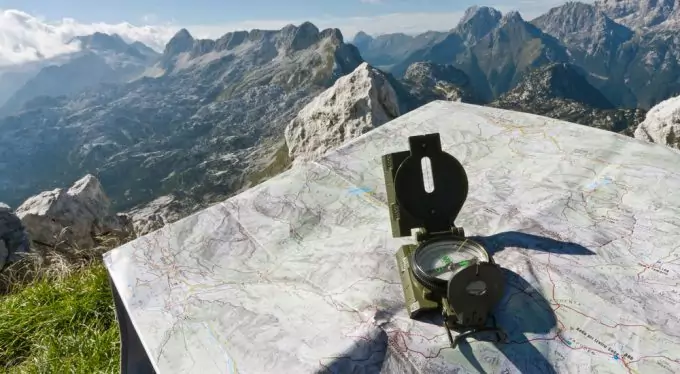 This happens because the variations of earth's magnetic field in various locations, doesn't affect the needle handle and it tilts of up to 20 degrees, thus doesn't drag on the top or bottom of the capsule.
Adjustable Declination
You want to be able to adjust the declination, or difference between true north and magnetic north, based on where you are. This is going to be different for each region that you visit and if you don't have it adjusted, you can end up with problems while you're traveling.
If you're able to adjust you'll be able to get to just the right spot and make sure that you're traveling the way you want to instead of getting off course as you go.
Best Products on Today's Market
We are going to review some of the best hiking compasses to help you make a better investment decision. After all, you want a compass that is easy to use, but also easy to carry along with you. Each of these compasses is going to help you with that process.
Core Paracord Survival Bracelet 
Price: Approx. $15
Weight: 0.8 oz
Dimensions: 10.4 inches length
Specific features: Premium design, heavy duty paracord, loud whistle
Best use: Hiking, backpacking, outdoor exploring
Description: The Core Paracord Survival Bracelet is available in 8 different amazing colors and it's versatile for many purposes. This paracord bracelet includes heavy duty rock climbing rope, a self-defense whistle, magnesium fire starter and the most important, a compass.
The compass is attached within the bracelet and won't fall off. This bracelet is available in different sizes so you can get one according to your preference and needs.
It's very comfortable and can serve as a backpacking emergency kit. The product comes with a lifetime warranty. This is a durable, comfortable and lightweight product so it's perfect for hiking and backpacking.
All the cool and vibrant colors make this product stylish and trendy. The whistle is very loud and it can be used to warn of wild animals. The compass actually serves as a locking system to you can slide it to lock the bracelet and slide it off to unlock.
PROS:
Rated to 550 lb
Provides 10 ft. of paracord
Lifetime warranty included
Color and size options
Emergency features included
CONS:
Not adjustable
Compass is very small
Sizes are small
Related: If you're going to be out in the wilderness you need to have a good first aid kit so you're prepared for anything. This ResQue1st Kit is a large kit that will make sure you can take care of just about any injury you might have and then some.
SE Military Lensatic Compass  
Price: Approx. $9
Weight: 4 oz
Material: Aluminum
Dimensions: 3 x 2 x 5 inches
Specific features: Rotating bezel ring, water resistant nylon pouch, sighting lines on the cover
Best use: Backpacking, camping, hiking
Description: The SE Military Lensatic Compass is made of aluminum. This compass has a thermos elastic liquid filled capsule with a floating dial, and a rotating bezel ring. The ruler units on the sides are to measure in inches and centimeters.
Furthermore, it also has a built in bubble level and the heavy duty digital camouflage cover prints help you see directions precisely. Sighting lines on the cover are also there. The compass, also has an adjustable diopter sighting, and a water resistant pouch to carry it around with ease.
This compass features folding thumb ring and a conversion chart for angle, gradient and distance on the base plate. It's the ultimate direction finder and it gives you precise results so you can rely on it. The quality of this compass is very good and the price is cheap with great features.
PROS:
Solid and stable unit
Made with durable aluminum
Low price for any budget
Camouflage design on cover
Sighting lens and lines
CONS:
Heavy and bulky
Materials aren't very good quality
Not 100% accurate
Related: If you're trying to get prepared for anything out in the wilderness you will definitely need a LifeStraw Personal Water Filter. This will keep your water clean and clear and also can be used directly in a stream or body of water.
Gerber Bear Grylls Compact Compass 
Price: Approx. $15
Weight: 0.32 oz
Dimensions: 0.8 x 4.5 x 5.5 inches
Specific features: Rugged and reliable design, field tested, compact size, lightweight
Best use: Camping, hiking, emergency situations
Description: The Gerber Bear Gryllis Compact Compass, has a compact size that makes it easy to carry anywhere. The price of this compass is quite reasonable and it is field tested, which means it works efficiently and can perform well in emergency situations.
The design of this compass is rugged and reliable, which makes it a good product. It has a zipper pull style to enable you to carry it with convenience and it's made with a heavy duty plastic so you don't have to worry about breaking it if it's packed in the backpack with other gear, or if you drop it.
Furthermore, the compass is lightweight because it is made for backpacking and hiking use. Overall the product has some good features and is definitely worth your consideration.
PROS:
Small size for easy carry
Fits onto a zipper pull for easy use
High impact plastic exterior
Easy to hold
Great price for most
CONS:
Needs to be level
Can be a bit too small
Can sometimes get stuck
Related: Out in the wilderness a fire can sometimes be the difference between staying warm and comfortable and struggling through the night. With the Gerber Bear Grylls Fire Starter you don't have to worry about how you're going to get a good fire. This tool makes it very easy.
Suunto M-3 G Compass 
Price: Approx. $30
Weight: 3.2 oz
Dimensions: 0.7 x 3.6 x 7 inches
Specific features: Ideal for navigation, adjustable declination correction, reliable
Best use: Backpacking, true hiking
Description: The Suunto M-3 G Compass is ideal for navigation and survival in emergency situations. Its hardy base plate makes it perfect for professional use. This compass has an adjustable declination correction to find out the correct direction compared to magnetic north.
The luminescent markings make it usable even in low light (night time). The magnifying lens on the transparent base plate makes it really convenient to use with a map. The color of this compass is universal NH as well.
This compass can be used in the northern hemisphere, you can take it anywhere and it will show you the directions precisely. The product is a little more expensive than others, but its features make it worth it. It's easy to hold and has notations to make reading your map with this compass a whole lot easier.
PROS:
Adjustable declination
Magnifying lens on compass
Works in low light
Lanyard included to carry
Ergonomic and comfortable design
CONS:
Designed for northern hemisphere only
Scale is difficult to see
Declination adjustment is difficult to make
Related: The Be Expert with Map & Compass book is ideal for those who are picking up a compass but haven't had a lot of occasion to use one before. This book will help you figure out what you need to do and just how to do it to be successful in the wilderness.
UCT Ultimate 7-in-1 Survival Whistle 
Price: Approx. $15
Weight: 0.8 oz
Dimensions: 1 x 3.5 x 4 inches
Specific features: High quality, rugged, durable, compact size, light weight
Best Use: Camping, hiking, backpacking
Description: The UCT Ultimate 7-in-1 Survival Whistle is made of high quality material and for professional use. This product features 5x magnifying glass, led flashlight, waterproof storage container, compass, thermometer and a signaling mirror.
You're getting a product that is designed to last with its rugged and durable construction. The compact size and versatility make it ideal for outdoor activities like camping, hiking and backpacking. The price is really reasonable with all the features it offers. This one product serves multiple purposes.
The compass for navigation, whistle for warning off wild animals, storage container to store, led flashlight to see at night, magnifying glass for better visibility. Everything about this tool is super easy to use and you get a 100% satisfaction guarantee as well.
PROS:
100% satisfaction guarantee
7-in-1 survival tool
Lightweight and easy to carry
Durable plastic construction
Compact and versatile
CONS:
Flashlight is not ideal
Thermometer shows Celsius only
Mirror is not strong
Related: A rain poncho can be an important thing when you're trying to stay prepared for anything out in the wilderness. This Yiodu Rain Poncho is camouflaged and priced low, plus it can be used as a shelter if you find yourself in need of one.
Ezyoutdoor Emergency Whistle Compass 
Price: Approx. $6
Weight: 1.5 oz
Dimensions: 1.13 x 1.25 x 4.5 inches
Specific features: Survival style, luminous compass, signal mirror, magnifier storage chamber
Best use: Outdoor conditions, wilderness
Description: The Ezyoutdoor Emergency Whistle Compass is a survival kit that includes a whistle, compass, thermometer, magnifier, flashlight, mirror and storage capsule. All these versatile features make this kit perfect for outdoor activities like backpacking and hiking.
The price of this product is cheap and it is temperature resistant. There are no magnets or adhesives and you can clean it easily for renewable grip. The whistle can be used for emergency situations and to scare off animals in the wild.
You don't need any battery or charging so even if you have no power supply it will work efficiently. The army green color makes it look good in your pack and the product also comes with a lifetime warranty.
Lightweight and durable design makes it easy to carry around and to rely on. It is a recommended product, for the price and versatility it provides.
PROS:
7-in-1 emergency kit
Fits on a lanyard
Lightweight and easy to use
Can hold matches as well as other features
Doesn't require batteries or charging
CONS:
Flashlight is not bright enough for walking
Thermometer only in Celsius
Each product is jut only partially quality
Related: The Bushcraft 101 Field Guide is great for anyone who is looking to become more involved in the outdoors. This guide will help you to stay aware of everything around you and it's great to go with your compass for getting prepared.
Brunton TruArc Base Plate Compass 
Price: Approx. $13
Weight: 1.6 oz
Dimensions: 1.1 x 4.2 x 8.1 inches
Specific features: 2 degree resolution, global needle, U-proof warranty
Best use: Backpacking, hiking 
Description: The Brunton TruArc Base Plate Compass is a great choice for hiking and camping. This compass features a global needle system which means that it can be used anywhere in the world. Its needle works quickly and efficiently and saves you time.
The product has metric and standard scales, tool-less declination compensation and no frills reliability. All these features make this compass an ideal for an outdoor pack. The price is quite reasonable too.
It has all the basic features of a compass and is reliable. It's easy to use and extremely light weight which makes it easy to carry around. The quality of the product is good and size is compact. This product also comes with the U-proof warranty, so you can trust you're getting something really good.
PROS:
Global needle
Made in the USA
U-proof warranty
Tool less declination compensation
Metric and standard scales
CONS:
Needle not dampened fully
Instructions not included
Difficult to adjust declination
Related: The Sawyer Products Mini Water Filtration System is great for use on your next hiking trip and will work great with your new compass (which can help you get to some water). It can be used several different ways to get you quality water.
Wrapping It Up
With the Brunton Compass we have reached the end of our article. We hope that you found it interesting to read and that now you know what to look for when looking for a new compass, and which models are the best.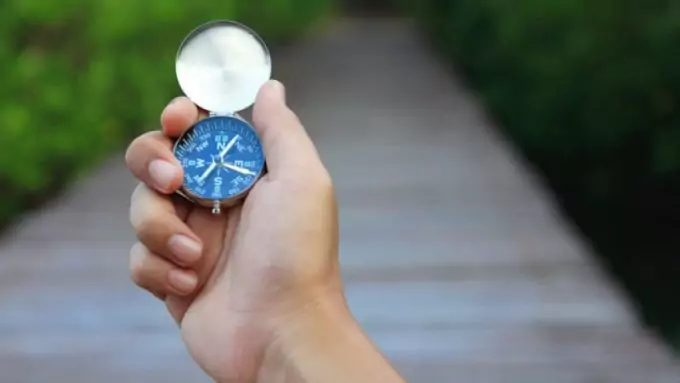 Just remember, when you are buying a compass, make sure you know how to use it properly and the zones where you plan to go. Look for the features that you require and pick the one which suits you best. Check out all the products above and you will hopefully find the best hiking compass that will fit your needs completely.
So what did you think of each of these features? Was there a compass you thought was the best? Was there one you thought we should have included that we didn't? We really want to know all about it.