Trail running shoes are a great way to enhance running on trails, especially for your feet. If your feet hurt after trail running, or if your feet are not comfortable, it is possible that you need a better fitting pair of trail running shoes. How can you tell what shoes are best for trail running?
We have some features you can consider when it comes to looking for the best trail running shoes. Even if you do not know much about finding the best shoes for this type of running, that is okay! We will explain to you what you can look for and show you some of the best products on the market currently!
After this article, you will have the information in order to be confident to find the best pair of trail running shoes that work for you. Being informed helps you make better decisions. We hope that this review helps you find your next pair of shoes so you can run trails comfortably!
Our Top Picks
| Product Name | Durability | Material | Weight | Moisture Wick | Price |
| --- | --- | --- | --- | --- | --- |
| Salomon XR Mission | Contra Grip outsole for traction | Synthetic with mesh top and rubber sole | 11.5 oz | None | Check price on Amazon |
| ASICS GEL Venture 5 | Trail Specific outsole has lugs | Synthetic with mesh top and synthetic sole | 9 oz | None | Check price on Amazon |
| Merrell Pace Glove 3 | Trail Protect pad | Synthetic with mesh top and synthetic sole | 5.8 oz | None | Check price on Amazon |
| Adidas Performance Thrasher 1.1 W | Adiwear outsole has grip | Synthetic with mesh top and textile sole | 4.9 oz | None | Check price on Amazon |
| Salomon X Scream W | Heightened traction for various surfaces | Synthetic with mesh top and synthetic sole | 8.8 oz | None | Check price on Amazon |
| Merrell Mix Master Move Glide 2 | Toe caps, secure lacing system | Synthetic with mesh top and rubber sole | 14 oz | Yes | Check price on Amazon |
| Salomon Speedcross 3 | Supportive overlay, lugs, Conta Grip Tread | Synthetic with fabric top and rubber sole | 9.1 oz | Yes | Check price on Amazon |
Features to Consider Before Buying
Before you go pick any type of running shoes, let us give you a few pointers on how to choose shoes for trail running. See below for the main features to look out for when you do go shopping.
Foot Shape
As a result of different types of foot shape, manufacturers have developed different kinds of trail running shoes to accommodate runners of different strides. For example, neutral foot shaped runners can run in almost any kind of running shoes, but tend to gravitate towards a moderate stability shoe.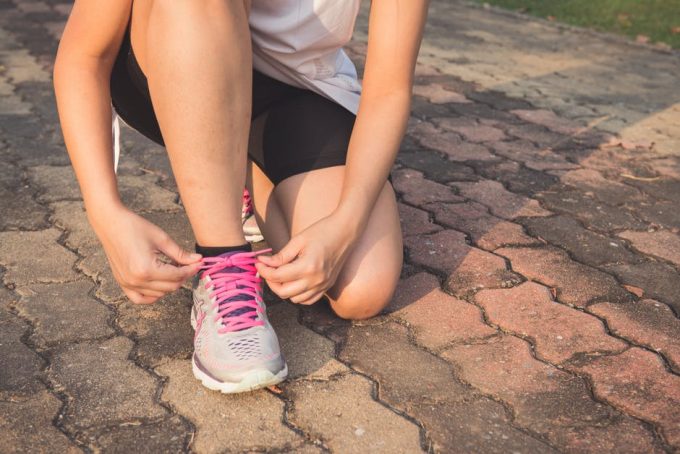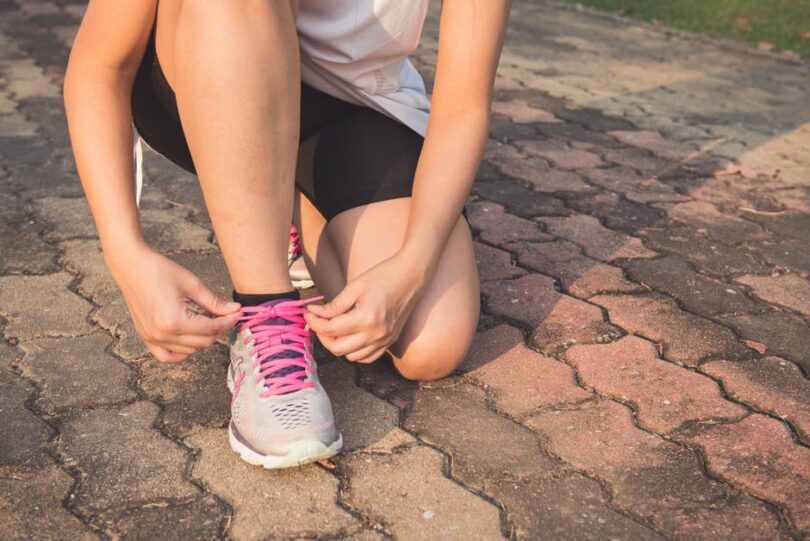 Flat footed ones on the other hand a higher stability shoe because they can help correct over pronation. Basically pronation refers to how your feet hit the ground when you walk or run.
Under pronation is when you hit the ground using the outsides of your soles. Over pronation is its opposite and you use the insides of the soles. Normal pronation is when your whole foot bears the weight of your body as you walk or run.
Body Frame
Most runners do not know that they put 3 times their body weight on their feet when they run. This is why you need to consider body frame when you are looking for the best trail running shoes for women.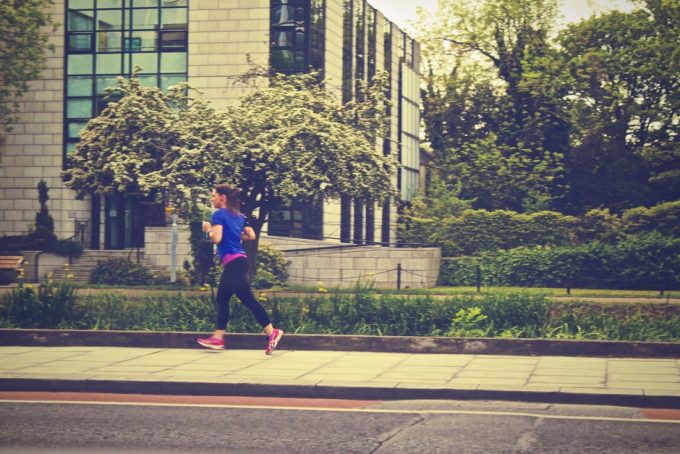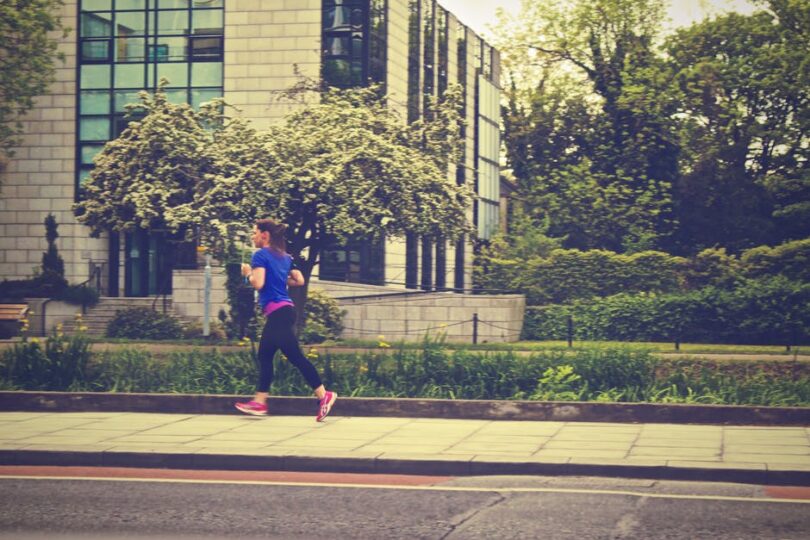 If you are 5'10 for example and weigh 160 pounds, you want a running shoe with excellent cushioning and support.
Distance
Distance matters when you are picking the best trail running shoes because if you plan on running longer you need something durable and comfortable at the same time. Try to find something that's hard wearing, but gentle on your feet.
Right Size
Did you know that your feet are bigger in the afternoon compared to when you first get up? This is mainly due to swelling which is a regular occurrence for all of us. As we use our feet, capillaries expand to accommodate blood flow when we walk or run.
This is why your feet get a bit bigger in the afternoon. When choosing trail running shoes, go shoe shopping in the afternoon. This way you get the correct size and feel more comfortable when you run.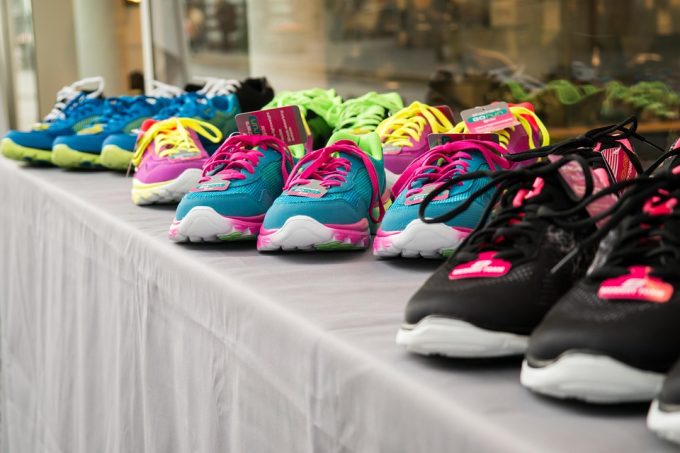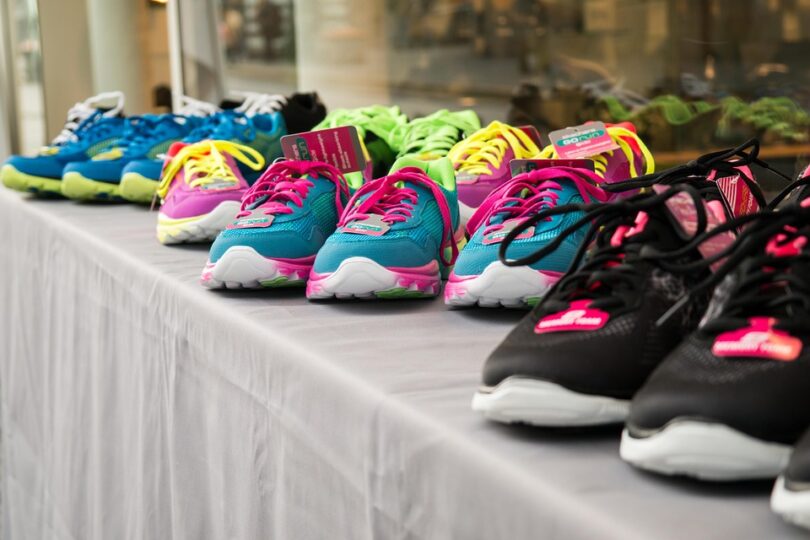 When you finally pick several styles and sizes wear them around the store to get a feel of them. Go up and down the stairs or an incline to feel which ones are the most comfortable and provide the best support. Find a pair that is neither too tight nor too loose for better running feel.
Durability
Having trail running shoes that are durable will help you access various types of terrain due to their lugs and traction abilities. You will be able to smoothly go up or down hill with a great pair of trail running shoes. Not only that, the materials they are made out of will help determine if they will last a long time.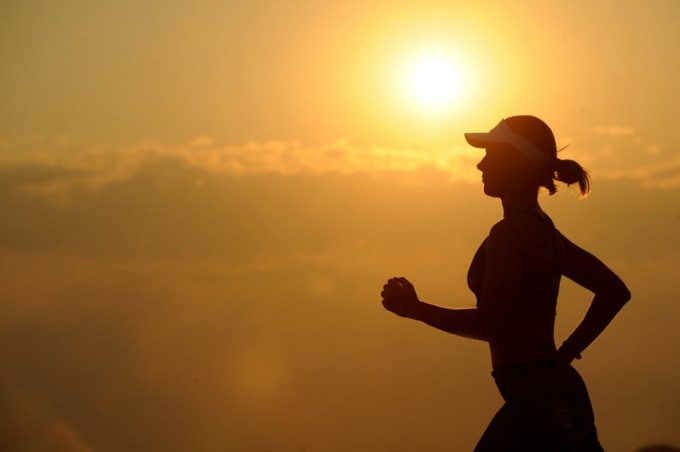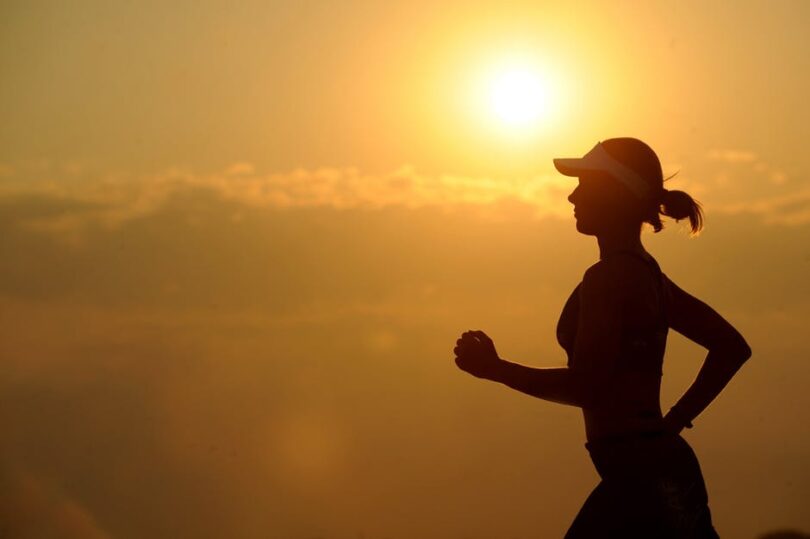 Having special features like moisture wick, or textile soles will help you make the most the trail. The lightweight materials, will flex and move as you keep running. Traction helps you stay on the ground and not slip around or fall.
Top Product Reviews
Below we have listed several of the top trail running shoes on the market. We have listed their specs and features along with some Pros and Cons so you can make the most informed decision before you make a purchase.
Keep in mind, these shoes have various feels, levels of traction, and other features that make them unique. Finding the right shoe means doing a little research as well as trying them on before you buy them.
Salomon XR Mission
Price: $60 – $150
Specific features: Designed to flow from roads to trails, breathable mesh upper reduces moisture buildup, Sensifit and Sensiflex promote smooth motion, foam foot bed reduces friction, rugged Contagrip outsole for traction, quick lace feature for fast, secure lacing
Weight: 11.5 oz
Color: Papaya with black and igloo blue, celedon with papaya and pop Green
Material: Synthetic
Best use: Running, trail running
Description: The Salomon XR Mission is lightweight, durable, and flexible and is best for short to middle distance trail running. One of the best things about this shoe is the roomy toe box so that your toes have lots of room to splay out. The quick lace system is also genius, especially when you want to head out the door right away.
The tongue of the shoe has a small pocket where you can stash essentials like a bit of cash or maybe your car key. This shoe from Salomon is versatile, but is better off as a great trail shoe.
Running 4 to 10 miles in this shoe will be very easy and comfortable on the feet. They are best for running on packed or technical trails. Salomon also constructed this shoe to be gender specific last so they can be worn by a wide range of runners.
PROS:
Lightweight
Flexible
Spacious toe box
Small stash pocket
Comfortable and versatile
CONS:
Gets pricey
Soles are not spongy
Must be broken in before using
Related: If you want a better variety of color, you can always look into the Salomon X-Mission 3 W Trail Runner, which are comparable in price as well as share many of the same features, like comfort, spacious in the toe, and very light in weight.
Asics Gel Venture 5
Price: $50 – $125
Specific features:  Lace-up runner featuring reflective details and patterned webbing overlays and lace loops, removable sock liner, rear foot GEL cushioning system, AHAR high abrasion compound in critical areas, trail-specific out sole with reversed lugs
Weight: 9 oz
Color: 10 colors including silver with turquoise and lime punch, indigo blue with pink glow and living coral, and ocean depth with pink glow and aruba blue
Material: Synthetic
Best use: Running, trail running
Description: The ASICS GEL Venture 5 is available for both men and women and comes in different colors. When you buy this shoe you get comfort and stability, which is very important when you are trail running. The wide selection of 10 colors, will make it hard to choose which pair you like most! They are all colorful, and look fun to run in!
The shoe has deep soles under the outer grove for stability and prevents injury to the runner's feet and helps prevent falls. The shoe has a rear foot gel which can help cushion shock your feet encounter during rougher trails or while running and jumping.
The mesh feature of these trail running shoes for women by ASICS also gives your feet breathability to prevent overheating. At such a great price, these shoes really deliver when it comes to support, breathability, and color selection for a fun running experience on the trail or in the city!
PROS:
Several nice colors
GEL cushioning
Removable sock liner for orthotics
CONS:
Some say it is not as comfortable as others
Somewhat stiff
Material is not soft
Some say it is more of a walking shoe
Related: If you want some colorful socks that breathe easily and are great for running in these shoes, then check out the ASICS Intensity Single Tab Socks.
Merrell Pace Glove 3
Price: $90 – $140
Specific features: Trail runner in breathable mesh featuring Omni-Fit lacing system for secure fit and padded collar for comfort, breathable mesh lining Trail Protect pad for underfoot protection, 4-mm cushioning, 3-mm lug depth
Weight: 5.8 oz
Color: Black, crown blue, light gray, and turquoise
Material: Textile
Best use: Trail running
Description: The Merrell Pace Glove 3 does not feature lugs under the arch so your foot can flex naturally for greater comfort. This shoe has amazing traction so you won't have to worry about running in wet or dry surfaces even under the most extreme temperature. It has great traction and are stylish with 4 different colors to choose from!
If you don't like stinky feet when running, the shoe's long-lasting M Select fresh will prevent sweat and moisture from stinking up your feet. The shoe actually has anti-microbial agents that prevent the multiplication of bacteria that causes odor. "Omni-Fit" lacing system gives runners, adjustable and secure fit.
In conclusion, this shoe from Merrel is well made, durable and minimalistic. Overall, this shoe is comfortable, priced moderately and is made of textile fabrics with a synthetic sole. It also includes a mesh lining, and are a durable pair of shoes that has a padded collar.
PROS:
Omni Fit lacing system
Comfortable
Light weight
Great traction
Prevents sweat and moisture
CONS:
Some say the shoes are too big
Rigid
Bends too much
Not as comfortable as others
Related: For a less expensive shoe that works well and fits like a glove, you can check into the Merrell Vapor Glove 2 Barefoot Trail Running Shoe.
ADIDAS Performance Thrasher 1.1 W
Price: Approx. $65
Specific features: durable Adiwear outsole with all the stability and grip you need to hit the trail running, Adiwear outsole for stability and grip, breathable air mesh upper for maximum ventilation, non marking lugged trail outsole
Weight: 4.9 oz
Color: Amazon purple with the colors of metallic, silver, and flash orange
Material: Synthetic, mesh, and textile
Best use: Trail running
Description: The Adidas Performance Thrasher 1.1 W is made for trail running and walking. It also has breathable mesh to prevent your feet from overheating. The molded foam insole provides cushioning and support for your feet as you run, jog or walk. This shoe is so comfortable thanks to the EVA mid sole; you can wear them all day.
Weighing at 11 oz, they are comfortable even if you run on hard packed trails. It also features thicker cushioning around the ankle to provide stability. These best trail running shoes for women feels higher in the heel compared to the toe, which helps with the natural running position.
The shoe also features good traction so that runners will feel comfortable running on dirt trails, sand, turf or dirt. This shoe from Adidas makes you feel comfortable so you will feel confident running on wet days as well.
PROS:
Designed to avoid build up or dirt, mud or rocks
Breathes well
Stylish colors
Priced just right
CONS:
Size feels small, might want to buy up 1/2 or full size
Not the best arch support
Not for all day wear
Related: If you want something for lower mileage or just a more variety of colors, we recommend you look into the Adidas Performance Powerblaze W Running Shoe. It is less pricey as the one we reviewed, and users love the fit and comfort.
Salomon X Scream W
Price: $40 – $180
Specific features: Molded EVA foam mid sole, easy lacing system with pocket
Weight: 8.8 oz
Color: 5 colors including boss blue with score blue and white, boss blue with granny green and hot pink
Material: Synthetic with mesh
Best use: Trail running
Description: The Salomon X Scream W is versatile and manages well when transitioning from pavement to dirt trails and other surfaces. It also has great traction so you can descend, ascend, sprint, run, jump and jog on different surfaces with no problem. According to some reviewers, the shoe is best for pronators (runs with most of the weight on the inside edges of the feet).
However, they provide excellent support for lateral movement. One of the best things about his shoe is the reflective lighting to increase visibility during low-light conditions. The OS tendon frames run along the sides of the soles to help improve better heel-toe transition as you run.
Made with synthetic materials with mesh, this stylish shoe comes in 5 colors and has a rubber sole with tread. Its chassis supports your leg muscles as you run, for the most effective trail running experience.
PROS:
Light weight
Quick lace system
Molded EVA foam mid sole
Nice set of color choices
CONS:
Not for flat feet
Some say they run large
Not the best for arch support
Related: If you are looking for something that really cradles the foot, you can check into the very comfortable Salomon Women's X Scream 3D Running Shoe. Comparably priced, this shoe has many of the same features, but includes the Sensifit Food Cradle System.
Merrell Mix Master Move Glide 2
Price: $30 – $100
Specific features: Lace-up trail runner featuring mesh upper with reflective overlays, secure lacing system, plush tongue and collar, toe caps for protection, removable EVA foot bed M Bound mid sole, moisture wick mesh lining with M-Select FRESH odor reducing technology
Weight: 14 oz
Color: Dark grey with light purple
Material: Textile and synthetic
Best use: Trail running
Description: The Merrell Mix Master Move Glide 2 is designed with many miles in mind. The protective toe caps, 8mm heel cushioning and 4mm under the ball create a comfortable and cushioned platform to give runners better ground feel and protection from impact. The breathable mesh also helps keep your feet light and dry.
These best trail running shoes for women from Merrell is also very versatile and can be used for hiking and walking aside from running. You can also use it on a treadmill if you prefer running indoors.
This shoe is stylish and is great for trail running with the reflective overlays that are added into the shoe. It also has a secure lacing system, with molded eyelets that keep the laces in tact. While a little pricey, this shoe offers quite a comfort, security, and lots of style as you run on various kinds of trails.
PROS:
Includes reflective overlays for night running
Plush tongue as well as the collar
EVA foam foot bed is easy to take out
Priced just right
CONS:
Rigid
Might need to order a 1/2 size up
Must be broken in well before use
Material is not as flexible
Related: If you like this shoe but want something with more foot protection, try the Merrell Trail Crusher Trail Runner. It has protect toe caps, as well as other features that are similar to the Glide 2, plus it is priced nearly the same!
Salomon Speed Cross 3
Price: $80 – $140
Specific features: Lightweight trail runner in water-resistant nylon mesh with supportive overlays and featuring Winter Contagrip tread with multi directional lugs, single-pull Quick lace system with lace pocket, removable Ortholite foot bed
Weight: 9.1 oz
Color: Light onix with topaz blue and dark cloud
Material: Synthetic
Best use: Trail running
Description: The Salomon Speedcross 3 has lightweight upper and an anti-debris mesh with aggressive tread, and they provide excellent traction and stability. These shoes will enable you to run on wet trails or dry dirt.
The shoe's forefoot has been reduced by 50% so that runners are lower to the ground for better control helping to prevent ankle and foot injuries. It also features a Sensefit construction has contributed to better construction and durability.
For runners that want cool feet, Salomon's shoe has water shield protection over the tongue and toes to prevent water resistance without compromising breathability. The laces are also great thanks to the small pocket where you can tuck them in so that they won't be bouncing around during your daily trail run.
This shoe can get a little costly, but with all of the features that it includes, plus the optimal comfort and ease of running, you will see why this shoe is worth it.
PROS:
Various colors to choose from
Quick lace system, single pull
Foot bed is easily taken out for orthopedic inserts
CONS:
Not for winter use
Tight fit
Not much toe space
Related: You might love this shoe, but want something less pricey. To find a comparable shoe for this one, you could look into the Salomon Speedcross 3 Trail Running Shoe. It has synthetic materials as well as a textile bottom and includes a CONTA GRIP outsole, and is highly durable.
Concluding Thoughts
Having a good pair of trail running shoes will make a huge difference where you run, how your feet fell, and how long the shoes will last. Getting a pair that is durable, high performance and made specifically for trails will help you get the best out of your runs, no matter the terrain.
With so many on the market, you can surely find a great pair to get the most out of your runs. Check around for shoes that give you a great fit, lots of comfort, breathe well and have great traction. It might not be easy to find, as each person's preferences are different. Sometimes you may have to go a half or full size up, or you might have to go down a size.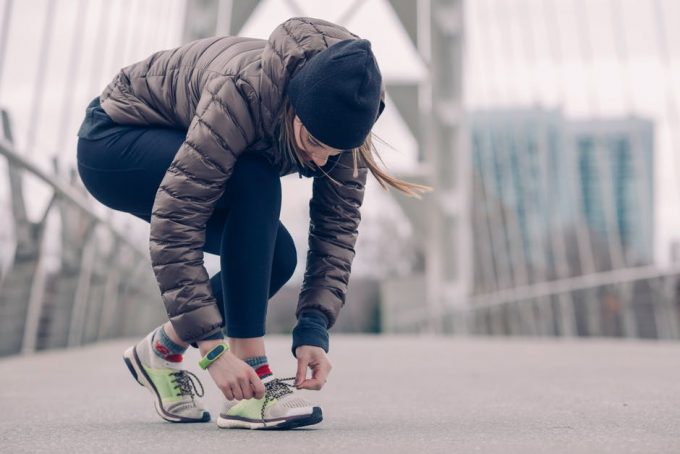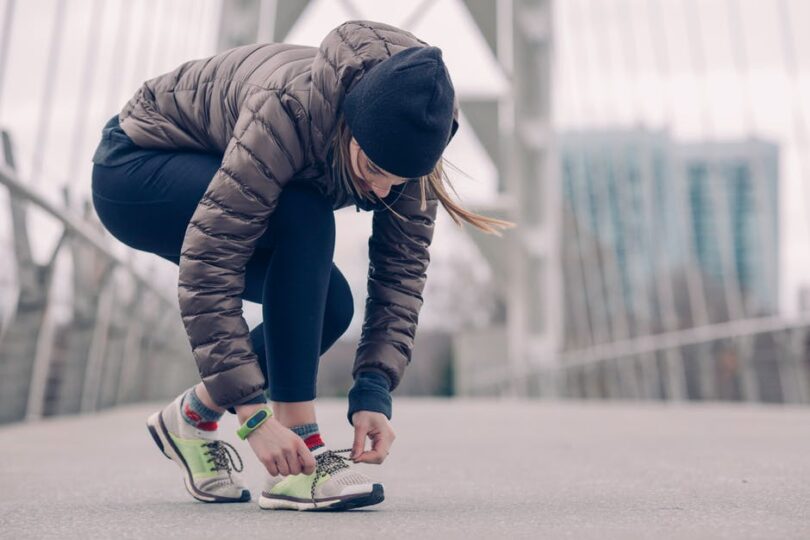 Each company's sizing is different for the most part. Style and colors are nice features, because you want to look good, but keep in mind that the way the shoe functions, how you feel inside of it, and how you feel after wearing them are more important the how everything looks.
Now that you are aware of the features you should keep an eye out for, as well as some reviews of the best trail running shoes on the market, you can now choose your own that will work hard for you as you get your exercise outdoors. Now that you can find a great pair, you can enjoy trail running as well as reduce your stress, improve your heart health, and make your body more limber.
Do you own any of the pair of shoes we have reviewed? What kind of trail running shoes do you own? How would they stack up against the ones we have reviewed? Let us know all about your trail running shoes and experiences in the comments section below!