If you feel like everyone's trying to be more fit and healthy these days, you are not just imagining it. Increasing numbers of people are making a more conscious effort to eat healthier and get more exercise done. Whether it's the effects of social media or easier access to information, it's easy to see that more people are going after their fitness goals.
With that said, the health and fitness industry has greatly benefited from the advancement of technology. These days, you can see many apps and gadgets that do things like counting calories and tracking fitness activities. One such gadget is the fitness tracker or band.
Today, we will be highlighting the best features when shopping for this gadget as well as review some products to help you find the best fitness tracker in the market.
Why You Should Buy A Fitness Tracker?
So you are probably asking, "do I really need a wearable fitness tracker?" There are people who love to exercise and there are those who just don't want to bother at all.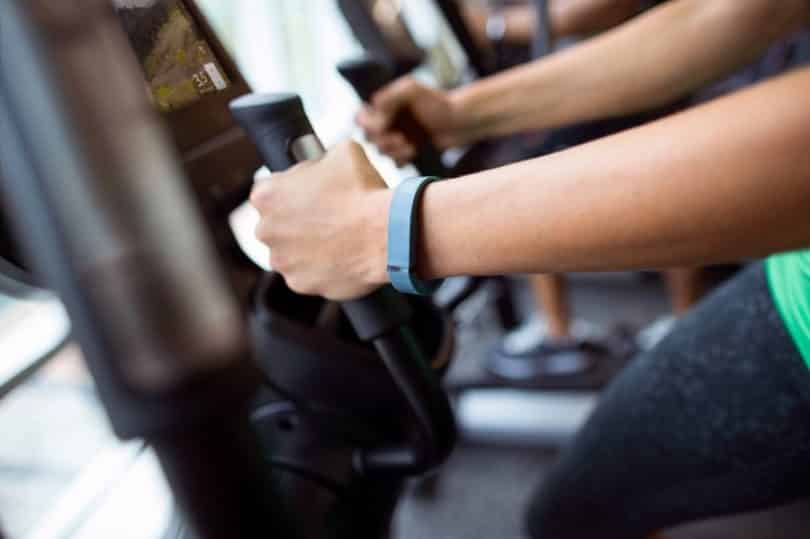 Although it makes sense that the exercising group can benefit from a fitness tracker, we'd argue that those who don't like to exercise can benefit more from this wearable tech. Here are the well-known benefits of using a fitness tracker:
Accountability: most people want to be fit and healthy but there is always something that stops them from going out and exercise. Whether it's the lack of time or just plain laziness, there are always excuses to be made. A fitness tracker might just be the thing that will give that little push towards your fitness goals. Fitness trackers track your progress and goals which psychologically encourages you to walk further or run faster than yesterday.
Motivation: measuring your progress on a day-to-day basis can be difficult. However if you have a fitness tracker, you have a visual indication of your progress like how many steps you've taken in a day. Just like that, you have a quantifiable goal that will motivate you to do better the following day. Once you start seeing results, your motivation level can only go up.
Individually tailored goals: if you wish to get anywhere in your fitness journey, you need to set clear but realistic goals. It's a good thing that most fitness trackers allow you to set workout routines and realistic, obtainable goals. You are free to set these goals and workouts that best fit your needs and requirements.
Healthy eating: even if you are always exercising but your diet is not on point, you will not go anywhere near your fitness goals. Diet is key to a successful health and fitness regimen. Many fitness trackers nowadays have a feature that allows you to keep track of your food and water intake. You can input your food choices throughout the day and the tracker will evaluate your diet – this often inspires better food choices.
Track your Z's: sleep quality is another aspect of your overall health that you can't afford to disregard. Better sleep quality is linked to benefits like improved metabolism and energy, less cravings and better mood. Fitness trackers can keep track of your sleeping patterns which can include information like the numbers of hours you slept and whether you are in REM sleep or not. This could pave the way to better sleeping habits which improves the overall quality of life.
Financial investment: fitness trackers aren't exactly cheap as many of them are priced over $50. However, you can take this financial investment as another psychological motivation. If you are dropping cash for a band that you wear around your wrist, you might as well use it to improve your health and fitness.
As you can see, fitness tracker bands offer a lot of benefits that will help you inch closer to your fitness goals.
How to Choose A Fitness Tracker Band?
Fitness tracker bands are pretty much everywhere these days. This is great if you want many options but shopping for one can be downright daunting as well.
Don't worry about the best fitness tracker band in the market, what you need is a device that's fits your needs. Here are some factors to take into account when shopping for a fitness tracker that's right for you.
Know your goals
Before you think about purchasing a tracker, you should clearly establish your fitness plans and goals. You should think about the activities you currently do and the ones you will be doing in the future. For example if you like running, you should get a tracker with the software that's designed for it.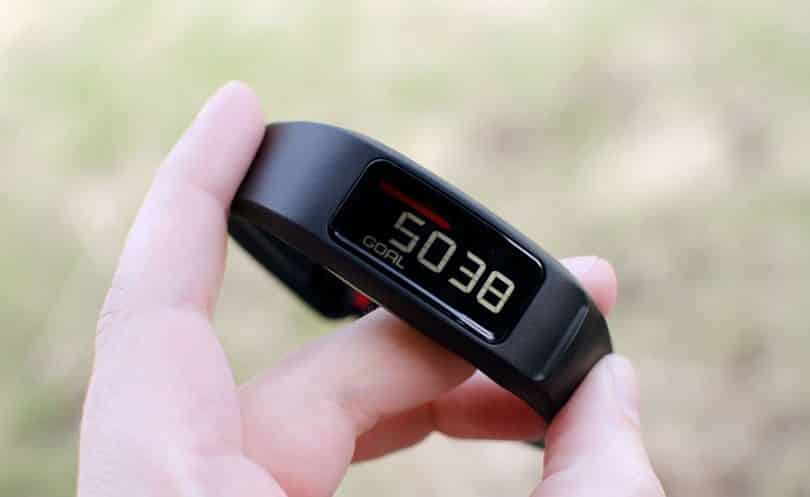 If you are new to exercise or just looking to move more, your needs should be covered with a basic tracker that can track steps and calories. People who are regularly active will want a device with more advanced features like GPS tracking or heart-rate monitoring.
Design
Another important factor to consider when shopping for a fitness tracker is the design. Most fitness trackers come in the form of a band that you wear around your wrist but there are also devices that you can clip into your clothing.
Choosing based on the design of the tracker not only depends on your personal taste but for the intended usage as well. If you want a feature-rich tracker, you will want to get one with a display that provides elaborate information. If you're planning to wear the device all day, you could go for a minimalist approach with discrete display.
Water resistance
Do you want a device that you can wear and forget? There are trackers that can resist water even if you go for an unexpected dive while there are those that are simply splashproof.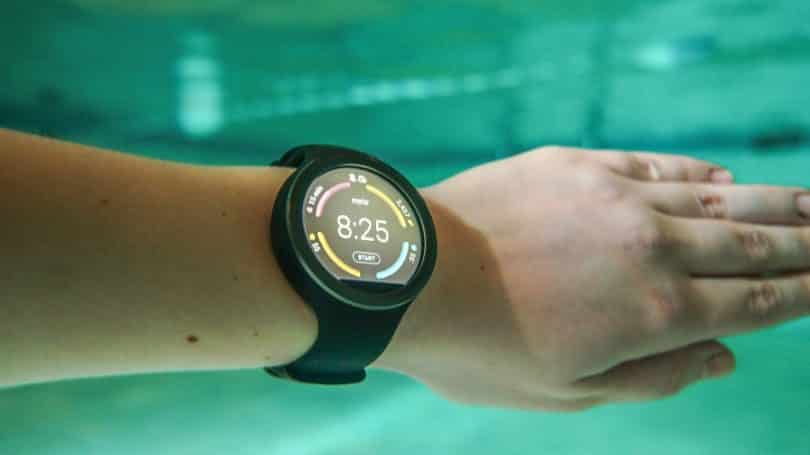 Again, this all depends on the intended usage of the buyer. Typically, splashproof trackers are likely to be sweatproof as well.
Features
Nearly every fitness band you'll find in the market will have two essential features: steps and calorie trackers. Again, you should evaluate your intended usage for the band. If you need to know how many flight of stairs you climb daily, go for a tracker with the standard accelerometer and altimeter.
If you're a runner or a cyclist, a band with GPS tracking should come in handy for tracking your progress. Those who are looking to improve their sleeping habits should invest in a tracker that has sleep monitoring features.
Companion apps
Majority of fitness trackers come with a companion app that syncs all your data along with other features. One of the most popular features for these apps is food logging. This lets you keep track of your diet by providing estimates on the food's caloric and nutritional value.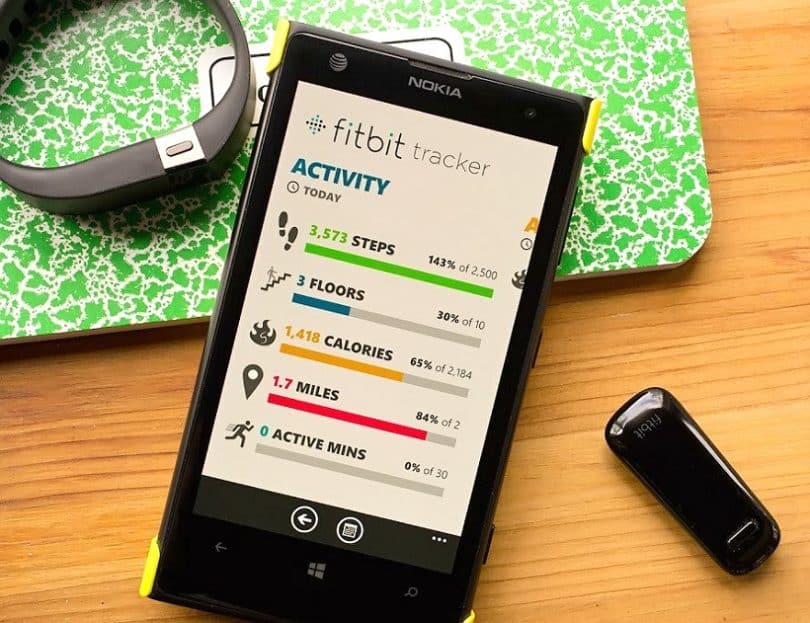 Another significant feature is the ability to log your workouts along with other exercise details. There are even companion apps that let you connect to popular third-party fitness apps like MyFitnessPal and MapMyRun. The overall design and interface of the app is another factor to consider as well.
Compatibility
To make the most out of a fitness tracker, it's recommended that you sync it with your smartphone. It's a good thing that most fitness trackers can sync with iOS and Android. It goes without saying that before spending money on a tracker,  make sure that it's compatible with your smartphone or any other gadget.
You don't want to end up with a fitness band that doesn't work with your Apple, Android or Windows Phone device.
Price
Of course, you need to consider the price when choosing which fitness tracker to buy. Most fitness trackers range from $50 to $300. Again, your personal goals will come into play here.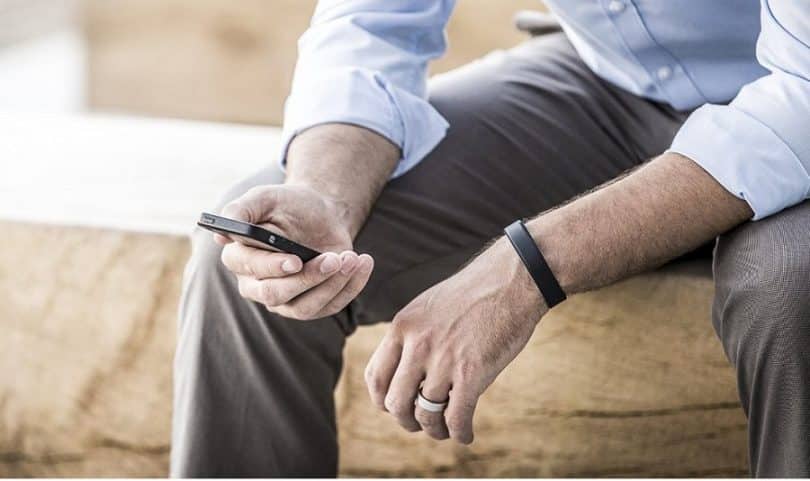 If you are simply looking to count your steps and calorie intake, then you can save money with an entry-level tracker with basic features. If you want a feature-packed tracker with all the bells and whistles, a high end device might be a good option.
Every day it seems that there's a new fitness tracker that hits the market. Hopefully these factors will help you navigate the ever-increasing number of fitness bands and get one that's right for you.
What's The Best Fitness Tracker?
There has never been a better selection of fitness tracker bands but this abundance in option can create confusion. To help you out, here are some fitness trackers that are worth checking out:
Garmin vívosmart HR+ Regular Fit Activity Tracker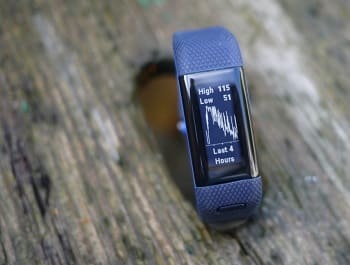 Weight: 1.6 oz
Dimensions: 2.5 x 0.5 inches x 0.8 inches
Features: GPS integrations, Running Metrics, Move IQ, 24/7 Heart Rate Monitoring, Purpose Built
Best Use: Jogging, walking, running, biking, swimming, elliptical training
Garmin has always been a brand associated with innovative GPS technology so you can bet that this translates well into their activity bands. The Garmin vívosmart HR+ Regular Fit Activity Tracker comes with Garmin's patented vívosmart HR+ technology that not only count your steps, calories and intensity minutes, it can also track how far and how fast you go while doing any activity.
The built-in GPS ensures that you will receive a more accurate data since the band acquires its information from satellite signals. The vívosmart HR+ tech also seamlessly syncs with your smartphone via the Garmin Connect mobile app. The device and the companion app are very intuitive to use and highly customizable.
It's has all the features you'll need from a fitness tracker like calorie tracking, sleep monitoring, distance tracking, pedometer and more. Overall, it's a great high-end device for those who are looking for a complete package.
Polar A360 Fitness Tracker with Wrist Heart Rate Monitor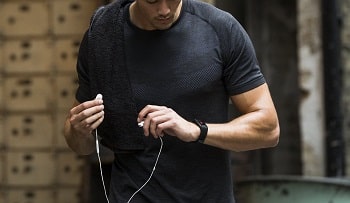 Weight: 6.1 oz
Dimensions: 5 x 4 x 3 inches
Features: Compatible with Windows and Mac, Polar Flow web service via USB, Waterproof, Sleep quality tracking, Vibrating smart notifications, Color touchscreen,
Best Use: Running, walking, jogging, treadmill
One of the main selling points of the Polar A360 is its sleek, elegant design. It really is something that you won't mind having on your wrist at all times. The 80 x 160 resolution display is a thing of beauty and easy to read. As for its features, it can count your steps, how many miles you've gone, how many calories you have burned and can even tell you how much of your daily goals have been accomplished.
It has a 24/7 activity tracking which is useful in counting how many steps you've made and monitoring your sleep time. It syncs with the Polar's Flow app which works with both Windows and Mac operating systems. Another thing that you'll love with this device is its heart rate monitor which excels in accuracy. You can even set different profiles depending on the type of activity you do. It's a solid activity tracker that nails both the aesthetic and feature aspects.
Garmin vívofit Fitness Band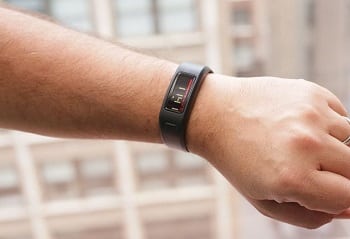 Weight: 0.96 oz
Dimensions: 0.42 x 0.83 x 0.42 inches
Features: Move Bar, 24/7 Wearable, Personalized goal, Sleep monitoring, Compatible with Garmin Connect app
Best Use: Running, walking, jogging, treadmill, elliptical
Here's another quality device from Garmin and it's a perfect tracker for those who are looking for a mid-range option. The Garmin vívofit Fitness Band features a Move Bar which is basically a red bar indicating the time that you've been inactive. This actually motivates you to move more or just walk for a couple of minutes to reset.
The band is stylish and comfortable enough that you can wear it 24/7 without problem. It's even water resistant so you can safely shower while wearing it. The band can also monitor your sleep and determine the quality of your rest. Another impressive feature of this device is its battery life which can last for about a year without needing a replacement.
Like with most Garmin fitness bands, it syncs with the Garmin Connect app for saving, planning and sharing your progress. It doesn't have tons of features but for its price point, you just can't go wrong.
Runtastic Colored Wristbands for Runtastic Orbit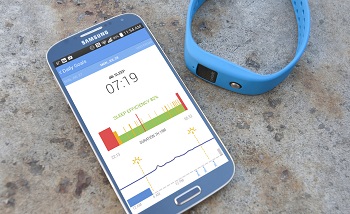 Weight: 1 lb
Dimensions: 7 x 5 x 1 inches
Features: One size fits all, Flexible & comfortable wear, Stylish, reliable wearable accessory, Clip included with each wristband, Interchangeable bands
Best Use: Running, walking, jogging, swimming
Runtastic Orbit is one of the more popular fitness tracker and it's been in the market for quite some time. It's hard not to see why when it can pretty much track everything like active minutes, calories burned, sleep cycles and more.
The Orbit is also waterproof up to 300 feet in case you are into swimming. This device's integration with the Runtastic app is seamless and the UI is a breeze to navigate. It can also sync with third-party apps like MyFitnessPal. Perhaps one of the best features of the Orbit is that you can easily change the wristband which gives it a layer of personalization.
If you are a fan of Runtastic's many apps, this band is pretty much a no-brainer purchase. If not, then we still highly recommend this device for it's really a solid activity tracker.
HeHa Modern Fitness Activity Tracker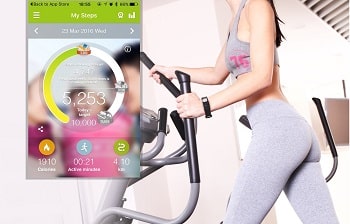 Weight: 0.6 oz
Dimensions: 8.9 x 0.7 x 0.4 inches
Features: Health checking, Heart rate variability(HRV), Calorie counter, Step tracker, Sleep monitor, Long battery life, Comfortable
Best Use: Running, walking, jogging
What makes this fitness tracker from HeHa stand out from the rest is the Health Monitor feature. The HeHa Modern Fitness Activity Tracker Waterproof Personal Fit Band Fitness Tracker can test your body for stress and measure your stress levels as well as test the balance of your autonomous nervous system. For each of the indicator, you will actually be given health tips and a breathing exercise to alleviate the stress.
This is tested via Heart rate variability or HRV. In conjunction with the app, it's easy to find out your stress levels. Other basic tracking features like activity tracker, calorie counter, step tracker and sleep monitor are covered. Another good thing about the device is its long battery life.
It can last for as long as 30 days even with 16 hours in walking mode. The user interface is also fairly easy to navigate although the app itself could benefit from some improvements.
Adidas Fit Smart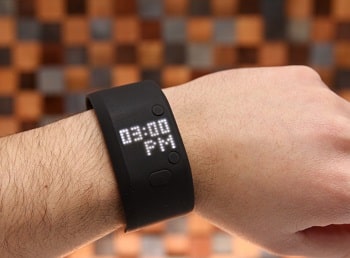 Weight: 1.7 oz
Dimensions: 1.5 x 0.5 x 8 inches
Features: Set goals and track steps, calories and distance all day, Visual coached guidance for workout intensity, Integrated accelerometer tracking pace, distance and stride, Wrist-based continuous heart rate technology
Best Use: Running, walking, jogging, strength training, calisthenics
Adidas is a brand that's synonymous with quality sports equipment and accessories. The launch of the Fit Smart indicates that Adidas is trying to zone in on a new segment of the market. You can say that it's a device that bridges fitness trackers and running watches.
To start off, the Fit Smart has a sleek but minimalist design that looks really good. Like most fitness trackers, this device can track steps, distance and calories all day. However what makes this tracker a cut above the rest is the real-time coaching feature. With the help of the band and the companion app, you can train smarter and harder.
It's like having a personal trainer in your wrist. The miCoach app can provide you with free training plans to help you get on the right track. The band is intended for those who want to improve their workouts or run the extra mile.
Waterpoof Sport Heart Bracelet Swimming Fitness Tracker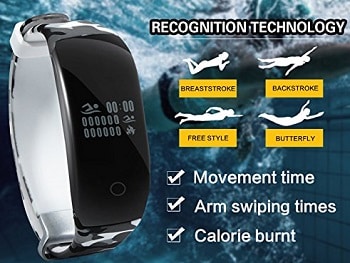 Weight: 0.5 oz
Dimensions: 3.3 x 3.3 x 0.9 inches
Features: Sealed waterproof design, Multi-function data record, Touch screen, Sleep monitoring, Smart alarm clock
Best Use: Walking, running, swimming
If you're a swimmer, it's only natural that you opt for a fitness tracker that can withstand being submerged in water. As far as waterproof fitness bands go, Waterpoof Sport Heart Bracelet Swimming Fitness Tracker comes highly recommended. Many users have tested its water resistance and seem to be happy with the results.
Users have been reporting that they have taken a shower or went for a swim without removing it and it still works. The OLED Touch screen display works great and the interface is fairly easy to navigate. The band syncs with smartphones seamlessly and will even give a notification if there's an incoming call.
This tracker could use a couple more features but it's clearly intended for swimmers which is understandable. Overall, FireHot's fitness tracker is a good bang for the buck choice for swimmers who are in the market for a good tracking device.
Jawbone UP2 Lightweight Thin Strap Fitness Tracker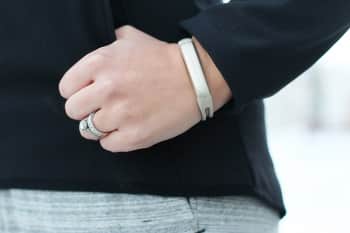 Weight: 0.88 oz
Dimensions: 220mm x 11.5mm x 3.0-8.5mm
Features: Lightweight design and hook clasp, Smart Coach, Smart AlarmTM, iOS and Android compatible, Syncs wirelessly, 10 days battery life
Best Use: Walking, running, sleep tracking, food logging
Here's a fitness tracker that should appeal to a majority of buyers, whether it's a fitness enthusiast or a beginner. As far as features go, the Jawbone UP2 Lightweight Thin Strap Fitness Tracker comes only with the basics but Jawbone sure did get those basics right. There are three main features of the band.
First is the daily Activity mode which keeps track of steps, calories burned and any level of physical activity. The next one is the Sleep mode which monitors the time and quality of sleep. Third is the stopwatch which is your standard fair for when you head out to exercise.
There is also the Smart Coach feature that will help you make healthier food choices and provide the motivation you need to get out of the couch. What we love the most about the band is that it could pass for a fashion accessory. It's thin, sleek and oozing with style. Being closer to your fitness goals has never looked this good.
Fitbit Alta Fitness Tracker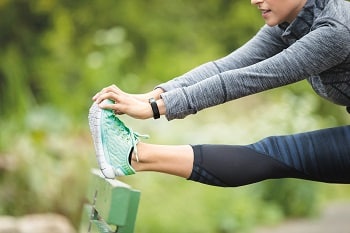 Weight: 1.1 oz
Dimensions: 9.4 x 0.6 x 0.4 inches
Features: Syncs automatically and wirelessly to computers and mobile devices, Water resistant, All-day activity tracker, SmartTrack, Tap display, Up to 5 days battery life
Best Use: Walking, running, jogging
The Fitbit Alta might just be one of the, if not the most best selling fitness tracker available – and for good reasons. The Alta's popularity can be attributed to a lot of things but mainly for its assortment of colors and features.
The device is available in black, blue, plum, and teal. Another major selling point of the Alta is its design and form factor. It just looks stylish and you won't mind having it on your wrist at all times. On the features department, the Alta doesn't disappoint either. You can track your steps, distance walked, number of active minutes and calories burned.
The band syncs flawlessly with a smartphone, tablet or computer. You have the option to enable text and call notifications which is convenient. This band will motivate you to be more active and eventually crush your fitness goals. It's definitely one of the best fitness trackers money can buy.
Hopefully with these round up of fitness trackers, you now have an idea about what you want from this type of device.
Our Final Thoughts
Fitness trackers aren't some magical tool that will help you lose weight or become a hardcore fitness model. Keep in mind that you still need to put a lot of work in order to go anywhere near your fitness goals. With that said, if you are looking to fine-tune your workouts or just need that extra push to get your lazy self out of the couch, a fitness band is a worthy investment.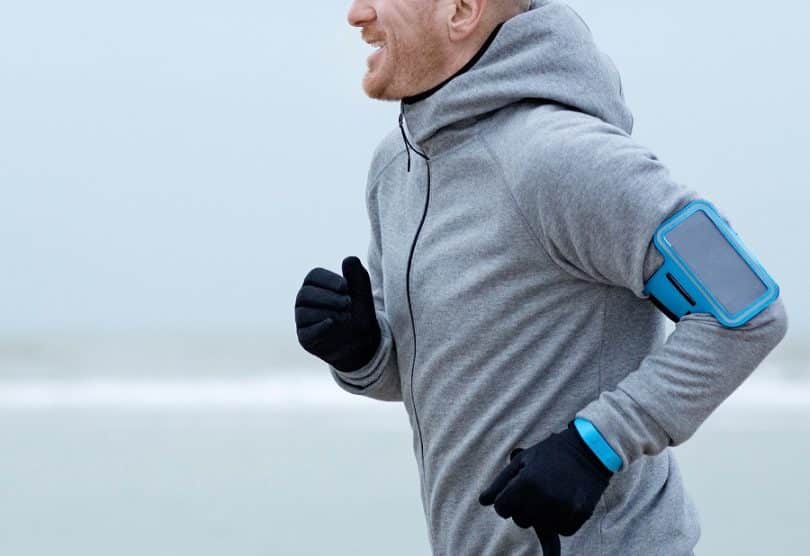 Do you think a fitness tracker is useful for going after your health and fitness goals? Have you used one before? Please share your experiences in the comment section. Finally, be sure to share this article with your workout buddies.