Rain might be interesting when we are in our house, warm and cozy, but when outside, and without the best rain gear… rain can cause a lot of trouble to those who are camping, hiking, running, boating or much more.
These people require a proper equipment in order to avoid low body temperature issues, flu, sickness, and a lot more. It is extremely important to keep your equipment dry and ready for use at any time it might be needed.
Many people like to rush and go to an adventure without the rain gear, so they end up regretting their adventures and wish they had taken more time to do a research on what they actually need to have a successful hiking or camping experience – depending on what they do.
No one wants a soaking wet lighter, or a backpack that cannot handle more than two clothing pieces and lets the rain inside. We all want to protect and secure our gear.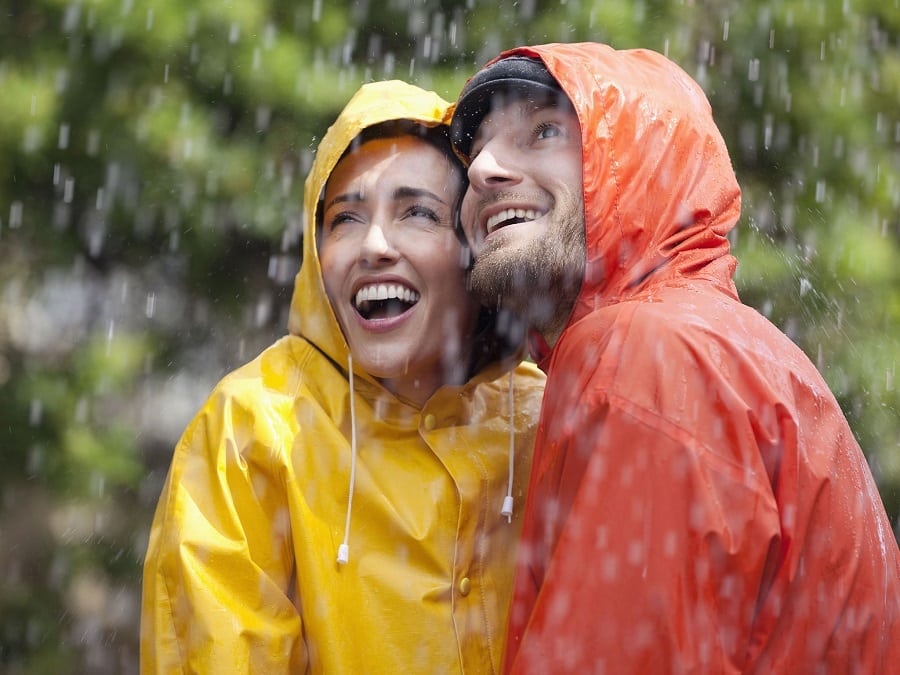 In order to actually do so, we are required to buy and equip ourselves with some of the most needed rain gear products listed below, take a look and pick what you believe is the most needed products for your adventures outside!
Key Objectives Depending on Your Needs and Rain Gear
The key objective when wearing your rainwear during exertion is to avoid moisture gather up inside your garment. The best defense: Actively manage your comfort level.
Personal metabolism: If you heat up easily, modify your rain gear so it suits your preference.
Exertion level: Same principle; speed up or slow down, depending on how you feel.
Weather conditions: If it's warm and steamy out, no rain gear will feel very comfortable; if it's cool and dry, be alert and nimble adapt your rain gear as conditions dictate.
Use of vents: You should make sure that your rain gear has the underarm zips or core vents, use them whenever, to speed up sweat evaporation.
Clean your rain gear regularly to keep it  at its best.
About Gore-Tex Garments ( for those who are not very well informed )
Regarding clothing for the rain, always look for Gore-Tex garments. This material is awesome for a great 'breathable' outer shell, while letting water to run off the surface. It's worth the extra money.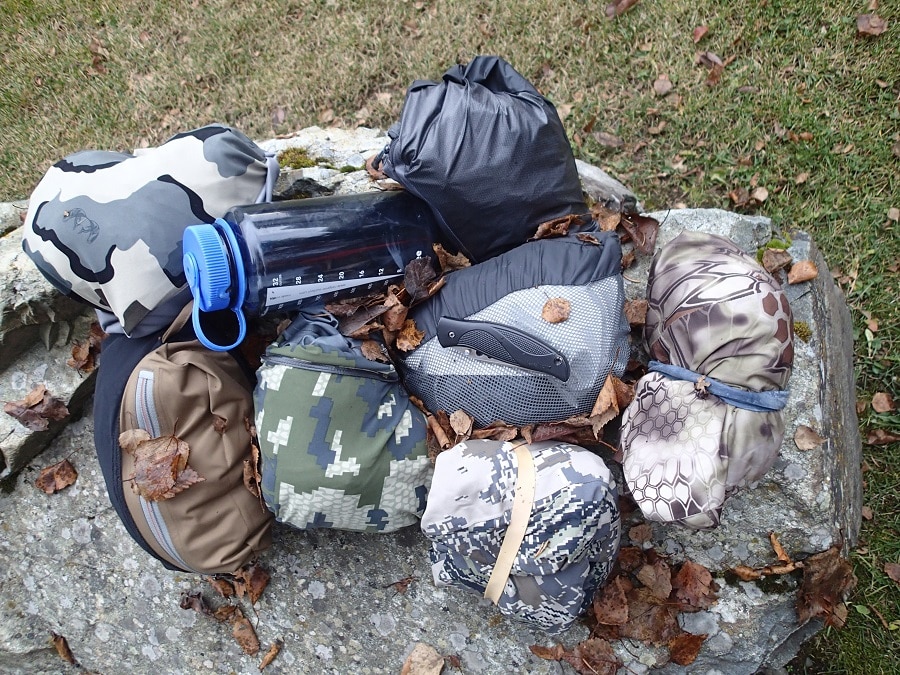 Be sure to keep your Gore-Tex out of hot cars on sunny and extremely hot summer days. Wash it very gently using a very mild detergent in very little quantities and let it slowly dry. Gore-Tex and other breathable membrane garments will 100% surely leak water when they are too dirty.
Best Products Available on The Market
POC AVIP Rain Jacket – Men's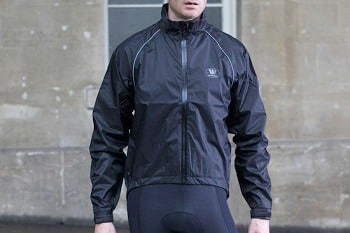 Weight: 1.3 pounds
Dimensions: 13 x 13 x 2 inch
Design Features: three-layer waterproof and breathable membrane, AVIP is rated waterproof, fully taped seams and waterproof zippers prevent moisture, a saddle-specific cut with a longer back hem and sleeves for proper coverage, the laser-cut underarm ventilation, hook-and-loop straps
Best Use: Camping, Hiking, Emergency Preparedness
Description: The rain is not something we can control, it can occur in the worst situations and that is why you will want to have a POC AVIP Rain Jacket for Men. The reflective back and the bright orange fabric will make sure you stand out.
Amazingly designed membrane will help you stay in open for a long time. The laser-cut underarm ventilation is one of the most amazing things, it will keep you cool when the weather is sunny. Made out of 100% polyester (3-layer), DWR coating, this jacket will surely be your friend when cycling at rainy weather.
This jacket comes in many different sizes as well: XS, S, M, L, XL, XXL – planning to cycle? This jacket will make it even better than it was before!
Salomon XA Pro 3D GTX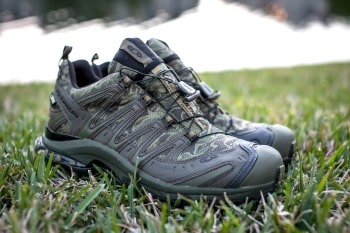 Weight: 4 pounds
Dimensions: 11 x 11 x 10 inch
Design Features:  waterproof GORE-TEX® membrane, chevron tread pattern, streamlined profile, 3D chassis, coming in seven different colors: Black, Black and white, Blue, Green, Red and Black, Teal, Dark Blue
Best Use: Camping, Hiking, Emergency Preparedness
Description: The GORE-TEX upper membrane offers an extremely comfortable foot wrap that is also 100% waterproof. The motion control and stability mechanics in the shoe keep their  balance and right positioning of the foot at all times.
Surely, Salomon XA Pro 3D GTX are one of the most popular trail shoes for those who want to have very comfortable gear that would secure their feet. The anti-debris mechanics, enhances the protective capabilities of the XA Pro 3D GTX.
The price is rather high, though, but according to the testers – it is truly worth all the money. If you are planning to have good hiking experience, or anything alike, these shoes will surely keep your feet dry and comfortable as long as it is required.
Lewis N. Clark Compact & Lightweight Travel Umbrella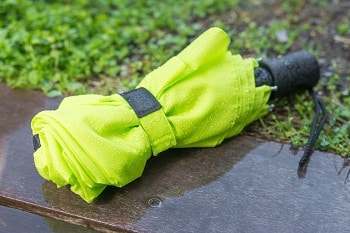 Weight: 10.6 ounces
Dimensions: 11 x 2.5 x 10.5 inch
Design Features: Made out of of sturdy metal ribs, the rust- and corrosion-resistant frame, lightweight and flexible fiberglass tips, 3-fold chrome-plated steel shaft
Best Use: Camping, Hiking, Emergency Preparedness
Description: Lewis N. Clark Compact & Lightweight Travel Umbrella has the water-resistant material that will keep you protected against both, wind and the rain. The ample 38in canopy will ensure that you stay as dry as possible at any given time.
The mold-resistant sleeve slips into handbags, totes, briefcases,  and duffels, making it very easily accessible no matter where you plan to go. The rubberized non-slip handle makes it very easy and practical to hold the umbrella against the high winds.
Automatic open/close button, makes it easier to hold additional items while wanting to open the umbrella.
Available in various colors, from dark to bright light colors, this umbrella will keep you protected from the elements. Rainy days don't have to always look so sad and gloomy.
Outdoor Research Women's Misto Sombrero Hat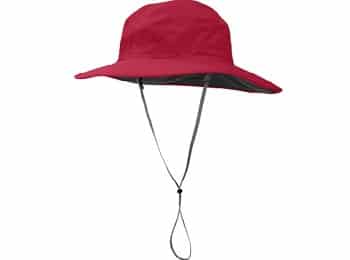 Weight: 1 pound
Dimensions: Small fits 21-5/8 inch, Medium fits 22-1/2 inch.Large fits 23-1/4 inch.
Design Features: breathable, windproof and Waterproof  Gore-Tex® membrane, Brushed polyester tricot crown, Internal cinch-band size adjustment system, Removable chin strap
Best Use: Multisport, Camping, Hiking, Emergency Preparedness
Description: Classic outdoor design does the most beautiful job of protecting your head. This Outdoor Research Women's Misto Sombrero Hat doesn't just look decent, it is truly irreplaceable. Protecting your hair and your head from the rain and wind, this hat is surely worth buying.
According to the testers, this hat is not only very comfortable and helpful at rainy weather conditions, but it also looks very good and is designed to keep you dry at any time given.
This hat is also good when the weather is sunny, it will keep your head cold and there will be no fear of sunburns.
If you are planning to go on a long walk, running or hiking, make sure to have a hat such as this one, it will keep you protected from all the weather conditions and on top of that, you can also look good!
Helly Hansen Women's Veierland 2 Rain Boot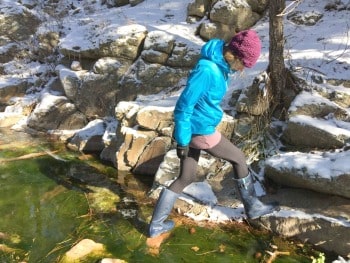 Weight: 1 pound
Dimensions: 15.5 inches from the bottom of the sole to the top of the shaft
Design Features: Stylish Weather Protection, Waterproof Rubber, Helly Grip Sole, Wide Leg Opening.
Best Use: Multisport, Camping, Hiking, Emergency Preparedness
Description: Unlike shorter boots, Helly Hansen Women's Veierland 2 Rain Boot are taller and will provide significantly more protection from the elements.
The rubber shaft of these boots is also rather relatively supple, so it does not limit the mobility or press uncomfortably into the shin when you try to walk.
The boot itself is rather shapely. It curves in at the back of the heel and at the top of the foot/bottom of the shin helps adding some more shape to the front.
This boot offers a real stand-out traction. These boots, however, are not the best choice if you want to warm up your feet, they are designed to be super efficient at mild weather and to provide good protection from the rain and the wind.
Ultimate Survival Technologies Floating Lighter, Black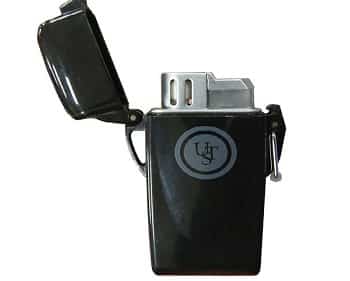 Weight: 1.4 ounces
Dimensions: 2.5 x 0.1 x 1.5 inch
Design Features: piezoelectric ignition, Holds.14 oz., (4g) of fuel, requires quadruple refined butane
Best Use: Camping, Hiking, Backpacking, Hunting, Boating
Description: Catalyzer coil is producing a flame that can reach up to 2,000°F and winds up to 80 mph, catalytic lighters can easily continue to operate.
Piezoelectric ignition sparks the lighter with ease every time it is needed, even when it's wet.
Waterproof ABS plastic case is entirely impact resistant; wire bail and O-ring seals make sure the lighter stays buoyant and dry. Flame indicator will glow a bright white color when the lighter is finally ignited.
Flame adjustment control will let you find precisely the right oxygen mix for performance up to 8,000 feet.
Ultimate Survival Floating lighter is super easy to refill with butane lighter fluids. Whatever you do, and wherever you go, this floating lighter will do it's job way better than most others, this lighter is surely worth all the money, do not hesitate, give it a try!
Aqua Quest Himal – 100% Waterproof – 20L Backpack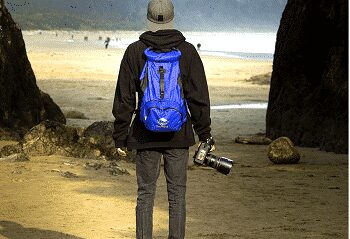 Weight: 1.15 lbs / 525 g
Dimensions: 23 inch x 13 inch
Design Features: TPU lamination, Air-Mesh back panel, 70D RipStop fabric, Heat taped seams, Fully adjustable shoulder and waist straps, Front fold-in zip pouch, Front carry handle, available in four colors: Cammo, Black, Blue and Red
Best Use: Camping, Hiking, Backpacking, Hunting, Boating
Description: The Aqua Quest Himal – 100% Waterproof – 20L Backpack  will surely keep your items safe from any amount of snow, dirt, rain, dust, or sand. Fast and easy roll top opening even protects your items against quick temporary submersion.
Many backpacks claim to be 100% waterproof, but they are not… this backpack really actually is!
The shoulder straps and waist are fully adjustable, flexible, soft, dry easily and apply to the shape of your body. The Air-Mesh back panel is also very soft and breathable, and stays with you comfortable all day. This backpack is perfect for minimalists, athletes, and travelers worried about space.
Montane Mens Minimus Pants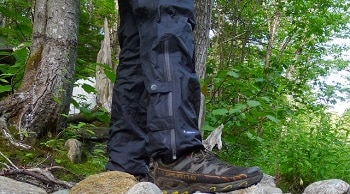 Weight: 15 ounces
Dimensions: 15 x 14 x 2 inch
Design Features: Waterproof, Ultra lightweight, Lower leg volume reduction, Elasticated waist, Tailored for trail running / fast moving in the mountains, the Tiny pack size, 1/4 length side zips, Exceptionally breathable, Pre-elasticated hem, Reflective details. Available in sizes:  S, M, L, XL, XXL and in only one color – black
Best Use: Camping, Hiking, Backpacking, Hunting, Boating
Description: Made out of fully waterproof and breathable PERTEX® Shield. The Minimus Pants are extremely lightweight rain shell pants.
Together with the most awesomely designed breathability of PERTEX Shield, they have become one of the most innovative, waterproof shell garments MONTANE has ever made before.
The Minimus Pants can be placed on over the lightweight trail footwear and have a tiny but very useful pack size for superb versatility.
Only available in black color, but let's be real, black goes with just about anything, especially if it's as good as these pants. According to the testers, these pants are very comfortable, soft, lightweight.
Planning to Buy Some of These Products? Read This!
Before picking the products make sure you check their dimensions and features, these are very important because a lot of the products are made for different purposes and weather conditions needs.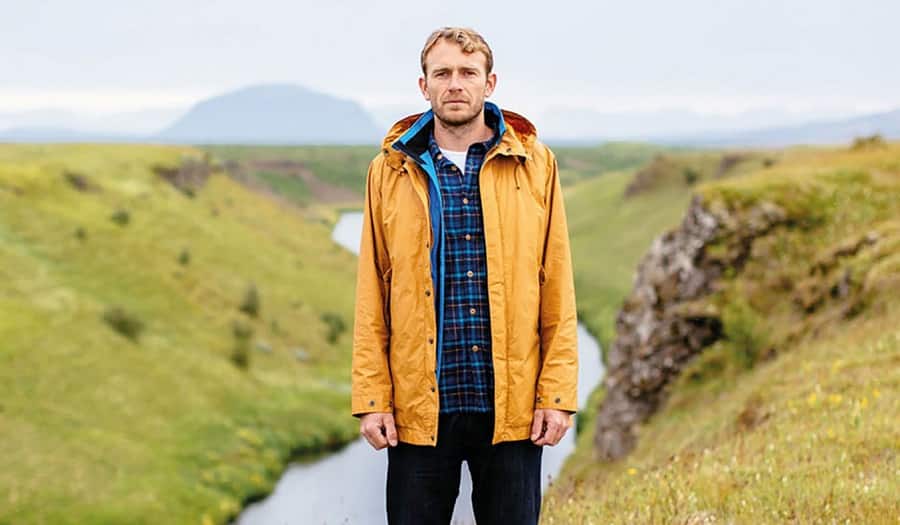 No matter if you are outside just having fun or are a professional, good rain gear can make a huge difference between a good day on the water or a cold wet and miserable time wishing you had just stayed home.
Not every person needs to take out a second mortgage on the house to buy the rain gear, but you should at least buy the best that your budget allows. The better the rain gear the better you will perform, and it is not just rainy days that it can and will help.
What Have We Learned?
There are a bunch of amazing products on the market to make your rainy day as comfortable as it possibly can be, but the most important thing, is to actually decide to go for it.
Many activities can be fun in the rain, these activities give us the chance to connect with the environment and allows us to continue doing all the things that we love despite the rainy or cold weather. And at the end of the day, it's just a little bit of water right? We are not made out of sugar!
We hope that you found our article useful and that it will help you in choosing the proper rain gear for your future adventures. If you think that we left something out, feel free to leave a comment in our comments section below.