If you are preparing to go out on a hike, you need to make sure you have the right gear and equipment such as maps, proper backpack, hiking boots, sleeping bags, and others. If you do not know what to wear hiking, your outdoor experience would probably be one you will not want to remember.
Putting on the right kind of clothes means being aware of the trail you will be on, the climate and temperatures of your location, and the duration you will be outdoors. Therefore, before getting dressed, you need to consider all these factors so as to make informed decisions.
Choosing Your Hiking Stuff
Regardless of where you are going, who you are going with, or how long you will be outside, the gear you select should meet these criteria: comfort, safety, style and versatility.
Comfort: Choosing a footwear or clothing item that does not fit you could be dangerous to your health. For instance, you may decide to compromise comfort for the price, which may end up leaving you with wounds and blisters which eventually get infected.
Safety: It is important to ensure that your hiking gear is safe for you. Your clothing and footwear should protect you from the environment. For example, a good rain jacket should be waterproof and windproof as rains are usually accompanied by strong winds.
Style: This is something most outdoor enthusiasts would probably not consider, but looking good while on the trail is not a crime as long as style does not top your list of priorities.
Versatility: If you have equipment that is functional and able to meet various purposes, then you have picked a winner. For instance, convertible pants can be transformed into shorts, making them ideal for warmer weather.
The Essential Gear
When planning to go for a hike, even on clear skies, we never start our journey without the right rain wear, gloves, extra clothing, and hats.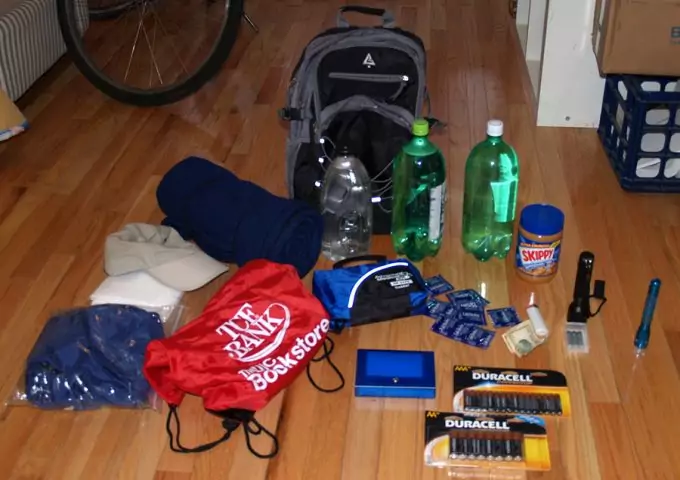 Temperatures can drop fast, and you will need these attires to protect yourself. Here are some basic pointers on how to pack when going out for a hiking expedition.
Dress in layers
Inside layer: moisture-wicking fabrics such as Capilene or light wool
Insulating layer: Light pile or expedition weight long underwear
Outside layer: Waterproof and breathable fabric
Hiking boots
Do not purchase the classic leather boots as they are heavy for an entire day's hike and are also difficult to break in
The best bet is the lightweight boots that have ankle support
The trail running boots are fine if you have no problem wearing them
Bear Protection
Do not bother with protection attires since your voice is already an effective deterrent
Bear spray is always good to carry
Best bet – hike with a pal and keep moderate noises and conversations going. Bears mostly attack people who travel solo.
Sun Protection
Carry sunglasses, sunscreen, and a lightweight brimmed hat for rain and sun protection. The tight weave hats provide more sun protection but are not breathable. Therefore, search for the vented wide brim hats. A hat of this kind will help protect both your skin and eyes.
Change of clothes
A change of clothes is necessary when you go out for a hike. Always remember to carry some extra pair of socks, and an extra upper body inside layer or an extra-long undershirt.
Advanced Gear
Thinking of going out for an extended hike? Here are some pointers you need to consider.
Zip-off leg pants
This is an excellent attire you need to have around when you are out for an extended hiking trip. If you get too hot or cold, you can zip the legs of the lower pants on or off in seconds – no need to look for a place to sit and remove the entire pants
These pants will also protect your calves when you walk through the bush
Here's the link to the best convertible pants – it's a must read for everyone who loves comfort and ease.
Gaiters (for the off-trail, hard-core hiker)
The nylon coverings can fit over the lower pant leg
Extra protection from sand, debris, and scrapes that could get into your boots
Excellent if it rains – twigs and ground brush can get messy and mushy fast
Are quite affordable
Hiking poles
Do not think of hiking poles as canes.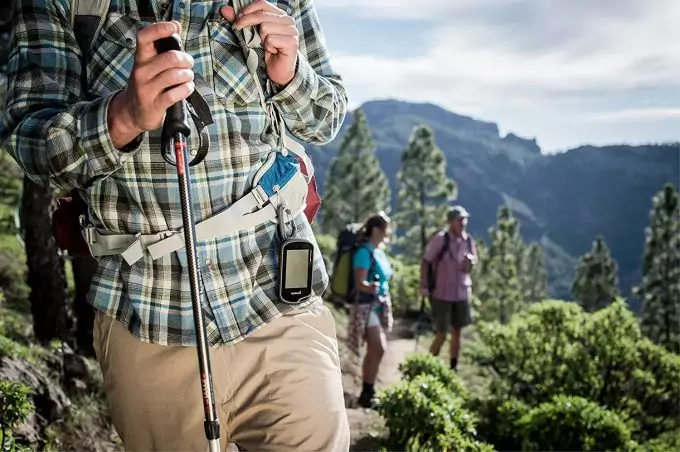 Here is how you can benefit from using hiking canes.
Uneven terrain: Using poles on side hills and sloping terrain can help protect your ankles
Elevation: When going downhill, shifting your weight to these poles can help in protecting your knees
Whacking: Poles are excellent in helping to whack brush aside
An extra pair of feet: Poles provide stability so you can view the scenery ahead of you
Water crossing: The hiking poles can help probe the depth of rivers and streams before planting your feet into it
Shopping for poles: The aluminum poles are heavier and cheaper, but carbon may not be very durable. Poles that provide shock-absorbing capabilities can be instrumental if you are carrying a heavy backpack. Look for a pole that can collapse with ease and one you can fit into your bag without any difficulties.
Some of the best hiking poles can be found in that link, so check it out.
Safety Plan
If you are planning to go for an extended hike, think about your techniques of communication before leaving. Here are some pointers to consider.
Do not completely rely on your cell phone as coverage tends to fluctuate especially when in the wilderness
Before setting off, call a family member or a friend. Let them know of the route you will be covering, the amount of food you will carry, and the day you expect to return
Carry a handheld GPS, compass, and map for emergency cases.
Satellite transmitters such as the Spot can be used to update your coordinates, allowing you to send for rescue.
See our list of the best Garmin GPS to keep you safe from harm.
What to Wear When Hiking
Materials
The best clothes for hiking are made of synthetic that help to keep you dry when you begin sweating while on the trails.
While you could be tempted to put on a soft cotton t-shirt, you should know that this is not recommended as it will trap moisture and sweat, remaining wet and creating a cooling effect. Apart from the aspect of poor comfort, a t-shirt will give you chills especially when you are heating up the mountain where temperatures are always low. For the choicest hiking shirts that will keep you comfortable, don't forget to check out the link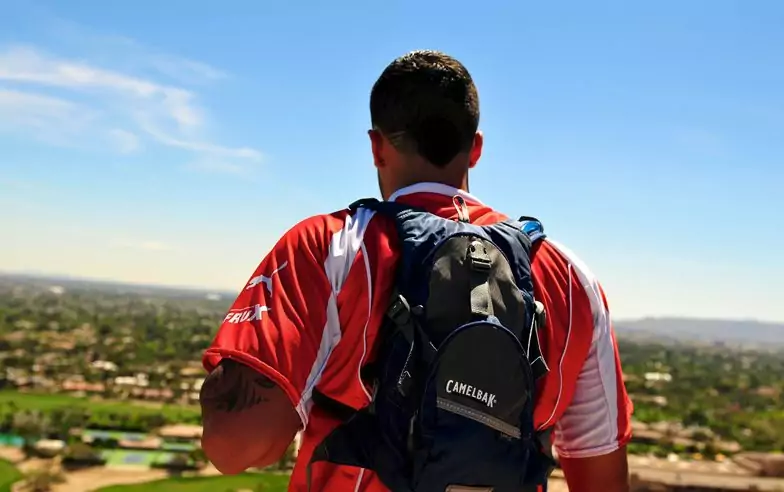 The best materials to use should be lightweight, soft, and moisture wicking. A perfect example is the Techwick which can be worn as a T-shirt or a skin-tight layer.
In addition to remaining dry, you will notice that synthetic fabrics such as the polyester create a breathability aspect, releasing pent-up heat and keeping you comfortable. A merino wool is also a suitable material which wicks sweat, but also eliminates odors. This material creates an excellent base layer in cooler conditions and an excellent choice for warm-weather hikes.
Moreover, you may opt for a long- or short-sleeve shirt, but this will depend on how hot the place is. However, it is imperative to remember that short-sleeves leave your body and skin exposed to the elements such as sunburn and tree or rock scratches.
Shorts and Pants
The choice to put on hiking shorts or pants is up to you. However, there are advantages and disadvantages of both.
For instance, short sleeves give you the freedom to move and are cooler than pants. Therefore, when you are planning to go for a low-altitude hike in the summer, you will definitely be in excellent shape.
On the other hand, pants, which are made of quick-drying and durable fabrics such as nylon and spandex (be certain to avoid cotton) should be worn when you expect heavy vegetation or a drop in temperatures along the trail.
Putting on pants will keep your legs protected from hazards such as allergenic plants and keep you warm if the temperatures begin to drop gradually.
Boots and Socks
When it comes to hiking, there are as many boots as there are trails, but whichever you select, you will need to ensure that it is comfortable, durable, and appropriate for the tasks ahead, and well-suited for the terrain.
If the trail is muddy or excessively wet, consider buying the Gore-Tex boots or any other boots made of waterproof material so your feet can remain dry throughout the hike. If you are traversing on a rocky trail, choose boots that rise slightly higher to the ankle for increased support.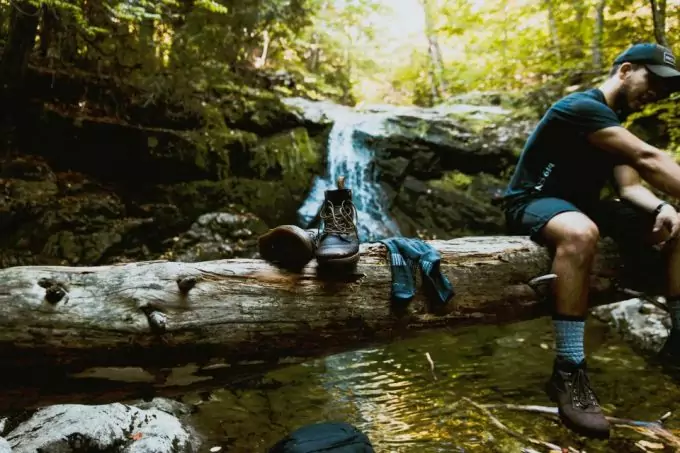 Of course, a fit is everything when you are thinking of getting a footwear. The wrong shoes can leave your feet hurting and give you wounds or blisters. To find the perfect fit, you need to go to outdoor stores and try your preferred choices to see how well they fit.
The right socks should accompany the best boots. Like other garments, the best socks are those made of wool or a synthetic material that dries easily and allows your toes and feet to dry.
Rain Gear
Even when it is not raining, do not leave the house without a rain jacket. While outdoors, the weather can change drastically, so it is essential to have a breathable, waterproof rainwear inside the backpack. The advancements in technology have made it possible for these jackets to let sweat and moisture out and prevent the rain or other precipitation from getting in.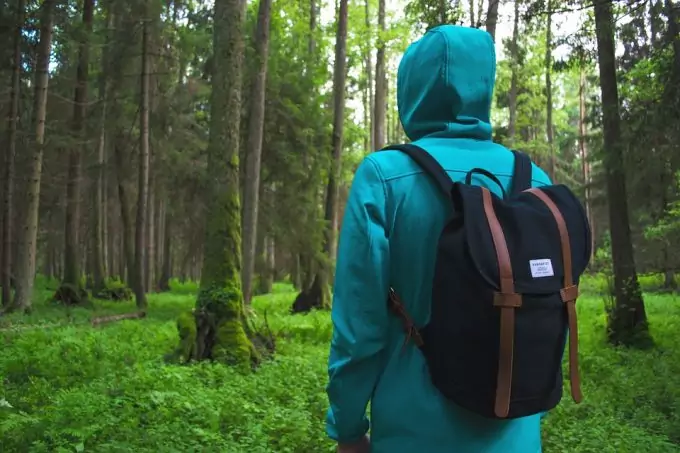 Ponchos are also a good option for keeping you dry during an unforeseeable rainstorm, but they will not be as effective, stylish, or comfortable as the solid rain jackets.
Hats
To protect your head from harmful rays of the sun and keep the sun rays off your face you will need a hat for your outdoor tour. Some of the best hats are water-repellent, full-brimmed garments which are extremely breathable. A good hat can also keep the rain from coming into contact with your face in the case of a storm.
Layering
Before going out for a hike, always assume the temperatures would drop significantly, particularly if you will be going up in elevation. The best way for you to remain protected from the changes in weather is to utilize a three-layer clothing system.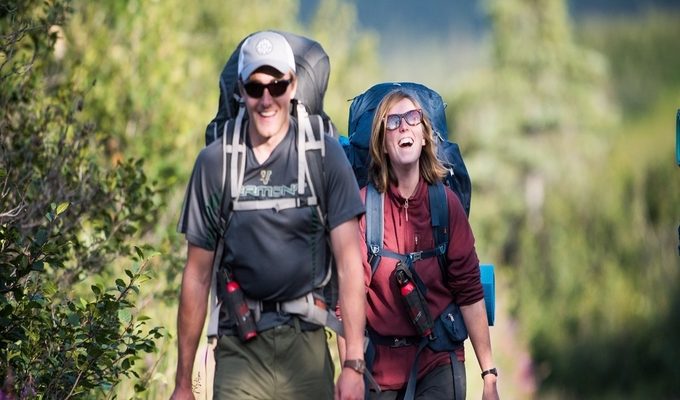 As a base, put on a lightweight garment with moisture-wicking characteristics. In the case of chilly weather, pull a medium- or lightweight fleece out of the backpack, and utilize an outer shell to get rid of any rain or wind.
Picking Your attires According to Season
Most items mentioned here could end up in both the winter and summer groups. However, the items are essential for their specific needs as per the season.
All seasons
Clothes – regardless of the weather, put some layers of underwear in your backpack, with long and short sleeves. Underwear made of Polyester or Lycra would be your best choice as it keeps your body warm, letting the perspiration to evaporate unobstructed and allowing the skin to breathe. Even during the summer, you may experience some chilly nights thus the need for layers. See our article on clothes layering to find out more.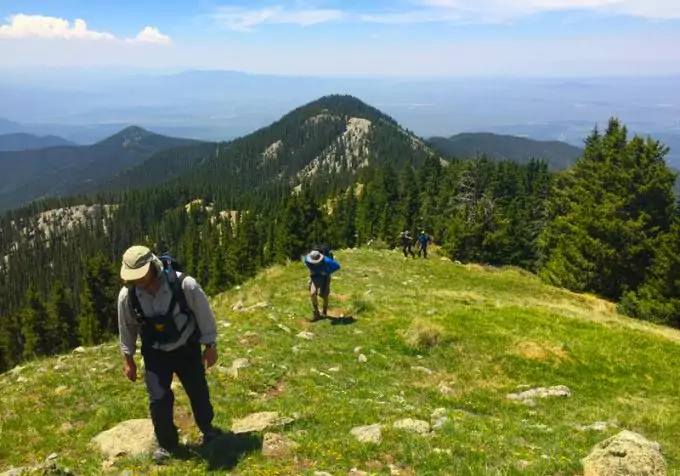 Waterproof boots – You will need these kinds of boots regardless of the hiking season. Water is usually everywhere despite the weather specifics. In rainy seasons such as the autumn and spring, waterproof boots will protect you from the chilly condition, and guard you against potential frostbite.
Do not buy cheap boots since you may compromise quality for the price. Instead, ask for a reliable and durable all-season waterproof boots.
Another essential item is a water-resistant and a windproof jacket. In the wilderness, water elements can be unfriendly – excess rain, strong water currents due to melting snow, and too much humidity. Your best bet is the waterproof pants and jackets. Being windproof is also significant as a result of the wind chill factor which can lower the body's temperature fast.
Summer
Clothes – Along with the essential underwear you carry for cold nights, you can carry a floppy tee that would enable your skin to breath. Do not wear tight clothes unless they are made from synthetic fabric.
This will make you feel hotter and would compromise your comfort making the trip undesirable. Also, carry a summer hat and a rim to create a shadow to protect you from the afternoon sun. Make sure that your hat has a flappy brim to cover your back, neck, and shoulders.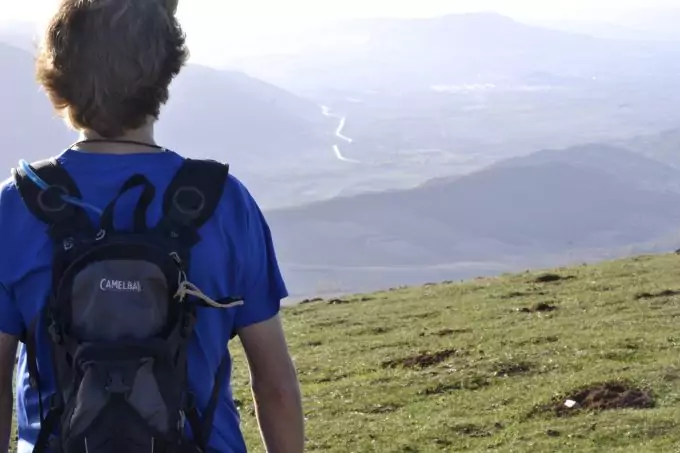 Boots – If you are going hiking in the mountains, you may come across some streams and rivers along the way. You are advised to put on some waterproof snickers or boots, but if you are very sure that there will be a few water sources or no rain, you may opt for your sneakers instead.
In that case, check your trail on the map to confirm if there are rivers, marshes, or streams along your track. Be prepared in advance by getting a reliable map for your backpacking tour.
A poncho would also be an essential gear to have during the rainy days. This may be a bit useless in the winter, but in any other season, it is an essential item and useful to have with you. It is imperative to protect yourself against the heavy rain or storm which may come as a surprise.
Winter
Clothes – Getting some wools clothes is the best way to keeping yourself warm. The cotton garments absorb moisture and sweat from the body and every time the skin feels the wet areas; you feel uncomfortably cold. Instead, wool garments are the best choice for winter hiking.
Additionally, wool can remain warm when wet. Even when exposed to moisture, wool dries up quickly. Moreover, it does not keep any smell especially for the woolen socks which are highly recommended.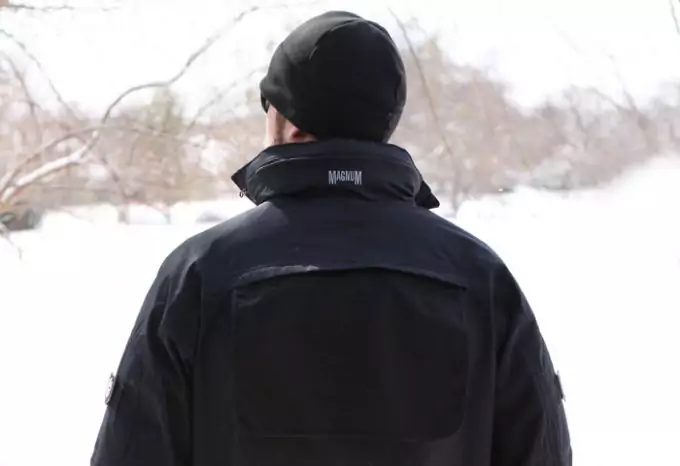 Therefore, pack woolen clothes to wear over the underwear. The outer layer should be waterproof pants and jacket. Take some wool socks with you and always use a pair when sleeping. Carry enough so you may be able to use one each day while on your tour.
Of course, this list would be incomplete if you lack some pair of gloves. You may decide to carry several pairs and use them interchangeably. Go for a warm thin-layered pair, and also include thicker variants which are windproof and water-resistant.
In case you experience extremely low temperatures, you may decide to wear both the thicker and thinner pairs. This can also be an excellent way to keep your hands warm being exposed to the cold for an extended period of time.
What Have We Learned?
Always remember the basics of hiking gear selection and do not forget to apply them when picking your attires.
For example, it is common knowledge to know that cotton absorbs moisture. A moist cotton makes your body temperature to drop drastically than when you are not putting on anything. This will make you think about your health, safety and the choice of clothing you decide to select.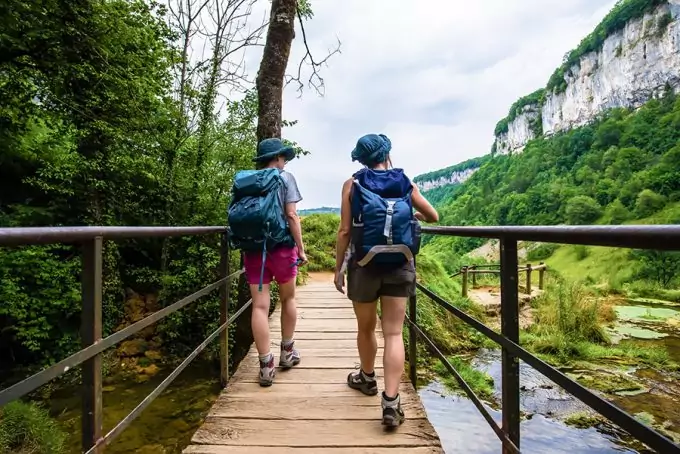 The style is a contributing factor when it comes to issues of comfort and safety. If you choose baggier attires, it may be difficult for you to move, or you may not get enough insulation against the cold.
That being said, what hiking gears do you have for your upcoming trip? Is there anything you think should be included in this article? Let us know by posting in our comment section. Shares will be highly appreciated.