Whether you are new, or a really experienced hiker – having one of the best hiking dogs with you, can turn your hiking adventures into an amazing experience and you will most probably become very impatient about the next time you plan to go. These types of hikes create a bond between you and your dog, which means a true friendship can be built and you will most probably end up having a truly loyal and trustworthy friend.
Certain dog breeds will truly enjoy hiking with you and get their paws wet whenever it is needed, but of course, there are certain dog breeds you should not take with you due to their vulnerability and weaknesses. Once you get into hiking with your dog, it will probably become that one friend who is always up for a piece of the action and can't wait to start – dogs love spending their time with their owners and hiking is an amazing way to do so.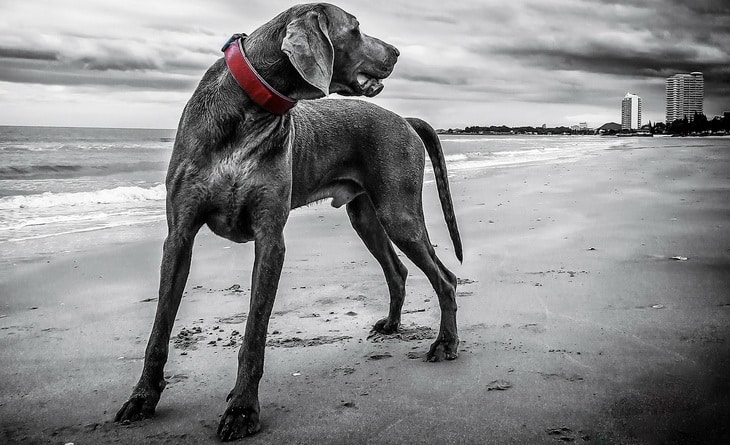 However, it is very important that you know your pet's physical boundaries. Keeping him/her safe is very important and knowing whether he/she is ready for the long hiking or not.
What are the best trails to go hiking with your dog?
Even though most of the trails allow the dogs to come along, that does not mean all of them are good for your dog. Many of the obstacles humans don't find difficult at all, can be crucial and very dangerous for the dog. Rocky trail beds, cliffs, boulder fields, stream crossings, and snow are all important features to consider before taking your dog with you.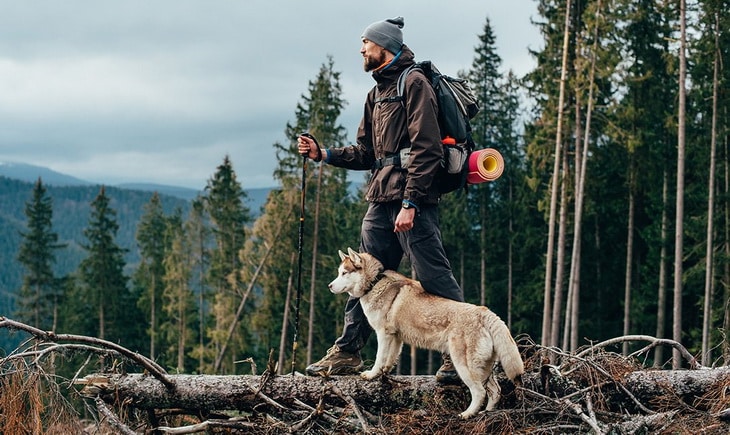 Try out some easy trails before going for the hardest, see how your dog does at the stream crossing, snow, balancing on the bridges, dodging the big boulders and more and only then you can decide whether you should give it a try and go for a longer hiking adventure or not.
A couple of important things to know before you decide to take your dog to hike with you!
Plan your hiking accordingly
Many national parks do not allow the dogs to share the trail, it is important that you know where your dog is allowed to go and where it might become a problem.
The most populated trails will require you to keep your dog on a leash – make sure your leash is not more than 6 feet long, so it is comfortable for you and for your dog and does not interrupt others while hiking.
Teach your dog to behave before you start hiking with him/her in public places, the last thing you want is to get your dog annoyed by something and have him/her go crazy at people.
It is advised that you pick a less populated hiking trail at first and teach your dog about the manners required for the hiking.
Always be prepared for the worst – keep yourself informed about what to do in case something happens to your dog while you are hiking, get to know about the first aid you can provide for the dog and always be ready to give your best to help your best friend.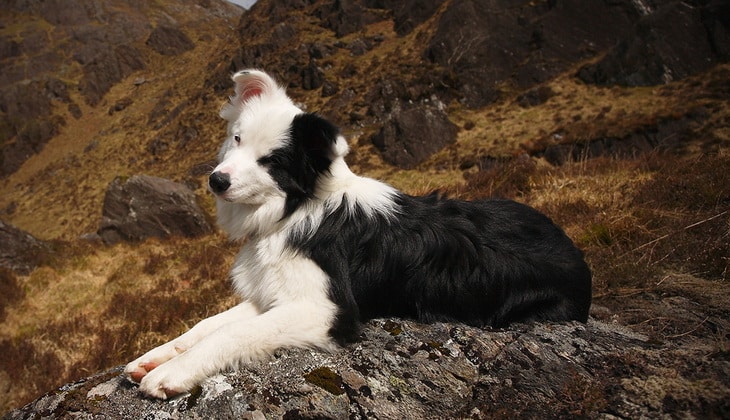 Packing and getting ready to hike
First aid and the safety of your dog
Now that you are taking another precious life on your hiking adventures, you will want to make sure that your dog is safe and free of injuries – in the case of any injuries, you are advised to have a first aid kit for your pet.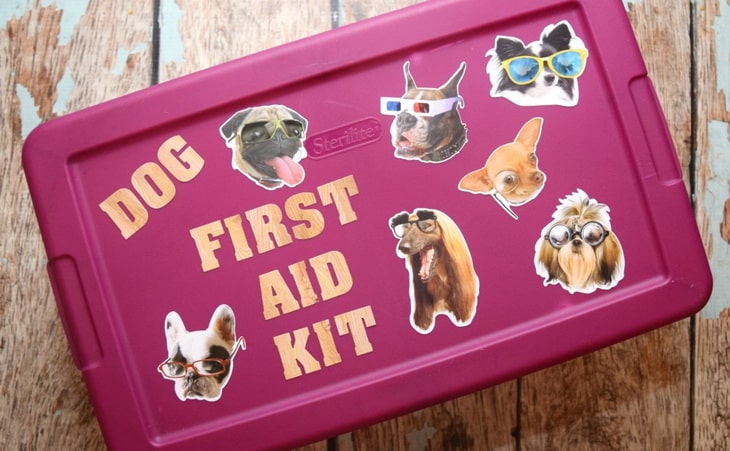 The first aid kit for your pet usually contains the following items: Dog toenail clippers, Bandage scissors, Tweezers, Topical antibiotic ointments such as Bacitracin, Canine eyewash, Calamine lotion (for itchy bug bites), Stop bleeding powder, Baking soda (for bee stings), Vaseline, Imodium A-D, Dressings and bandages, Enteric-coated aspirin or Bufferin, Pepto-Bismol, Gauze roll, Muzzle, Adhesive tape, nonstick pads and Gauze pads (4 inches square).
Sleeping
Sleeping gear is important for you because you want to keep yourself dry and warm, while sleeping without any interruptions at all – your dog requires the same thing, otherwise, he/she might crawl into your sleeping bag and touch you with his/her wet dirty paws (no one wants that).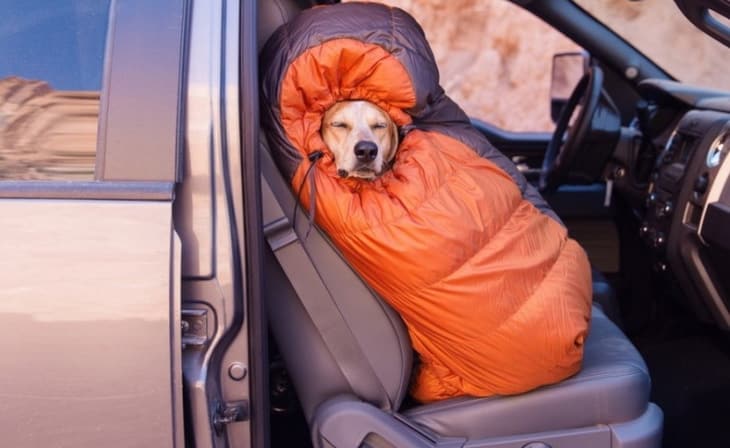 There are various products made for your dog that you can buy and have him/her sleep comfortably without interrupting you and your dreams, buy a sleeping bag for your dog and you will surely see how thankful your dog can be.
Clothing equipment
Indoor breeds and dogs who have a thin coat will surely feel the cold just as much as you do when you forget to take a jacket with you. Breeds which are known to have thin coat are advised to have an outer layer and preserve the body temperature in wet and cold weather conditions. Try finding a coat for your dog which will keep his/her underside covered and protected from the cold ground or even snow.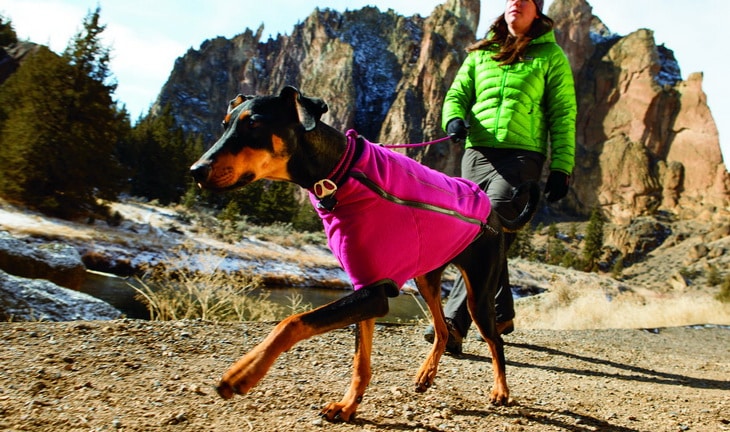 Just like us, dogs can feel the cold and pain in their paws, that means buying boots for your dog is well advised and it might prevent certain injuries as well as keep your best friends paws very warm. For the best dog hiking booties, see our article on this topic.
There are few more equipment pieces you could bring with you:
Cooling collars for the hot days
Dog harnesses for climbing or more technical trails
GPS beacons and leashes
Creams that help breed that doesn't need boots to stay comfortable in the snow.
Food and water
When packing your own food and water supplies, don't forget that your dear dog will need his/her own food and water supply as well. Dogs need a lot of water to maintain the hiking speed and keep themselves motivated enough to actually do it.
There are various dog packs, which are featuring a nifty built-in hydration system for watering your dog. Hydration is crucial and you should never underestimate your dog's hydration needs. You can also buy bottled water for your dog, see our article on the best filtered drinking water for you and your companion.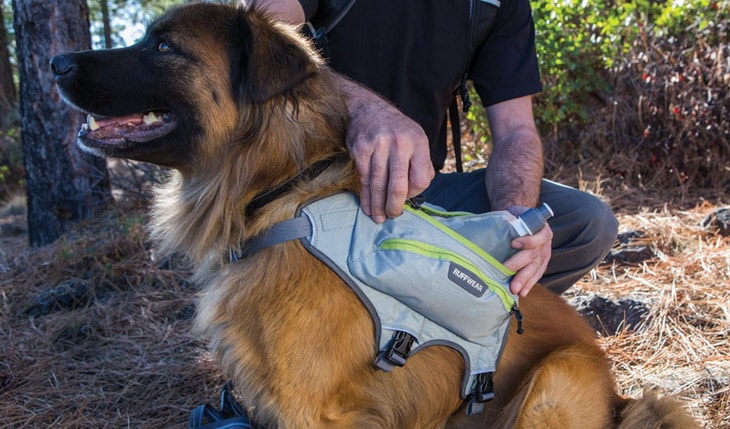 When it comes to food, it is advised for you to visit a vet and see how much food would be enough for your dog depending on the hiking length and conditions. Some dogs require nearly twice food when hiking, because while doing so, they also spend calories and train their bodies. Let your dog carry his own load, so here's our article on the finding the best backpacks for your canine friend.
These would be the best dogs you can pick for hiking
Not all of the dogs can hike and do well at it, dogs such as Yorkshire Terrier, Cavalier King Charles spaniel, Shih Tzu, Pomeranian or anything alike will struggle and might even get in danger of life if taken on a hiking adventure out there. These dogs are not meant to be in the cold and bad weather conditions, they cannot run for a long time and they will be tired way faster than the dogs listed below, so please – leave your little cute dogs in their homes and do not risk their lives just because you think it might be fun.
Bernese Mountain Dogs
If you are one of those people who love hiking in the winter and cold weather conditions, the BMD will surely get along with you without any issues at all. Surefooted, obedient, big, strong and very happy to help – these are all the traits of a dog who will do amazingly well when it comes to hiking.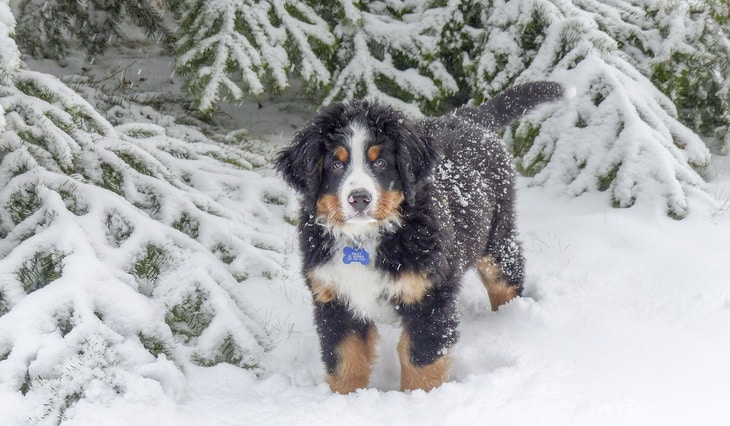 Bernese Mountain Dogs are awesome, but the bad part might appear when the sun arrives, these dogs struggle in warm/hot climates and it is not advised for you to take them on a long hiking adventure.
Siberian Husky
The name of this dog breed speaks its own story, doesn't it? This breed will do amazingly well in cold weather conditions and will carry his/her own food and water without any issues at all. A little bit harder to train but surely worth a try, these dogs are very loyal, helpful and intelligent if treated well.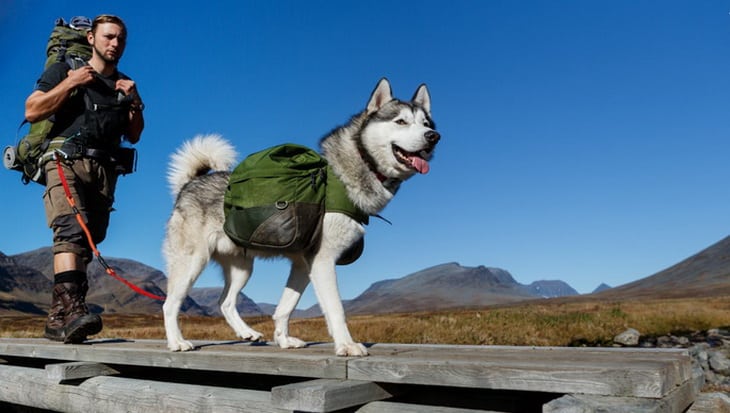 They also struggle in warm/hot weather conditions, just like Bernese Mountain dogs.
Australian Shepherd
If you want a dog who is always full of energy and ready for action, then Australian Shepherd will claim your heart.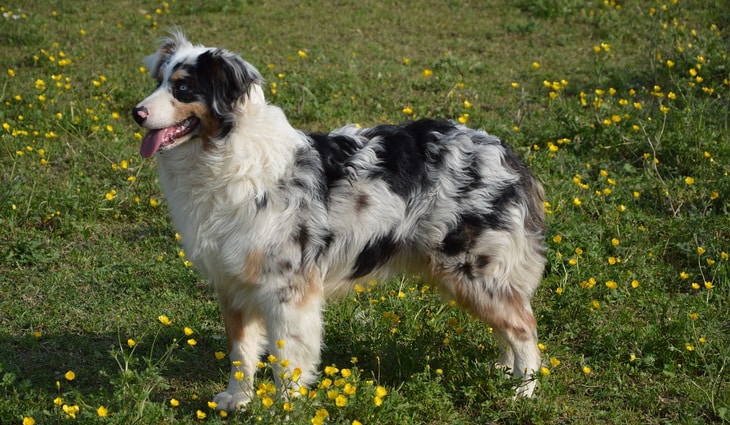 Agile and sure footed, this breed will do well in nearly all of the possible weather conditions, very helpful and friendly, this breed will stay with you forever if you train him/her well enough to hike with you.
Labrador Retriever
One of the most favorite dog breeds for hiking out there. Hard working, strong, trainable, and extremely smart, this breed will do well enough in cold and hot weather conditions, as long as it does not get too extreme.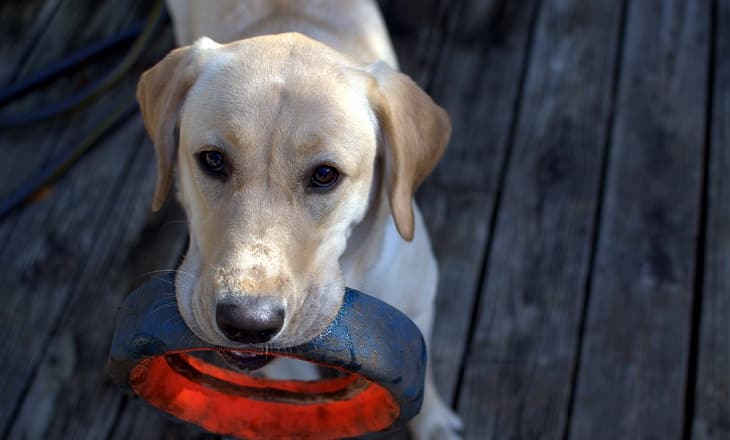 This breed can carry from 7 up to 10 pounds of gear without any issues at all.
Vizsla
Stubborn and independent at first, this breed is actually amazing for the hiking lovers. After this dog accepts you as his/her owner, he/she will be your guardian angel forever.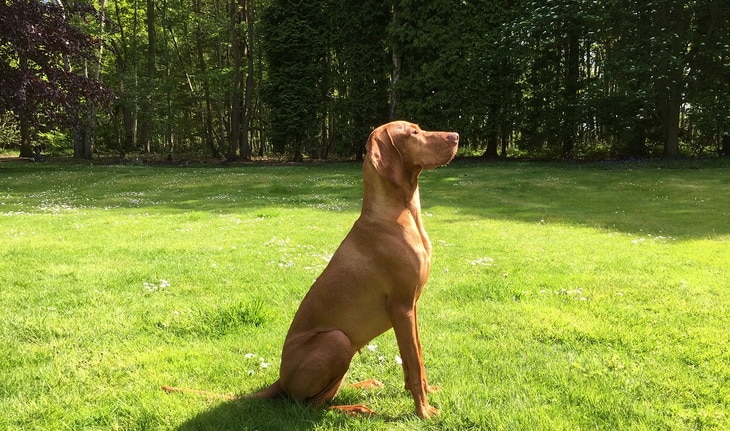 Good for hiking, but requires a lot of attention and caution due to its curiosity.
German Shorthaired Pointer
This dog never gets tired apparently, very friendly, helpful, surefooted, strong and intelligent – once trained well enough, this breed will do just as amazing as Labrador Retriever or Australian Shepherd.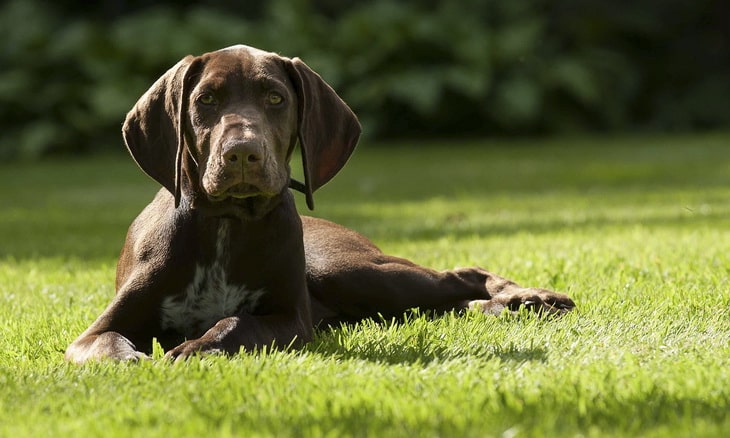 In a case of emergency, this dog can also serve as a guard against certain situations that might occur.
Dalmatian
It is a lie that Dalmatian's cannot be trained, they can and they can be amazing if it is done properly.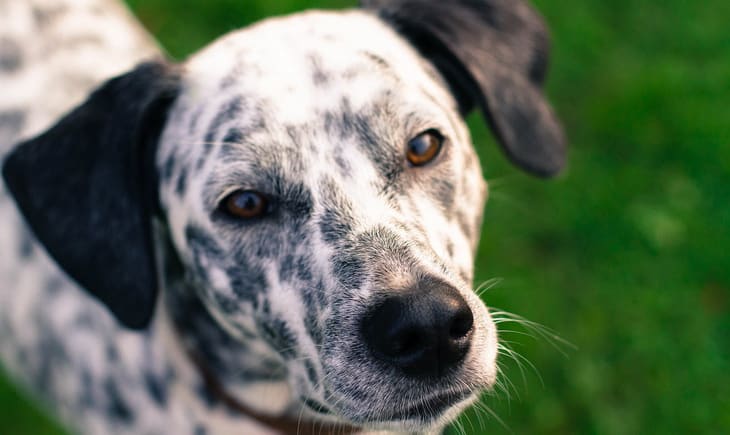 This breed has boundless supplies of energy and is a good guard against the wildlife which might turn against you.
Rhodesian Ridgeback
Back in the past, Rhodesian Ridgeback dogs were trained to hunt lions, yes you read that right – lions! This breed has it all, loyalty, strength, size and a lot of motivation if trained well.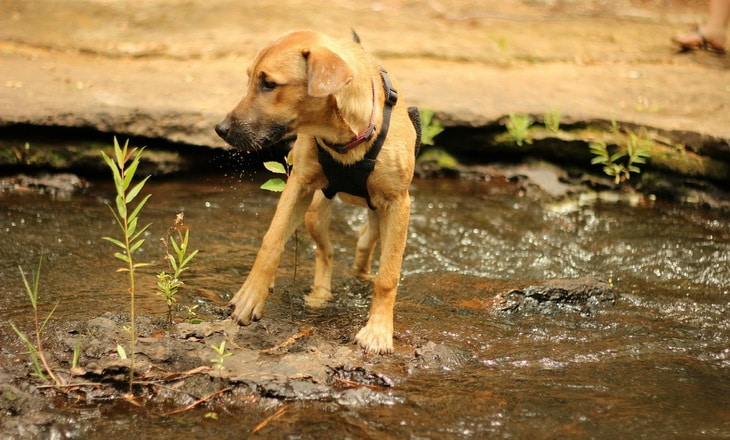 If you want to feel safe and have a real protector next to you as you hike the long trails, then this breed will become your best friend in no time!
Doberman Pinscher
A little bit harder to train than the Rhodesian Ridgeback, also a little bit more aggressive if not trained well. This breed is amazing if trained well enough to actually go hiking, very loyal, obedient and devoted.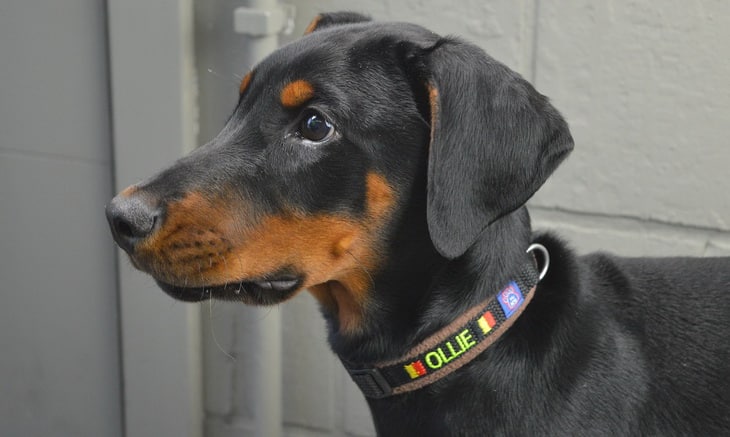 It is advised to hike with this dog in less populated areas.
Weimaraner
Very similar to German Shorthaired Pointer, just a little bit less protective and more of a watchdog. This breed will follow you entire day and make sure that he/she is never tired when on the move.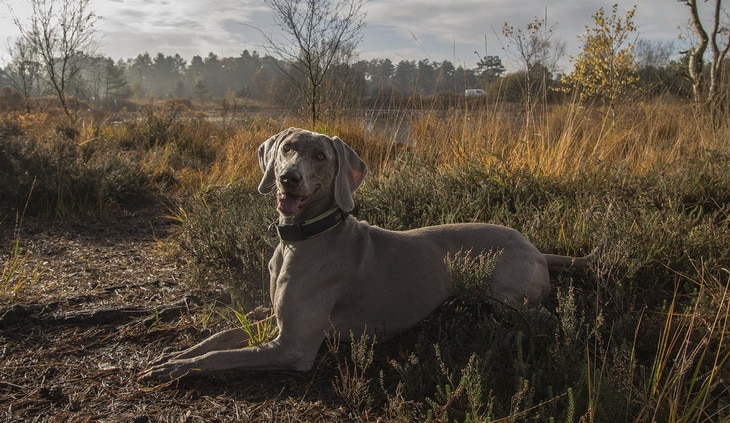 Loyal, friendly, easily trained and a really good friend before anything else.
Border Collie
No breed out there is as active as a Border Collie, very loyal to their owners and extremely intelligent – this breed never gets tired and will always want to go for more. Ever heard of a dog who can collect firewood for you?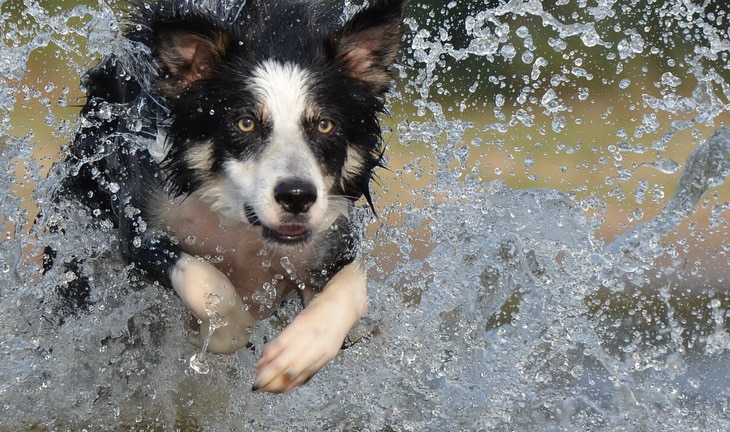 Well, this dog can if you teach him/her how to.
A few more tips for those who can't wait to go hiking with their dog!
One of the founders of the 300-member Nova Trail Dogs Hiking Club in Alexandria, Virginia – Amy Devine says these are five rules you should respect if you plan to go hiking with your dog:
Your dog has to be leashed when there are other people around such as bikers, hikers, steep or slippery terrain.
When your dog poops, make sure you always pick it up and throw it in the trash once done with hiking.
Bring a brush and a towel for your dog, just so you can dry him/her out and make sure he/she does not ruin your tent with his/her dirty paws.
Always get a blanket for your dog in case of cold weather conditions, no one deserves to freeze.
Keep a track of dogs at night.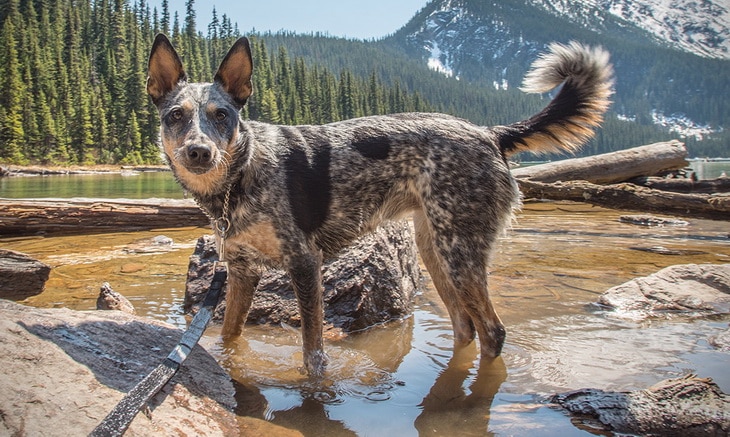 There are a few things to take care of:
Always keep your dog in sight and under your command
You don't want to take two dogs with you if having one dog is already an issue.
Encountering a loose dog can cause a problem, try avoiding contact with these and keep your dog on a leash meanwhile – just for the safety.
Do not let your dog beg for the food from other hikers, always make sure that your dog is not hungry and it should be fine.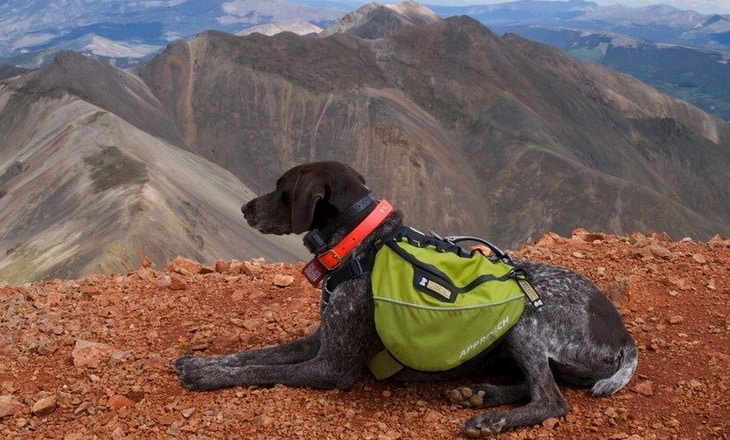 Wrapping it up
Dogs really are our best friends if we treat them nicely and with care, they do not deserve any less than that because they will always do how we teach them to do. It is up to us how loyal, obedient and lovely will our dog be. It is up to us to determine whether we can afford to take a dog on a hiking adventure or not.
Do not risk the life of your dog just because you think it might be cool to take him or her on hiking, first, make sure that your dog is actually capable of doing so and that he or she won't suffer and struggle while hiking with you. See our article on the proper steps to do while hiking with your dog for more details.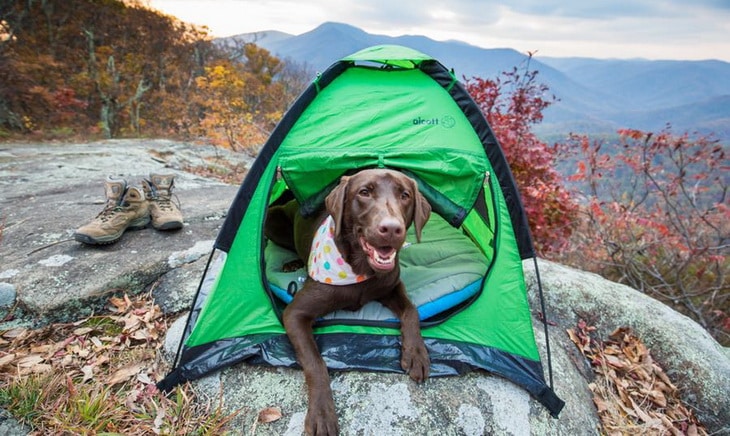 So, do you plan to go hiking with your dog? Let us know how well you and your dog are prepared for the activity by posting in our comment section.