It is that time of the year in summer whereby thousands flock to their preferred outdoor camping destinations. Quite frankly, many of them are clueless about the best camping meals to treat themselves with on the camping site. You may probably be one of them. But in reality, it can be confusing to select the best meals that will last for the entire outdoor excursion when taking into account that most foods are perishable. Some foods like meat, need refrigerators to last more than two days.
That is a setback to many enthusiastic campers. But freezing it and wrapping it in an aluminum foil can preserve it. Almost all foods that are likely to decay prematurely can be frozen to preserve them. Which foods should you include in your camping gear? The answer to this question is dependent upon one's preferences and tastes as well as the number of people traveling with. When you are traveling alone, for example, it will be much better to decide which best delicious foods to purchase to your liking.
It will also be equally much better when you are traveling with your family because you probably know their preferred meals. In this article, we have done our best to bring you the most delicious foods for your outdoor pleasure.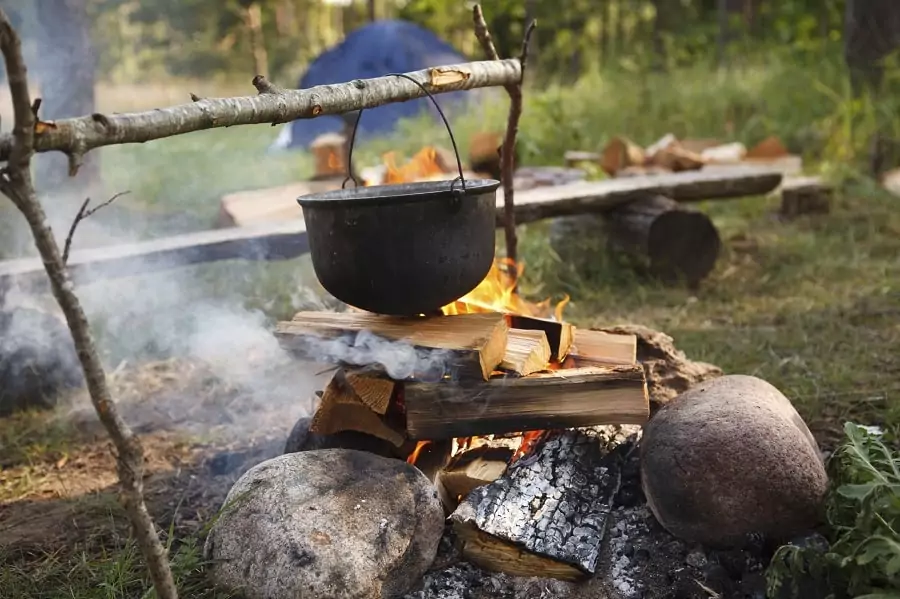 The criteria used in selecting these camping meals took into account the meals that are easy to prepare, delicious, healthy and long lasting. Taking perishable foods needs you to travel with a refrigerator of which it is practically impossible if you are camping in the wild mountainous regions where there is no electricity.
Having such perishable foods could shorten your camping days to avoid an intolerable wilderness hunger if you have no alternative. To stay safe, we have collected delicious foods with the best camping recipes that could last as long as you want them to.
These meals are categorized into breakfast, lunch, and dinner. The ultimate decision rests with the camper that which meal is best suited for whichever time. Before we delve into these meals, let's help you prepare for your outdoor camping journey.
How to Prepare for Outdoor Camping to Make Cooking A Breeze?
It can be daunting at the first time, and an inexperienced camper can be confused with which meals and cooking tools to take along on the trip. Experienced solo campers, too, may have the confusion when traveling with families.
Nonetheless, the best preparation is a solution to all the confusions. Firstly, you have to acknowledge that camping menu varies from the home's normal menu. In the wilderness, you have to compromise your normal menu and adhere to the most convenient and temporary one. Here's our piece on the how to prepare backpacking food for your convenience, it's a must-read.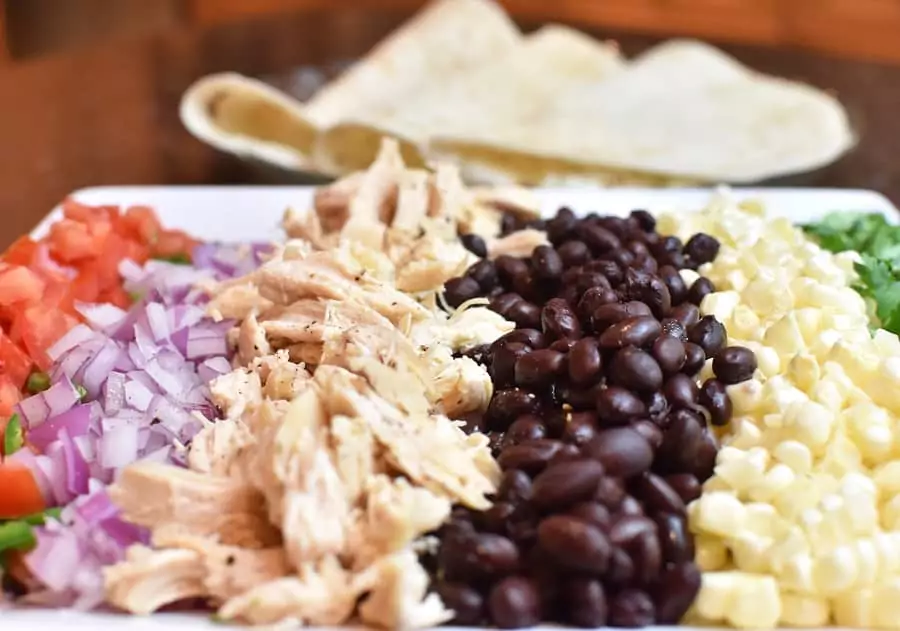 In order to simplify cooking, some of the camping meals have to be prepared beforehand. If you are into veggies and some spices you probably have to leverage on your household table or other gadgets you wouldn't travel with due to their size. Prepare your camping ingredients before you leave to eliminate the hassle at the camping site.
For instance, if you want to cut your spinach or prepare a live chicken, do so while you are still at home. By the time you get to the camping site, you will only need a few minutes to prepare meals for cooking. Poor preparation may lead to stress-bound camping days.
If you plan to have scones, for example, you must then bake them before you embark on your journey. Traveling with dough or raw flour to the camping site is time-consuming. That may need you to also bring other ingredients and as thus you will be piling up your camping gear needlessly.
The snacks as well need to be prepared in advance. The pleasure of supplementing your camping meals with snacks cannot be overlooked. Children, in particular, are in fond of snacks. So watch out if you are traveling with kids.
Also noteworthy are the cooking utensils such as knives, pans, pots, grill, cooking racks, and bowels. When selecting the utensils you need to take into account the fact that you will be cooking on a campfire, not an electric stove. With that being said, you must have stainless steel tools that can withstand the intense heat.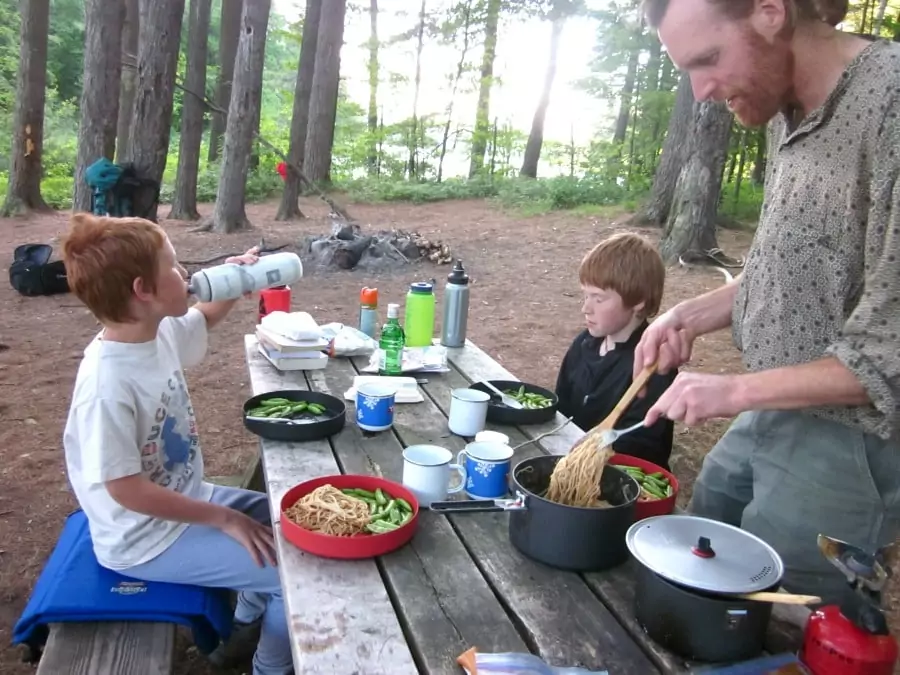 The proper materials needed to start the campfire are also important because it may not be a guarantee that you will find them ahead. Avoid the possibility of purchasing from other stores at higher prices because the shops in the vicinity of camping sites are usually expensive.
The Best Breakfast Meals for Campers
The meals for breakfast are often simple without the need to cook them for longer compared to lunch and dinner meals. There is notably a plenty of options to choose from to fulfill your breakfast needs. However, you should strive to prioritize your body health.
Meals such as eggs and bacon, donuts, cereals, oats, sandwiches, omelets, pancakes, buns and bread smeared with butter or cheese are popular among campers to eat early in the morning. They are relatively convenient and easy to prepare.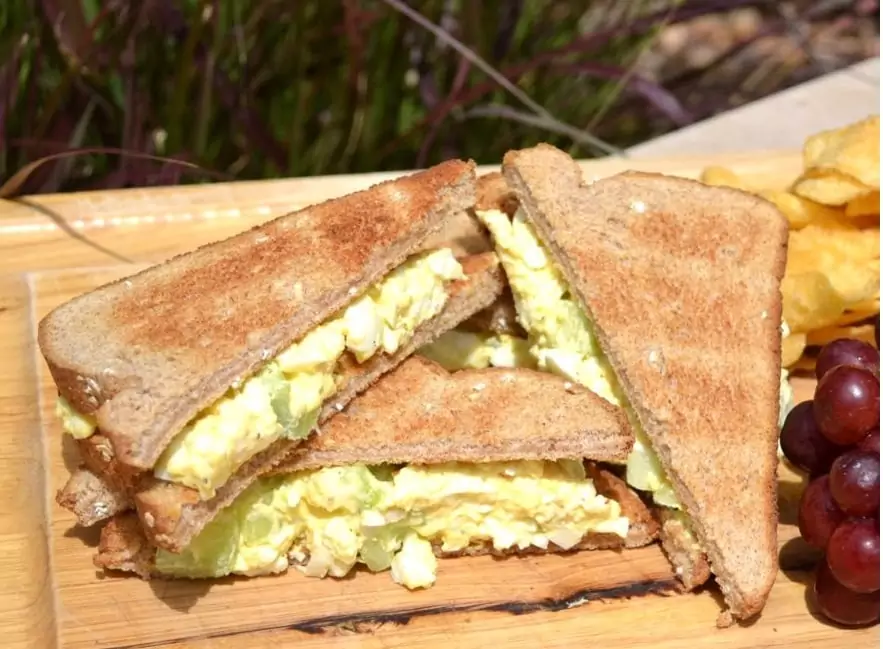 Below are the breakfast meals that you can choose to treat yourself with in order to make your mornings very pleasing.
Pancakes: these are delicious breakfast meals you can treat yourself or your family with. For cost-cutting purposes, you can simply make your own pancakes instead of buying them.
When making your own at home, you got to have a Ziploc bag for better storage in a cooler after preparing the ingredients. Purchase Sprouted grain, eggs, flour, baking powder, olive oil, honey and milk to make this delicious breakfast meal.
Alternatively, you can purchase a ready-mix pancake package that you can simply add water on it and then heat it up before serving at the camping site. Do not forget to take a syrup with you that you can serve the pancakes with.
Burgers: burgers are also among the favorite delicious and easy to make breakfast meals convenient for camping. But they can also be eaten at lunch or dinner time. Many people have varying preferences of ingredients needed to make a homemade burger.
Some stores have ready-made mixtures which require only water to warm them.
Egg Sandwiches: Aluminum foil will be of benefit in this case because you need to prepare these sandwiches at home and then freeze them. While at the camping site, the campfire will be useful to warm the egg sandwiches for your breakfast.
You can warm them directly on the campfire or on a grill if you brought one. To make these sandwiches you may have sausages, cheese, veggies, bacon and biscuits.
Hot dogs: these can be well served with bacon, cheese, onion or other sauces when flavoring your breakfast. Other than these supplements, the hot dogs can be served plain to make your stomach full until the next lunch meal. It's your call to make.
Gravy and bread or biscuits: this meal can also spice up your breakfast. It needs simple recipes to make your own biscuits or bread to serve with gravy. To prepare a gravy you can peel tomatoes and onions and mix them with favorite delicious spices.
You will be minimizing the time needed to prepare them at the campsite. Gravy and biscuits or break are quicker to prepare.
Omelets: the ziplock bag is needed to prepare this breakfast meal. Scramble eggs and put them in that bag. The number of eggs depends on how many people are you preparing the breakfast for. Meat, onions, mushrooms, bread, jam or peppers could be your choice list.
The Lunch Meals for Campers
Now the real food preparation process kicks in. Lunch meals often take relatively longer to prepare than the breakfast ones. But most of the breakfast meals can be consumed at lunch as well. For example, sandwiches or scrambled eggs can be consumed.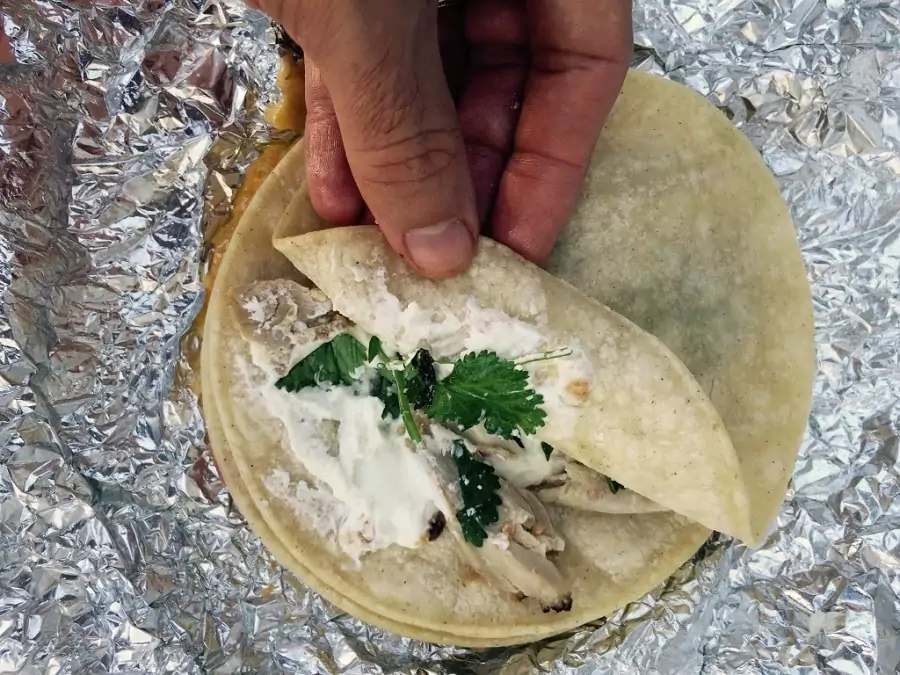 Below are the lunch meals that are popularly regarded as the best for any enthusiastic camper.
Chicken enchilada: combined with lettuce, tortilla chips, lime drops, and barbecue sauce, chicken enchilada can be delightful for your lunch. If you are a novice cooker, you need to hone your cooking skills to make the best meals.
Pizza: by now you know that pizza comes in different flavors and ingredients. We recommend sausage, fontina, and onions that are flavored with caramel. This meal can best be prepared at home or at the camping site.
A big stainless steel frying pan is recommended for the preparing of this meal. No one can say no to a delightful and well-cooked pizza. That being said, you need to bring enough ingredients to treat your companions.
Sandwiches: these can be suitable for lunch as well. This time you can consider an apricot or peach jam and butter for your sandwich. You need a loaf bread to achieve this.
At least that will be enough for members of the camp or for you only as long as you are going to stay outdoor. Some potato chips or favorite veggies can make a good combination with your lunch sandwiches. Some campers prepare sandwiches at home and wrap them with an aluminum foil to warm them at their campsite.
There are plenty of ingredients to consider when making sandwiches.
Grilled or toasted cheese: this meal can be combined with any of your preferred  For example, you can slice a bread and put your grilled cheese on the slices. Alternatively, you can serve a grilled cheese with vegetables or meat.
To prepare this meal, you will need an aluminum foil that can be used in cooking on the campfire. Depending on the strength of the fire, it approximately takes 15 minutes for this cheese meal to be ready.
Mediterranean meals: if you opt for a Mediterranean style of food you can see yourself preparing cucumber, feta cheese, tomato, hummus sandwich, potato chips, and olive.
This will also be a delightful and delicious tasty meal for your lunch at the camping site.
Quesadillas meals: a shredded cheese and vegetables with salsa or guacamole will make you this meal. To enhance its taste, add corn, roasted peppers or tomatoes. All these can be prepared at home before you head to your journey. Remember the zip lock bag we reminded you not to forget.
For more easy recipes on lunch backpacking, see our article on this topic.
The Dinner Meals for Campers
Now prepare yourself for mouth-watering meals just before you doze off. A serious cooking process is predominantly done to prepare foods for dinner. With dinner meals, families get to enjoy the time together after a long day of traveling or working.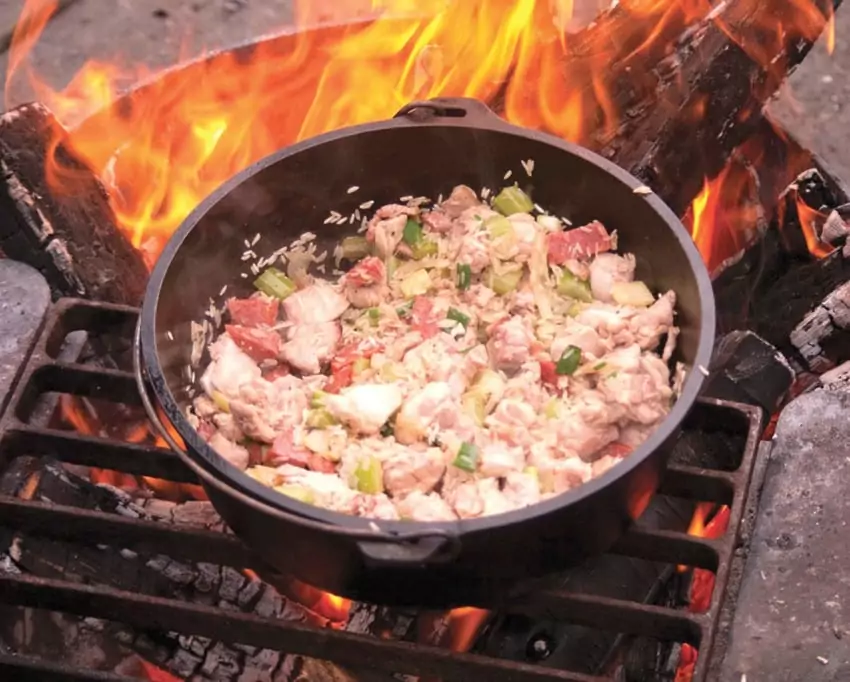 Even those members that have skipped lunch may want their portions come dinner time. The last thing to do is to disappoint them with non-delicious foods or shortage of meals. Let's help you choose the best meals for dinner while camping.
Curly hot dogs: with these curly hot dogs it is the time that you surprise the family with a new item on the camping menu. Take enough hot dogs as well as crescent rolls that you will use to make curly dogs.
If you brought enough cooking tools to the camping site you can achieve that or otherwise prepare everything at home. Simply slice the crescent roll and wrap it around the hot dog.
The next step is to wrap them in an aluminum foil to cook them on your campfire until the dough is well-cooked. The time it takes for the meal to be prepared depends on the strength of your fire. Just make sure you do not burn them.
Pizza log: this delightful pizza log can be well-cooked using the campfire. The dough can be prepared while you are still at home to avoid consuming more time in the wilderness. All you need is a frying pan, mozzarella cheese, tomato sauce, veggies and some toppings.
The next step is to roll out the pizza dough so that you can add the ingredients. Half a cup of tomato sauce, toppings of your preference and the mozzarella cheese approximately 8 ounces should be used.
After adding these ingredients, roll the pizza dough again to make a delightful pizza log. Use aluminum foil to cook it when you prepare for your dinner. After cooking you can then cut it into pieces for everyone at the camp.
Potatoes, Green Beans, and a Grilled Sausage: To make this meal you need potatoes, onions, green beans, sausage, salt, pepper, butter for the topping, fish or olive oil, aluminum foil and a grill. Put the grill on the campfire to preheat it.
Use the foil to put the potatoes, green beans, sausage, and onions. Add salt and pepper to the meal, then pour oil. Enhance its deliciousness with butter toppings.
Fold all these ingredients with the aluminum foil and then add water through a small opening to cook the meal on the grill. It can take about 30 minutes for the meal to be prepared depending on how hot the grill is.
Campfire foil packs: surprise your family with foil packs made with veggies and meat. The ingredients of choice can be pre-made at home and then refrigerated and then wrapped in an aluminum foil.
At the campsite, you can use the foil to cook the meal. Make sure you add olive oil. Do not cook under strong flames to avoid burning your meal. It is such an easy way to prepare such a meal for your dinner.
Easy paella: now try Spanish popular meals at your camping site. To prepare this type of meal you need to preheat the frying pan and add oil to it. Then add onions in the oil for 5 minutes.
Add rice, paprika, and thyme in the pan and stir them for a minute and sprinkle wine. Put tomatoes and stock thereafter and cook them uncovered for approximately 15 minutes.
Thereafter put seafood in the frying pan with the prepared food and cover them. Leave them for 5 minutes until all are well-cooked. You can then squeeze the lemon juice into the pan and then serve the dinner meal.
Roasted meat or vegetables: prepare your vegetables by cutting them on your cutting board at home before embarking on your journey. These can be carrots, zucchini, peppers, cabbage, potatoes, onions, garlic, squash and cauliflower.
Bring meat or fish as well as salt and herbs. Wrap everything in an aluminum foil for the convenience of cooking later on at the camping site. While at the camping site, preheat the grill and put the meal on it and constantly turn until well-cooked.
Important Pro Tips
We understand you might be having different taste of the ingredients than what we have just mentioned. Just make sure you do not take perishable ingredients without refrigerating them before leaving your home.
It is important to buy enough plastic or aluminum foil before heading for your outdoor camping adventure. Also take enough foods depending on the number of days and number of family members you are traveling with.
To make sure that you do not forget anything behind, make a checklist of everything you will need from spices to kitchen utensils for minor preparations at the camping site. You can even dehydrate fruits and vegetables. Our piece on how to dehydrate food contains guidelines and tips on preparing it the nutritious way.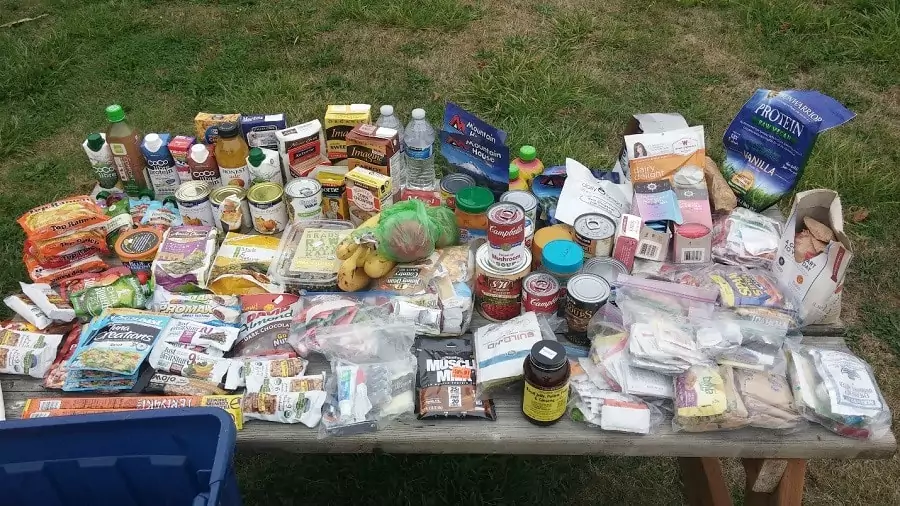 Purchase enough and affordable outdoor cookware. These include frying pan and a grill among others. A list of our best camping cookware will help you, check it out. The camping meals we mentioned above are not all-inclusive, but we are confident that we have chosen the best delightful meals. When traveling with your family, we recommend that you make a checklist with them to check what they need. It will be an advantage if you are traveling, because then you do not need anyone's approval regarding the kinds of camping meals and their recipes.
We hope that you found our camping meal suggestions tasty and that the recipes we provided will leave you with your stomach full during your camping days. If you think that we could have included another tasty recipe, feel free to share it with us in the comments section below. Bon Appetite!