Are you an avid camper, hiker, fisher or general outdoors enjoyer? If so, then you've probably already discovered the amazing benefits of having a decent campfire. An outdoor stove takes that one step further and provides you with not only warmth and light, but a convenient fireplace to cook/boil water over as well. Add to that functionality the USB charging ports built into BioLite Wood stoves and you've got the best thing since portable tents.
Product Specifications
Powers most USB-chargeable devices including smartphones
For 20 min. of charging with a strong fire gives you about 60 min. of talk time on most smartphones.
During a full burn, the CampStove can boil 1 liter of water in as little as 4 min. 30 sec.
CampStove weighs about 2 lbs. and is about the same size as a 1-liter Nalgene water bottle
Internal starter battery
These smart stoves are absolutely amazing. As such, we've decided to write a full BioLite stove review on our favorite one: The BioLite Wood Burning Campstove. We'll cover the good, the bad and the ugly about this little stove in this review. So if you've been looking for a camp stove in general or at this one in particular, then be sure to read this review. We'll start with the specifications.
Review
Packaging
This unit will be shipped to you in a 5 by 5 by 8.3 inch box that weighs 2.9 pounds. The unit itself is lightweight and compact, weighing in at 2.1 pounds. This means that you should have no trouble fitting it in a backpack in case you need to carry it with you on a hike. Plus, it definitely won't weigh you down.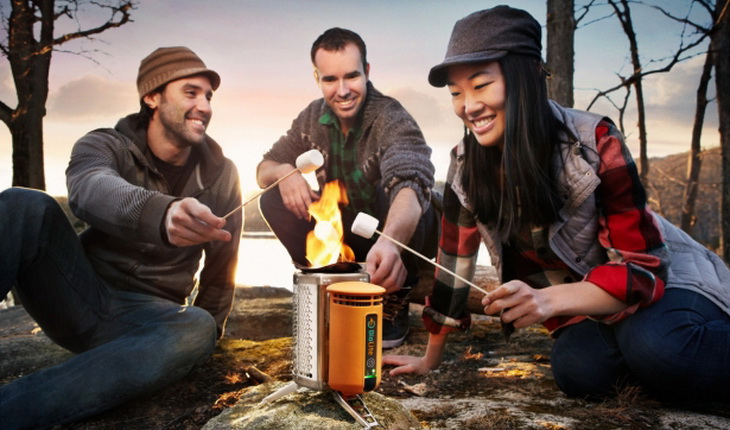 The stove consists of two main components: the stove itself and the power module (where the USB port, fan and internal battery are located). The power module can be placed inside the stove when not in use, reducing its size considerably to be the same as a 1-liter Nalgene water bottle. It also has a grill top for balancing your pots when placed on top the stove. It also comes with a nylon stuff sack that you can place it in after unboxing for proper storage.
Design and Durability
The BioLite Wood Burning Camp stove is a sturdy piece of equipment built to make outdoor fire use easy. Its technology features are some of the best in the outdoor stove industry, including both a USB charging port and fans to help fires burn hotter. That it runs off biomass as well makes this stove particularly attractive due to emergency and environmental benefits.
The stove's frame is mostly made up of aluminium. This metal is known for being both strong and lightweight, which is a great combination for any portable item. Although still too heavy to carry on extremely long hikes, we certainly think it'd earn an easy spot in the car or boat transport as well as short backpack trips.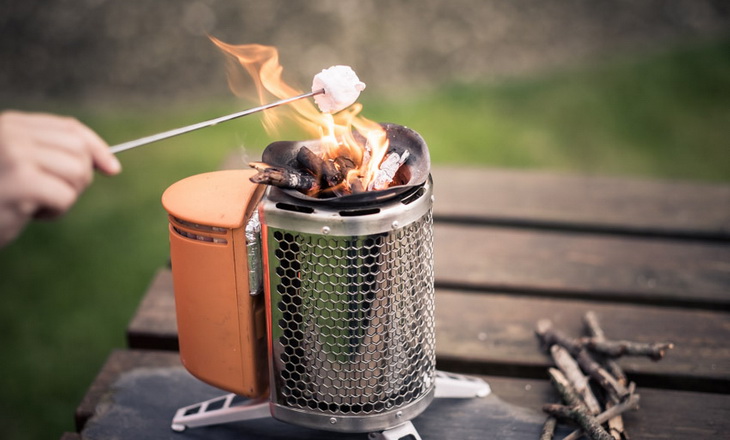 The creators of the stove have made it a good size in terms of dimensions, not adding more than needed but not leaving anything crucial out either. You might want to test carry an item of similar weight and dimensions to ascertain whether this stove is right for you.
Overall the shape and outer design of this stove are well thought through. They complement its inner, smart technology design well, by making it functional. We appreciate that they've kept it relatively small so as to make it easier to transport. There are a few other feature worth mentioning though, so here's our take on the main features to be aware of if you're thinking about buying this stove.
Unique Features
This stove comes with some rather unique features that give it an edge over the competition.
Thermoelectric Generator: This BioLite Campstove allows its owners to personally generate electricity from nothing more than burning wood. This means that you can choose to take a variety of USB chargeable items with you when visiting the great outdoors and charge them as you cook or boil food/water. This thermo-electric generator is perfect for those who want to enjoy the great outdoors while remaining contact-able.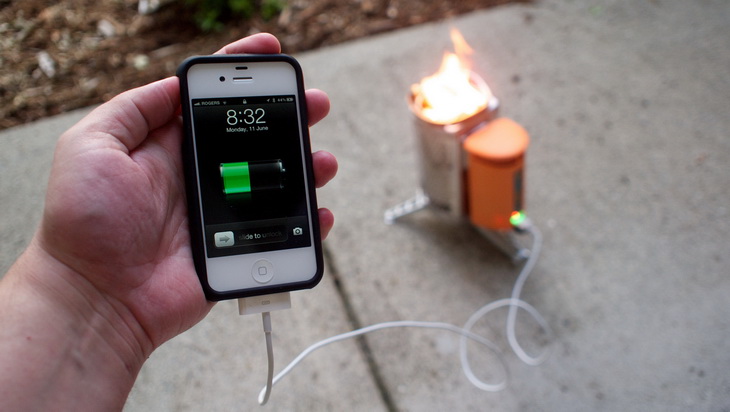 You'll get approximately 60 minutes of talk time on regular smart phones from 20 minutes of charging time on a strong fire. We'd recommend turning off your electronic devices now and again anyway to enjoy the outdoors more, but in general this is a fantastic concept. The best part about it is that the thermo-electric generator technology works off principles and airflow, meaning it's usable for as many times as you want or have wood for. No running out of battery charge ever again!
Burn Increasing Fan: The internal fan and gas jets built into the BioLite Campstove is ideal for outdoors people who want to get their fires up and running quickly (and don't we all?). Having appropriate kindling or dry wood certainly helps, but isn't a necessity with this cool stove's design.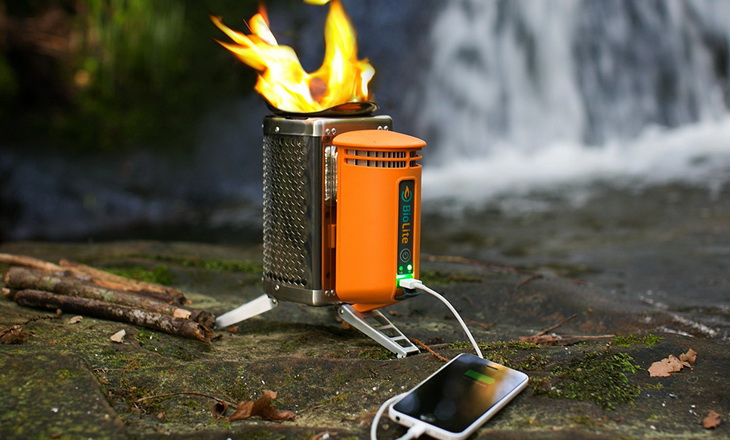 The HI/LO set-able fans push air into your fire which improves the combustion system. You'll get a hotter, more efficient flame, much faster, and some find the air circulation helps with smoke control as well. If you intend to get started on making your fires late in the evening, this is a perfect choice for you.
Biomass Fuel System: The BioLite Campstove takes renewable energy to a whole new level. The system not only runs off renewable biomass like twigs and sticks found while out and about, but also takes that renewable energy and turns into electrical energy to charge your devices with! We love that it's not reliant on coals or petroleum. It's a much more environmentally friendly approach to fire starting and we give it a big thumbs up for that.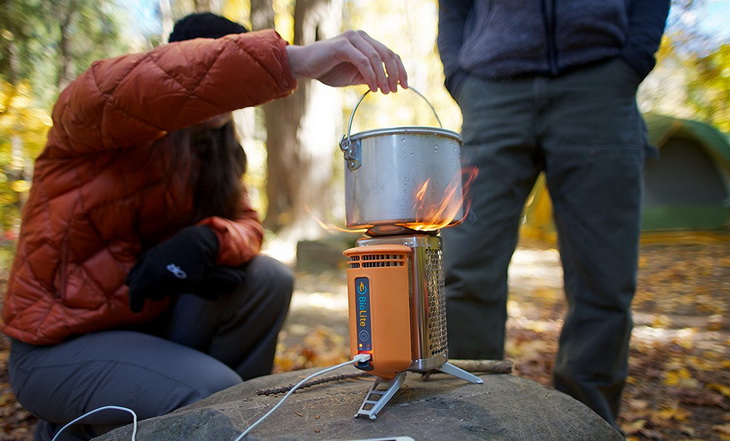 NOTE: This stove would be useful in emergency situations because it is not reliant on petroleum or electricity to start. You can charge your electronic devices from it, despite power line outages using just biomass (twigs and wood) from your surrounding gardens. Stay on the grid!
User Friendly Interface: The big, ON button, and easily discernible USB charging port on the BioLite Campstove, are just a couple of the user friendly features of the design. When looking for a smart camp stove you ideally want something that anyone can use. This system makes it easy to start fires by storing a little charge to fan your initial fire starting with.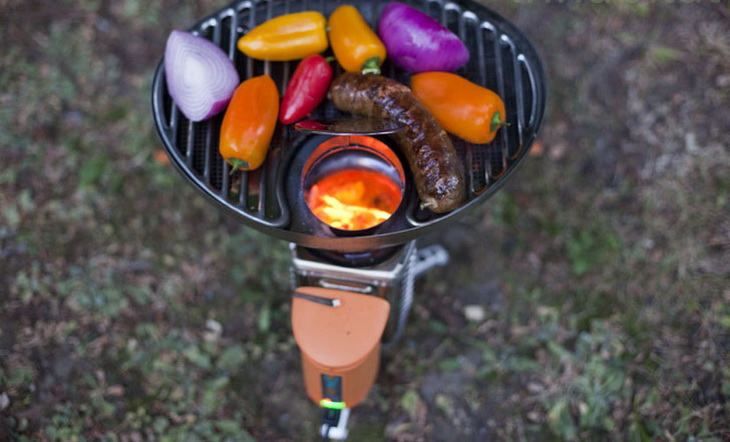 That means even beginner fire starters should be able to get the flames going in this stove. For those who have tried fire starting themselves, you'll know it's not always as easy as it looks, especially if your wood is damp. That's why the user friendly fans and gas jets to help start this stove's fires are so great.
Value for Money and Guarantee
Once you consider how much you will actually be saving in terms of purchasing fuel for a gas powered stove, the decision to get the BioLite Campstove becomes easy. Furthermore, you also don't need to buy any extra emergency battery packs in case your phone dies on you.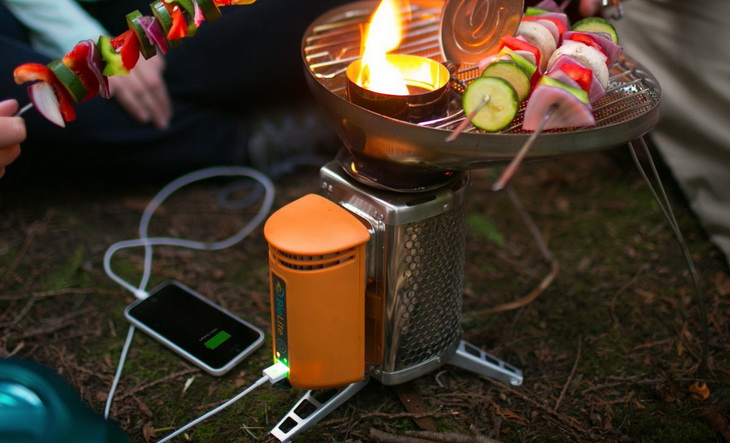 The unit costs approx. $130 on Amazon. It is currently not available on the BioLite website, so people looking for this unit will have to purchase it on Amazon. Once you add up the specifications, it is easy to tell that getting the BioLite Campstove will provide you with great value for your money.
Main Competitors
BioLite DE0SI 
The BioLite DE0SI is another ideal stove for campers, hikers, backpackers or anyone who loves going away for an afternoon or the weekend and spending it in the great outdoors.
It is very compact, lightweight, highly efficient at using biomass as a fuel source while reducing the amount of smoke given off and comes with a power module with a fan that powers the flames even more.
At a glance, it is similar in design to the BioLite Campstove, but the power module is where most of the differences are between the two units. For one, the CookStove's power module doesn't need heat from the flames to keep the fan going. Its internal battery can be charged using a USB cable or solar power, providing you with 30 hours of fan power once it is fully charged.
Another notable difference is that while the BioLite Campstove's fan only has high and low power settings, the BioLite CookStove's fan has four. The settings are Campfire (30 hours), Simmer (25 hours), Boil (20 hours) and Turbo (20). The BioLite CookStove also has one more difference that sets it apart: it doesn't charge phones. Yes, the power module for the BioLite CookStove has no USB ports.
Overall, the BioLite Stove ends up being the clear winner here, when considering the differences in power modules. The BioLite Stove's fan can continue running until you decide to stop cooking, while the BioLite CookStove's fan needs the power module to be charged. And with no USB ports, there is nothing you can do when your phone dies on you and you need a quick charge. The BioLite Campstove is more innovative and worth your money, even though the BioLite CookStove is much cheaper (approx. $50 on Amazon).
BioLite USY08 
If you plan on cooking big meals on your camping trip, then look no further than the BioLite USY08 You can burn some serious wood with this stove by using bigger wooden logs or sticks and not have to solely rely on twigs, sticks and pinecones to fuel your flames.
If you are planning on going on a family camping trip, then this stove will suit you just fine, since the stove has a large enough grilling surface for a couple of steaks and burgers (up to 10).
The stove is constructed from stainless steel and cast iron for durability. It also features a power module that uses thermoelectricity to kick-start the internal battery and power the fans for faster cooking and charging of USB devices (up to 5 of them) at the same time.
Plus, the internal battery saves some of its power so you can continue charging your devices after the flames have gone out. And with the touch of the button, you can switch from simmering flames when grilling to roaring flames for boiling water or frying some tasty chicken.
Another nifty feature is the power module's smart LED feedback dashboard that lets you know just how strong the fire is so that you know when it is time to feed it some more wood. And while the BioLite Campstove gets fed wood from the mouth, this unit gets feed wood from the base. The hole is large enough to accommodate logs of wood that burn hotter and longer.
Considering all these advantages, it is hard to imagine how one would recommend the BioLite Campstove over the BioLite BaseCamp Stove. But once you consider that the latter is meant to be purely for camping and not for backpacking, hiking, hunting or any other outdoor activity, you will end up sacrificing some much needed portability. On top of that, if you are a solo backpacker, hiker or camper, you don't need such a large stove anyway.
VitalGrill Survival 
The VitalGrill Survival is another good alternative. It is smaller than the BioLite Campstove, making it very compact (8 by 4.9 by 1.8 inches) when folded and lightweight (weighing 1.5 pounds).
So it is the perfect companion for your camping, hiking, backpacking and hunting trips, since it will fit right into your backpack with ease. It also has an innovative design, fan for efficiency and runs on biomass.
The first thing that sets this stove apart from the BioLite Campstove is its design. The VitalGrill Survival Stove has a thermal shield that is able to contain the fire for maximum heat output. The shield can be folded to make the unit easier to carry. The support rods that hold up the shield are strong and able to hold up to 50 pounds of weight. They are also adjustable, making them able to accommodate a variety of pot shapes and sizes.
The second thing that sets it apart is its fan. It is highly efficient and able to increase the intensity of the flames to reach up to 20,000 BTU (British thermal unit) for faster boiling of water. The fan is built into the unit to provide it with maximum ventilation and blow smoke away so that it doesn't enter it.
The fan is powered by two AA batteries, which you can recharge with its wall outlet (if they are rechargeable). This means you need to have fresh batteries on hand whenever you want to use the unit, considering that it won't work without the fans. It also doesn't have any USB ports to plug in and charge your devices. These are the two drawbacks that make the BioLite Campstove emerge as the winner.
Overview
We would definitely recommend this BioLite Wood Burning Campstove to anyone looking for a high quality piece of fire making and cooking outdoor equipment. Do, however, ensure that you are aware of the size and weight of the item prior to purchase. To get it to your outdoor spot you'll have to transport it!
In addition, we'd also recommend taking a couple of small fire-starting cubes and some waterproof matches with you when you head out. This will make the fire-starting process even easier, though the design of the camp stove makes that pretty easy already.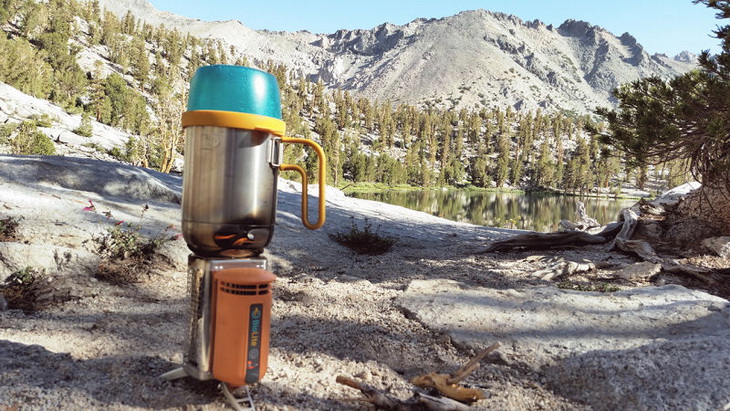 A final note is to choose pots and pans to use with this system that are metal, no more than 10 inches in diameter, and no more than 8 pounds in weight. Other than that, this stove is ready to go. You'll find it adds a whole new level of cool to your outdoor experience and makes cooking/boiling food/water so much easier. When it comes to camp stoves it can be worth digging a little deeper in your pocket to get a great multifunctional product, that will go the distance with you.
PROS:
Compatible with most common USB devices
Can generate better flames than average stoves because of its fans and gas jets
Easy to use scalloped upper design supplies a sturdy surface for pots and pans
Cool to the touch safety conscious honeycomb exterior
Aluminium frame is lightweight and strong
Smart technology runs completely on biomass fuel which is renewable and readily available
CONS:
Slightly heavy
Somewhat bulky
(Some may find that carrying a portable camp stove around is too inconvenient when they know they can just find sticks and build a fire on the ground at their destination site).
A pros and cons list is good to ensure that you get an unbiased review, and we hope that you agree with us that the pros more than make up for the cons. This is based on our educated opinion, and we are confident in recommending this stove as one of the most highly efficient, easy-to-use and useful outdoor stoves around. If you take it to the great outdoors for off-grid living, you will not be disappointed.
BioLite Stove
Packaging

Design and Durability

Unique Features

Value for Money and Guarantee
Summary
A camp stove can be a wonderful investment that keeps on facilitating your outdoor adventures for years to come. The BioLite Wood Burning Campstove is one of the most technologically savvy options on the market, and comes in a very clever design.
There are a number of retailers available to choose from, if you decide to investigate purchasing this, all in all a super piece of outdoor fire equipment. At the end of the day you get what you pay for with outdoor equipment and though it's on the expensive side, this camp stove is well worth it from our perspective.
The technological aspects of it will no doubt make it a fun and useful piece of camping equipment that you'll use often for years to come. Its fire burning is clearly fantastic too. If you've tried the BioLite Campstove before, let us know in the comments below!

Have you bought and used this product? If yes, then your input is highly valuable to us. Give us your opinion (If it performed as advertised, how quickly you got a fire going, if you managed to cook or charge your phone with it) in the comments section.