When backpacking for your camping or hiking trip, you not only pack some clothes, food, and sleeping bags. Campers and hikers always need to prepare fast food and boil water when they are on their outdoor escapades. This implies that backpackers will need to carry with them burners they can use to prepare meals.
In most cases, backpacking stoves are small, lightweight, and compact, and consumes little space in your pack. These are the benefits of owning a backpacking stove and our Bushcraft stove review will give you a much better insight on this topic.
There are also a number of downsides surrounding backpacking stoves. After all, manufacturers need to make some compromises and sacrifices to attain the compact features and the lightweight aspects of these items. Backpacking stoves lack the capacity to undertake 10-20 cooking rounds. Additionally, you may be forced to carry a spare if you are going on an extended trip. Lastly, it can be difficult to balance large cookware on small stoves.
Product Specification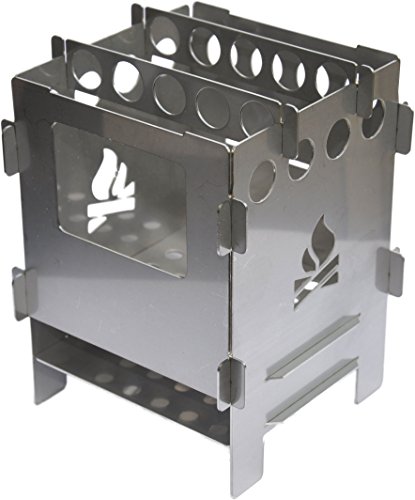 Great size and perfect weight: SIZE: 11.5 x 9 x 0.5 cm, 270 grams OR 4.5" x 3.5" x 0.2", 9.5 ounces. 
Eco-friendly: Reduce carbon footprint and fuel costs by using renewable resources like twigs, leaves, pinecones, and other organic matter.
Multifuel capability: Supports an alcohol burner, Esbit and hexamine tablets (use the special base plate position or turn the Bushbox upside down)
Vesrsatile, easily portable, simple to use: Use as a windshield or pot support for other burners.
These negative aspects of the outdoor stoves are, however, insignificant. Most of these stoves will provide more benefits than downsides, making it easier for you to neglect the negatives that are associated with them. The aim of this Bushcraft stove review is to provide valuable information about this product and support its usage as one of the best outdoor stoves out there.
Review
Among the most significant pieces of gear for the outdoor adventurer or a backpacker is a lightweight and reliable stove – and you can thank the Germans for coming up with this efficient Bushbox Outdoor Pocket Stove. Today, the Bushcraft Essential is one of the leading brands in the market. This company delivers pocket stoves with outstanding features.
Before buying one of their stoves, you will need to consider various specifications that make them suitable for outdoor use. These aspects include:
Packaging
This medium equipment comes out of a small canvas bag in the form of stainless steel plates weighing about 0.6 pounds. Made by combining a series of stylish catches and sliding plates into different slits, this product stands approximately 4.5 inches high and comes with a grill, trivets, and ash plates. The trivets are used in holding anything from a cup of coffee to a frying pan.
There is no gas tanks or moving parts. To maintain the levels of engineering in German, it's as elegant as any steel box can be. The fuel for this can be Trangia, twigs, or fuel cube such as Esbit.
Design and Durability
Bushbox stoves are compact in size are suitable for use on a backpacking tour. This is because the small equipment does not take up much space in the pack. The compactness and design of the stove, make it easy to assemble, pack, unpack, and disassemble. Owing to their compactness, the Bushbox models save so much space in the backpack.
As for the design, some air holes are strategically located around the stove's perimeter and the lower grate which allows for entry and circulation of oxygen through the box, offering a more efficient burn. The access ports at the front offer ample space for small twigs and sticks to be added as the fire burns with the pot on top. Since the opening is positioned a few inches above the fire grate, hot materials are always held within the box making it simpler to include fuel as you go.
Furthermore, thanks to their stainless steel materials, the Bushbox offer maximum durability and are long-lasting. As a result, they can withstand all external conditions, including scratches, wear, and tear.
Make sure your stove comes with all the necessary components that make it operational. Items such as the ash pan, ground protectors, and heat shields can be an excellent addition to your kit. Always ensure these materials are available during your installation or assembly process.
Fuel Compatibility
A lot of backpackers get nervous when they want to acquire stoves for their outdoor adventures. This is mainly due to the amount they spend on fuel. Liquid canisters and well as the white gas can be expensive, particularly when these fuels are needed for an extended trip.
To get the Bushbox stove, fully operational, you will only need twigs, sticks, and leaves. These components are available locally and do not cost a dime. Therefore, choosing this stove is advantageous due to the fact that you do not have to spend on fuel.
The Bushbox can be used along with the Trangia alcohol burner. To do this, simply use one trivet to link two sides instead of the front panel with the access port. This process will offer stability required to support the cookware and fuel canister weight inside the firebox.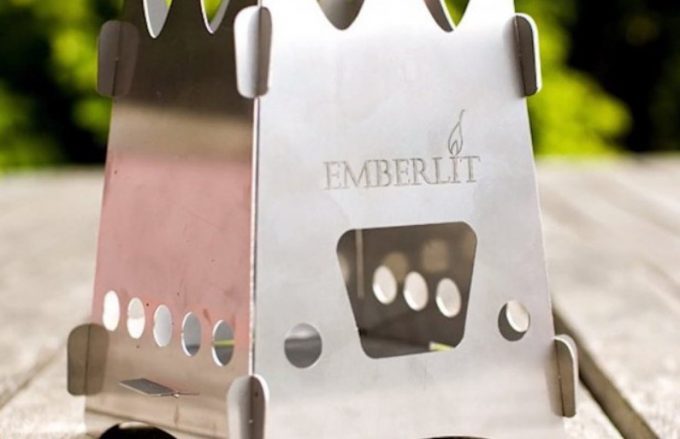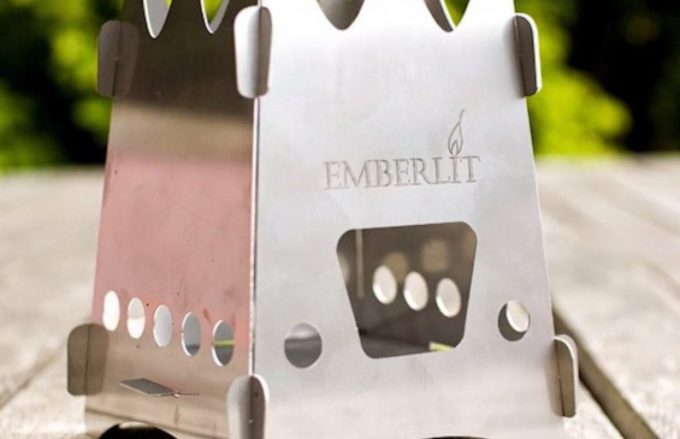 If you are using the Bushbox with fuel tablets, such as Esbit and hexamine, you can configure the grill as a supporting substance for fuel tablets, making it possible for the flame to reach the port and ensure high heating efficiency.
When burning hexamine, gel packs, or esbit, the grill can be put onto a higher setting, making it possible for the flames to reach the cookware, or you can simply turn the stove upside down and place the fuel on top of the base surface. The burner cools faster, making it possible for you to break the camp quickly. This stove is made from a hundred percent stainless steel and comes with the manufacturer's logo – Bushcraft Essentials.
Weight
If you are not certain as to whether or not to bring this product with you on your backpacking tour, you do not need to worry anymore. This item weighs about 0.6 pounds despite being manufactured from stainless steel materials. It's an excellent option if you are looking for products that weigh little, and occupy less space.
Ease of assembling and use
Super easy to assemble and use, the package allows you to put the component together in seconds. The product is heirloom quality and designed to last, made from 100% stainless steel material. The assembly process is rather straightforward. You begin with one end, sliding two tabs of the back panel together with the side panel tabs until they go past the locking nib.
After that, include the other panel, pushing its tabs with those of the rear panel. Next, insert the grate and the ash pan into their slots. The last step involves sliding the 4 tabs on the front panel with the two on the sides, locking the four sides together.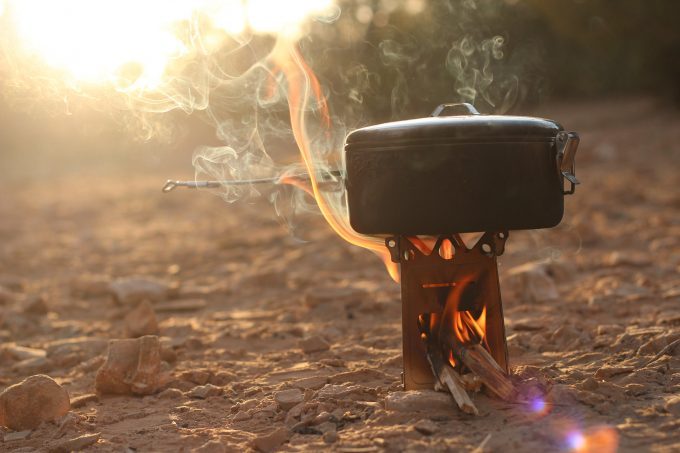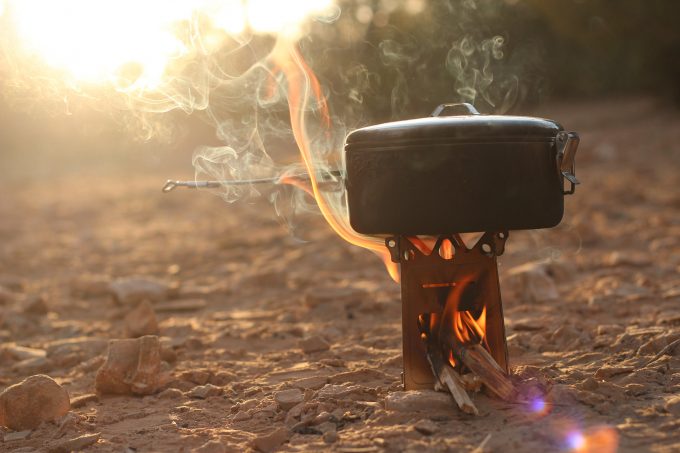 Being a versatile tool, the Bushcraft can be used with pots of varying diameter. When using a cookware that has a larger diameter compared to the stove top, it's essential to set the trivets such that the pot is elevated some distance above the stove. This aspect provides enough space above the cooktop. In turn, this prevents the heat from getting diverted out of the firebox sides.
Eco-friendly and user-friendly
This is a kind of stove that is mainly designed to meet the needs of the outdoor adventurer. The product utilizes renewable energy sources of fuel such as twigs, wood pellets, sticks, charcoal, leaves, and barks. As a result, there is less pollution, enhancing the conservation of the environment.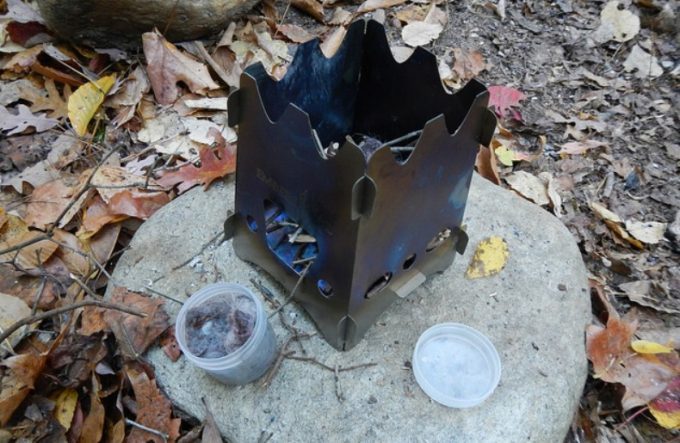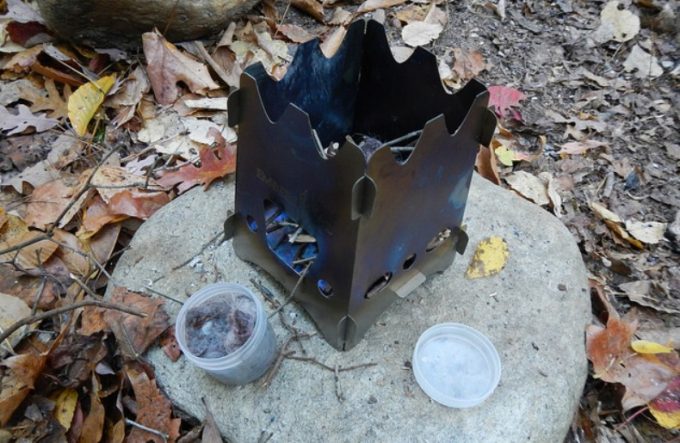 When it comes to cleaning and ash removal you will need to periodically check to see whether there is an ash buildup so you can empty the pan. There is no particular determinant amount, but once the formed ashes become too much, you'll need to empty the pan. Put on the gloves and beware of hot embers when emptying the pan.
Value for money and guarantee
When it comes to price this Bushcraft stove is pretty cheap so it's a perfect solution for those whose finances don't allow big expenses on outdoor gear and you won't have to break a bank to buy one as it can be found in a price range from $20 to $40 and considering what it offers for that price, we find it to be a great deal.
Similar products/Close competitors
When it comes to purchasing a stove or any other piece of outdoor equipment you should never just look into one product. It's good that you know what options you have available based on your needs. This is why we listed three similar products to the one we're reviewing today before you finally decide on which stove is right for you.
Emberlit Titanium UL   
This compact Emberlit Titanium UL stove is designed for all the weight conscious campers who try to save on weight while heading to their camping trip.
The UL Titanium stove from Emberlit is easy to assemble (in a few seconds), ensures plenty of airflow, doesn't require any fuel, so you'll save some extra ounces here and burn plate collects embers.
It comes with a limited lifetime warranty, it's impervious to corrosion and includes crossbar adapters. Its panels are slightly warped, but it is not something that will have a huge effect on its durability or assembly as this is normal.
It comes in a price range from $50 – $150.
Bushbox Ultralight 
Made from 0,3 millimeters stainless steel, the Bushbox Ultralight can be used with various fuels, such as wood, hexamine/Esbit tablets, Trangia burner or gel fuel cans.
If you plan on using wood we would suggest you use the ashtray as soil protection. If you use trivet then you can use this Bushbox stove with almost all pot sizes. It is extremely versatile and variable.
It comes in a price range from $40 – $60.
kampMATE WoodFlace 
This kampMATE WoodFlace is the most versatile, portable and easy-to-use camping stoves on the market. It has a 6″ x 6″ x 4″ burning chamber, it is thin and portable which makes it super convenient for backpacking in the woods, especially if you need to have a quick overnight.
Designed to remain strong after repeated use thanks to the embossed side plates and to collapse flat it is a perfect little mate that will never leave you hungry in the wilderness. Although it works on eco bricks, wood chips, esbit, trioxide, hexamine, firelite, alcohol gel cans, twigs, biomass products, briquettes and any other charcoal products, comparing it to other gas stoves this one works perfectly on wood which makes him the best wood stove possible.
Its open design makes the air flow freely which ensures that works on maximum. The best part about this stove is that it's pretty cheap so you won't have to break a bank to buy it.
It comes in a price range from $20 to $40.
Overview
Today, the market is filled with numerous compact multi-fuel stoves. Some of these products are known for consuming so much space in our backpack while others can be broken down into small kit making it possible to carry them around when you are out on a backpacking adventure. Among the many options available, the Bushcraft stove comes in a Bushbox set and is ideal for backpacking as it takes very little space in your backpack.
The stove is made of various components that ensure its efficiency. These include a front panel containing a large rectangular access hole, which provides for quick access for adding the fuel, a grill, an ash pan, and two adjustable trivets that support the pot. The ash pan is designed such that it prevents any hot materials from scorching the surface by separating them from the ground.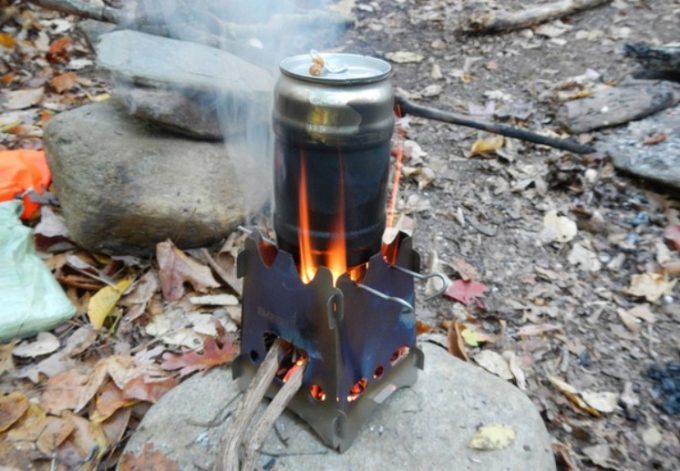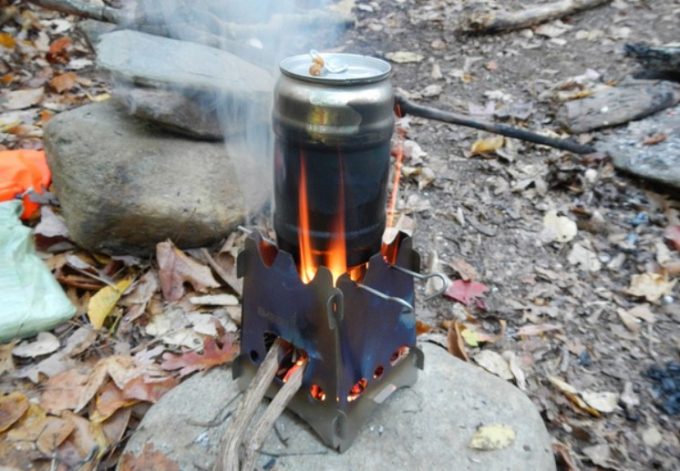 The Bushcraft stove can be used in cooking and generating heat in various settings including hiking and camping. As mentioned, the equipment uses different kinds of fuels such as wood and other biomass fuels such as pine cones, coal, and tree bark. The stove can also be utilized with solid fuel tablets and the standard Trangia alcohol burner making it a versatile pack stove.
Although it might seem like this product is perfect, it has both pros and cons, so let's have a look:
Pros:
It's a portable stove
The stove is easy to use
It's a durable pocket stove
It's an eco-friendly stove
The Bushbox is easy to pack
It consists of a lightweight design
It's easy to maintain
Cons:
Not suitable for extended trips
Can be difficult to balance large pots
The stove cannot take more than twenty cooking rounds
Are you really in need to balance and carry large pots when going out for a camping or hiking trip? If not, than these cons are really not "cons".
Bushcraft Stove
Packaging

Design and Durability

Fuel Compatibility

Weight

Ease of assembling and use

Eco-friendly and user-friendly

Value for money and guarantee
Summary
The Bushbox pocket stove from Bushcraft Essential is manufactured with quality materials and precision cut, so all components fit together perfectly creating a solid burner. Nonetheless, its tight tolerance, comes at a price.
Since the components fit together tightly, it's quite challenging to disassemble when you want to continue with your journey. The nibs which lock the tabs will require a little extra effort to separate them from other components of the stove.
Overall, this Bushcraft design will be an excellent addition to your backpacking kit. The beauty of the Bushbox lies in its compactness making it possible for you to store it anywhere, even inside your pack.
You can also check out the titanium version of this stove to determine how these two compare. However, if you are in need of a packable and compact wood-burning stove, you should certainly go for the Bushbox Kit.

Let us know what you think in our comments section below.