There is nothing refreshing like a hot meal and drink after a long days trek in the woods. That is why it is necessary to have a cooking form while going for camping and backpacking. Among many backpacking stoves on the market, the MSR pocket rocket stove has proved to be an efficient and reliable partner for backpackers.
With modern lightweight stoves, there are many stove options in the market. However, there are some which are obviously better than others. The MSR pocket rocket stove is among the best, most efficient and authentic stoves suitable for backpacking, and camping alike. MSR stands for Mountain Safety Research and they are a company known for making reliable equipment for those who love the outdoors, no matter the weather!
Product Specifications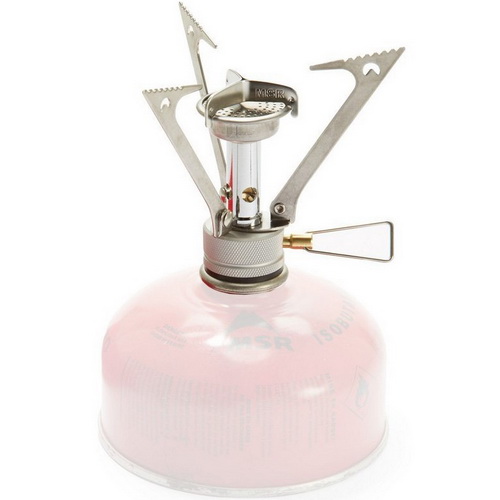 Only 4″ x 4″ x 2″; weighs only 3 oz.
Boils a liter of water in under 4 minutes.
Adjust flame to simmer or boil.
Burns clean from start to finish.
Glove-friendly controls allow precise flame adjustment, from a simmer to a boil.
Tri-sectional Windclip wind shield protects flame and boosts efficiency.
It offers fast and simple lighting, with no need for priming, pressurizing or maintenance
From snowshoes and climbing gear, to cookware and camping stoves, MSR is a company that is beloved by many for its great products. In this article we will tell you why you should use a stove on your camping tour and give you the MSR Pocket Rocket Review to get your interest!
Review
Packaging
The packaging for this product is sturdy and holds the stove in place so that it does not get damaged.  It does not even weight a half pound in the package, it is so light in weight.  The packaging is 4 x 2 x 2 inches big. Once out of the box, this stove weighs only 4.2 ounces and comes in the color of Tomato Red.  The small stove itself is made of brass, aluminum and stainless steel, making it a strong stove to use.
Design and Durability
This stove is highly durable and has a wind screen that keeps the flame going even if the wind is blowing. It is designed to be small and compact, so you can take it on any type of outdoor trip, whether camping or backpacking. The whole thing can fit in the palm of your hand! There is no wonder why this is one of the most popular canister stoves! It also has flame protection, so you do not have to worry about burning yourself.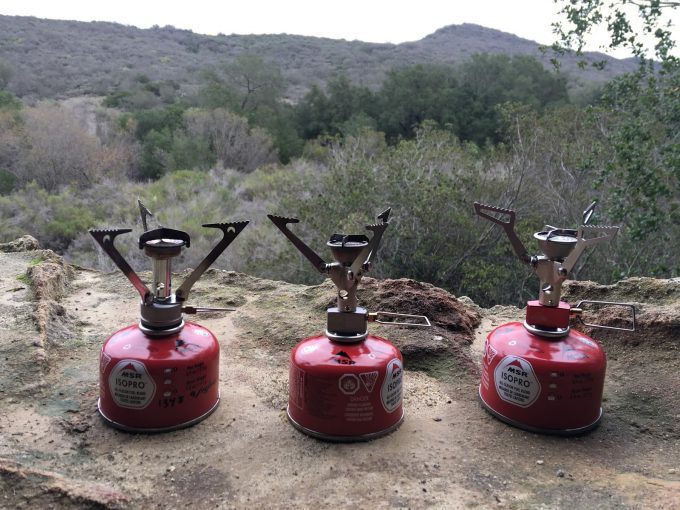 It is also designed for flame regulation with a turn of a knob. Plus, it is made from stainless steel, brass and aluminum, keeping it durable but not heavy! You can take this little stove anywhere, which makes it such a great purchase. Even if you are not camping, but just want to have a little picnic in the park, you can take this stove along and have a great time.
Fuel Compatibility
As for the fuel compatibility, this particular stove takes a canister. You can buy the MSR IsoPro, which is compatible with this stove, and made from the same company.  Your canister can help to boil water in 3.5 minutes and has a total burn time of an hour if you buy the 8 ounce canister. The flames are fully adjustable, and you can boil or simmer foods with ease. Always know how much fuel you are going to need for your trip.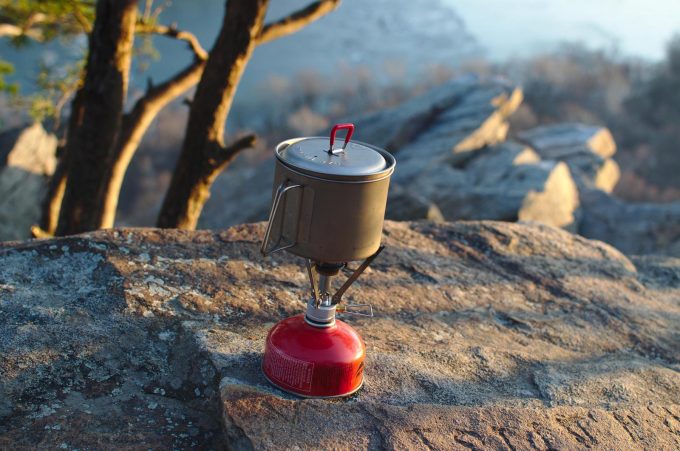 If you are going for just one night, then one bottle should suffice. However, if you are going to several days, or weeks, you should be aware of how much fuel you will require. The great thing about the fuel is that is burns clean, so you do not have to worry about fumes or smoke emitting from the fuel canister itself.
Keep in mind, the fuel canister has an internal pressure that needs to be higher than the outside pressure. If the temperature drops too much in the canister, the liquid inside does not go through the vaporizing and turn to gas. It will not work at all. Also, altitude has an impact on the fuel canister. The higher the altitude, the more it will offset the temperature outside and the gases inside the canister are balanced. But, if the temperature is too cold this will not work.
Ease of Assembly and Use
There are not a lot of parts to this stove, so assembling it is no issue. You can easily get it out and get the fuel canister set up and begin cooking your dinner! If you want to boil water, that is another option that can happen quickly! This item can be easily stored in your backpack for later use and taken along with you to the next stop on your journey!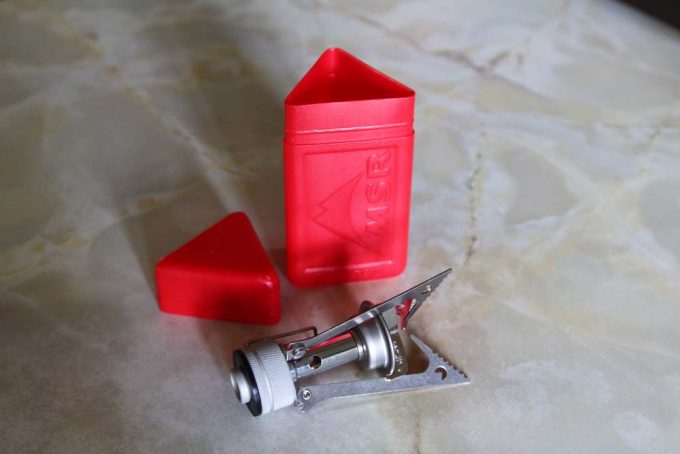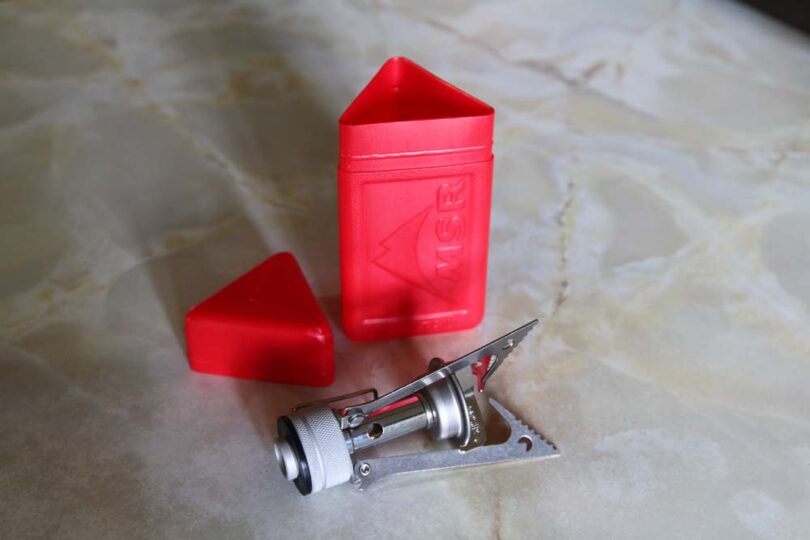 Just be sure the stove is no longer hot, and you have given it sufficient time to return to normal temperature before you pack it up. Many users have cooked a variety of foods, and the stove cooks it all perfectly!  Not only can you make soups, oatmeal and coffee, but you can cook vegetables,  omelets, lasagna and stews! The possibilities are endless with this little stove that cooks to perfection!
Manufacturer Recommendations
There are a few stove tips that the manufacturer has put out so that you get the most use out of your stove. First of all, the liquid fuel per person, each day is recommended to be 4 ounces if you are cooking.  They also recommend 8 ounces per person, per day if you are melting snow. Next, if you are at a higher altitude, the stove might burn more richly, which prevents vaporizing. In this case, you should keep the pressure down and  open the wind screen.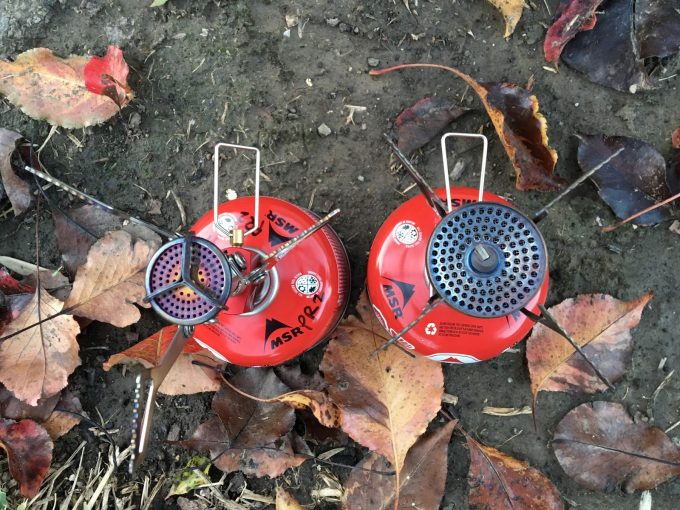 For the best burning, the fuel canister should be pressurized between 15 and 25 PSI, which is about 22 ounces of fuel. As the fire burns, you have to increase the pressure to keep the heat coming.
It is also recommended to take along an extra fuel canister in case you and your camping friends need more fuel for your dinner. Also, once you purchase your rocket stove, there is some valuable information about its usage that you should be familiar with:
A new gas canister holds some amount of air at the top, once you turn on the valve, that air is the first to bleed out. The fuel ignites once that air escapes. If you experience a large yellow flame, your stove has tipped, and you need to be ready for a replacement.
The stove might be hard to pressure up in cold temperatures. To avoid such incidences, carry it in your jacket pocket while hiking and keep it in your sleeping bag at night.
Ensure your stove has a pressure regulator while camping in higher elevations to avoid fuel wastage.
While hiking in the snow, place a piece of cloth underneath the stove while cooking to prevent a chunk of ice forming underneath the canister.
Some places allow you to recycle your used MSR pocket rocket stove canister; you should check out with them before throwing the canister.
Value for the Money
For the price, you really cannot beat it! It will not break the bank to purchase this camping stove, and you will be able to use it for years to come because it is made from quality materials that ensure that your product is durable and strong enough to withstand harsh elements.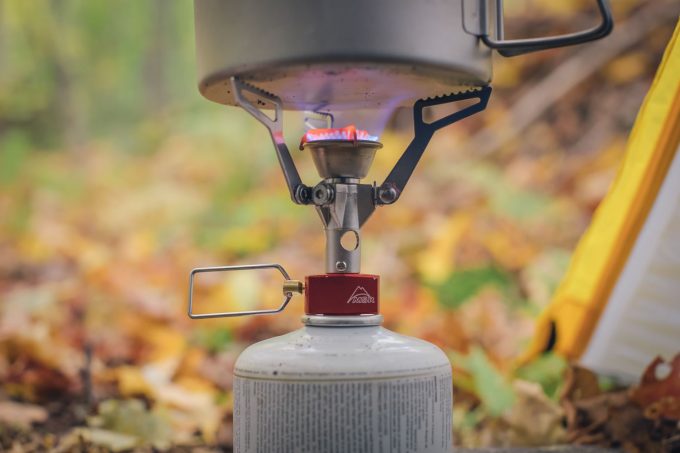 There are many more expensive stoves, and while they may be bigger and have more features, this particular camping stove is definitely a great value for the money and users will not be disappointed! This camping stove definitely does its job and is basically an invaluable piece of gear to have when you are backpacking and need a hot meal after a long day! With the push of a button, you have a flame and soon, you will have dinner!
Similar Products
Below are some of the similar products from competitors that are on the market.  We will tell you how they stack up to the MSR Pocket Rocket stove so you can make sure you get the best deal out there.
MSR SuperFly Stove  
The MSR SuperFly Stove allows you to use it simply due to its matchless lighting and ability to adjust the flame with a control. This product has an auto start button so you can light it with ease.
The burner is large, so the flames distribute and give you a full flame. Users love that is it simple to use, the flame is easily adjusted, and that the auto start features are done at the push of a button!
This is a great, durable stove that you will definitely enjoy using. It is just as good at the Pocket Rocket stove, and maybe even better!
MSR Wind Pro II Stove 
The MSR Wind Pro II Stove has an inverted liquid feed to keep the fuel output as consistent as possible, no matter the weather. It has a remote burner and windscreen, plus it is small and can fit into your backpack simply!
It has a 10 inch diameter and can be used in larger pots. The windscreen is a plus, as you do not have to worry about the wind blowing out your fire.
Users like it because it runs on the liquid feed, but some people do not require that feature. Some people did complain that it was not easy to take with you, as it has parts, but overall it is a good stove. You just have enough space to pack it with your other items.
Snow Peak LiteMax Titanium Stove 
This lightweight, Snow Peak LiteMax Titanium Stove, is made of aluminum and titanium, which keeps the weight down. This is a plus for those who have a lot of gear and weight is an obstacle.
It works down in frigid temperatures, at 17 degrees Fahrenheit. It includes a bag for storage and is easy to tote around because its small and virtually weightless.
Users love it because it is very fuel efficient and it has a small size. The downside, users say, is that it does not come with a windscreen, but you can purchase them separately.
For many, a windscreen is important because it keeps a stable fire despite a windy day. While you can buy them apart from the stove, it is more convenient to have one built right into the stove itself.
Overview
There are many options of fire while going camping, but what matters most is the one that gives you the value. An MSR pocket rocket stove is among the few canister stoves that you can depend on while planning an extended backpacking trip. Its size is highly favorable as you can not only fit it in your bags, but you can also fit it in your jacket pocket.
While purchasing a backpacking stove, however, you must first ensure that it will meet all your needs and that it fits your budget. The MSR Pocket Rocket stove is definitely a bang for your buck, and it can fulfill your needs while you are enjoying the outdoors, whether camping, backpacking, or hiking! Your mind will be at ease about a hot meal at the end of the day because of this great little stove! Grab yours today!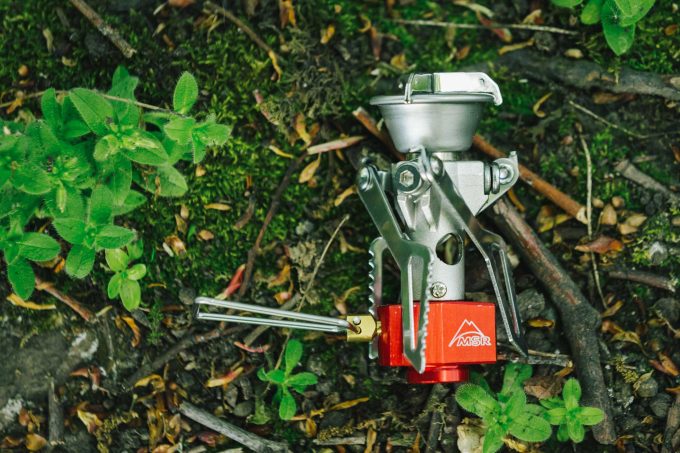 What kind of stove do you use when you go camping, hiking, or just enjoying the outdoors? Do you think the MSR Pocket Rocket stove can stand up to its name? Tell us your stories about cooking while enjoying the great outdoors, as we love to hear from our readers! Thanks for going on this journey with us!
Pros:
Small in size and a light weight
It requires no prior priming lighting it, hence easy to light up. All you need to do is turn on the valve and use a match to light up.
The flames are easy to adjust making it the perfect stove for simmering as well as boiling
To ensure the safety of the stove, the canister self-seals when you unscrew the stove, and you, therefore, don't have to worry about gas leakage.
It has an inbuilt pressure regulator that helps control the flames pressure consistency. This feature helps in regulating the heat through different weather conditions.
The fuel burns cleanly, which is better for the environment overall.
This stove packs up easily to fit with your other gear, hardly adding any additional weight.
Cons:
Their arms are not long enough to hold the pot steadily
They cost more compared to liquid fuel stoves
You cannot use a windscreen with a burning stove as it may trap a lot of heat leading to an explosion.
It's hard to know the amount of gas left in the canister. To be on the safe side, you should carry an extra can to avoid running out.
The stove is smaller, so you cannot cook a lot of food at once.
We have given you a review of the MSR Pocket Rocket stove and have shown you all of its features and given you the good and the bad about the product. If you are an avid lover of the outdoors and love to camp, hike, and generally be in the wilderness or mountains, then having the MSR Pocket Rocket is going to come in handy. Luckily, this product is beloved and works well, so you will enjoy many means over the flame of this stove, while breathing in some fresh, clean air.
Like any other canister stove, MSR pocket rocket stove is easy to use and requires low maintenance. It is small in size, a lightweight and folds up easily for packing. It is one of the few most suitable stoves for international destinations.
MSR Pocket Rocket
Packaging

Design and Durability

Fuel Compatibility

Ease of Assembly and Use

Manufacturer Recommendations

Value for the Money
Summary
This MSR stove is not heavy at all, can fit in the palm of your hand, and is simple to use! Even an inexperienced camper can get a flame going and cook up a hot dish.
Many people who have used this stove praise it for its ease of use, light weight, and the fact that it has many great features like flame control, a windscreen, and flame protection!
Users absolutely love this little stove, and say that it is simply one of the best purchases they have made when it comes to outdoor gear!

Did you buy and use this product? If so, we'd appreciate if you shared your experience (how easy was it to start a fire, how much fuel did you use, and how long it took you to boil or cook something) with us in the comments.