Hyke and Byke is a brand of outdoor equipment that began small but has now made a great impression on outdoor lover across the country (women, men, and kids alike). The company's vision of offering a double value of every individual (adult or young) looking to explore the wilderness has become possible by beating established brands on matters of costs and reliability.
The company now prides itself in providing quality gear that meets the expectation of the ordinary individual looking to scale the Everest or explore any other place irrespective of the season or time.
One of the best products designed and manufactured by this Company is the Hyke & Byke Snowmass. This is a product that offers maximum utility for outdoor enthusiasts looking to enjoy the cold night of their hiking expeditions. It comes with a top of the line 400T Rip-Stop Polyester material, grid baffles that retain heat evenly, heavy duty YKK zippers for ultimate functionality, and 90/10 550F-Power premium duck down that provides an extra loft plus an incredible warmth-to-weight ratio!
Product Specifications: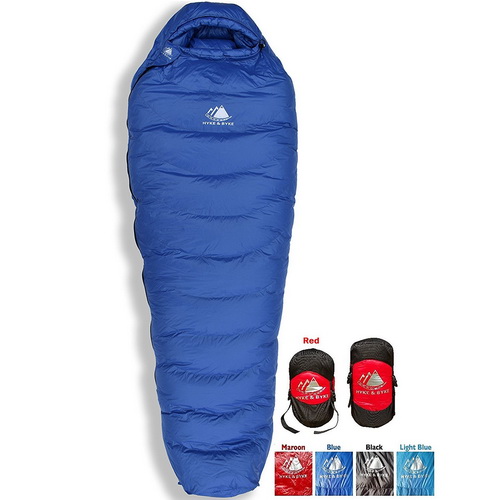 Save space with ultralight premium quality duck down filling
Stay warm as a result of duck down insulation capabilities and waterproof fabrics 
Lightest mummy down sleeping bag available 
Long lasting durability from ultralight water repellent 400T 20 D ripstop nylon fabric liner
Hyke & Byke is committed to improving animal welfare in the duck down and feather supply chain.
This sleeping bag also comes with features that make it strong and durable. The most prominent features include the ultralight water repellent 400T 20D Rip-Stop nylon material liner, two YKK zippers, large footbox, broad shoulders, snag-free Velcro, drawstring, compression sack case, and horizontal baffles. The Snowmass 0 comes in two major sizes; Long and Regular. It is equipped for the trail head, from the Alps to the Everest.
Review
Packaging
The Snowmass 0 Sleeping Bag fits up to 6' 1" tall for the Regular size at the weight of 3.15 lbs and 6' -6" for the Long size at 3.32 lbs even with compression bag. At its current prevailing price, the Snowmass 0 is probably the warmest and lightest outdoor gear you can ever own. For all your outdoor needs, travels, and adventures, this sleeping bag will be the most coveted and favorite item on your packing list.
Design and Durability
The down material makes the product lighter and provides high degree packability. Moreover, the material offers more comfort as opposed to the synthetic material. More importantly, the down is long-lasting, and although its fill isn't super high, the insulation retains loft longer than a high-quality synthetic gear.
In addition to that, the ultralight premium duck down filling allows you to shave weight and save space. The bag is fitted with nature's best light insulator that has the highest warmth-to-weight ratio that beats the cold whenever you are outdoor camping.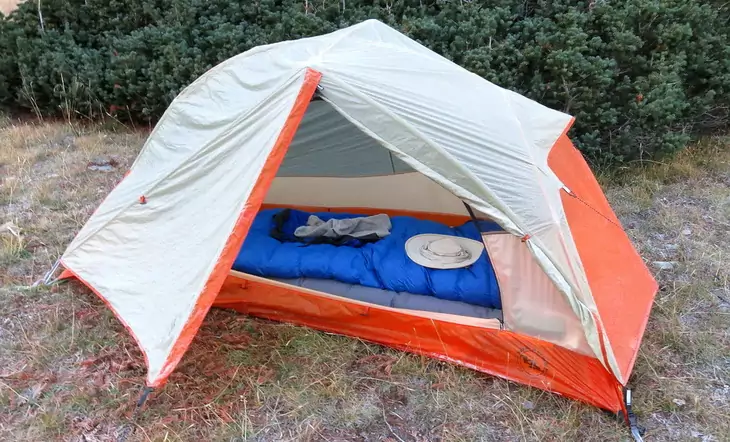 This model also allows you to hike further as it's the lightest mummy down available for a price within its range. As mentioned, the Snowmass 0 sleeping bag weighs 3.57 pounds for the regular and 4.14 pounds for the long size. Compared to other models within this price, the Snowmass is lightweight and offers optimum utility to the backpacker or hiker looking to minimize the weight if their pack. Due to its packability, you can carry along other gear such as your favorite silk liner or blanket, pad, or goose-filled pillow.
Unique Features
Warmth: Apart from that, the waterproof fabrics and the duck down insulation capabilities make it possible for you to stay warm throughout the cold nights. The microscopic air clusters in the down feathers create loft which traps heat to keep you feeling warm from ten to forty degrees.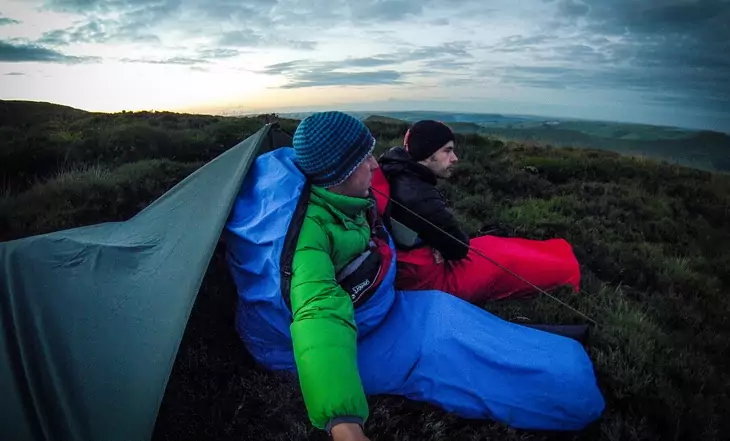 For an entry level gear, you'll be very pleased with what the Snowmass 0 can offer. When fully cinched, zipped, and snugged, the Snowmass 0 Sleeping Bag can be extremely warm. Wearing extra clothing such as down pants and a slim down jacket can take you through the night when temperatures drop to the extreme.
Comfortable Fit: Like any other item that covers your body, the most significant aspect of a sleeping gear is fit. Sleeping bags that are small will not be comfortable as they restrict your movement and are too tight to allow the down to loft properly. On the other hand, bags that are too large will be heavy and may contain drafty dead space making you cold.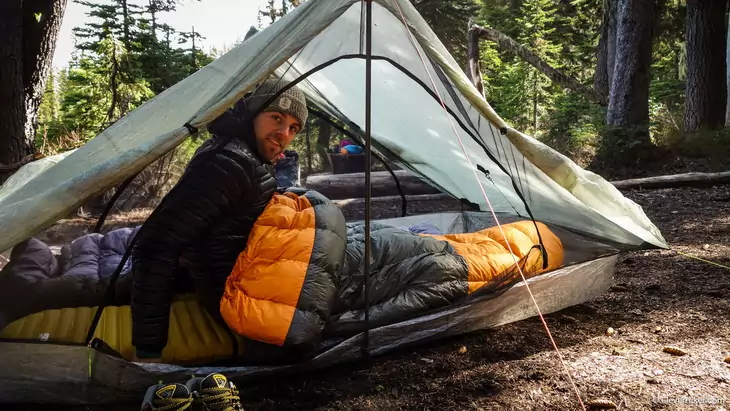 Choosing a well-fitting bag is the most important aspect in choosing the right sleeping gear. The Snowmass 0 bags are available in different lengths and varying sizes to give you that perfect fit you expect from your sleeping bag.
Extra Storage Space: Go big for winter with the Snowmass 0 Sleeping Bag. This bag offers storage spaces for items such as socks, batteries, and boot liner. Additionally, the bag allows you to drop down into it during the frigid nights.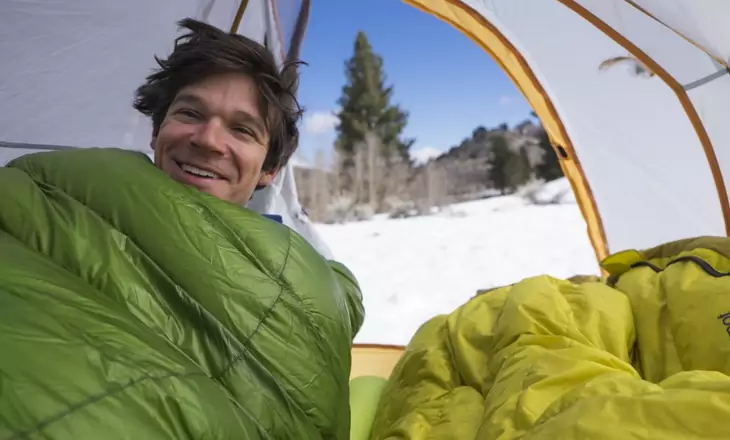 The longer models add only a few ounces to the weight, so this is something you do not need to worry about.
Value for Money and Guarantee
For a sleeping bag that costs under $150.00, you'd expected some sort of trade off when it comes to the weight-to-warmth ratio, but this is not the case with the Snowmass 0 Sleeping Bag. One customer on Amazon even thought they forgot to include the bag in the package because it is so lightweight, and it is warm enough to provide more than enough comfort, even when it starts to get chilly outside. Overall, for approx. $130.00, you are getting a bargain.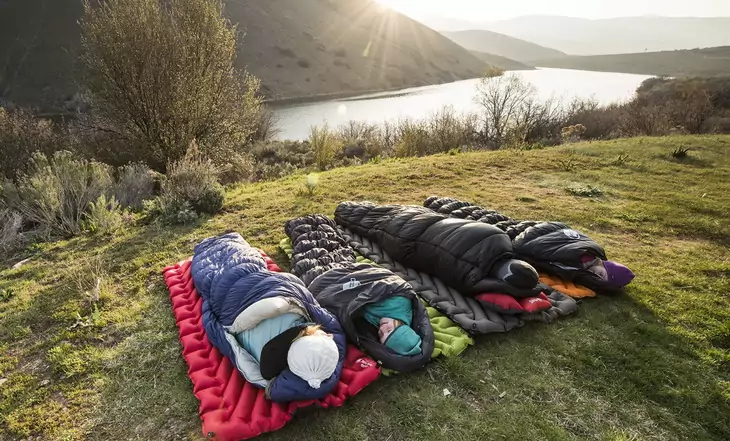 If you are not pleased with the product's performance and you haven't had it for more than 30 days, then you are entitled to a full refund. This shows just how much Hyke and Byke are confident that their sleeping bag will perform as expected.
Main Competitors
Outdoor Vitals Ultralight 
If you look at the Outdoor Vitals Summit 0°F  Ultralight, it comes with the highest quality of down fill. It has a fill power of 800 when compared to the Snowmass 0 Sleeping Bag fill power of 550.
A higher fill power means more warmth – it's that simple – however, the higher fill powers mean more fluffiness, meaning this sleeping bag is actually more comfortable when compared to the Snowmass 0 Sleeping Bag.
The Outdoor Vitals Sleeping Bags are double zippered, which can be very convenient for keeping the cold air out. It also comes with a compression dimension of 11 by 8 inches, making it on-par with the Snowmass 0 Sleeping Bag in terms of its compressed size, therefore making it very easy to carry along for backpacking adventures on mountain trails and high altitude regions.
The good compression size also makes it easier to pack up for trips. One of the pros of this sleeping bag is that it weighs at 2lb, making it even lighter than the Snowmass 0 Sleeping Bag. It even provides more durability since it comes with an ultralight water repellent.
The water repellent is graded at a 400T and 20 D. The sleeping bag is lined with quality ripstop fabric made of nylon, is wide at the shoulders, contains a large toe box, prevents wear and tear, is free of snags, fastens well, has a drawstring and comes with baffles which are horizontal.
Although the Snowmass 0 Sleeping Bag tries, the Outdoor Vitals Down Sleeping Bag as the best sleeping bag between the two because it does a better job, as you can tell from the comparison. In short, it is more comfortable, portable, lightweight, durable and, most importantly, warmer than the Snowmass 0 Sleeping Bag. The designers of this sleeping bag were really out to destroy the competition.
Where the Snowmass 0 Sleeping Bag comes out on top is when we talk about price. The price tag of this sleeping bag might not be right for people looking for a good sleeping bag under $130.00 or even $150.00, since it costs approx. $190.00. When one considered what the Snowmass 0 Sleeping Bag can do when it is well within its comfort levels, the Outdoor Vitals Down Sleeping Bag might not be worth shelling out extra money.
Kelty Cosmic 
The Kelty Cosmic is one of a kind and made up of 50D Polyester Down and has a 600 Down Fill-Power, making it durable and warmer than the Snowmass 0 Sleeping Bag. The product's dimensions are just 9 by 16 by 9 inches and it weighs only 4 pounds, making it super easy to carry.
Alternatively, the Snowmass 0 Sleeping Bag offers a compression diameter of an 11 by 8 inch, making the Kelty Cosmic 0 Degree Sleeping Bag more convenient to fit in your backpack.
One downside of the Kelty Cosmic 0 Degree Sleeping Bag is that it does not come with a with extra storage space like the Snowmass 0 Sleeping Bag. This could be attributed to its small size, meaning that you will not be able to use it to store extra items you'd need for the best sleeping experience. There's also a California Prop 65 warning for cancerous substances mentioned on these bags, which could be hazardous for your health.
Despite all these features, the Snowmass 0 Sleeping Bag wins the battle because it comes with the best ratios of weight and warmth, enabling quality warmth on-par with the Kelty Cosmic sleeping bag. The microscopic air clusters located in the Snowmass 0 Sleeping Bag give it an advantage over this sleeping bag and make it a very suitable for outdoor camping and backpacking journeys.
Slumberjack Latitude 
The Slumberjack Latitude is a cool mummy sleeping bag that provides your feet with freedom to move freely due to its premium trapezoidal toe box. You can wiggle your feet, stretch, move around, and sleep in any position because of the ample space it provides.
When it comes to warmth, its sensational Slumberloft insulation along with its two-layer offset construction and differential cuts prevents cold spots of any sort, making it the ideal choice for cold camping regions. It also includes a stuff sack which allows users to carry their essentials easily.
There's a flip-over hood which can be turned inside out and laid out flat or over its contours to add extra warmth and insulation during periods of sleep at night or in chilly regions. It has draft-collar spans from the neck to the shoulder areas that prevent heat loss of any quantity to give users better warmth and insulation.
On the other hand, the Snowmass 0 Sleeping Bag provides premium quality down, which is considered superior to synthetic. The sleeping bag is stuffed with 90/10 premium quality duck down, offering some of the best insulation and warmth for campers.
When compared to the Latitude 0 Synthetic Sleeping Bag, it weighs lesser than 3.86lbs for regular-sized bags and 4.14lbs for long-sized bags, making it the lightest mummy sleeping bag in the industry. But, since the Snowmass 0 Sleeping Bag weighs just 3.80lbs, it is the more lightweight option when compared to the Latitude 0 Synthetic Sleeping Bag.
The best part about the Snowmass 0 Sleeping Bag is that it comes with waterproof fabrics and has enough space to carry fleece blankets, silk liners, goose-filled pillows, and pads. Unlike the Latitude 0 Synthetic Sleeping Bag, the Snowmass 0 Sleeping Bag comes equipped with compression panels located at the top and bottom; they are nylon coated, PU-grade and measure at a 210D.
The compression straps are composed of black nylon webbing. They connect with plastic buckles which can be released quickly. The sleeping bag material is cast from a durable thermoplastic which is strong and black.
Ultimately, the Snowmass 0 Sleeping Bag comes out at the top since it is the ultimate sleeping bag choice for those looking to cut down weight, increase storage space and get a superior ratio of weight to warmth. They come in regular and long sizes and their compactness allows you to hike all kinds of mountains and camps, without putting weight on your back, or any burden on your shoulders.
Overview
As an outdoor gear, the Hyke & Byke Snowmass 0 Sleeping Bag offers exceptional value. You will fall in love with its simple design, its low price, and the fitted down insulation. Additionally, this bag comes in a variety of colors ranging from blue, light blue, black, red, and maroon, giving a wide range of options to pick from.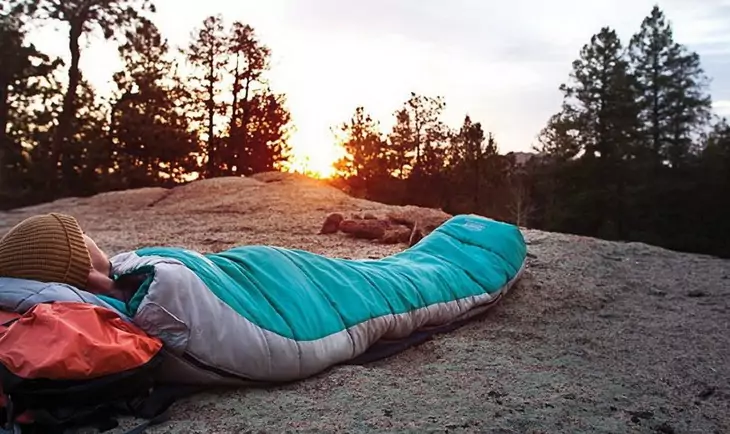 At an affordable cost, you will find it difficult to get a better down bag which compares in warmth, packability, and weight. And when considering price, you shouldn't forget that down retains warmth longer as opposed to the synthetic bags.
PROS:
It will be the lightest sleeping bag you've ever bought if you are used to the big and heavy ones.
The sleeping bag is also highly packable, due to the fact that it is super compressible, but is also very fluffy when you roll it out.
The comfort rating of 30 – 50 degrees means that anyone who spends a lot of time in the great outdoors will be very comfortable.
The sleeping bag has a durable fabric that is tough on the inclement weather, but very gentle and extremely soft on the skin.
Hyke and Byke offer excellent customer support for this sleeping bag; if you have a question about it on Amazon, a representative from Hyke and Byke will answer it as accurately as possible.
CONS:
Many complaints about this sleeping bag are centered on the fact that the zipper keeps getting stuck in the material. Many users had to try 3 – 4 times just to zip it up properly without ripping the material.
The internal lining of the sleeping bag tends to get cold when the weather becomes more inclement, meaning warming yourself up with it might take some time.
We have tried as much as possible to look at this sleeping bag and offer you the most unbiased review of its features; that is why we thought it would be necessary to include a pros and cons list into the mix. If you are looking for the best sleeping bag under $130.00 that is warm and lightweight, then you can put your mind at ease – you have found it.
Hyke & Byke Snowmass
Packaging

Design and Durability

Unique Features

Value for Money and Guarantee
Summary
Owning a sleeping bag for camping or hiking is the most effective way to keep yourself warm on a winter night adventure. Other essential factors such as pack size and weight, can make it overwhelming when choosing a gear that is suitable for your intended use.
When looking for a sleeping bag, make sure you have the Snowmass in mind in case other options don't meet your criteria. If you plan to join a backpacking bandwagon, but you don't want to invest substantially in an outdoor equipment, the Hyke & Byke Sleeping Bag would be the right option for you. It's a much better gear than you will ever imagine.

So, did you find this article informative? Do you have any suggestions or recommendations? Are there any other options you believe can contend with the Snowmass 0 Sleeping bag? Please post your comments, remarks, suggestion, recommendations, or questions below. We will be more than happy to hear from you. Shares for this post will be greatly appreciated.