During winter, when the weather is crispy cold, and it's all snowy, that's the best time for camping. The summertime campers will be on retreat, leaving you all the space. Better still, the moonlight makes the snow-draped forest glow, giving you a feeling like you are in snow castle.
However, it can also be biting cold to the extent of ruining your camping trip. With a little thought and planning, however, you can easily manage to keep your tent warm at night. This article discusses how to stay warm in a tent with the intention of making your camping trip enjoyable and memorable.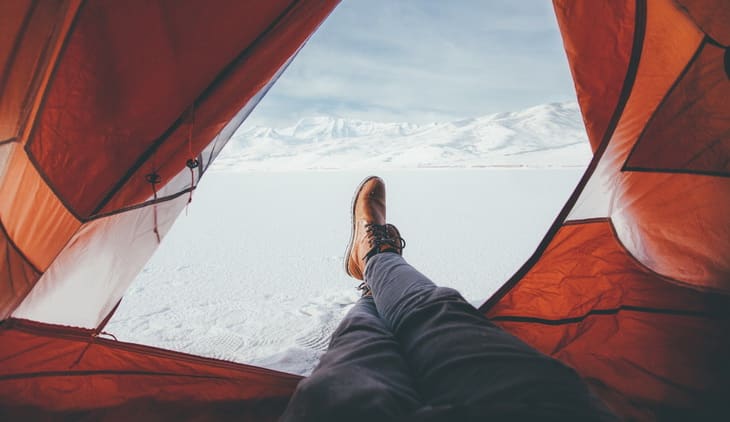 Getting the Right Gear
The first tip for increasing the odds that you will sleep soundly outdoors, is choosing the right camping equipment. The equipment you choose will be determined by the place you are going camping.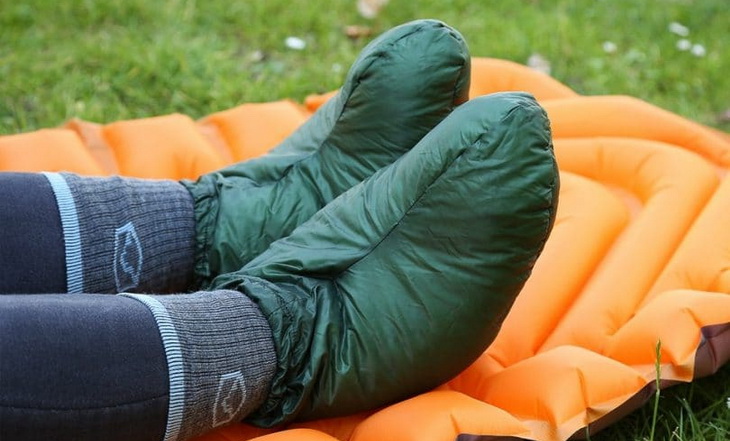 For a successful winter camping trip, ensure you have the items listed in the following checklist:
| | | | |
| --- | --- | --- | --- |
| Outer layer | Base layer | Footwear | Accessories |
| Breathable waterproof jacket | Expedition-weight long john tops and bottoms | Camp booties | Fleece or woolen hat |
| Breathable waterproof pants | Middleweight long john tops and bottom | Extra pair of sleeping socks | Sun hat or visor |
| Insulated down jacket | Synthetic/ brief | Synthetic/ woolen socks | Middleweight insulated ski gloves |
| Softshell hiking pants | Synthetic bras | Waterproof snowshoes | Balaclava |
| Waterproof gaiters | long sleeve shirts pants | | Bandana |
| Insulated pants | | | Down mittens |
| | | | Waterproof over mittens |
| | | | Synthetic liner gloves |
Choosing the Right Winter Tent
A winter sleeping tent is not your ordinary camping tent as it needs to be robust enough to withstand snow and the wind. The best tent should have the following features:
Sturdy poles, which can easily withstand loads of snow.
It should have the ability to shed off the snow. This is enabled by a roofline that allows the snow to fall off once it lands on the tent roof.
The tent should be spacious, to fit all the gear you will bring with you. Note that in winter camping, you need a lot of gear, most of which is for giving you warmth.
Consider a rainfly tent when winter camping. This type of shelter provides better insulation in addition to reducing condensation. It is usually 10 degrees warmer inside this tent than the outside.
Freestanding tents are made for winter camping. Avoid three season dome tents as their stitching is not strong enough and their poles do not hold firmly in the snow.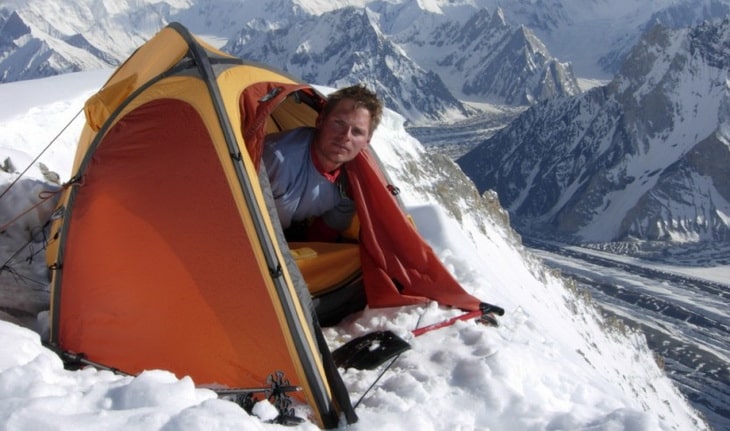 You can enhance the efficiency of the tent by adding a flooring, such as space blanket, and seal it off by covering its edges.
Types of Winter Shelters
4-Season Tents/ Mountaineering
When camping in winter, 4-season tents are better compared to 3-season as they are easy and quick to set up in the harsh winter conditions. However, they are heavier, although they offer better protection compared to the three season tents. For the best 4-season tents, see our list to give you more options.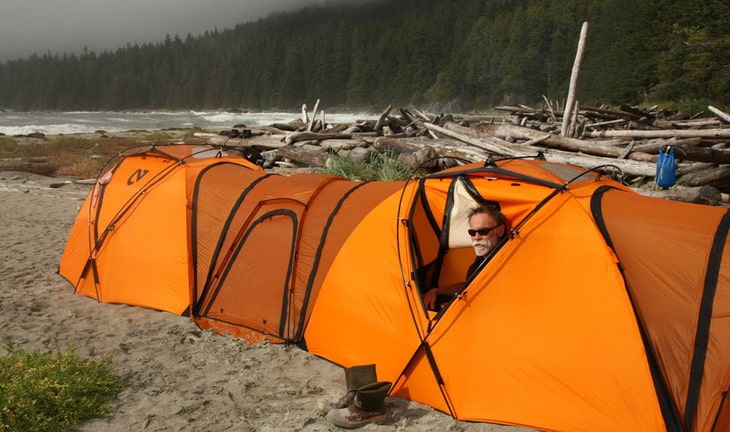 These tents have the following features:
They are dome shaped and provide extra-strong poles.
They have extra guy lines which increase their stability in case the wind intensity is too high.
To improve the warmth and their strength, these tents apply solid fabric, instead of using mesh.
They have double doors to ease access even in inclement weather.
They have large vestibules to offer you more space for cooking and storing wet gear.
These tents come either as single or double walled with each type offering its own benefits as we are going to see in the comparison below.
| | |
| --- | --- |
| Single Walled | Double Walled |
| Quick setup | Takes time to set up |
| Lightweight | Heavy weight |
| Cooler compared to double walled | They are warmer compared to single walled |
| They are more expensive than double walled | They are cheaper than single walled |
| Potentially more condensation | They are well ventilated hence lesser condensation |
Bivouac Sacks
If you are planning on a very lightweight backpacking trip, the bivy sacks are the best replacement for tents. A bivy is breathable overbag for your sleeping bag, and you, therefore, don't have space to store your other gear. For this reason, you will be compelled to come with a cover to put over your gear.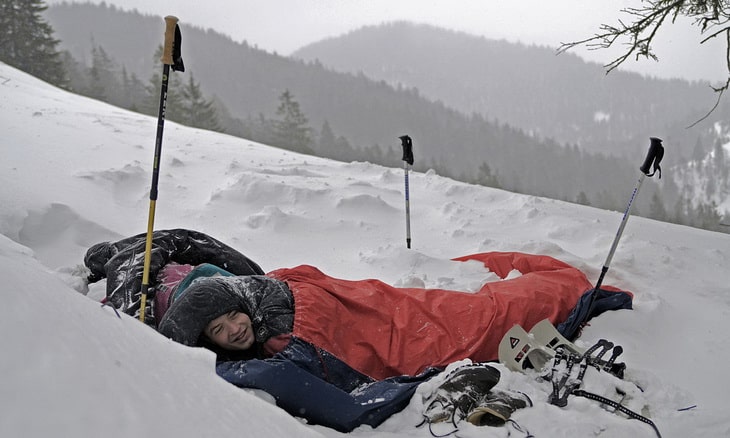 Bivy packs are preferred for winter camping because they keep you and your sleeping bag in addition to adding a 10 more degrees of warmth to your bag as you sleep. Some bivy tents come with poles so that you can secure it in your sleeping area. To see a comparison of the bivs and tents to help you choose, click on the link to the topic.
Snow caves, Igloos, Trenches, and Quinzhees
Most experienced winter campers prefer trenches, igloos, quinzhees, and snow caves for sleeping and especially if they are planning on hiking in the same area for multiple nights. Although these are hard work to construct, they are safer and warmer compared to setting up tents.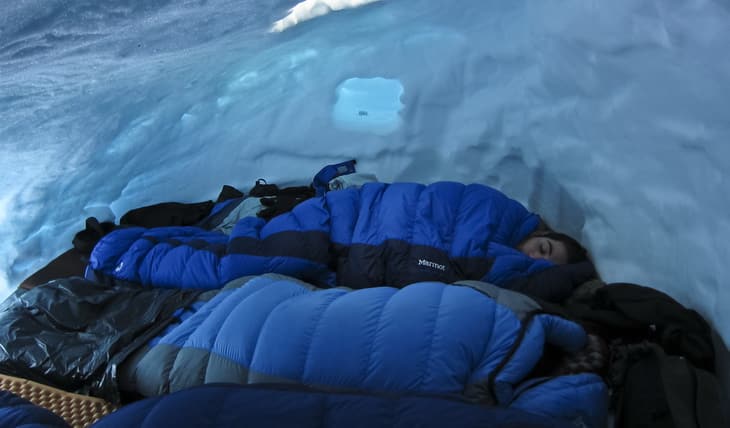 For quicker building, consider cooperating with your hiking mates. It takes at least three hours for two people to complete an igloo, quinzhee or snow cave. Trenches, on the other hand, are easier to make and can take lesser time.
When building either of these, you need to have the following tips in mind:
Survey the place to make sure it is not avalanched prone. The area should be level and has a lot of snow.
The base of the igloo/cave should be at least 2-3 inches thick.
Make the igloo hollow in a dome shape such that you can sit up comfortably.
Create an upward facing tunnel so that cold air can always stay on the lower side.
Make the cave large enough to provide shelter for everyone in the group instead of building his/her own cave. (It saves time and also feels safer to share a sleeping room with others).
Remember to smoothen the roof so that snow doesn't drip on your sleeping bags as you sleep.
Use tarpaulin on the floor.
Make snow benches as they will make cold air stay under the benches as you stay.
Have an exit plan in case the snow cave collapses. Since snow is too heavy and needs a lot of support, avoid making the cave too large.
When building your snow shelter, make sure you create a ventilation hole in the roof to avoid suffocation.
Once you are done choosing the right camping tent, you need to add more items on your checklist. Ensure you have the following items on your list:
Whisk broom– this is effective for sweeping off the snow from your clothing and boots before getting inside the tent.
The ground sheet or space blanket for insulating the floor of the tent.
Stakes are also essential and especially if you are camping in a windy area.
Additional poles and splints.
Picking the Right Campsite
Before settling on any camping site, there are a few things that you need to have in mind. These include:
Ensure you familiarize yourself with the areas, camping rules, and regulations.
Avoid setting your camp on a lowly area as they tend to accumulate a lot of colds.
Open areas and ridge tops are not safe for setting your camp as the wind could be too harsh in these areas to the extent of blowing off your shelter.
Survey the area to avoid camping in an avalanche prone areas, or an area where tree branches are loosely hanging.
Check for streams and lake availability or will you be required to melt ice t get water.
Try to find a sunny spot where the sun will rise as it will help you warm faster.
Look for a place that offers maximum privacy from other winter campers.
Ensure you can in a place where there are landmarks to help you find the site in the dark or during a snowstorm.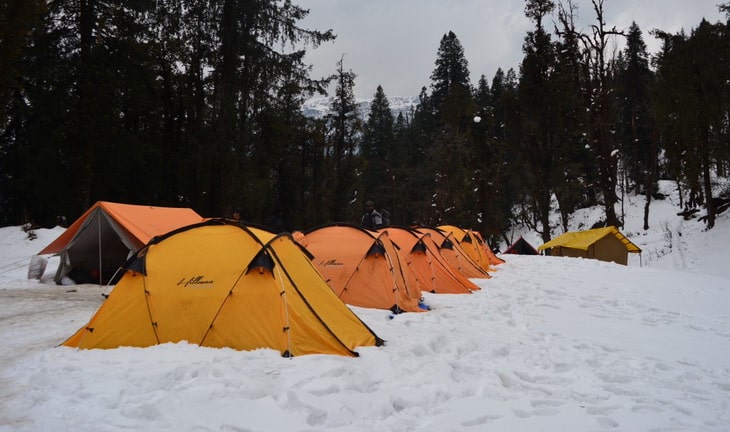 Once you are confident that you have picked a perfect camping site, it is time to build and erect your tent. Follow the following tips for a successful camp setting:
Start with clearing the area where you will set your tent and kitchen.
The tent door should be at 90 degrees with the prevailing winds.
Stake out your tent.
On the windward side of your tent, create snowballs by mounding snow. You should have someone to help you by holding the tent, to prevent it from falling as you create snowballs.
To allow easier removing of your boots, you will need to dig up the entrance of the tent. Then make dig up the fireplace pit, at least 6 feet diameter to accommodate at least four people. The hole should be 2 feet deep and surround it with a wall of snow, which should be at least four feet to ensure maximum wind protection.
Winter Camping Sleeping Preparation
When sleeping outdoors is a bit cold compared to sleeping in a cozy bed, it is worse when you are camping during winter. You need to take extra precaution when it comes to preparing for sleep.
Even after taking all the necessary precautions to ensure your tent is warm, you will need an additional measure to enhance warmth while sleeping.
Determine what kind of a sleeper you are
There are either cold or warm or cold sleepers. Which one are you? If you are not sure, you can easily determine by analyzing your daily sleeping habits.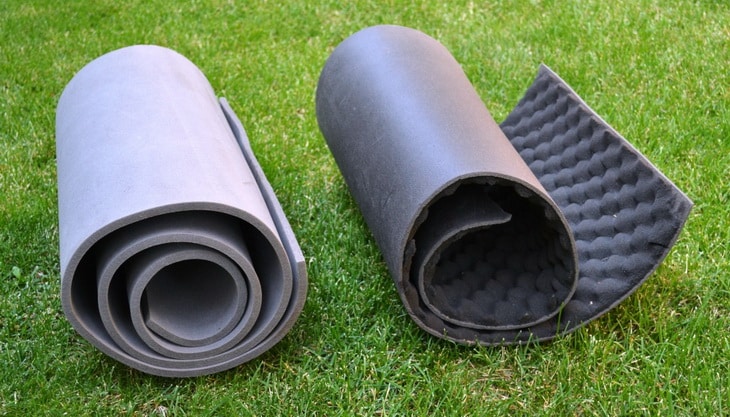 The answers to the following questions will be an excellent guide in helping you understand:
Do you use your down comforter all throughout May?
Do you wear warm and long sleeved fleece during warm weather when your friends and doing the opposite?
You alone can answer these questions, and their responses will be helpful in determining the type of gear you should bring when winter camping.
Choose the right sleeping bag
While shopping for camping sleeping bags, ensure you buy a sleeping bag that matches the temperatures of the place you are going hiking. Each sleeping bag comes with a rating, which should guide you when making your selection. Depending on your destination, you can choose either a car camping bag or a backpacking bag.
Car camping sleeping bags are wider than backpacking sleeping bags, hence offers more roll-around room, but they are less efficient regarding heat retaining. If you are car camping on cold seasons, you need to add more clothing for warmth. Backpacking bags are lightweight, warmer and closer fit. They are mummy shaped and filled with goose or duck down, which enables them to compress easily compared to those filled with synthetic fiber. For the best affordable sleeping bags, check out our article on this.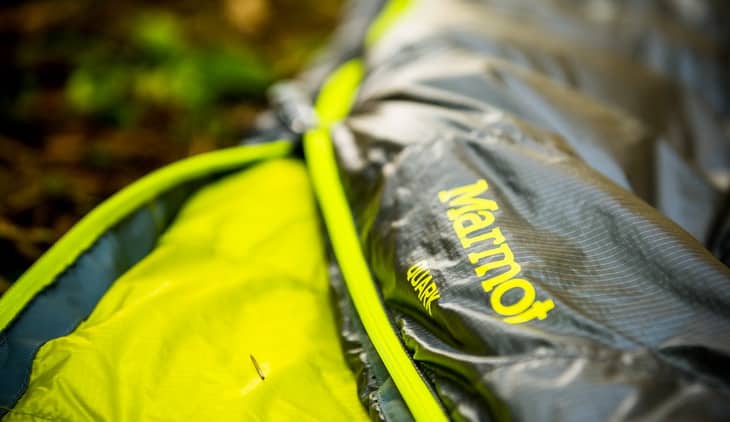 Also when choosing a sleeping bag, it is important to ensure that you have picked the right size. Choosing the wrong size will not serve you efficiently as expected, in case it is too small, some of your body parts will be hanging out leading to those parts catching a cold. A sleeping bag too large will leave a lot of free space, hence burdening your body with a lot of space to warm. In case you had already purchased a large sleeping bag, you can fill up the free spaces with a bottle of hot water or clothes.
Enhance the efficiency of your sleeping bag by using sleeping pads. Choose the sleeping pad depending on the camping circumstance such as backpacking or car camping. For car camping, weight is never an issue, and so you can carry a thick sleeping pad for maximum comfort. Since backpacking requires lightweight luggage, you will need to use a light sleeping pad with a closed-cell pad being a good choice. You can use yoga mats to provide double insulation for your sleeping bag. This is an excellent idea, especially if you are on a budget.
More Tips on How Keeping your Tent Warm
To further increase warmth in your tent, you will require doing the following:
Ensure you brush off all the snow from your boots and clothes before getting inside the tent. You can further manage the moisture in your tent by tightening the tent's guylines and ensure they are tightly sealed off. Provide a taut pitch as it prevents the fly from touching the inside of the tent and consequently keeping the interior well ventilated and dry. Sweeping all piles of snow powder near the tent baseline and the entrance minimizes condensation inside the tent.
Ensure you are properly dressed when going to bed. Cover your legs with warm woolen socks and put a hat on your head. Wearing gloves is also important as neglecting your hands can lead to accumulating a lot of colds which will tamper with your sleep. Ensure all the clothes you wear are clean and loosely fitting. Dirty clothing will clog air circulation while tight ones will restrict air flow, making it hard to stay warm. In case you get too hot at night, you can always strip off one or two layers. (It is better than having to shiver all night because you avoided wearing a lot of clothes)
Keep wet clothing and especially socks separate from the dry ones. Always ensure you have a different pair of socks strictly for sleeping purposes. You need to realize that even a little dampness will interfere with your body's ability to stay warm. To fill extra spaces on your sleeping bags, be sure to use only dry clothing.
Build up body heat before going to sleep by performing a few jumping jacks.
To stay warm when sleeping, try sleeping with polar boots and a hat.
Try sleeping with your head outside the sleeping bag to prevent moisture from accumulating inside the sleeping bag.
You can place a bottle full of warm water in the free space of your sleeping bag.
You might not feel thirsty when hiking during the winter season, but it is necessary to stay hydrated. You can choose to drink either warm or cold water, hot coffee or chocolate. The latter is very useful for the provision of calories necessary for your hiking adventure.
In case you feel like urinating, go for it as your body is holding a lot of fluid and will need to release some. It will be better to go to sleep with your bladder empty as when it is full; your body does a lot of work to help keep warm. In case you don't enjoy going out severally at night, you can keep a bottle tightly sealed inside the tent, this way you will avoid several trips and at the same time keep your bladder empty.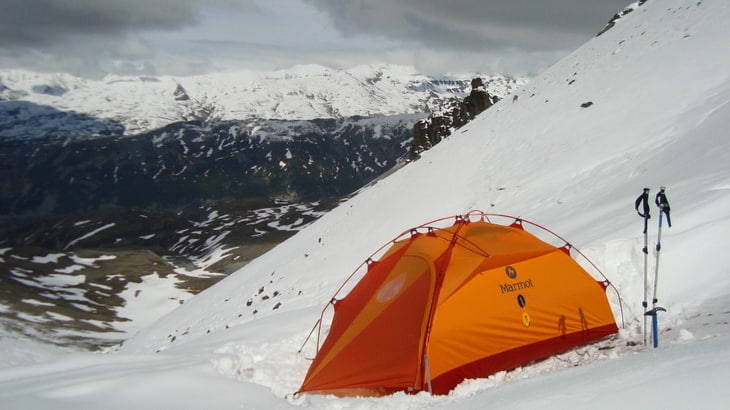 Winter Camping Kitchen
Using a backpacking stove is another great way you can keep your tent warm during camping. Liquid stoves are most preferred as compared to canisters. In addition to ensuring that your stove is in a working before leaving home, it is always advisable to carry an extra stove just in case. The additional stove also speeds up the cooking process for a group. You can also use a heat exchanger and a windscreen to improve the cooking condition during winter camping.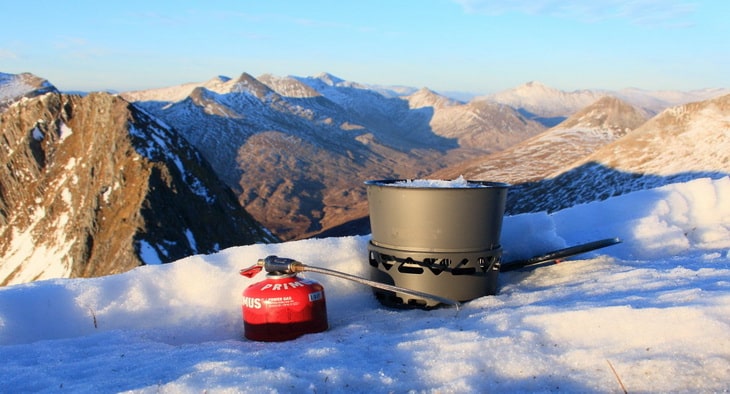 Make sure your cooking area is sheltered and if possible, create a three feet deep trench, to protect from the wind. Creating a desirable kitchen during winter is simple as all you need is your shovel to build a storage cabinet, seats, and the cooking area.
Why is it Necessary to keep your Tent Warm When Camping?
As much as hiking and camping in winter can be fun, there are a lot of concerns associated with the cold weather. It is because of these concerns that you need to have a special preparation for backpacking during winter as well as learn how to stay warm in a tent when camping. Check out our article on the best portable heaters to warm up your tents for more options.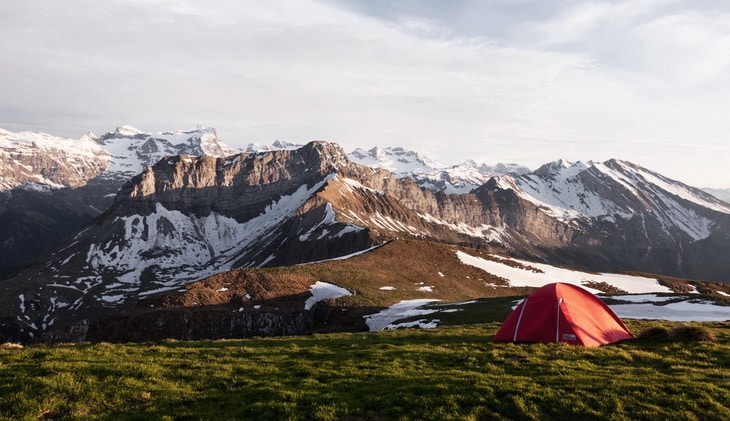 These concerns include the following:
Frostbite which is associated with freezing of the freezing of the body tissues and especially the nose, fingers, toes, and the face. You can tell you are suffering from frostbite if you possess the following symptoms;
Shivering
Loss of touch sensitivity
Numbness
Tingling that feels like burning
Redding of the skin and then turning to white and purple
Hypothermia is even more dangerous as one can be hypothermic, even without realizing it. This condition is caused when you are exposed to too much cold. The following signs are related to this condition;
Lethargy
Shivering
Slurred speech and non-communication
The condition can be prevented by eating and drinking warm food stuff, staying dry, and making sure you feed properly. In case it is too advanced, try holding a bottle of hot water to keep you warm.
Dehydration is also possible when camping in cold weather. The fact that you may not get thirsty when hiking in cold weather puts your kidneys, heart and, the brain at risk. It is advisable to drink water even if it means taking it when warm, so help your body stay hydrated all the time. The following signs can determine dehydration;
Change in urine color
Dizziness
Dry mouth
Muscle cramps
Weakness
Confusion
Increased heart rate
Wrapping It Up
Hiking in winter can be fun, but it requires extra precaution and preparation. During this time, you will spend most of your day at your campsite, and that is why you need to keep your tent warm throughout your expedition.
By ensuring you have the right gear and that you take all the necessary precautions discussed in this article, you will enjoy your winter adventure just like you would have if you went camping during summer. The most important thing that you should always have in mind when winter camping is staying dry.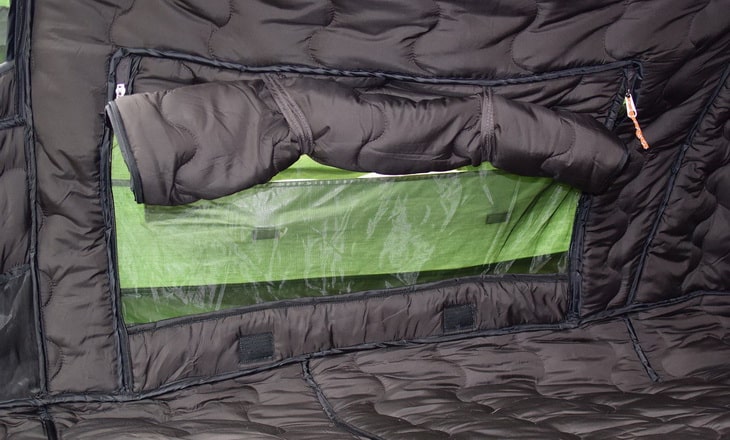 Now that you know how to stay warm during your camping nights, we hope that you will feel free to share your thoughts on this topic with the rest of our readers by leaving a comment in the comments section below.
Also, if you found this article useful and interesting to read, you can share it on social media so that your friends can learn something useful as well. We wish you warm nights in your tent!