Don't you just love that feeling of connection with the nature when you have long hikes or camping? But, in order to pack all the gear for a few days adventure, the regular backpack just isn't going to cut it, right? You need a backpack that is spacious enough for all your stuff, allows for proper gear weight distribution, and is sturdy enough to not fall apart yet comfortable enough so that you can carry that weight without having sore back at the end. So, what's the solution? The best internal frame backpack you can get your hands on.
However, choosing the backpack should be the last thing on your list. First, you need to make a list of all of your gear, and then look for a backpack that will be capable of taking all that gear in. By choosing the right internal frame backpack, not only that you will have enough space for everything, but your bar back is going to be very grateful because these backpacks are designed to evenly distribute the weight of the gear so that carrying them for long periods is not that stressful for your spine and back muscles.
Plus, if you are worried if the style of these backpacks will ruin your outfit because of the frame, don't worry. There is a reason why they are called internal frame backpacks. The frame is not visible, yet they have all the advantages that the regular outside-frame pack offer.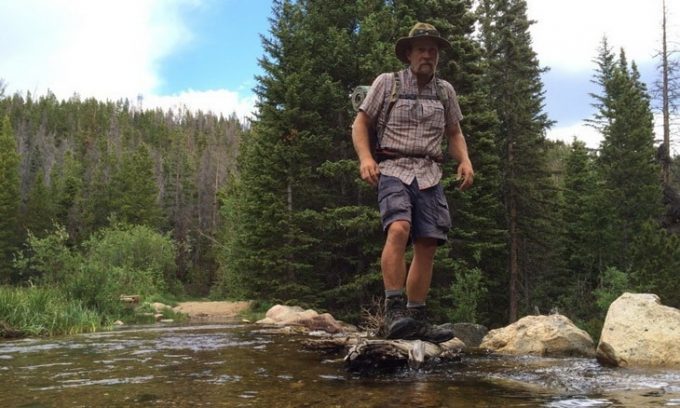 Now that we got that sorted out, it's time to see how do you find the perfect model for your personal needs in the sea of backpacks. First, we will take a close look at the most important features you should consider in an internal frame backpack, before you go out to purchase one.
Once you know these features, you can choose your model based on the length of your hike, or the amount of clothing you're taking, hence why we came with a list of the top reviewed backpacks. By the end of this read, we hope you'll be informed and ready to make a great buy.
Our Top Picks
| Product Name | Capacity | Best Use | Specific Features | Price |
| --- | --- | --- | --- | --- |
| Teton Sports Fox 5200 | 75 + 10 liters | Long camping trips | Free rain cover included, adjustable torso, compression straps to secure sleeping bag. | Check price on Amazon |
| Outdoor Products Arrowhead | 46 liters | Backpacking and hiking | Adjustable waist and sternum straps; mesh padded back, four compression straps. | Check price on Amazon |
| Wasing Adventure | 55 liters | Camping, backpacking and hiking | Bottom compartment zippered access, internal zippered divider, water resistant, molded foam back panel with airflow channels. | Check price on Amazon |
| Teton Sports Scout 3400 | 55 liters | Backpacking | Perfect for beginner trip pack, high star comfort. | Check price on Amazon |
| Mountaintop 5822III | 65 liters | Hiking and camping trips | Bottom compartment zippered access; 8 compression straps; hydration system; torso length adjustment. | Check price on Amazon |
| Mountaintop 5805III | 70 + 10 liters | Climbing, camping, hiking, traveling and mountaineering | High capacity, water-resistant; with tool attachment points and internal frame system. | Check price on Amazon |
| Osprey Aether | 70 liters | Climbing, hiking, travel | Trekking pole attachment; external hydration sleeve; IsoForm CM hipbelt; light wire peripheral frame and front J-zip. | Check price on Amazon |
Features to Consider Before Buying
Weight Distribution
Quality backpacks are manufactured from polyamide and polyester materials. They come in various shapes and sizes, but usually a backpack, which includes an internal frappe backpack, is intended for long hikes.
Compartments
Most internal frame models are highly organized with numerous compartments. Moving through nature could lead you to different situations and every piece of equipment, which is not essential, should stay home. A backpack, which is not well organized, could also be a potential problem.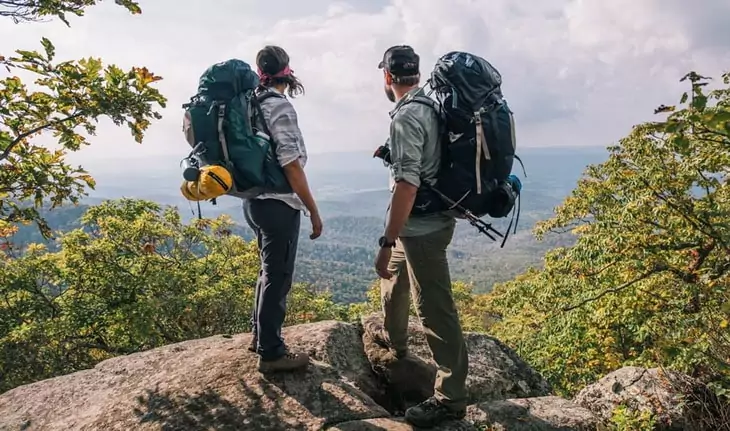 It will fall off, get damaged, limit the mobility of a person and even lead to injuries. If you are space limited when packing your gear, then the general rule is the pack upwards, which means adding equipment above the backpack. The hiking poles should be packed faced down and all the gear with sharp edges should be isolated.
Tie Up Straps
The tie up of the straps should be done in a way to help in the weight distribution. The straps should always hold the backpack straight. The gravitational center of the backpack should always be around the hip area.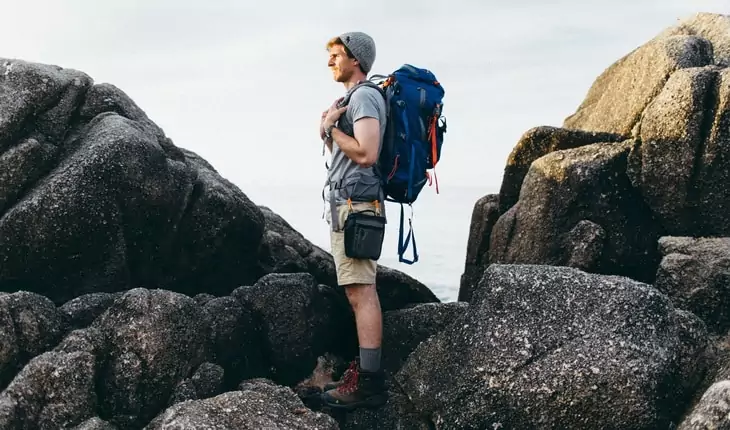 Othervise, you might end up losing your balance all the time and that can be dangerous, especially if you are in mountain areas.
Waterproof Features
Most backpacks have an additional layer, which is completely waterproof. However, there are not many backpack manufacturers that are waterproofing the zipper sections. We can protect the backpack from the rain or other humid conditions by adding an additional cover.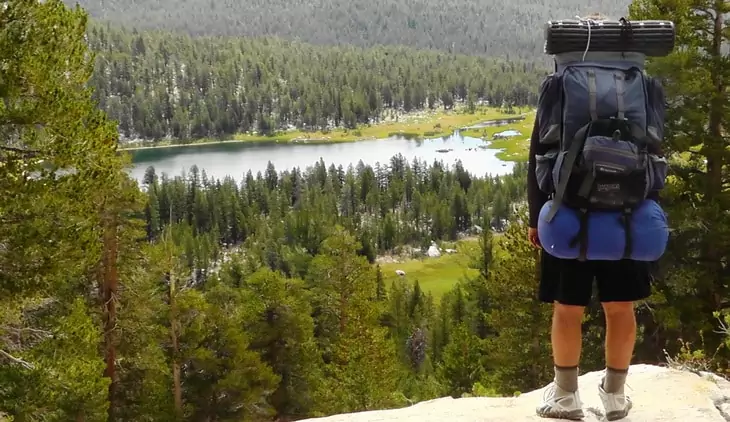 Some of the backpacks presented below have a built in cover at the bottom of the backpack.
Size and Capacity
The size you can choose depending on the length of your trips:
15-40 L are intended for one day hiking trips
40-60 L are for several days hiking
60 -100 L are for long backpacking trips
For a several days backpacking trip, it is best that you combine two sizes of backpacks; a small one for daily trips and a large one, which would stay at the campsite location.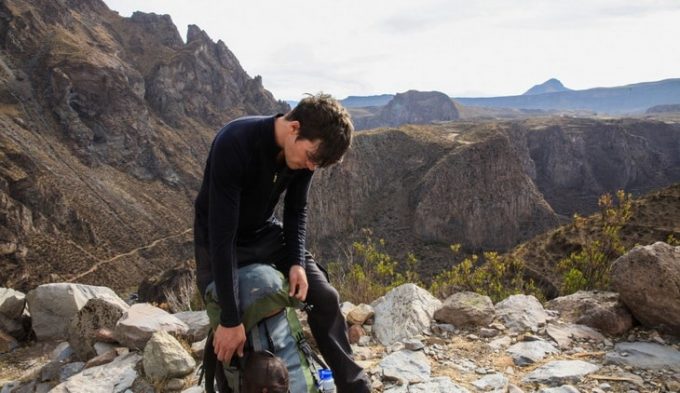 When choosing larger backpacks, focus on the waist straps because the hips carry 60% of the weight. Of course, the choices and preferences of an individual should also be taken into consideration. Still, the practicality of a backpack is very important.
Choose a backpack, which would be able to carry all your essential gear. Make sure it has more internal pockets. When choosing a heavy category backpack it is vital that we try it on fully packed in order to check how it handles the weight.
Best Products on Today's Market
In order to help you with the search, we have reviewed and rated some of the finest internal frame backpack models. Read them thoroughly and decide the most suitable choice for your needs.
Teton Sports Fox 5200 Backpack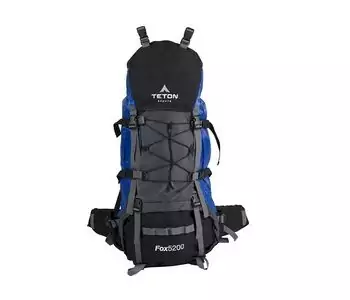 Price: $80 – $100
Weight: 5.5 lb
Capacity: 75 + 10 liters
Specific features: Free rain cover included, rugged internal frame backpack with the capacity of 5,200 cubic inches, multi-position adjustable torso adjustment fits a wide range of body types, top and bottom compression straps to secure the sleeping bag, limited lifetime warranty.
Best use: This backpack is designed for longer trips.
Description: With its capacity of 5200 cubic inches, in the Teton Sports Fox 5200 Backpack you can pack clothes for up to three weeks. Its durable material will certainly last for years of backpacking trips.
It stays perfectly balanced during the long hikes, so even if it is heavily packed, it won't cause you a backache. It is also nice that it has a small compartment inside, so if you are into organizing things, this would come handy.
The capacity in Liters can go up from 75 to 85, with the help of the adjustable straps that can add extra space on the top of the backpack. Also, it comes with a hydration pack for the longer hikes; it will allow you to drink without the need of a bottle.
This is a very good backpack for really long trips, hence why the hip strips are so comfortable. They won't hurt you or itch you, instead, they will distribute the weight of the bag evenly across different parts of your body.
However, if you are a tall person, you should check our other backpack options. All in all, it is a great quality backpack, which is very spacious. It is large enough for the sleeping bag and the tent.
PROS:
Adjustable capacity to go from 75 to 85 Liters
Hydration pack included
Very good weight distribution
CONS:
Not the best construction, it seems not to last very long
Hard to adjust the shoulder straps for taller people
Related: The First Aid Kit by Ready First is something you want to take with you on absolutely every hiking or camping trip. This particular backpack is large enough to fit additional things, such as the survival kit.
Outdoor Products Arrowhead Backpack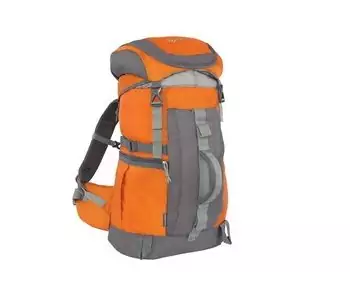 Price: $25 – $30
Weight: 2 lb
Capacity: 46 liters
Specific features: Zipper compartment; two large zippered side pockets; adjustable waist and sternum straps; mesh padded back, and four compression straps to secure your load.
Best use: Backpacking, traveling and hiking
Description: Considering the price, the Outdoor Products Arrowhead Backpack is well worth it. It is durable and very spacious. You can pack a two-person tent inside with no problem. The suspension systems and padding feel nice if you don't pack it too heavily.
However, if you do manage to pack it to its full capacity, you will feel some tension in the hips. The zipper compartments are also very suitable for organizing stuff inside and the outside pockets are convenient for frequently needed objects.
It comes with four straps specifically designed for compression. This way you can adjust them to compress the size of the backpack.
This is ideal specifically for journeys in which your bag has to go on an airplane or a loaded vehicle and you want to make sure it will fit anywhere. As a matter of fact, this backpack can be carried on Spirit flights for free.
The only problem is that this is a much cheaper backpack than others, and here you get what you pay for. Many reviewers complain about it being uncomfortable, not durable, and even bad quality. So, don't' buy it if you're planning on having a long camping trip, as it might let you down in the middle of nowhere.
PROS:
Cheap
Compression straps to make it fit in smaller compartments
Good size 
CONS:
Very questionable quality
Nor durable
Uncomfortable
Related: The Outdoor Products 2 Liter Hydration Pack is commonly bought alongside this backpack. Both the same brand, the hydration pack fits well into the backpack to keep you hydrated during long hikes.
Wasing Adventure Backpack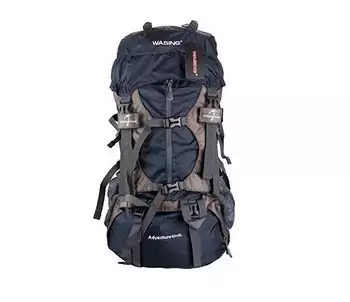 Price: $45 – $60
Weight: 2.8 lb
Capacity: 55 liters
Specific features: Bottom compartment zippered access, internal zippered divider, water resistant, molded foam back panel with airflow channels, 90 days limited warranty included.
Best use: Camping, backpacking, and hiking.
Description: The Wasing Adventure Backpack has some interesting features for this price range. Its bottom access allows you to enter the backpack from a different side and approach every object packed inside. The internal zippered divider makes it even easier to do so.
With its material being water resistant, it makes it perfect for backpacking in humid areas. The fabric indeed allows the water to slide aside instead of penetrating inside. This is one of the few backpacks that can be considered almost completely waterproof.
A rain cover is always a very good idea because you never know when you might be hiking under pouring rain, or crossing rivers, fortunately the pack comes with one. However, the fact that it can take more water than most others is a very big positive point on this model.
The airflow channels are keeping your back dry and this is particularly convenient if you have back issues. The single contoured aluminum frame is adjustable to your back shape, so this makes it even more comfortable wearing it.
PROS:
Better waterproof feature than most backpacks
Very good size
Affordable price
CONS:
Rain cover is hard to put on
Not the most durable backpack
Related: The Paria Thermodown Sleeping Bag is always a good add-on to any backpack. If you are planning on going camping you will need not just the backpack, but a sleeping bag too, and this is a great model.
Teton Scout 3400 Backpack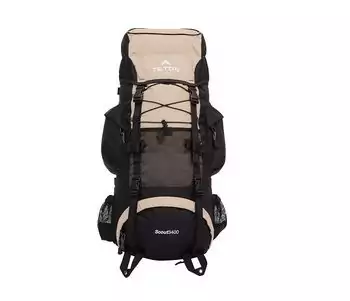 Price: $60 – $90
Weight: 4.5 lb
Capacity: 55 liters
Specific features: High ranking backpack, perfect for beginner trip pack, high star comfort, limited lifetime warranty.
Best use: Backpacking
Description: This Teton Scout 3400 Backpack is an excellent choice if you want a beginner backpack, which you won't change for years. Its capacity of 3400 cubic inches holds stuff for around a weekend and with its weight of 4.5 pounds it goes into the lightweight category.
It has multi-position torso adjustment fits, which is very much needed if you are a taller person. The open cell foam lumbar pad keeps your back dry and provides you security while hiking. The multiple compartments allow organized and strategic packaging.
All these features mentioned above help contribute to one of the main advertising or selling features of this bag: the "Five-Star Comfort".
Nonetheless, we must say that this isn't just an attempt to get more sales, the backpack itself is a very comfortable one, probably one of the best. This makes it ideal for long backpacking journeys across Asia, Australia or wherever you have in mind.
PROS:
Very comfortable
Good capacity
Lightweight
CONS:
It has a sleeping bag compartment, that unfortunately is a bit small
One drink holding pocket is smaller than the other
Related: The Campfy Hammock is a good addition to any backpack. This is a tent that can be easily hung anywhere, and it folds into a very compact size. Ideal for camping or day trips.
Mountaintop 
5822III Backpack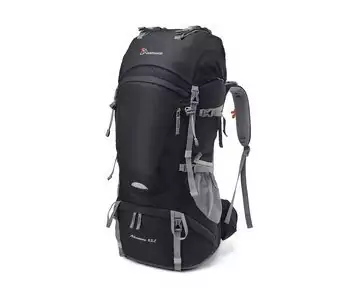 Price: $65 – $75
Weight: 5 lb
Capacity: 65 liters
Specific features: Bottom compartment zippered access; 8 compression straps; hydration system; torso length adjustment; made with quality material.
Best use: Long hiking trips
Description: This Mountaintop 5822III Backpack is extremely comfortable when wearing it for longer hikes. It 8 compression straps make it possible for you to hang anything you like on it. This is making it possible to pack heavy and take some gear with you, which you consider as too bulky to go inside.
It also has hydration access on the side of the pack with water bladder sleeve in the main compartment. This way you can take a hydration pack fully loaded with you, ready to drink at any moment of your trip.
The length is adjustable which makes it equally comfortable for tall and small persons. The backpack's material is made from quality material, which will endure heavy weight and serious overloading.
It is one of the best-reviewed backpacks for long hiking trips. For the price you are paying, you will be getting a very durable, comfortable and good backpack. Normally, bags this good will is more than $100 each, whilst this one stays in a very affordable region.
PROS:
Very affordable
Good quality
Hydration system compatible
Related: The Sawyer Mini Filtration System is a good item to get with this backpack. It will ensure you drink clean water on any trip, and what you can do is filter the water and then add it to the hydration pocket hat can be added to the backpack.
Mountaintop 5805III Backpack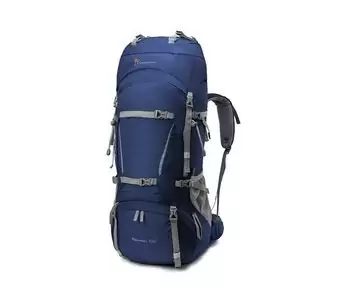 Price: $65 – $70
Weight: 4.5 lb
Capacity: 70 + 10 liters
Specific features: High capacity professional backpack, water-resistant; with tool attachment points and internal frame system, 90 days and limited.
Best use: Climbing, camping, hiking, travel and mountaineering.
Description: This Mountaintop 5805III Backpack goes into the professional category and its 3967+610 cubic inches makes it a high capacity backpacking gear. Its design is making it very comfortable even when it is fully and heavily packed.
There is a main compartment, a secondary compartment, a sleeping bag compartment with a divider, a bladder compartment with hydration access and many more pockets, which allow you to stay, organized. With such capacity, it is better to be organized.
This backpack is basically the combination of all the features available in the market put in one. On the top of that, the material is water resistant and endures heavy rain. This is because of the waterproof rain cover stored in the bottom pocket, which protects the whole backpack.
With it making it into the professional category, it has every kind of internal frame points like: D-shape, hooks, compression straps, bottom loops, soft latching loops, key rings, and bottom straps for hanging tools, trekking pole, tents, sleeping bags and other accessories.
A backpack of such capacity must be supported with a high quality frame, which will endure all this pressure. But if the weight is distributed properly across the body, the backpack is quite comfortable and you don't feel the weight as much.
The padded and breathable mesh back panel and the shoulder straps add to this comfortableness while also promoting air circulation and keeping your back dry while hiking.
PROS:
Adjustable capacity with the straps and top of the bag
Good waterproof feature, and it includes a rain cover just in case
Hydration system compatible
CONS:
Waist belt is a bit too high for short people
Related: Being such a big backpack, with very good capacity, adding a sleeping pad for camping trips is not a problem. Hence why the Klymit Static V Sleeping Pad is commonly bought alongside this backpack.
Osprey Aether Backpack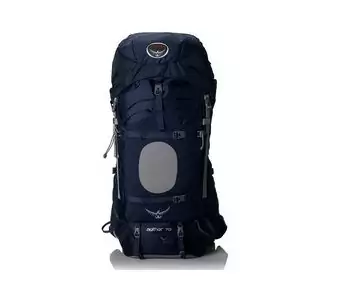 Price: $285 – $480
Weight: 4 lb
Capacity: 70 liters
Specific features: Trekking pole attachment; external hydration sleeve in the backpanel; IsoForm CM hipbelt; llght wire peripheral frame and front J-zip.
Best use: Climbing, hiking, travel
Description: This Osprey Aether Backpack is a professional gear manufactured from Osprey and it is in the high price range. The most important feature this backpack has, is its ability to distribute weight.
Even though you pack up the whole of your gear and you wear 40 pounds on your back, you get the feeling that it is only 20 pounds. The straps are extremely comfortable and the best thing is that they don't get wet from the sweat.
The part of the backpack, which comes in touch with the back has an airflow system which allows the skin to breathe and your back is also dry during the hike. All the straps are adjustable to any person's size and weight, so it is suitable for taller, as well as for shorter people.
The top is removable and can be used as a supportive pad for resting or a sleeping pillow, although it is intended for a hip belt for enduring a large amount of packed gear. The front J-zip provides access to the main compartment.
Although this backpack can endure a light rain without consequences, it is not waterproof enough for a heavy rain. This might be because the zippers are not waterproof isolate. Its main downside is the price, although, given these features, it is a perfectly acceptable gear.
All in all, this backpack is in the professional backpack category and it is more than suitable for longer backpacking trips.
PROS:
Comfortable with very good weight distribution
Removable top that can be sued as a resting pillow
Breathable back, to avoid too much sweating
Great durability
CONS:
Not really waterproof, a rain cover must be bought
Related: The Outad Waterproof Raincover fits any backpack, and it's ideal for this Osprey model, in case you want to make sure it will stay completely dry.
Wrapping up
It is a difficult task to choose a backpack. If it has larger capacity, it might not have enough compartments or openings to access your gear from. Or it might be waterproof, but the zippers are not waterproof.
Whatever doubts and questions you had, this buying guide will be able to answer your every concern. People have weighted and tested all the features these backpacks have, and even if there are some disadvantages, the features they have, prevail. This is how they got on our "most quality products" list.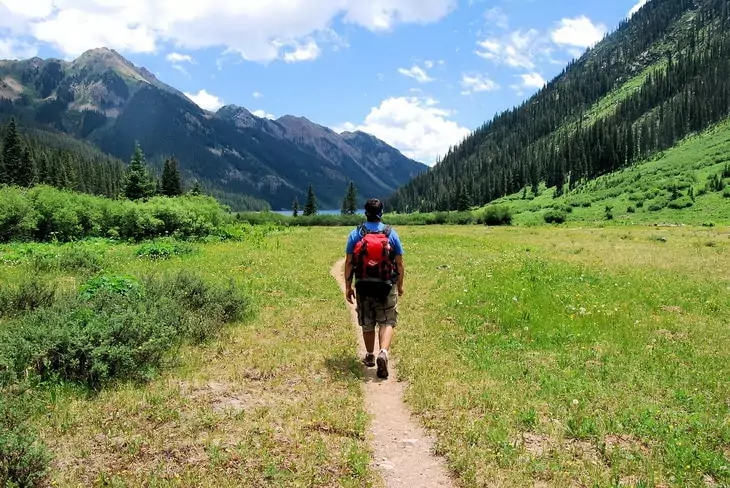 After taking into account our suggestions and advice, you should be on the right path of choosing the best internal frame backpack suitable for your next backpacking trip.
We are always here for you if you have any questions or concerns about the reviewed products or backpacks in general. Can you think of a backpack model we might have left out?
Just leave us a comment in the comment section below and we would be more than happy to assist. Don't forget to share your choice with our backpacking community and us and enjoy your hiking.