Having kids is no small task. So many responsibilities get thrown at you and on top of that, you have to be prepared for anything at any time. That being said, you'll need a bag to carry around any emergency equipment such as diapers, tissues, extra clothes, toys, etc. See?
Those things all add up very fast. Right now, you may think you'll be fine without a diaper bag, but, there's a reason why every parent has a bag hanging off their arm.
It's not because they like carrying around a bag, but they have no choice but too. In fact, that diaper bag will save them when something happens and with babies, something always happens. That being said, you need to know the in's and out's of diaper bags so that you can pick the best backpack diaper bag.
Types of Diaper Bags
Like any bag, diaper bags come in an array of styles. Parents can wear a diaper bag and still look stylish, you know! Let's look at some of the most common styles currently on the market.
Messenger Diaper Bag
Messenger bags are thin and hang off your shoulder. They're also known as satchel or sling diaper bags. They're slimmer and lighter in weight in comparison to tote bags and are more gender neutral. Your husband won't be embarrassed carrying this diaper bag around. However, if you're prone to back problems because it hangs off of your shoulder, we wouldn't recommend this bag for you.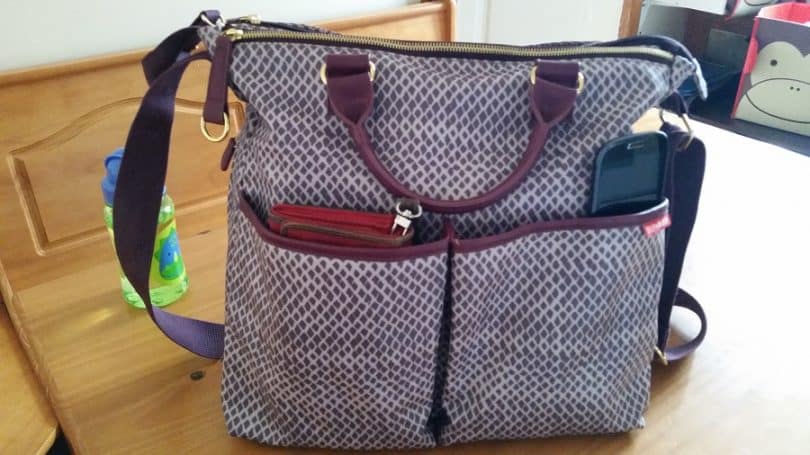 You'll be carrying this a lot and the extra weight will not be in favor for your previous back injuries.  If you want to go on multi-day trips, this is not the bag for you. It's thin in design and will only be able to carry a day's worth of gear. If you have twins, this bag is also not a good option for you.
Backpack Diaper Bag
If you're all about organization, then this is your diaper bag. The backpack diaper bag will be able to carry literally everything you need. You also have the ability to be hands-free to go shopping, carry your baby and push a stroller.
With more recent backpack designs, they'll provide you with easy access pockets, so that you won't have to take off your backpack to retrieve something from it. They even come with insulated baby bottle pockets that will keep your baby's milk cold or warm for the entire day.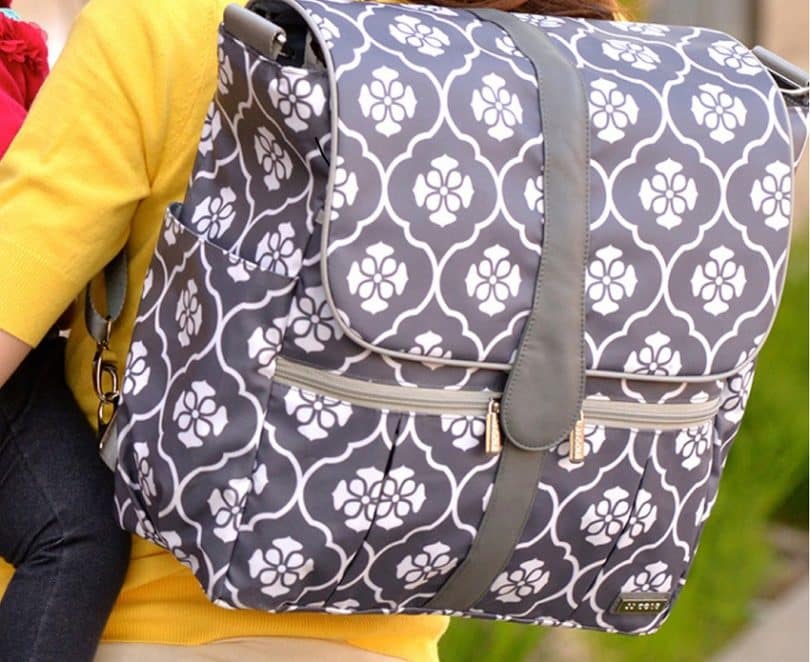 Take note: you want to look for a backpack diaper bag that comes with lots of pockets and will open the whole way – this will make your life much easier. Make sure not to overfill it as these bags can become very heavy, though, the weight will be evenly distributed on your shoulders and back.
Tote Diaper Bag
Tote bags are literally giant bags that can hold almost everything. They're one of the most popular bags on the market because they're durable and spacious. However, they're extremely bulky which can make it difficult to carry. It's a good option if you need to carry many things, however, there is not a lot of organizational space, mainly just large compartments.
So, if you're looking for a bag that's slim and lightweight, this is not a good option for you. Also, for tote bags, there are not many options which are versatile for both men and women, it's a more feminine bag.
Convertible Diaper Bag
Convertible diaper bags traditionally come in three different carrying options – which is great if you want a multi-purpose bag.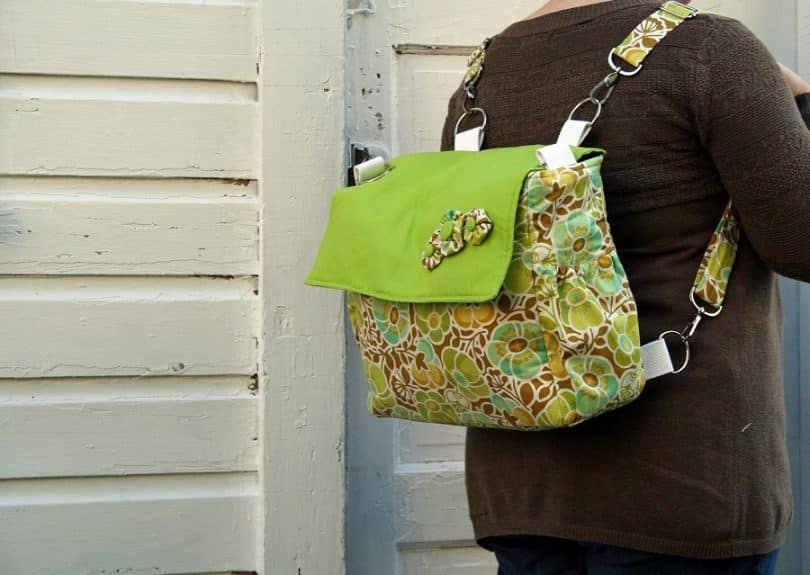 You can turn your convertible bag into three bags:
If you're an indecisive individual, then this is a great option because well, you're given three options instead of one. Convertible bags usually come with detachable straps, making it easy to simply switch up the style into a new one. However, if you're looking for space, convertible bags are not known for being able to carry a lot. These are fine for day trips, however, it's not recommended for longer use.
Stroller Diaper Bag
Well, the name says it all. A stroller diaper bag directly attaches itself to a baby stroller. The diaper bag doesn't go into the storage compartment, instead, it hangs from the stroller handles. That way, you're given extra storage space and it's also very easy to reach in a grab whatever you need.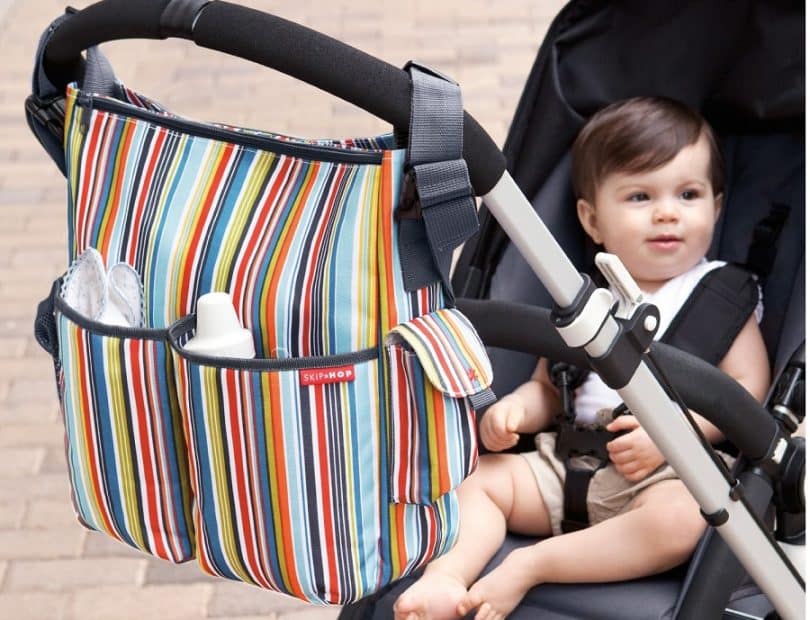 Many people are nervous about having a hanging bag on their stroller in fear that it'll cause the stroller to tip back. That's a normal fear, however, is very unlikely. Before looking at a stroller diaper bag, to prevent an accident like this from happening, look at two things:
The weight of the diaper bag – they can carry up to 50 pounds
The weight of your baby stroller – if you're stroller is heavy, it's very unlikely that it'll be able to tip over.
Stroller Diaper Bags aren't for everyone, but if you're using your stroller all the time, then this is a great option to relieve from extra weight your shoulders.
Must-Have Features
Before you hit the store, make sure you know some of the must-have features you'll be needing in your diaper bag. Here are the features you should consider having in your diaper bag.
Space
You're going to need space. You may not see it now, but that diaper bag will be full in a matter of minutes. Here's a basic list of things that'll be in your diaper bag.
Diaper
Wipes
Baby Bottle
Toys
Rash cream
Pacifier
Hat/Sunscreen
Extra clothes
Changing pads
Snacks
Hand sanitizer
Your wallet, phone, and keys
It doesn't look like a lot, right? But once you start filling your diaper bag up, you'll easy how easy it is to have the bag overflowing.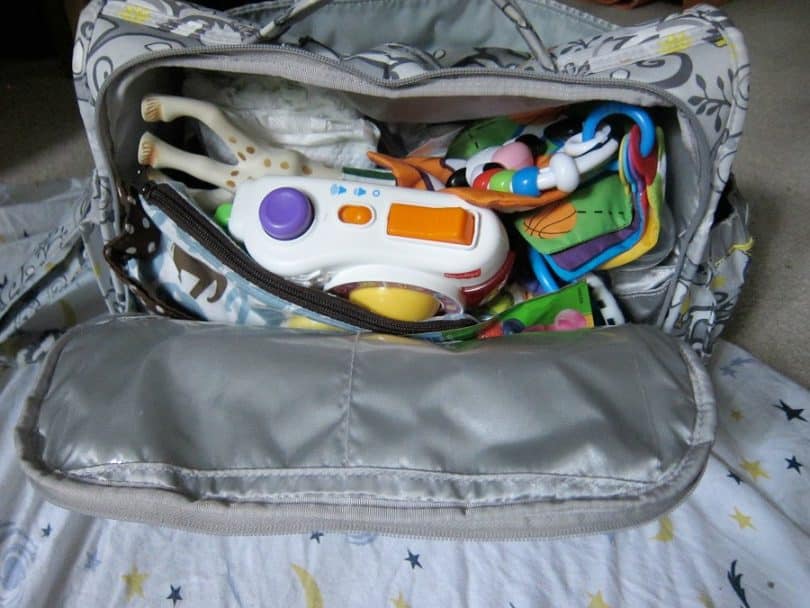 So, you'll need a bag with a lot of storage, pockets and zip compartments.
Lightweight
You're going to be filling your bag with a lot of things that'll add weight, so you want a bag that's already lightweight. So, you want to look at a couple factors that add extra weight to your diaper bag:
The size of your diaper bag
The design
The features
The material used
These factors can all add extra weight to your bag which you definitely will not be needing.
Organization
Having a bag where you can fit everything in is great. However, having a diaper bag be able to organize all your things at the same time is even better.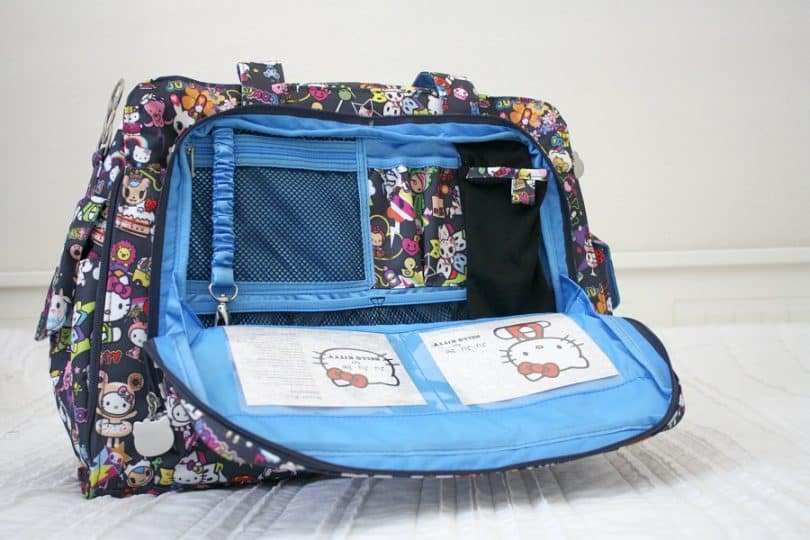 You need a bag that will not only be easily accessible but will have exterior storage pockets, such as an insulated pocket for bottles and tiny compartments to hold your keys and other personal items. In addition, interior pockets will allow you to have your baby items neatly organized so you won't have to be rummaging around in your bag trying to find your wipes.
Material
There is only one thing you need to think about when looking at the bag's material: is it easy to clean.
Your bag is going to be thrown around, sitting on the floor, milk may spill inside – you know, normal stuff. We strongly advise that you look for a bag that has material you can easily wipe clean and is also stain-resistant. A material that you should stay away from is PVC – polyvinyl chloride plastic.
It may be easy to clean, however, it contains phthalates which have become a huge concern for our health. So, look for a material that is PVC-free.
Fit & Style
When choosing a diaper bag, you want something that doesn't scream, "there are diapers and baby wipes in the bag."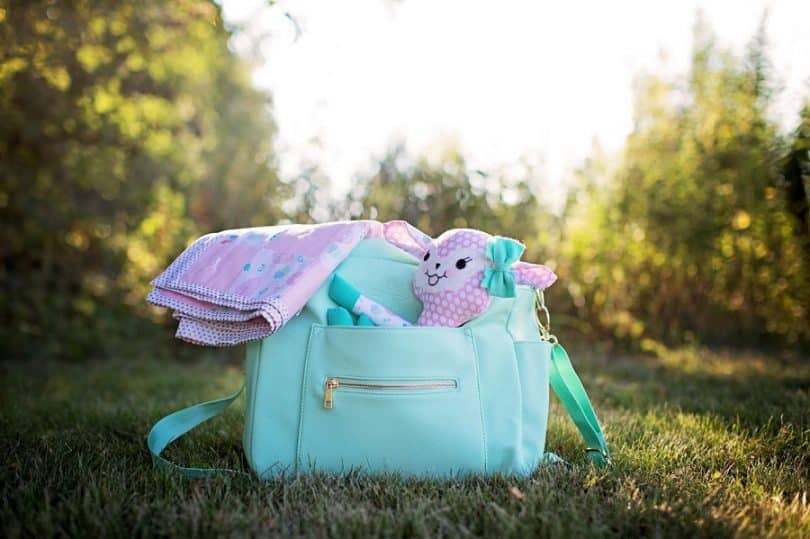 You want something that's fashionable and trendy – that you can also take to dinner and have it fit into the scene. In addition, the process of picking a bag is very personal. Some people prefer the messenger bag as it's gender neutral and is stylish for both the mom and dad. Others want a bag that they can just throw everything in, which is a tote. However, if you're looking for an ergonomic bag, we suggest the backpack, as it's also hands-free.
Backpack Diaper Bags Review
Now that you're aware of the different types of diaper bags, as well as the features you need to consider, let's take a look at some of the best diaper backpack diaper bags on the market.
Skip Hop Forma Backpack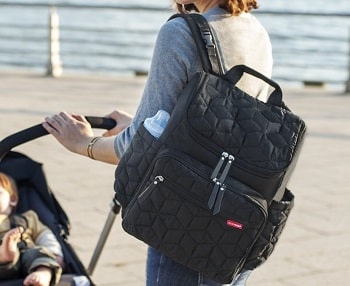 Weight: 16 ounces
Dimensions: 16 x 8 x 14 inches
Best Use: Hands-free
Description: If you're looking for a lightweight backpack, Skip Hop Forma Backpack is a great option. The material is made of a lightweight fabric and the quilting detail adds some style to the bag, making it not just another diaper bag. The backpack allows you hands-free parenting, where you'll be able to fit everything in the spacious interior. It comes with a front compartment and 2 multi-purpose packing cubes which allow for extra storage.
You can easily pick things out the bag without having to struggle due to the elasticized pockets. In addition, it also comes with an insulated side baby bottle pockets to keep the bottle either warm or cold. The great part about this backpack is the changing pad pocket which can act as a laptop holder or a changing pad. Naturally, you don't want you bag to be exposed to dangerous chemicals and plastics, therefore, Skip Hop made this backpack BPA-free and Phthalate-free.
Related: Skip Hop Pronto Changing Station
TWELVElittle 'Courage'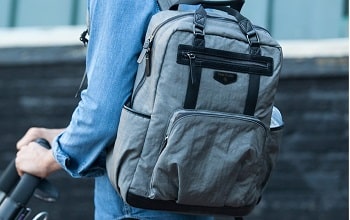 Weight: 8 ounces
Dimensions: 15.8 x 5.8 x 12.5 inches
Best Use: Hands-free
Description: Made of 95% polyester and 5% leather, the TWELVElittle diaper backpack is highly durable. You want a bag that'll be able to take a beating, and this bag is very kid-friendly. The outside is water-resistant and can be easily wiped down clean. In addition, you want a backpack that will have enough storage for you and your baby's things. This backpack can hold everything, wipes, diapers, toys and also a 14" laptop if needed.
There's a laptop sleeve that is padded and will protect your laptop from any accidental spills. Also, the bag is not only functional but it's fashionable as well. TWELVElittle wanted to create a bag that could be worn by both parents and still be aesthetically pleasing to the eyes. Your baby's health is, of course, the most important thing and TWELVElittle recognize that.
So, they made all their diaper bags PVC-free, BPA-free and Phthalates-free. You shouldn't have to worry about your child's health when looking for a diaper bag. The best part about this is that if you don't like the product or it's defective, you have 30 days to exchange it.
Related: WaterWipes Baby Wipes
Abonnyc Diaper Bag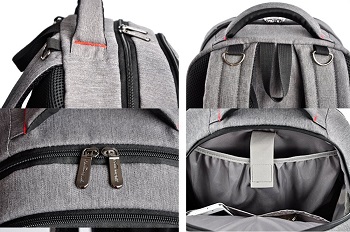 Weight: 28.8 ounces
Dimensions: 16 x 13 x 2 inches
Best Use: Hands-free
Description: Abonnyc Diaper Bag is a great backpack if you want a stylish and sleek diaper bag. It's extremely simple, yet youthful in design.
The fabric is made of polyester nylon with a water-repellent treatment, so you don't have to worry about spilling anything. It's highly durable and can be cleaned with just the wipe of a damp cloth. The stitching on this bag is very thick and tight, so you don't have to worry about your bag's weight.
It has a spacious storage area, with one main compartment, one zipper pocket, one mesh pocket and three insulated warm bottle pockets, with some additional storage pockets. In addition, there's also a 14" laptop compartment that's padded for extra protection.
Many parents comment that backpacks don't have breathable back support, however, this backpack's back support is made of breathable and mesh cotton so you won't feel overheated and sweaty. The shoulder straps are also made of breathable and mesh cotton, so you'll be able to wear this backpack with ease.
Related: Summer Infant Contoured Changing Pad, GroVia Cloth Wipes
Bag Nation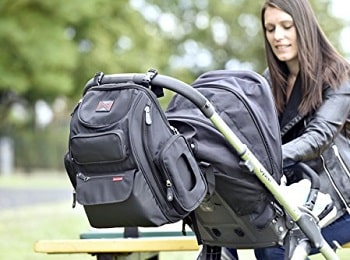 Weight: 38.4 ounces
Dimensions: 17 x 14 x 7.5 inches
Best Use: Hands-free
Description: If you want a classic black diaper backpack, then this one by Bag Nation is a great option. This hands-free backpack allows you to storage your essentials in the bag while also freeing your hands to push the stroller or carry your baby.
It's made of high-quality polyester with non-fray stitching and industrial zippers, so you won't have to worry about going gentle on this bag – it'll last you years. It has 12 pockets, so if you're big on organization, this is definitely a great bag.
It'll be able to securely keep all your essential neatly organized and also comes with one insulated bottle pocket, one durable changing pad, and a sundry bag – literally everything you need. Though it's stylish, if you're looking for a backpack that will last through all the ups and downs of raising a baby, then this is your bag.
Related: Munchkin Arm & Hammer Diaper Bag Refills
Bebamour Bag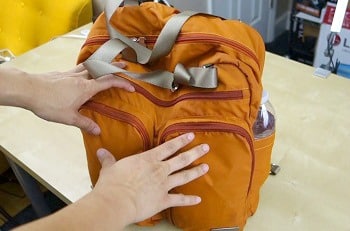 Weight: 22 ounces
Dimensions: 15.7 x 7 x 15.7 inches
Best Use: Hands-free
Description: Bebamour originated in 2008 with the philosophy of love and hope. That being said, they spent years designing their diaper backpack to make sure that they created a highly fashionable product but also highly durable and reliable as well.
Their backpacks pass through EN Standard Certification and SGS test. This diaper bag can be worn as a backpack but also stroller bag. It's highly durable and made with high-tensile nylon stitching, so it'll be able to pack a punch.
It's also made of  tear and water resistant polyester. In terms of storage, it has insulated bottle pockets, side diaper pockets, and a changing pad. Backpacks can easily become oversized, however, Bebamour made sure that their bags not too big nor too small. Bebamour is highly confident in their products so they offer all their customer a 100% money-back guarantee.
Related: GroVia Cloth Wipes
DuanCan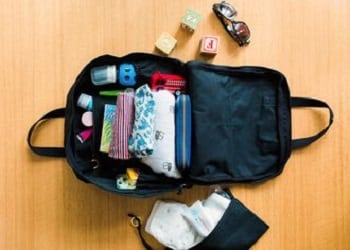 Weight: 33 ounces
Dimensions: 17.5 x 13 x 4.2 inches
Best Use: Hands-free
Description: DuanCan is designed for no-nonsense parents. If you want a simple, yet durable backpack then this is the one for you. It's made of high-quality waterproof nylon with a zipper closure that'll make it easy to wipe down clean with a cloth.
The backpack is very spacious and large with multiple pockets on the exterior and interior, as well as a 15" laptop pocket. It has 3 insulated baby bottle pockets and is full of multi-purpose storage pockets that can hold just about anything.
The backpack can also act as a travel bag and a daily backpack as well. What's great about this diaper backpack is that though it's fashionable, it's highly practical and comfortable. In addition, if you aren't satisfied, DuanCan offers 100% lifetime satisfaction guarantee or your money back.
Related: OXO tot on-the-go travel drying rack, The First Years Take & Toss Spill-Proof Sippy cup
Ju-Ju-Be B.F.F.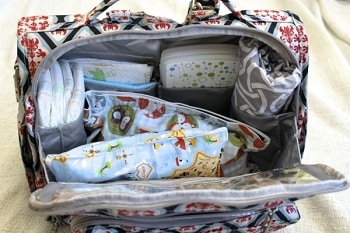 Weight: 43 ounces
Dimensions: 16 x 13.9 x 6.4 inches
Best Use: Hands-free
Description: Ju-Ju-Be wanted to make a bag that provided people with multiple carrying options that suited their day. So, this is a convertible diaper bag which goes from tote bag to one-shoulder bag to backpack. It's an amazing bag if you're looking for organization.
This bag is machine washable which is a great option that many other bags don't offer. The bag is made with memory foam so the straps will not easily slip off your shoulders.
The bag's lining is made with an AgION natural antimicrobial treatment that prevents odor-causing bacteria, mildew, and mold. If you're worried about the exterior fabric staining – no need. The exterior is made of Teflon fabric protector that prevents stains.
This bag comes with plenty of storage. It has a main storage area with 4 smaller pockets inside, a small external zipper pocket, a back pocket with a foam changing pad as well as insulated bottle pockets on either side of the bag. The design is very bright and vibrant which is a nice change from the classic black and gray.
Related: Ju-Ju-Be Be Connected Stroller Attachment
Conclusion
Raising a baby is no easy task, however, finding a perfect diaper bag doesn't have to be as hard. Now that you know the types of diaper bags, you can clearly see that backpack diaper bags are far superior to a tote or messenger bag.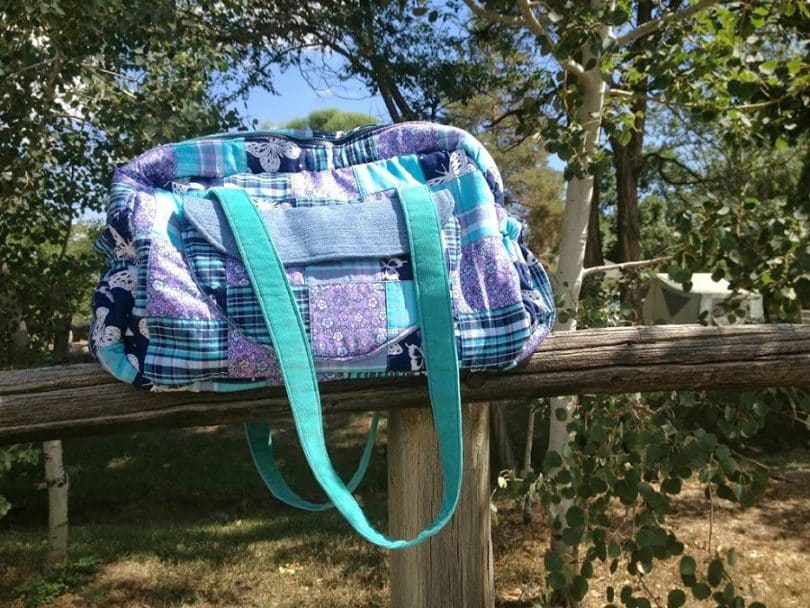 You're now caught up with the must-have features on backpack diaper bags as well as the top seven backpack diaper bags on the market. So, what are you waiting for? Go out and try one of these diaper bags out!