After spending hundreds, if not thousands of dollars on camera equipment the last thing you want to do is opt for the first camera bag you see. Your camera is with you for every step of your backpacking journey so it is very important to make sure you have the best backpacking camera bag, one that fits all your requirements: it's comfortable, it's waterproof, it's affordable, it has compartments for all your gear, it's durable and it looks good – it suits your style!
If you're an avid photographer and traveler, having a camera bag is essential. You need to be able to store all your equipment safely and can gain quick access to a lens for that all-important shot.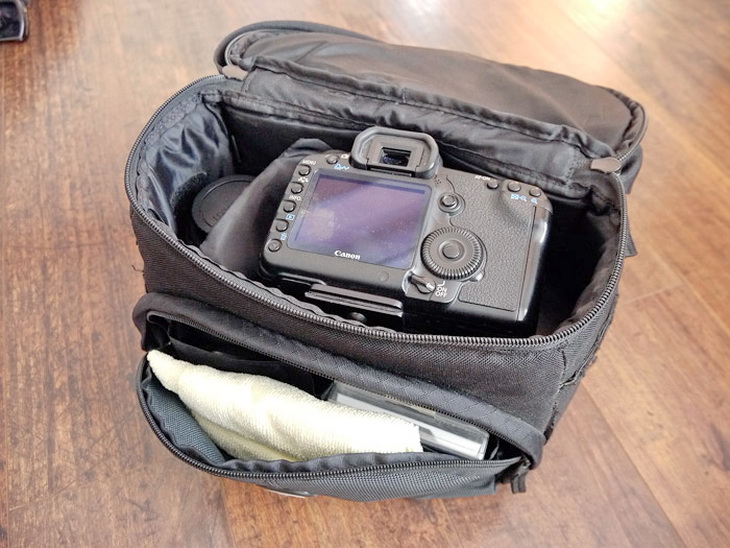 This review is going to help you find the camera bag that matches all your requirements. Let's first discuss the important features to consider selecting the optimum bag.
Important things to consider when purchasing a backpacking camera bag
Is it Waterproof?
When backpacking, you get caught in all types of weather, it can be sunny one second and the next there's a torrential downpour. If there's a chance you're going to be caught in the rain, then it's paramount you select a camera bag that isn't just water-resistant but waterproof.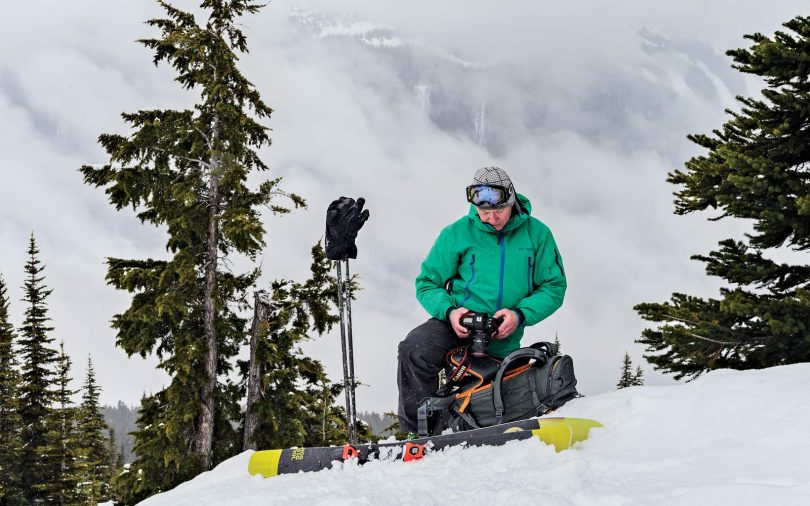 If, however, you plan on purchasing a camera bag to go inside another bag and the main bag is waterproof then you can get away with buying a water-resistant bag. Consider your use of the bag before committing to a purchase.
Weight
Chances are your camera equipment is heavy, you don't want to add to this weight by buying a camera bag that's going to add too much weight, thus making it impossible for you to comfortably cart your gear and fully enjoy your trip. If you need to fork out a little more cash to buy a lighter, yet, just as durable bag it may be a wise buy. Not being able to reach the top of an epic hike because your equipment is weighing you down would really suck!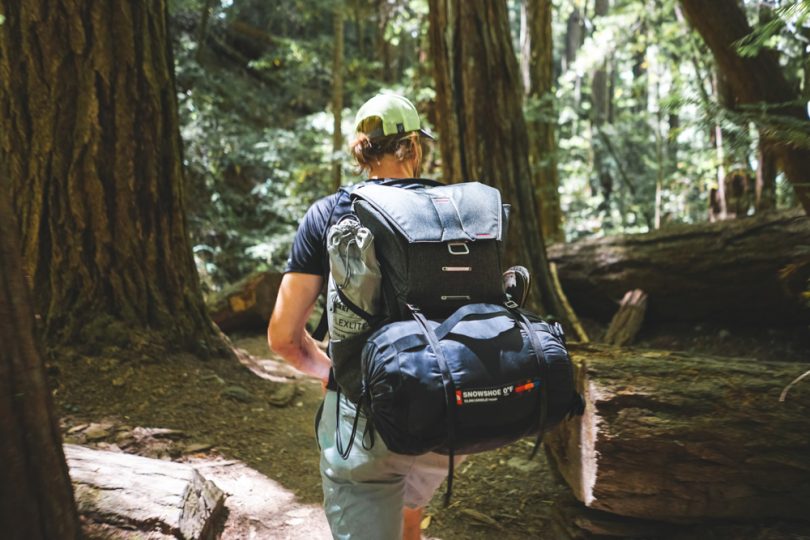 Size
Imagine spending a couple of hundred dollars on a camera bag and realizing it's too small! Okay, you can likely send it back, but if it's a last-minute purchase just before your next epic trip you're going to be stuck.
So, have a look at the dimensions of the bag, make sure they are adequate for your camera and accessories. You want to make sure the bag is big enough, but at the same time you don't want it to be too big – you don't want your camera to be sliding all over the place, it needs to be a tight fit.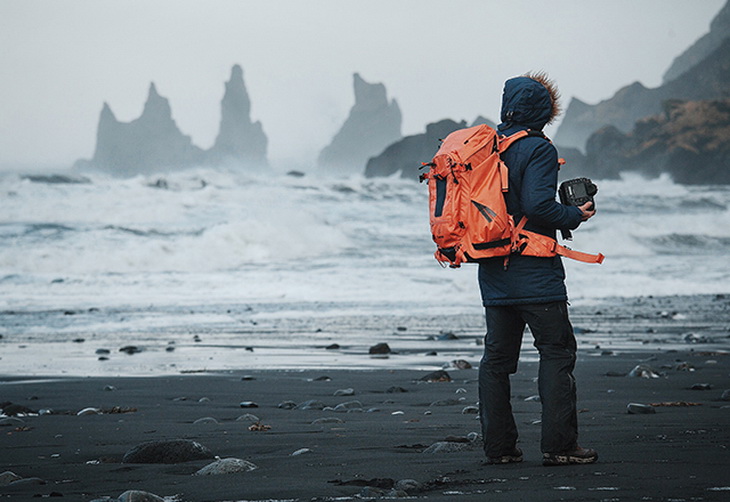 After making sure the dimensions match your requirements, ask yourself these questions: Are there additional compartments? Is there room for extra camera lenses? And is there a zip compartment for extra memory cards?
Durability
One of the most important jobs of the camera bag if not the most important, keep the camera safe. You are almost definitely going to be hiking with this camera bag, and we are all partial to slips and trips when hiking so the camera bag must be durable. It's no use having a bag that tears the second it catches a thorn or the zip breaks under pressure.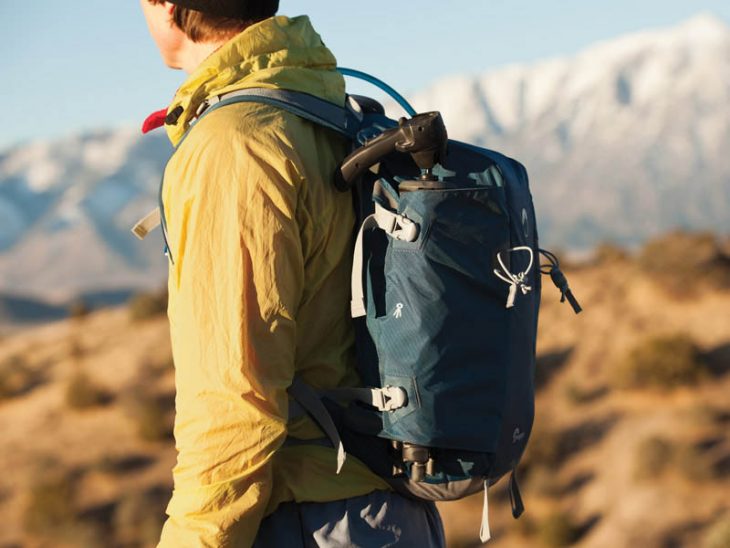 Check the material used to make the bag, is it known for durability or style, comfort or sturdiness. You may find a bag that ticks all the boxes, but if you are going to be jumping from boulder to boulder chances are you'll need to pick durability over style.
Style
It's important to have a camera bag you like the look of. If it matches the criteria, but it's bright orange you may not go for it. Find a bag that suits your style, if you like bold, then go for the orange bag if you prefer something a bit more reserved then make sure you go for that option as this bag will be with you throughout your adventures so you need to feel comfortable with it. For many the look of the bag is not important, but for some it needs to be stylish.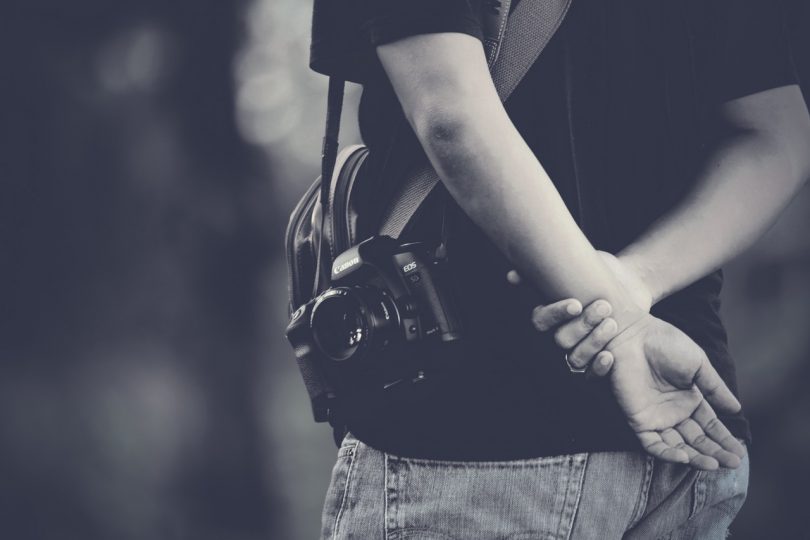 If style is important to you, ask yourself does the bag match the style of the rest of your luggage? If not, then keep searching! Do you prefer one strap or two? There will be overlap between style and comfort so make sure the style is right for you.
Price
Is price important? What you are willing to spend on a camera bag will probably relate to how much your camera equipment is worth? If you've spent $2,000 on camera equipment spending $300 on a camera bag is probably not going to bother you.
But if your camera equipment is worth less than $500 you are not going to want to spend $300 on a bag. So, consider the value of your gear and your budget before beginning your search.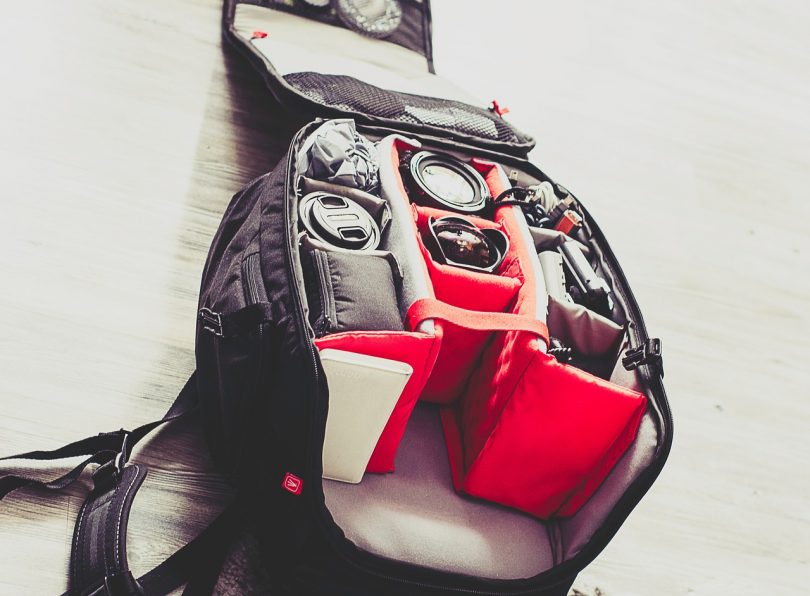 Reviews of camera bags for backpacking
One Tigris
DIMENSIONS: 8.86 x 4.33 x 11.81 inches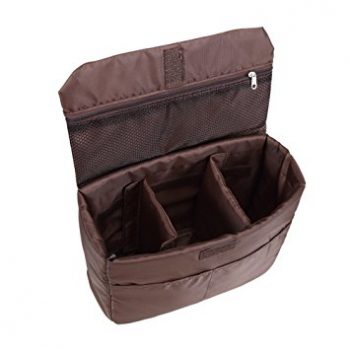 MATERIAL: Durable Nylon Oxford EPE
SPECIFIC FEATURES: Rain-proof, anti-wrinkles and anti-scratch, removable dividers – soft construction allows it to adjust to almost any shape
CAPACITY: DSLR/SLR camera, camera lens, iPad and netbook
SHIPPING WEIGHT:0.3 pounds
COLOUR: coffee
DESCRIPTION: The One Tigris easy to position and soft padded Velcro separators make it perfect for getting a custom fit for your lenses and other equipment. The durable and lightweight design makes it a perfect choice to be an insert bag.
Fits easily into most backpacks to safely store away your camera equipment. The cover flap makes gaining access to your camera super quick and easy.
The product has received very positive feedback from other users. Most notably how the bag is ideal for giving extra protection to your camera gear and that the size is adequate for a camera and additional lenses. Some users say they "wouldn't call it waterproof' but as this is an insert bag it shouldn't be a major concern.
Lowepro Hatchback 16L
DIMENSIONS: 18.5 x 7.28 x 10.83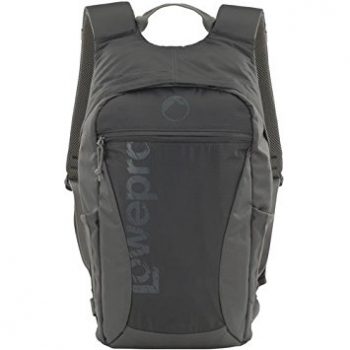 MATERIAL: 100% Fabric
SPECIFIC FEATURES: Turns into a daypack, dedicated tablet pocket, built-in all weather AW cover, tall side pockets.
CAPACITY: DSLR/SLR camera, camera lens (up to 18-55mm zoom), 2-3 extra lenses, tablet and personal items or a GoPro.
SHIPPING WEIGHT: 1.72 pounds
COLOUR: Slate Gray
DESCRIPTION: The Lowepro Hatchback 16L camera backpack is a twin strap bag which can easily be converted into a daypack. The easily removable, padded camera box with storm-flap closure and grab handles offers customizable storage for a complete camera kit allow this bag to be converted to a fully functional daypack in seconds. A really great feature of this bag Is the body-side, hatchback opening, this provides easy and secure access to your camera gear.
Many claim that this bag is of very high quality, some even say it's the "best pack I've ever owned". However, there are comments from other users saying the bag isn't large enough to hold some of their additional lenses, but overall the bag can fit most camera accessories and other personal gear.
X-Freedom SLR
DIMENSIONS: 11.81 W x 6.30 H x 11.81 D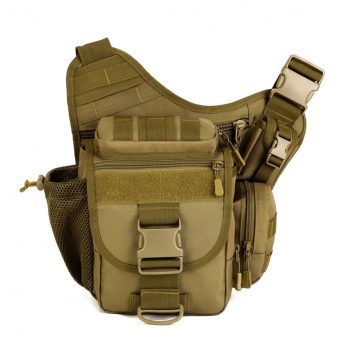 MATERIAL: Oxford Nylon Material.
SPECIFIC FEATURES: MOLLE system bag, shoulder bag, impervious to light rain.
CAPACITY: SLR camera, purse/wallet, water bottle & daily supplies.
SHIPPING WEIGHT: 1.76 pounds
COLOUR: Dark Brown
DESCRIPTION: The X-Freedom SLR Camera Back Pack is a modern casual military design using Oxford Nylon. The bag is very durable and great for outdoor activity.
Whether you are running, travelling, camping, hiking, hunting or cycling this messenger bag will serve you well. The bag has many good-sized compartments to fit all camera accessories and other objects you may need for backpacking.
This bag come well recommended, other users seem to love the multi-purpose functionality of the bag; ideal for hiking and fishing. This is a negative for some, those searching for a photography-only bag state this isn't the one. If you are just shooting with one camera, it's a good option but with professional equipment there are better bags out there.
Tamrac Anvil 23
DIMENSIONS: 12.2 x 9.8 x 18.5 inches.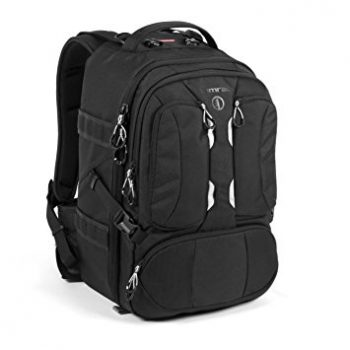 MATERIAL: Polyester & Oxford Nylon.
SPECIFIC FEATURES: Front padded pockets for 15" laptop, airflow harness and removable Arc & M.O.L.L.E. compatible belt system.
CAPACITY: SLR camera, purse/wallet, water bottle & daily supplies.
SHIPPING WEIGHT: 4.6 pounds
COLOUR: Dark Brown
DESCRIPTION: The Tamrac Anvil 23 backpack has been designed to carry all your photography gear to the grittiest and most beautiful places on earth. Thanks to the engineered materials – over ten different optimized foams – used to make this backpack the bag is tough but light.
The main compartment is designed to carry multiple pro-sized DSLR bodies with lenses attached. A front, padded pocket holds 15 inch laptops and exterior pockets hold accessories. Thanks to the belt system any amount of gear you wish to carry will be easy to do so.
Many users back up the fact that this bag can carry a lot of camera equipment, there are no complaints when it comes to size. There are cons to this bag though, and it seems to come down to the comfort of the straps and there is no mesh pocket for a water bottle.
Lowepro Pro Tactic
DIMENSIONS: 16.93 x 12.13 x 9.06 inches.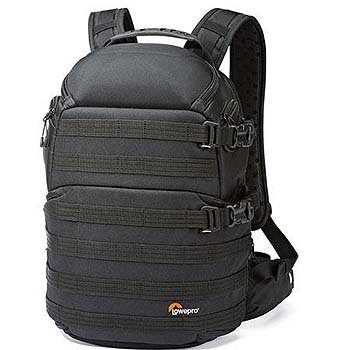 MATERIAL: Nylon.
SPECIFIC FEATURES: Includes 5 modular accessories, MaxFit System Dividers, four access points.
CAPACITY: 1-2 Pro DSLRs, one with up to 24-70, f/2.8 lens attached, 13" laptop.
SHIPPING WEIGHT: 4.56 pounds.
COLOUR: Black.
DESCRIPTION: The Lowepro Pro Tactic Camera backpack comes with five modular accessories – water bottle pouch, accessory case, tripod cup and two cinch straps – all Slip Lock-compatible.
This hard-shell backpack has lots of space for all your gear, which can be easily adapted thanks to the adjustable dividers to fit your gear measurements. The technology used to create this backpack delivers targeted support and constant comfort.
This bag is very highly rated, many users speak of its comfortable fit, abundance of storage and strong build. The only negative popping up is that the dividers are all the same size, and the bag is not an ideal fit for persons of 6ft + tall.
HILLPOW Direct
DIMENSIONS: 10.6 x 5.9 x 13.8 inches.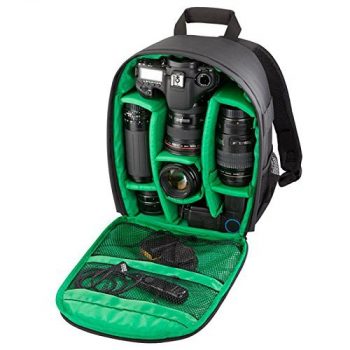 MATERIAL: Waterproof Nylon.
SPECIFIC FEATURES: flexible and removable partition, waterproof rain cover.
CAPACITY: 1 DSLR camera, 2 lenses, flash and other photography essentials.
COLOUR: Red.
DESCRIPTION: The HILLPOW Direct camera backpack has wide applicability: fitting most DSLR cameras; Canon, Nikon, Sony, Olympus, Panasonic, etc. The cushions inside the bag can be removed allowing the back to be used as an ordinary backpack.
Water-repellent nylon, heavily reinforced stitching and expedition-grade harnesses make this bag very durable. The rain cover provides additional peace of mind keeping your equipment safe from the rain.
Users say the dividers are easily customizable and can accommodate different sized cameras and other equipment. Other users are saying that this bag is small. It will store lenses, but it is unlikely to fit your camera as well as lenses. If you are looking for a bag just for your lenses then this is a good option.
Think Tank Photo Urban
DIMENSIONS: 7.09 x 11.02 x 18.31 inches.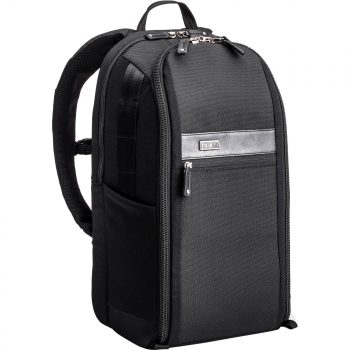 MATERIAL: Waterproof Nylon.
SPECIFIC FEATURES: Tripod can be carried on the side of the backpack, rain cover, matte black appearance.
CAPACITY: 1-2 medium to large mirrorless bodies with lens attached, 5-8 additional lenses, up to 10" tables and a 15" laptop.
ITEM WEIGHT: 2.9 pounds
COLOUR: Black.
DESCRIPTION: The Think Tank Photo Urban in terms of quality is built like a tank! The zips, pulls, handles, straps and fabric are very thick, strong and sturdy. Although, the bag is strong it's lightweight – given its size.
The body is rigid with decent padding to protect all your camera gear. The bag fits lots of equipment and can be used for carry-on luggage for your international travels. There are also compartments for books, a tablet and a laptop up to 15 inches.
This bag is receiving a lot of positive feedback. People appear to be fitting all their gear into the bag – even the largest of lenses. Furthermore, the build quality has received much praise, it is a very sturdy bag. The only drawback of this bag for some appears to be the external holders such as the water bottle holder – it is too narrow for larger bottles.
Timbuk2 Snoop
DIMENSIONS: 8.86 x 3.94 x 15.16 inches
MATERIAL: Tricot.
SPECIFIC FEATURES: Insert unfolds like origami, so you can turn it into a flat, clean organizational space.
CAPACITY: SLR camera bag, lens and batteries.
SHIPPING WEIGHT: 0.7 pounds.
COLOUR: Gunmetal.
DESCRIPTION: The Timbuk2 Snoop camera insert is designed to fit inside the Timbuk2 classic Messenger bag. The bag has a fully padded interior with movable internal walls to protect the camera, accessories and personal products. There are double reinforced adjustable straps for securing tripods.
"Excellent for a travel camera backpack" seems to be the message from most users of this bag. They claim it to be the perfect for converting your ordinary bag into a camera bag and keeping your equipment safe. Some say the bag is on the small size and would not store all your camera equipment.
MindShift BackLight
DIMENSIONS: 11.4 x 20.3 x 7.9 inches.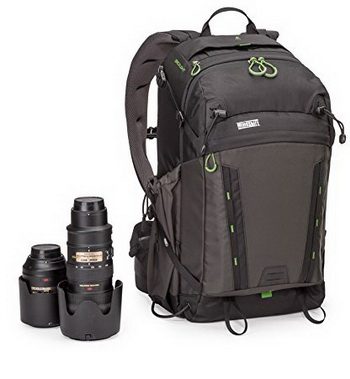 MATERIAL: Nylon.
SPECIFIC FEATURES: Daisy chain, ice axe loops, waist belt, neck strap, adjustable dividers.
CAPACITY: 1 standard-size DSLR, 4-6 standard zoom lenses, plus a flash.
SHIPPING WEIGHT: 1 pounds.
COLOUR: Charcoal.
DESCRIPTION: The MindShift BackLight camera backpack is designed in a way that you can get to your camera gear, take it out (or put it back in), without the need to take the backpack off your back.
Rear-panel access adds security when traveling since your camera gear is protected behind your back, with air channel and lumbar support on rear-panel for all-day comfort. This bag is great for carrying all your camera equipment as well as personal gear.
This bag is receiving fantastic reviews, simply put as "great bag that can carry lots of gear" you can't say fairer than that. The bag is strong in every detail from lining to zippers! The bag will fit lots and lots of gear, but because of this, it is unlikely to fit under a seat as your carry on luggage.
X-Freedom Modern
DIMENSIONS: 12 x 10.2 x 6.6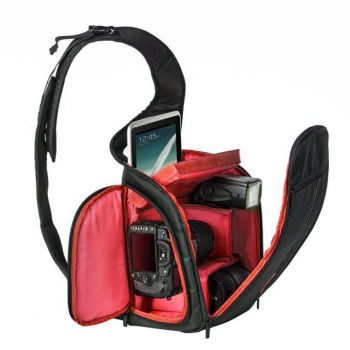 MATERIAL: Waterproof Nylon.
SPECIFIC FEATURES: Scratch-resistant, sling backpack, sport design.
CAPACITY: DSLR, SLR, lens, flash, battery, USB cable.
COLOUR: Red.
DESCRIPTION: The X-Freedom Modern camera bag is a fashionable bag that has a sleek and modern look. The bag contains Velcro dividers so you can adjust compartments freely. All your gear is easily accessible with multiple openings and you can even fit a tablet.
Other users say this bag is a great day bag, the sport design makes it ideal for active wear such as cycling, the only issue is its size – too small for a laptop of any size.
Wrap up
You already have the camera now you have the down low on 10 popular camera bags. Choosing one of these bags you are guaranteed to select a highly durable and easily customizable camera bag to suit all your needs whilst shooting on your travels.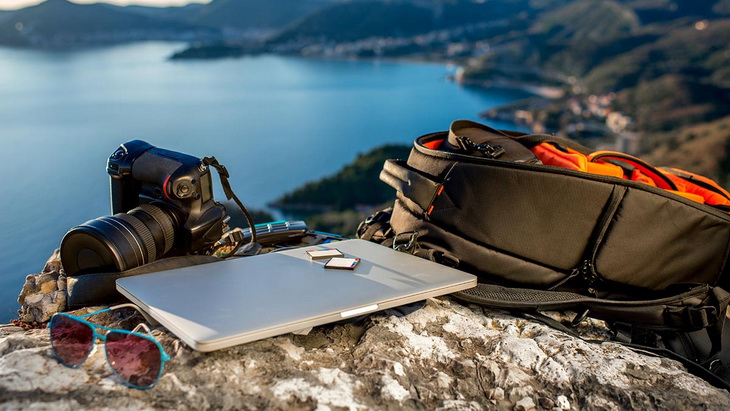 Now, if you found our article to be informative and useful, and you think that your friends should read it as well, feel free to share it on social media. Also, if you think that we missed mentioning something important, let us know by leaving a comment in the comments section below, where, those who own one. Or more, of camera bags we have reviewed, can also share their experiences with our readers.