The human body consists of 70 % water. Water is an essential part of our everyday life and how much water you need in a day depends on the conditions like temperature, altitude, humidity and the amount of physical activity one does during the day.
On average, men need almost 3 liters water and women need 2.2 liters water a day. And if you're hiking through the mountains this percentage can increase by 50.
There is water available mostly when you're backpacking or hiking in forms of lakes, streams, snow runoffs etc., but the water contains lots of contaminations in forms of microscopic parasites and bacteria's. To avoid all this you need best water filter treatment to clean the water of all contaminations and make it drinkable.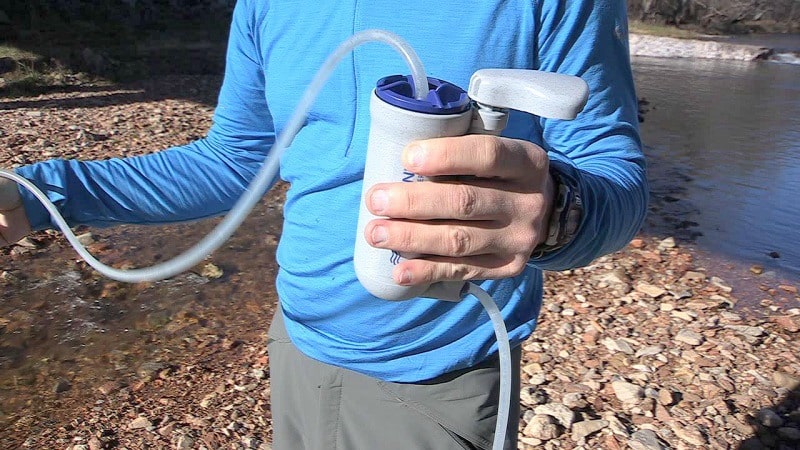 Carrying a water filter is a smarter option than carrying all the water it'll be a lot less weight otherwise you'd need to carry around. There seems to be a different kind of options of available water filters in the market.
Types of Water Filters
Here are a few types of water filter system that you must know about.
Filter straws: In this kind of water filter, you have to drink water directly through the straw as the name 'Filter Straws' indicates that doubles as a hollow fiber filter.
Pump Filters: Pump Filters are quite famous and are basically what people think first of a filter this comes to their mind. In this system, the filter in the device has a small pore through which the microorganisms are filtered by pumping the water through it.
Gravity Filters: In Gravity filters the water is pushed through the filter by using the force of gravity. It saves you the time and trouble of the pumping process.
UV light: This system uses Ultraviolet light to cleanse water, the mechanical device works more efficiently than other because it kills viruses too. Though these products work on charging batteries or chargers.
Tablets and Chemicals: In this treatment, chemicals or tablets are added to the water to kill the bacteria and other microorganisms. This product also has the advantage of killing viruses as well.
Things You Need to Take into Consideration
Before making any decision there are a few things that you need to take a look at.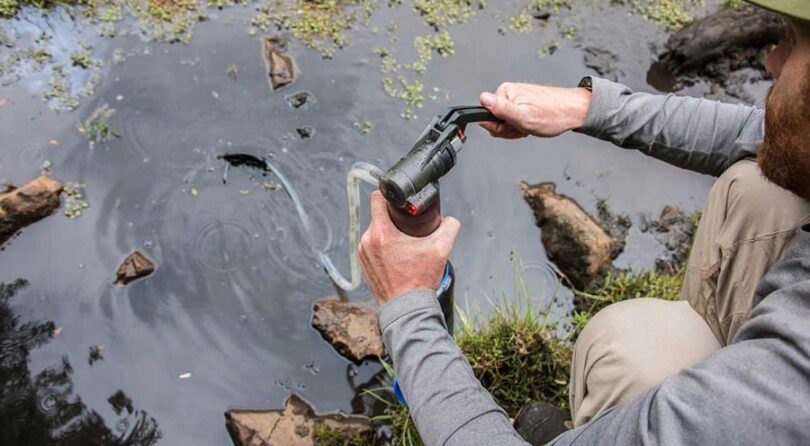 Here is the list of few important things.
Weight: Everyone knows that why weight is an important factor while choosing a product for backpacking. You have to carry the water filter with you so need to choose a product that weighs less.
Backpacking is more pleasant if there is less weight in your backpack. You need to consider that you'll be carrying other necessary things with you too. Mostly lightest weight water filters are chemical treatments or tablets that take almost no space.
Another thing that you should know is that once you have used a filter on the ground, it'll get heavier and to remove the traces of the water out the filter gets hard too.
So in order to avoid this, you need to use the filter overnight to remove all the water out.
Speed: Speed is a really important factor in a water filter if you don't want to get into some serious trouble during your backpacking trip.
On most backpacking trips, water source can be six miles away, that's enough of a reason to buy a water filter that cleans water immediately. Straw filters and gravity filters are known to work quicker.
Performance/Reliability: If you're going to a place where the chance of water source being contaminated by viruses is high, then you need a water filter that eliminates viruses too. Here are a few systems that are known to remove viruses effectively.

Iodine treatment
Latest Gravity filters
UV light treatment systems
Chlorine dioxide

Most of the other water filters can eliminate bacteria and protozoa. Virus shield is usually required for international trips.
Reliability is another factor that shows how much you can depend on your product when you're hiking  your way through the mountains. Whether you  are going to need a backup system or not. You can evaluate the reliability by the maintenance required and how easy or difficult it is.

Convenience: If the water filter is easy to use that means you will save the time and the energy. If the maintenance method is complex it can take much of your time too.
Chemical treatment usually doesn't require any maintenance, which means less waiting time and it's convenient to use. In latest water system's convenience and less or no maintenance is trending.
Capacity: You need to consider the capacity of the water filter if you plan on going with a group of people or in the case of long trips. Capacity is basically how much water can be treated through the water filter.
Pump filters are known for filtering  never-ending amount of water. Chemical treatment is expensive, but it is mostly effective for individual use.
Taste: Though the taste is not such an important factor while choosing a water filter, but there is an obvious difference between these water treatments. Chemical systems change the flavor of the water a little. Iodine is known for awful tasting but that can be avoided by using taste-neutralizing tablets. Chlorine dioxide gives a pool like taste.
Cost: Chemical and tablet treatments are usually expensive. Gravity water filter treatment and pump water filters are cost effective mostly. If you are going with a group then pump water filter is cost effective for you.
Reviews of The Best Water Filters Available in The Market
There are a variety of products available in the market these days. Here are the reviews on the best products that you must check out.
LifeStraw Mission High-Volume Gravity-Fed Water Purifier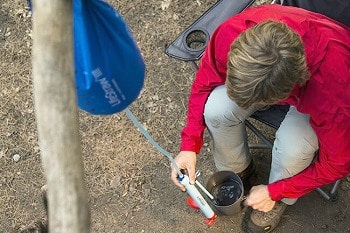 Weight:  0.81 pounds
Dimensions: 4 x 5 x 12 inches
Specific Features: High capacity, ideal for group camping, removes all bacteria and viruses, easy maintenance and use
Best Use: Car camping, Boating, Backpacking
Description: The producer claims that LiveStraw Mission Water Purifier can eliminate 99.99 % of all protozoa, bacteria, and viruses which pollute water. It's a gravity powered water purifier, which requires no batteries or chemicals to work.
This is one of the best portable water filters that can clean 9 to 12 liters in an hour and will purify 18000 liters over its lifetime. Because of its large capacity, this product is perfect for a group.
It is simple to use, you just need to fill the reservoir with the cleanest water available, then fold the top to cover and hand the device with a strong support. Using the force of gravity the water will move through the ultrafiltration membrane of the purifier.
All the contaminations are trapped and the clean water is available in the .02 micron pores in the walls of the hollow fiber. The product has a shoulder strap to carry it conveniently. The product comes with a drawstring stuff bag to store it and carry it in the backpack.
Four extra pre-filter screens come with the product for on spot maintenance. The price is fairly priced between $119 and $148.
Related: This product is also available in 12 liters size. You can check the link if you want to know more about this product.
MSR MiniWorks EX Microfilter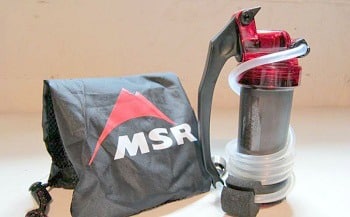 Weight: 1.01 pounds
Dimensions: 12 x 9 x 6
Specific Features: Fast flow, Reliable, Field maintainable, Tastes better
Best Use: Hiking, Camping
Description: The MSR MiniWorks EX Microfilter is made from durable carbon and ceramic elements which guarantee tasteless water even when you are using it frequently. The price of this product is between $64 and $89 depending on where you buy.
This product has an innovative air spring accumulator, which makes it capable of pumping one liter water per minute. It can clean completely with no tools required for full filter recovery.
This microfilter is effective against protozoa, bacteria, and chemicals that may contaminate the water. It doesn't eliminate virus contaminations, though.
The product comes with water bottle adapter. It's compact in size and lightweight and has a limited lifetime warranty. The carbon core of this filter eliminates unpleasant smell and taste produced by organic compounds, for example, iodine, pesticide, chlorine.
Katadyn Micropur Tablets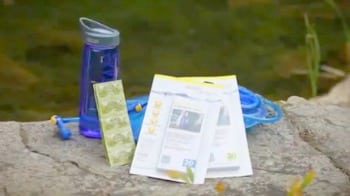 Specific Features: Ultra light, Easy to use, pleasant taste, chlorine dioxide tablets
Best Use: Hiking, backpacking, Camping
Description: KATADYN Micropur Tablets are ultra light and gives fresh and clean water wherever you are. These tablets effectively remove all bacteria, viruses, giardia, cryptosporidium. Each tablet treats 1-liter water, you can take 20 or 30 tablets with you.
This product provides you fresh water with no unpleasant taste or smell. This product also meets EPA microbiological water purifier test standards. It uses chlorine dioxide to purify the water. The product is reasonably priced between $8 and $25, which makes it cost effective.
This product is really easy to use, easy to carry, so it's perfect for backpacking and hiking trips. It cleans the water quickly so you don't need to wait for the time-consuming process. The simple one-step procedure makes this convenient product.
Katadyn Vario Water Filter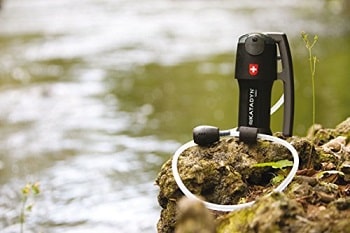 Weight: 15 Oz
Product Dimensions: 10 x 10 x 4 inches
Specific Features: two best technologies, ceramic and pleated ultra microfiltration, glass fiber filter
Best Use: Camping, Hiking
Description: Katadyn Vario Water Filter offers dual technology filters combining personal efficiency with the easiest possible handling.
This product has three level filter a high-performance glass fiber filter, a ceramic pre-filter which can be adjusted personally according to the cloudiness in climate, and active charcoal to remove the smell.
The ceramic disk is cleanable and it prolongs the life of the primary microfilter. The .02 microns high surface are pleated fiberglass filter eliminates all microorganisms. This filter uses a replaceable carbon core to decrease pesticides, chemicals, and unpleasant taste.
The product comes with 1-year warranty, a pre-filter, cleaning pad, and deluxe carry bag. This water filter can purify 2liter per minute with fast flow. The product is cost effective with the price of $74.
Related: Another product available from the same producer is Katadyn Pro Microfilter. You can know more about the product by clicking on the link.
MSR SweetWater Microfilter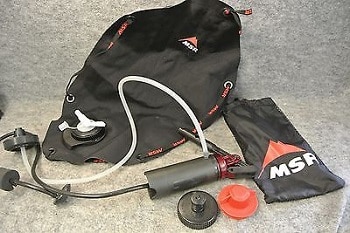 Weight: 11oz
Dimensions: 12 x 9 x 6 inches
Specific Features: Lightweight, Activated carbon core, Lever-action pump handle
Best Use: Hiking, Camping, Backpacking
Description: MSR SweetWater Microfilter is available in Grey and Red color. Its unique lever pumping handle gives you 4 to 1 mechanical advantage. The handle of the filter folds flat when the filter is not being used to store and pack easily.
The product removes 99.99% of waterborne bacteria and protozoan microorganisms for example giardia and cryptosporidium. The price of this product is between $64 and $89 which depends on where you buy it from.
The activated carbon core in the filter helps in removing the foul smell and taste. It weighs less than a pound so it's perfect for backpacking use. It has the capacity to purify 1.25 liters of water in one minute.
Sawyer Complete Water Treatment System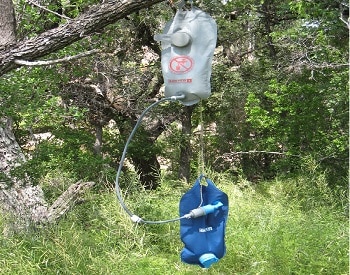 Weight: 2 pounds
Dimensions: 9.8 x 3.5 x 14.5 inches
Specific Features: light weight, made of ABS plastic, Dual bag, .02 micron water purifier, 4 liters capacity
Best Use: Hiking, Camping,Fishing
Description: The Sawyers Complete Dual Bag Water Purifier is portable which means you can take it wherever you want. This purifier claims to remove 99.99% of bacteria, viruses and protozoa/cysts. This water purifier can effortlessly clean 4 liters of water in only 10 minutes.
It is a gravity system so you don't have to worry about pumping. It's really easy to use you just need to fill up the gray reservoir with the unclean water, then attach the filter and tube to the clean blue reservoir and let gravity do its work.
When the blue reservoir gets full with clean water, then you can hang it by its handle and fill your water bottles, pots, and containers. The purifier is made of ultra lightweight food grade ABC plastic which makes it easy to maintain on the ground.
The product has 0.02 microns absolute inline water purifier to remove all the bacteria efficiently. The product is priced between $203 and $219 depending on where you buy. The producers offer a lifetime limited warranty.
MSR Guardian Purifier Pump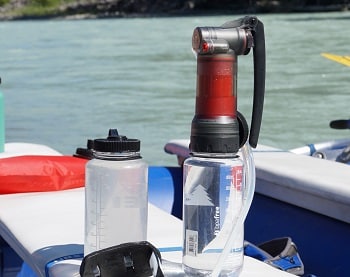 Weight: 2.19 pounds
Dimensions: 13 x 9 x 6 inches
Specific Features: Ultimate protection, fast and easy, long lasting, self-cleaning, extremely durable
Best Use: Hiking, Camping, Backpacking
Description: MSR Guardian Purifier Pump is a reliable product for long distance trips. The price of this product is $349. This purifier eliminates viruses, bacteria, protozoa and even sediments from worse case water conditions effectively.
This makes this product useful for emergency situations. It works quickly by purifying 2.5 liters of water in one minute without any batteries or charging. This water purifier needs no back flushing because the pump self-cleans on every stroke.
The product is long lasting  lifetime because of the leading edge hollow fiber cartridge that can treat up to 10000-liter water. This product is made to endure heavy use, harsh surrounding and freezing temperature.
Sawyer Products Mini Water Filtration System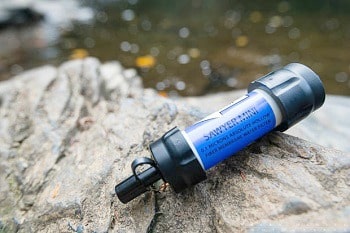 Weight: 2 ounces
Dimensions: 8 x 3.5 x 3 inches
Specific Features: Versatile, High performance, Personal straw, Cleaning plunger
Best Use: Camping, Travelling, Hiking
Description: Sawyer Products Mini Water Filtration System is perfect for outdoor adventures such as hiking, camping, traveling or even emergency situations. The product is ultra light weight and still performs efficiently with its .01 micron absolute hollow fiber membrane inline filter.
The water purifier can be attached to water bottles, drinking pouches, hydration packs also it has a straw from which you can drink directly from your water source. The producer claims that this product can remove 99.99% of all bacterial for example cholera, E.coli, salmonella and protozoa like giardia and cryptosporidium.
The product comes with 16-ounce reusable squeeze pouch, 7 inches drinking straw and a cleaning plunger. The price of the product is between $14 and $165 which depends on where you buy.
Related: The PointOne Personal, PointOne All-in-One, and Water Bottle Filter are also available from the same producer.
Platypus GravityWorks 4.0L Filter System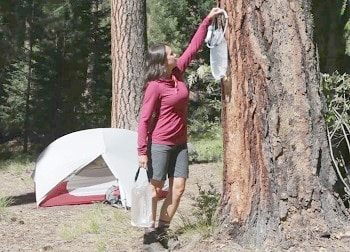 Weight: 10.75 Oz
Dimensions: 5.8 x 2.8 x 13.2 inches
Specific Features: Fast, Lightweight, Effective, Easy maintenance
Best Use: Hiking, Backpacking, Camping
Description: Platypus GravityWorks 4.0L Filter System filters, four liters of water in 2.5 minutes quicker. The product is fairly priced between $113 and $119. This filter system is ultra lightweight, thus perfect for backpacking.
This water filter backflushes in only 4 seconds without requiring any extra tools or parts. It uses gravity force you no pumping is needed. Platypus Gravity Filter meets all the EPA and NSF guidelines for the elimination of bacteria and another microorganism.
It has a zip opening which helps in collecting water easily in all kinds of situations.
Related: Products similar to this like Gravity Works 2L Bottle Kit, Platypus Meta Bottle+ Microfilter are also available by the same manufacturer.
What Have We Learned
You should always carry a water filter when you're backpacking or traveling where you don't have a reliable drinking water source. Contaminated water can prove to be life-threatening if you don't filter it properly. Choose your water filter carefully and stay safe!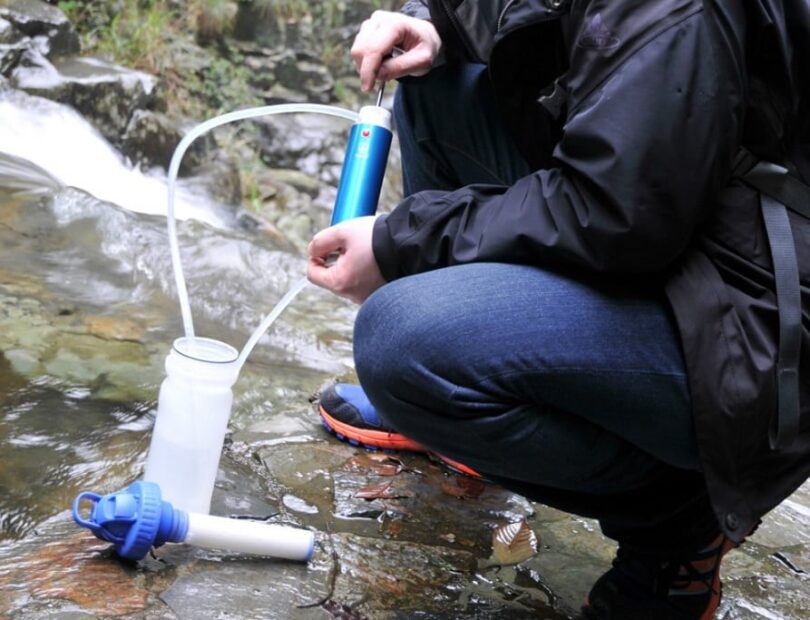 If you had some experience on this topic and would love to share it with us, feel free to leave a comment in our comments section below.