Dogs and hiking have been a rather popular thing lately. People love to hang out with their dogs while hiking outside – it creates an amazing bond between you and your dog, and not only that but also brings a lot of responsibility and care along. If you ever encountered issues with not having enough backpack space for your food and water, then you can finally find a perfect backpack for your dog to carry and actually help you out when it comes to carrying certain equipment or anything usually needed for a good hiking experience.
When taking a dog to hike with you, you need to be aware of the fact that he/she will require a lot of water and enough food to keep up with you on the trail. The best dog backpack will easily allow you to store your dog's food and water inside so he/she can carry it with him/her whenever it is needed. Make sure you gradually increase the load of his/her backpack, so he/she can get used to it and after a while, there will be no issues when it comes to carrying his/her own weight even.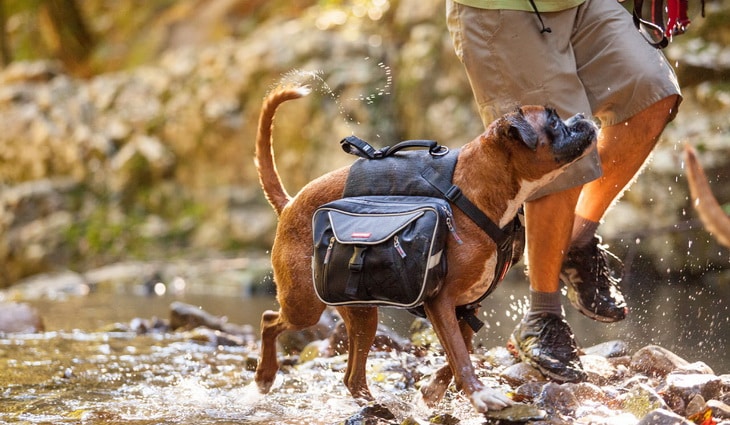 Before you decide to load his/her backpack with treats, food, water, bowls or anything alike, make sure you get to know about the basics related to the backpacks for the dogs.
What you need to know about the dog backpacks
Always load the backpack evenly and store the items properly so the backpack is not heavier on one side and very light on another, this usually causes issues with your dog's balance.
Make sure your dog is not forced to carry more than 25% of his/her own body weight – even if your dog is overweight.
In case your dog is small, do not add more than dry beans or rice packs at the start.
Always keep the backpack dry and clean for the future needs and purposes.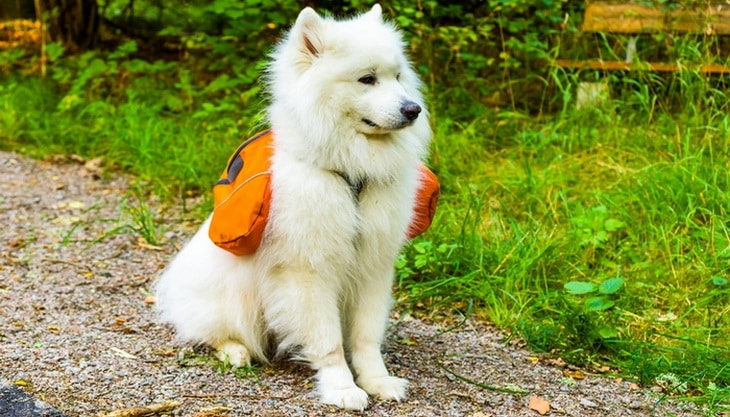 For those who are planning to buy a good dog backpack
Each owner of the dog has different plans and purposes for the dogs and their backpacks, but there are always the important things to look at before our own ideas and wishes. You want a good backpack, which fits securely and will not roll with the dog's stride which usually causes sores and chaffing.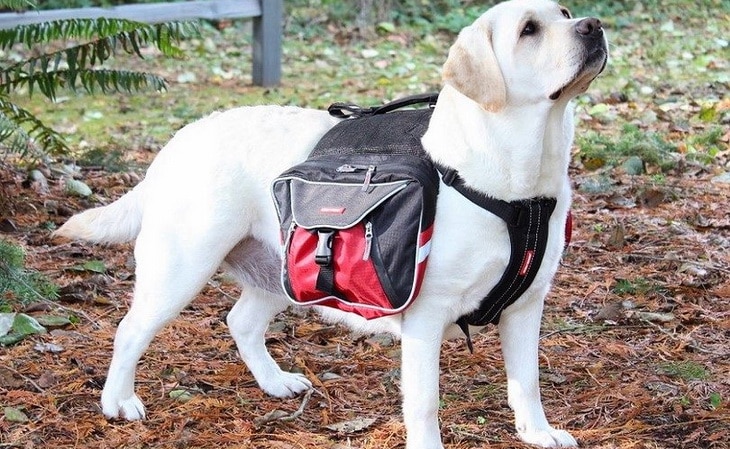 Always consider the in town features as well as the long excursion features listed below.
A couple of tips before loading your dog with a bunch of items
Always plan your adventures accordingly, be informed about the expected weather conditions and temperatures so you can adjust your own equipment as well as the equipment of your dog for such situations.
Do not load the backpack of your dog with a lot of things at first, start of by taking long walks through the park and make him/her carry her water bottle or a bowl, as the time passes you will be able to have her/him carry a lot more than that.
It is not hard for you to carry a can or two of the dog food at first, always take enough food and water for your dog.
It is important for you to know how to load the backpack, do not be messy and put it all on the same spot, it will cause your dog to get tired way faster than he/she normally would if you loaded their backpacks properly.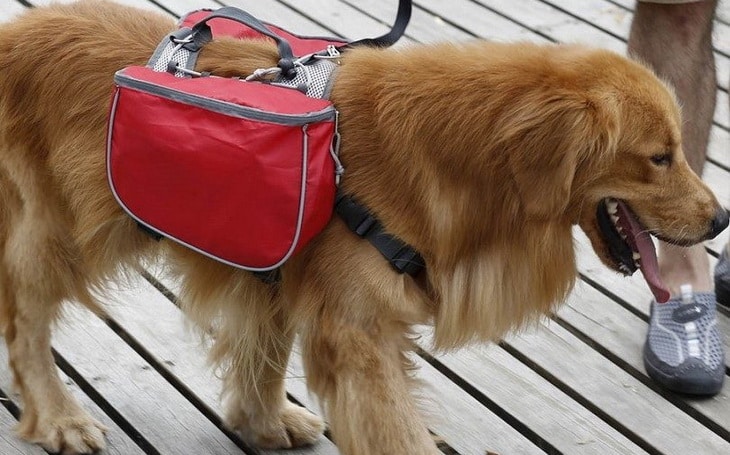 Before buying a backpack, make sure you know what you actually want and spend your money wisely, get informed and see the differences between the backpacks.
Features of a good dog backpack
The shallow saddlebags are perfect for small dog breeds such as Pembroke Welsh Corgi. The shallow saddlebag should never reach farther down than 1 inch above the elbow of your dear dog.
The weather conditions and climate determine a proper backpack for your dog. Make sure that you plan your walks or hiking accordingly and do not overload your dog with a bunch of useless things.
Always try to pick a backpack with the least weight as possible, simply because the heavier backpack is, the more will your dog be tired.
A sturdy padded handle will be helpful for the rough terrains and terrains where you are required to comfortably lift up your dog and help him/her cross an obstacle he/she usually would not manage alone.
Water resistant backpacks are awesome because these will protect the food, treats, and everything else completely dry, even when the rain occurs.
Try to look for saddlebags which taper towards the rear of your dog – it will place the bulk of the weight on the shoulders of your dog, way better than the spine.
Tough nylon material or a rip stop are awesome for the rocky trails, it protects the backpack from tearing up.
Pick a backpack with removable saddlebags to ensure that crossing streams and other obstacles are no longer a problem. Removing the saddlebags helps a lot!
The bright colors of the backpack might seem like they don't matter, but remember that these colors will help you out in case you can't find your dog.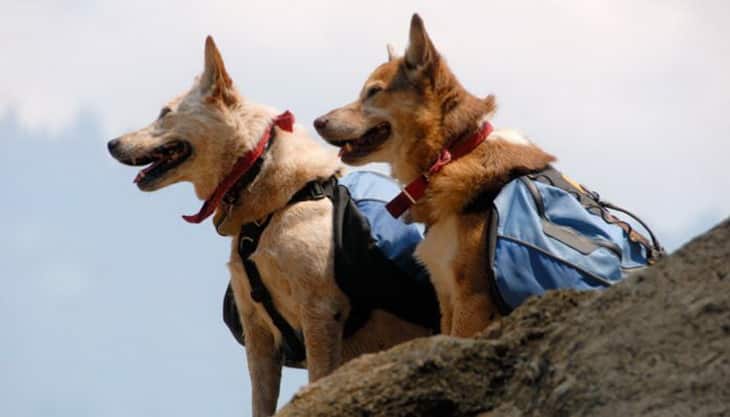 The best dog backpacks
Mountainsmith K-9
Weight: 15.8 pounds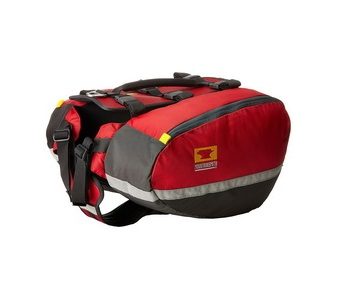 Product Dimensions: 8.2 x 11 x 7.8 inches
Design Features: Single haul handle at the top of the pack, Fabric Nylon/210D Nylon 6.6 Junior Ripstop 420D Duramax Nylon 210D Nylon Embossed Liner, Single adjustable belly strap, Metal D-ring attachment point for leash, Air mesh panels against canine body for increased ventilation, Ergonomically tapered torso shape
Best Use: Walking, Hiking, Outdoor Activities, Mountaineering
Description: Mountainsmith K-9 is often said to be the best backpack for the dogs ever made, approved by veterinarians and designed to fully fit the needs of the dog as well as the needs of the owner. Available in three different sizes: Small, Medium and Large, as well as two colors: Red and Blue. Not only looking nice, but also extremely good, this backpack is priceless!
Related: Your dog will surely get hungry and thirsty while hiking for a long time, the Sunny Beginning B00XL  might be exactly what you need for your loyal companion!
Outward Hound B00MN
Weight: 1 Pound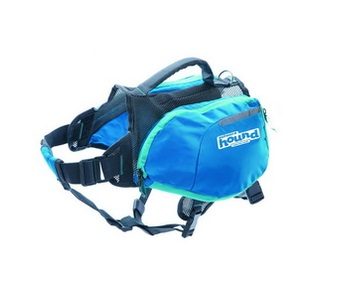 Product Dimensions: 20.5 x 12.4 x 2.2 inchesDesign Features: Adjustable straps & breathable mesh harness, Reflective accents and vibrant colors, D-ring leash attachment, Expandable pockets
Best Use: Walking, Hiking, Outdoor Activities, Mountaineering
Description: The very light capacity backpack Outward Hound B00MN  looks truly adorable, and not only that, it is a high quality product which will surely fit comfortably on your dog and serve its purpose for a long time. Good for various weather conditions and approved by many dog owners, this backpack comes in three sizes: Small, Medium and Large. Available in two colors: Blue and Green.
Related: In case of any injuries to your dog, you will want to have the Canine Friendly First Aid Kitand help out your loyal hiking companion in danger.
Cesar Milan B00ISA
Weight: 1.1 pounds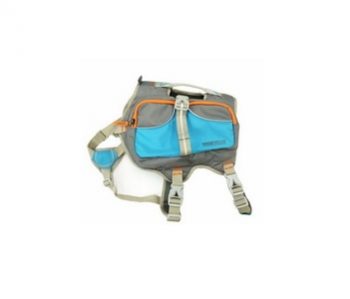 Product Dimensions: 13 x 5 x 10.5 inches
Design Features: Designed so that weight goes towards the front shoulders, strong and durable fabrics, water-resistant, Center buckle, Reflective detailing, Mesh cushioning
Best Use: Walking, Hiking, Outdoor Activities, Mountaineering
Description: A little bit pricey, but surely worth it – The Cesar Milan B00ISA is a true masterpiece of a backpack, fully water resistant and designed to fit your dog perfectly. The weight of this backpack is focused towards the front shoulders where your dog is the strongest, saving up the energy of the dog and its owner of course. This backpack comes in blue/grey color.
Related: Just like you need your own bottle for water, so does your dear dog! The Speedy Pet B01LY contains: Sturdy Nylon Leash, Water Bottle and a Collapsible Bowl for your dog! Very cheap product for the quality and products included in it.
Kurgo Baxter
Weight: 1.4 pounds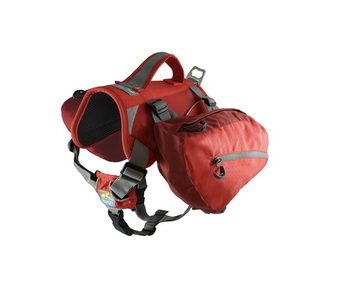 Product Dimensions: 0.8 x 3.9 x 3.9 inches
Design Features: Large handle for extra control, Baxter size fits dog's 30-85 pounds, Big Baxter size fits dog's 50-110 pounds, Ergonomic spine support, 8 adjustment points for a near-perfect fit, Rear-mounted leash hook, hassle-free Kurgo Lifetime Warranty, Four reflective trim strips
Best Use: Walking, Hiking, Outdoor Activities, Mountaineering
Description: Easily loaded the Kurgo Baxter looks comfortable, and it really is comfortable. Designed to be strong and extremely protective in all possible weather conditions, this backpack offers everything a hiking dog requires for a reasonable and very low price. Make your hiking companion happy with all of the features included with this backpack. Available in various colors: Barn Red, Coastal Blue, Sea Glass/Coral, or Black/Orange
Related:  Looking for something a little bit less expensive? Check out the Kyjen Outward, nicely designed to serve in purpose of hiking with your dog.
Ruffwear Singletrak
Weight: 10.4 ounces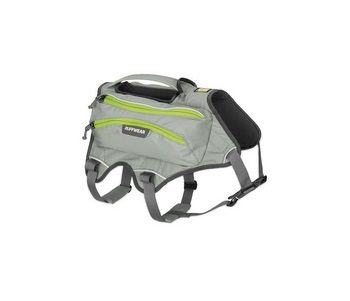 Product Dimensions: 15.4 x 16.9 x 1 inches
Design Features: Foam-padded chest and belly straps, 5 points of adjustment, collapsible water bottles, the reflective trim
Best Use: Walking, Hiking, Outdoor Activities, Mountaineering
Description: A sleek and low profile hydration pack Ruffwear Singletrak is an awesome piece of equipment for your dog, this backpack can be used pretty much anywhere and is designed to fit your dog comfortably, providing enough heat and protection from the weather conditions. Some even use it at snowy days and have no issues spending time outside thanks to this backpack. Available in sizes: Small, Medium, Large and X-Large. Color: The Cloudburst Gray
Related: For additional belly and chest protection of your dog, try out the Ruffwear Guard, a rather simple product which serves for such a good purpose, this brush guard will make your dog very happy in case you usually hike in snow and his/her belly is constantly touching the snow.
Ruffwear Approach
Weight: 2.1 pounds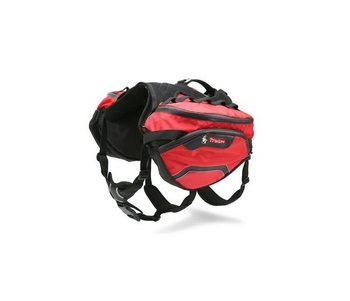 Product Dimensions: 16 x 5 x 10 inches ; 1.8 pounds
Design Features: Waterproof oxford material, SBS reversed coil zipper, Waterproof, sponge padding, scratch-resistant polyester material outer layer, load compression system, Assistant Handle, Reflective line, Removeable saddlebags
Best Use: Walking, Hiking, Outdoor Activities, Mountaineering
Description: Multi day outdoor activities are no longer a problem! The Ruffwear Approach is designed so amazingly well that it will keep your dog's treats and food dry at all times and keep your dog comfortable while on an adventure with you. This backpack offers it all without any hesitation and the price is more than acceptable for what is given in return. Available in Red/Black color.
Related:  Looking for something less flashy but amazingly well designed for a reasonable price? Check out the OneTigris Canvas and surprise your dog with a new backpack! Start planning the next hiking adventure and have you both fully prepared for it!
Wrapping it up
Hiking with a dog can be extremely fun and relaxing for you and not just you, but your dog too! Never forget that just like you, the dogs can get tired too, they can't carry the heavy things for a long time, and they require patience, effort and training to actually be able to keep up with you on the hiking adventures as you might want.
Always be prepared for injuries, bad weather and keep yourself and your dog protected by picking the right hiking equipment, do not hesitate to spend a couple of more $ in order to feel fully protected and keep your health and the health of your dog a priority.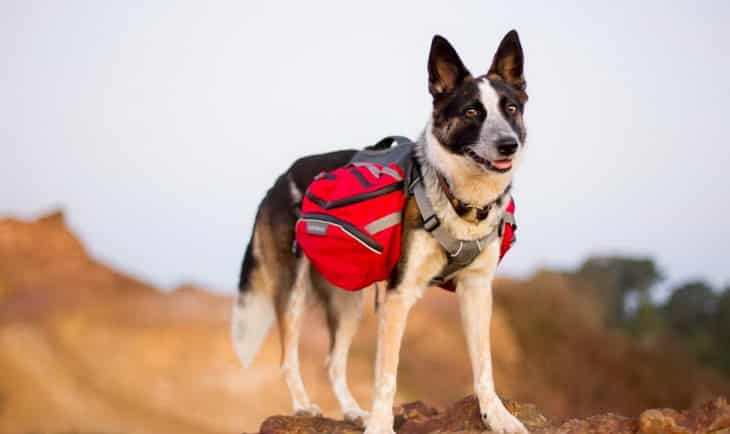 There are many choices when it comes to dog hiking equipment, in this case the backpacks, do not rush your decision and check them all out well enough in order to pick exactly what you have been looking for, it will not only make you happy, but your dog as well, and that is the most important thing.