Dogs are the best companions for outdoor adventure travels. Their curiosity for new sights, smells, and sounds, including their enthusiasm about the outdoor activities, are contagious. Since they are the best buddies for your travels, it is important to choose the best dog backpacking gear for them.
With a bit of encouragement and training, most of the dogs are up for anything. They could be your best buddy for your hiking, running, walking, skiing, camping, and whatever travels you want. Because of that, it is essential to select the best gears for them. These things will not only make your travels easier, but also will ensure the dog's safety, health, and happiness.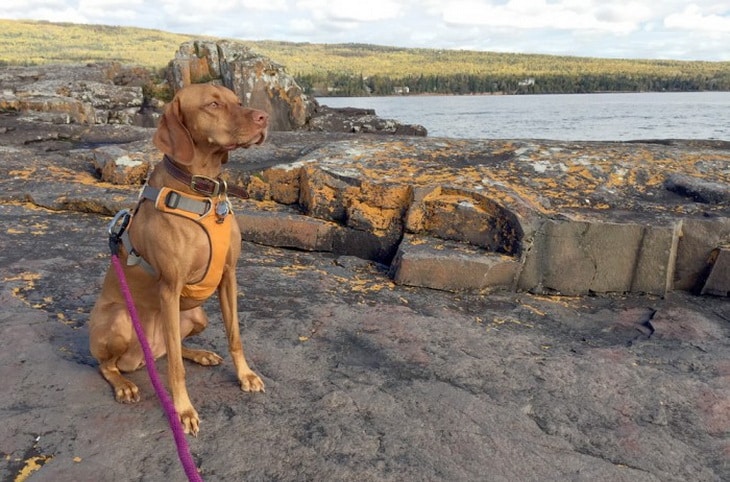 To mention that dogs are like people. They also have varying levels of fitness. Make sure to ease your pet into new conditions and activities. Also, take extra care, especially during hot weather.
ESSENTIAL HIKING GEAR FOR DOGS
BACKPACK
Backpacks for dogs are increasingly popular these days. It provides a sense of purpose, and encouragement to the dogs to focus on the task while expending a lot of energy while walking. Besides, backpacks can give a calming effect to the pup with fear aggression. It works well by wrapping the upper part body, and at the same time, providing soothing pressure to the dog's torso.
If you love adventure and travels with your beloved friend, backpacks will let your dog carry his weight. You can store items to the two saddlebags like foods, treats, water, first aid supplies, bowls, and others. If it is the first time hiking with your pet, better to prepare him for a long journey. You can start him out through short walks with a light pack, and then gradually increase the load until he is good enough to carry a few weights.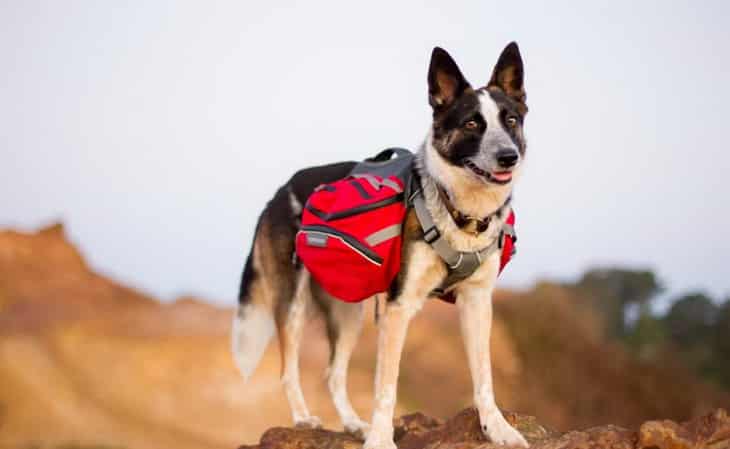 Either you want a backpack for your light journey or long hike; there are some features you need to consider. Check our reviewed Backpacks below, so that you may know.
COLLAR               
The Collar is one of the things that must have if you are going to own a pup. It depends on the size, type, and sometimes it depends on even to the temperament of the dog. Also, it is vital that you must understand what the collar is capable of and if it provides your needs and applications. Remember to keep the function in mind when selecting a collar for your pet.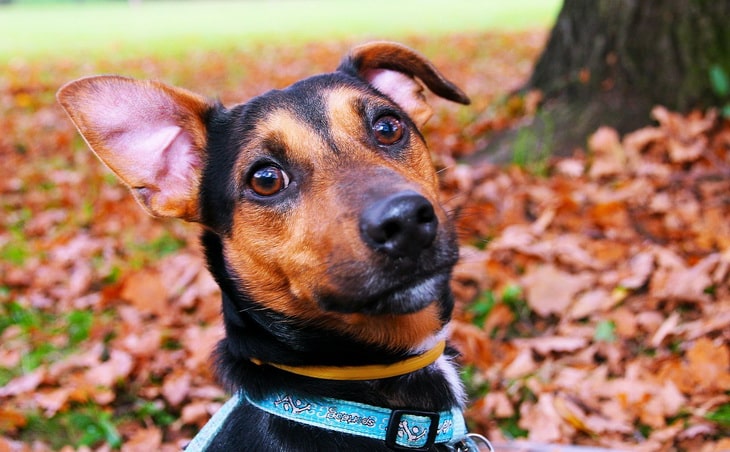 LEASH
Some people prefer just to let their dogs run wild and free, but this is not always safe, not even legal. Therefore, it is important to have the leash options that are handy enough for different activities. The standard recommendation for this is a four to six foot (4-6 foot) leash that was made from highly durable materials.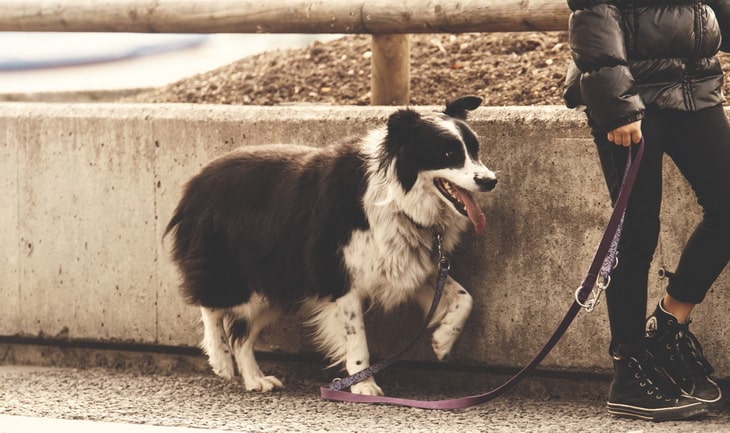 There is a great DIY option recommended, and it is the used climbing rope. It is strong enough to support even against the most energetic or active puller. Not just that, this is also sturdy, no matter how many tug-of-war games you play or rainstorms you navigate. Additionally, this used climbing rope is dynamic, meaning to say, it absorbs a lot of impact. It will make the pulling easier between your shoulder and your dog.
PAW WEARS
Many pet owners chose to go full time in using their dogs walking boots every day and were surprised that their pets didn't seem to mind. Dog's paw wears are essential to protect them from heat, ice, snow, cold, salt, and dust.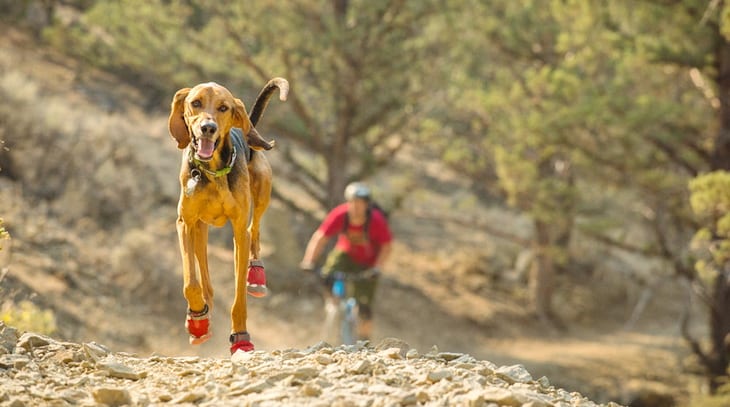 Nowadays, this is a trend that is on the rise. Many supplier companies are investing in developing the best boots for dogs that ensures the health and safety of paws.
Best paw companion hiking gear products available on the market
KURGO BAXTER
Weight: 1 pound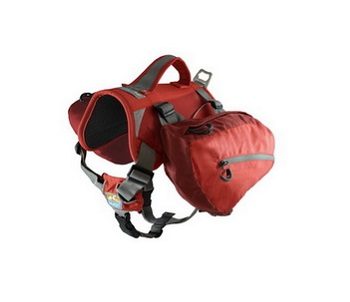 Product Dimensions: 0.8 by 3.9 by 3.9 inches
Specific Features: Adjustable and Reflective Trim Strips, Rear Mounted Leash Hook, Two Saddle Bags, Padded Chest, Bottle Opener, Lightweight, Tough, Large Handle,
Best Use: Trip, Hiking, Camping, Everyday Use, Outdoor Adventures
Description: Prepare yourself and be ready for your next adventure together with your dog with this fabulous Kurgo Baxter! This backpack for dogs is perfect for carrying your adventure essentials.
This product is designed with two saddle bags which allow optimal room for you and for your pup's needs such as foods, toys, treats, travel bowls, and may also include first aid supplies. These saddle bags are adjustable to fit dogs of all sizes and proportions. Also, this backpack comes with adjustable and reflective four trim strips for easy visibility and safety from multiple angles.
Additionally, this product has added rear mounted leash hook which works like a harness for dogs that need to be on their lead or need to be controlled. Also, the large handle serves as extra control when you need it.
Furthermore, this model comes in two sizes, the Baxter and the Big Baxter. The size of the Baxter fits from 30 to 85 pound dog, while the Big Baxter will provide from 50 to 110 pound dog.
ULTRAFUN TRUELOVE
Chest Size: 29.1 – 56.7 inches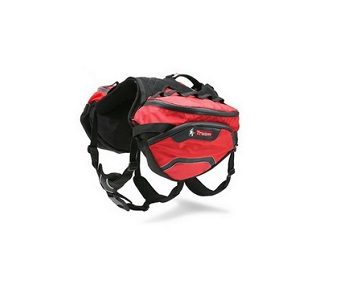 Specific Features: Waterproof, Adjustable Straps, D-ring and Top Handle, Reflective Strips, Breathable Mesh Nylon, Portable, Detachable, Oxford Cloth, Zinc Alloy,
Best Use: Trip, Hiking, Camping, Everyday Use, Outdoor Adventures,
Description: The Ultrafun TrueLove is very portable. You can put your items like foods, toys, first aid supplies, water, and anything for you and your dog's hiking or camping adventures.
The saddlebags are detachable. You can remove the bags and leave the harness. It is designed with a D-ring and top handle for easier control. Additionally, the straps are adjustable with its quick release buckles so that it will perfectly fit the dog and your pet will surely feel the comfort while walking.
Nice to mention that these saddle bags are perfect for large dogs, such as a Border Collie, Alaskan, Husky, Samoyed, Schnauzer, Labrador, German Shepherd, Bull Terrier, Pekingese, Pitbulls and other large dogs.
Moreover, this model has reflective strips for the security of your pet on the road, especially during the night. The breathable mesh nylon of this product is specially designed for dogs on mountain hikes. This product is robust and sturdy that will last for long time use.
Furthermore, the material that has been used to this backpack is highly durable and high quality. It will surely last for long time use. It is also a waterproof material. It is excellent for your dog's outdoor adventures even if it rains or shines.
With this backpack, you can enjoy your outdoor adventures, hiking, camping, and short trips together with your beloved dog!
RUFFWEAR GRIP TREX
Weight: 1 pound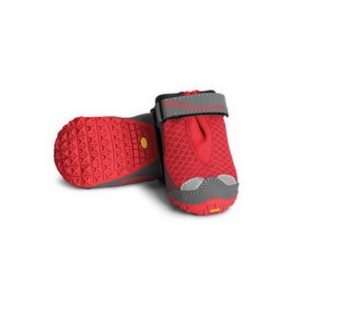 Product Dimensions: 1.5 by 1.5 by 2.8 inches
Specific Features: Grip Trex Boots, Vibram Non-Marking Outsole, Flexible, Breathable Air Mesh, Reflective Trim, Comfortable, Gusset Design, Hook and Loop,
Best Use: Trip, Hiking, Camping, Everyday Use, Outdoor Adventures,
Description: The Ruffwear Grip Trex is one of the best boots brands for your dog. The set of four boots is designed to provide highest possible level of protection for your pet's paws especially in variable types of terrain and extreme environments.
Grip Trex dog boots are highly durable, reliable, and practical. It sets the standard in paw wear for your pet that runs, hikes, bikes, or explores the outdoor with their loving human. These Grip Trex Boots are constructed with a rugged design. It features a Vibram non marking outsole which won't leave any black marks on the floors. Also, this ensures you that your pet will be supported with the optimal traction, yet still able to move comfortably.
Additionally, these boots are designed with breathable mesh upper which provides air ventilation and which keeps the debris and dirt out. It allows your dog to stay comfortable while in town. Also, it features reflective trim that is very helpful, even in an environment with low light visibility. You can keep your eye on your pet because of this.
Moreover, these products featured a gusset design which provides a wider opening for easy on and off. This reliable closure system is combined with hook and loop, securing around the narrowest part of the leg of the dog which provides an ultimate comfort fit.
RELATED: The manufacturer of this product also offers Ruffwear Summit Trex for dogs which is ideal for your dog. These boots have an integrated gaiter that combines to lock out dirt, debris, and moisture, letting your dog feel and stay comfortable even in long hikes.
SHAWAN SHOP GOPRO 
Package Included: 1 x Quick Release Buckle, 1 x Dog Harness Mount for GoPro, 2 x Thumb Screw, 1 x Vertical Quick Release Buckle
Specific Features: Two Mounting Locations (chest and back), Adjustable Straps, Quick-Release Buckle, Comfortable, Soft Padded Construction,
Best Use: Swimming, Playing, Running, Jumping, Fetching, Outdoor Activities
Description: If you want to capture the world from your dog's perspective, then this Sawan Shop GoPro is suitable for your needs. It comes with two mounting locations, in the back, and in the chest, to enable a diversity of point of views. The back mounting is for over the head shots of jumping, running, fetching, and more. The chest mounting is for digging, bone chewing, and the first paw actions.
This harness can fit any dogs, either small size, medium size, or large size breed, from 15 – 120 pounds (7 – 54 kg) dues to its adjustability. It comes with adjustable chest mount to accommodate even the smaller dogs. Also, the soft padded construction of this model ensures the comfort of your pet. Additionally, it features a quick release buckle which makes the attaching and removing of the camera easier.
Moreover, this product is washable. The material used for this is water-friendly that supports up to splashing, swimming, and more. Your pet can play, swim, and get dirty without any worry. This model also is highly durable and made from a high quality material that will surely last longer.
RUFFWEAR FRISCO
Weight: 2.4 ounces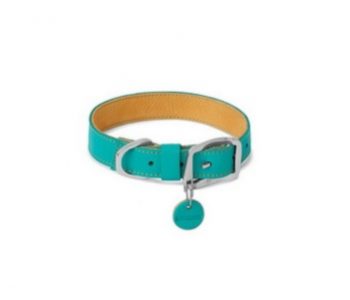 Product Dimensions: 26.6 by 1 by 01. Inches
Collar Sizes: 5 sizes (11-14 inches / 28-36 cm), (14-17 inches / 36-43 cm), (17-20 inches / 43-51 cm), (20-23 inches / 51-58 cm), (23-26 inches / 58-66 cm)
Specific Features: Water Resistant, Full Grain Cowhide Leather, Single Piece Anodized Aluminum Crux Buckle, Leather Tag Silencer,
Best Use: Walking, Adventures, Everyday Use, Outdoor Activities,
Description: The handcrafted Ruffwear Frisco is made from highly durable, strong, water resistant, and full grain cowhide leather. These qualities are perfect for the test of time. The full grain cowhide leather is naturally odor resistant, and ages gracefully.
This product features single piece anodized aluminum Crux Buckle which provides security and durability in a competent design. This buckle is designed for you to easily attach a leash to the collar for your dog's walking.
Additionally, this collar has featured a leather tag silencer which reduces the amount of jingle every time your dog moving around. You can still have your quiet and peaceful moment as you can only hear a jingle that you need to hear. So this will not annoy you.
Furthermore, this model features a quick ring technology allowing you to use the separate ID attachment point. It will probably ease the adding and remove of tags from the collar of your dog. Also good to remember this, measure the neck of your dog to get the correct size where the collar will comfortably lay.
RELATED: Ruffwear manufacturer also offer another style of collar, and this is the Ruffwear Reflective. This collar is constructed with 7mm thick rope. It features reflective trim and is designed to minimize matting and provides comfort into your dog's fur.
NITE IZE INNOVATION
Weight: 4.8 ounces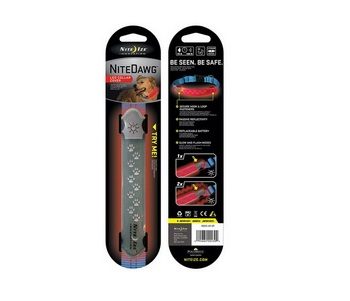 Product Dimensions: 41.4 by 3.3 by 0.2 inches
Specific Features: LED Collar Cover, Night Dawg, Weather Resistant, Durable, Lightweight, Flexible Led Illuminated Strip, Super Low Profile, Comfortable, 2 Micro Hook and Loop Tabs, Light Transmitting Polymer Core,
Best Use: Especially During the Night
Description: The Nite Ize Innovation is specially designed for the visibility of your pet during the evening. It is highly durable and contained a high quality Thermal Plastic Urethane Exterior. It provides passive reflectivity for the purpose of your pet's visibility even not illuminated.
This cover for the collar of your dog is weather resistant that can withstand light rain and other natural elements. Also, this is lightweight, feels like nothing added to your collar. Additionally, it features flexible led illuminated strip that can fit comfortably to any dog's collar, and it closes securely.
Moreover, its light-transmitting polymer core is being illuminated by the super efficient color red led bulb. It has two mode settings; steady glow and flashes glow. Good to mention that the battery of this led collar cover is easily replaceable. It also has decorative paw prints that produce passive reflectivity for easy visibility.
RELATED: This manufacturer also offers Nite Ize Nite Dawg with 18 inches of LED illumination. The battery is replaceable, and the material is highly durable.
STILL NOT SURE WHICH OPTION IS THE BEST FOR YOU?
Going out to discover and explore with your dog will be one of the most memorable and exciting activities in your life. But, it needs knowledge of what is at hand and adequate preparations. You need to find out the current physical condition of your pet if he is suited enough for the task. Don't forget to bring enough supply for their needs and their continued health.
As a pet owner, you are responsible for your pet and towards other people. Make sure that you can be able to control your dog AT ALL TIMES. Leave no trash behind, and strive to protect and respect the other inhabitants around you.
Essential gears are necessary for your dog's safety, health and happiness. In fact, these can also be very helpful for you as well. For those reasons, we have reviewed some of the best gears for your pup. The above best gears are constructed with outstanding features that will surely provide security and comforts for your dog. Take your time to read these reviews, and feel free to choose the best among the best that you desire.
Now, you are ready to head out into the great adventure and travel with your dog!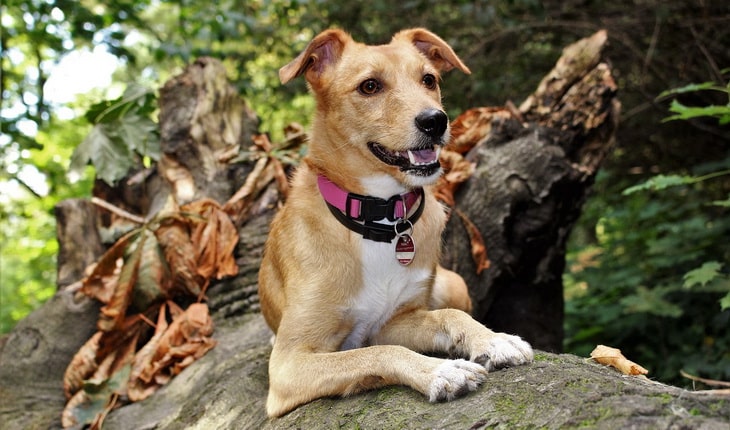 However, if you think we have left out any of the great products out there, please let us know in the comments section below. We would be happy to hear from you.