To make outdoor excursions elegantly enjoyable beyond ecstasy, it's important to arm yourself with all the required tools in your camping gear such as the best fire starter sticks, the best keychain multitools, and best portable solar panels, to mention just a few. Without these tools, your outdoor activity may end up being fruitless. Wise backpackers always get prepared for the unexpected in all their outdoor excursions. They know that the weather conditions can fluctuate unfavorably and this demands one to have all tools.
For instance, a fire is indispensable, if you plan to cook during your traveling endeavors. It can also be used to warm your camp or your shelter in extremely cold conditions. To create campfires or to light BBQs, many survivalists have been taking matchboxes which are prone to damage due to unfavorable weather conditions. With matchboxes, you had to make sure that they are completely covered to avoid contact with damp materials.
This has necessitated an alternative solution that is weatherproof and is easily used in damp and moisture-bound environments. The fire starter sticks have proven to be the most reliable and lightable sticks irrespective of any unfavorable weather condition.
In this article, we bring you the best sticks on the market. We also help mention important points to consider when purchasing your favorite fire starter sticks.  Also provided are the cons and the pros of using these products.
The Importance of Having Fire Starter Sticks
Before we can mention the names of some of the most popular and most wanted starter sticks available on the market, let's elaborate on the importance of these must-have outdoor tools. Of foremost importance and noteworthy is the fact that these fire starter sticks have no noxious fumes and/or harmful chemicals in their contents.
They are wholly made of natural substances with no toxic or odor end-results. This helps safeguard your health while enjoying the outdoor's unforgettable moments.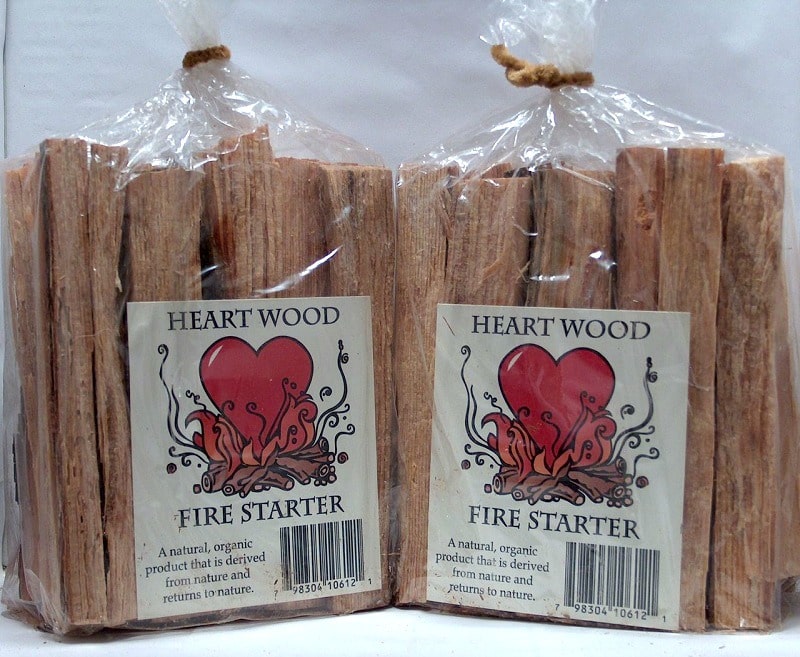 These fire starter sticks are competitive with various features that make them be sought after. The arguably main features are weatherproof and waterproof that makes them usable in wet conditions.
Outdoor enthusiasts will, therefore, find the traditional matchboxes needless, due to their weather sensitivity features compared to the sticks mentioned hereunder. Let's delve into various starter sticks from which you may choose one for your fire needs.
What to Consider When Purchasing The Fire Starter Sticks?
There are apparently many fire starter sticks deemed to be the best. That could be confusing to the backpacker to choose one. However, these products have varying features which may appeal differently to outdoor activists.
For instance, weatherproof, waterproof, resin content, natural compositions are the features often accompanying these sticks. Other factors to consider are the costs, warranty of the sticks, ease of use, and ability to light almost everything.
With regard to costs, all these fire sticks are reasonably charged and affordable. The prices vary in line with the features. To view individual prices for the aforementioned starter sticks, click the link to the online retail side wherein prices are listed.
It's only a few dollars to own the product in preparation for your next outdoor excursions. Users should also note the warranty assured by the manufacturer in case the product has some factory faults although rare to even encounter that.
Considering the compositions, most starter sticks are made of natural substances that pose no danger to your health.
Any stick that uses chemical additives should be eliminated if that substance is noxious. Fatwood chips and resin contents are predominantly used to enable powerful and strong flames harmlessly to the customers.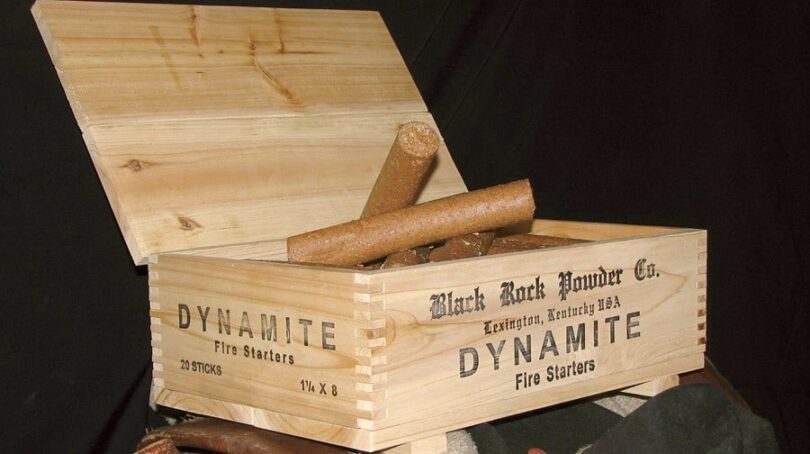 The fire starter sticks aforementioned are capable of lighting virtually everything, from campfires, stoves, BBQs and in-house fires. Most are used as tinder sticks to light additional wood found in the forests.
When it rains, it usually becomes hard to start a fire from normal woods if no paraffin has been poured on them. These starter sticks have proven to be effective as some users have experienced in successfully starting fires regardless of weather conditions.
One last consideration is the customer reviews for each product prior to purchasing it. Some retail sites have reviews by verified purchasers to express their good or bad experiences. Obviously, you wouldn't buy a fire starter stick that barely has 4 stars. Customer reviews are honest and could help you in making a final decision.
 Top Fire Starter Sticks on The Market
Coghlan's 7940 12 x 5″ Fire Stick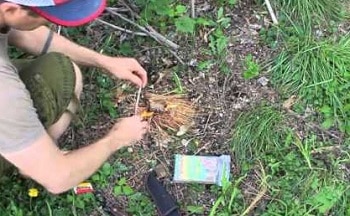 Features include:
They are non-toxic
Have no noxious fumes
Have no chemical additives that can be harmful to your health
Quick and convenient to start BBQs, fireplaces, and campfires
Functions well even after being submerged in water
Weatherproof properties
Burn completely
7 cm sticks
Description: For an easy and quick way to create campfires and barbecues this Coghlan's 7940 12 x 5″ Fire Stick is the right one for you. It leaves no odor when starting a fire with it. There are 12 sticks found in this Coghlan's fire stick and all are non-toxic and non-poisonous.
What will entice the user is that fact that the sticks work well even if submerged in water by mistake. This reassures backpackers that damp conditions are never a hindrance to use these sticks. They can furthermore be suitable for emergencies.
Velocity Fire-Starter Sticks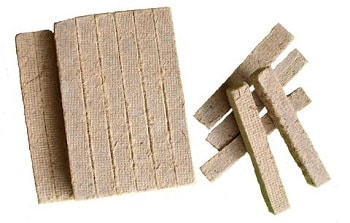 Features include the following:
They are waterproof which makes them usable regardless of damp conditions
They contain 50% wood and 50% paraffin wax
They are odorless and non-toxic
They burn completely
They can be variably be sued for outdoor excursions or in-home fireplaces
Description: Velocity fire-starter sticks are composed of composite wood and paraffin wax that helps create a long-lasting strong flame. This will help you cook efficiently or warm-up your destinations in case of cold rainy days.
Even if it rains, there's no fear of having your 24 Velocity sticks being ruined because they are waterproof. They can be in contact with your wet clothes or damp materials but still work well in any given condition.
Moreover, what's enticing about these sticks is the absence of toxic chemicals and the absence of odor.
Light My Fire TinderSticks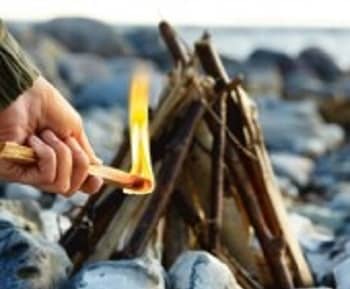 Some noteworthy features include the following:
Free of harmful chemicals
100% natural composition
Manufactured from fatwood stumps found from cultivated pines Montezuma originating from the highlands of Mexico
Contains 80% resin content that enables the sticks to light extremely fast irrespective of damp conditions
Have dimensions 15x15x200 millimeters and weighs 25g.
No chemical additives
Supersede the properties of paper and paraffin in starting BBQs, campfires or house fires because they are hotter and burn longer
Description: With these Light My Fire Tinder Sticks, you are guaranteed 100% natural compositions that assure you the absence of toxins or noxious chemicals. Our outdoor stay that is predominantly in cold weather conditions demands very strong flames to keep us warm.
These sticks are designed to produce strong flames with their 80% resin composition. The sticks are sought after by the Fatwood stumps that are used in their compositions. No chemical additives whatsoever that can jeopardize your health while enjoying your fires in your heartwarming outdoor activities.
The manufacturer has ensured the safety of customers by completely eliminating noxious fumes and poisonous chemicals that are used to make fire. Paraffin and paper do not match the features of these tinder sticks.
Zippo Waxed Tinder Sticks 8 Pack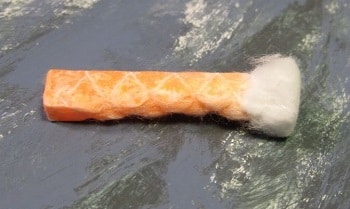 Worth-considering features include the following:
Lightweight sticks best suited to travel with.
They are water-resistant thus safeguarding them if in contact with damp materials
Lengthens burn time
Made purely of a natural fiber: compressed cotton
They tear quickly for convenience of use
They are standalone fire starter sticks
Designed to be replacement tinder sticks for Zippo Emergency Fire Starter Kit
They burn easily without the addition of harmful chemical substances
Description: For a quick, hassle-free, fire starting quest, Zippo Waxed Tinder Sticks are the best fit. There are 8 sticks in a pack that is purely made of compressed cotton.
Customers can rest assured that there are no artificial noxious chemicals added to jeopardize or compromise their health when creating fires using these sticks. The natural fiber used in manufacturing this product helps expedite fast lighting for emergencies.
Moreover, these sticks are water-resistant. This means you still can use them even after it had rained on them.
Damp or wet materials are not going to ruin your sticks to eventually ruin your outdoor adventure. The burn time is also increased with these sticks.
Fatwood 100% Natural Firestarter Sticks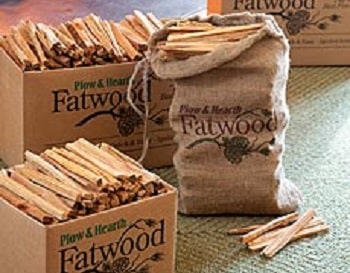 Features of these fire starter sticks include:
Prepared in a 3 5/16inx2 9/16inx15/16in tin that perfectly in a pocket for convenience of travel
They are versatile: can be used in any weather condition because they are weatherproof
They are non-toxic because they are made of 100% natural Fatwood chips. No noxious chemicals or fumes that could be detrimental to your health or the health of the beloved ones that you travel with.
They are naturally soaked in the resin of the trees
They are jute soaked in wax
Can instantly start campfires or wood stoves.
Ferro rod sparks help expedite the fire starting process
The Ferro rod is 5/16in thick.
Description: For outdoor survivalists endeavoring to care for the environment, these, Fatwood 100% Natural Firestarter Sticks are more suitable for use. The fire sticks made of chemical substances will not only be harmful to your health but also your surrounding environment.
Harmful chemicals will be emitted to corrupt the environment wherein wildlife animals could consequently be affected. Fortunately, these fire starter sticks are made of Fatwood that is hand cut in the USA. The Ferro rod sparks enhance the speed with which the fire could be started.
The sticks come packed in a tin. They are jute soaked in natural hot soy wax extracted from soybeans in the USA. A combination of Ferro rod, striker, and 100% natural Fatwood chips results in the excellence of these sticks in fire starting purposes.
Backpackers now have a portable and reliable product to start a fire quickly without hassles in any given inconvenient weather condition. Some forms of sticks do not withstand damp areas due to lack of water resistance. Most of these are made of chemical additives.
Camco 51017 Fire Starter Stick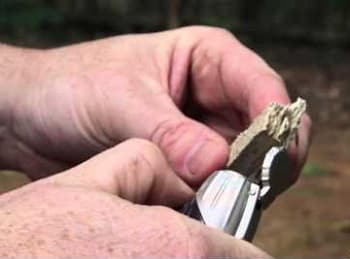 Some of the features include:
Can instantly start campfires or wood stoves.
Can be cut into pieces to extend the usage
No cover to protect it from wet clothes or damp materials is needed
Description: If you have planned to spend 12 days outdoors in the forests during winter season this Camco 51017 Fire Starter Stick is the best fit. But their sticks can be cut into pieces to extend the usage.
No supplementary tinder needed to help create strong flames, as this product is a standalone in starting a fire quickly and easily.
Furthermore, it needs no cover to protect it from wet clothes or damp materials as it is waterproof. This makes it a best choice and alternative for traditional matchboxes previously backpacked.
Of notable importance and advantage in these sticks is the elimination of harmful chemicals in their manufacturing.
They burn out completely with subjecting the user to odor and toxic smells. Camco fire starter sticks are lightweight and portable to carry in pockets to any outdoor excursions.
Important Tips About Fire Starter Sticks
These fire starter sticks are reportedly capable of creating strong flames. This could have adverse effects to your other tools if not taken care of.
It is, therefore, important as a backpacker that you start campfires far away from your shelter for safety reasons. It could be more adverse in windy conditions wherein sparks could damage all that you brought in your camping gear.
If you plan to warm your shelter with these fire starter sticks, make sure you use only handy woods that are put on either a steel surface to prevent burning of your valuables. The fire should be monitored until it fulfills the purpose thereof.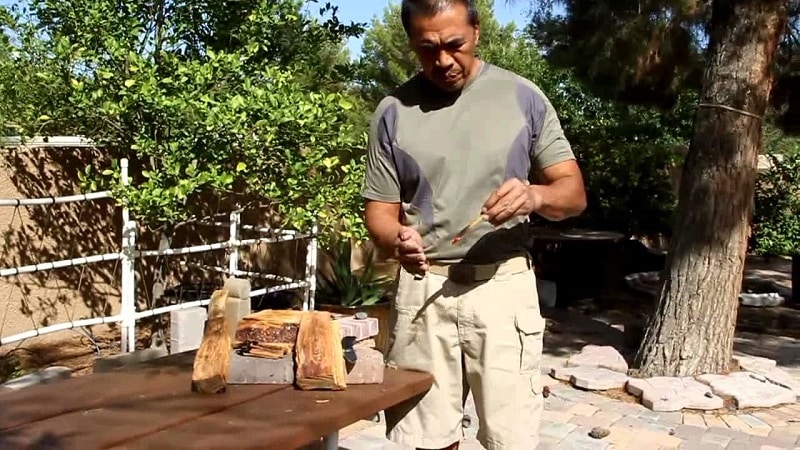 There have been stories in the past where campers were shocked with burning shelters to ruin their outdoor activities. This, therefore, demands careful vigilance of backpackers.
The other important tip goes to backpackers that travel with children. Keep the fire out of reach of children for their closure could put them at risk. The same children could pose risk on burning clothes or the entire shelter. Children like to emulate what their parents do. Therefore, keep the starter sticks in secure places where the children cannot reach.
Users are also advised to look for naturally manufactured fire starter sticks for their safety, the safety of their children and that of the environment. Chemicals were frequently used as additives in some fire starters to help create strong fumes. However, the repercussions have resulted in a compromised health state.
What Are Others Saying About These Fire Starter Sticks?
As seen from verified purchasers, most customers praise these fire starter sticks. One feature that is praised foremost is the weatherproofing that helps them use these products in any condition. This means that you do not have to worry about the bad weather forecasts of your preferred destinations. The sticks can warm your shelter and are also protected from damp conditions.
If it rains you are still safe from cold weather thereafter if you use these sticks to start a strong fire that will last long. Well, that will depend on the type of product purchased as they differ. On average many customers are impressed by the evolution of these modern sticks that seek to replace old ways of starting power.
Pros
Among other pros of using these fire starter sticks, here are a few mentioned:
100% natural substance used in manufacturing. As thus no health risks associated with using these modern fire starter sticks in your outdoor excursions.
Quick to start a fire even in wet weather conditions. There are weatherproof and waterproof.
Their fire lasts longer making sure that you enjoy that you accomplish your cooking missions.
They're affordable
They can be cut into pieces for extended usage depending on how many days you spend camping or hiking.
They are lightweight. Can be carried in pockets to avoid heavy weight luggage.
There are more effective than chemical substances.
Cons
Everyone would agree that there are very few disadvantages of using these sticks. These are:
Due to strong flames, they are likely to burn shelters if left unattended or if the fire is made too adjacent to the shelters
They need supplementary woods to keep burning for long. These products differ and some may not be used as tinder sticks.
What Have We Learned?
In conclusion, these aforementioned fire starter sticks are a must-have for all backpackers. They are recommended for everyone who loves to travel to various outdoor destinations. You need these sticks to start a fire that can be used as a light in the night or to cook when you're hungry.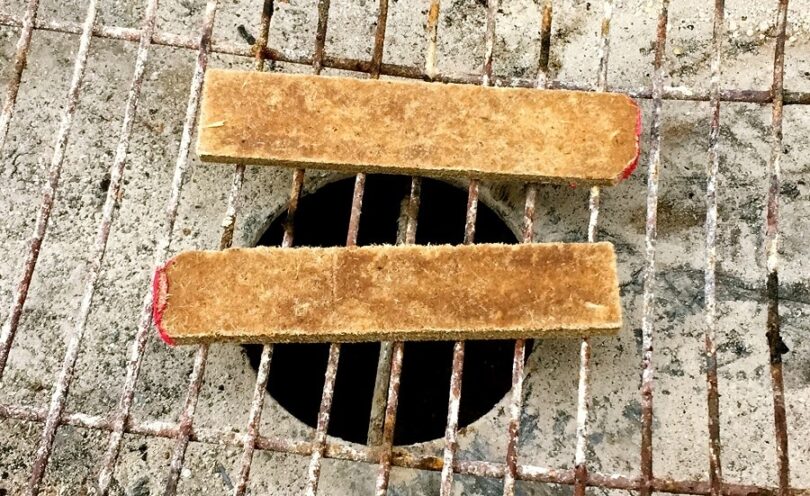 There is nothing harmful about these sticks since they are made of natural substances. No noxious fumes or harmful odor. As an advice, carefully select the product that matches your needs. Take into account its costs, warranty, and features.
If you found this article to be useful and you feel like sharing your thoughts about it with us, feel free to leave a comment in the comment section below.